The Evolution of Hoardings at Changi
Bringing some fun to passengers and visitors while improvement works continue
To ensure sufficient airport capacity for passenger growth and to continuously improve passenger experience, CAG constantly upgrades Changi's terminals and plans for new developments – from Terminal 1's upgrading and expansion to the construction of Terminal 4, Jewel Changi Airport, and Terminal 5.
To ensure that these pockets of upgrading and construction works do not negatively impact the terminal ambience for passengers, CAG's Experience Creation (EC) team pays close attention to the hoardings surrounding the works – they showcase aspects of Changi Airport through beautiful mural-type paintings.
When the team first started decorating the hoardings, they showcased motifs representative of Changi such as images of sunflowers. While they were refreshing compared to plain hoardings, printing images on hoardings soon became commonplace.
To spice things up, the EC team brainstormed and came up with the idea to feature window displays in the hoardings – this was introduced to the hoardings for the setup of the year-end festive celebration event at the Terminal 3 Departure Hall in 2013. Disney-themed plush toys were featured in the window displays, thrilling visitors while adding to the festive mood in the terminal. 
The window display concept was well-received and the idea soon expanded to showcasing moveable displays at the hoardings for Terminal 1's expansion works. The EC team explained, "We wanted to highlight either exciting features of Changi Airport or aspects of Singapore that would be relevant to passengers. We eventually chose to showcase icons of Singapore in the first phase.  For the second phase, we worked with our Horticulture colleagues to set up miniature gardens with live plants in the displays, as Changi is known for its greenery."
Phase One hoardings with moveable displays in the windows that was used in Terminal 1.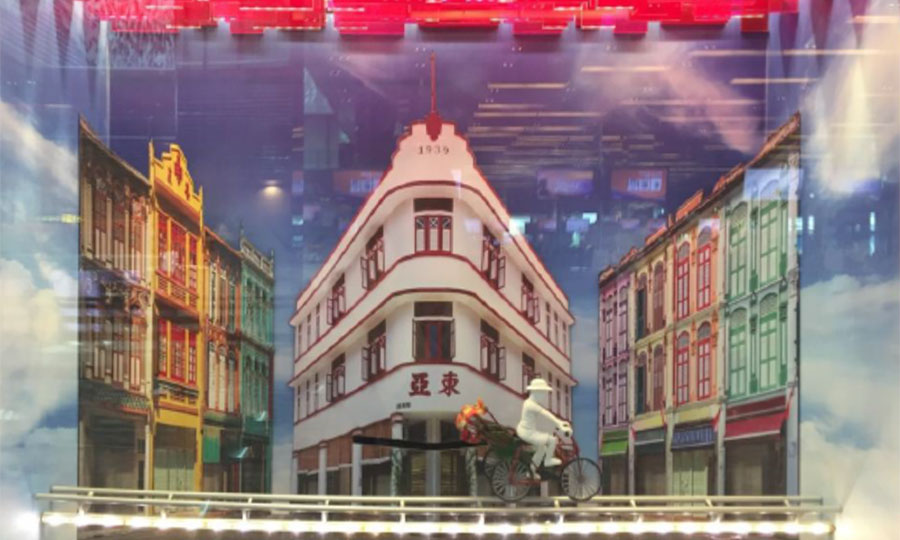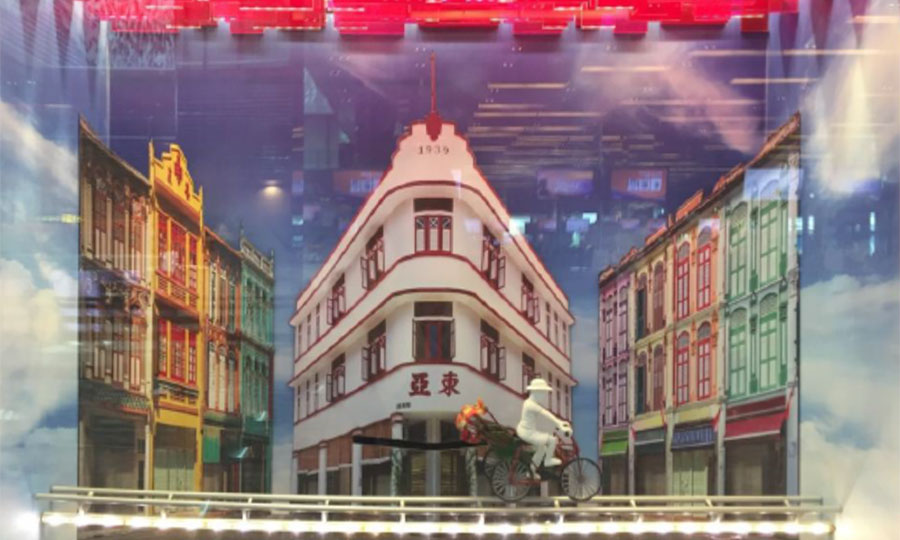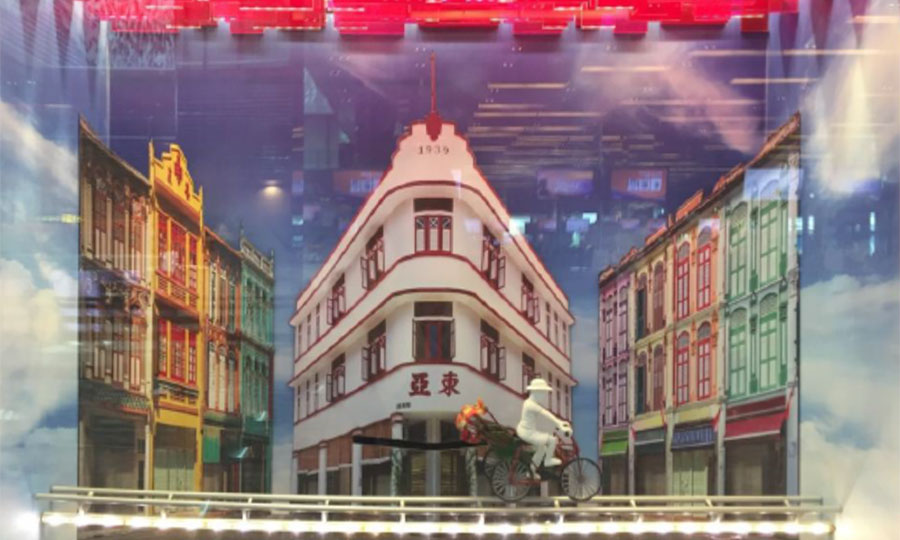 The moveable displays featured iconic Singapore landmarks such as the Singapore Flyer and shophouses in Chinatown in the hoarding windows.
Fuelled by the positive responses for these hoardings, the EC team challenged themselves further in the next phase - to give passengers a glimpse of life in Singapore, right at the heart of Terminal 1, and through interactive elements. The team then worked with a vendor to style the displays in more relaxed manner, introducing different scenes of our Lion City through an explorative perspective. These latest displays feature a myriad of Singaporean items that move when activated, such as kaya toast and kopi, and scenes at the Singapore Zoo, giving passengers a sneak peek of what Singapore has to offer, as well as bringing out Singapore's culture.
As improvement works continue behind these hoardings, we hope the interactive showcases can bring some fun to passengers and visitors, while we work to improve our infrastructure for an even better passenger experience.