Moo-ve into a Prosperous Year!
WITH CHANGI AIRPORT AND TOKIDOKI
From 15 Jan to 21 Feb, spend a minimum amount to redeem exclusive tokidoki merchandise and more.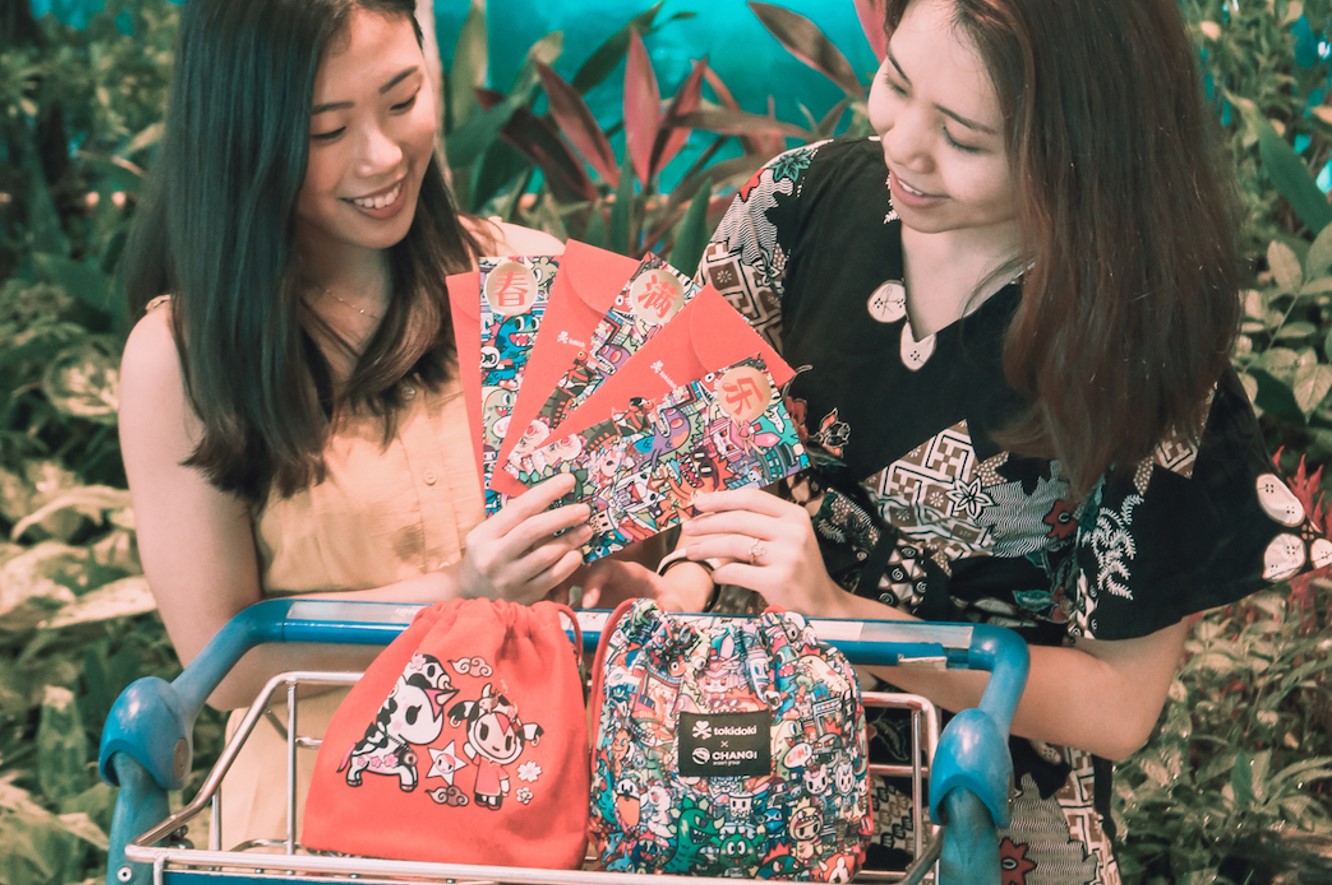 REDEEM EXCLUSIVE TOKIDOKI MERCHANDISE
Bag a tokidoki Red Packet set for free, and purchase a 2-sided tokidoki drawstring bag at only S$8.80!
Here's how:

Spend a minimum of S$60* (S$90 for supermarkets)* in a single same-day receipt, at participating outlets in the public areas of Terminal 1 and 3.

Proceed to the redemption counter (T3B2, Opposite FairPrice Finest) and present your qualifying receipt.

Redeem your exclusive tokidoki premiums!
Terms and conditions apply. Please refer to the full list of terms and conditions below.
*Jewel receipts are excluded.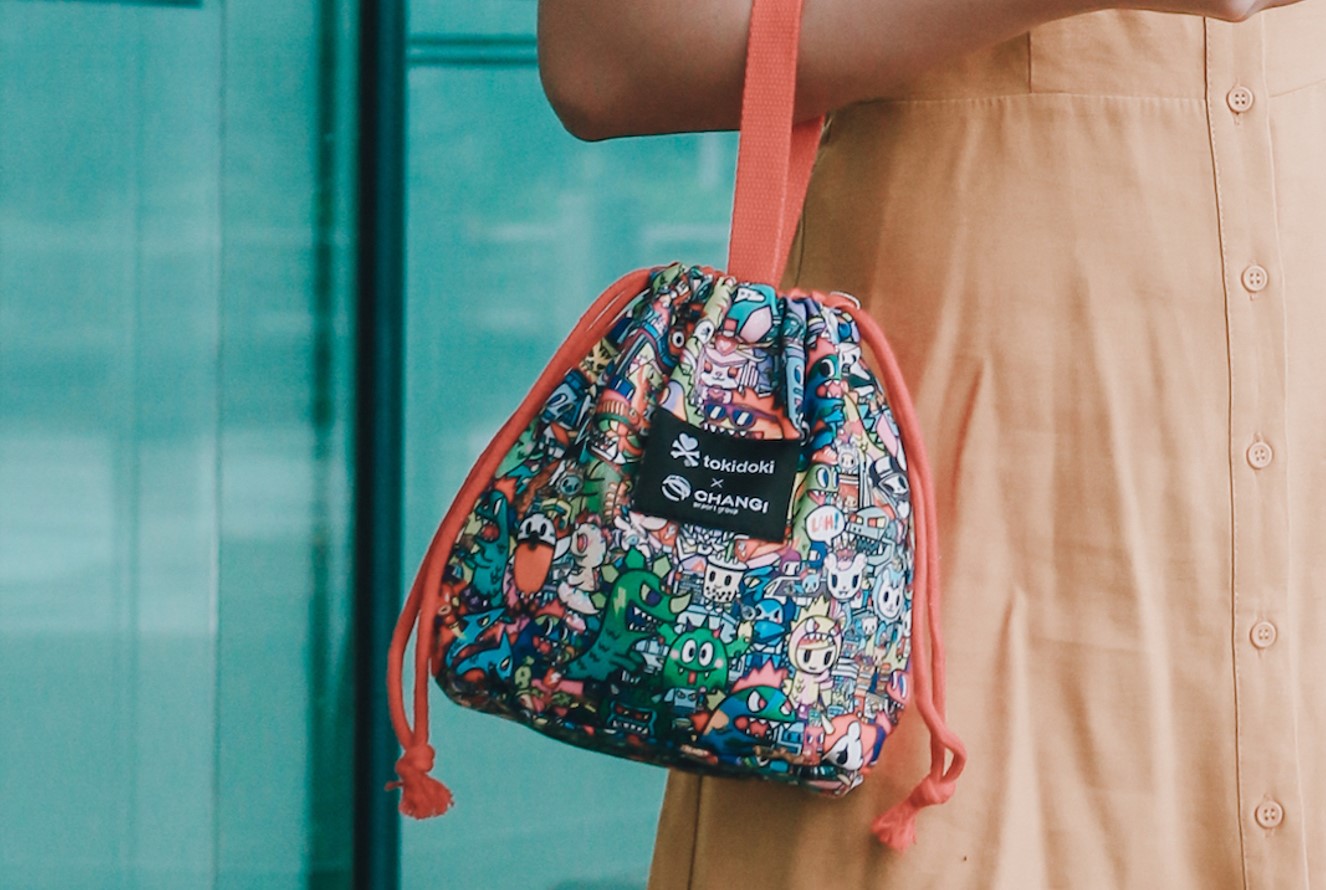 Purchase With Purchase
2-sided tokidoki Drawstring Bag
This versatile 2-sided tokidoki drawstring bag can not only contain your mandarin oranges this lunar year, but also your wallet, phone and more. Limited to only 3000 pieces.

Hurry and redeem yours now at only S$8.80.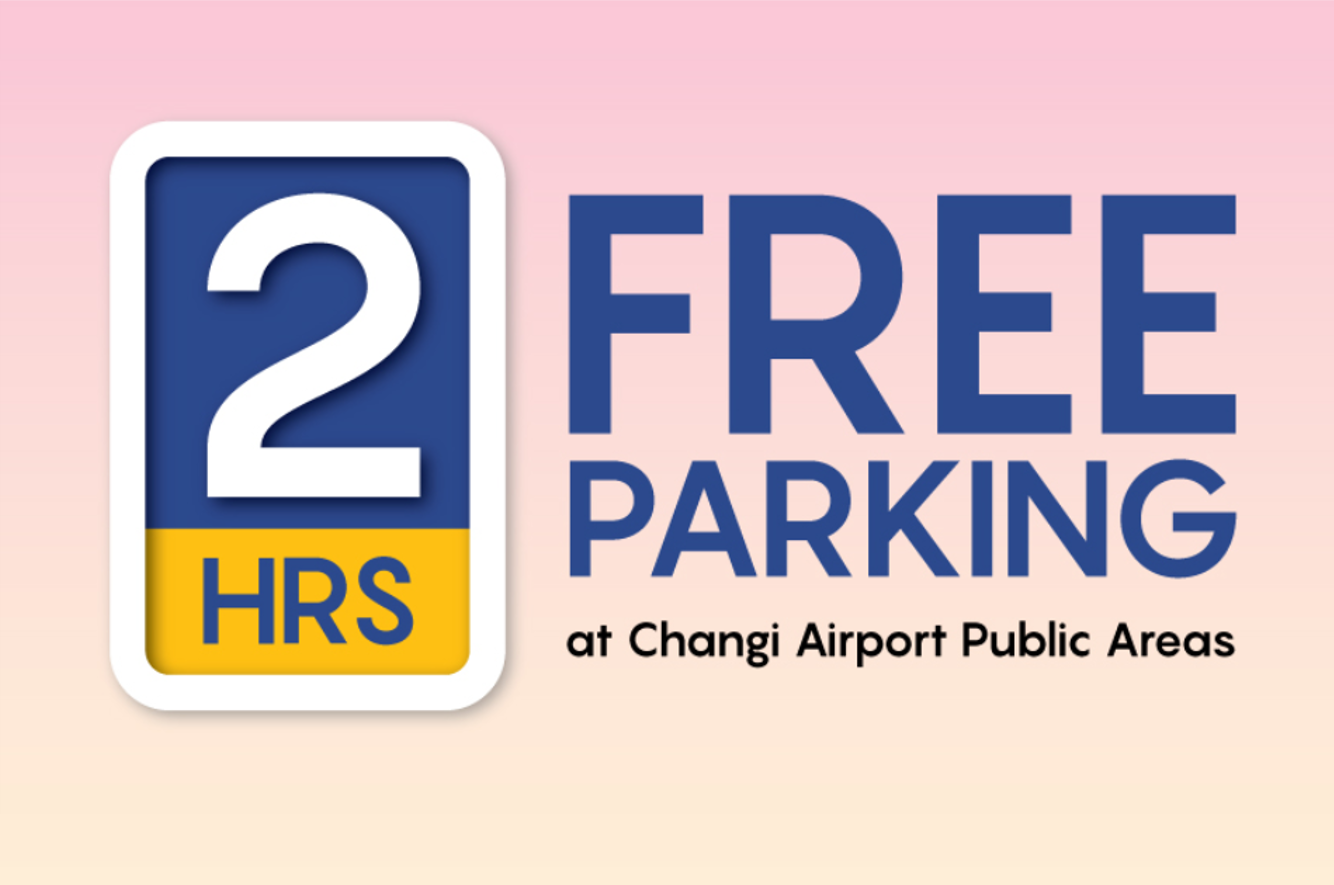 Additional Promotion
2-hour Free Parking
Check out how you can enjoy 2 hours of free parking when you shop and dine at Changi Airport public areas too!
MASTERCARD® AND CHANGI REWARDS EXCLUSIVE
Changi Rewards members rejoice! Enjoy additional offers when you spend via Mastercard with a minimum spend of S$180.
Not a Changi Rewards Member?
Join now to enjoy Changi Rewards Member exclusives or instant benefits such as 2xGST savings from 15 to 31 January 2021 (Fridays to Sundays only) when you shop in Changi Airport!

Find out more about the Changi Rewards programme here.
THE DEALS JUST KEEP COMING.
From free parking to amazing Chinese New Year promotions and even 2xGST savings on selected dates, delight yourself with shopping and dining at Changi Airport.   
Chinese New Year F&B Deals
List of Participating Outlets
[NOTICE] Due to the evolving COVID-19 situation, several outlets are temporarily closed. Please refer here for the updated list of operating outlets and their operating hours.
Terminal 1 Participating Outlets
RETAIL
1
Cosmetics & Perfumes by The Shilla Duty Free
Departure Hall
2
Triplets
Departure Hall
3
WH Smith

Departure Hall
FOOD & BEVERAGE
 

1

MA MUM To Go

Arrival Hall

2

Heavenly Wang

Departure Hall

3

Wang Nasi Lemak

Departure Hall

4

Andes by Astons

Level 3

5

Anjappar

Level 3

6

Burger King

Level 3

7

Kailash Parbat

Level 3

8

Pappamia

Level 3

9

Root98

Level 3

10

Teahouse by Soup Restaurant

Level 3

11

TGM

Level 3
Terminal 3 Participating Outlets
RETAIL
1
8 by Bottles & Bottles
Basement 2
2
Boarding Gate
Basement 2
3
Cotton On
Basement 2
4
Enchante x McK
Basement 2
5
Eu Yan Sang
Basement 2
6
FairPrice Finest
Basement 2
7
Giordano
Basement 2
8
Guardian Health & Beauty
Basement 2
9
Jon Louis
Basement 2
10
Kidztime!
Basement 2
11
Mixshop
Basement 2
12
Peniwern
Basement 2
13
Play! by KinderPlay
Basement 2
14
Poh Kim DVD 4K Blu-Ray
Basement 2
15
Samsonite
Basement 2
16
Seeds of Joy
Basement 2
17
Sift & Pick
Basement 2
18
Sugar
Basement 2
19
Sunglass Hut
Basement 2
20
SZAN
Basement 2
21
The BLUES
Basement 2
22
The Body Shop
Basement 2
23
The Digital Gadgets
Basement 2
24
The Paul Frank Store
Basement 2
25
Unity Pharmacy
Basement 2
26
Wan Yang Foot Reflexology
Basement 2
27
ZoneX
Basement 2
28
Cheers
 
29
Bengawan Solo
Departure Hall  
30
Chomel
Departure Hall  
31
Cosmetics & Perfumes by The Shilla Duty Free
Departure Hall
32
Dragon Brand Bird's Nest
Departure Hall 
33
Durian Mpire by 717 Trading
Departure Hall 
34
Fragrance Bak Kwa
Departure Hall
35
Mei Kee Bakery
Departure Hall

36
The Cocoa Trees
Departure Hall
37
The Digital Gadgets
Departure Hall
38
The Planet Traveller
Level 3
FOOD & BEVERAGE

1

4 Fingers Crispy Chicken

Basement 2

2

Canton Paradise Congee & Noodle Bar

Basement 2

3

CHICHA San Chen

Basement 2

4

Curry Times & Old Chang Kee

Basement 2

5

Hokkaido Baked Cheese Tart

Basement 2

6

Ichikokudo Hokkaido Ramen

Basement 2

7

Jollibean

Basement 2

8

KOI Express

Basement 2

9

Kopitiam (Top-up receipts not qualified)

Basement 2

10

Le Shrimp Ramen

Basement 2

11

Mr Teh Tarik Express

Basement 2

12

Rainbow Lapis (Opening in Feb)

Basement 2

13

Swensen's

Basement 2

14

Saap Saap Thai Desserts

Basement 2

15

Saap Saap Thai

Basement 2

16

Stuff'd

Basement 2

17

Tai Cheong Bakery

Basement 2

18

Ya Kun Family Café

Basement 2

19

Yikowei

Basement 2

20

Heavenly Wang

Arrival Hall

21

LiHO

Arrival Hall

22

McDonald's

Arrival Hall

23

Paris Baguette

Arrival Hall

24

108 Matcha Saro

Departure Hall

25

llaollao

Departure Hall

26

O'Coffee Club

Departure Hall

27

Old Town White Coffee

Departure Hall

28

Starbucks Coffee

Departure Hall

29

A-One Signature

Level 3

30

Central Thai

Level 3

31

Collin's

Level 3

32

Paradise Dynasty

Level 3

33

Colonial Club (temporarily closed)

Level 3

34

Bikanervala (temporarily closed)

Level 4

35

Xin Wang Hong Kong Café (temporarily closed)

Level 4
Terms and Conditions
By participating in the promotion, shoppers will be deemed to have read and understood these rules and to be bound by them, any other requirements set out in any related promotional material and all amendments, additions, replacement and modifications as may be from time to time.
The Promotion is organized by Changi Airport Group (Singapore) Pte. Ltd. ("CAG").

QUALIFICATIONS

Spend a minimum of the qualifying amount with their respective conditions in a single same-day receipt from participating retail and F&B outlets at Changi Airport's Terminals 1 and 3 public areas (collectively "Changi Airport Public Areas"). Receipts from Jewel Changi Airport are NOT eligible for the promotion.
Limited to one (1) redemption per qualifying receipt regardless of spending amount in excess of the minimum spend required.
Qualifying receipt(s) must be presented at the redemption counter for verification purpose.
For the Mastercard and Changi Rewards exclusive promotion, proof of Changi Rewards membership and spend by Mastercards must be represented at the redemption counter for verification purpose.

The same qualifying receipts may be used for redemptions of other on-going promotions at Changi Airport e.g. 2-hour free parking coupon redemption.

Duplicated receipts from tenants will not be accepted at the redemption counter.
Valid same-day receipt(s) are from any participating Changi Airport Shop & Dine outlet in Changi Airport Public Areas, excluding receipts from banks, money changing facilities, medical clinics, top-up card transactions/ machines, receipts from purchases of Changi gift card, gift certificates and vouchers, temporary outposts operated by non-CAG tenants, postal services, telecommunication outlets including StarHub, pay-per-use, ambassador and airline lounges, Changi Recommends outlets and service counters, MindChamps Preschool, baggage storage services counter and Crowne Plaza Hotel and all F&B outlets within the hotel premises).
If a security deposit has been made at any of the participating outlets, the same-day receipt reflecting the security deposit amount must be presented and the security deposit amount must qualify for the redemption.

Payment modes accepted (Note: To qualify for the Mastercard and CR exclusive promotion, payment should be made by Mastercard) to meet the qualifying spend are:
  - Cash (in local currency or equivalent amount in foreign currency)
  - NETS and Credit cards
  - Changi Dollar vouchers, Changi Rewards eVouchers
  - Changi Gift Cards

Payments made using other payment modes not mentioned above (such as tenant vouchers e.g. NTUC vouchers) are excluded from the computation of the qualifying spend amount. However, such non-eligible payment modes may still be used for partial payment for the transaction, provided that the balance amount paid in eligible payment modes i.e. for Mastercard exclusive promotion, partial payment by Mastercard credit cards meet the qualifying spend amount.

Redemption must be made on the same day of purchase(s), except for purchase(s) made after 10.30pm. For purchases made after 10.30pm, customers must keep the original receipt of their purchase and may redeem for the promotion within 7 days of receipt date.

GOODS
GWPs arising from this promotion shall be referred to as "goods" henceforth.

All redemptions will end at 10.30pm daily (otherwise stated) or when the goods are fully redeemed for the day; whichever is earlier.

All goods are redeemable on first-come, first-served, subjected to availability and on while-stocks-last basis.

The Promotion will end on 21 February 2021 or when the goods are fully redeemed, whichever is earlier.

All redemptions are non-transferable, non-negotiable, non-refundable, and cannot be exchanged for cash.

Selection of any goods design is not allowed.

Goods are dispensed at random by chance based on the availability of the item(s) in the inventory. CAG reserves the right to replace the goods with other goods or designs without prior notice.

Goods are offered on "as is" basis and Changi Airport Group (Singapore) Pte. Ltd. ("CAG") hereby disclaims any and all representations and warranties whether express or implied as to the premiums being of merchantability quality and fitness for any purposes.

OTHERS
CAG reserves the right to change any of the terms & conditions without prior notice.

To the fullest extent permitted by law, CAG shall not be liable in contract, tort (including negligence) or otherwise for any (i) direct loss; (ii) indirect or consequential loss, (iii) damage; (iv) cost and expense; or (v) loss of profits suffered by you arising from or in connection with the premiums/goods.

Changi Airport Group (Singapore) Pte. Ltd. ("CAG") and its authorised agencies shall not be liable for any injury, damage or loss arising out of or in connection with this promotion, and each participant agrees to indemnify and hold CAG harmless from and against any and all claim, loss or damage incurred by the participant or by any other party in relation to the promotion.

Any collection, use and disclosure of participants' personal data will be strictly in accordance with CAG's privacy policy (available at http://www.changiairport.com/en/privacy-policy.html ).

CAG's decision on all matters relating to the event and its promotion is final, conclusive and binding on all.

CAG reserves the right to vary the terms and conditions herein at any time at its absolute discretion without notice.
CAG reserves the right to refuse the participation of any person for any reason whatsoever, including but not limited to unsafe or unruly behaviour that may result in harm or damage to that person or any other persons and/or property.
To promote and advertise the event, CAG reserves the right to engage authorised photographers and videographers to take photographs and/or video recordings. By participating in the event, you consent to being photographed and recorded by authorised photographers and videographers as guest/customers at the event and consent to the use of such images, films or recordings for public transmission and for the marketing and publicity materials of CAG.
In the event of any inconsistency between the terms and conditions with any other form of publicity collaterals relating to the promotion, these Terms and Conditions shall prevail.
Frequently Asked Questions
Who may participate in this promotion?
All shoppers who had shopped at the participating stores in Terminal 1 and 3 public areas and have paid the qualifying amount in full and with qualifying payment modes, are eligible to participate in this promotion.


Is the promotion limited to one redemption per shopper?
No, shoppers may redeem multiple times throughout the promotion period, provided he/she has multiple valid receipts that qualify. Each receipt may only be used ONCE for each redemption.


 Can I participate in this redemption with purchases made in the transit area, Jewel or on iShopChangi?
No, purchases must be made at participating outlets at Changi Airport's public areas in Terminal 1 and 3 only.


Are receipts from FairPrice Finest accepted?
Yes. Please note the minimum qualifying redemption amount for supermarkets below:
All payment modes (Including Mastercard): S$90 in a single same-day receipt
Mastercard and Changi Rewards Exclusive Promotion: S$210 in a single same-day


Are receipts from Jewel accepted?
No. You may refer to this the list of participating outlets in the "Participating Outlets" tab above.


Do I qualify for two redemptions if I spent $120 in a single receipt?
No, each receipt will only be entitled to one redemption
(i.e. 1 receipt = 1 redemption).


Do I qualify for the Mastercard Exclusive promotion if I have spent more than S$180 in 1 receipt only?
Yes, provided that at least S$180 was paid with Mastercard.