Creating a theatre of experience with art in Terminal 4
Vibrant art awaits visitors
Once it's open on 31 October, passengers travelling through or just visiting Changi Airport's Terminal 4 (T4) will be able to enjoy a visually immersive and theatrical experience with specially curated art and entertainment features by local and international artists. Located at vantage points across the terminal, the collection encapsulates an array of traditional art forms, such as sculptures, as well as kinetic and multimedia installations that provide a colourful and photo-friendly interlude from the hustle and bustle of travel.
One common theme threads through the different art pieces in T4 – their ability to portray the vibrant, fun and positively surprising vibe of the terminal. The team overseeing the artwork started their search five years ago, travelling to Italy, France, Germany and Thailand to meet with artists to conceptualise and design one-of-a-kind art pieces that weave a narrative which brings together art and travel.
Petalclouds, a grand-scale kinetic installation that spans 200 metres of the Central Galleria, is a unique kinetic sculpture that combines art and technology to create a harmonic, collective choreography of six identical 'petal clouds'. Don't be fooled by its name though! Although it moves as lightly and unencumbered as clouds, the installation comprises 96 elements, each about 3 metres in diameter and 40 kilogrammes in weight. Because of its sheer size, the team had to assemble it on-site, spending six months fabricating and installing all six clouds in T4.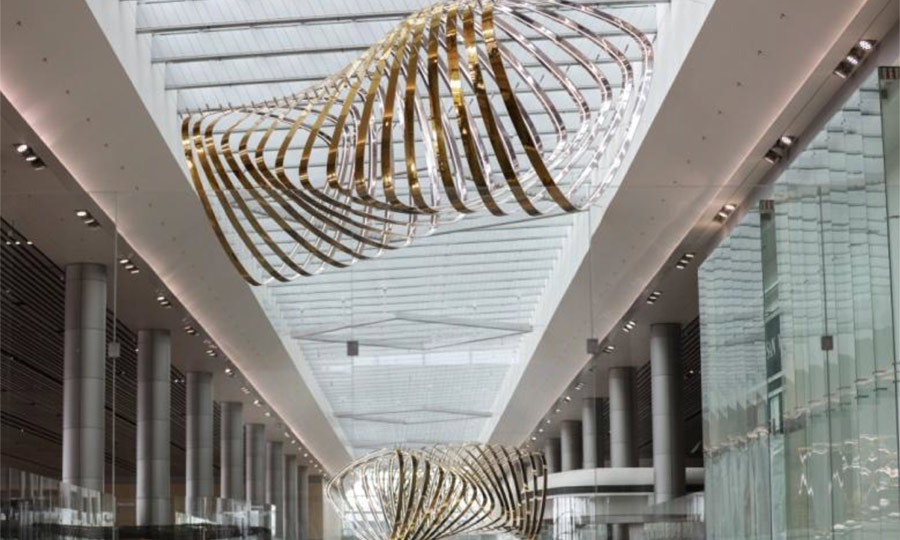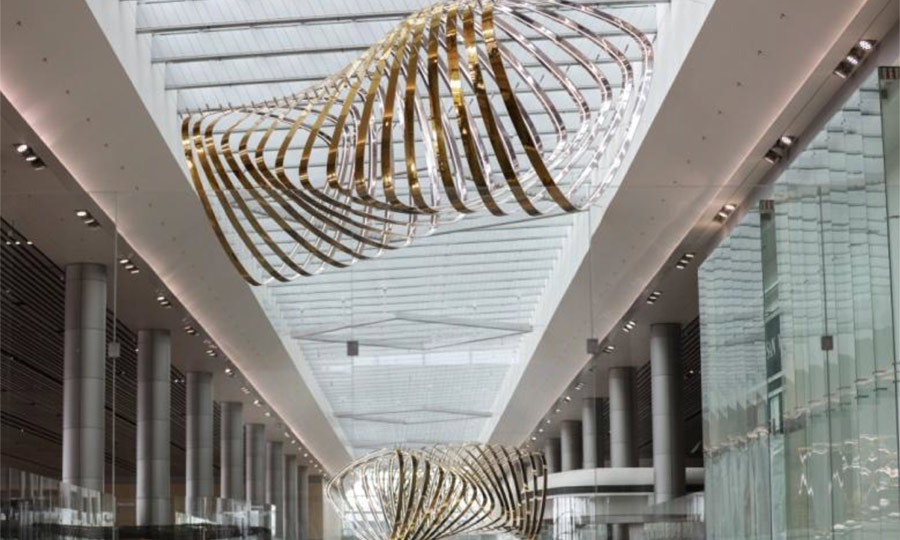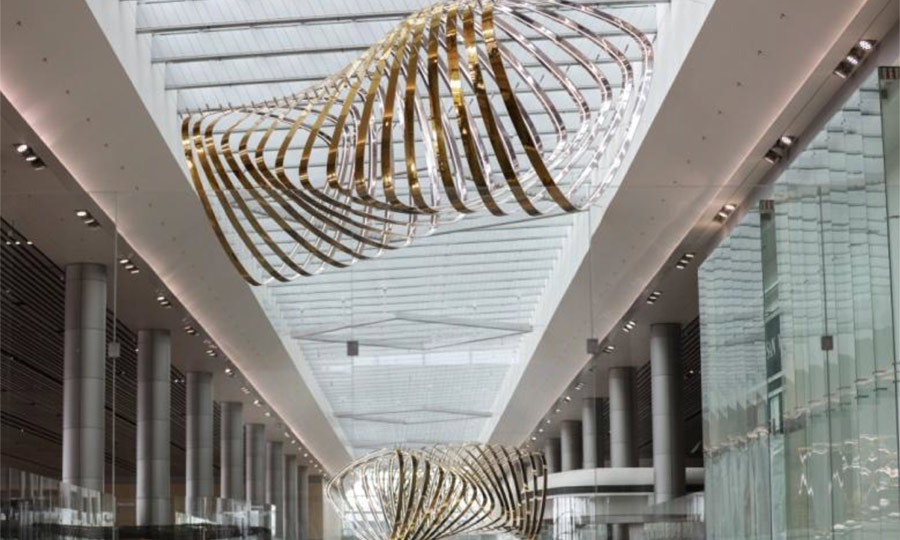 Petalclouds by ART+COM (Germany)
Location: Central Galleria
When checking in for your flight, don't miss Hey, Ah Chek!, a playful depiction of a mother and her son hailing a trishaw ride after a typical visit to the market created by Singaporean sculptor and Cultural Medallion winner, Chong Fah Cheong. The bronze sculpture, which weighs about 500 kilogrammes, was moved four times, requiring an A-frame and four strong men to lift it with a mechanical hoist, before its 'sweet spot' was decided.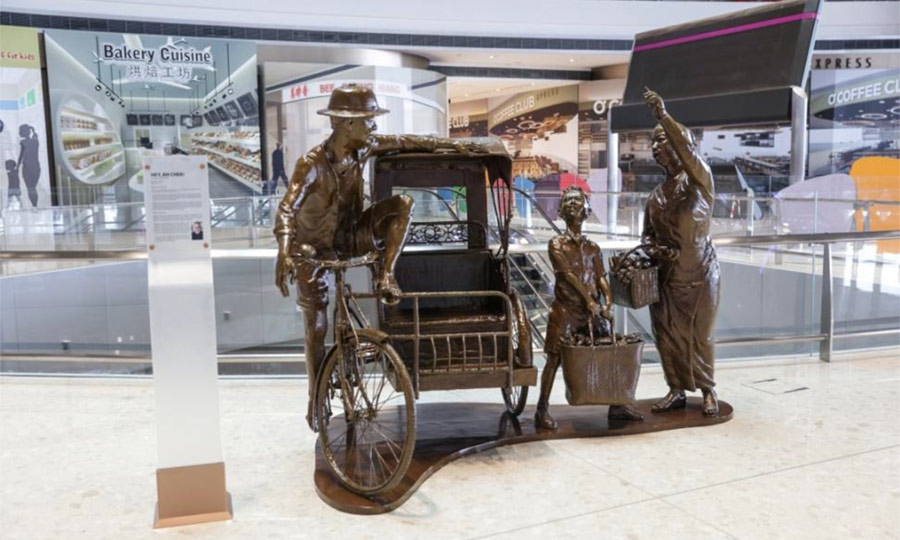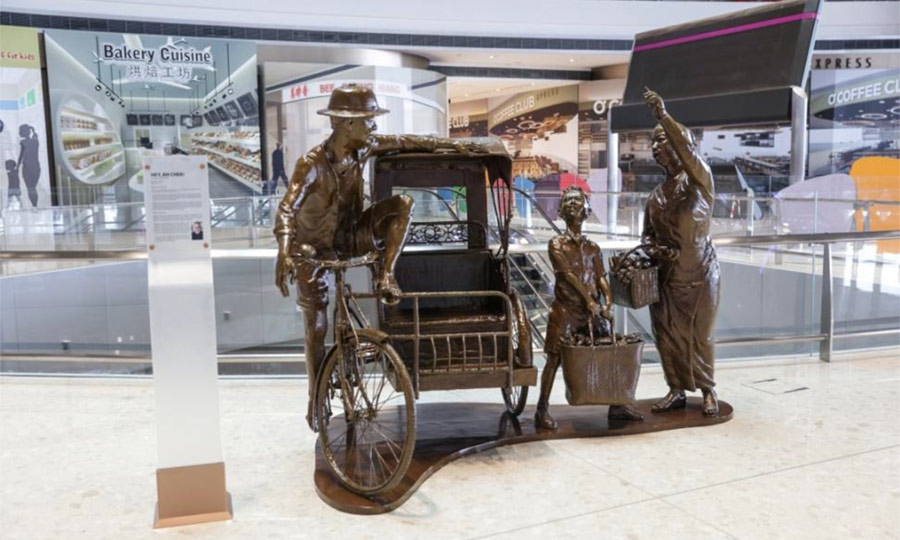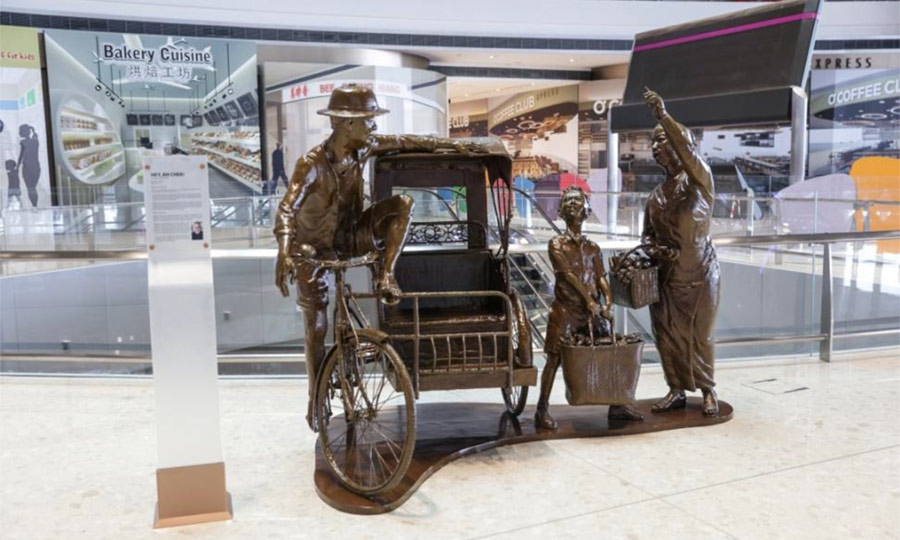 Hey, Ah Chek! by Chong Fah Cheong (Singapore)
Location: Departure Check-In Hall
Known to be a perfectionist at his craft, French artist, Cedric Le Borgne, played with the verticality of the landscape for Les Oiseaux (The Birds). Three larger-than-life bird sculptures, each with a different attitude, greet passengers in the Arrival and Departure Halls. This is the artist's first permanent indoor art installation in Asia, and the result is a piece of beautiful luminous artwork when set against the golden hour of 6pm to 7pm at T4's west façade.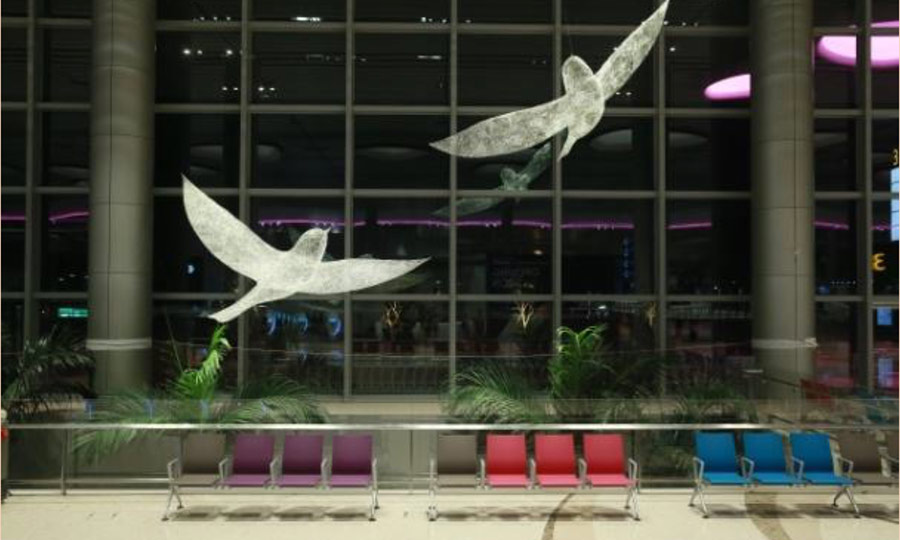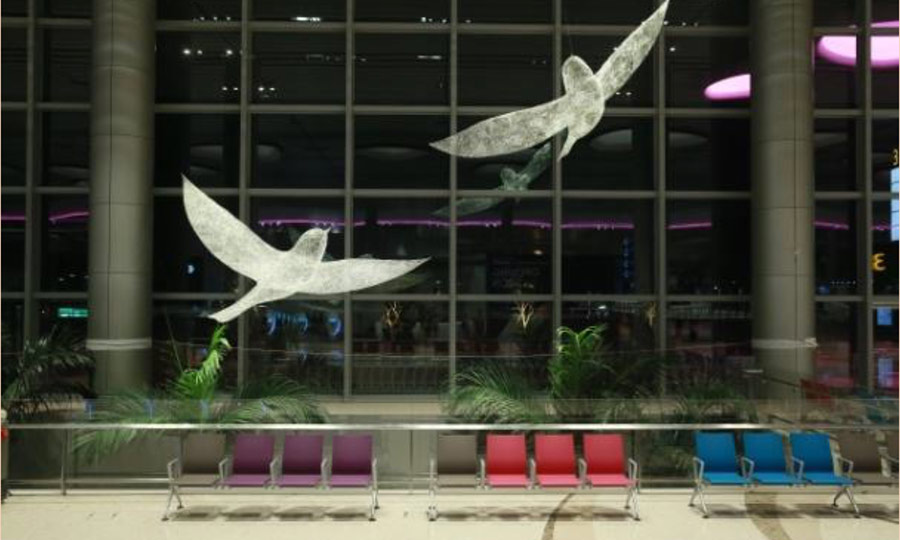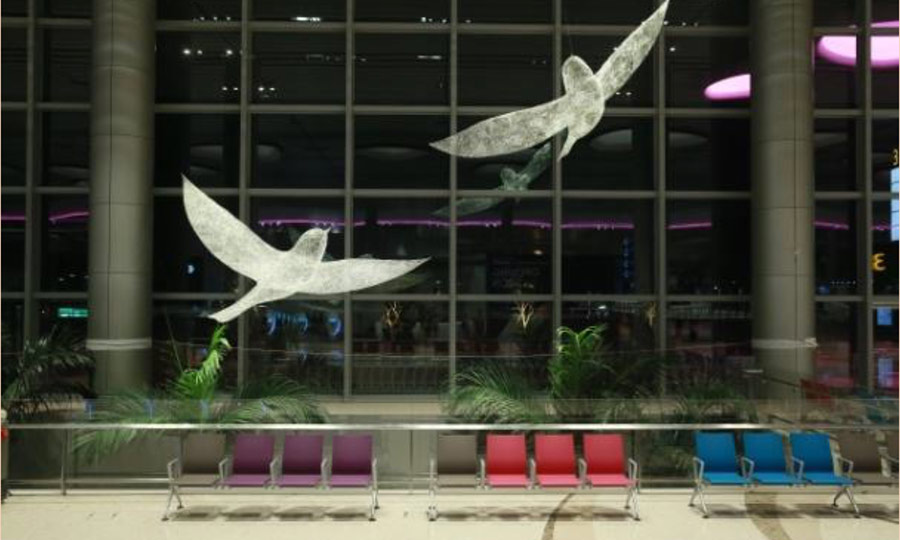 Les Oiseaux (The Birds) by Cedric Le Borgne (France)
Location: Arrival & Departure Halls, Public Area
In the making of Travelling Family by Swiss artist, Kurt Metzler, the Changi team was warmly hosted to lunch at his home in Siena, Italy as they discussed his vision for the artwork.  The outcome was a set of sculptures - an avant garde piece in polished brush aluminium material  - depicting a mixture of passengers and their children in the airport ready to embark on their next adventure.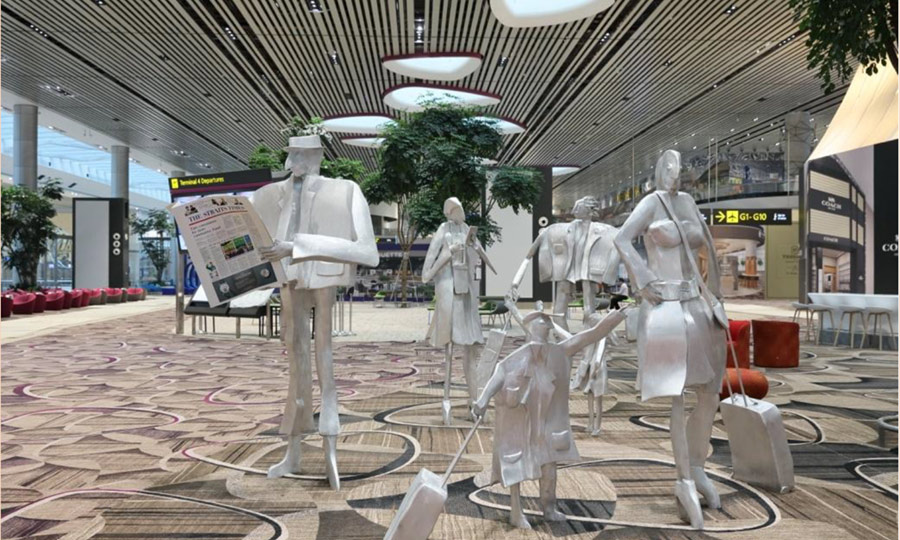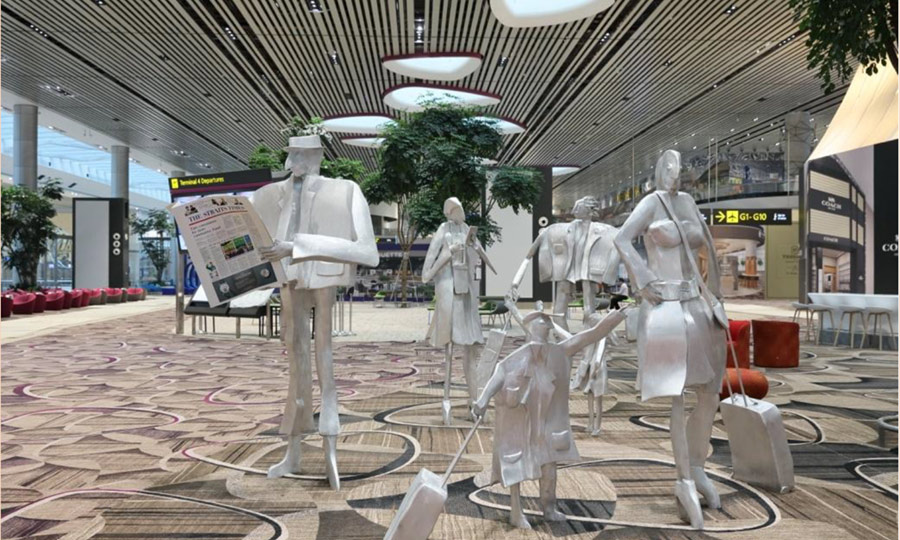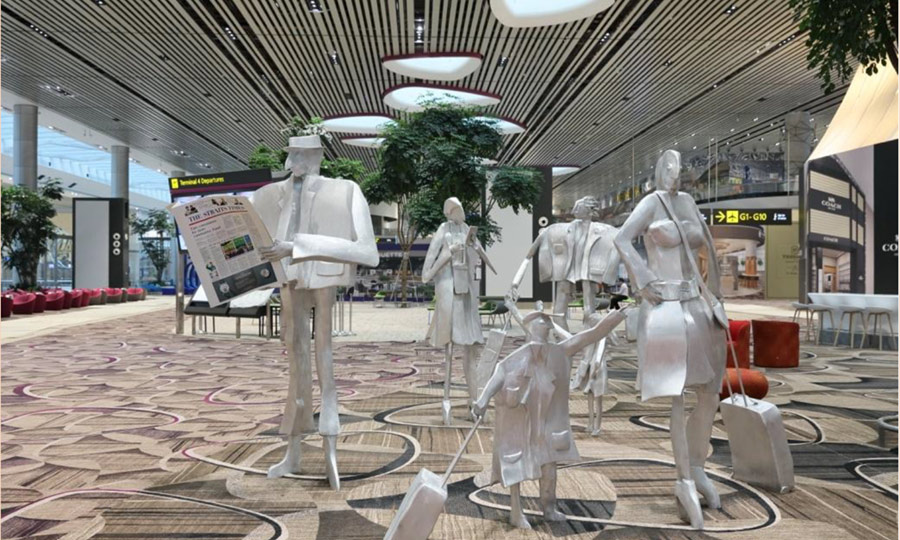 Travelling Family by Kurt Metzler (Switzerland)
Location: Departure Transit, Central Area
Other art in the terminal harness the captivating power of local culture and multimedia technology. Paying homage to the rich and colourful Peranakan culture in Singapore is the Heritage Zone, showcasing the evolution of shophouse architecture and a special digital theatre stage for a six-minute cultural mini-theatre show, Peranakan Love Story. Also, catch the 70 metres by 5 metres Immersive Wall in the centralised security screening area, which will entertain travellers with compelling high-definition imageries of Singapore's skyline, ASEAN landmarks and a whimsical animated clip of the journey of suitcases being screened.