WHAT WE DO
The Airport Emergency Service (AES) team is always prepared. Find out what drives them.
Making a difference to the safety of our passengers
We always set the bar high at Changi Airport Group. Especially when it concerns the safety of our passengers.

The Airport Emergency Service is the team that is counted on to make a difference when the unexpected happens. For any airport to remain operational, a world-class aviation rescue and fire-fighting unit is essential. Officers in our Airport Emergency Service have a strong sense of responsibility and are committed to saving lives.
We train for every possibility to ensure that the fire safety standards across Changi Airport, Seletar Airport and the RSAF airbases are never compromised. From conducting exercises, executing aerodrome emergency plans, mitigating aircraft accidents, to planning emergency response for large-scale events, our team is poised to handle all emergencies within the airport vicinity.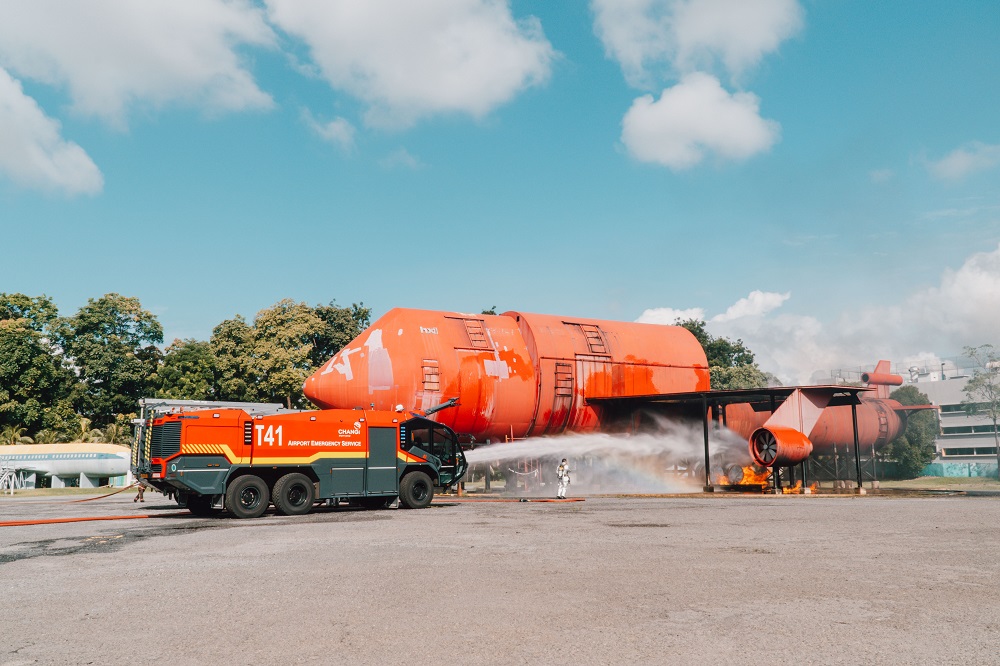 Meet the "Red Bird"
All AES personnel need to go through a rite of passage in the form of a hot fire drill in an aircraft simulator to ensure that they are sufficiently trained to put out aircraft fires. Read more about the drill inside the Red Bird.
Meet our people
Find out what it's like to work in Airport Emergency Services.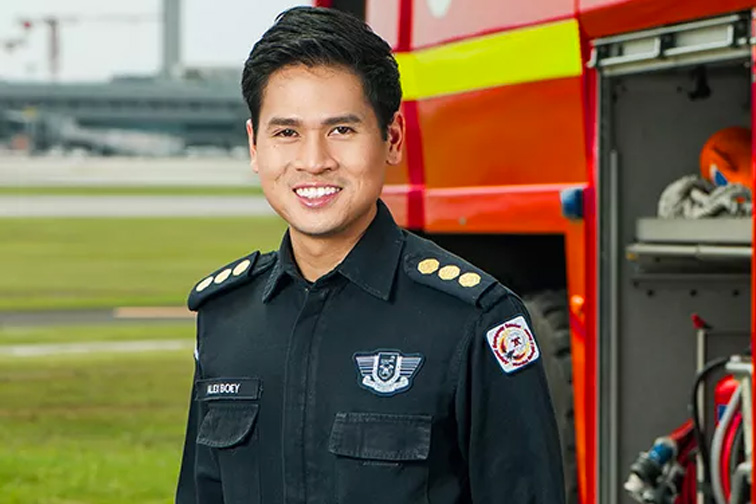 Changi Airport is growing at such a rapid pace. With Jewel and the future Terminal 5, I firmly believe there are plenty of career opportunities and avenues for personal growth to look forward to. At work, I constantly find myself in situations where I am forced to challenge the status quo and push the boundaries of existing operational methods and procedures.

I also have to anticipate future challenges and opportunities, so as to prepare my team of Duty Officers and Firefighters to handle the increasing complexities of emergencies that come along with the airport expansion. It is a role that gives me tremendous job satisfaction, and I am truly grateful to be given this opportunity to be part of the next chapter of Changi Airport.
Alexander Boey
Airport Emergency Service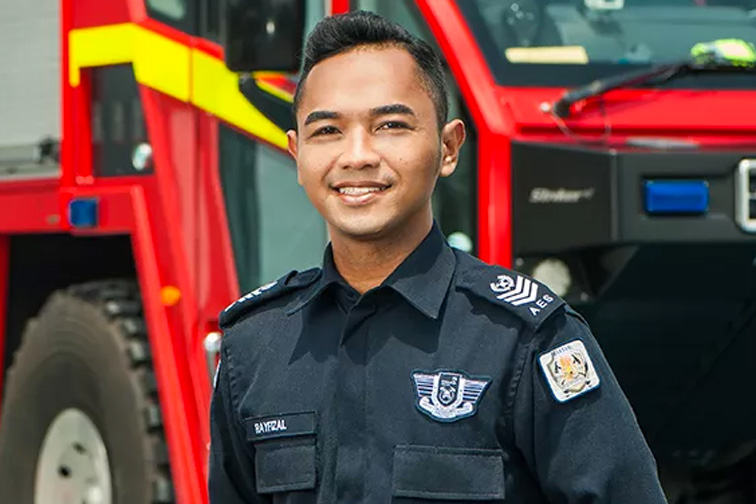 CAG offers a pleasant and engaging working environment, with plenty of prospects for growth and wonderful colleagues from all walks of life. Working in a team-centric environment has presented me with the opportunity to develop myself further and provided the ability to think outside the box to achieve desired outcomes.
It has been an exhilarating experience, filled with pleasant surprises, to be part of the company's continual growth. AES has trained me to be a more resilient and patient person, offering multiple opportunities for progression. Within a short span of four years, I have gone from being a firefighter to my current role as a leader. I am extremely proud to be part of the organisation managing and operating one of the best airports in the world.
Rayfizal Bin Mohd Tumin
Airport Emergency Service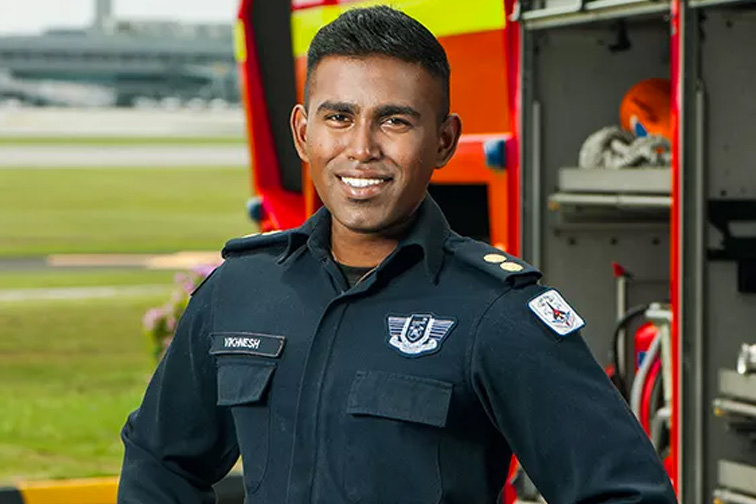 It takes a special type of person to be involved in rescue work. People are at the heart of what we do.  
AES is a close-knit family that offers a myriad of opportunities to grow and develop as a leader at the world's best airport.
Training is key in our bid for operational excellence, and it is as challenging as it should be. After all, nothing less is expected from the elite!
Vikhnesh Tanggarasa
Airport Emergency Service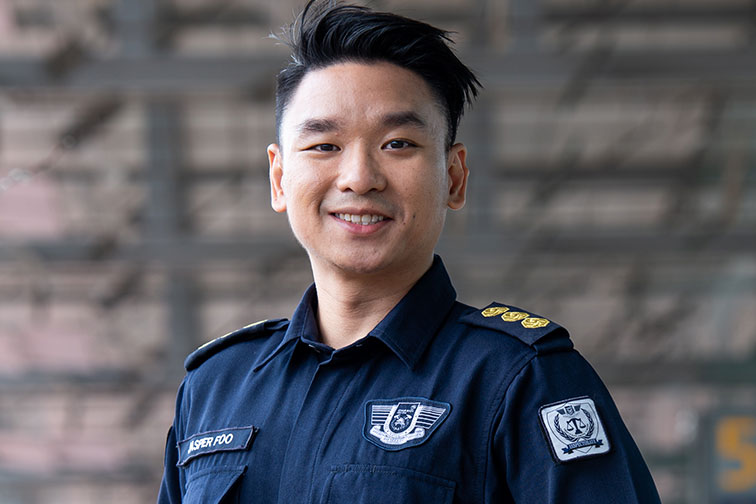 Passion, excitement & growth. These are what attracted me to join CAG and Airport Emergency Service (AES). Here at AES, I found my second home and I take pride in the fact that what I do matters to the lives of more than 60 million passengers that pass through our gates.
As part of the AES team, we ensure that Changi Airport's safety standards remain world class through operational excellence and innovation. In addition, the diverse range of roles offers me learning opportunities to grow as a leader. For now, I am excited to be part of the Development team that prepares and plans for the future Terminal 5.
Jasper Foo
Airport Emergency Service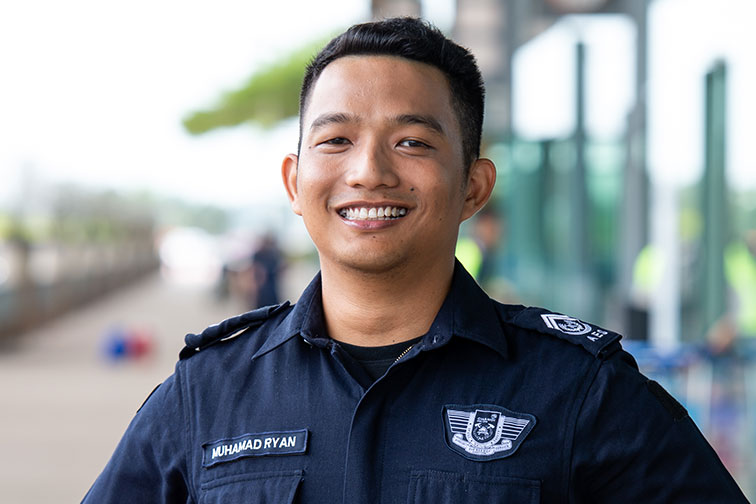 The Airport Emergency Service (AES) provides rescue and fire protection at both our airports - Changi and Seletar, as well as the RSAF Air Bases in Singapore. We take pride in ensuring the safety of our passengers through conducting aircraft emergency exercises, effecting airport emergency plans and mitigating the impact of aircraft accidents. A strong sense of duty to keep the world's best airport safe keeps me motivated and the desire for innovation across all divisions challenges me to never rest on our laurels. We are always ready!
Muhd Ryan
Airport Emergency Service