Mentoring Arts@Metta artists to hone their professional skills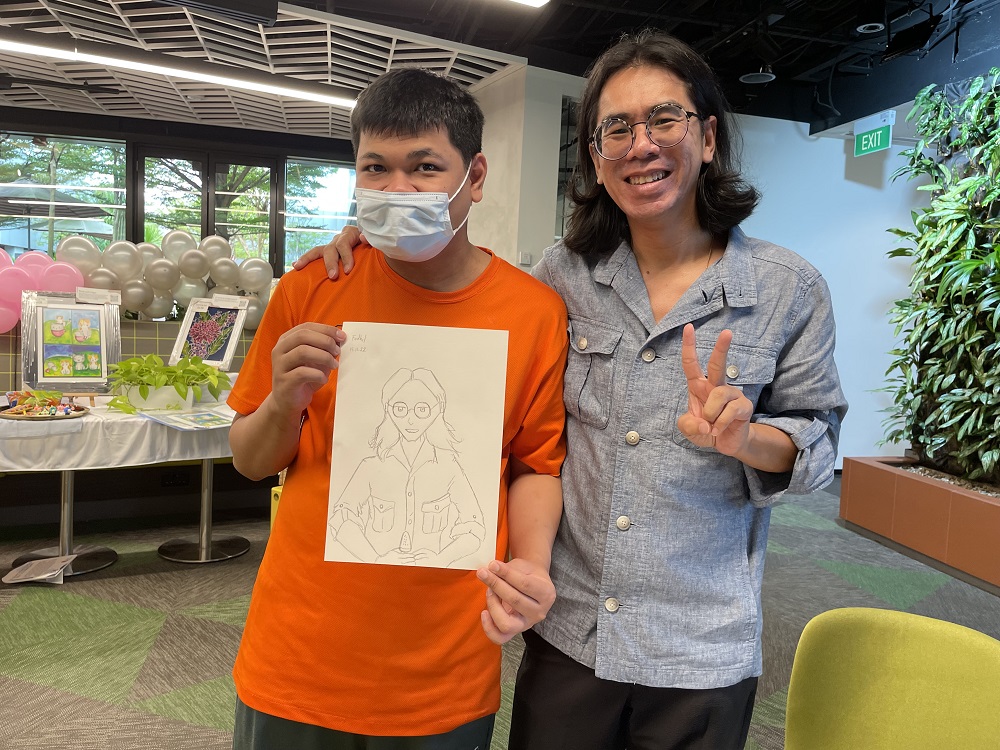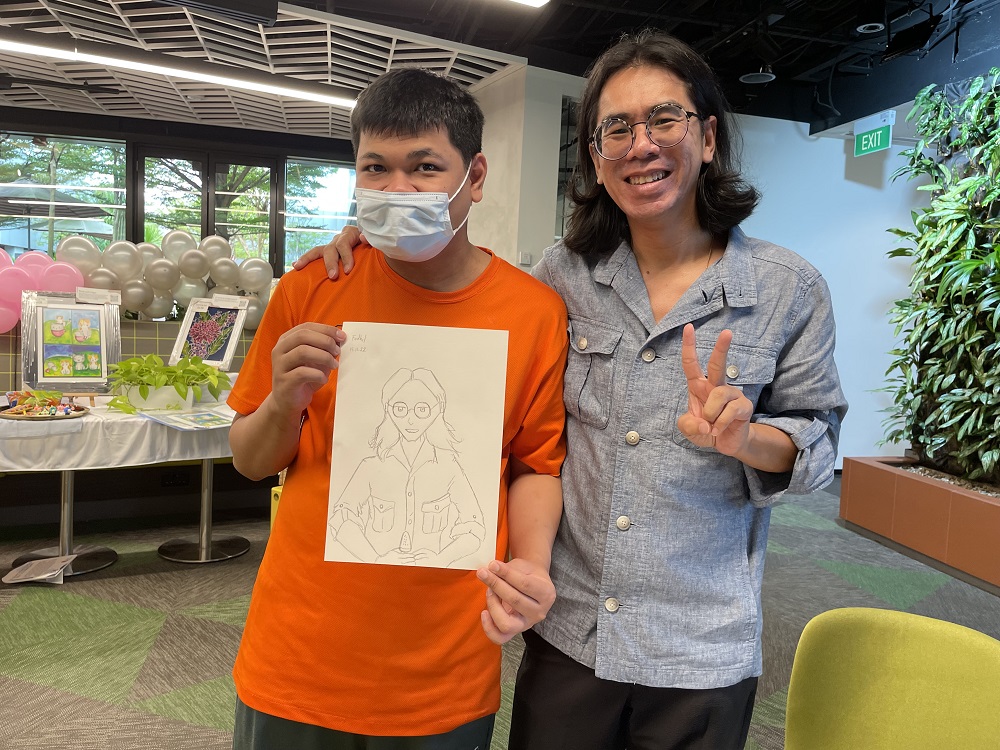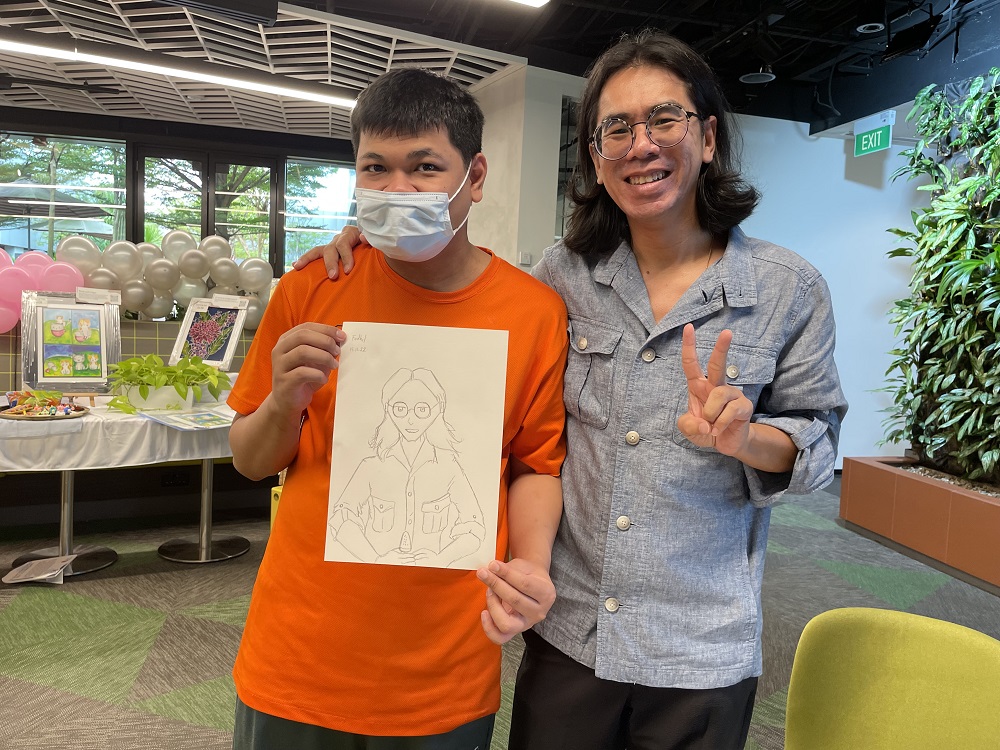 For the past two years, Changi Foundation's virtual art programme has helped special needs artists from Arts@Metta mature in their craft. Currently running into its third year, the programme developed by Daniel Foo, Senior Manager, Design Management, who is also Changi Airport's Art Custodian, has shifted focus to help the Arts@Metta artists to better hone their skills as professionals.
When Covid-19 restrictions started easing in Singapore and classes can be conducted in-person again, Daniel introduced another key component into the year three's curriculum -- a special mentorship and coaching programme designed to help the Arts@Metta artists develop a second specialisation to broaden their artistic knowledge and repertoire. This is in line with the overall goal of helping the artists become more self-sufficient, so that they can find a sustainable way of making a living. 
Tapping on relationships with local artists and industry experts that Changi Airport Group (CAG) has worked with, Daniel reached out to four of them to share in their areas of expertise. One of them is Chong Fah Cheong, a Singaporean sculptor and recipient of the 2014 Cultural Medallion (Visual Arts), best known for his many public sculptures across Singapore, including the bronze sculpture 'First Generation' that depicts five boys jumping into the Singapore River. He is also the artist behind the 'Hey Ah Chek!' bronze sculpture located at Terminal 4's Departure Hall.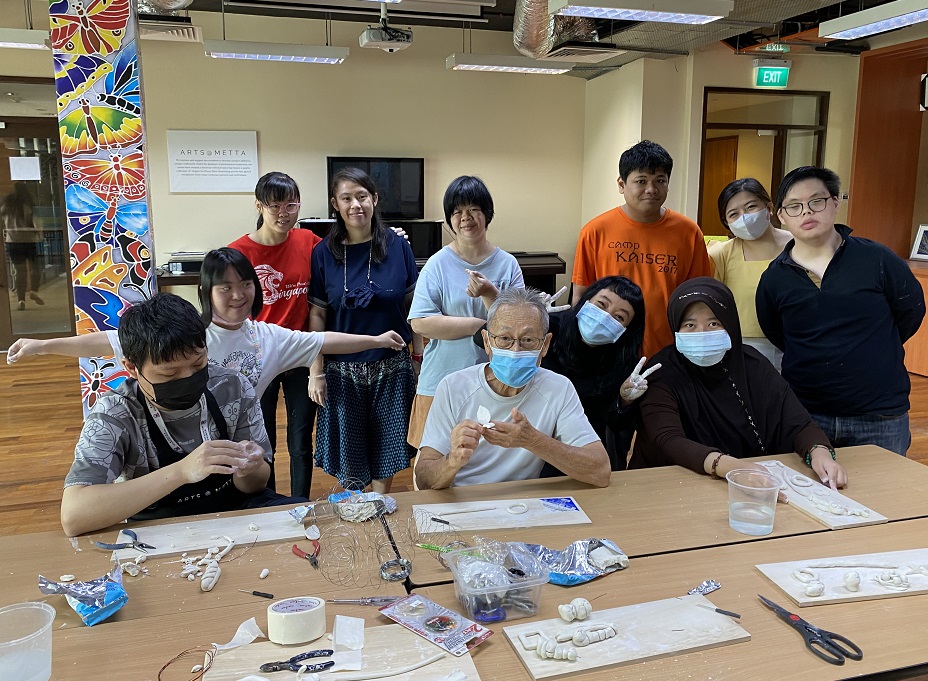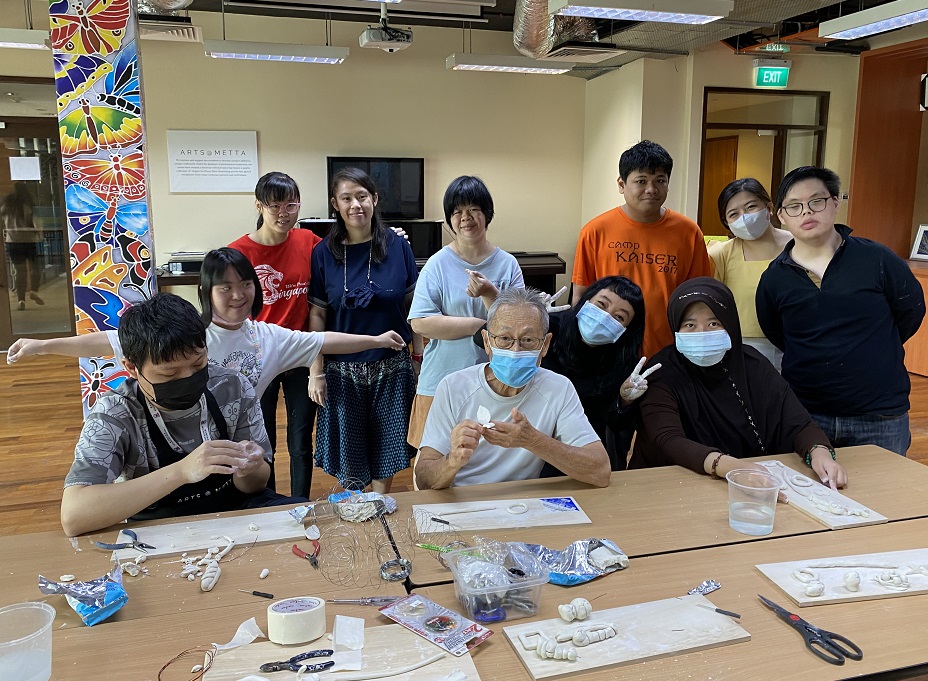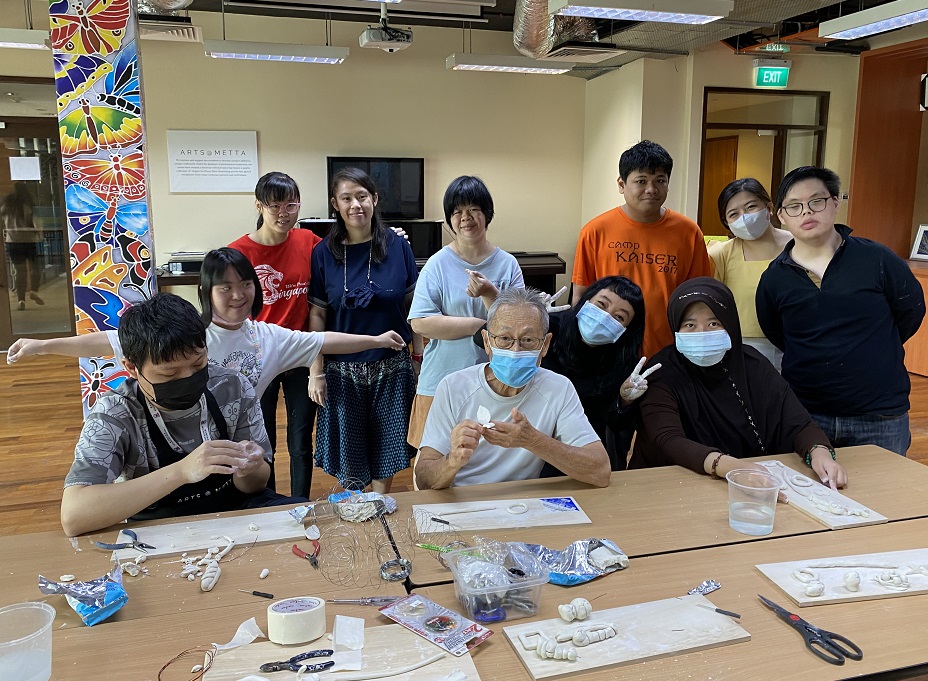 Chong Fah Cheong (centre) enjoyed the three days that he spent coaching and interacting with the artists from Arts@Metta.
Although Daniel only paired two artists with Chong Fah Cheong initially, Mr Chong eventually decided to mentor the entire group after seeing how enthusiastic the artists were. Over the three-day workshop that he conducted, Mr Chong taught the artists how to use wire and modelling clay to venture into the world of sculpturing. Applying what they had learnt, the artists produced a series of adorable miniature clay sculptures at the end of the workshops, which were then made into pins and magnets for sale.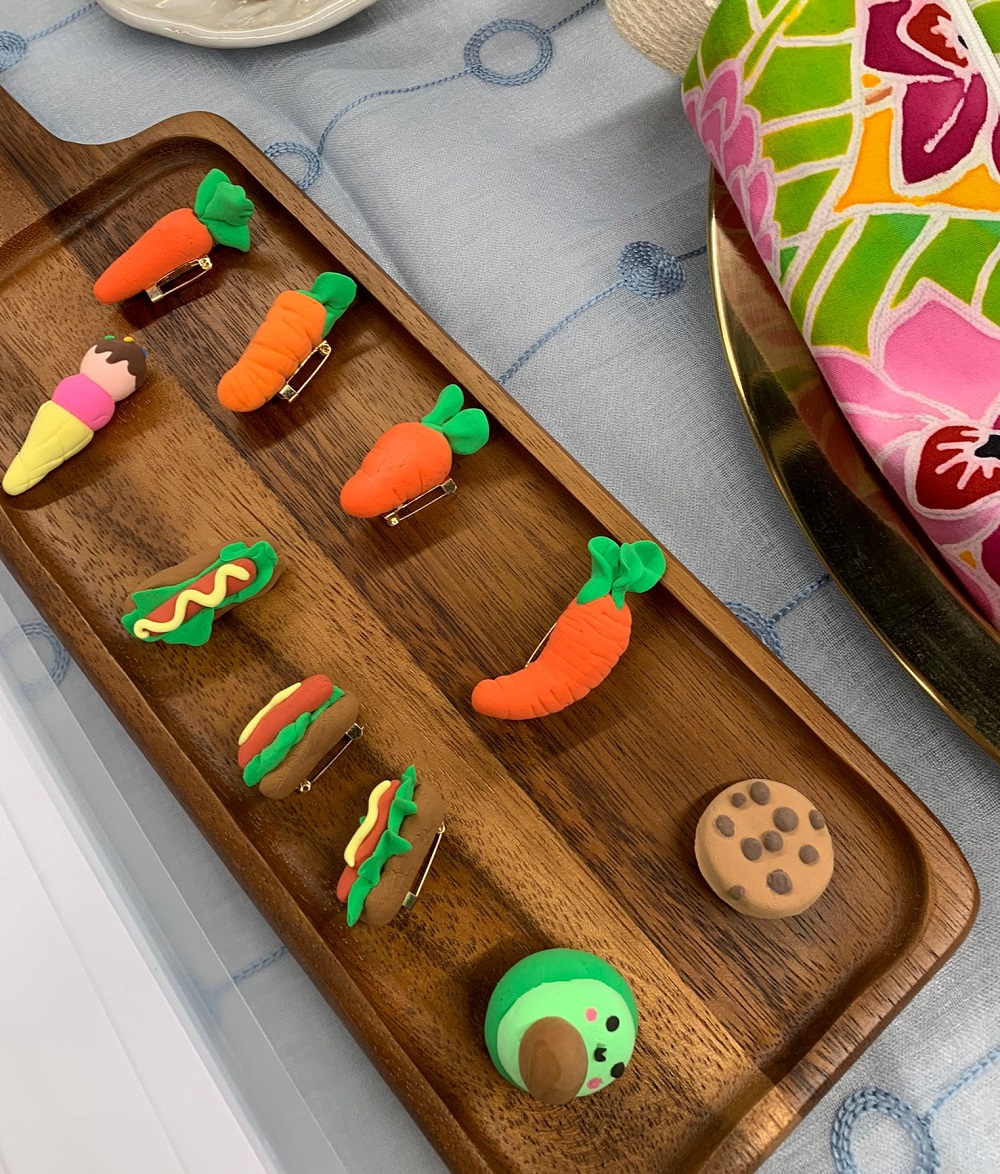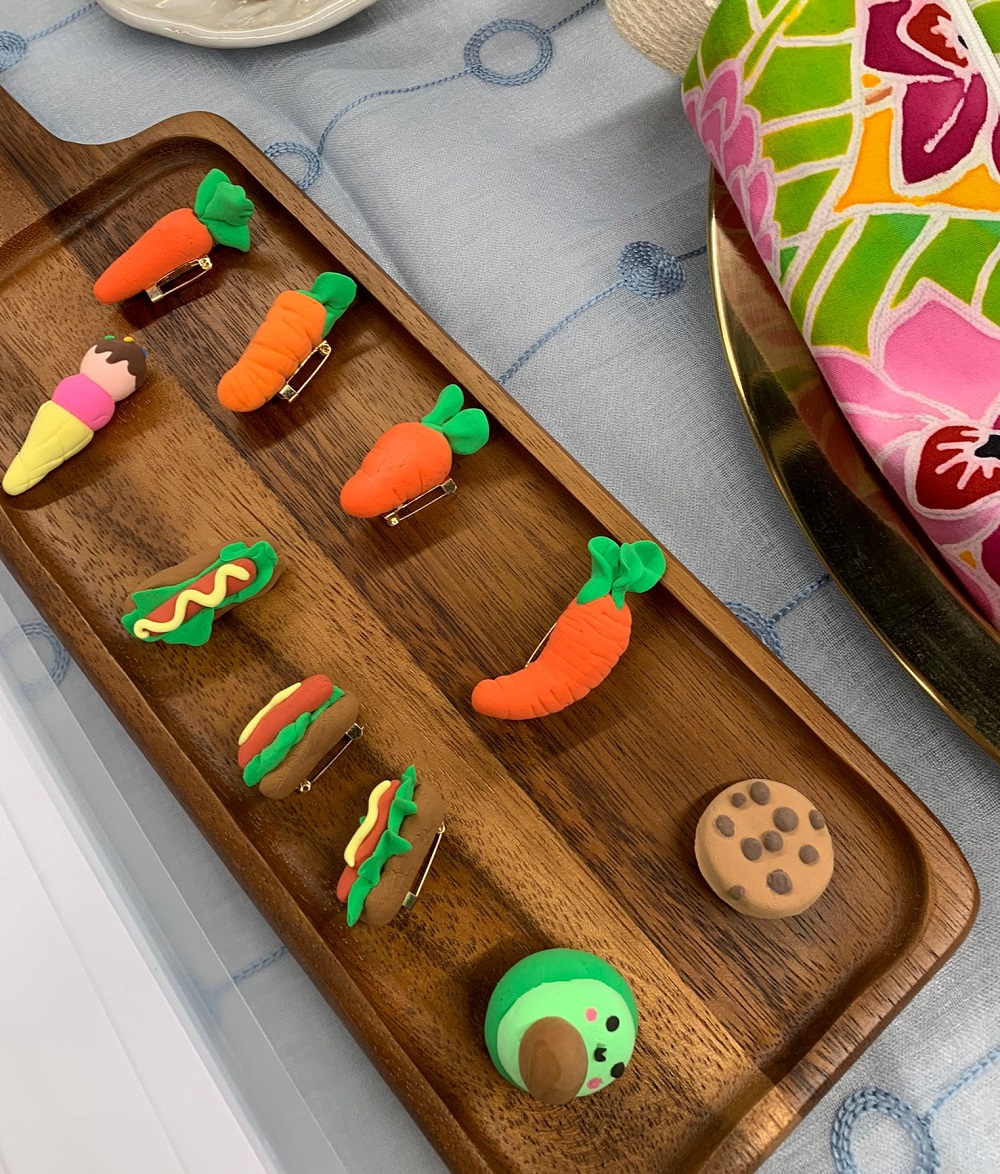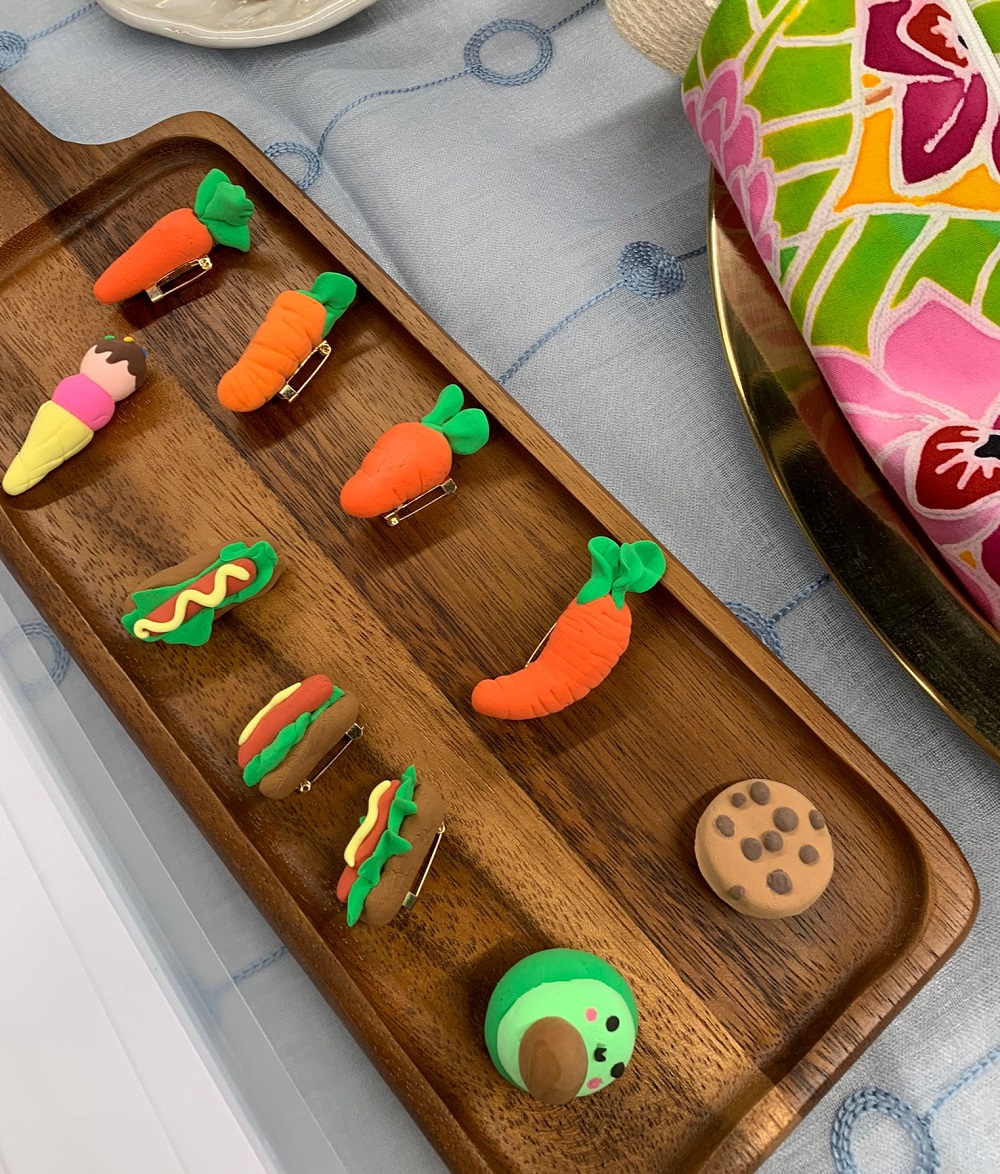 Pins made from clay sculptures hand-made by Arts@Metta artists. 
Equally passionate about the arts and mentoring young artists, Mr Chong shared, "Teaching an art workshop is a most rewarding experience for me — it allows me to share my love for art and sculpture, as well as impart whatever skills I have gained over the years. And one of the best workshops has to be the one with artists from Arts@Metta."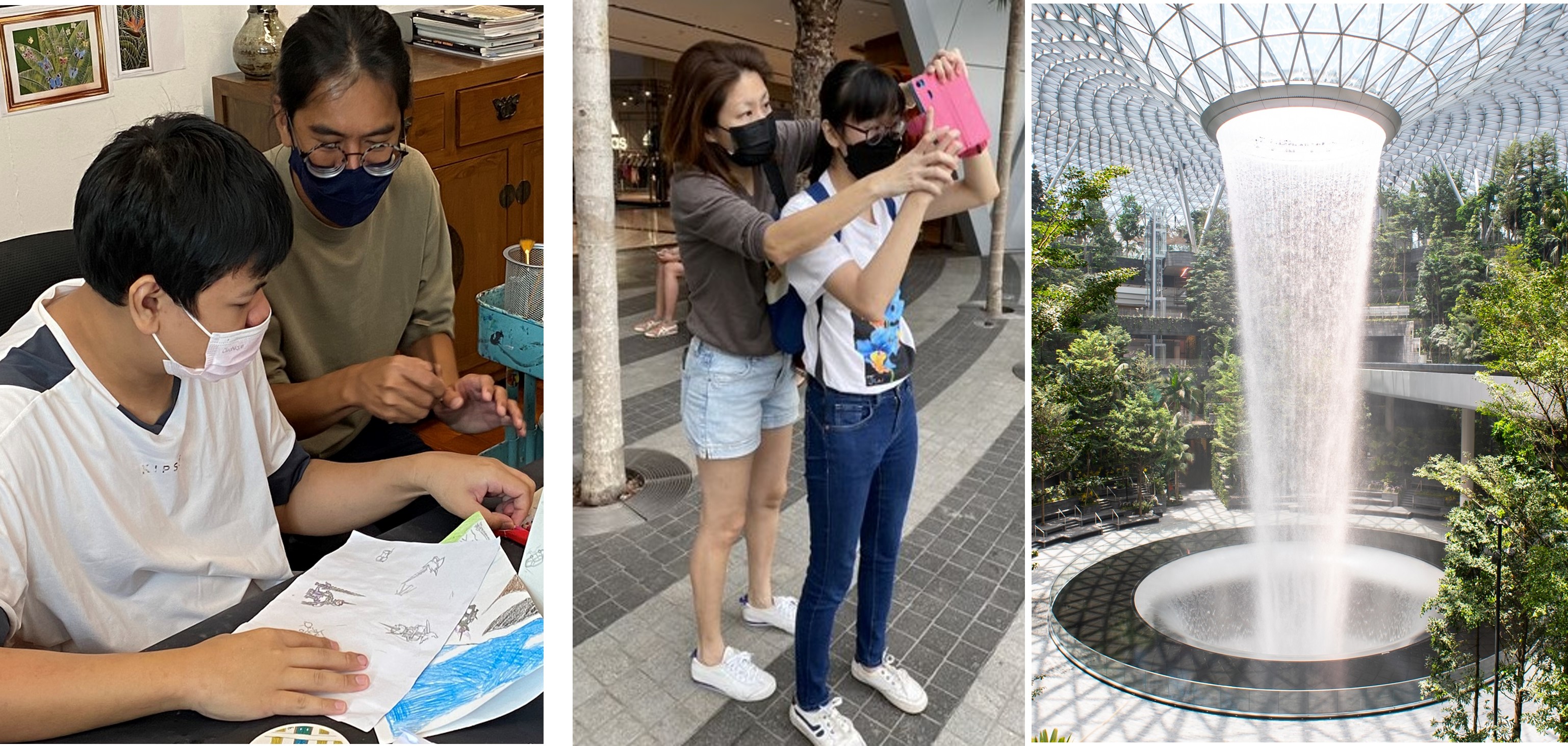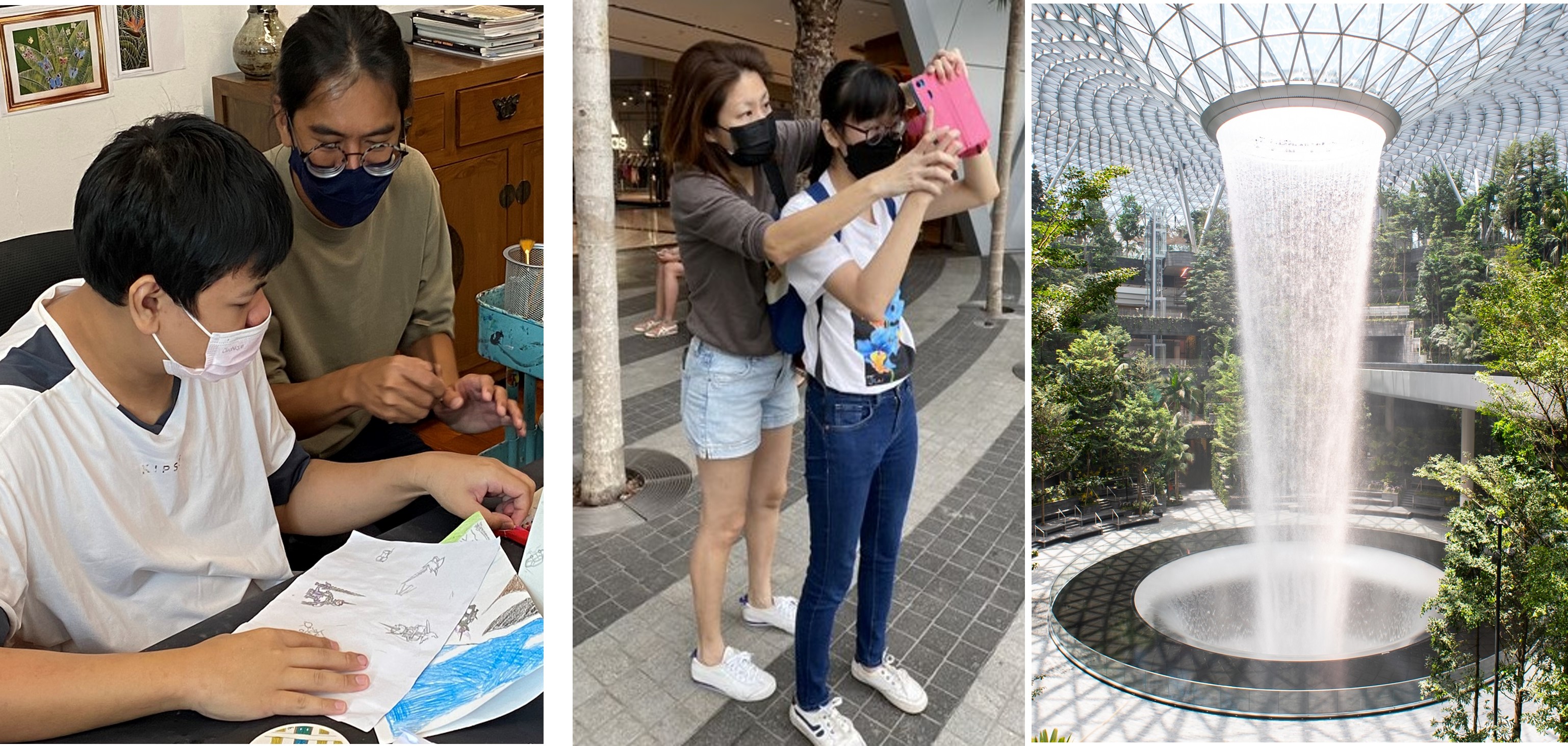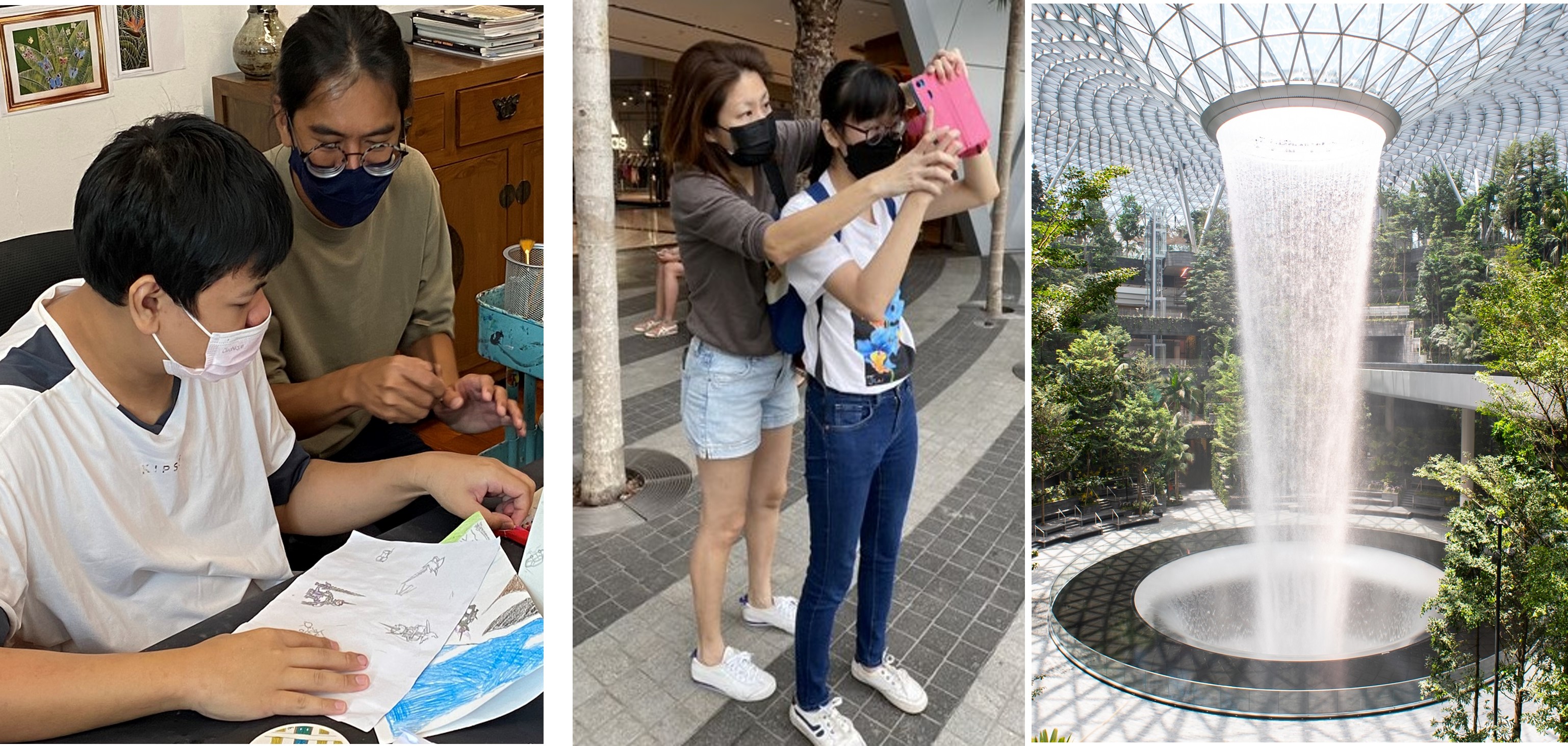 Left: Singaporean graphic designer Alvin Tan and an Arts@Metta artist diving into the quirky world of comics and anime.  
Right: Local photographer Veron Ang and an Arts@Metta artist capturing the unique architecture of Jewel.
Two other well-known names in the industry, Alvin Tan and Veron Ang, were also mentors in the programme. Alvin, one of the founding partners of contemporary art and design collective PHUNK and recipient of the 2007 President's Design Award (Designer of the Year) was also the designer behind the capsule collection of Kinetic Rain-inspired jewellery for the 10th anniversary of the kinetic art installation at Terminal 1's Departure Hall. Of the two artists that he mentored, Alvin ignited one of the artists' interest in comic drawing while discovering a hidden talent in typography in the other. 
Veron, Asia's leading photographer most recognised for her architectural photography on social media platforms like Instagram (@veronang), coached the artist that she was paired with to use an iPhone to take aesthetically-pleasing and creative shots of Jewel and Gardens by the Bay.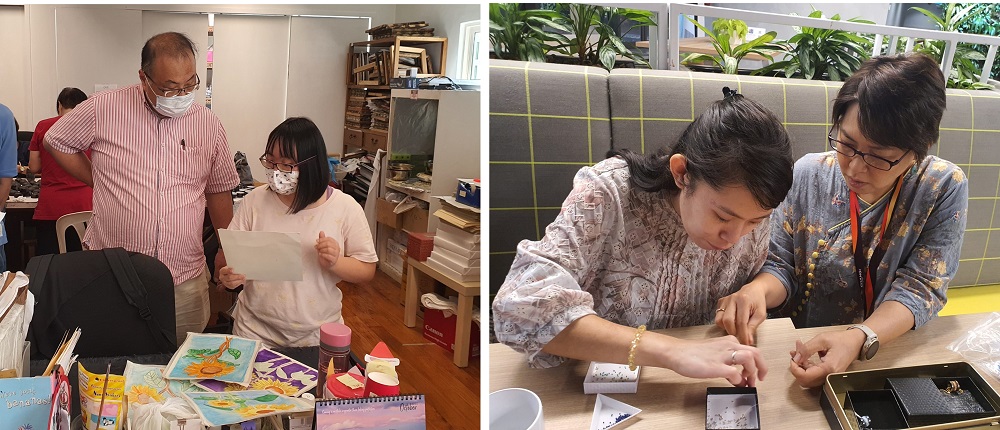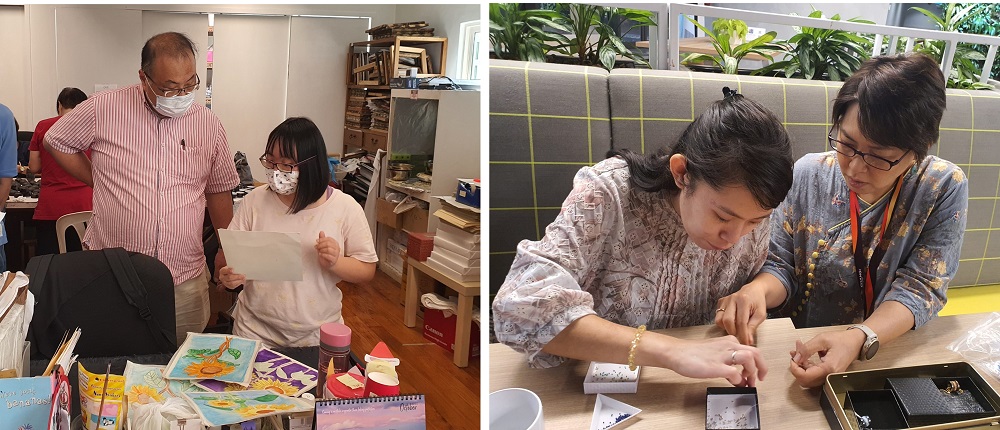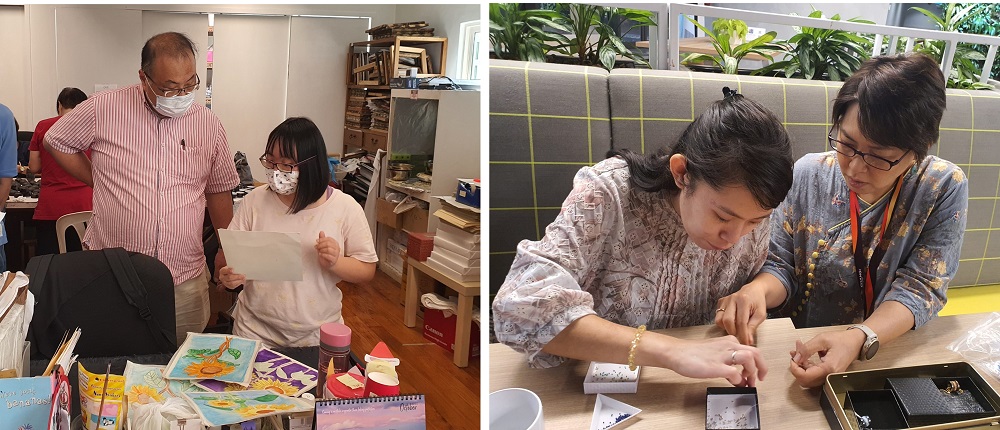 Left: An Arts@Metta artist discussing her idea for a watercolour painting with Mr Ho. 
Right: Jessie, a CAG employee who is passionate about making jewellery and bags, taught an Arts@Metta artist jewellery-making skills.
Ho Sou Ping, an engineer turned artist and the founder of the artcommune gallery that displays artwork of Singapore's finest artists, exposed the two artists that he was paired with to the world of watercolour and sketching. Another mentor, Jessie Loong, a craft hobbyist who is also a Board Member of Changi Foundation and CAG's Group Senior Vice President of Legal & Compliance, imparted her jewellery-making skills to another.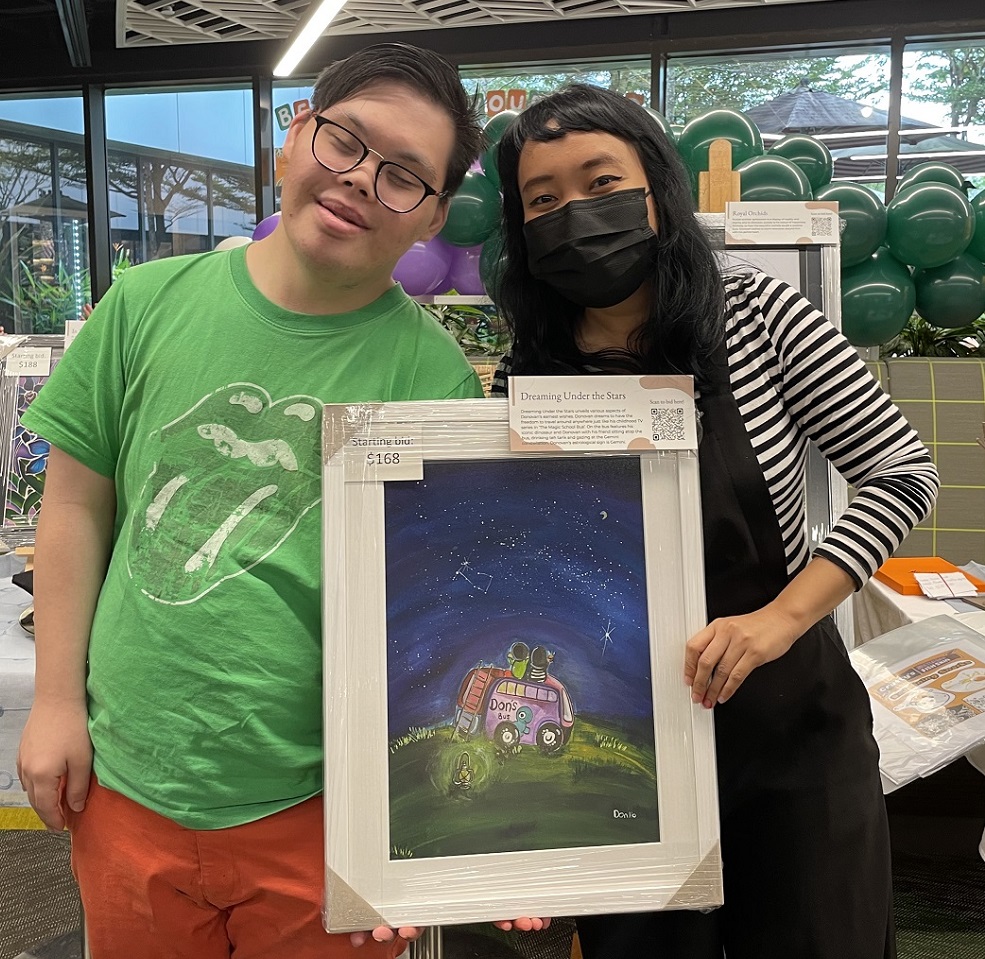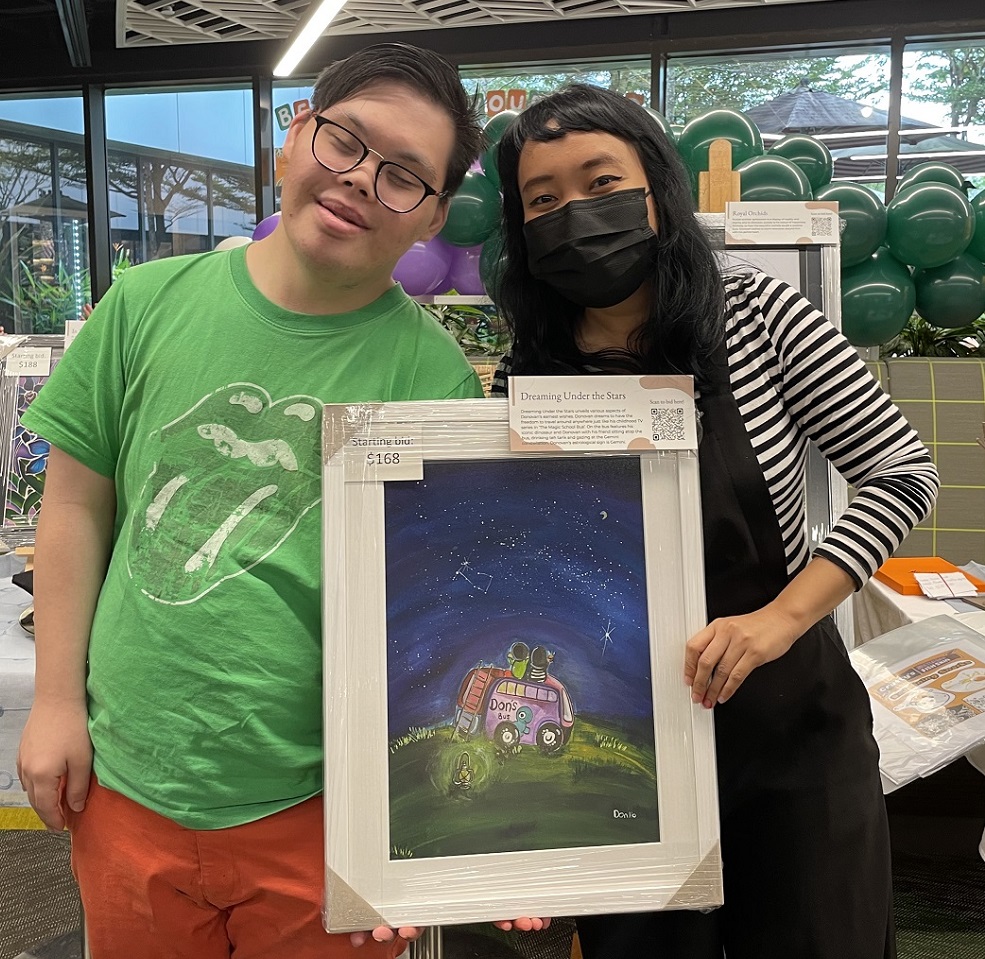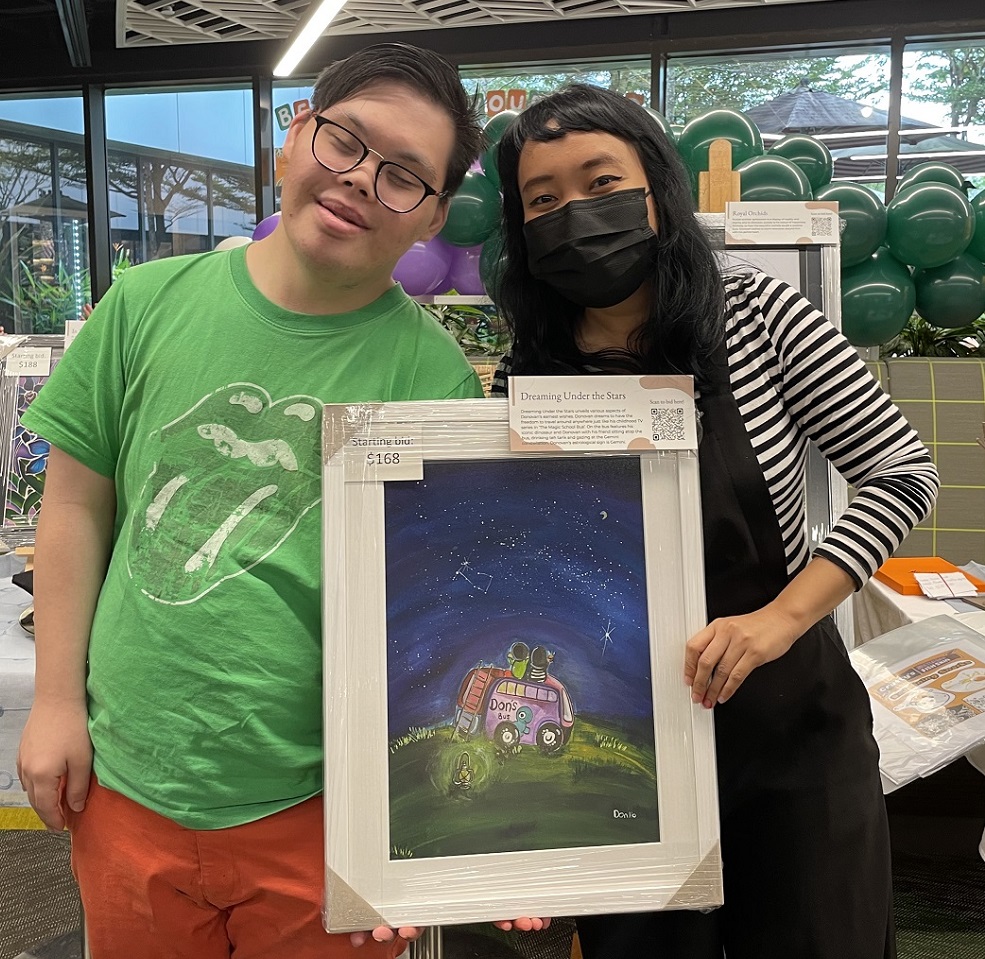 Inspired by the watercolour techniques that Mr Ho imparted, one Arts@Metta artist drew a beautiful watercolour piece of himself stargazing with his favourite teacher Ms Nur-Qamariah Binte Haji Kamal.  
All these efforts culminated into an art fair held at the CAG office in mid-November, where the newly created art pieces were put up for sale for two weeks alongside some of the traditional batik paintings done by the artists. Previously organised as a virtual event last year, the artists were able to interact face to face with CAG employees at the physical art fair this year and put their presentation skills to practice. 
The overwhelming support of the young artists' talents saw sales revenue far exceeding last year's sales by more than 50%. Safe to say, this third-year art programme ended on a high note!