Changi Airport community donates 1,380 oxygen concentrators to Indonesia
Aug 2021
By Genevieve Chan
As the Covid-19 pandemic rages on across the world, the Changi Airport community came together to lend support to Singapore's close neighbour, Indonesia. Changi Journeys takes a look at how the airport community collaborated to donate 1,380 oxygen concentrators and other medical accessories in a partnership which crossed time zones and geographical regions.
How the initiative started
The highly transmissible Delta variant has caused a spike in Covid-19 cases across the world, including the Southeast Asian region. As Singapore and Indonesia enjoy strong aviation links, the Changi Airport community rallied together to support their fellow neighbouring nation in the fight against Covid-19.
"The team worked with the Indonesia Embassy in Singapore to understand what was needed. Through the discussions, we found that oxygen concentrators would be the most beneficial," shares Ang Siew Min, Senior Vice President of Airport Operations at Changi Airport Group (CAG).
Oxygen concentrators take in ambient air and remove nitrogen from it. This results in oxygen-enriched air that can be used by patients with low oxygen levels—a symptom often experienced by those with Covid-19. Unlike some oxygenation methods, concentrators do not require tank refills, and are therefore a more sustainable source of oxygen for patients.
Coordinating this effort were CAG divisions from Airport Operations, Air Hub, People Team, Enterprise Performance & Development, and the Corporate cluster. With a worldwide shortage of oxygen concentrators due to high demand amidst the pandemic, the team faced difficulties in finding a readily available supply. After casting the net wide, they were able to source directly from a reputable manufacturer in Los Angeles who was willing to fit the order into their production schedule and expedite fulfilment.
Lee Ching Wern, General Manager, Airport Operations Management, also shared that as the team organised this effort, more than 30 airport partners from various sectors ranging from retail to engineering and construction, raised their hands to take part and contribute. "We even saw some groups of airport staff from various companies chipping in to contribute medical supplies in their personal capacities," remarked Ching Wern.
Eventually, Changi Foundation, airport partners, and airport staff pooled together donations of some 1,380 oxygen concentrators, along with related accessories like nasal cannulas and connectors to send to Indonesia.
Transporting across geographical and time zones
The oxygen concentrators had to find their way from Los Angeles to Singapore and finally, Jakarta. Fortunately, the team was able to find cargo and logistics partners who were willing to support the shipment over thousands of miles across continents. Cargolux and CEVA Logistics, handled the LAX-SIN leg, while Singapore Airlines and SATS, handled the SIN-JKT leg of the journey.
Elaine Low, Regional Managing Director for Southeast Asia and the Pacific Region of CEVA Logistics shared how honoured and proud the company was to be part of this meaningful initiative, in collaboration with the airfreight community. "We wish our friends and colleagues in Indonesia well," she added.



Pallets of oxygen concentrators being loaded up in Los Angeles, ready to make their way to Singapore. Photo credit: Cargolux
On the morning of 15 August 2021, the first shipment of oxygen concentrators arrived at Changi Airport from Los Angeles and on 19 August, a handover event took place. In attendance were CAG senior management, representatives from the airport community, and the Indonesian Ambassador to Singapore, His Excellency Suryo Pratomo, who symbolically received the oxygen concentrators on behalf of his nation.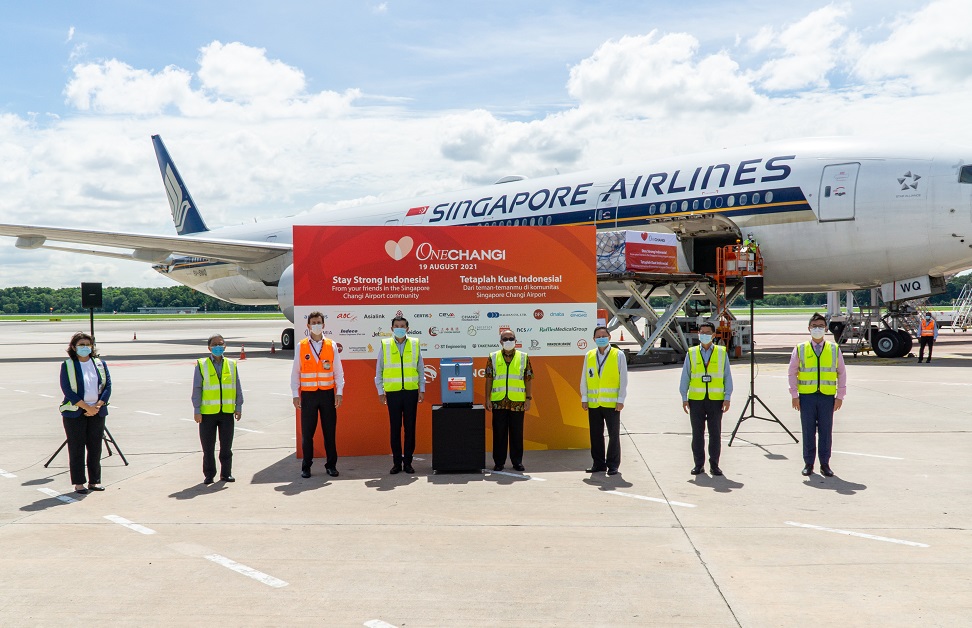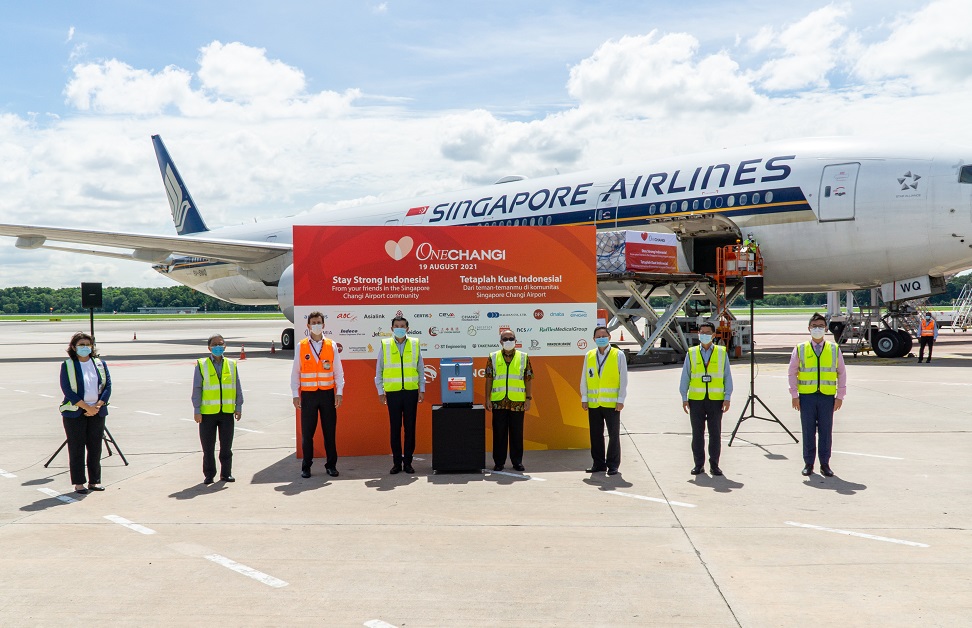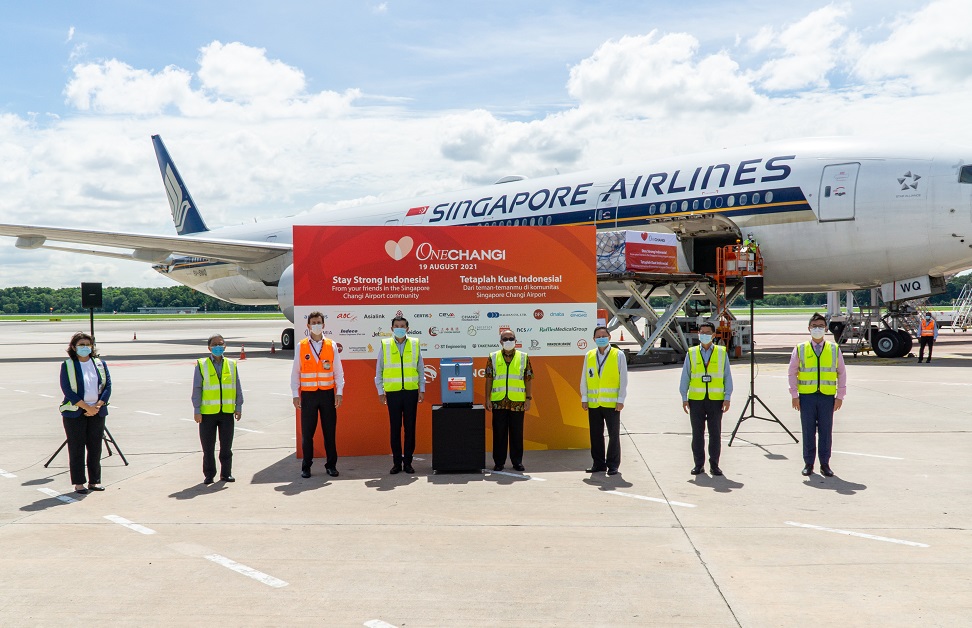 CEO of Changi Airport Group, Mr. Lee Seow Hiang and His Excellency Suryo Pratomo (fourth and fifth from left, respectively) with corporate donors from the Changi Airport community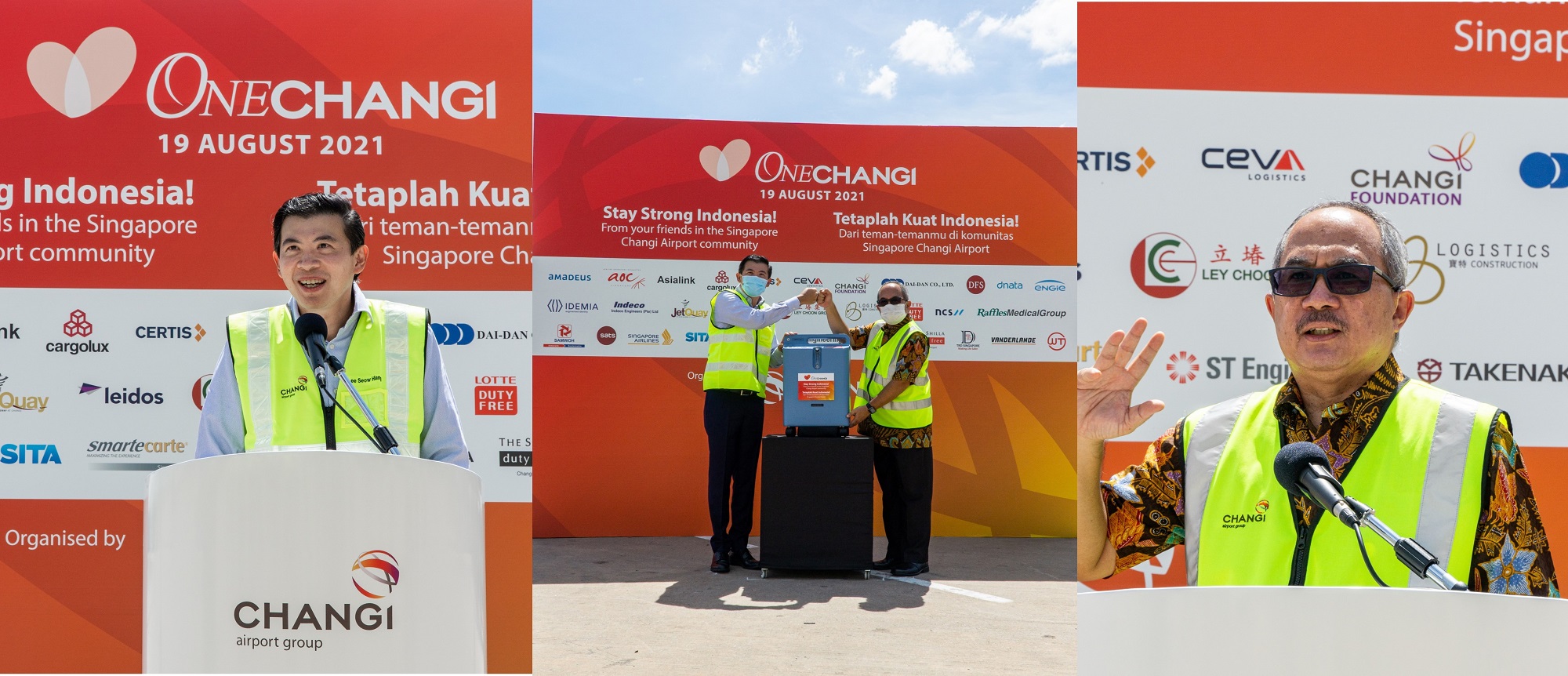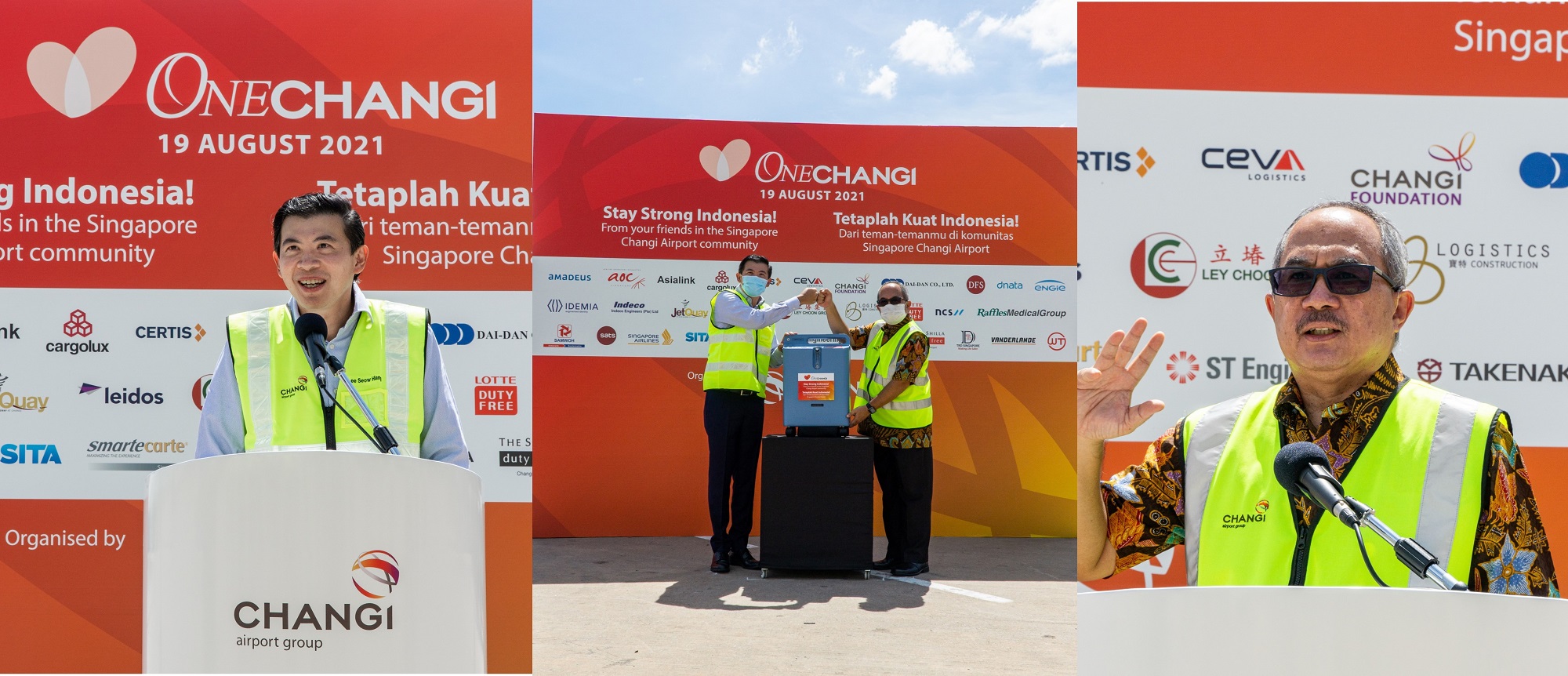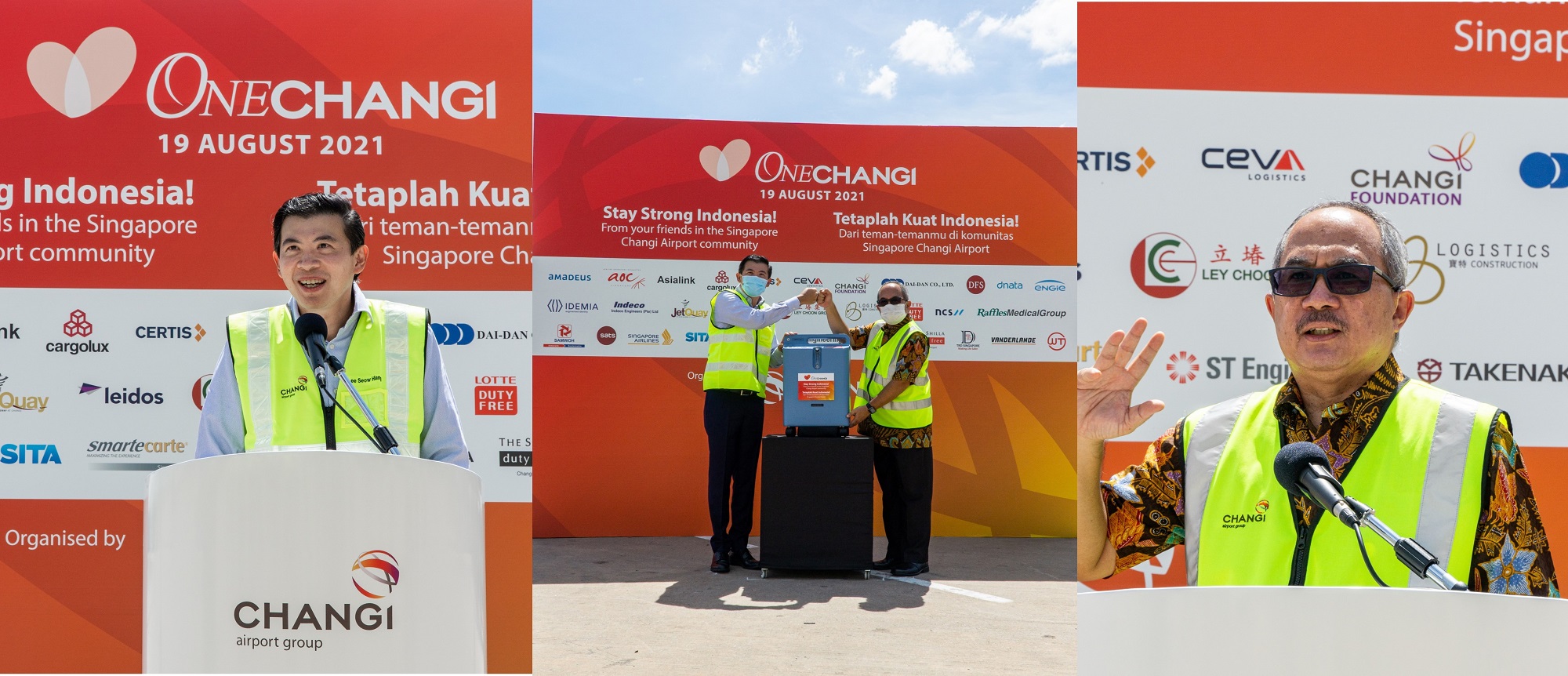 Mr. Lee and H.E. Suryo Pratomo expressing words of thanks for the airport community's heartening response and contributions
That evening, the first batch of the oxygen concentrators were shipped to Jakarta on a Singapore Airlines' flight, arriving two hours later. The remaining oxygen concentrators and other medical accessories for the oxygen concentrators will be sent in subsequent batches. These will be distributed to hospitals by the Indonesia Ministry of Health, providing assistance to Covid-19 patients.
"I highly appreciate these oxygen concentrators donated by the Singapore Changi Airport community, which shows earnest support and understanding of our fight against Indonesia's pandemic. Thank you very much," said His Excellency Suryo Pratomo.



The first shipment of oxygen concentrators leaving Singapore on the afternoon of 19 August 2021 and arriving in Jakarta two hours later that evening