Supporting the aspirations of Arts@Metta artists through retail space at the airport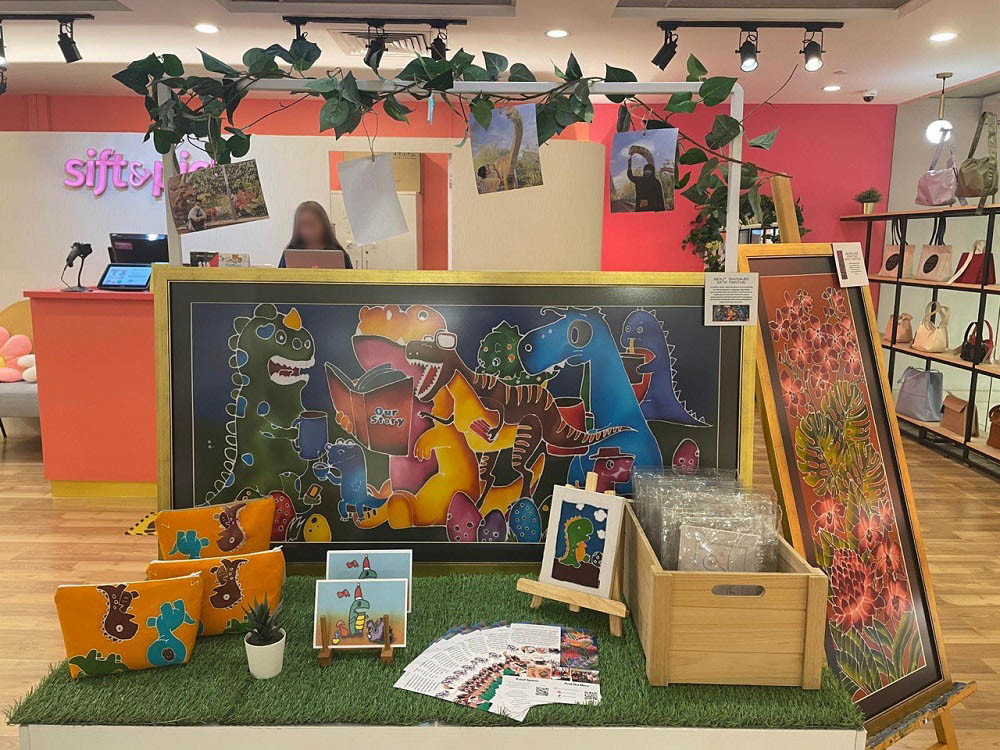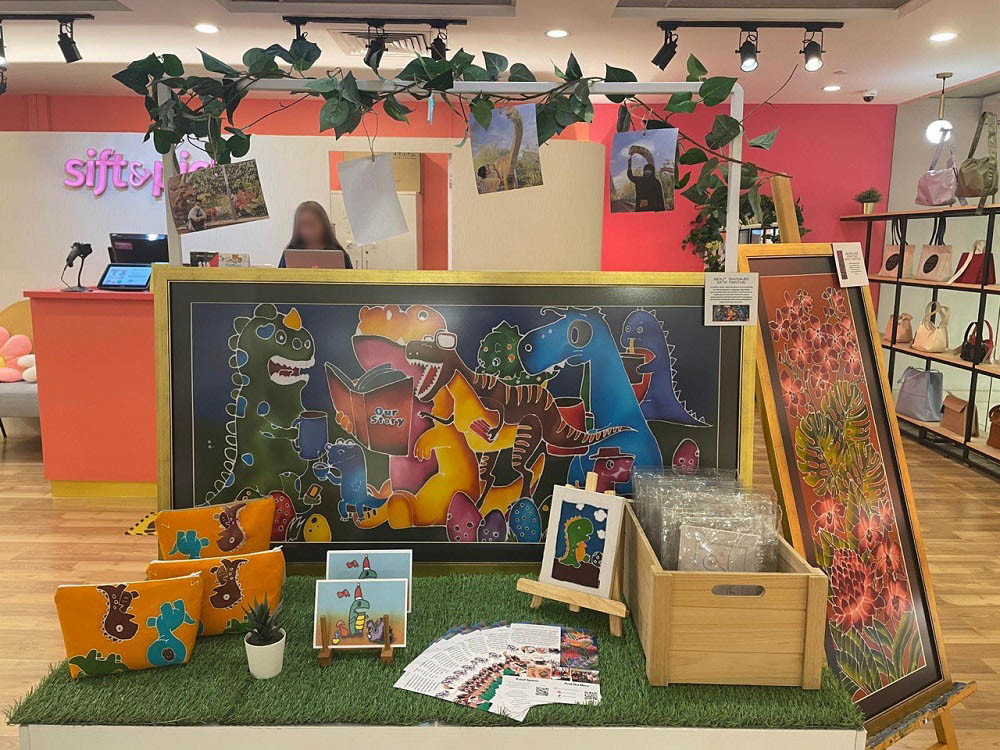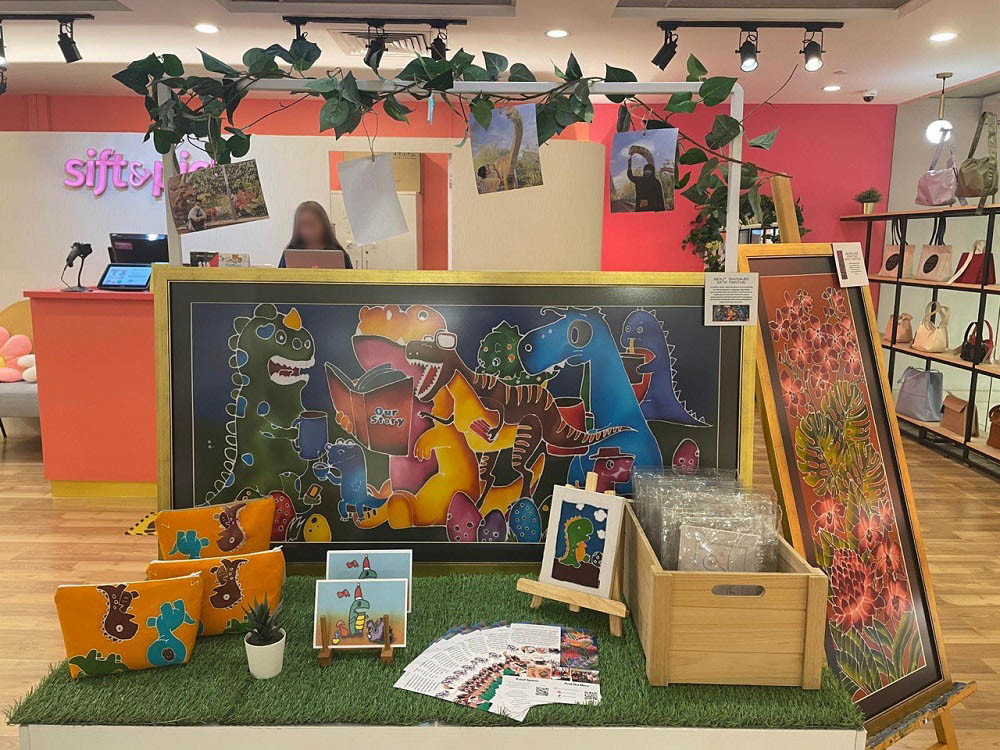 Supporting disadvantaged youths is a social cause that Changi Airport Group (CAG) has been focused on since 2010. To this end, Changi Foundation has been assisting special needs artists from Arts@Metta to hone their skills as professionals.
This journey of development started three years ago, with a special mentorship and coaching programme designed to help the Arts@Metta artists broaden their artistic knowledge and present themselves as artists better. Besides online courses, the programme also included visits to attractions at the airport, such as the Jurassic Mile.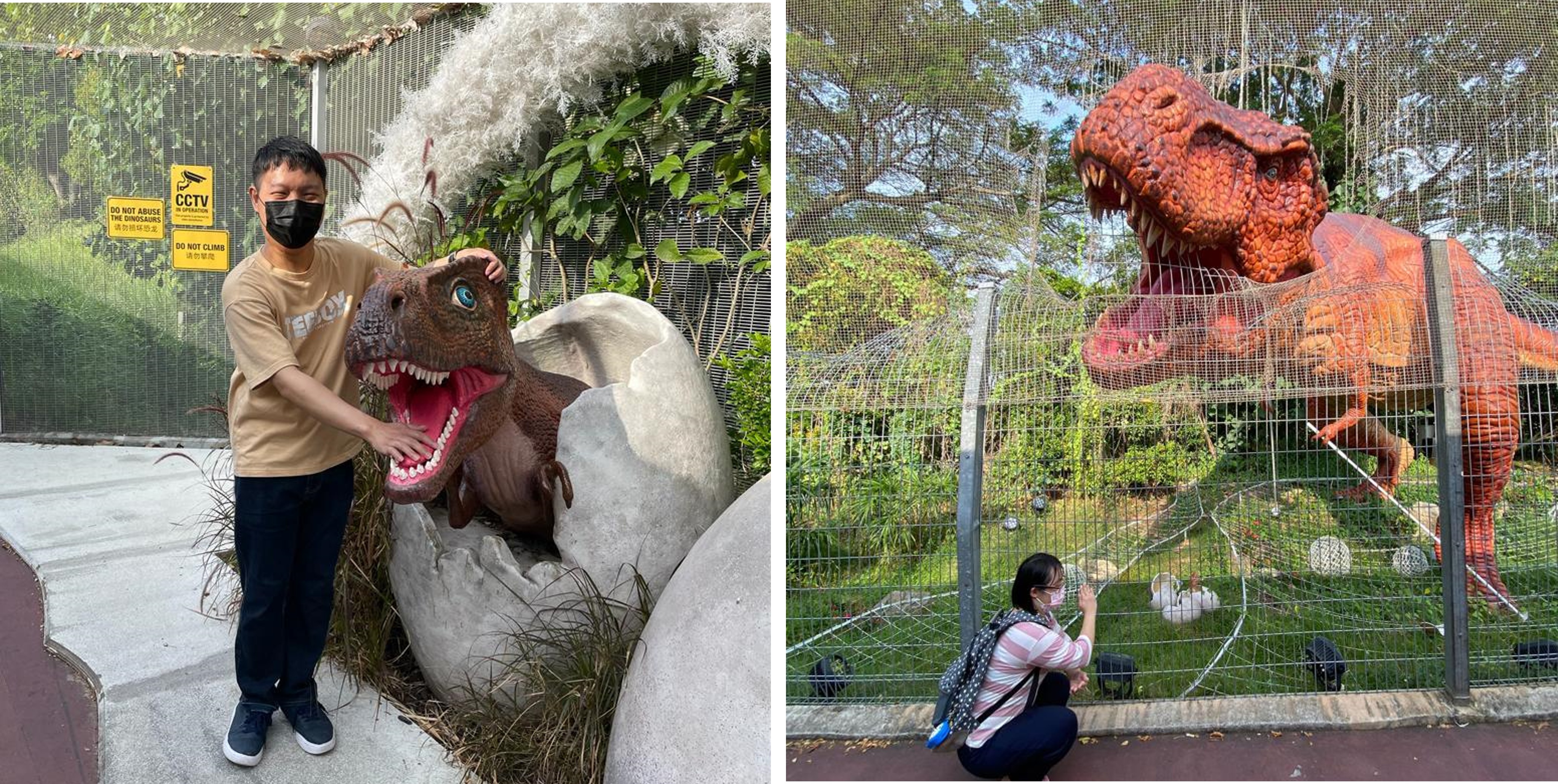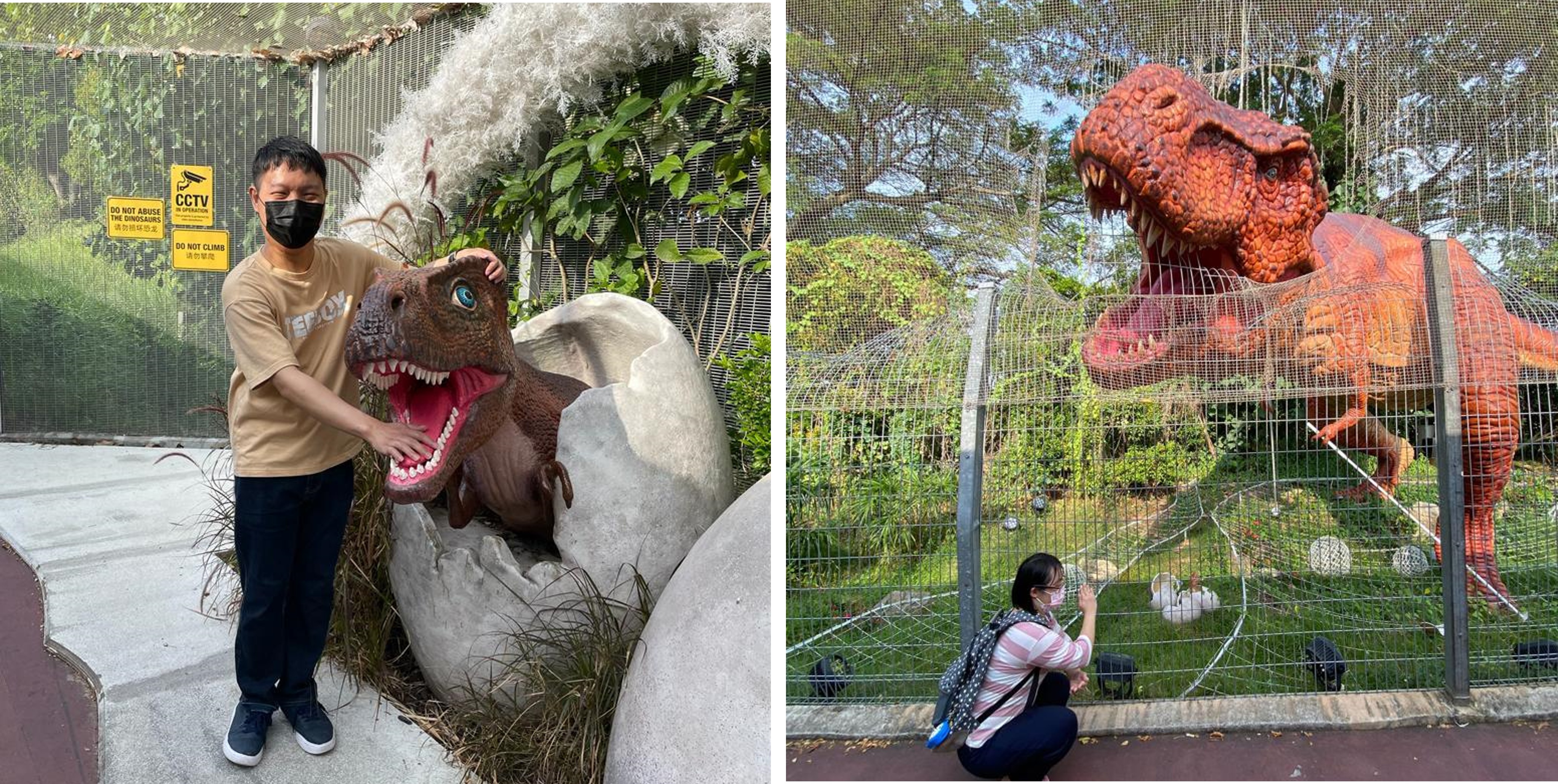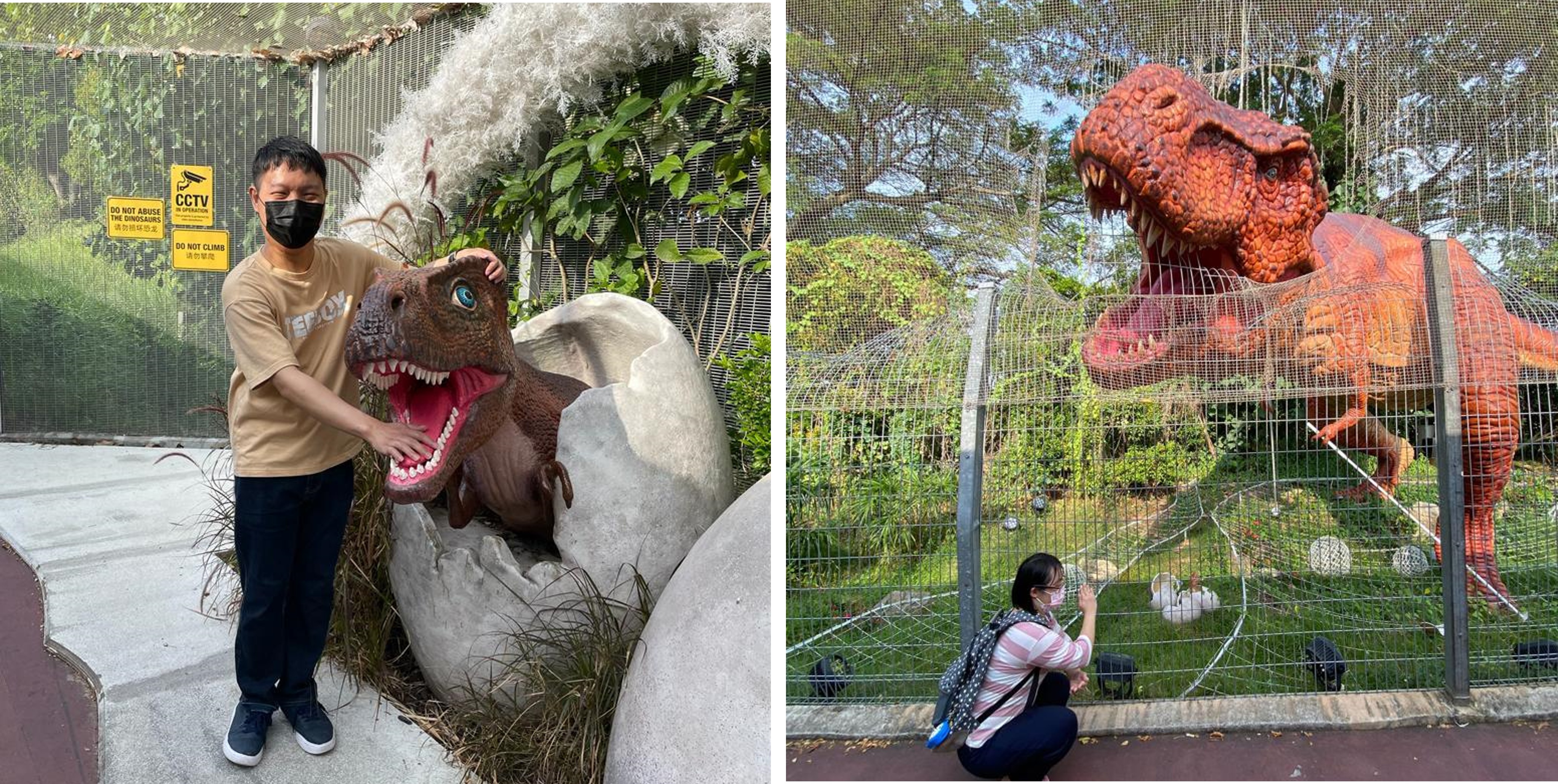 The artists were deeply inspired by the dinosaurs that they saw at the Jurassic Mile.
The following year, CAG tapped on its relationships with local artists and industry experts to share their areas of expertise, which helped to further broaden the artists' horizon and expanded their repertoire.



The programme inspired the artists to create new products such as dino magnets and pouches, which are now on sale at the retail outlet at T3 Basement 2!
As the programme progressed into its third year, the Changi Foundation team felt that the artists' newfound confidence in producing a refreshed repertoire of artworks warranted a larger talent showcase space, to support their aspirations. 
Garnering the support across a few divisions, retail space was made available to Arts@Metta at Terminal 3 Basement 2 (T3B2)'s Sift & Pick store to give them greater retail experience, with the end goal of facilitating youth employment. From the sourcing of space through to helping with visual mechandising ideas and exploring different options for store displays, the cross-function team at CAG hope to elevate the youths' journey further towards work readiness and independence.

In particular, this retail space provided a good opportunity for Yan Min, a special needs artist from Arts@Metta, who dreams of becoming a retail assistant. Both the Arts@Metta and CAG team observed her potential over the course of the programme, and thought that this was a good platform to build her confidence level towards work independence. Yan Min was taught how to travel independently to the T3 Sift & Pick store and home after her shift. She was also taught the routine of a retail assistant, starting with the donning of a uniform, to learning the dos and don'ts while attending to customers, as well as upkeeping the cleanliness of the store.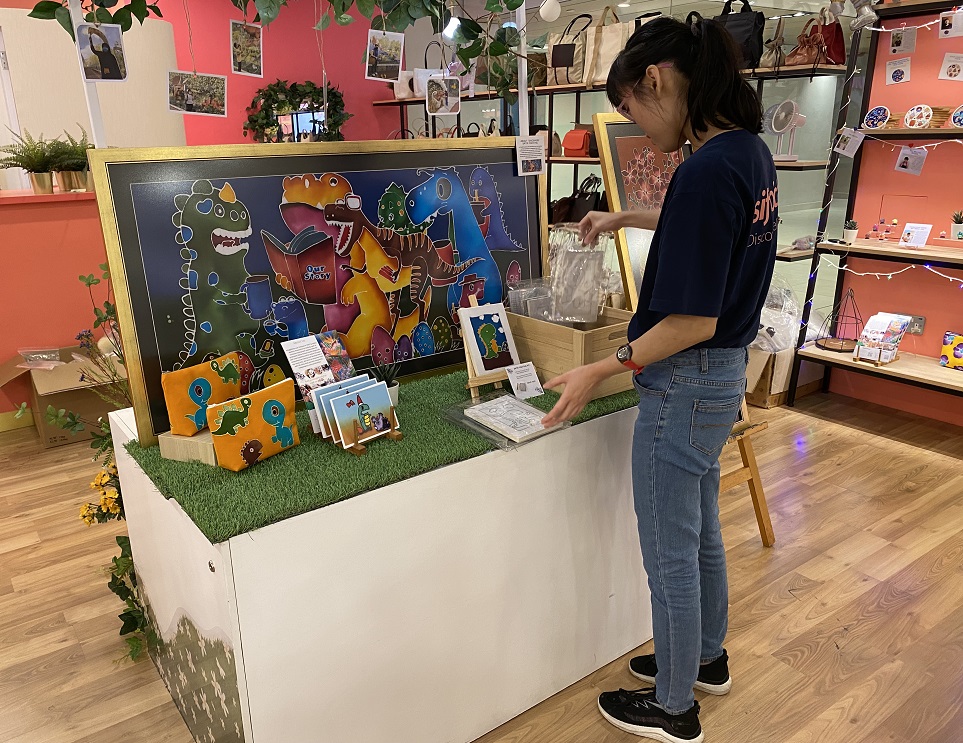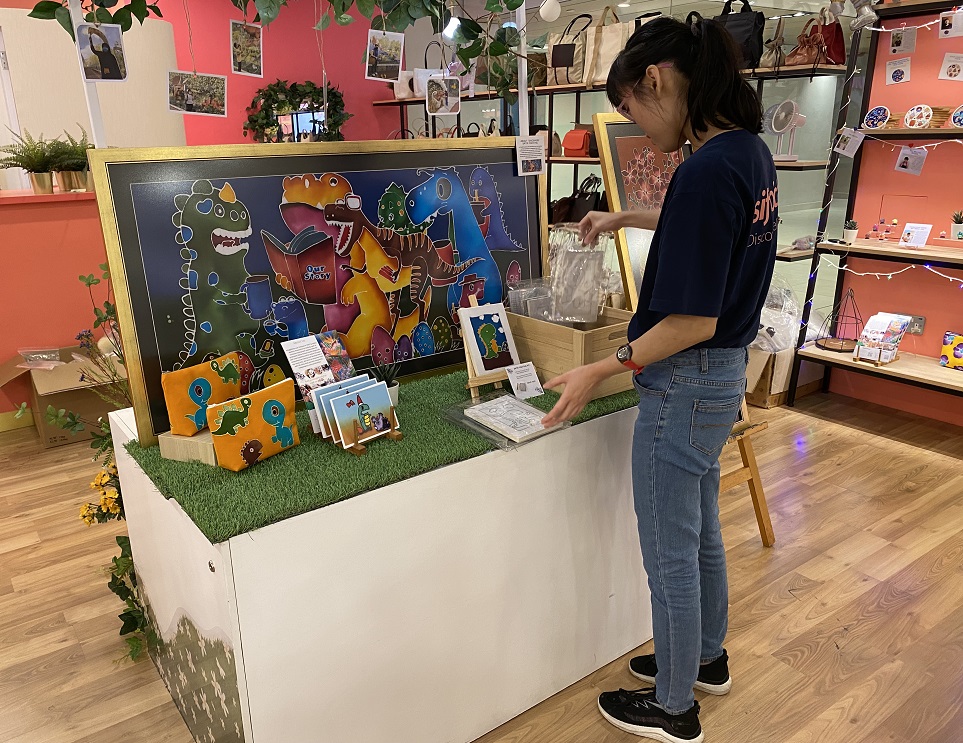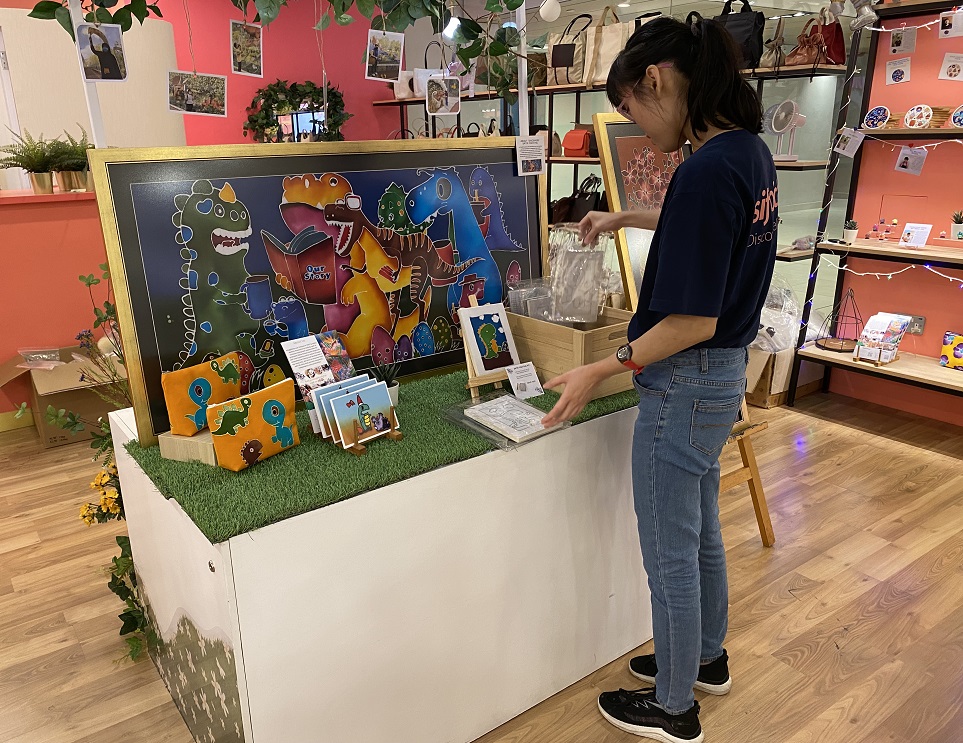 Yan Min re-stocking the popular DIY batik painting kits for sale
While one team helped to get the artist ready to meet the challenges of being a retail assistant, another group stepped in to help with the product displays at the store.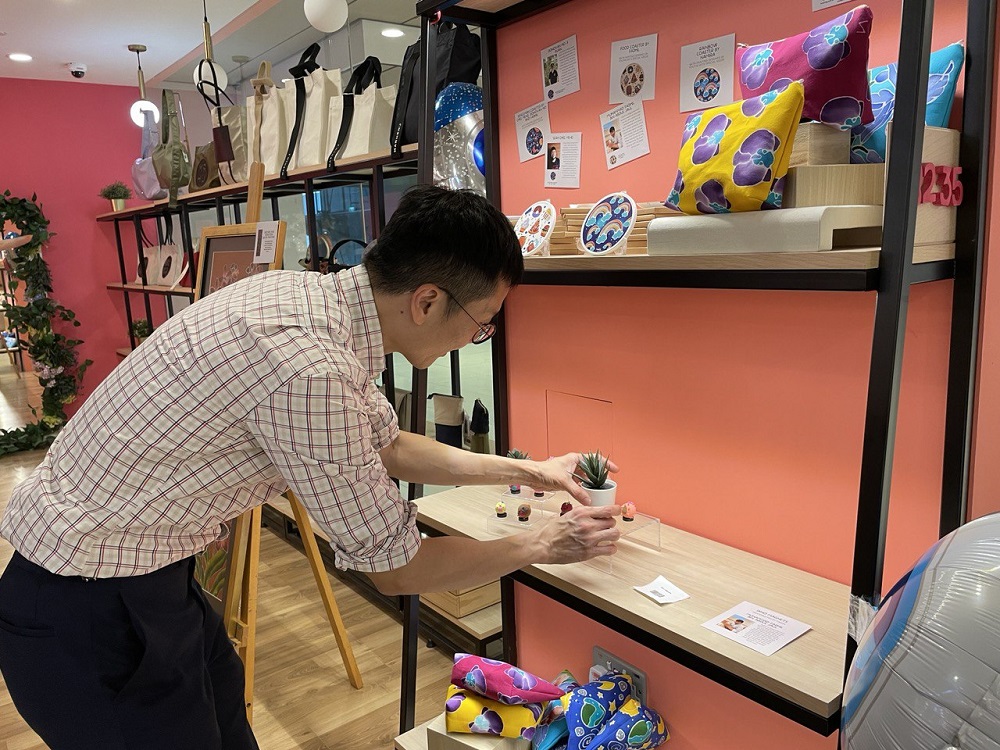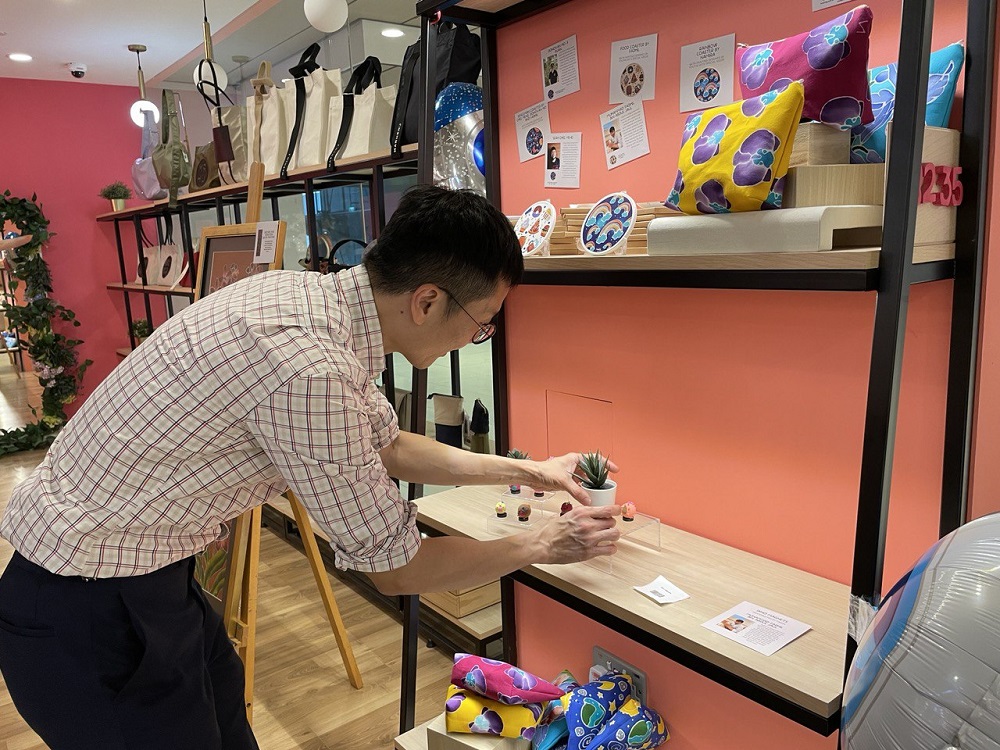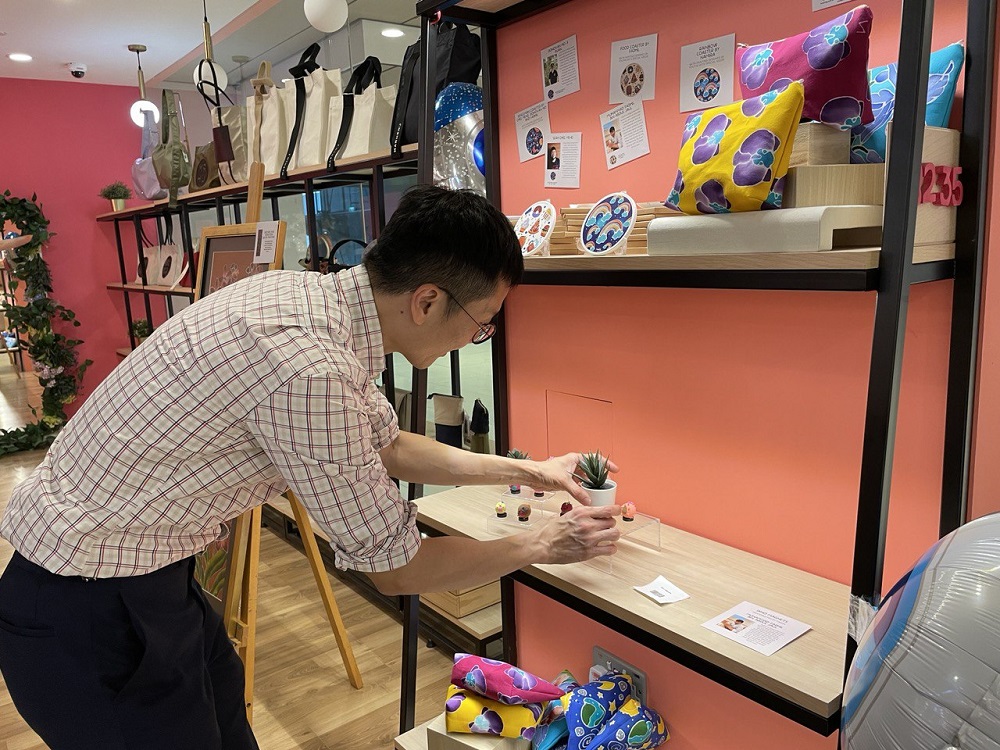 Daniel Foo from Design Management team offered his expertise and helped with the visual merchandising of the Arts@Metta products at their retail space
Daniel Foo, Senior Manager of Design Management shared, "We knew that the Arts@Metta products were interesting, reasonably priced and were being displayed in a high footfall area. With some help to improve the aesthetics of how the products were being displayed, we were confident that they would be attractive to potential buyers."

Working together with the Changi Foundation team, they used everything they could get their hands on from the offices and homes, such as balloons, fairy lights and even quirky containers to decorate the space. To bring the artists' stories upfront, their photographs and write-ups of them visiting Changi Airport's attractions were also added to the display.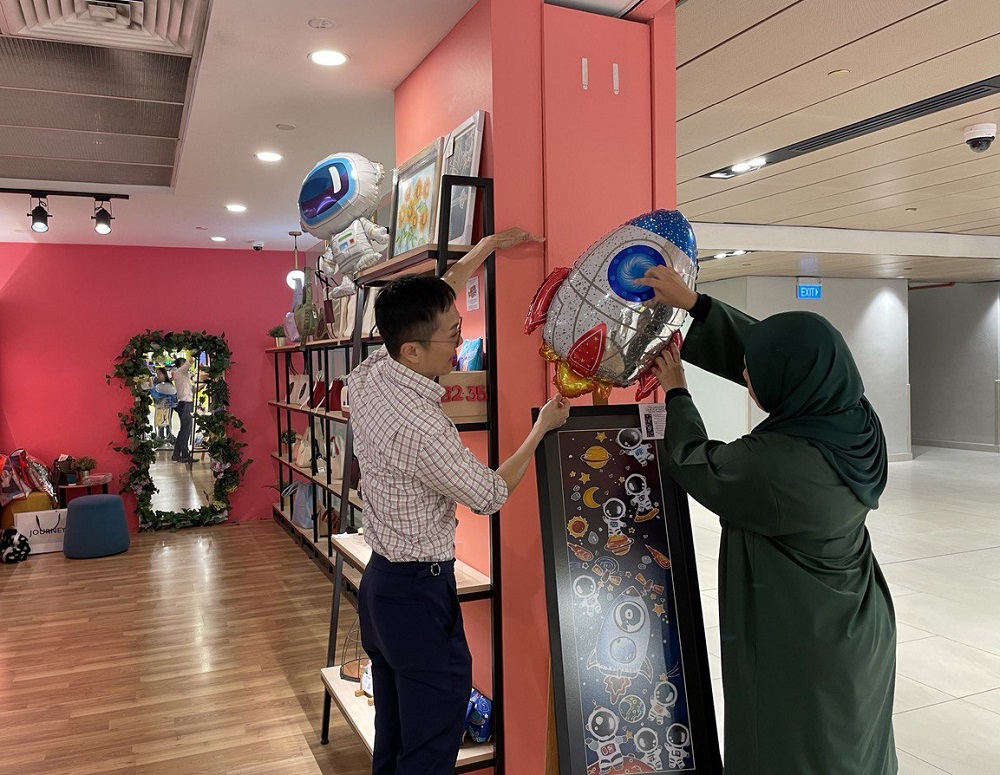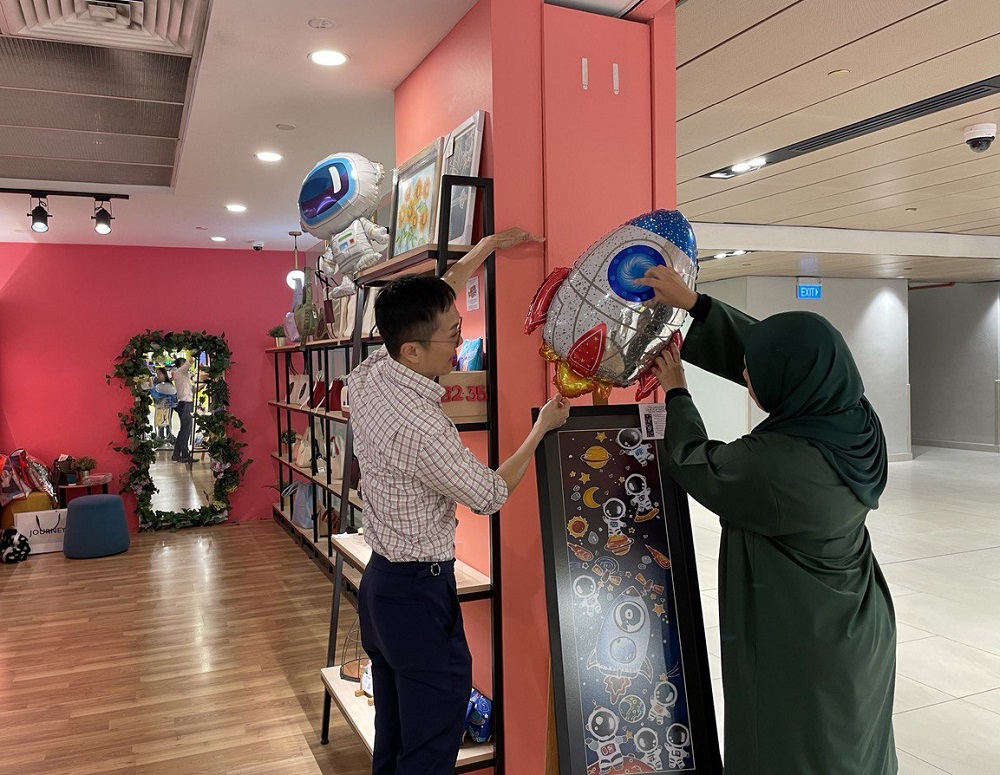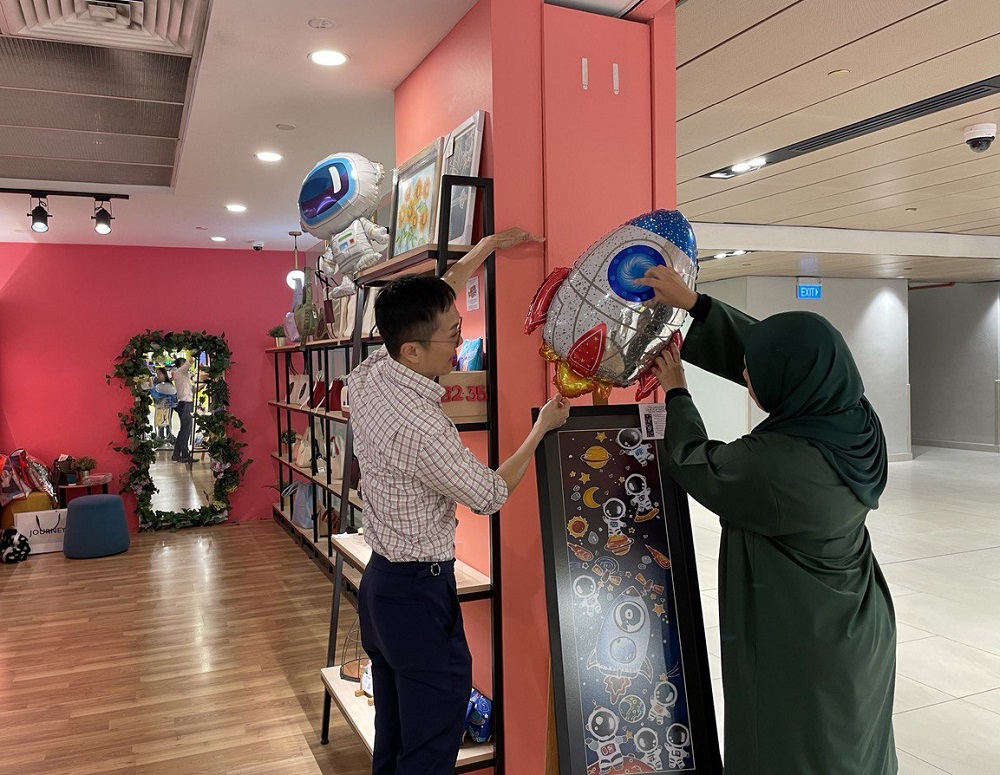 Adding balloons to the product displays helped to improve visibility and attract passersby into the store
Daniel added, "Some items like the dino magnets were relatively small. We wanted to display them on clean shelves, so that they do not look cluttered. Throwing in an element of fun, we added a small magnifying glass at the display, so that visitors can view the magnets up-close as part of the overall shopping experience!" 
In addition to the signature artworks painted by the Arts@Metta artists, which are displayed in the store, visitors keen to try their hands on batik painting can also purchase DIY batik painting kits, which comes with simple instructions on how to complete it on their own.
On selected days, Arts@Metta also arranged for another artist skilled in drawing  caricatures to join Yan Min in the store, offering caricature portraits to supporters who made a purchase.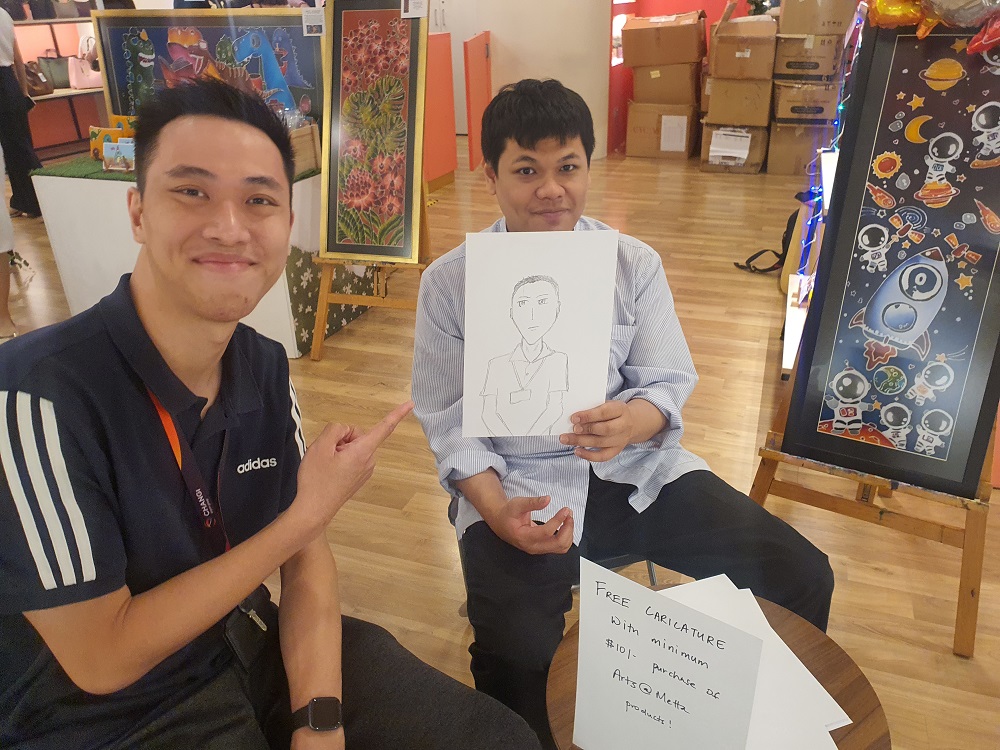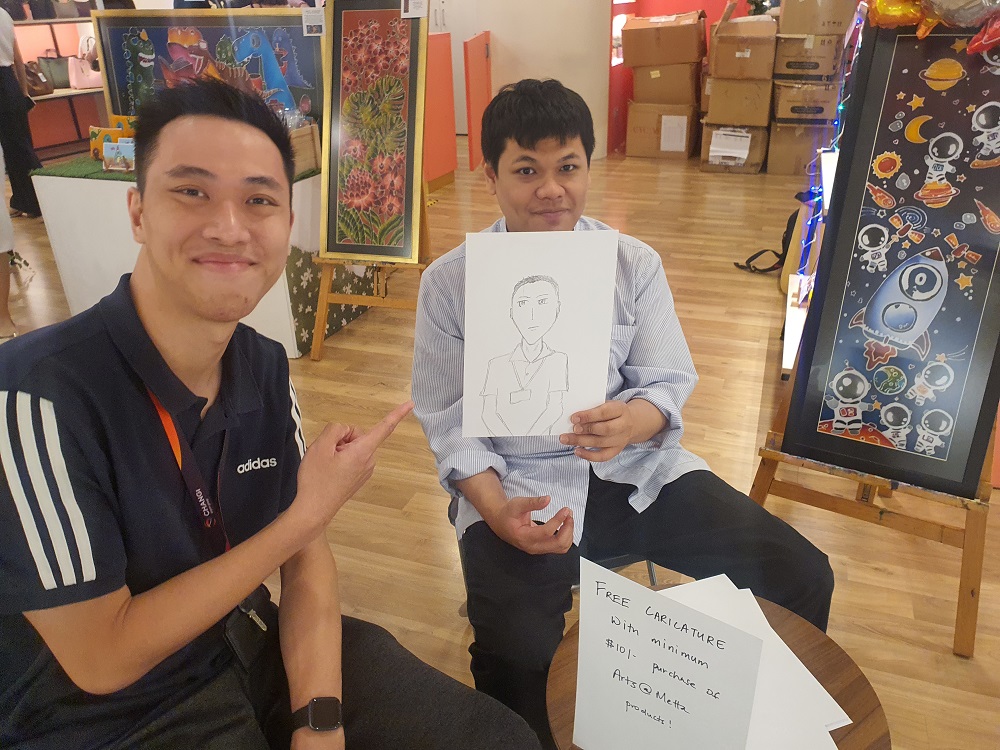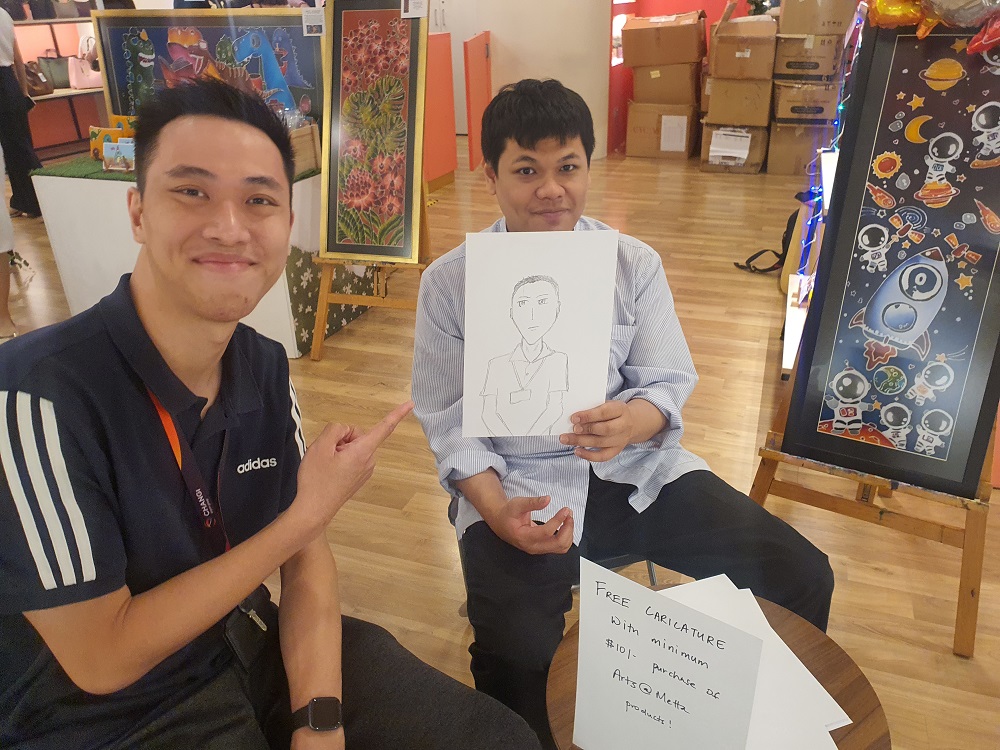 Fadhil, another artist from Arts@Metta, showing the caricature he completed for a supporter.
So if you have some time to spare, why not head down to T3B2 to take a look at Arts@Metta's first-ever brick and mortar retail space at Changi Airport and see what's on offer!