Protecting more common spaces in Singapore
Changi Foundation donates self-disinfecting coating to Town Councils to help fight against the spread of COVID-19 in common areas and to keep more Singaporeans safe. 
With cleaning measures being ramped up island-wide to fight the spread of COVID-19, Changi Airport Group's (CAG) philanthropic arm Changi Foundation has donated a self-disinfecting coating to the Town Councils, in an effort to share its benefits with the wider Singapore community. Changi Journeys takes a look behind the scenes on what it takes to coat 1.5 million lift buttons across the island.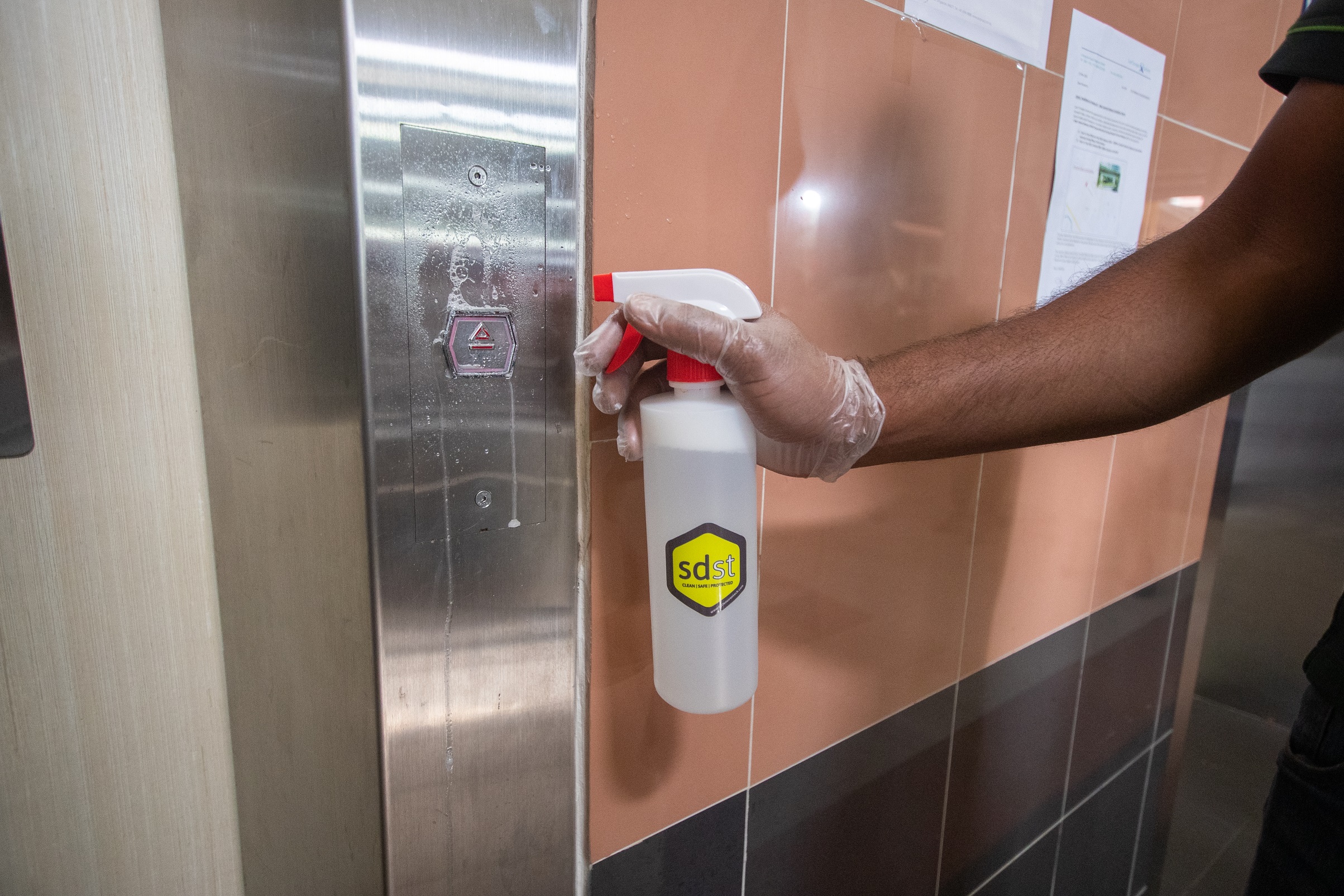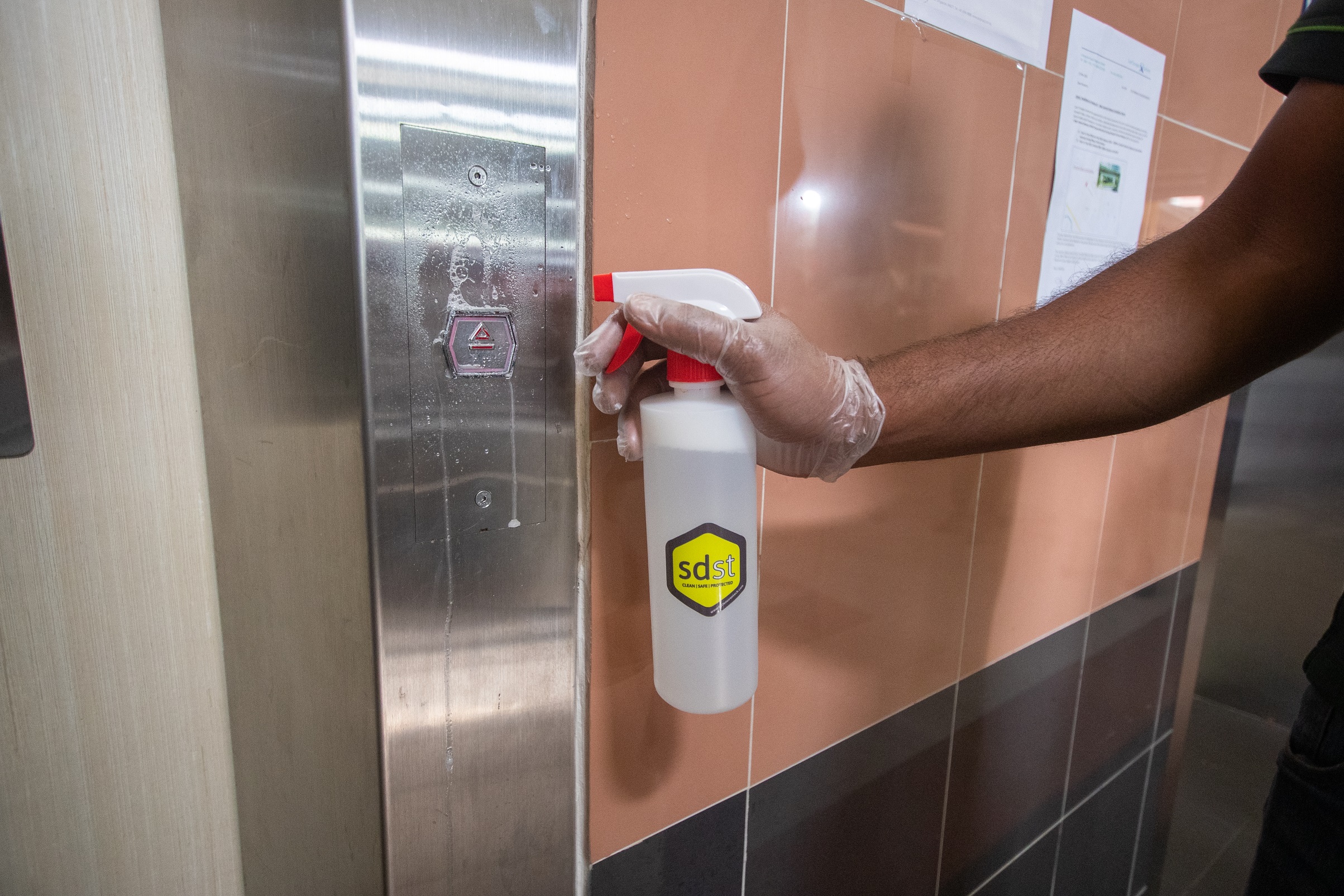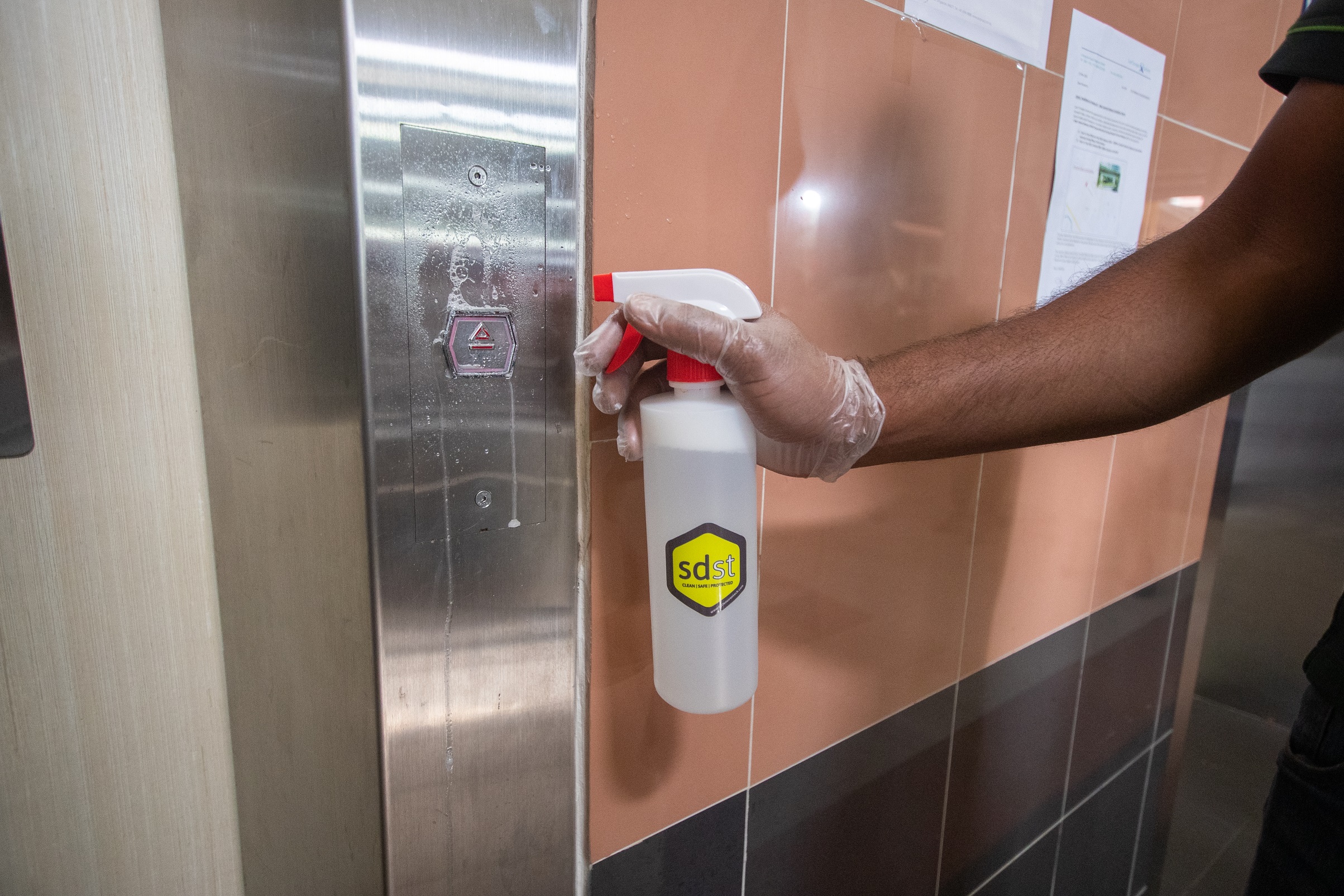 Sharing knowledge
Amid the COVID-19 outbreak, CAG has taken a more rigorous approach to cleaning to ensure the safety of airport workers, passengers and visitors. For more than nine months, CAG had been testing a self-disinfecting coating named sdst, which is now used in various parts of Changi Airport. Frequently-touched surfaces such as the automated check-in kiosks, escalator and travellator handrails, trolley handles and more, are coated with a layer of sdst using a special spray gun. This self-disinfecting coating bonds to the treated surfaces and safeguards against viruses, bacteria and fungi for up to six months.

To help the Town Councils understand the science behind sdst and the proper application method for maximum effect, CAG conducted briefings for Town Council staff and conservancy workers.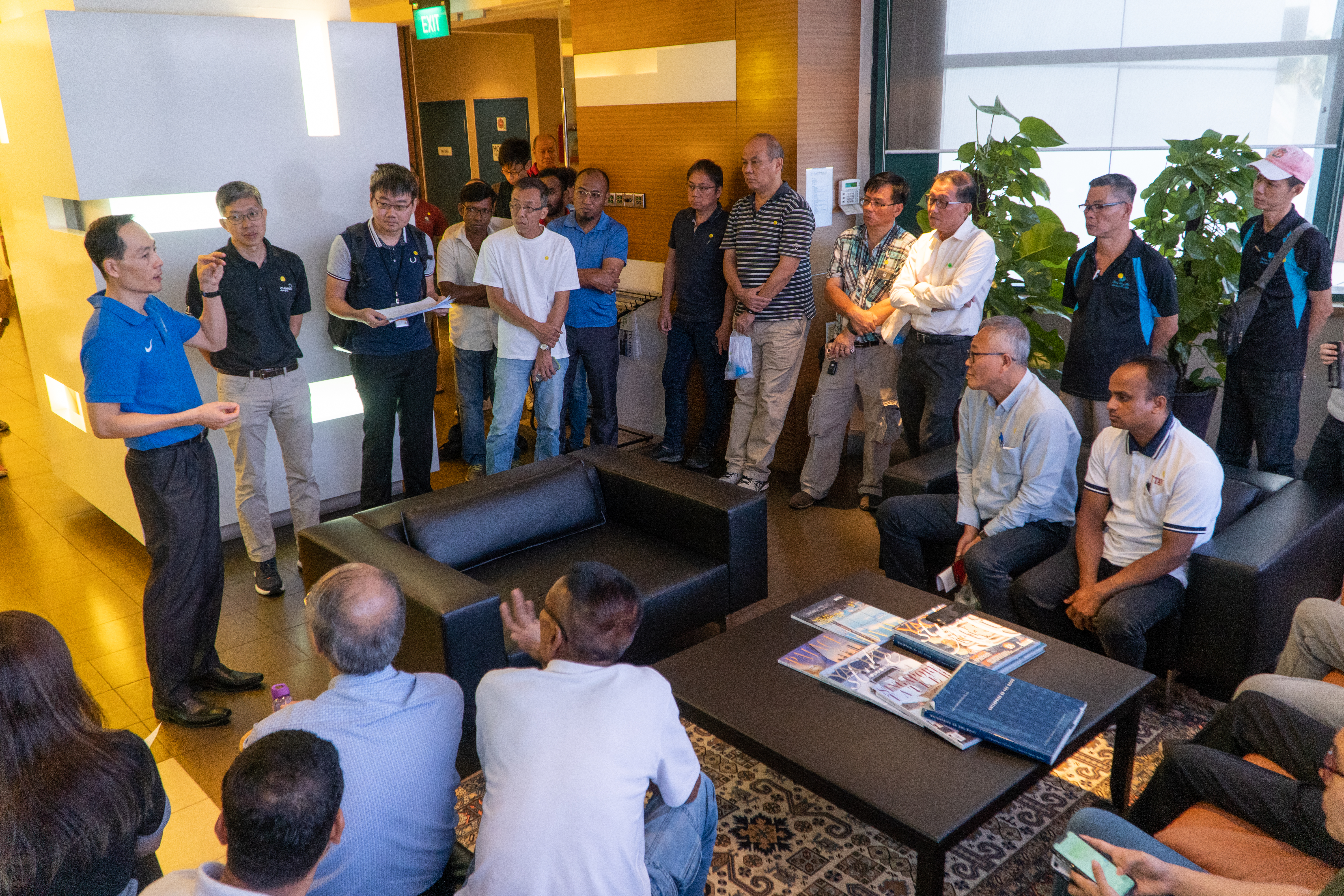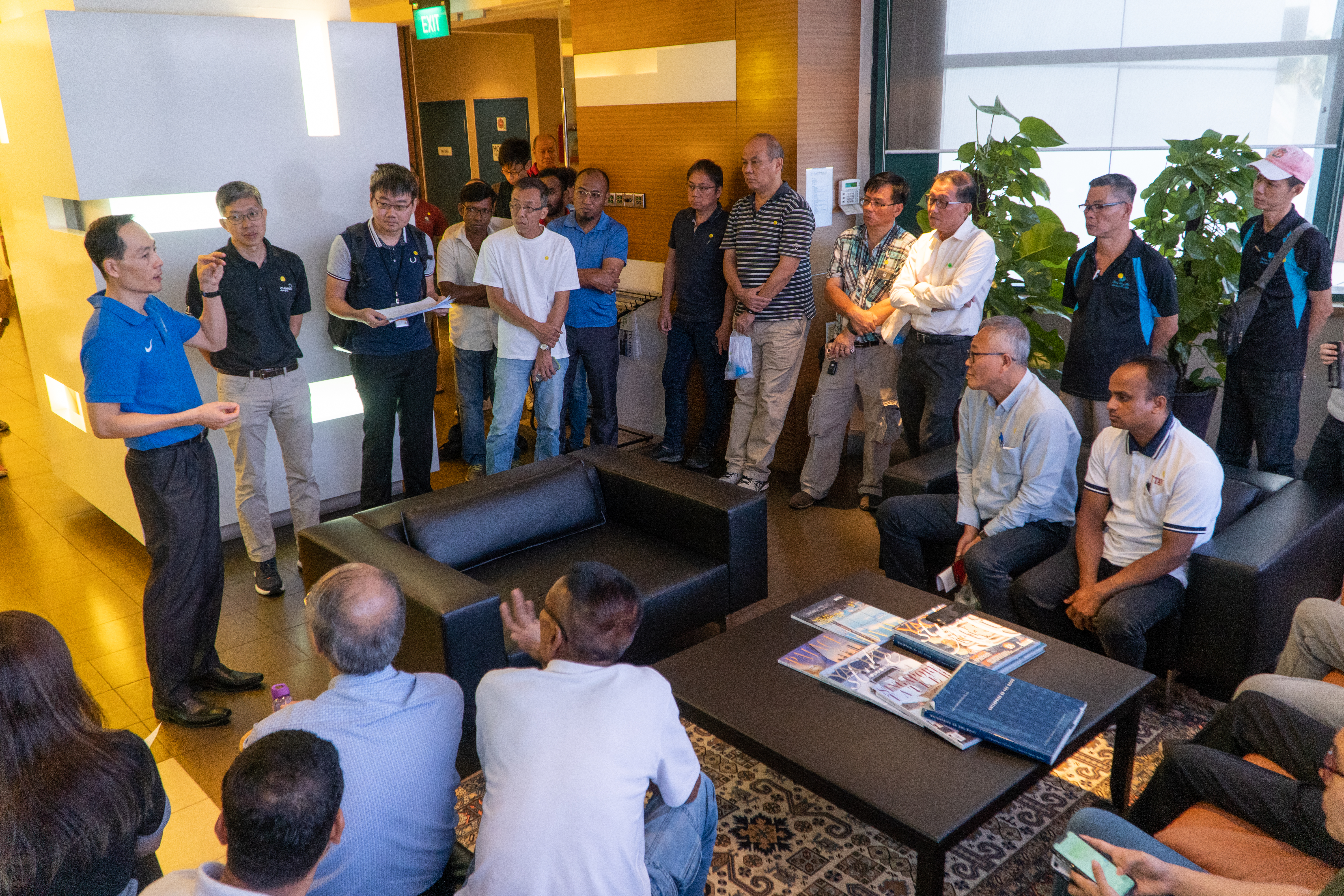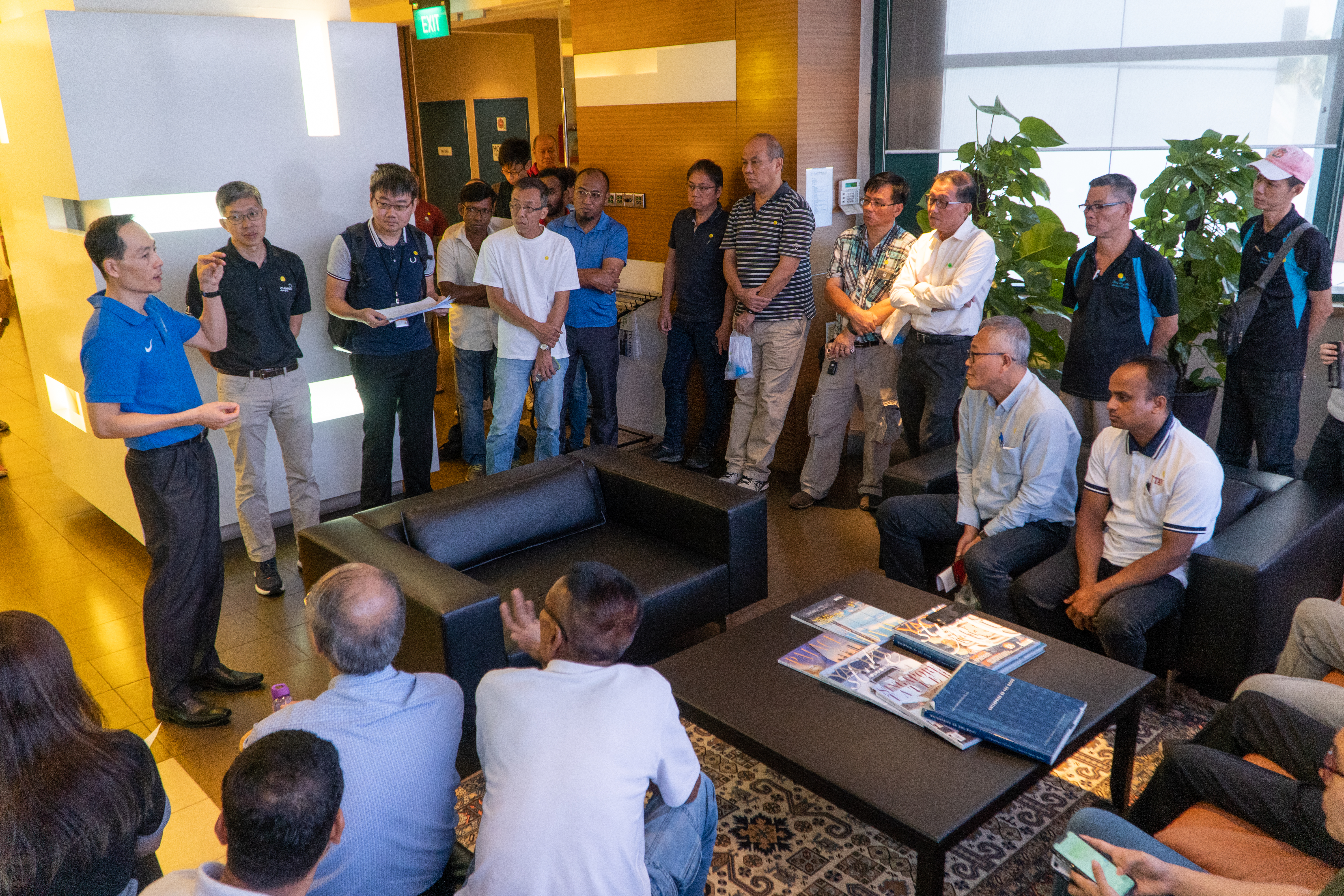 Town council staff and conservancy workers learning how to properly apply sdst on the lift buttons in mid-March
After the briefings, the teams collected the sdst self-disinfecting coating and spray bottles in batches. The quantities distributed were allocated according to the number of lifts in each towns.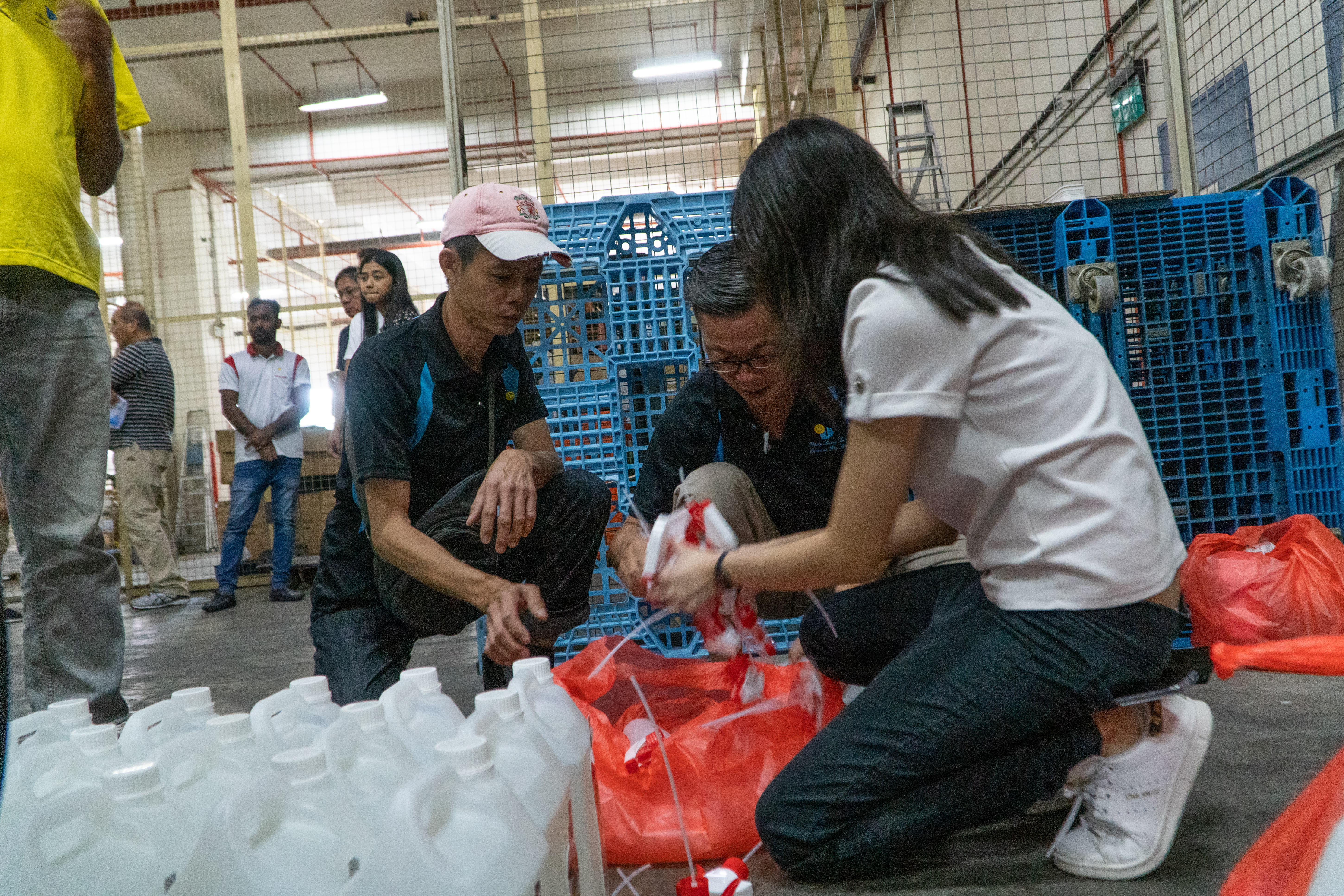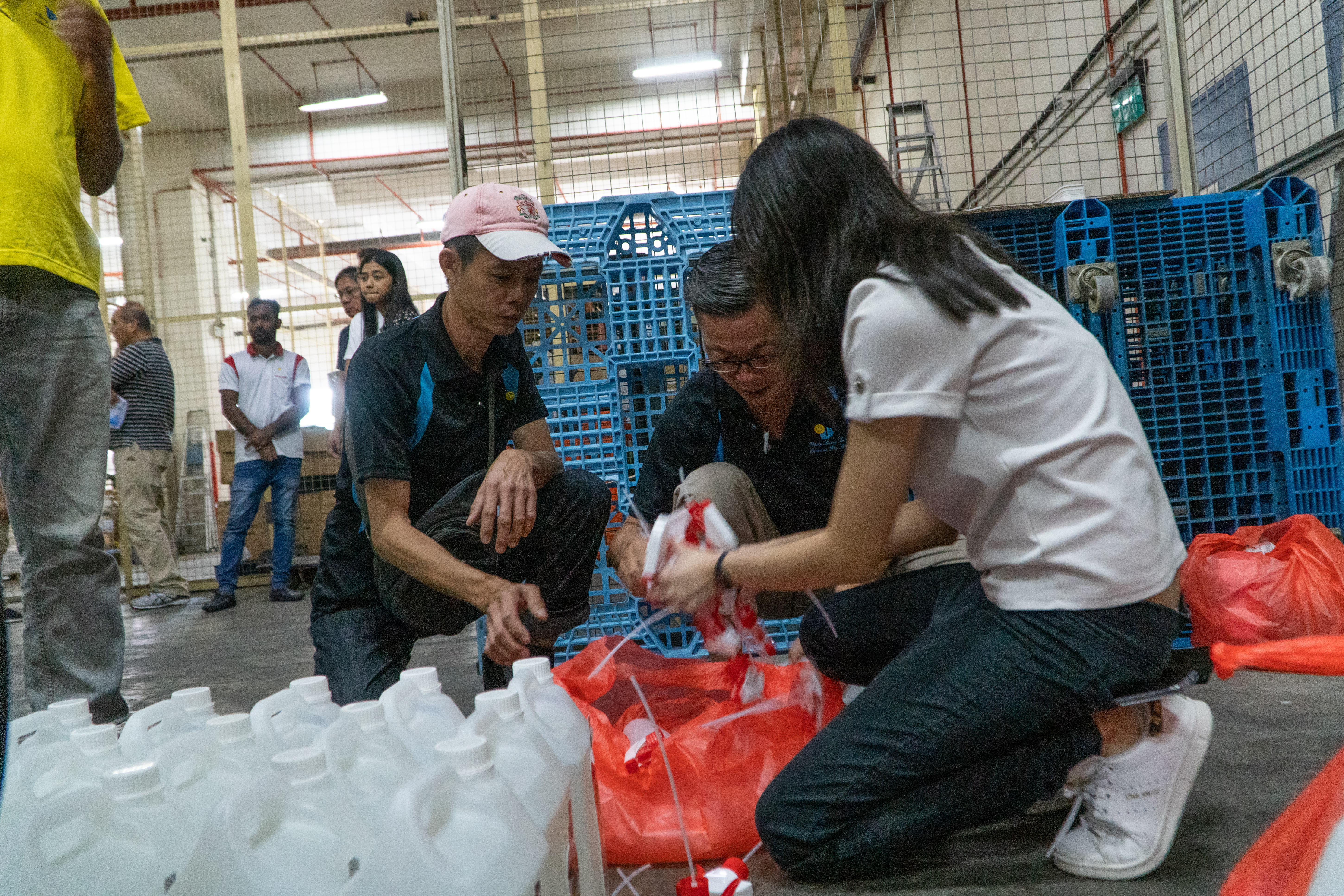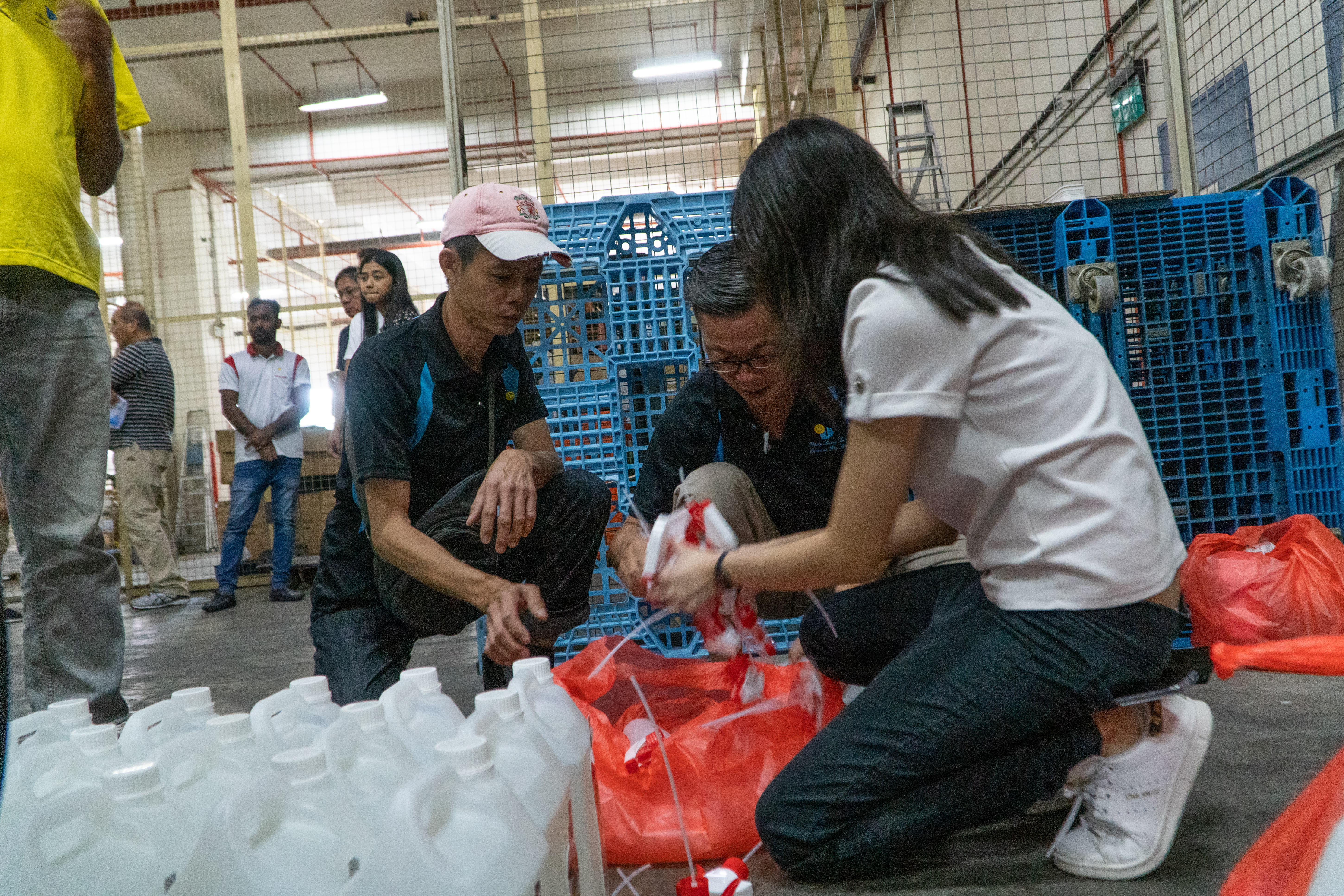 All 16 Town Councils in Singapore collected a total of about 650 litres of the self-disinfecting coating
All hands on deck
Across 1 million HDB flats in Singapore, there are 26,000 lifts that serve the residents and run 24/7. Over the span of two weeks from mid-March, all 16 Town Councils deployed their teams concurrently to coat every single lift buttons. Following a simple four-step method, the conservancy workers had to first wipe down the lift buttons to remove any dirt or oil; then spray the self-disinfecting coating to each lift button; wait 30 seconds for the coating to bond; and finally wipe away any excess. In total, more than 1.5 million lift buttons were coated.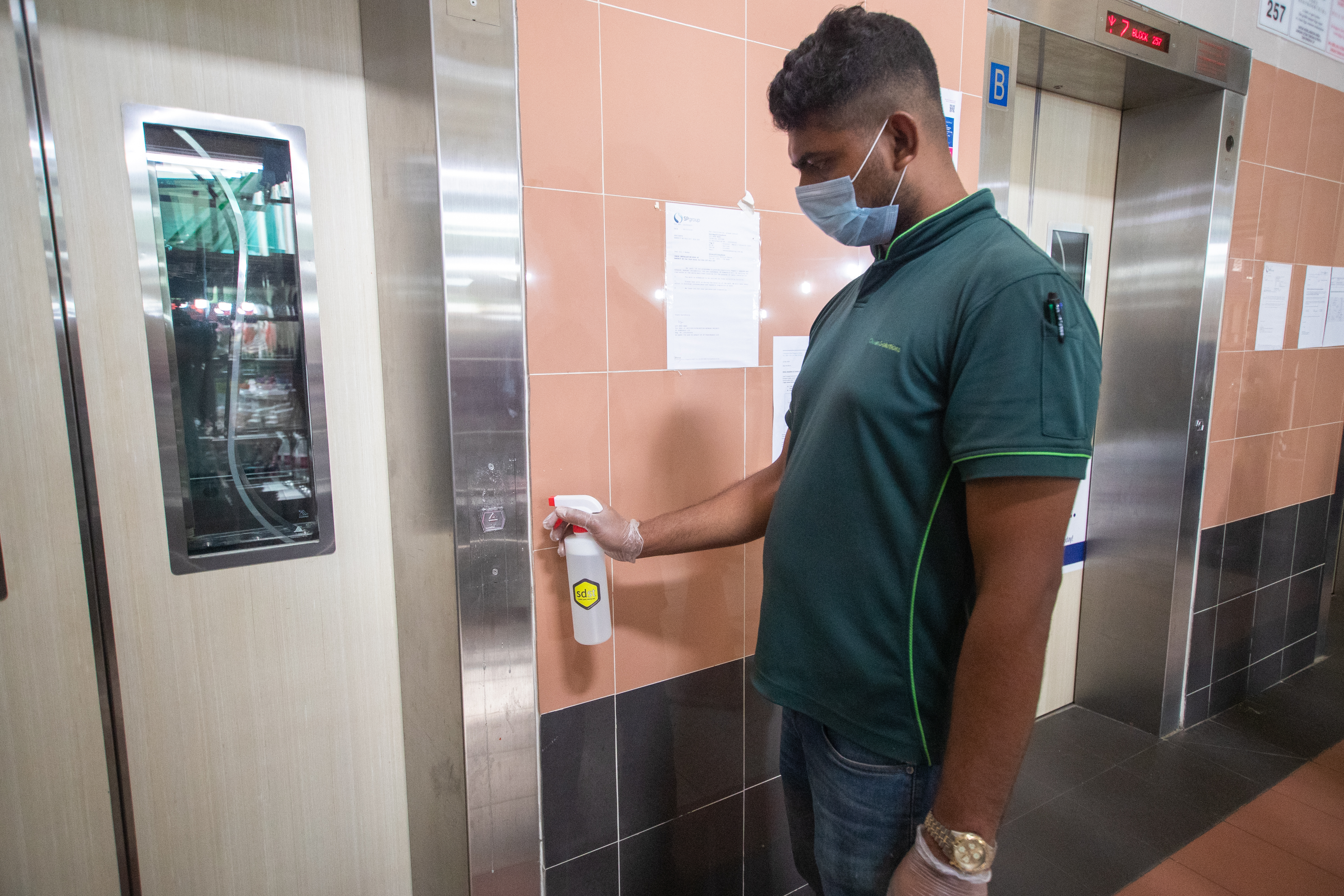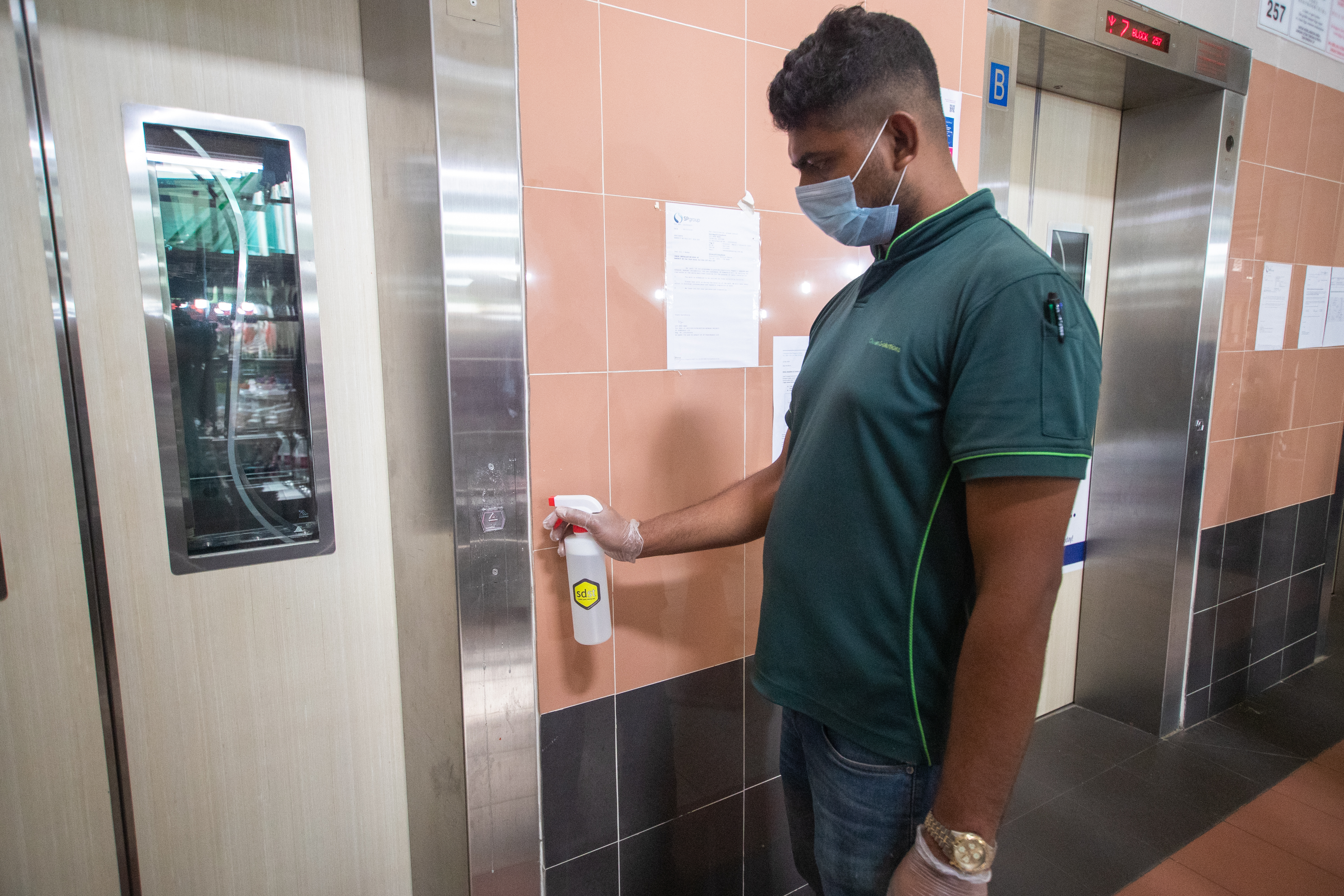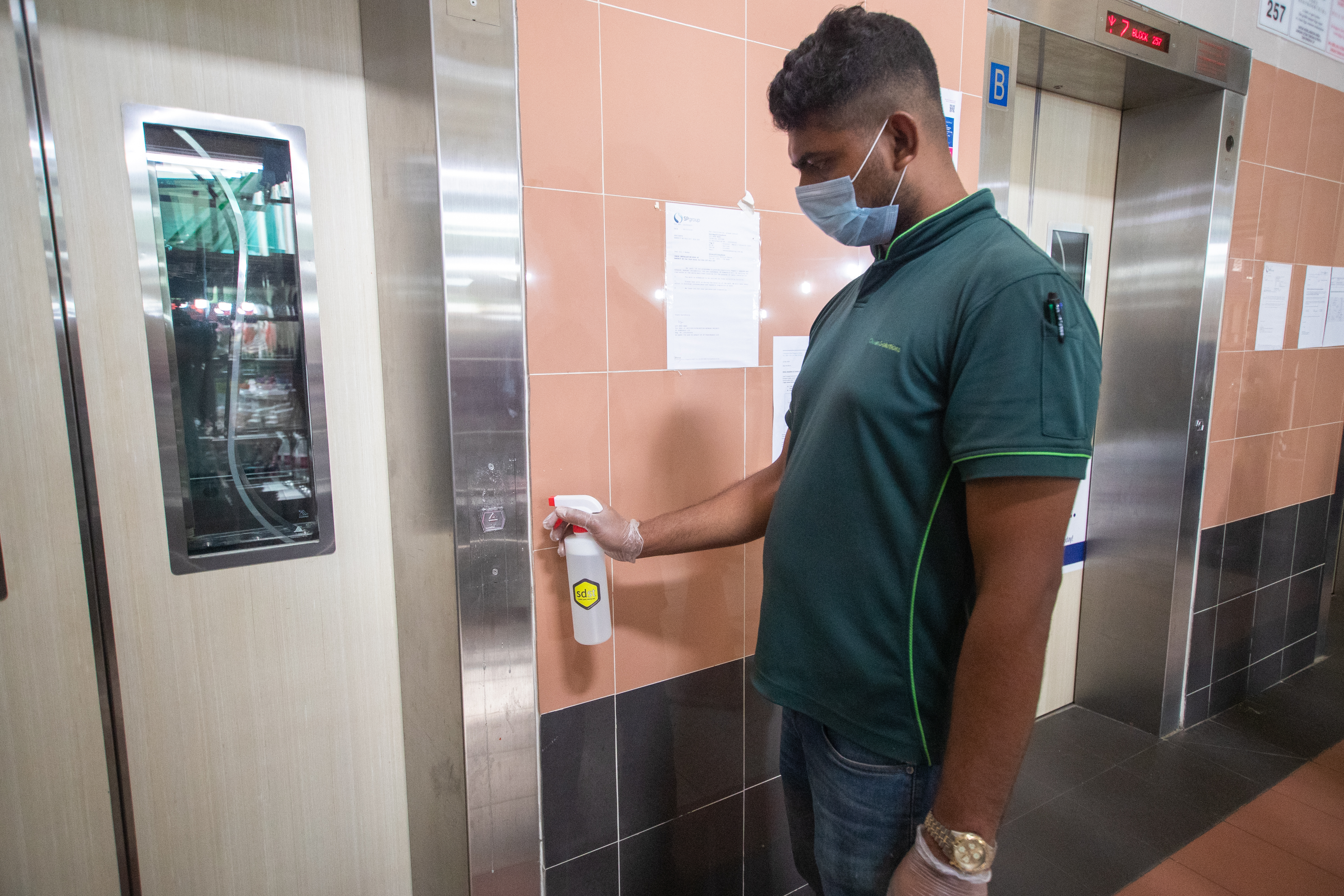 A single application of self-disinfecting coating protects the lift buttons from viruses, bacteria and fungi for up to three months.
Lift buttons are one of the most commonly-touched surfaces which require regular cleaning. With the added layer of sdst on the lift buttons, the chances of viruses, bacteria and fungi staying on the surfaces are significantly minimised.
Final checks
Working together with the Town Councils, CAG carried out checks at some of the housing estates with the aim of ensuring consistency, given the scale of the application. Using an Adenosine Triphosphate (ATP) monitoring tool, swabs were taken at random lift buttons to examine their microbial levels.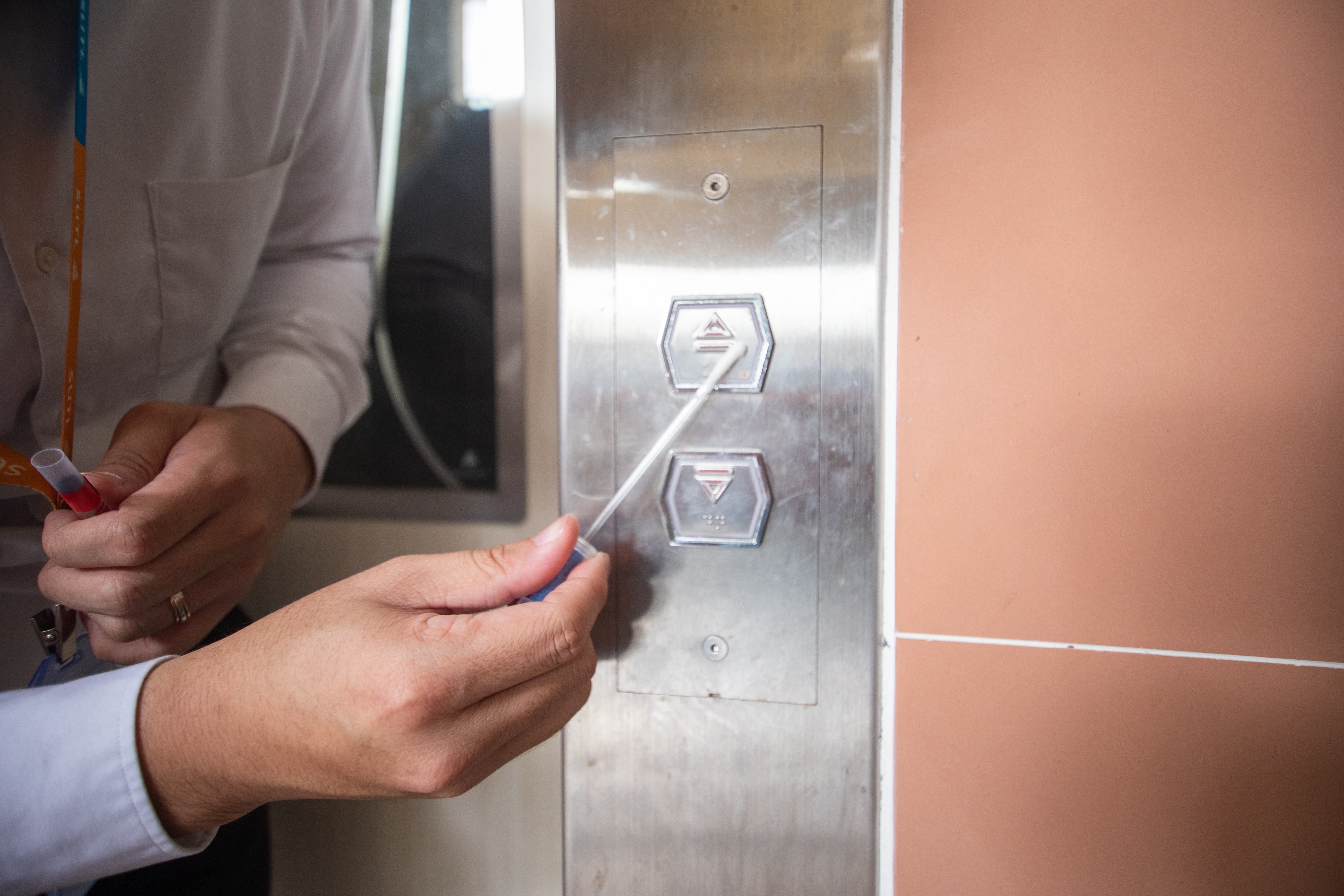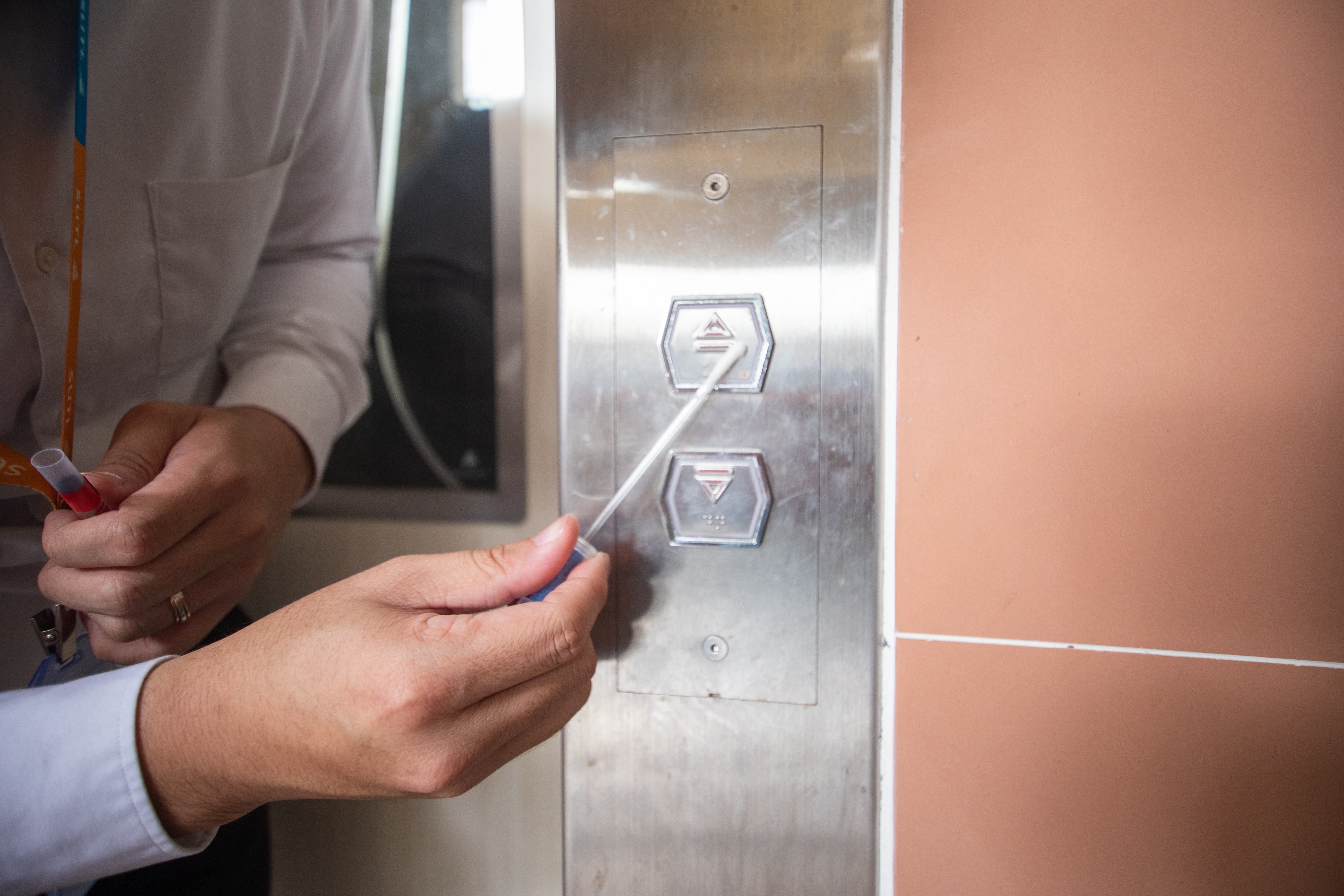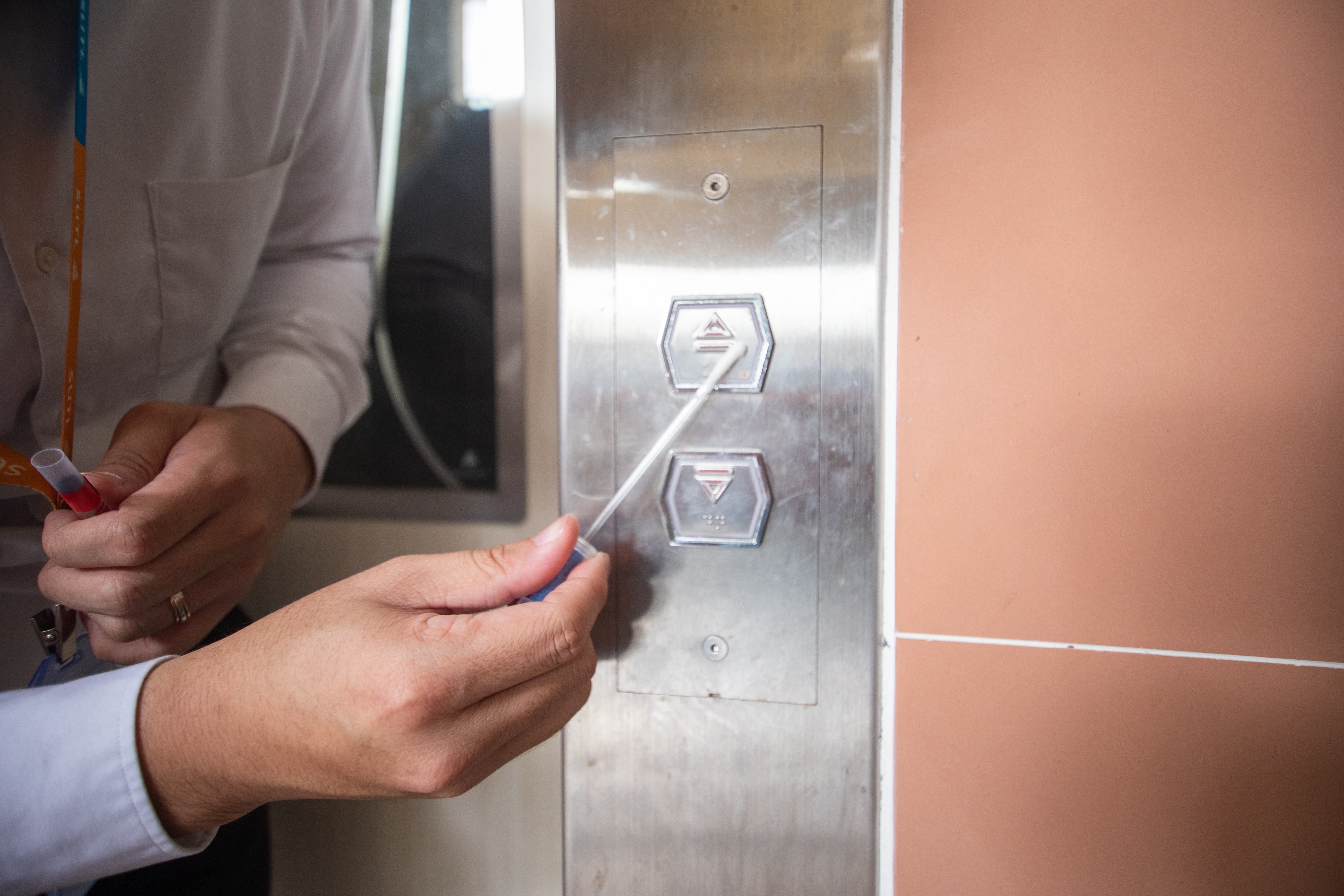 Swabs tests were taken at individual lift buttons to check for microbial activity.
The project was put into place very quickly, with all parties working together for the safety of HDB residents in Singapore. Now, they can feel more assured when taking the lifts.