Fostering the spirit of giving in Changi Airport
Changi Airport Group (CAG) and Metta Welfare Association organised a virtual fund-raising art fair to showcase the unique artwork of special needs artists from Arts@Metta.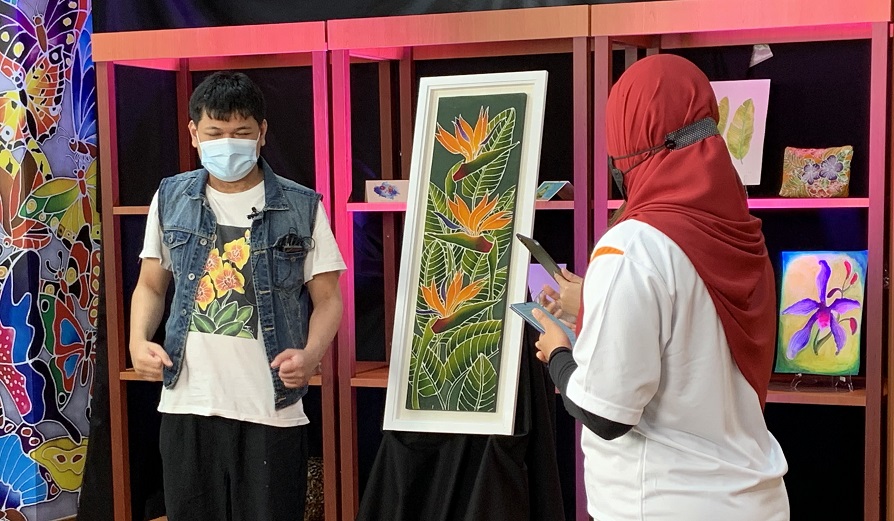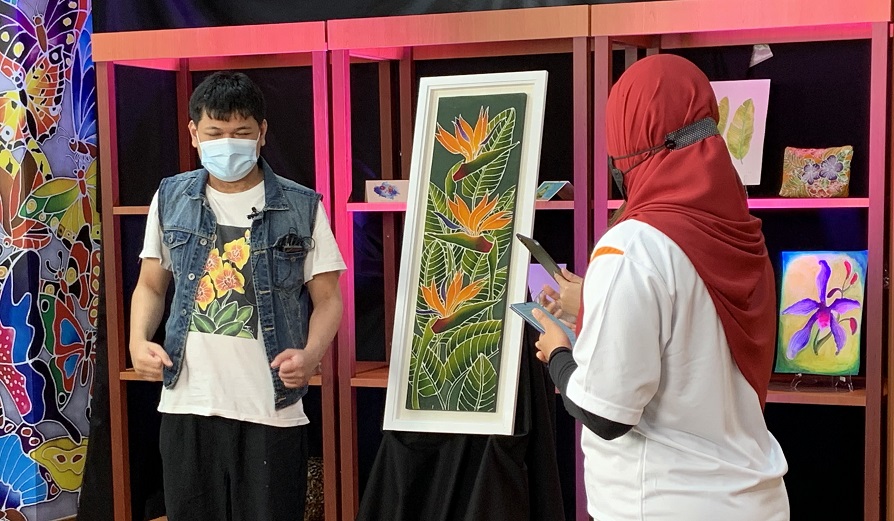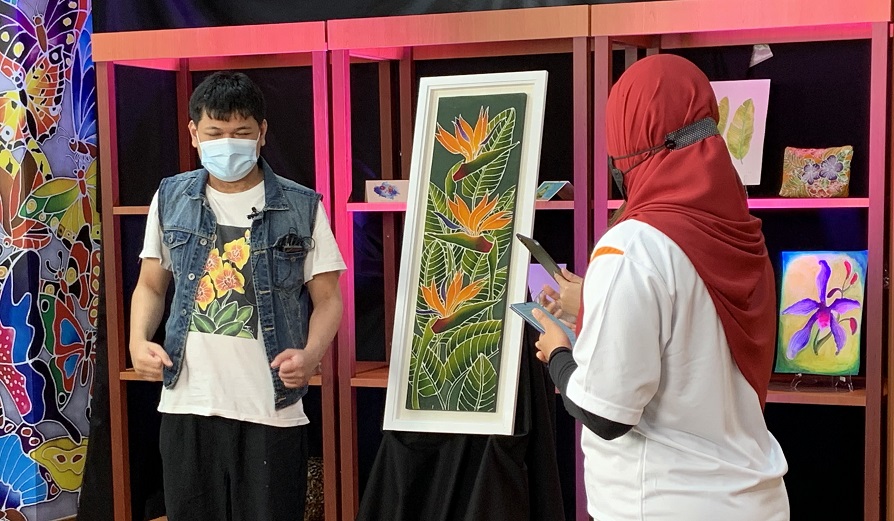 Muhammad Fadhil, a special needs artist from Arts@Metta, sharing how his love for nature and birds inspired him to create this artwork titled 'Birds of Paradise' – the largest artwork on silent auction at the Virtual Art Fair.
10 December 2021 was a memorable day for eight special needs artists from Arts@Metta – they showcased their various art pieces through a show-and-tell session at the Virtual Art Fair organised by CAG. For many of them, this is the first time they are speaking to such a large audience – made up of more than 100 employees from across Changi Airport - about their passion and the inspirations behind their artwork, which they are putting up for sale. Arts@Metta is an initiative by Metta Welfare Association to provide graduates from Metta School access to training and employment opportunities.
This virtual art fair is a special edition of CAG's Fun Fridays. Helmed by the Changi Foundation team and held in conjunction with SG Cares Giving Week (1 to 7 December), the event aims to foster the spirit of giving and is Arts@Metta's first virtual event with a corporation. During the virtual art fair, participants took part in a silent auction for eight unique paintings, and purchased other craft items like postcards, coasters, mask purses and even baked goods from Metta Cafe. These artworks are all lovingly hand-made by the artists, with some of them inspired by iconic attractions in Changi Airport such as the Sunflower Garden at Terminal 2, Jurassic Mile and the HSBC Rain Vortex at Jewel Changi Airport.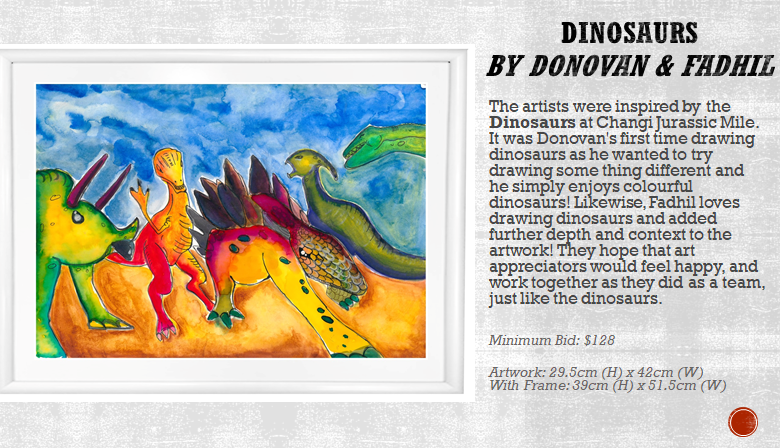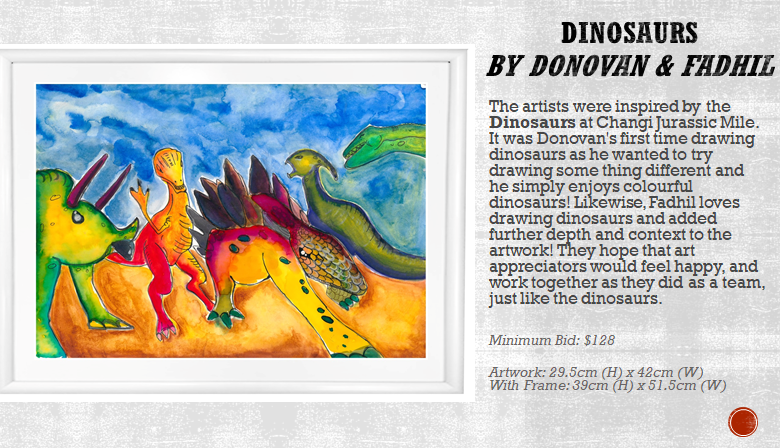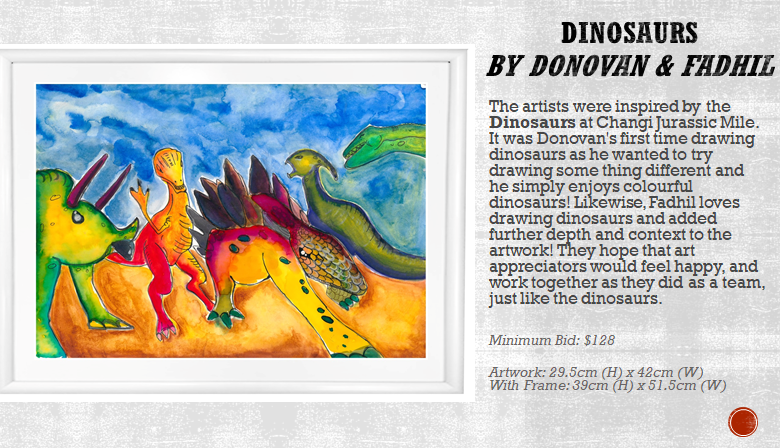 Titled Dinosaurs, this artwork by Arts@Metta artists Donovan and Fadhil was inspired by Jurassic Mile.
Preparations for this virtual art fair started three months back in September. All artists went through a six-week online art programme, a second series of the virtual art programme developed in-house by Daniel Foo, CAG's Senior Manager of Design Management and Changi Airport's Art Custodian, to equip them to become better storytellers. Through the programme, the artists learnt different forms of storytelling, what elements make a good presentation and participated in role-playing with CAG volunteers.
Then from November, together with the Changi Foundation team and Daniel, several rehearsals took place in the lead up to the actual day. As it was the artists' first time presenting to an audience in a live show format, most of them were nervous and shy (as would anyone when being put in front of the camera!). They were coached to look at the camera, where to stand, and how to present themselves. After some practice, the artists slowly became more confident.
On the day of the Virtual Art Fair, all eight artists impressed the audience with their almost flawless presentation, and some of them even put up live performances which featured a piano, a song and a dance performance. Due to the overwhelming response from the audience, all eight Silent Auction artworks were sold, with more than 30 other products being snapped up within the two-hour programme.
Jamie Chow, CAG's Assistant Manager of People Development & Experience, as well as Event Director for the Virtual Art Fair says, "I'm very grateful to everyone who tuned into the virtual art fair and participated – their support to the artists meant so much. It's the very first time we're organising something like this, and it was very encouraging to see how the Arts@Metta artists have grown and matured as individuals throughout the entire process – from going through the training by our CAG colleague Daniel, to the rehearsals and finally on the actual day. Not only did they become better communicators, the event helped to build their self-esteem as artists."
Stephanie Goh, Assistant Manager at Arts@Metta says, "We are so impressed by the transformation of the artists as they slowly opened up and became more confident presenters. This is something entirely new to them and we're so glad that they took up the challenge. The experiences and impact that resulted out of this programme is multifold and will benefit us for a long time. Thank you to the CSR team at Changi Airport as well as Daniel, for their continuous support and encouragement during the entire journey."
Jozie Keok, one of the eight special needs artists from Arts@Metta says, "I was so excited to be able to share about my artworks, and rehearsed my lines very hard. Thank you to Teacher Daniel and the everyone from the Changi Foundation team for believing in us and making this event so fun!"