The Fire in Us: The Changi fire fighter's story
In an exclusive interview with Changi Journeys, Changi Airport's Chief of the Airport Emergency Service (AES) Alvin Lee shares what his men strive for and what keeps them ticking.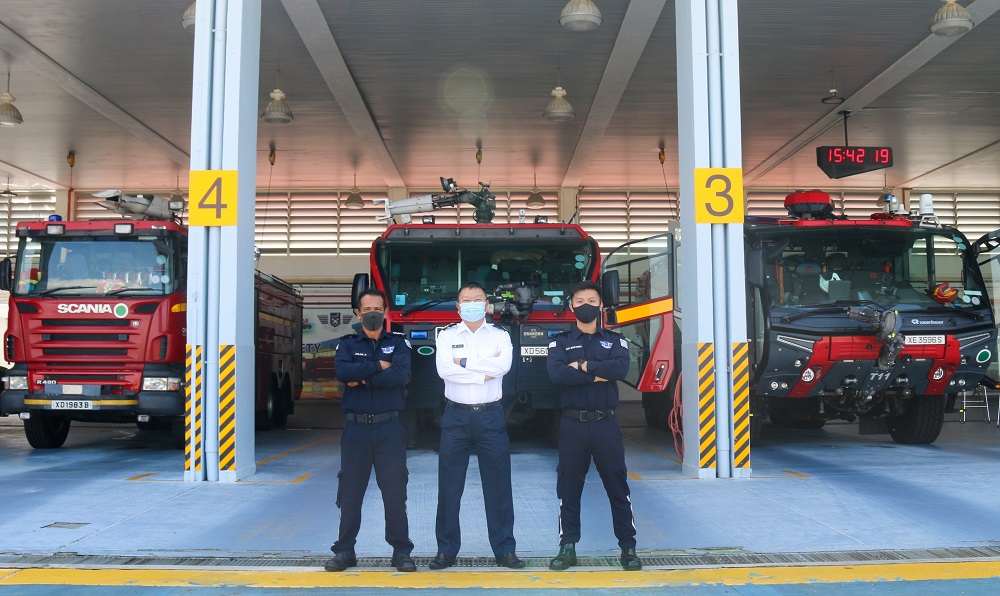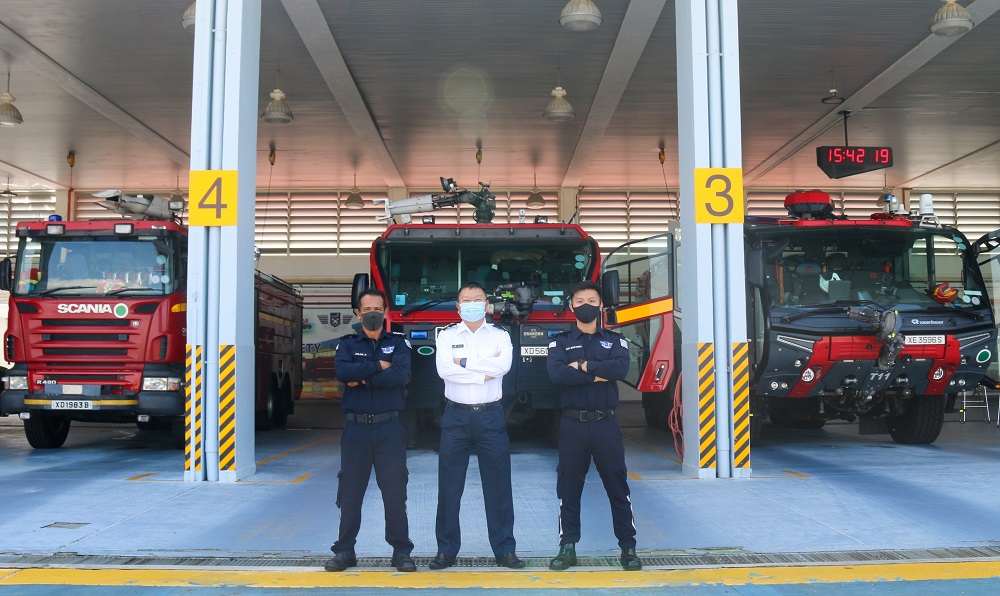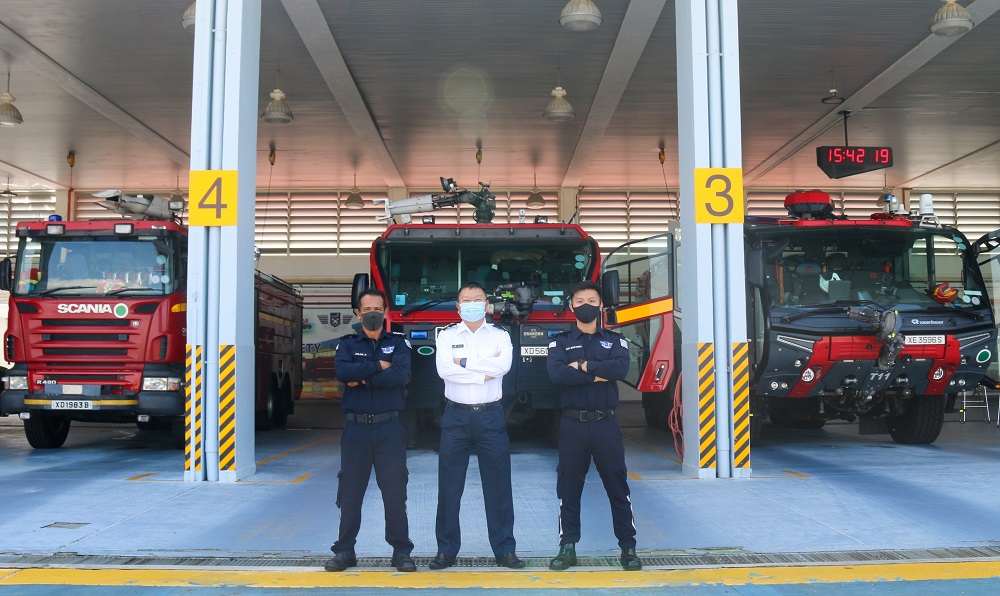 One mention of fire fighters in any airport and the most immediate image that comes to mind is of advanced fire engines and well-coordinated fire-fighting techniques ready, if ever there's an aircraft emergency. For Changi's Airport Emergency Service (AES), its fire fighters are equipped with some of the latest and best firefighting apparatus needed to protect the airport. But you will be surprised to know that it is the humble firefighting foam, more commonly known by its acronym 'FFFP' foam that makes the real difference in Changi.
FFFP foam helps put out fires, and Chief Alvin points out that all his men, from the most seasoned veteran to the newest recruit, are familiar with it. But in Changi Airport, there is another special "ingredient" that keeps the fire in the AES officers burning brightly as guardians of the airport. Flip the word around, and it becomes "PPPF" – a simple play on words, which he points out that really guides, drives and bonds AES.
What drives the AES fire fighters
Chief Alvin says the first P is for 'People' and AES' never-ceasing drive to develop its people to their fullest potential, for his men to grow in experience and expertise. AES officers continue to take 'Pride', the second P, in their very critical mission at Changi. His officers excel because they know they want to be the best, striving to improve themselves each day. This pursuit of excellence follows them throughout their careers, to be 'Professionals' in their field internationally, the third P. But it is the final letter F, or 'Family', that Chief Alvin feels is most vital "We are family, we will always be a family, the family away from your family at home, because we spend so much time together. So I think when we take care of our men, we value them, we develop them and we create that environment of a family in a station, their family away from their family. I think that's how we can keep a strong culture of AES alive."

It is this fire in the hearts and minds of each fire fighter in Changi Airport that gives every aircraft and passenger that flies in or out of the airport the assurance of Category 10 level of fire protection – the highest possible fire coverage according to International Civil Aviation Organisation (ICAO) standards. Working with mutual aid agencies within the airport and its immediate vicinity, AES will spearhead the rescue and fire-fighting operations if they are ever called on to do so.

But Chief Alvin never works alone. Teamwork is critical to AES' mission to save lives, prevent or minimise damage to property, and return the aerodrome to normalcy as quickly as possible. For example, if the unthinkable ever happens and a passenger plane lands in the waters off Changi, AES is trained and ready to activate its emergency sea rescue plan.

Hear it from the men
One of AES' key officers is Fire Staff Sergeant Jailani Bin Haidu from Changi's Sea Rescue base, who is responsible to operate AES' different sea rescue crafts during an emergency. The veteran AES officer has seen his fair share of action but credits his team for the good work done. His face and voice light up when Changi Journeys started asking about his fitness regime and his men. He keeps fit with Tabata exercises each day, doing the static moves for up to an hour non-stop, while building up the intensity. 
It is with the same intensity and continuous dedication that he uses to mentor newer fire fighters. "We have to guide them, and impart the lessons we have learned from past incidents we have handled, to shorten their learning curve." Fire Staff Sergeant Jailani also points out the importance of teamwork. "We need to work together, no matter what. To me, that is an important mindset, in order to put in our best for all missions." While being more experienced, he is always open to learning from his newer teammates. "There are a lot of things that I want to learn from them. They are good in some areas where I am not. I know they also have special skills which I may not have. It is two-way learning for me."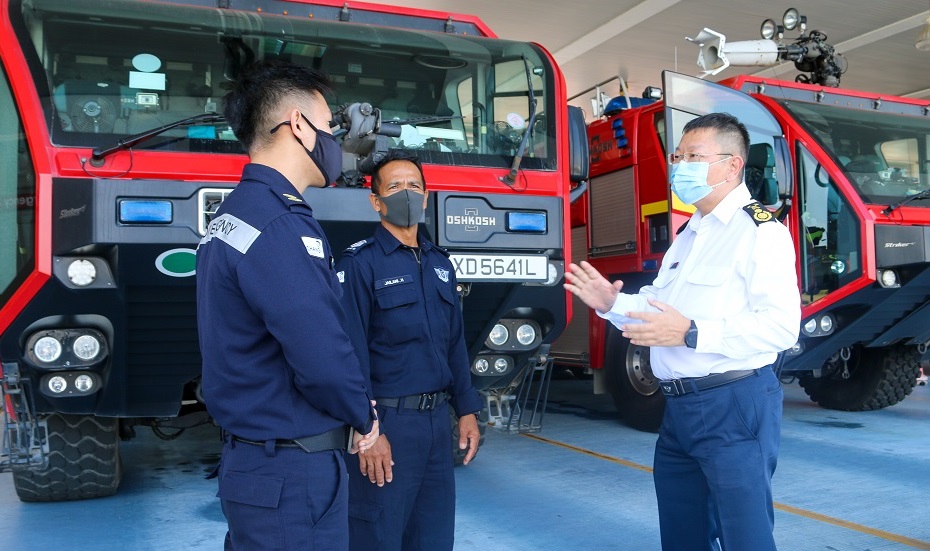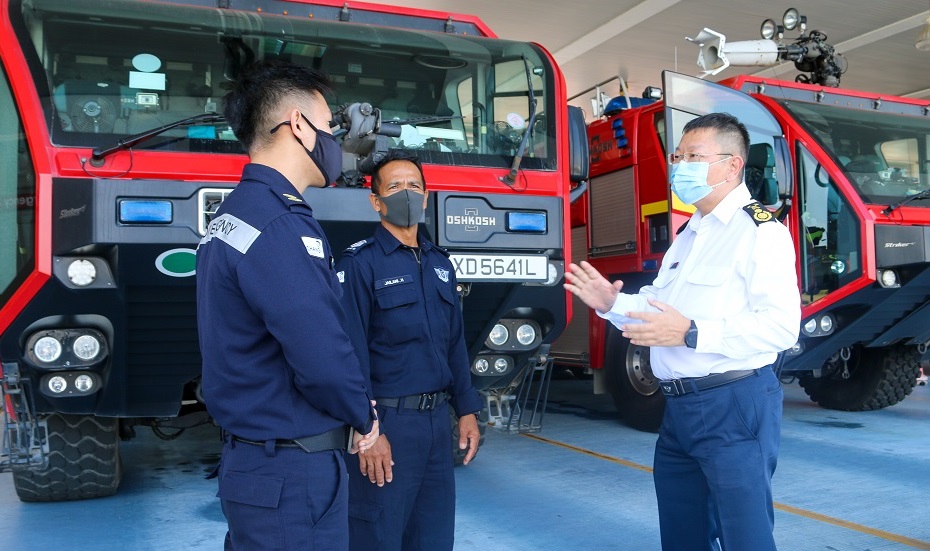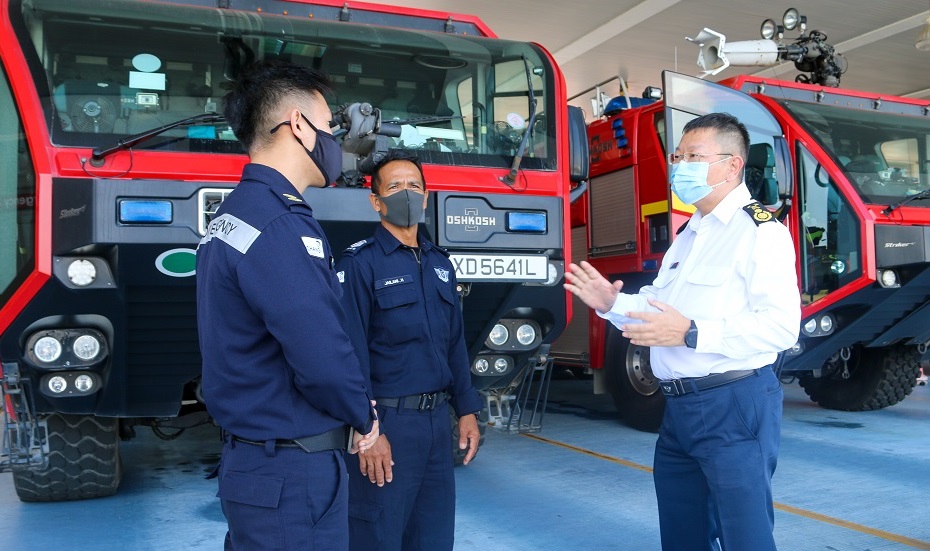 Chief Alvin (right) speaking with Jailani (centre) and Jian Ming (left) at Firestation 1
One of AES' newer teammates is Senior Airport Emergency Officer Goh Jian Ming. He is currently deployed to Seletar Airport as Duty Officer in charge of a team of 14 men looking after the Seletar runway and aerodrome. He points out that AES training pushes a person to his limit. "The first three months of training was very tough – mentally, physically – but we worked together. And the culture here is really based on trust, like a brotherhood. So when we work together, we have to get this kind of synergy going, which I think in a lot of places... is sometimes quite hard to find."
Jian Ming hopes that more people will learn about the qualities that AES nurtures, and consider joining the service. He said there are always new things to learn and challenges to help them constantly improve. "Our work is very meaningful, and it is very important. We actually work towards making Singapore the best airport in the world. Pilots and air carriers are always confident in landing in Changi, because they know that we have a fire service that can handle any issue. So to me, it's very rewarding and meaningful."