The "Safest Airside Driver" Unveiled
To drive home the culture of safe operations in the airside, Changi Airport Group (CAG) held its second annual Safe Airside Driving competition last week. Prior to organising such a competition, CAG's Airside Management team promoted safety messages through safety campaigns and talks. In a bid to engage the airside drivers more meaningfully, the team started the first edition of the competition last year, focusing on tractor driving, as tractors comprise the largest vehicle population in the airside.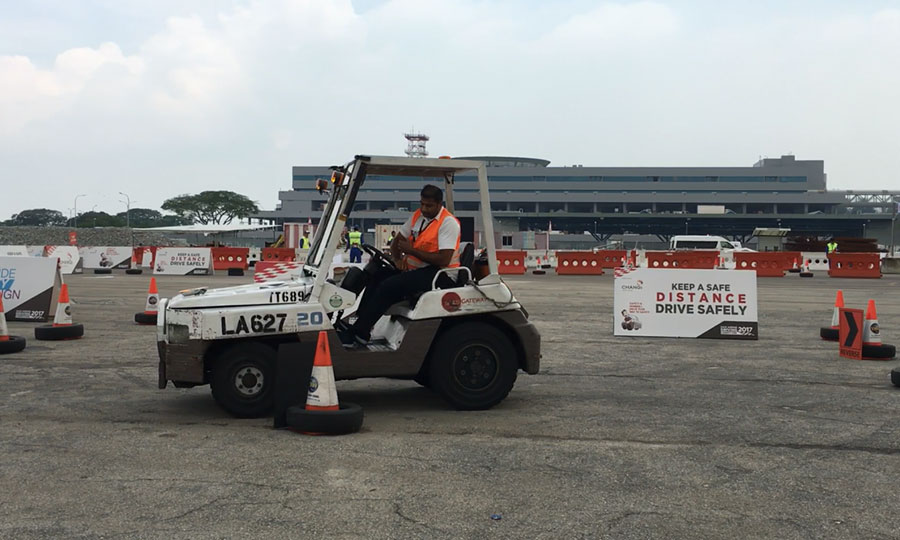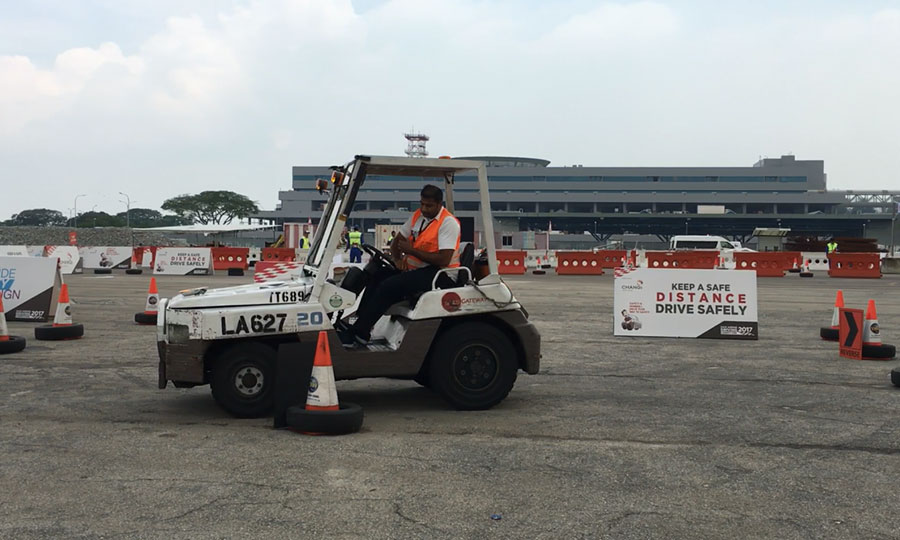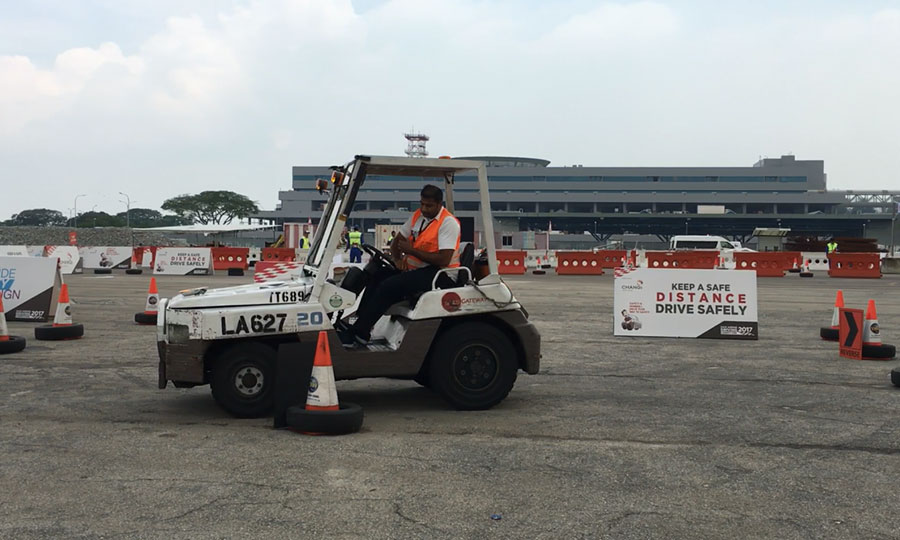 Participant from SATS manoeuvering the circuit at the tractor driving competition
This year, in addition to tractor driving, another segment – pushback driving – where the plane is pushed from the aerobridge to taxiing position, was also included. As traffic volume continues to increase at Changi, and peak periods get extended, the importance of safe driving and aircraft pushback operations becomes of critical importance.
Due to stronger awareness of the Safe Airside Driving competition this year, the number of tractor drivers who signed up for this event jumped almost four times, compared to 160 last year. In the preliminary rounds, drivers had to manoeuvre through a circuit - carefully designed in collaboration with Bukit Batok Driving Centre, and the top 10 tractor drivers with the lowest demerit points were identified for the finals. Safety awareness, such as checking of blind spots and keeping to speed limit, as well as driving skills were the main assessment criteria.
As for the aircraft pushback drivers, they were selected from audit assessments during live flights, conducted over a one month period from 9 Oct to 9 Nov. Based on a checklist of focused areas such as safety, skills, and final stop point, 10 pushback operators were identified for the finals, where they attempted the pushback scenario set for the competition. Stopping accurately at the designated stop point is very important, as the aircraft could potentially be involved in an incident, should it not stop at the right position.
Standards were high at the competition, and at the end of the day, Mr Ren Qing Lei from SATS won the top prize for his precision driving of the tractor, while his fellow colleague, Mr Napa John Ralph Pareja cruised to the first place for pushback operations. The team category tractor competition was won by Mr Diban A/L. Ellangolan, Mr Min Lwin, Mr Nathan A/L. Cheliah and Mr Ibrahim B. Awang from dnata.
For non-airside drivers who wanted a taste of the action, the Airside Management team also prepared a sideline game – Confine Driving, where drivers had the rare opportunity to manoeuvre the Airside Safety Rover for a 3-point turn in a tight circle, to give them an appreciation of how tight some of the spaces can be in the airside.
Driver trying to negotiate a 3-point turn in the confined driving circuit
Riding on the success of the competition, Jann Eu, Senior Manager, Airside Management team said "It is very encouraging to see the support and emphasis placed on airside safety by our airport partners. The airside driving competition is not only an opportunity to demonstrate the skill and safety awareness of the airside community, but also a good way to build comradery among our different airside teams. We look forward to organising a bigger and better competition next year!"