From the desk of Jewel's CEO: Untold stories 
Changi Journeys speaks to Hung Jean, CEO of Jewel Changi Airport, as she moves on from her role in January 2022. She reflects on her journey with Jewel over the past 12 years.
Dreaming the dream
It has been almost three years since Jewel opened its doors to the world and looking back, it took almost eight  years of planning, four years of construction, and endless rounds of persuasion before the plan came to life. From an 850-space car park in front of Changi Airport's Terminal 1, we conceptualised many ideas (one of which was a space port) to bring a world-class destination to both locals and tourists. As something of this scale was never done before, it was with much tenacity and huge doses of positivity that 'Project Jewel', as it was first codenamed, was delivered. 



Alternate possibilities of what Jewel could have looked like
Even with hundreds of drawings, at least a dozen models, and the showsuite mockup, none of it was able to encapsulate the real sense of wonder until the day we stepped foot into the space that was designed to become an icon of Changi Airport.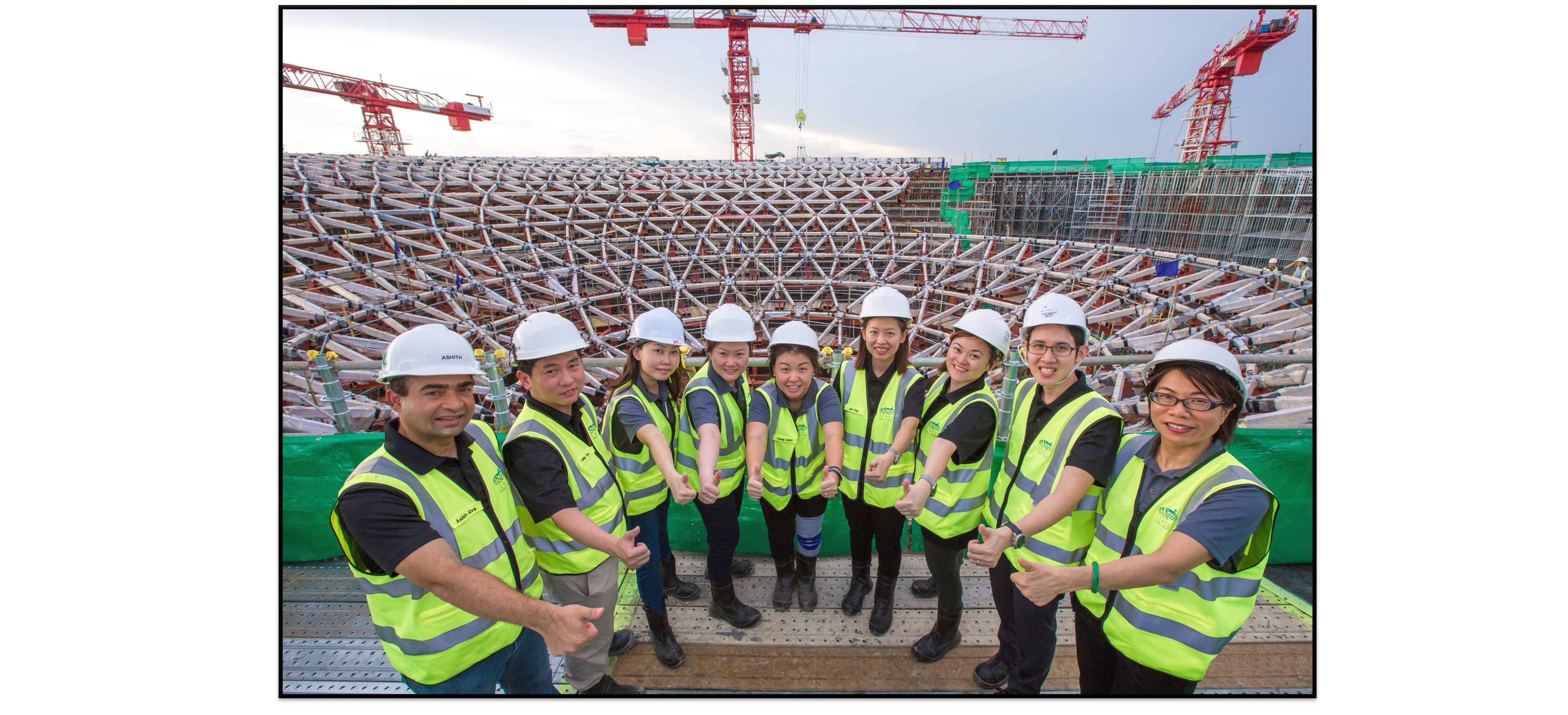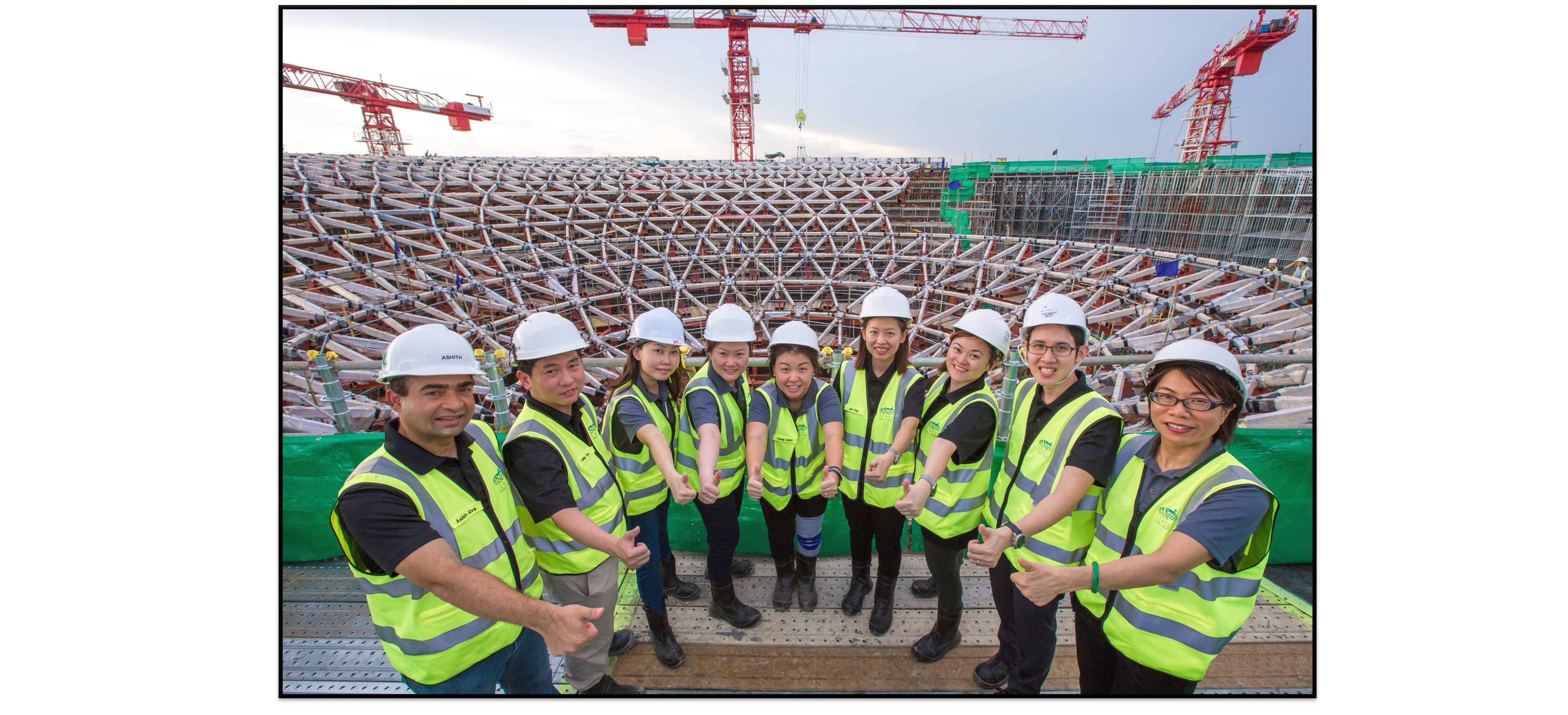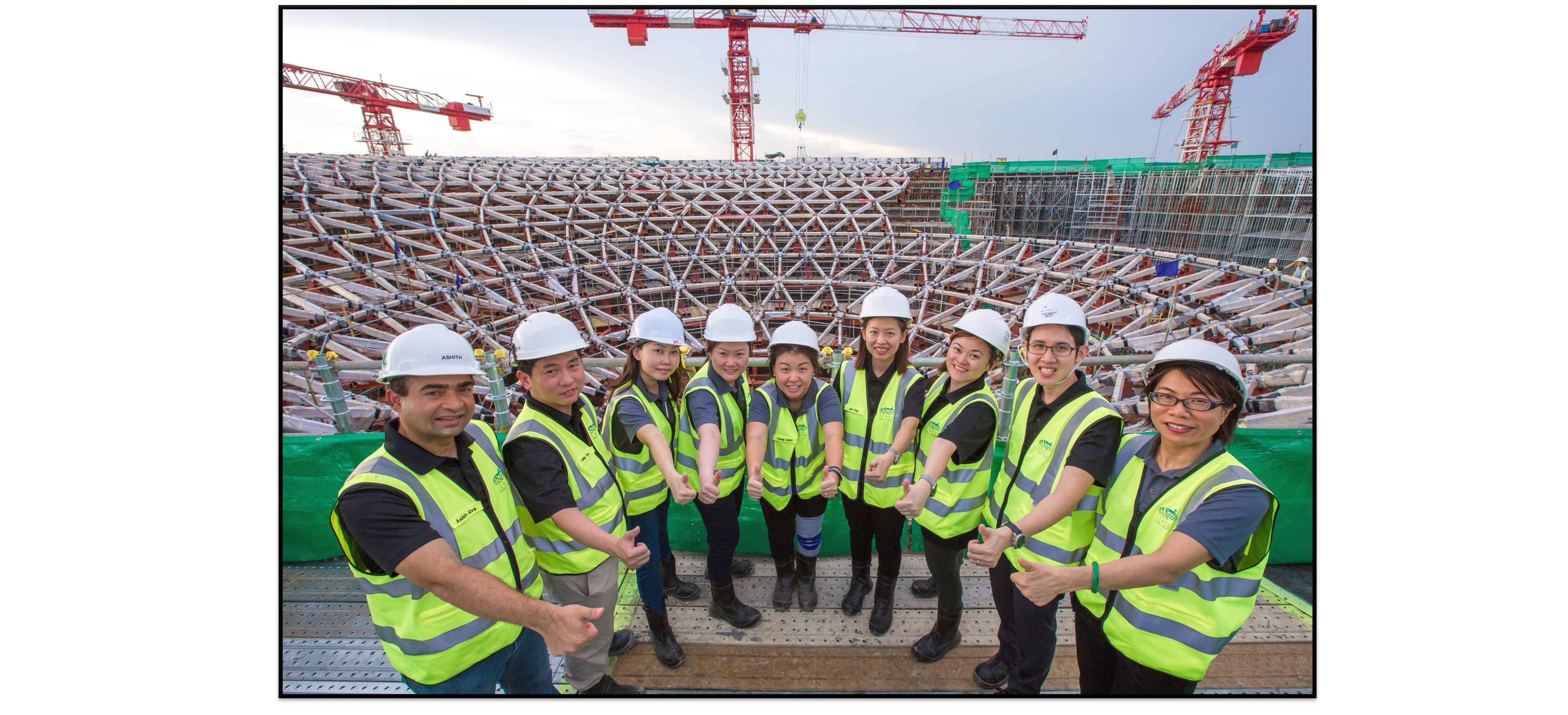 Putting the pieces together
In designing Jewel, my team and I scoured the world to bring the best attractions and retail offerings to our customers. For instance, for the bouncing nets attraction, we were intrigued by this team of sailors who hand-wove nets for scientists in the Amazon Rainforest canopy. To convince them to work with us (even at the 11th-hour), we had to take the road less travelled to get to the far-flung island of Groix in France. We not only had to take a plane but catch three different trains and finally hop onto a ferry to reach the remote island – but that meeting with the Chien Noir team made the trip completely worth it.



With Chien Noir and the team, who hand wove the bouncing nets attraction
Another special point we are proud of at Jewel is its lush greenery. When we were choosing the plants to feature in Jewel, we had to consider different criteria including aesthetics and their ability to thrive within the complex given its light levels, temperature and humidity conditions. Before they were transported to Singapore, many of the trees had to be pruned to fit into containers for sea freight. Once they arrived, they were nursed to health at an off-site nursery and acclimatised to Singapore's tropical weather. We even recreated a life-size "slice" of the Forest Valley at the nursery! The procurement of the trees took approximately nine months and another two years for the trees to be nursed locally. Today, Jewel houses more than 2,000 trees and palms and over 100,000 shrubs that originate from the world over, including Australia, China, Spain and USA.
On the retail front, many brands from far and wide have planted their first flags in Singapore right here at Jewel, including Singapore's first Shake Shack. While it opened with a big bang to long queues, the tenancy agreement was actually on the line to the very last minute of our retail and F&B announcement to the media, due to the complications of the deal.  I recall (not so fondly) the many times we had to seek the understanding of the media to reschedule the media briefing for the retail launch even at the very last minute.
Not many people may know this, but from the beginning of our master-planning of the Jewel layout (even before the architect was on board) we had specially created duplex stores to allow brands to fully express their store experience and display products in an extra-large format. Shake Shack, Apple, Nike and Starbucks are among brands that are hugely popular among visitors. On hindsight, if there was something we would do differently, I think we should have been bolder to incorporate more of such formats in Jewel, as they are highly sought after now.
When Jewel finally opened its doors in April 2019, nobody could have predicted the overwhelming response it would receive.  With all our airport operations experience, we had meticulously conducted operational readiness trials (unheard of for a shopping mall) to plan for a smooth opening. We tested queues and crowd management procedures, and even went down to details such as stress-testing the toilets and the loads on the flushing system.  But not in our wildest dreams did we anticipate how fast the bins around Jewel would get full due to the crowds! But it was a happy problem, all hands were on deck during the first week to help clear the bins and of course, we subsequently ordered more of them.  
A journey of significant moments
This journey was full of sweat, tears (and some blood) in various forms – but I would not trade those precious experiences for anything else. In the time I was with Jewel, I had my three boys. The day my eldest was born will be remembered as the start of my journey with Jewel, as it was in fact the day after our first presentation to the Urban Redevelopment Authority in 2010 to seed the concept of Jewel. Many who have been with me on the journey jokingly refers to Jewel as my fourth baby, and I guess it is actually quite true.
In 2013, during the joint venture negotiation between Changi Airport Group and Capitaland, I recall being stuck in the board room for days and nights on end. On one of the nights at the end of our negotiation, I lost my best friend to a long battle with cancer.  On personal note, it was a milestone I will never forget.
And of course more recently, there was Covid-19. It was heart-breaking to have the pandemic close our borders to tourists, have the mall shut and parts of it restricted like never before. But I take immense comfort in the one good thing that came out of it – that the Jewel community rallied together stronger than ever, bravely stepping forward and supporting one another in so many heart-warming ways beyond their call of duty.
It has been an emotional ride and even as I move on from this role, Jewel will always have a special place in my heart. I thank my team and partners for their sacrifice along the journey to make Jewel a reality, and hope that they look back on this mammoth of a project with immense pride, as I do.
Jean and the Jewel team at the official opening ceremony in 2019.
Jean is now leading Changi Airport Group's Enterprise Digital Business Development. She continues to provide leadership continuity as a board member of Jewel.