Gearing up for 100-year flash floods
As a small, low-lying city-state, Singapore remains vulnerable to the impacts of climate change. With rainfall being abundant due to its tropical climate, flash floods might sometimes occur across parts of the island, usually caused by a combination of heavy rainfall, high tides and drainage issues.
With Singapore's air connectivity being a vital part of the national economy, Changi Airport recognises that it needs to be fully prepared for the impact of climate change, including one in 100-year flash floods, which might become increasingly prevalent.
To ensure Changi's business continuity, besides building the airport on higher platforms above the mean sea level, the other precaution that Changi Airport Group (CAG) took was to increase the capacity of the airports' drains, to reduce the risk of flooding during "intense rain".
Adding to the challenge of building new infrastructure at a busy airport which operates 24-by-7 was the fact that part of the new drain cuts across the full stretch of Airport Boulevard underground. To ensure minimal impact to traffic flow along Airport Boulevard, CAG's Engineering team came up with an innovative way to construct the drains, using the "Pull and Rail" method.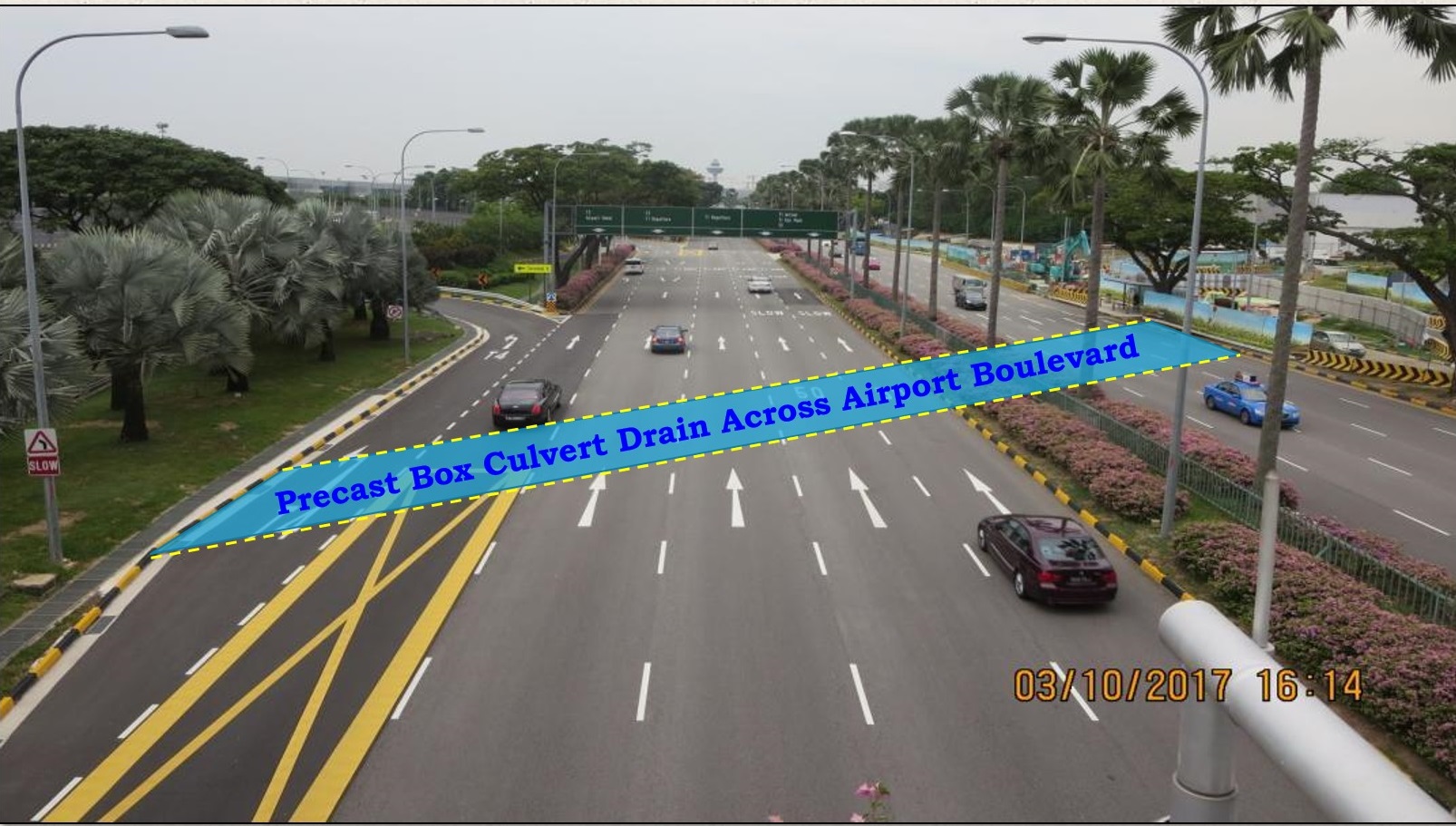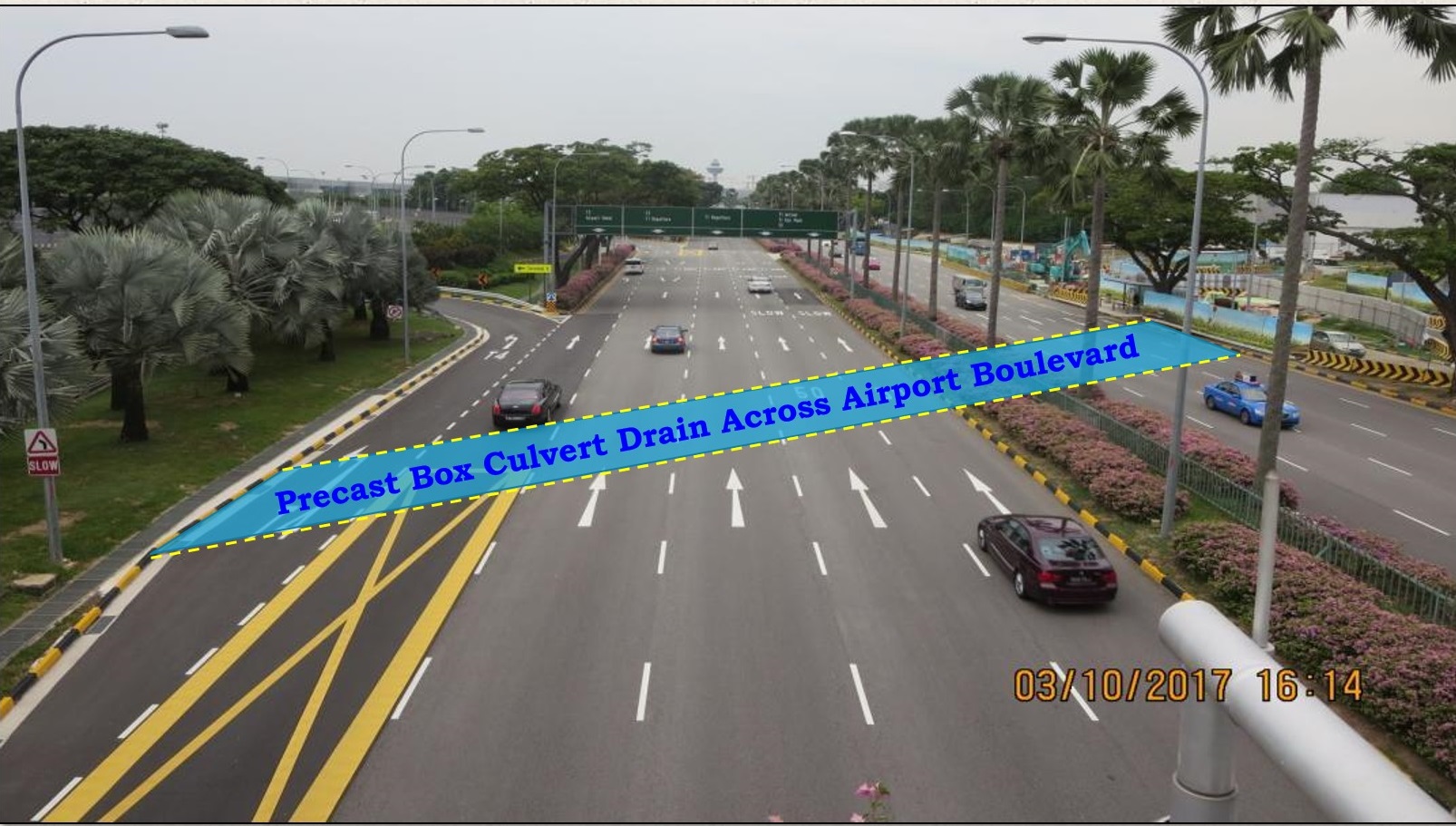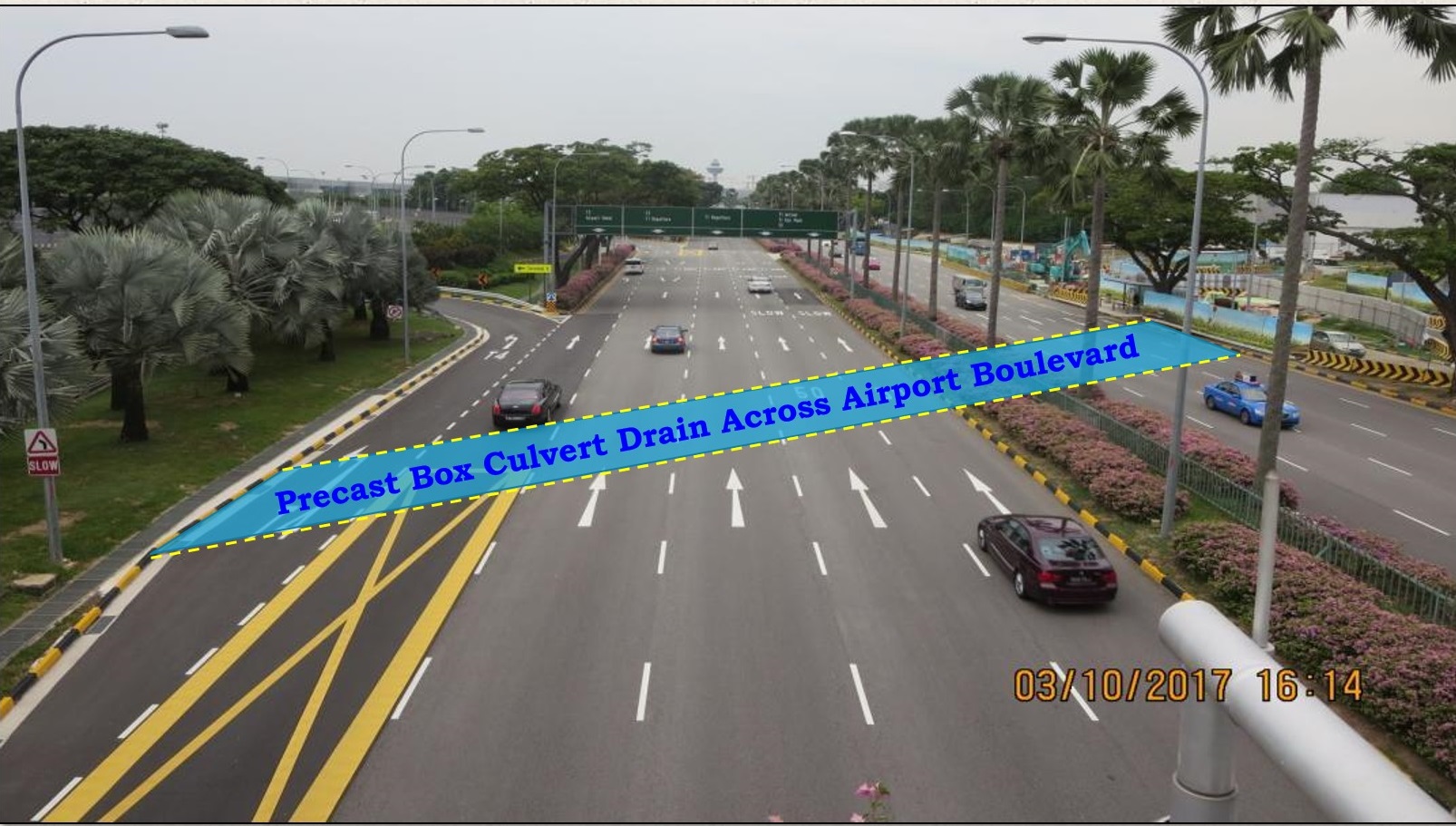 Layout of drain across Airport Boulevard
Compared to the conventional "Open Cut" method of drain construction, where parts of the road need to be dug up to install precast box culverts, the "Pull and Rail" method avoided the need for repetitive digging and backfilling along Airport Boulevard, allowing the CAG Engineering team to continue work even with the limited lane closure hours.
How the "Pull and Rail" method works is – precast box culverts are lowered into an excavated underground section of the road at the starting point. These are then slid along the pre-dug drain tunnel to reach their destined position. (see illustration below)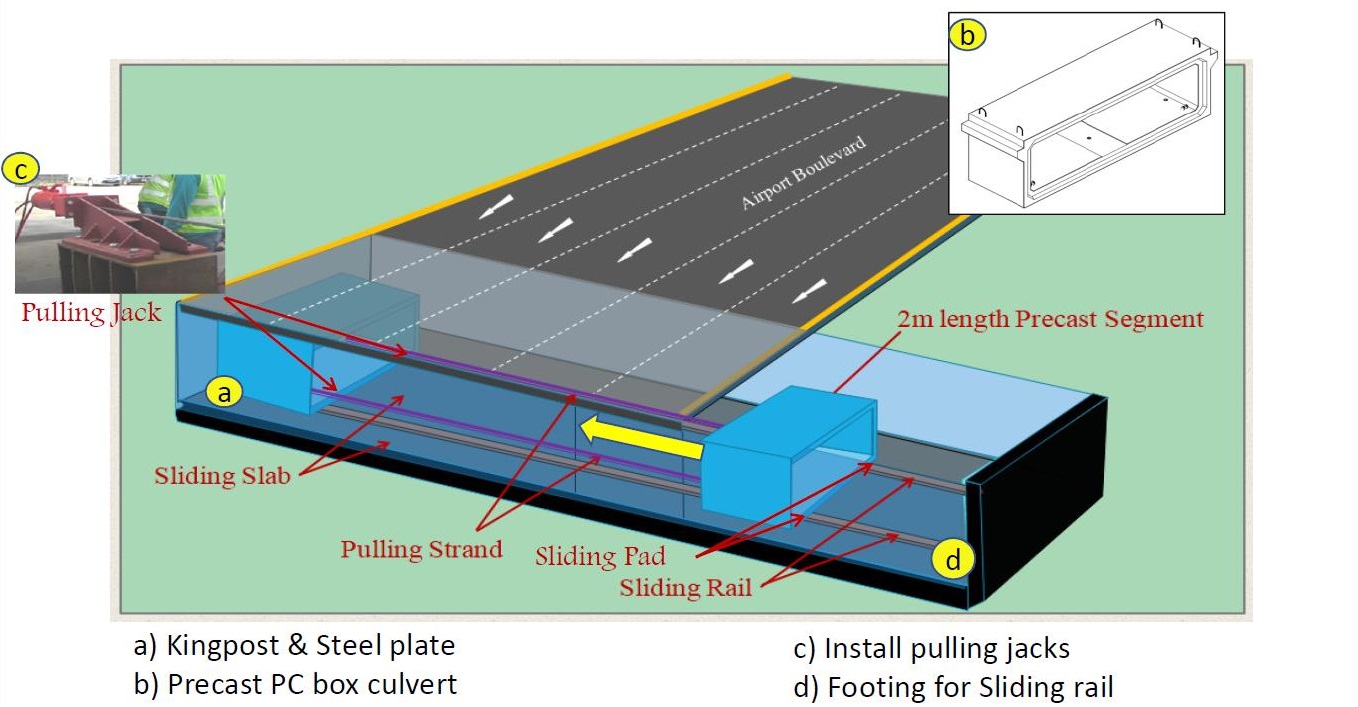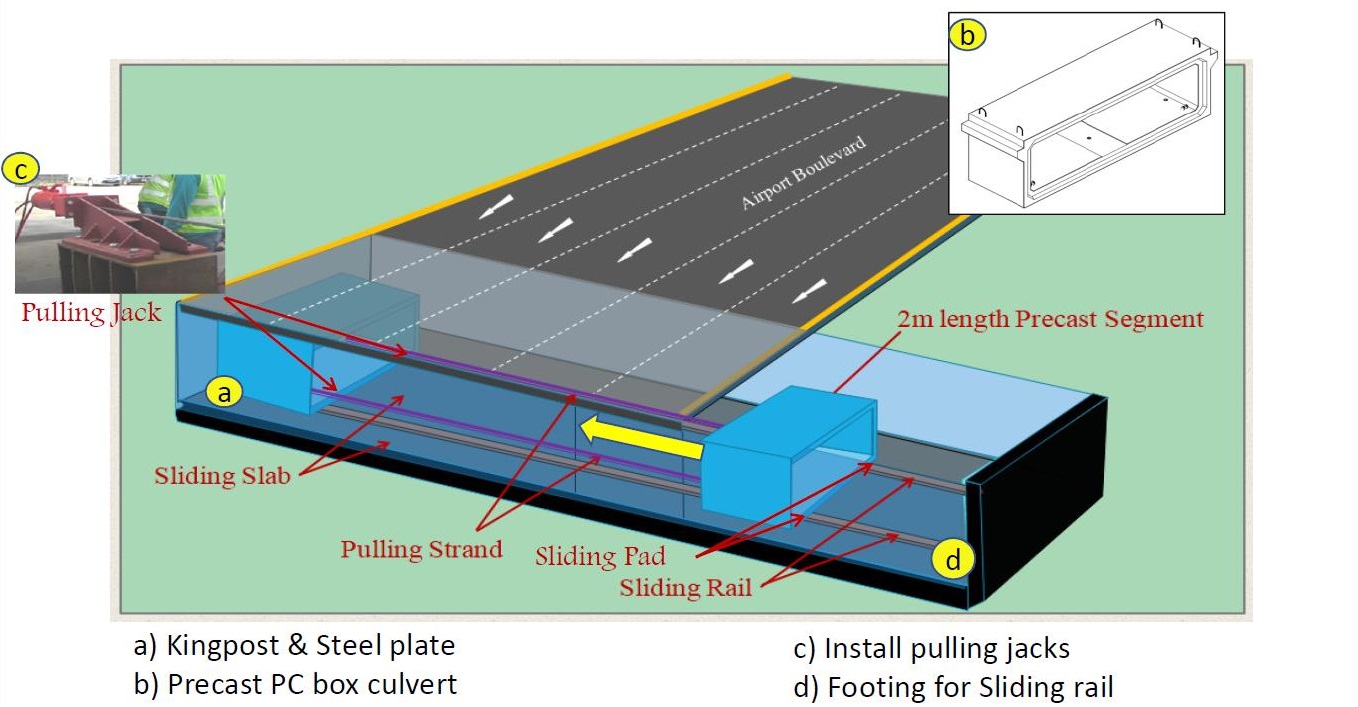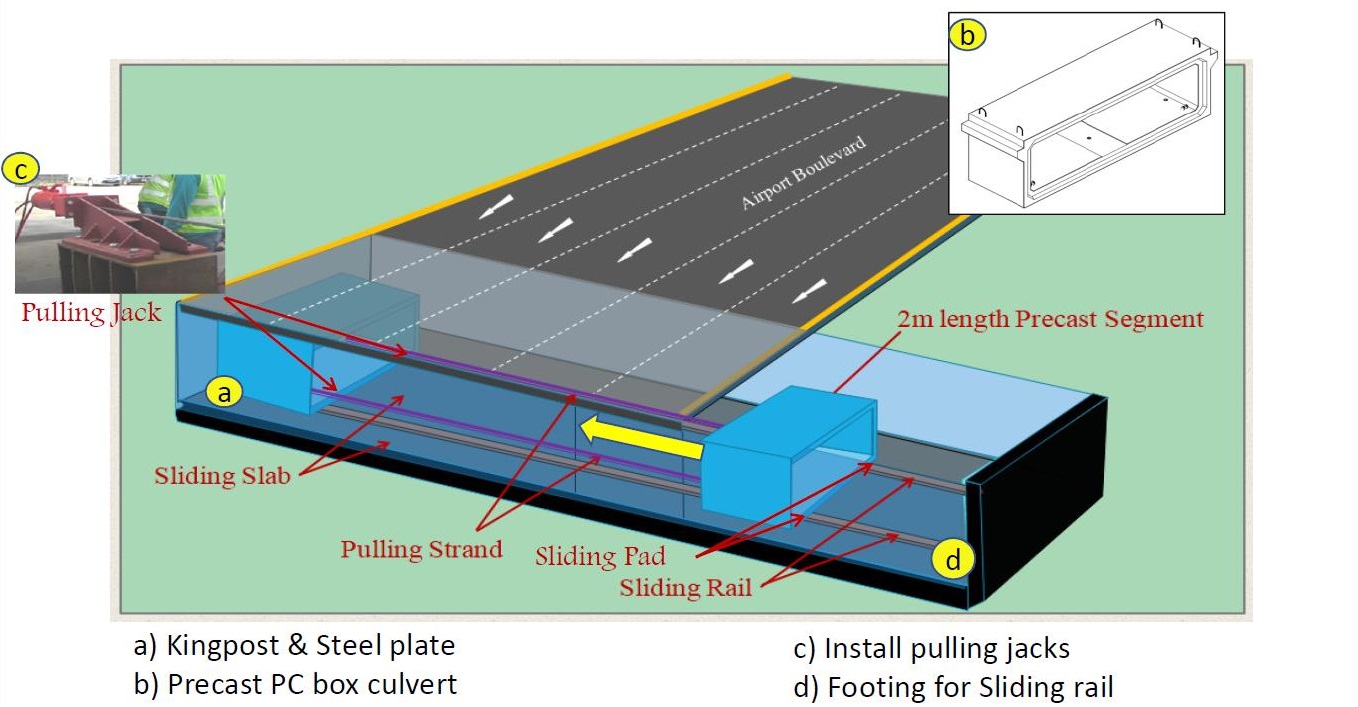 Besides eliminating the need for repetitive excavation and backfilling of the road, thus minimising impact to traffic flow along Airport Boulevard, this innovative construction method also improved productivity by more than 20% and reduced asphalt used by over 40%.
With the new drains, Changi Airport's drainage capacity increased by more than 16,000 litres per second, which is a flow rate that would take less than 3 minutes to fill an Olympic sized swimming pool.
CAG recognises the need for a national infrastructure like the airport to guard against effects of climate change. Widening the airport drains is one example of how CAG actively prepares for challenging situations to ensure Changi Airport continues to operate uninterrupted to serve passengers and customers.