China continues to lead in outbound tourism spending. Chinese tourists made a total of 130 million trips overseas in 2017 and spent a total of US$115 billion while travelling, according to a report by China Tourism Academy and online travel agency, Ctrip.
While Changi Airport Group (CAG) has a Chinese geotargeted website, as well as social platforms familiar to the Chinese, such as Weibo and WeChat, it became increasingly obvious that the clear mode of engagement for the Chinese traveller is the iconic and ubiquitous WeChat.
To the world outside of China, WeChat is best described as a super app which does so much more than its original messaging function. Users love it for its multifunctionality as a messaging, social media, and mobile payment app. You can pay for taxis or food delivery, transfer money to friends, book a spa session, sign up for gym membership, and even search for product or service information and reviews.
Changi's official WeChat account was launched in 2014 to connect with Chinese travellers. Through the sharing of content and key information about Changi Airport, the account attracted a sizeable follower base right from the start. Engagement and interaction from the Chinese-speaking audience was very encouraging, with our follower base growing at least 50% each year.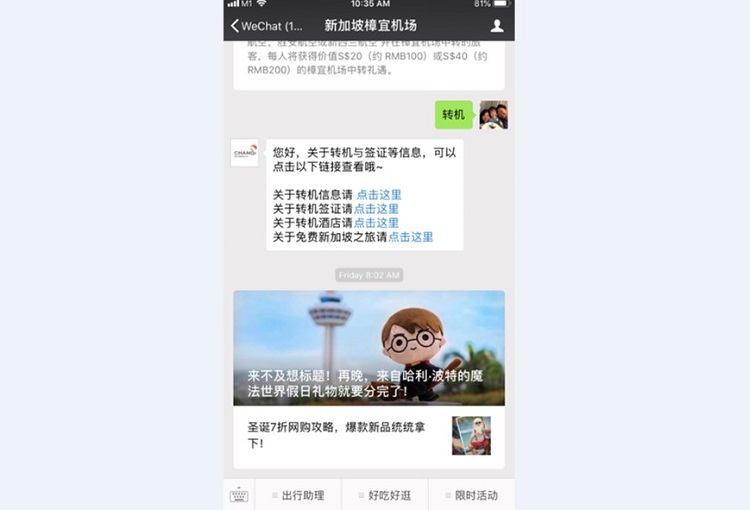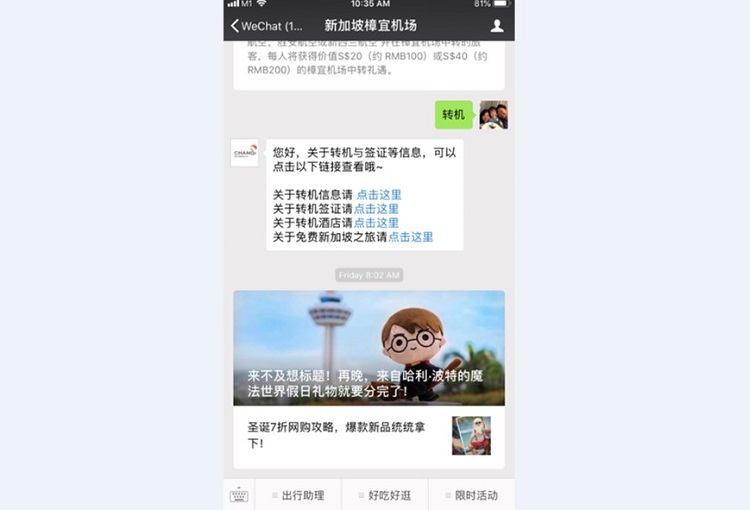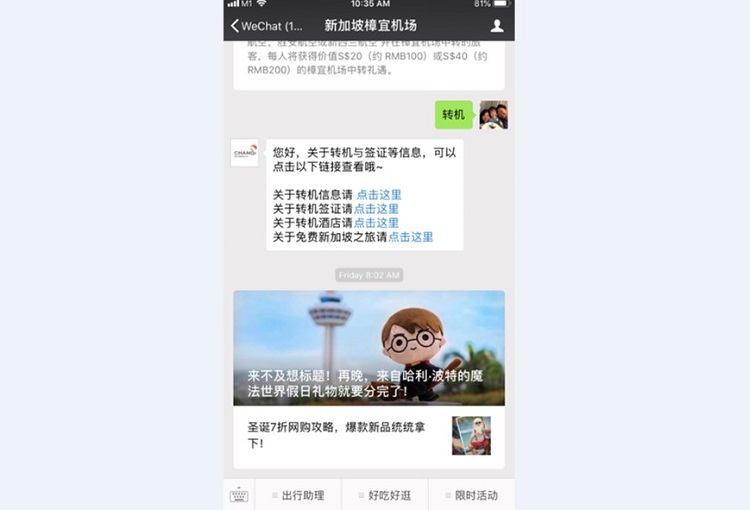 Changi Airport informs and updates Chinese travellers about flights and tours through its WeChat channel
As WeChat rolled out more functions, CAG leveraged opportunities to increase engagement with its followers. From digital discount coupons to multi-player games to raise awareness of Changi's campaigns, the team pushed boundaries to deliver content that would appeal to Changi's WeChat followers.
As the subscriber base grew, so did the queries. Followers sent in as many as 1,000 queries a month, with topics ranging from visa requirements to visit Singapore, to products they are looking to buy.
Engaging Chinese-speaking fans in Singapore
WeChat has proved to be a powerful tool for the Chinese-speaking audience in Singapore too. To engage this group, CAG organised an airport tour in November 2018 to facilitate deeper interaction with them.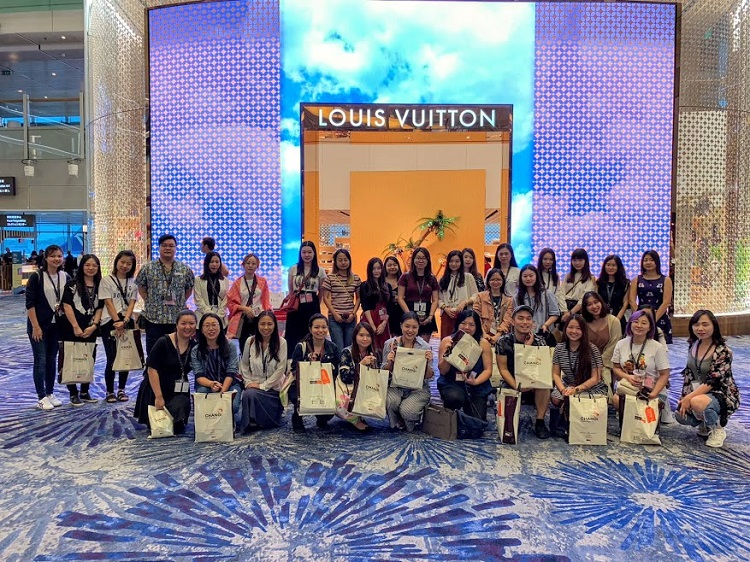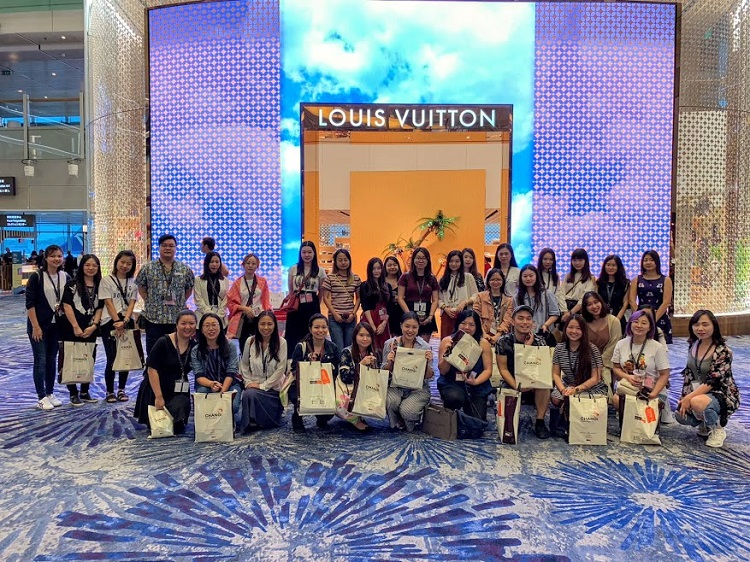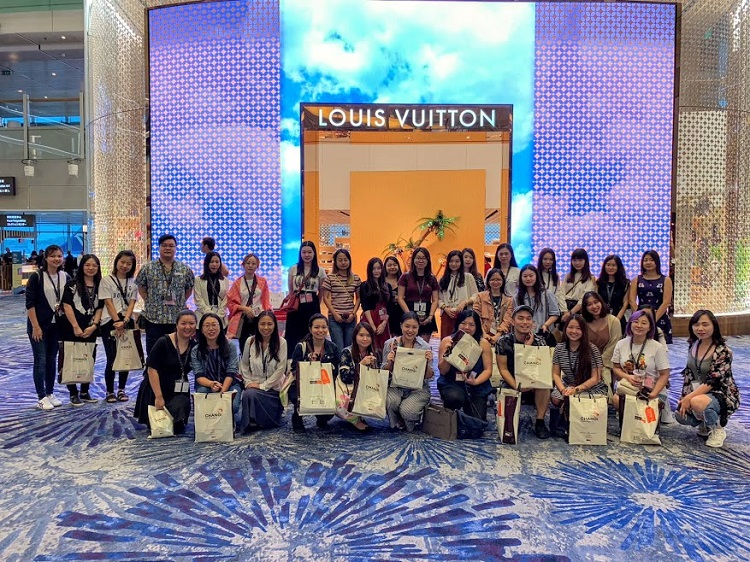 Fans gathered together for a group photo at the end of their airport tour
More than 70 followers from China, Taiwan, and Singapore spent an afternoon exploring and shopping in Changi. The group had overwhelmingly positive feedback on the rare chance to learn more about Changi Airport and its offerings. In fact, the event was so successful that another airport tour has been scheduled for early 2019.
Keeping up with WeChat enhancements
The marketing team at CAG constantly looks at how services offered to Changi's WeChat users can be improved. Earlier this year, WeChat Pay was launched at Changi Airport, one of the first few airports in the world to accept this mode of payment much favoured by Chinese travellers. This function complements existing modes of payments, such as Unionpay and Alipay, bringing travellers more convenience and time-savings to explore more of Changi. 
Moving forward, the team is also building a chatbot to enhance its services to Changi's WeChat followers. The chatbot will also be able to gather data from its interactions with followers, allowing Changi to create more tailored programmes and activities to better meet the needs of Chinese passengers travelling through the airport.