Upcycling for the year-end festive season at Changi
For the Horticulture team at Changi Airport Group (CAG), this year's festive displays take on a special meaning, as it decides to create some of the airport's year-end festive displays from upcycled materials. With the upheavals in weather the world over during this Covid-19 period, it is the team's nod to environmental conservation through the well-loved festive displays at the airport.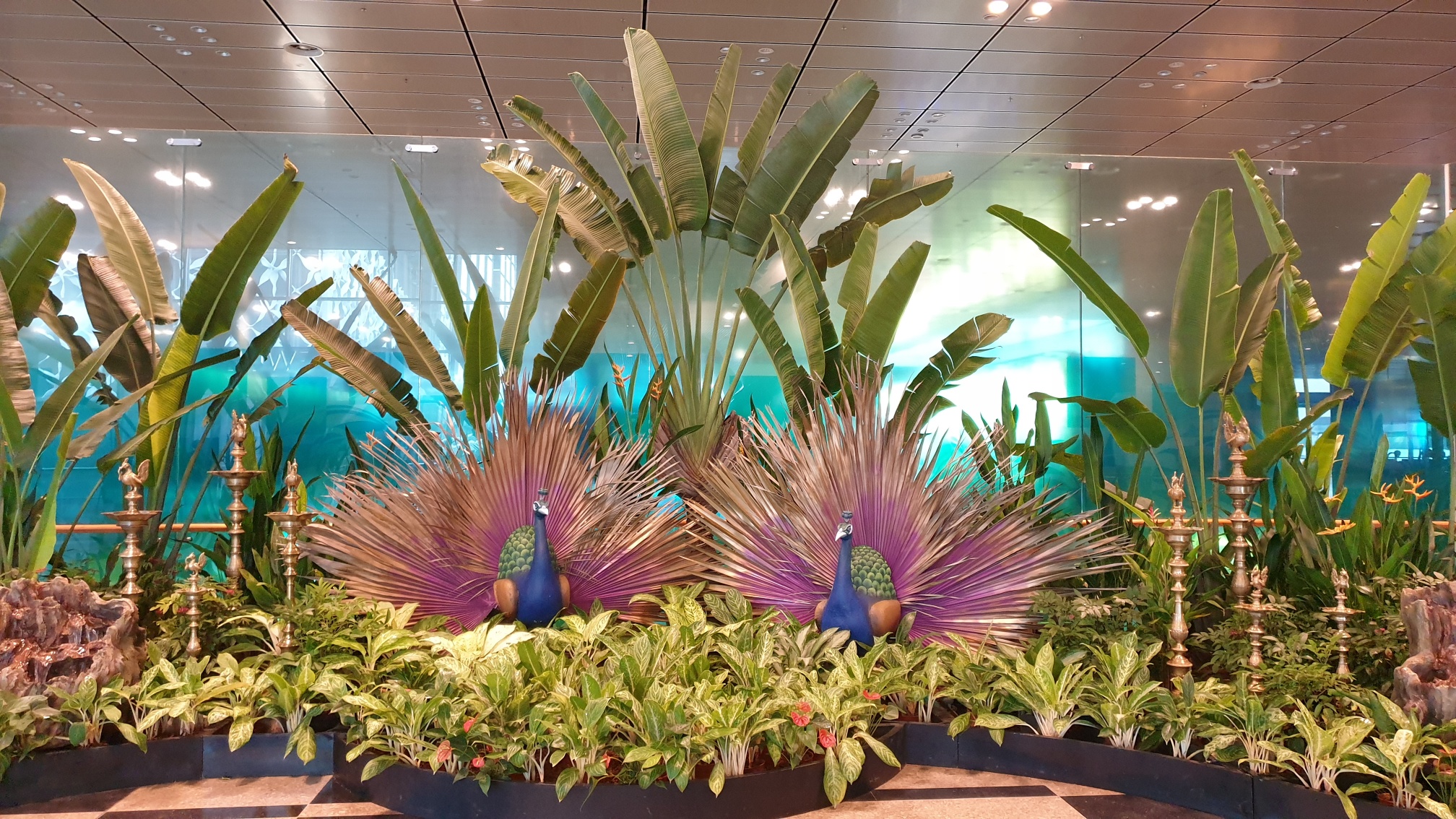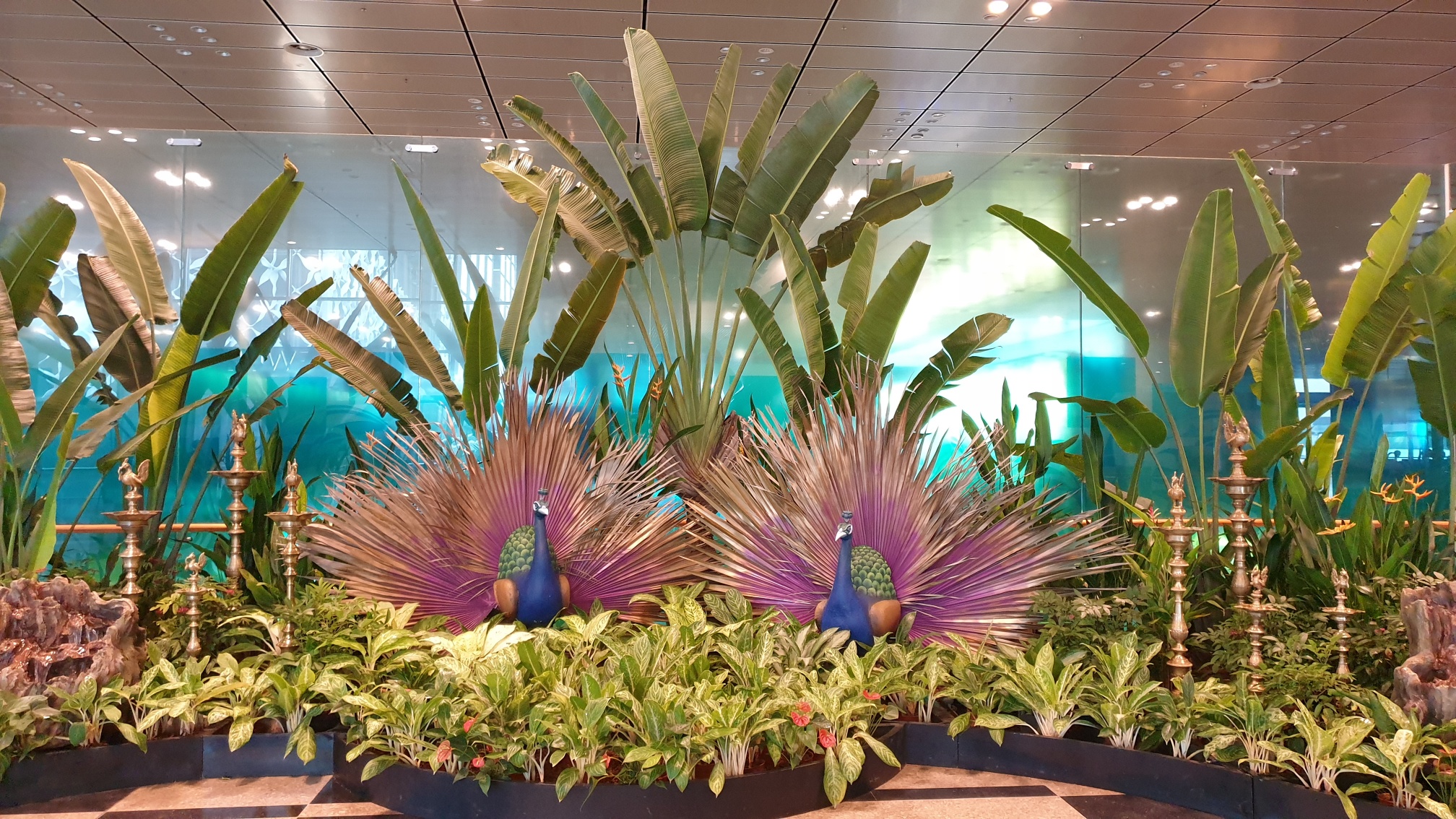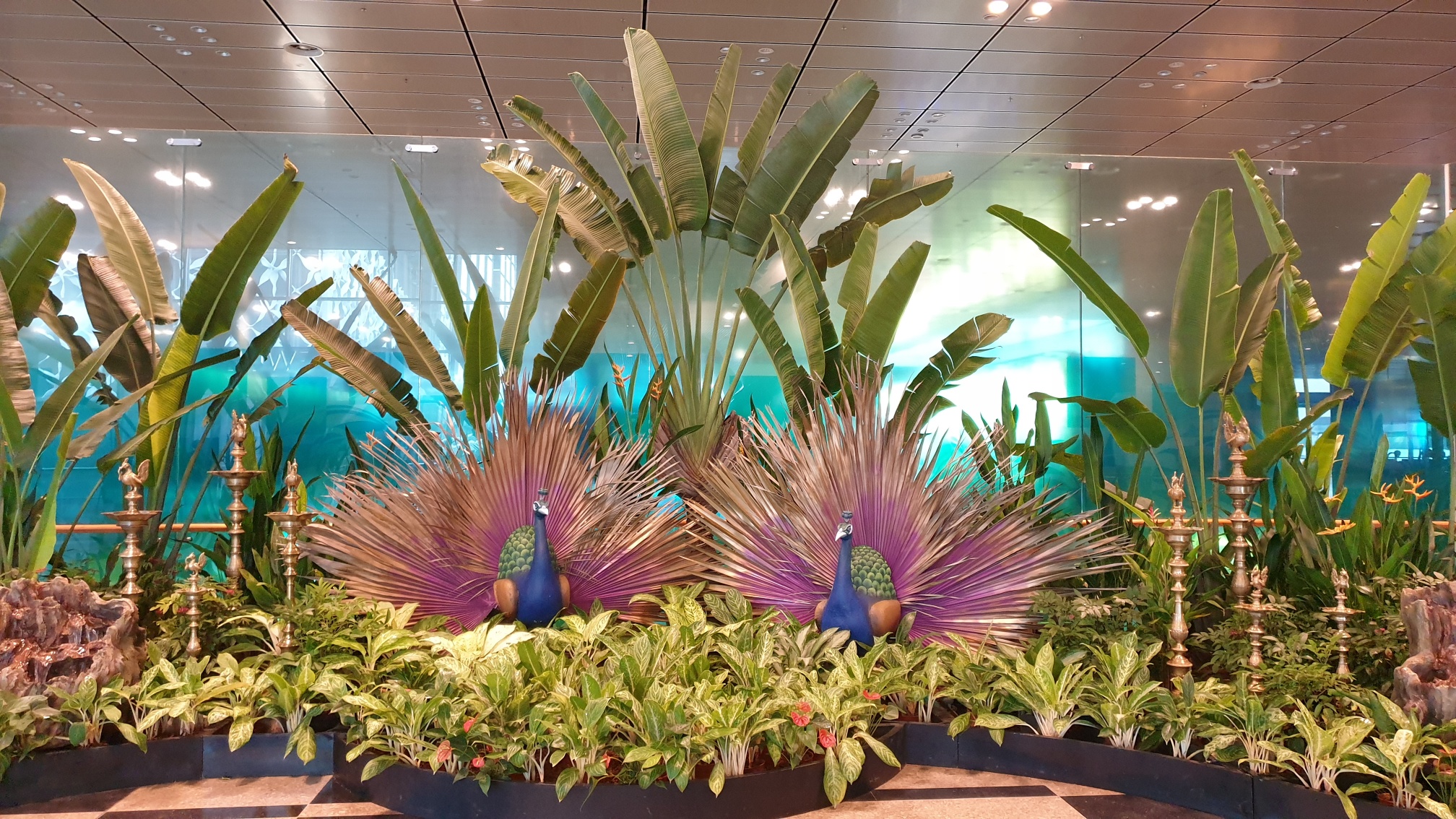 Magnificent peacocks made with upcycled palm leaves give a warm welcome to airport visitors at T3.
With clear display concepts in mind, the team started looking for the materials needed for the Deepavali festive display, as well as the year-end Christmas gardens displays as early as August 2020.
For the Deepavali displays, Tamilselvi Thangavelu, Senior Associate at CAG's Horticulture Unit decided that palm leaves would be the most suitable for her use.
"We typically use fresh flowers for the key characters of our Deepavali displays, but with the Covid-19 restrictions still in place, we needed a concept that requires less maintenance. Dried palm leaves were chosen as they are hardier than other types of leaves, and are big enough to cover the peacock structures we want to create. It's golden tone also ties in well with the Deepavali festival mood," explained Tamilselvi.
Tamilselvi and her team got to work by collecting the 2-metre wide palm leaves from the large palms along Airport Boulevard. These were cleaned, and added hues of purple and gold. They were then allowed to dry for a few days to preserve the leaves and set the colours. After that, the team took another two days to put together the displays in three locations at Terminals 1 and 3, adding other different types of plants from the Changi Airport nursery located just off the airport grounds.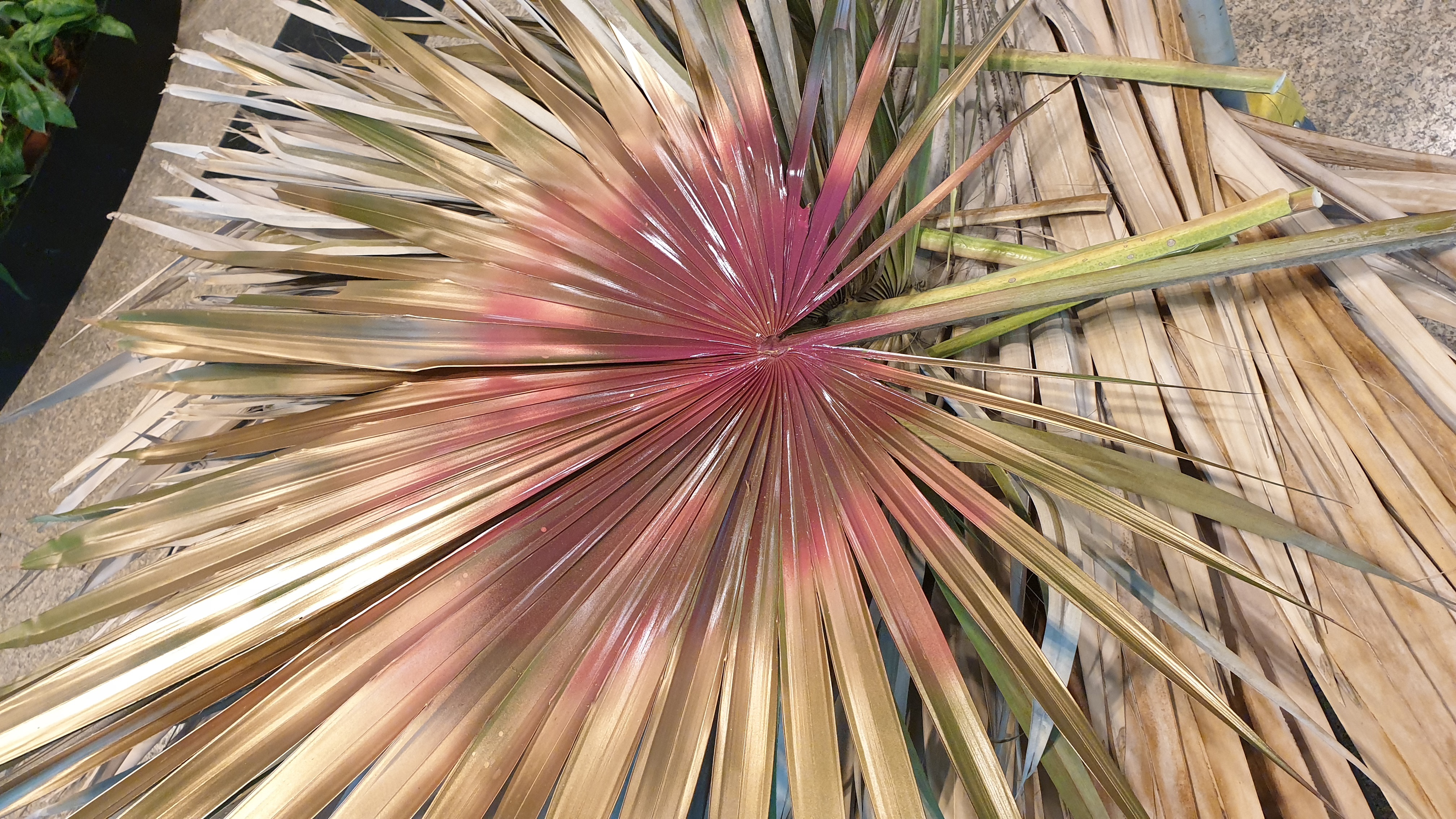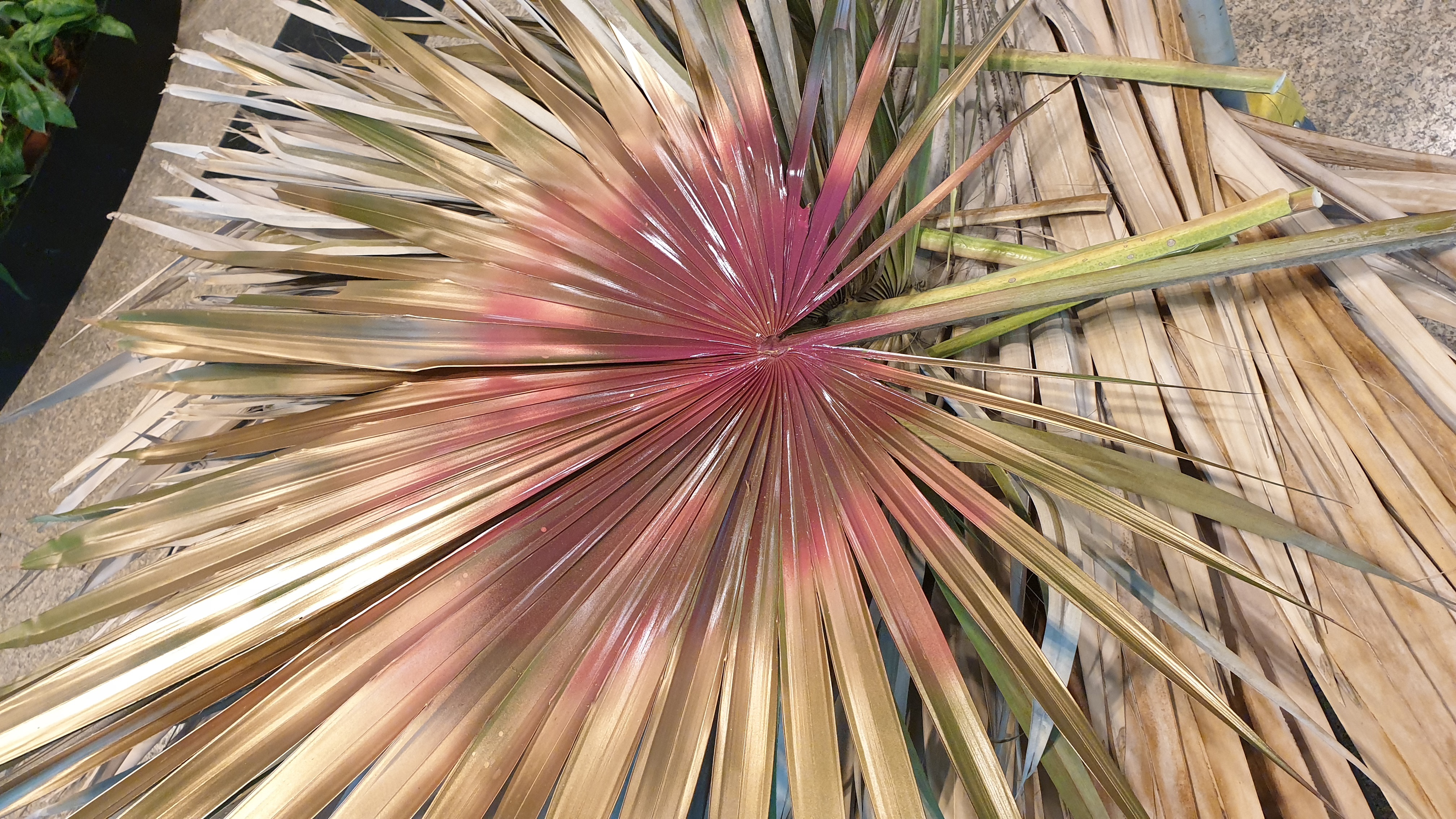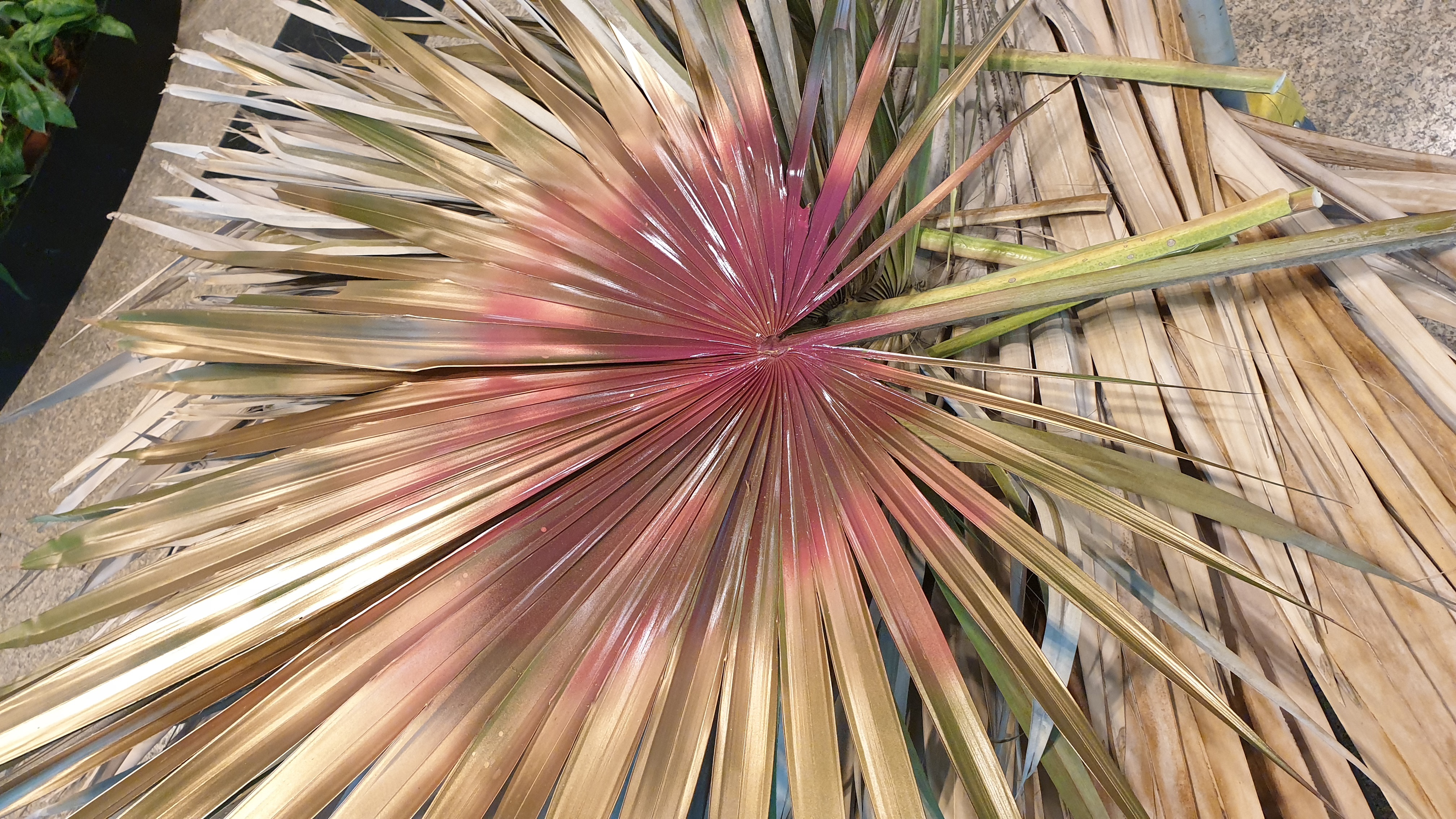 Coloured palm leaves prepared in the Changi Airport nursery.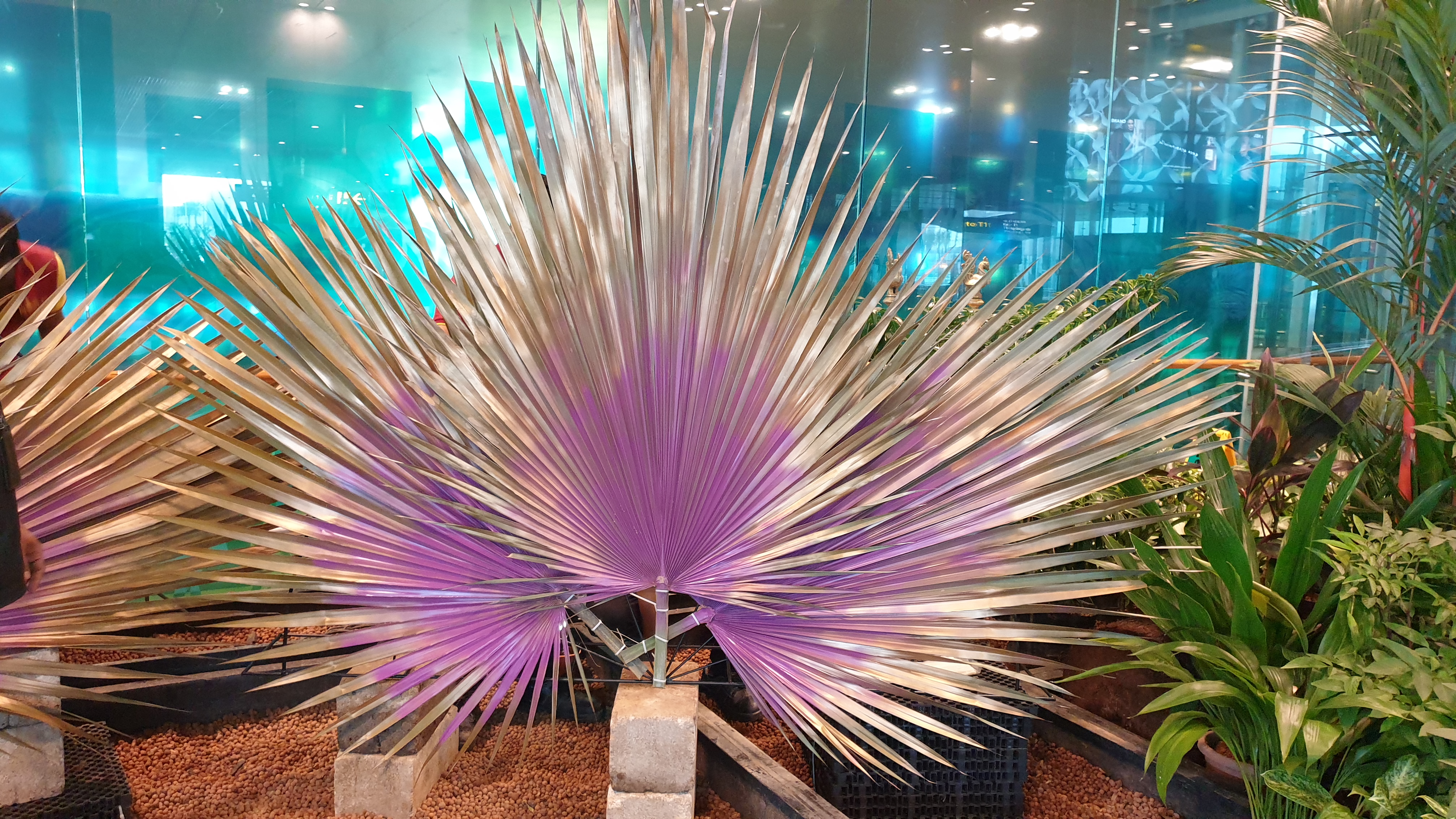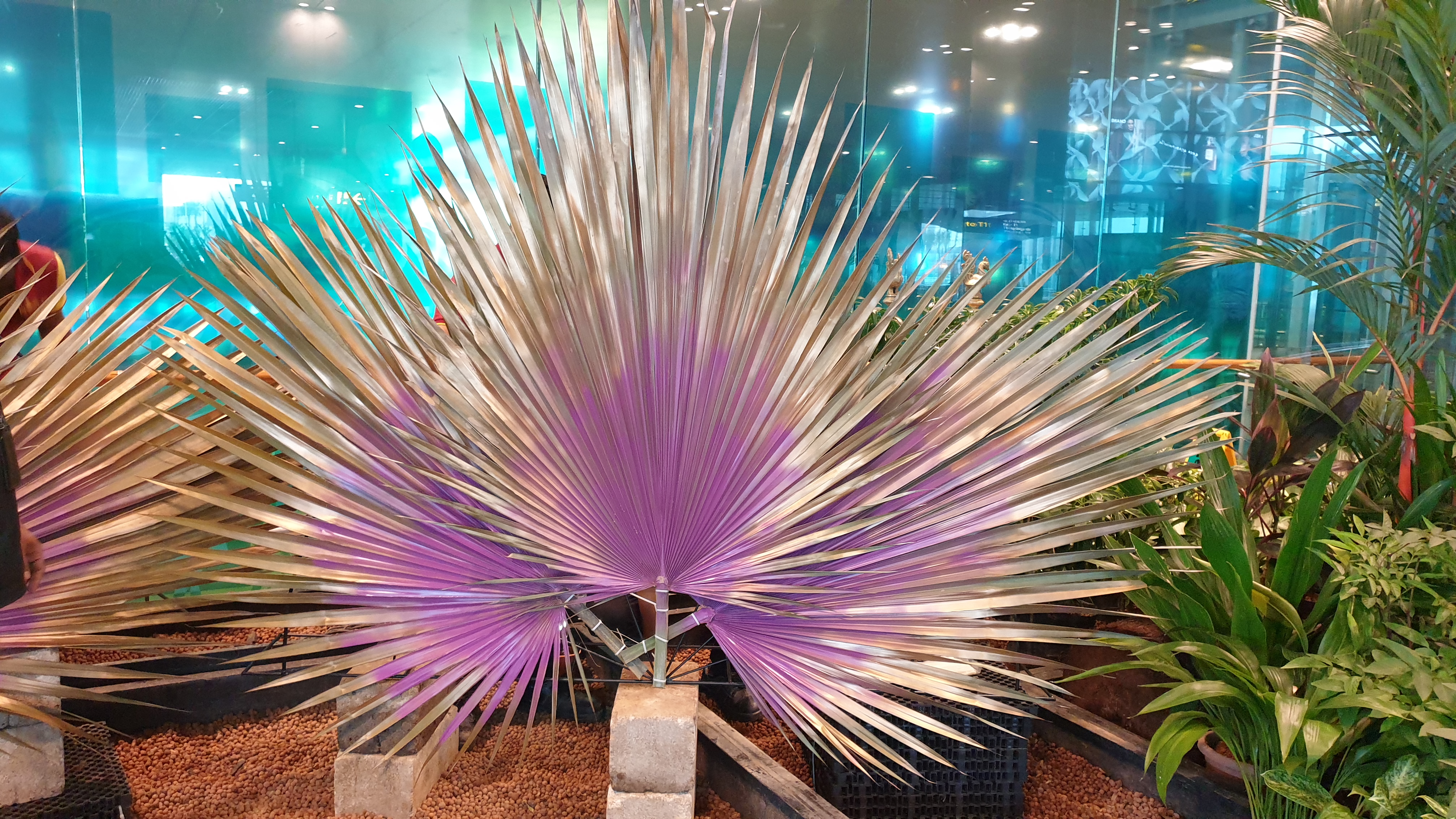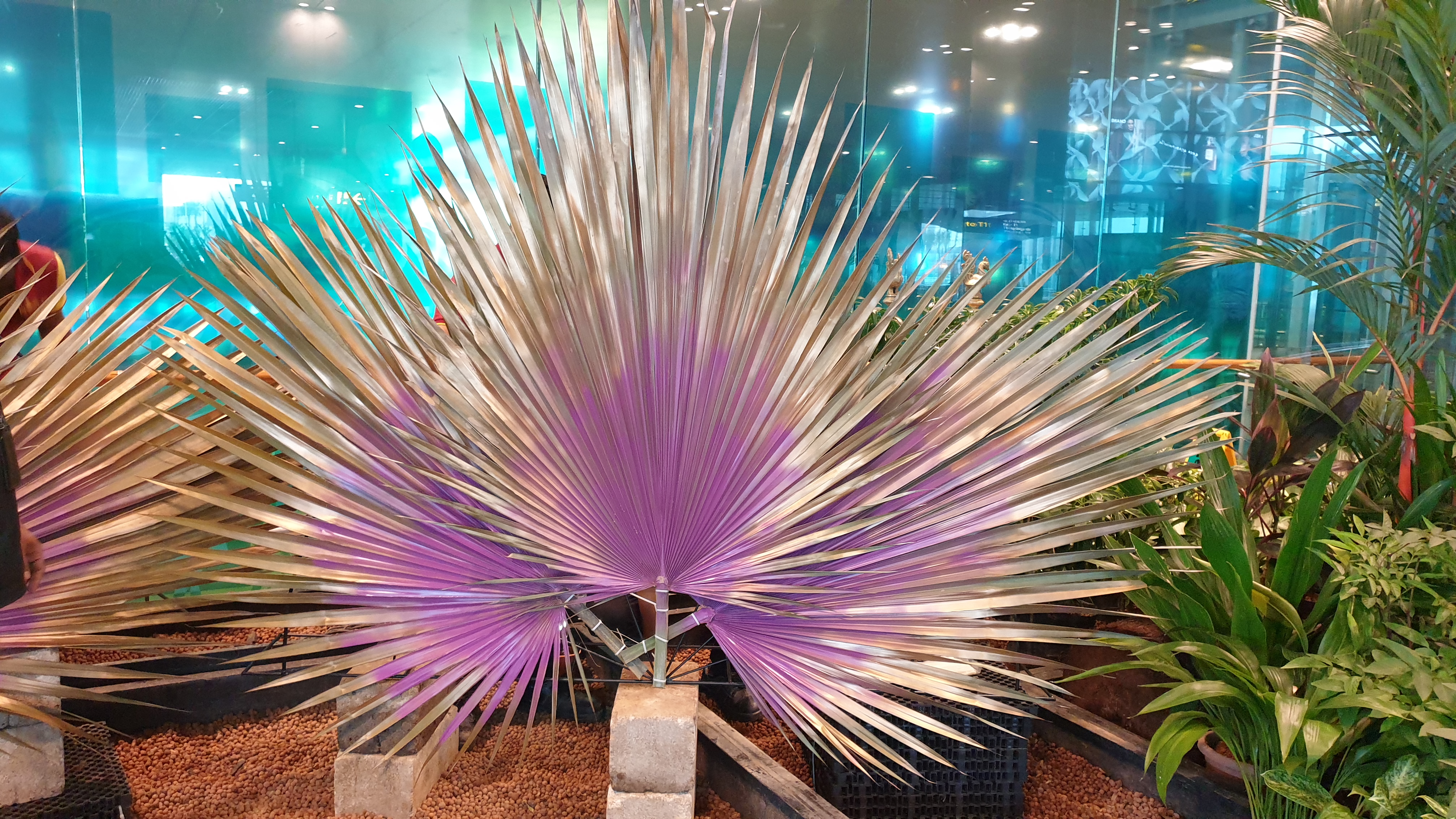 The leaves being assembled to form the tail of a peacock in horticulture display.
"Yes, our team conceptualised the peacock designs this year by ourselves, and we spent three days polishing the brass lamps which had lain unused in our storeroom for years," beamed Tamilselvi proudly.
In tandem, Ashraf Ali, a Manager at CAG's Horticulture Unit, led another team of CAG staff in upcycling dried palm stalks and leaves into stars and flowers to decorate Christmas trees and festive gardens for the year-end.  Some 2,000 of these upcycled ornaments will be used to decorate the 5-metre-tall Christmas tree located at Terminal 3 Departure Hall, as well as indoor gardens located through Terminals 1 and 3, bringing good old festive cheer to passengers and visitors.
About 10 staff got together to kickstart this process. Ashraf conducted workshops to share how dried leaves can be creatively crafted into various ornaments, and staff took the chance for a much-needed cosy bonding session, and discover new interest and talent at crafting at the same time. 



From left to right – from dried leaves to turning them into beautiful festive ornaments.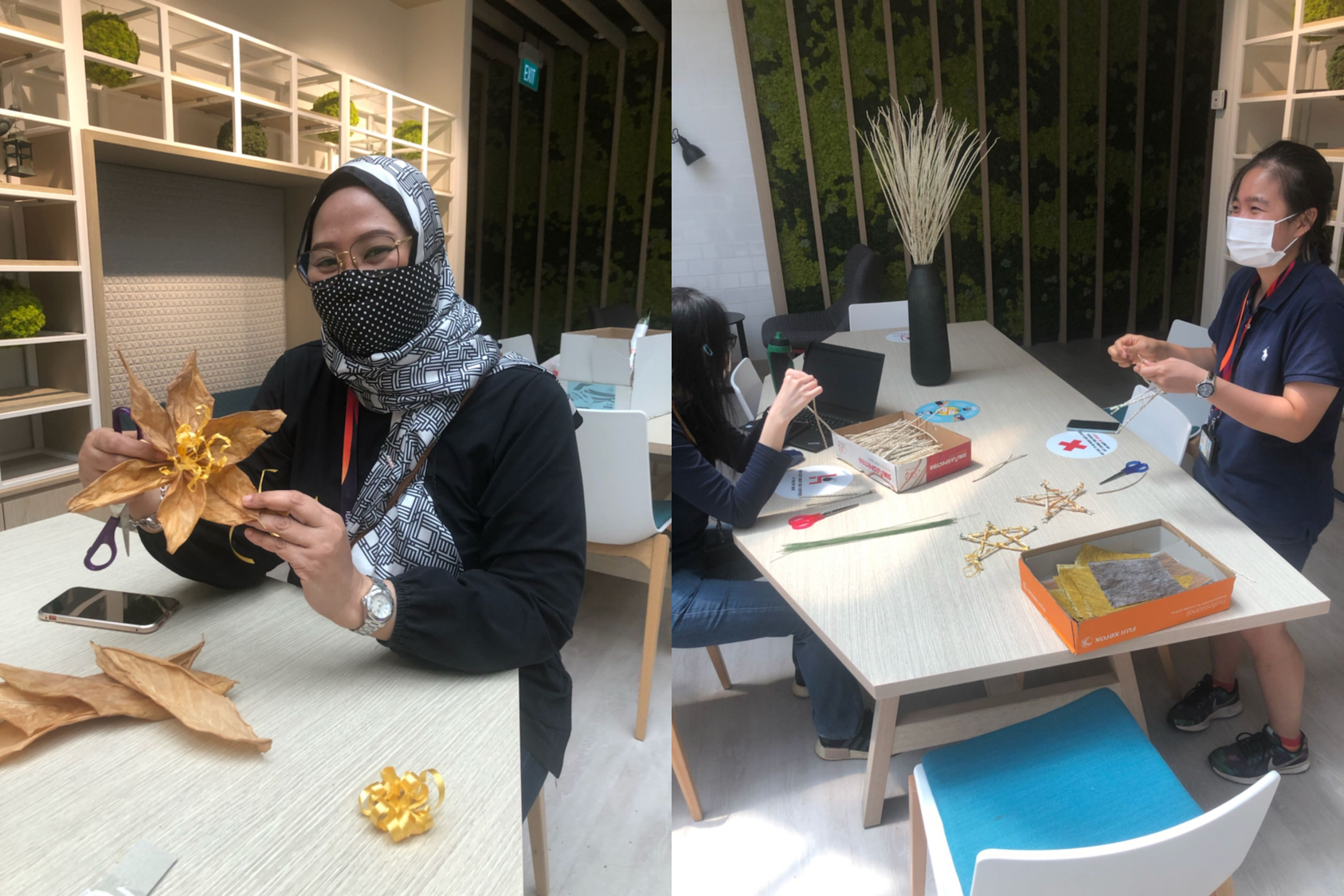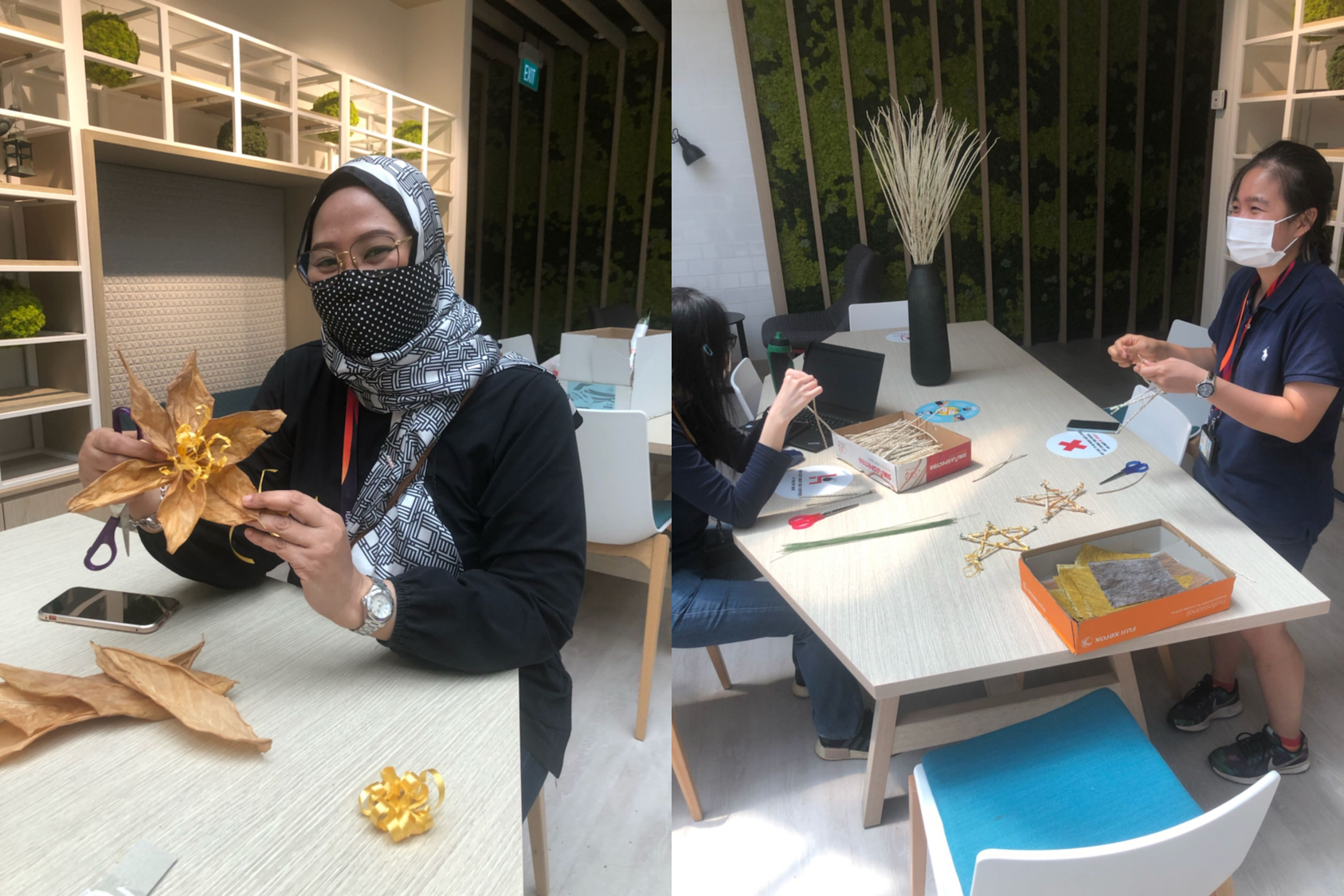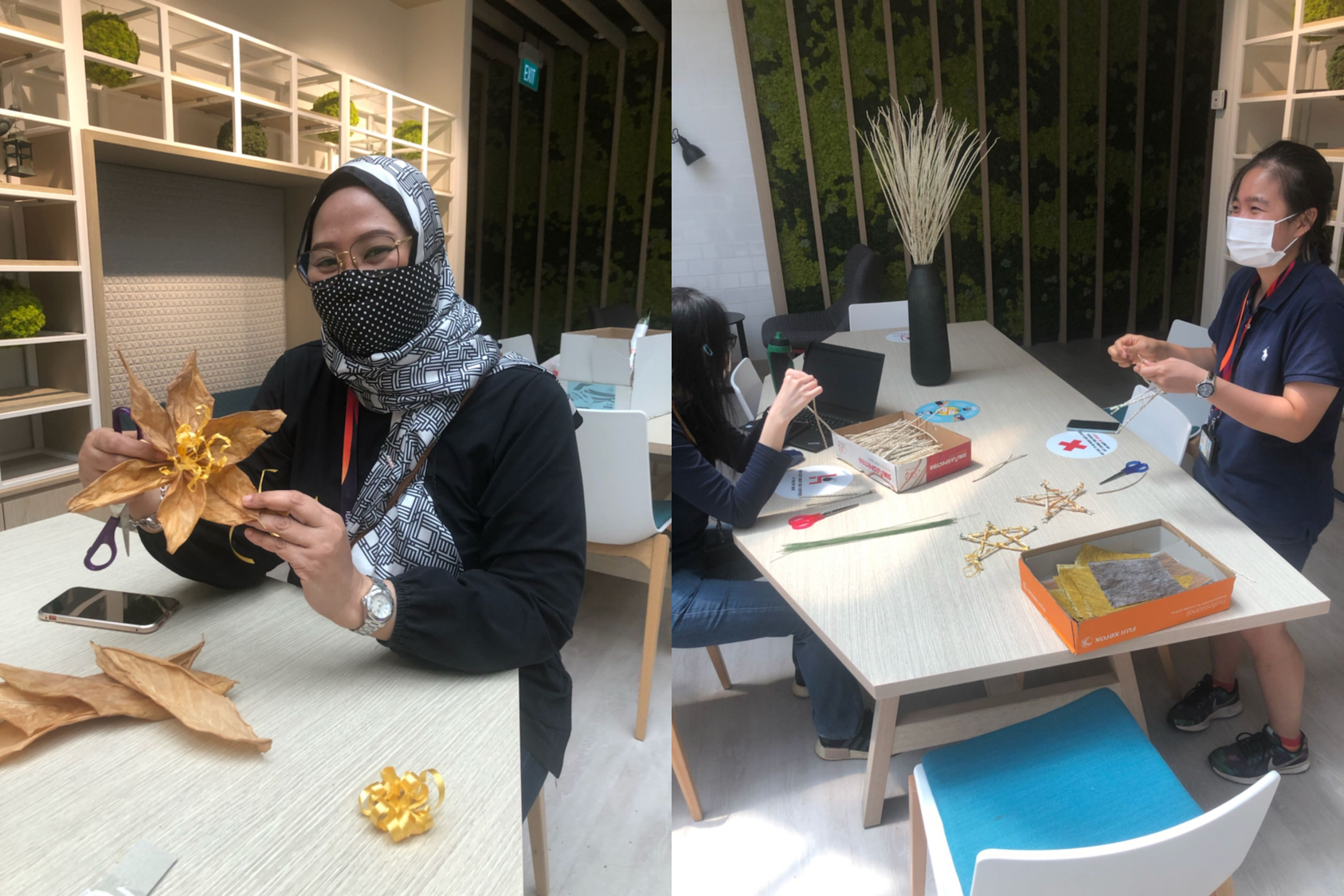 From left to right – CAG staff intent on crafting the most perfect upcycled ornaments, and having fun at the same time.
"Due to the need to maintain safe distancing, we could only accommodate five staff per session for the workshops. But our colleagues reflected that they were interesting learning and bonding sessions.
"In all, the ornaments took about 160 hours to complete, with our colleagues crafting them at their own pace at home and in between work sessions. I believe they are all eagerly waiting to see their craftwork being displayed in the various gardens around Changi Airport!" said Ashraf with a wide smile. 
With the upcycled materials used in Changi's horticultural displays, the team hopes to spread the message of environmental conservation and encourages everyone to do their part in their own way.