Adding That Special 'Changi Touch' to the Airport
Creating an enjoyable experience for passengers when they pass through Changi is something that the airport constantly strives to do. In recent years, as Changi revamps different areas in the terminals, the design thrust has shifted to one with a more hospitality focus, inspired by the designs of hotel interiors, restaurants and lounges. The priority is to create a cosy and soothing environment for passengers, who may often be feeling nervous or stressed from their travels.
Many may not know that around 30% of the passenger traffic at Changi consists of transit/ transfer passengers. These passengers have many hub airports in the region to choose from for their flight connection, so it is in Changi's interest to be their top pick, to ensure the continued growth of Singapore as a successful air hub.
To offer passengers a more relaxed and homey atmosphere, Changi's new and newly renovated facilities have taken on a warmer palette of colours and materials. In some areas, new furniture, plants and warm lighting have also been added, to complement the overall design.
New-look Bus Gates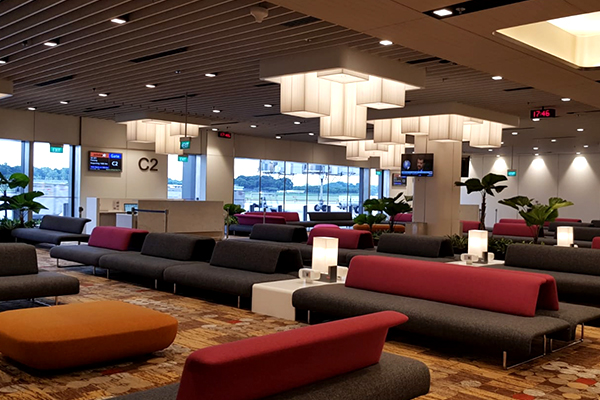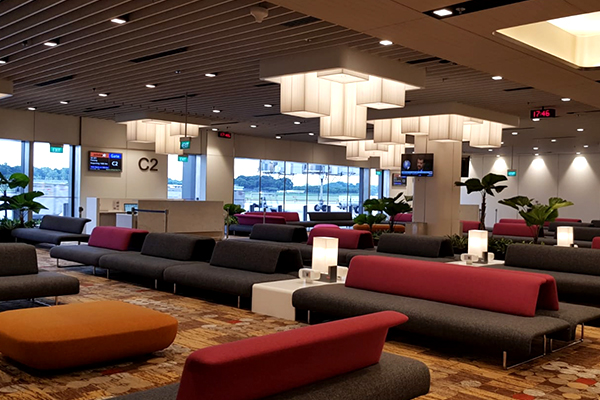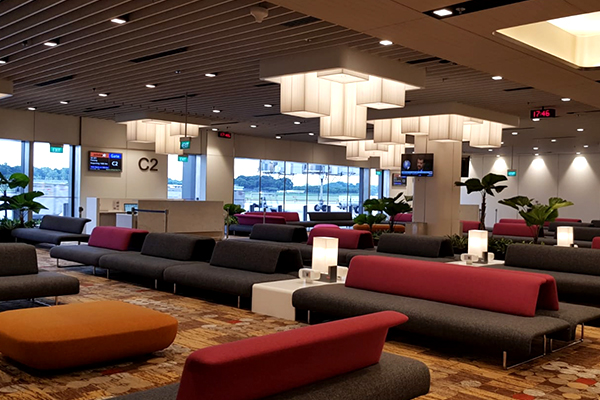 A glimpse of the revitalised C2 bus gate
As traffic at Changi continues to grow, the chances of an aircraft being allocated to remote bus gates increases. To ensure that passenger experience is maintained, Changi is progressively improving its bus gates to offer the same level of experience as gatehold rooms. One example is the bus gates in Terminal 1 (T1). Inspired by airline lounges, the design team moved away from conventional 'beam seats' commonly used in airports. Instead, the area is furnished with fabric sofas, side tables with charging points, as well as modern feature lamps.
Jazzed Up Gatehold Rooms
A herd of bunnies, which doubles up as a play area, decorate the space with lower ceiling in this gatehold room
To make good use of the large area in this group of gatehold rooms in T1, the design team turned the space into two distinct zones. Areas with lower ceiling are transformed into "living rooms" complete with cosy sofas, armchairs, coffee tables as well as potted plants. The central area with the high ceiling was redesigned to look like an 'outdoor' garden, with trees and outdoor furniture dotting the space – offering an experience never before seen in other parts of the terminals. This creates an experience where the holiday and the much-needed rest, starts right here at the gatehold room.   
T1 Arrival Hall
Seating areas at the new T1 Arrival Hall
While improvements are made to the departure transit hall, Changi has not neglected the public area in the terminals. The waiting areas in the newly opened T1 Arrival Hall offers carpeted flooring, along with sofas, armchairs and side tables with charging points. A lush garden in the centre of the Arrival Hall adds to the whole ambience. For a contemporary touch, the new lift lobbies are cladded with a warm palette of bronze glass and metallic trims, to enhance the overall user experience.
As Changi Airport continues to refresh its terminals, weary passengers can look forward to even more soothing environments, to help them recharge for the next leg of their journey.