A look into Changi Airport's strategy in driving alcohol sales
In an old Chinese proverb, it is said that a thousand cups of wine is not too much when good friends meet. This age-old wisdom beautifully encapsulates the sentiment that transcends time and cultures – the joy of sharing cherished moments over a glass of fine wine or spirits. Changi Airport Group (CAG), together with Lotte Duty Free (Lotte) and other brand partners, believe in celebrating these timeless traditions, and has embarked on a journey to not only offer a wide-ranging selection of liquor, but to curate experiences that resonate with the hearts of travellers worldwide. 
Since its debut in Changi Airport in June 2020, Lotte has been on a journey of liquid exploration, nearly doubling its array of offerings. While iconic names like Johnnie Walker, Martell, Macallan, Hennessy and Chivas continue to be very popular, Lotte's adventurous spirit shines through with a curated selection of fresh contenders such as Brass Lion, Deanston, Loch Lomond and Tamnavulin, each with their own distinct character and flavour. Elevating the tasting experience even further are gems like El Toro, Malfy, Nikka and Twenty Third Street, and the distinguished vintages of Hardy's Wine. Lotte also continues to partner liquor brands to launch travel retail exclusives such as the Bowmore Frank Quietly range, Hennessy Kim Jones XO and Jack Daniels Single Malt. 
A symphony of sensations 
Across all of Changi's terminals, enthusiasts are treated to exquisite sampling experiences at Lotte. In particular, at Terminal 1, the iconic Martell robotic bartender serves patrons complimentary samples of fine spirits.  
Over in the newly reopened Terminal 2 (T2), travellers are greeted by the all-new Lotte outlet. This grand double-storey store not only retails a plethora of fine liquor, but also showcases a first-in-airport robot bartender Toni. A captivating centerpiece of the T2 outlet is the expansive LED media ring suspended in the heart of the space, visible from every corner. This mesmerising feature projects a video capturing the enchanting 'Forest of Li Bai' theme that permeates the duplex level. The imagery transports customers to the tranquil lake of Li Bai's forest, inviting them to symbolically "raise their drinks to invite the moon" and immerse themselves in the ambience envisioned by the famous Chinese poet.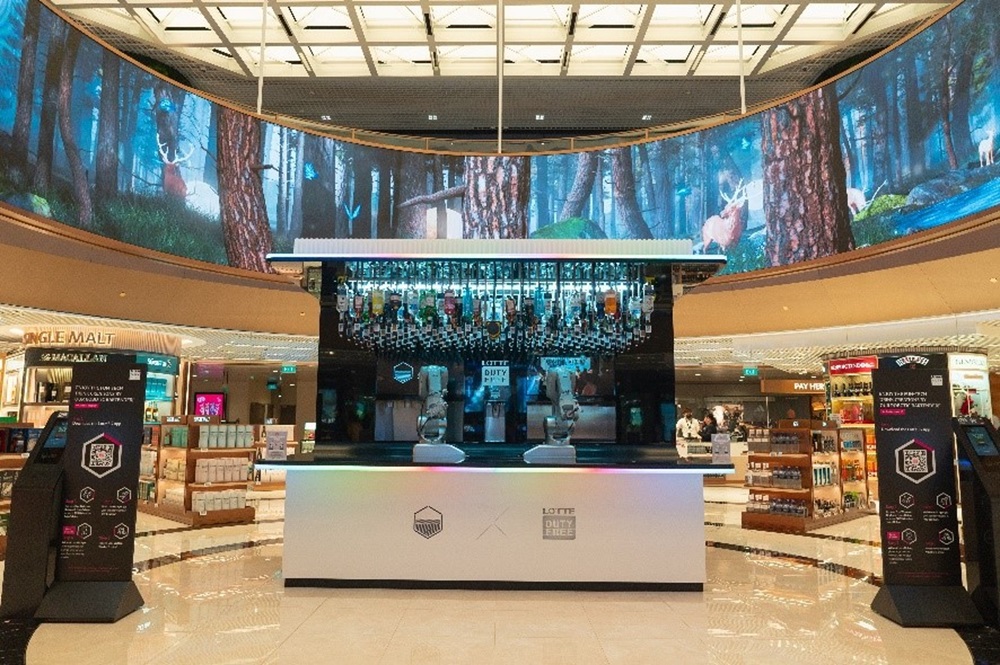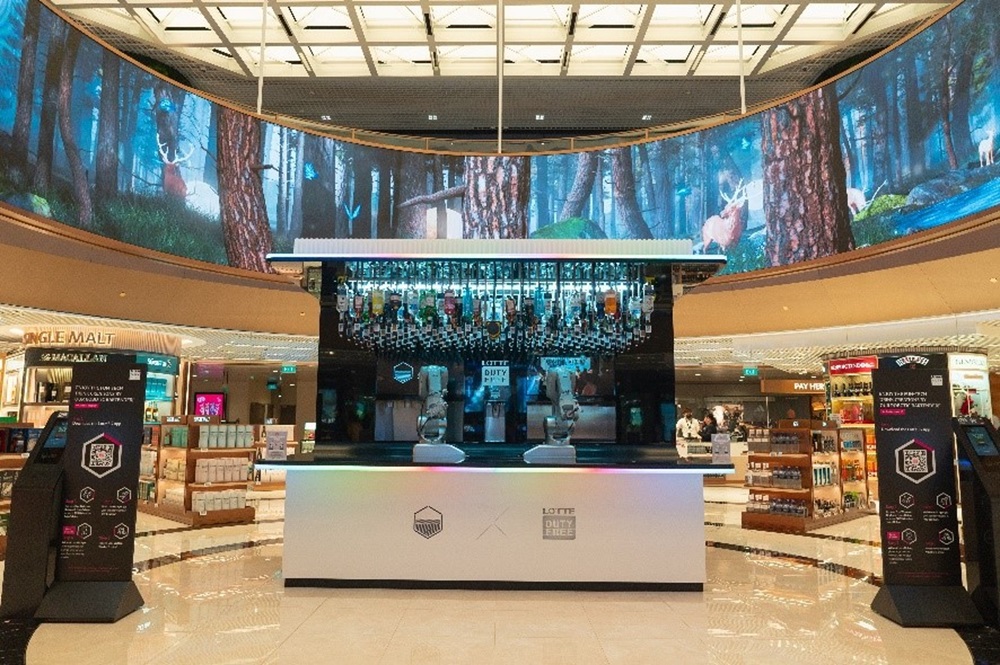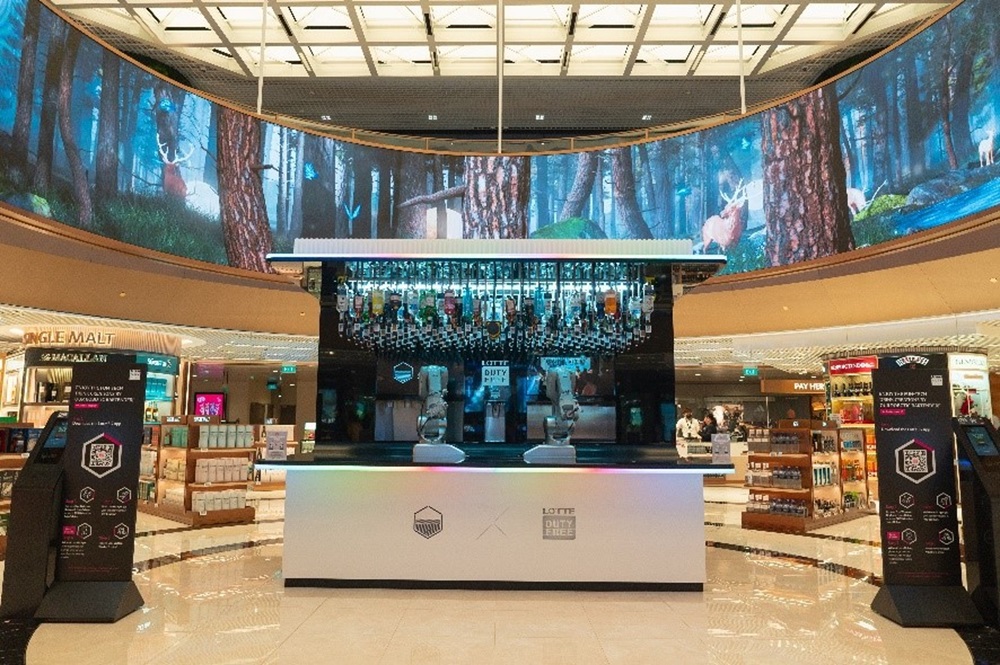 Enjoy a visual feast of Li Bai's moonlit reverie while waiting for Toni's mechanical artistry to serve up some cocktails.
Furthermore, the duplex level transforms into the Forest of Li Bai lounge, where patrons can leisurely sample a range of 18 whiskey choices from an impressive wall of dispensers, adding another layer of sophistication to the spirited adventure.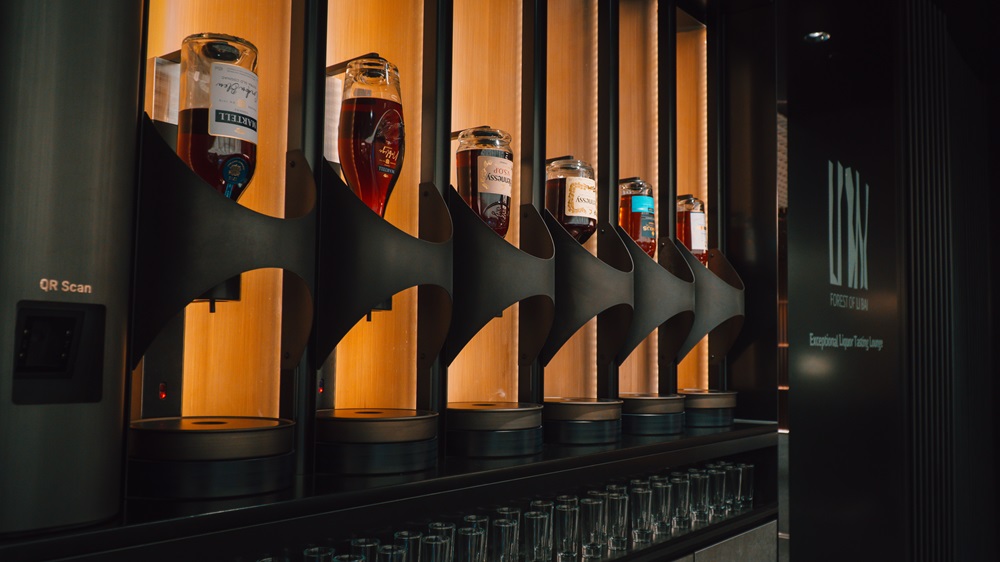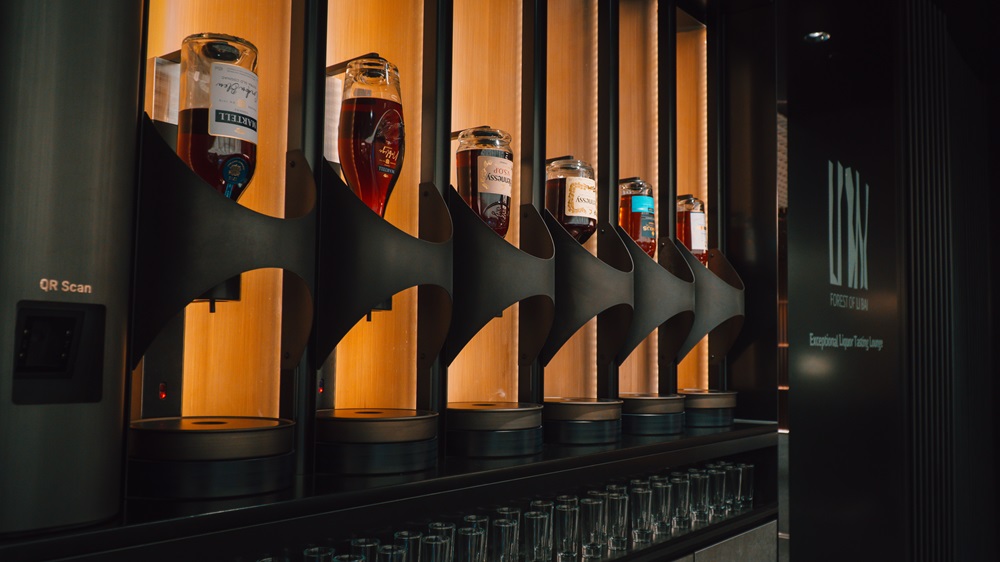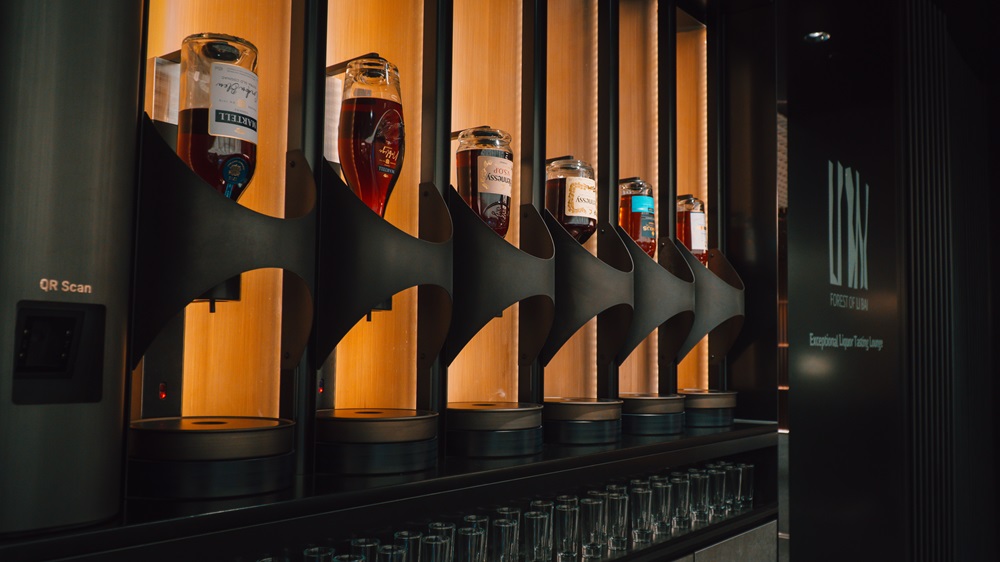 Customers can sample a range of 18 whiskey choices from an impressive wall of dispensers in The Forest of Li Bai Lounge.    
The T2 store also features the interactive "Selfie Mirrors", which allow customers to snap photos alongside their favorite K-pop groups and even pose in Lotte magazine covers. These memorable snapshots can be downloaded onto mobile devices and shared on social media platforms. 
Savoring the finest
Throughout the year, Changi Airport, working with its partners, also unfurls various Changi 1st pop-ups in the departure transit areas, igniting a shopping experience that resonates with travelers and offering unique gift ideas. These pop-ups, especially those dedicated to fine spirits, offer more than just products – they promise a journey through the world of drinks, an ode to camaraderie.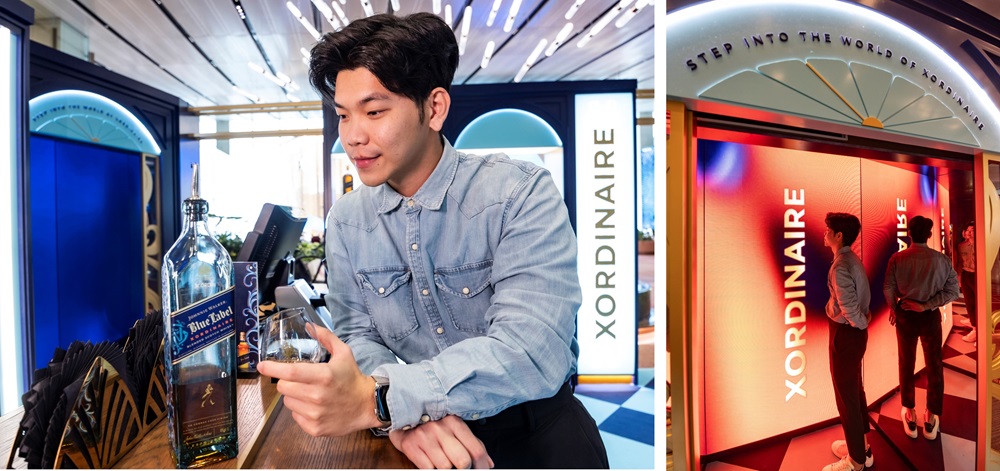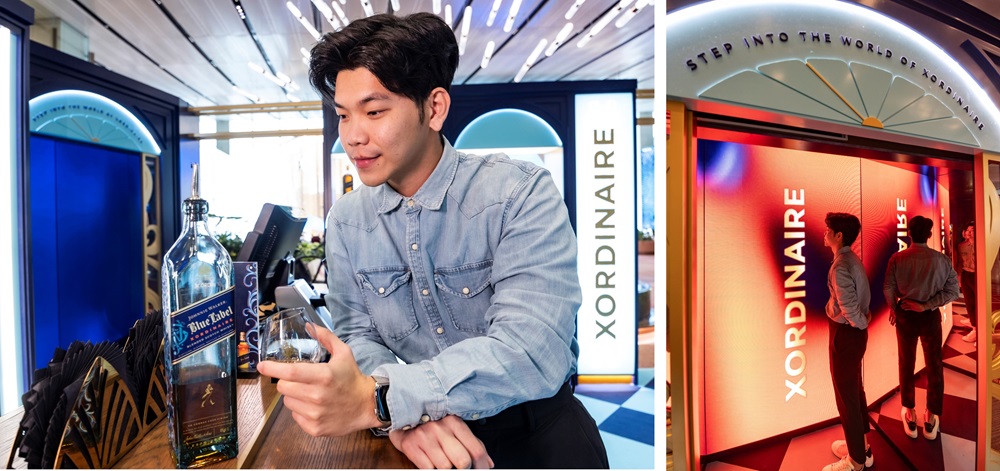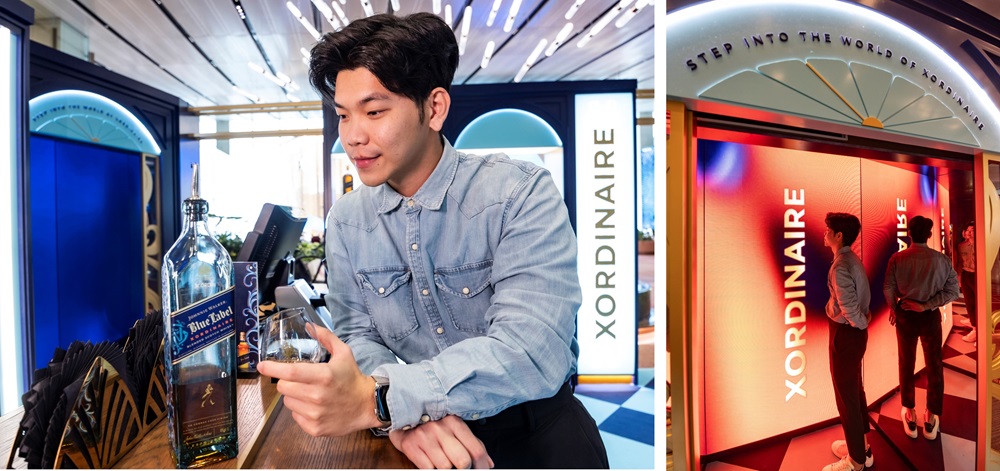 Changi 1st outposts allow travelers to embark on a sensorial journey and sample fine liquids at the same time. 
In a recent example, the introduction of Johnnie Walker Blue Label Xordinaire at Changi Airport was commemorated with an exuberant outpost that beckoned travelers into an elevator of wonders. Stepping inside, they were transported into the enchanting realm of Johnnie Walker Blue Label Xordinaire. Their adventure continued at a magnificent sample bar, where they embarked on a sensorial tasting journey, skillfully paired with artisanal chocolates curated by acclaimed French chocolatier, Arnaud Larher, and Johnnie Walker. As a cherished memento, passengers could even unlock a digital guest book, etching their experience in time. For those eager to take a piece of this luxury home, a bottle of Johnnie Walker Blue Label Xordinaire awaited, complemented by a visit to the opulent gifting and personalisation station, complete with a bespoke luggage tag.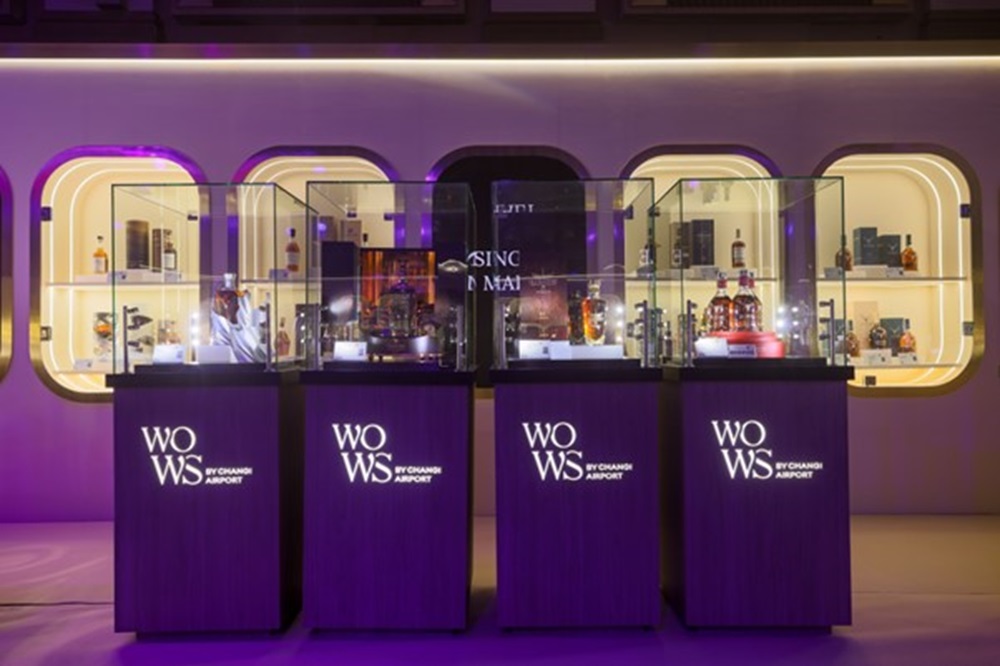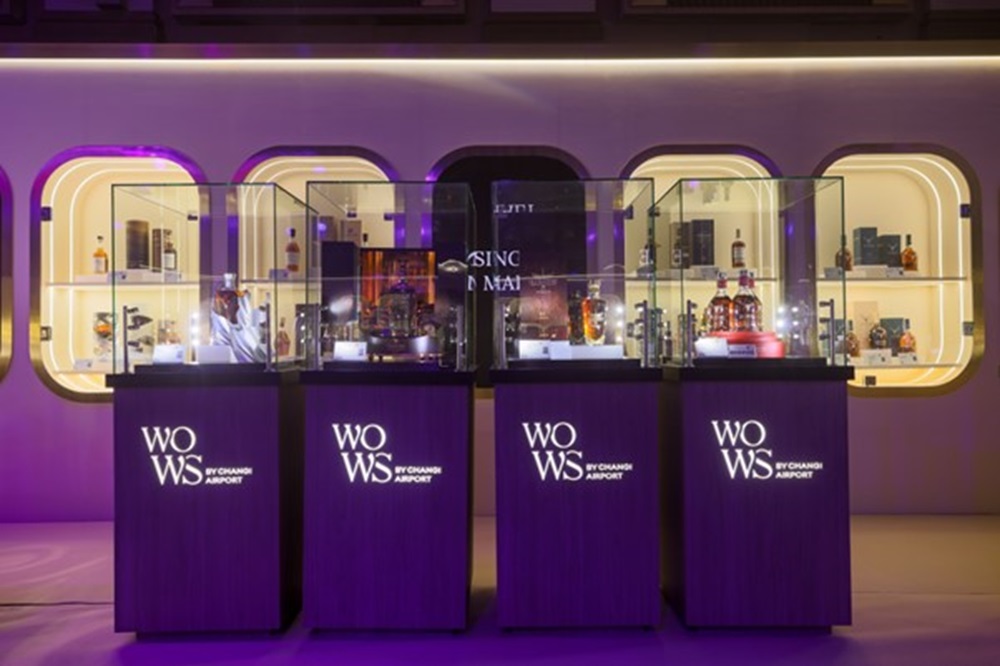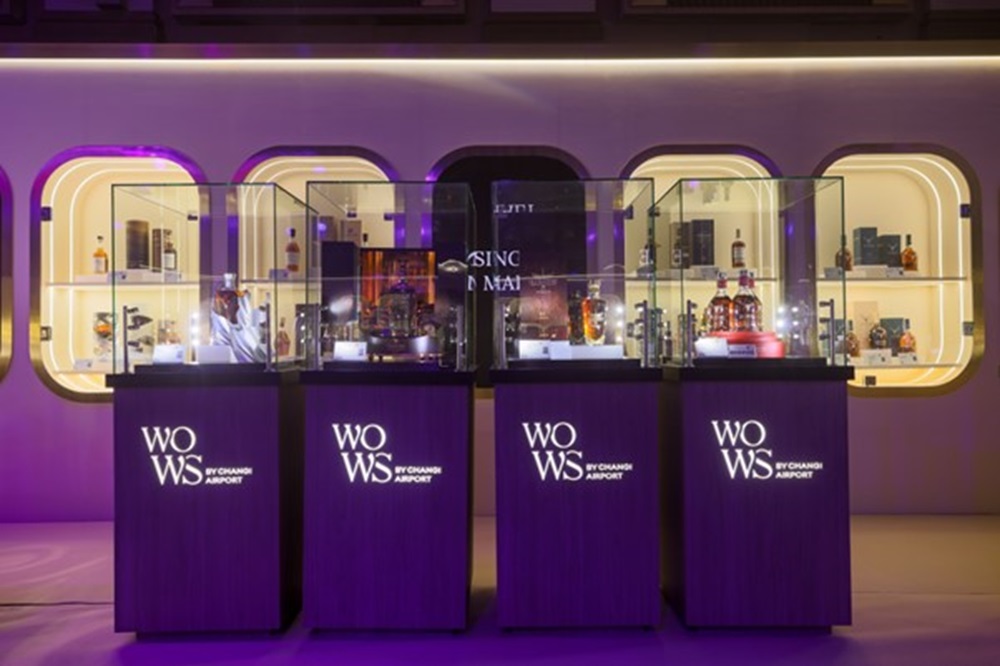 This year's WOWS campaign continues to feature highly coveted gems from distinguished houses like Bowmore, Hennessy Paradis, The Macallan, and Martell.
While the offerings in Lotte's stores allow travelers to embark on their destinations with a sip of something extraordinary, those looking for more exquisite offerings can look to the World of Wines & Spirits (WOWS) programme. Launched last year, the campaign showcased over 200 rare and premium pours from a repertoire of more than 75 esteemed labels. This year, the extensive catalogue on the WOWS online portal continues to feature highly coveted gems from distinguished houses like Bowmore, Hennessy Paradis, The Macallan, and Martell. From now till February 2024, collectors and aficionados can lay their hands on rare spirits such as Bowmore John Galvin 1965, The Glenlivet Private Archive Release 40 Years Old, MARTELL 70 Years Old Grande Champagne 70cl, Richard Hennessy x Berluti, and Louis XIII Rare Cask.
Ms Chandra Mahtani, Senior Vice President of Airside Planning & Leasing and T5 Planning at Changi Airport Group, said, "Passengers travelling through Changi Airport can look forward to transformative experiences that will elevate their appreciation for wines and spirits. We will also continue to work with Lotte and our brand partners to bring in even more variety of products to make Changi Airport a shopping haven for connoisseurs of wines and spirits."