Bringing you that personalised touch to your journey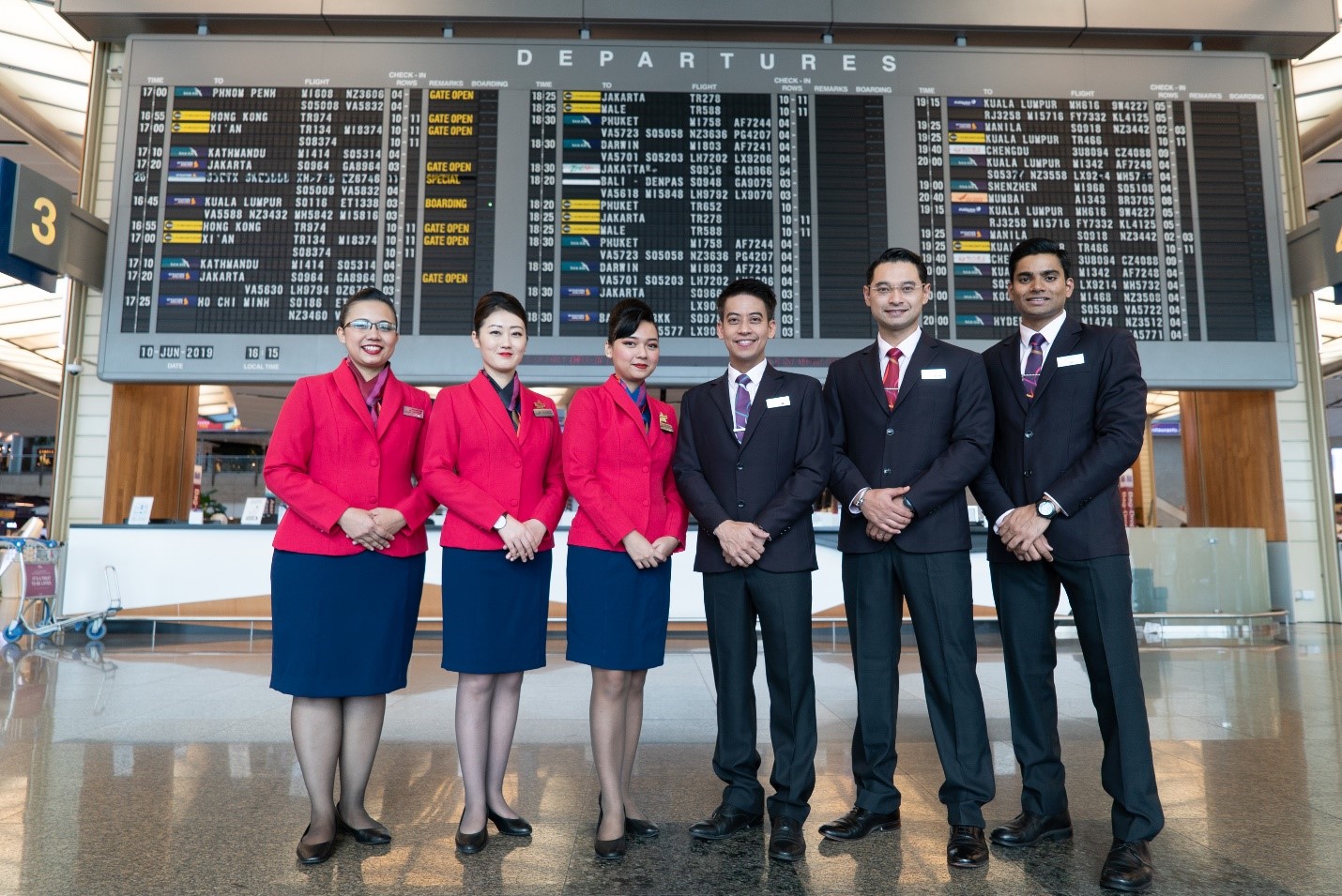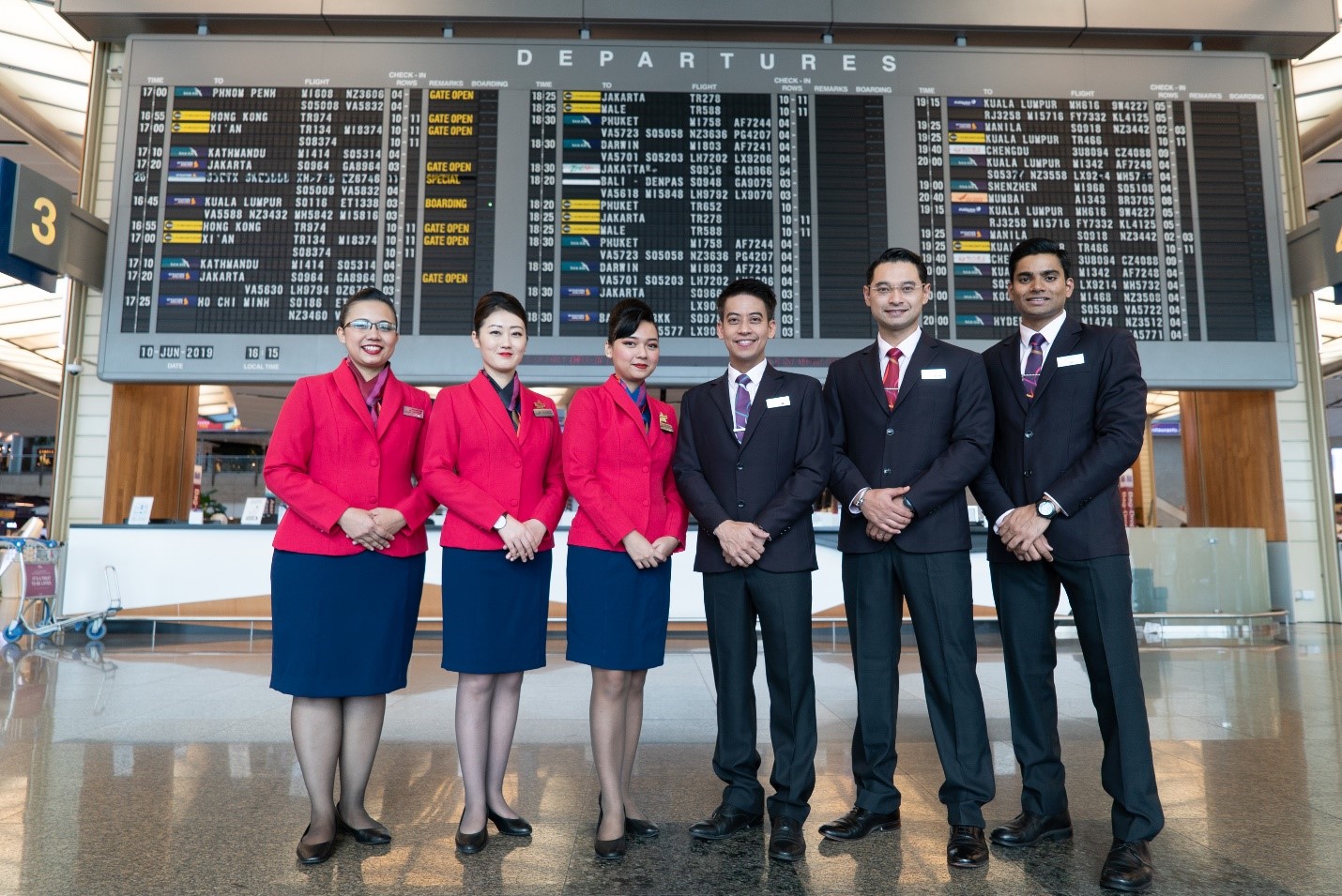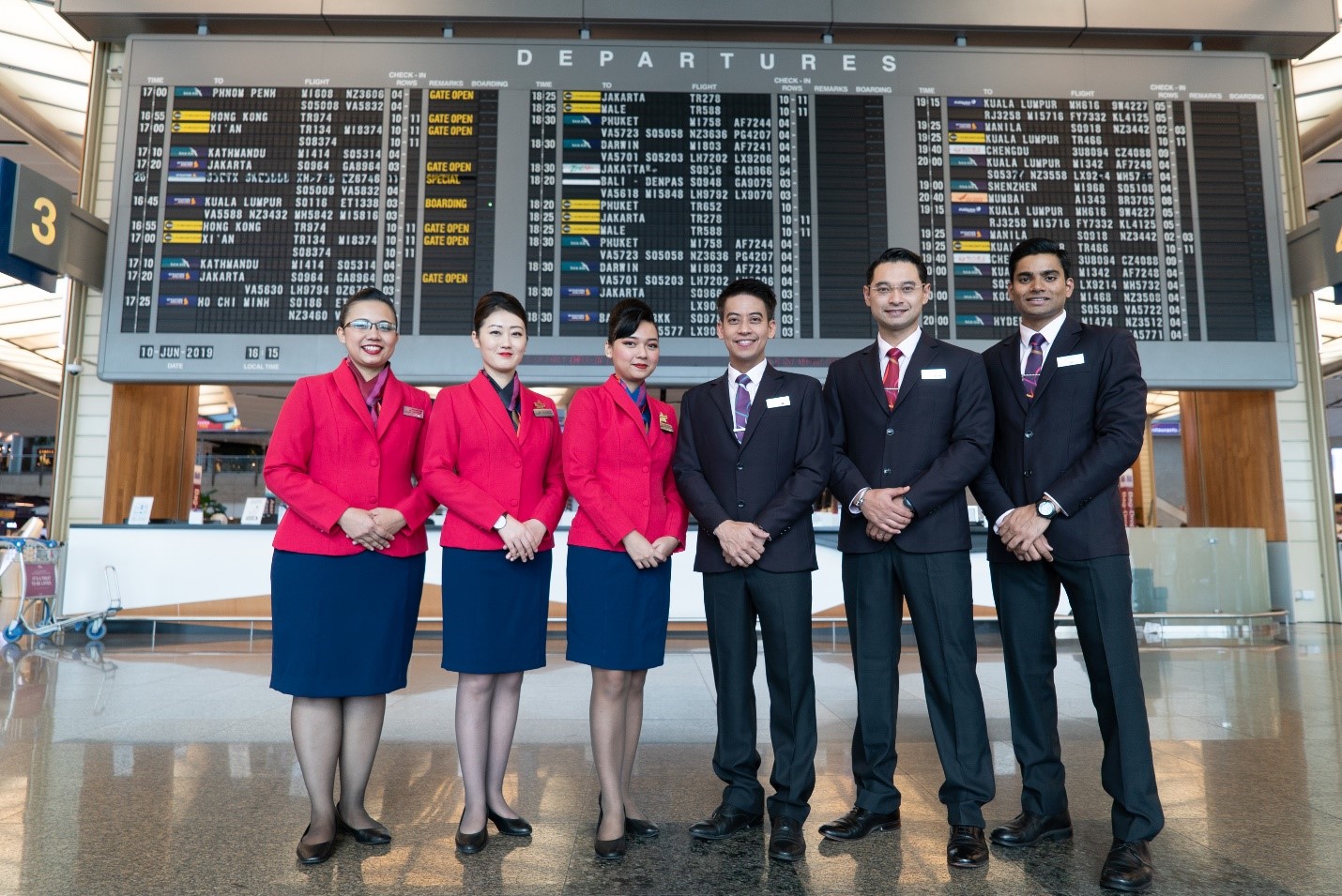 Changi Experience Ambassadors posing in their new uniforms
"She was overjoyed to know that her father had landed safely," recounts Changi Experience Ambassador (CEA) Zubair, as he recalled the time when he helped an elderly passenger with dementia. The passenger was planning to meet his daughter at Changi before travelling back to the Philippines together. However, his daughter had missed her connecting flight to Singapore. Thanks to Zubair's resourcefulness, he reunited the father safely with his family back home in the Philippines.
Passengers are at the heart of everything that Changi Airport continues to do. This unrelenting pursuit of excellent service is premised on delivering a personalised, stress-free and positively surprising experience for the more than 65 million passengers who fly through Changi every year.
As the face of Changi, CEAs offer personalised service to passengers by walking the ground and approaching passengers to help in the best way they can. Today, there are about 200 CEAs on shift across Changi's four terminals.
Armed with positive and cheerful personalities, the CEAs are trained to think quickly on their feet, be resourceful, and alert to their surroundings. Many of them also possess unique skills that help them to excel in their role.
Making passengers feel at home
Passengers of different profiles pass through Changi every day. Having CEAs who are able to speak their home language helps passengers to feel at ease.

CEA Zubair speaks five different languages, including Arabic and Telugu, which is one of the primary official language spoken in the Indian states of Andhra Pradeshand, Telangana and the union territories of Puducherry. His unique language abilities enable him to help passengers from cities such as Jeddah, Hyderabad and Bangalore.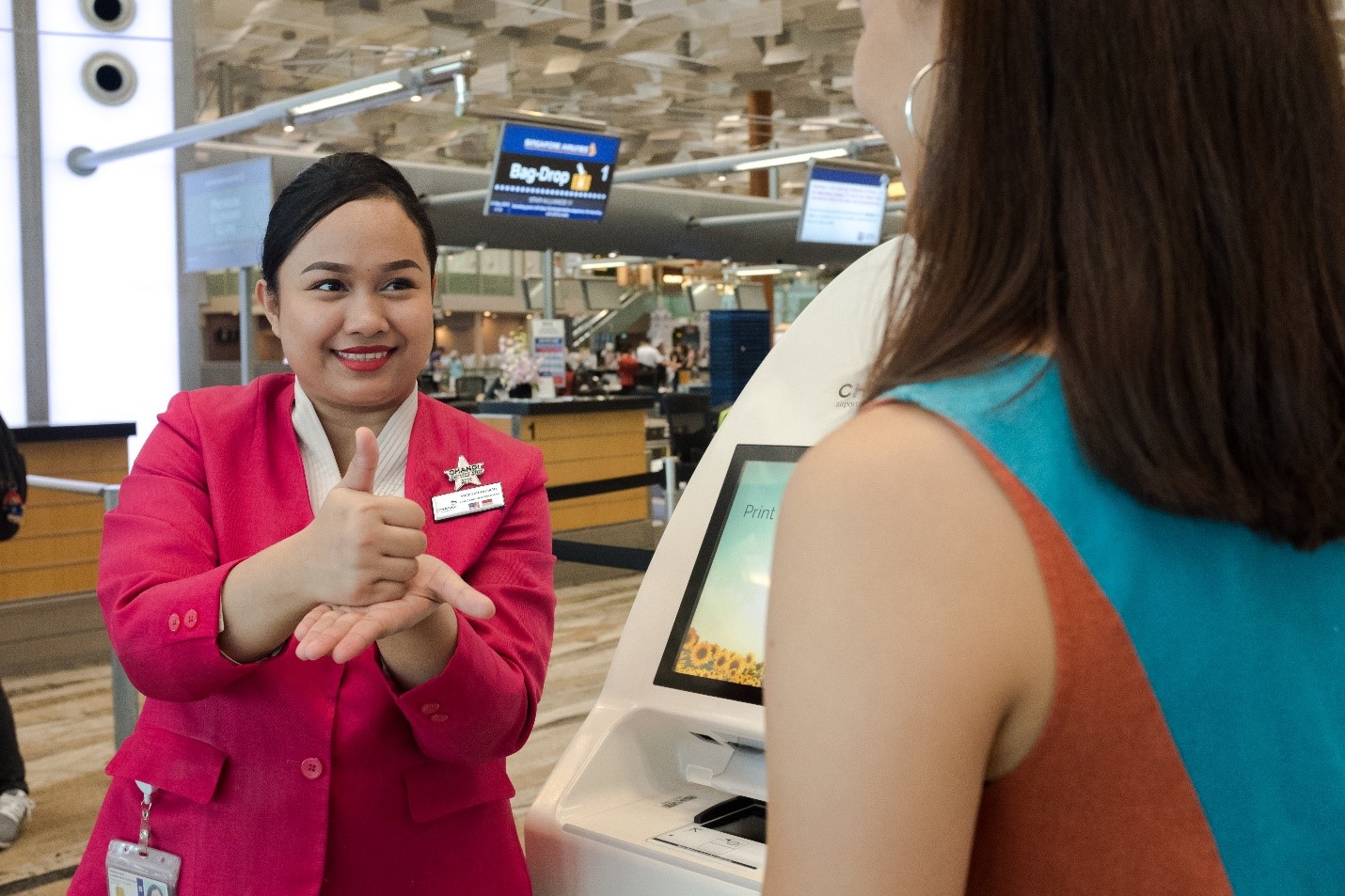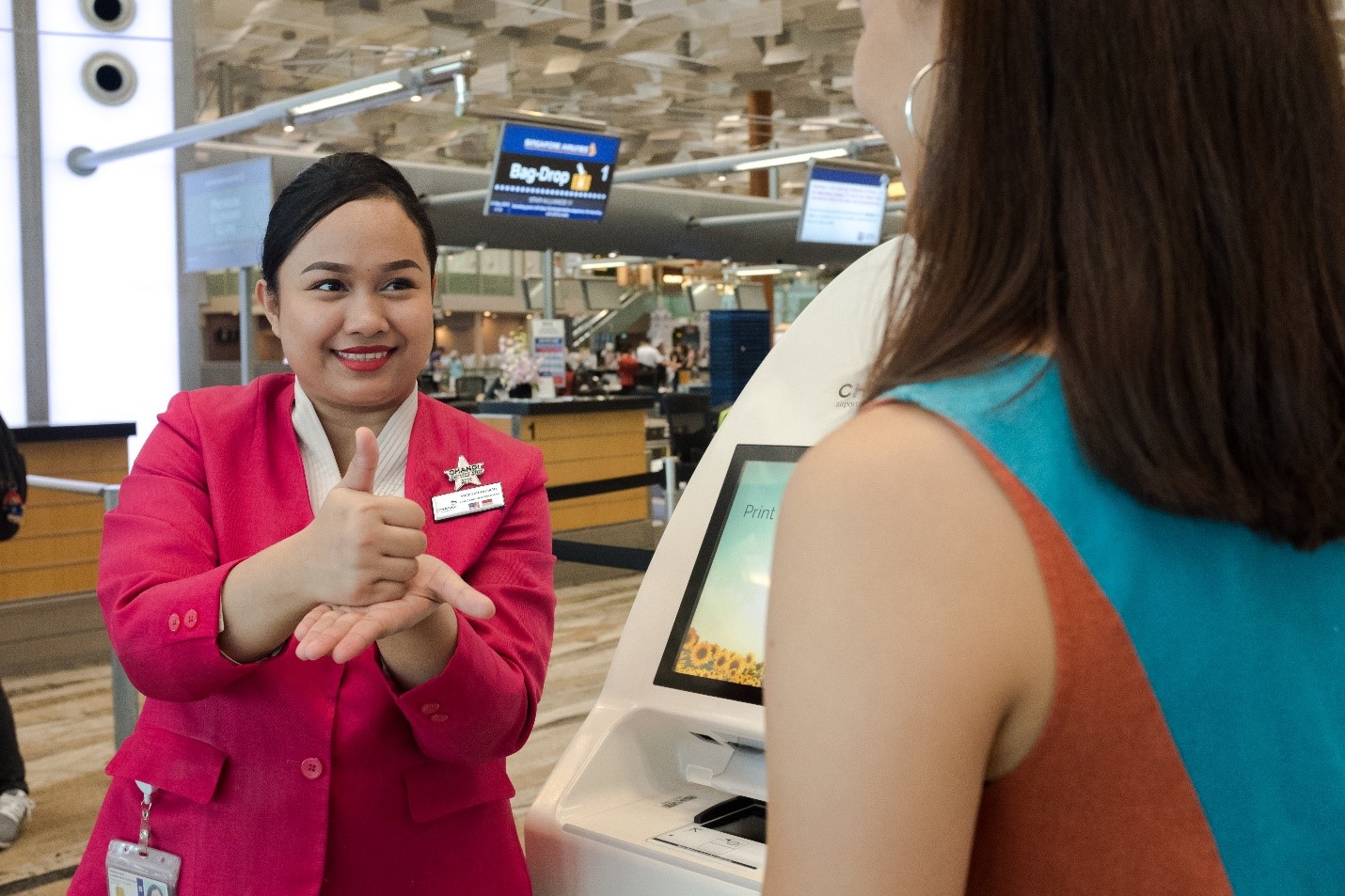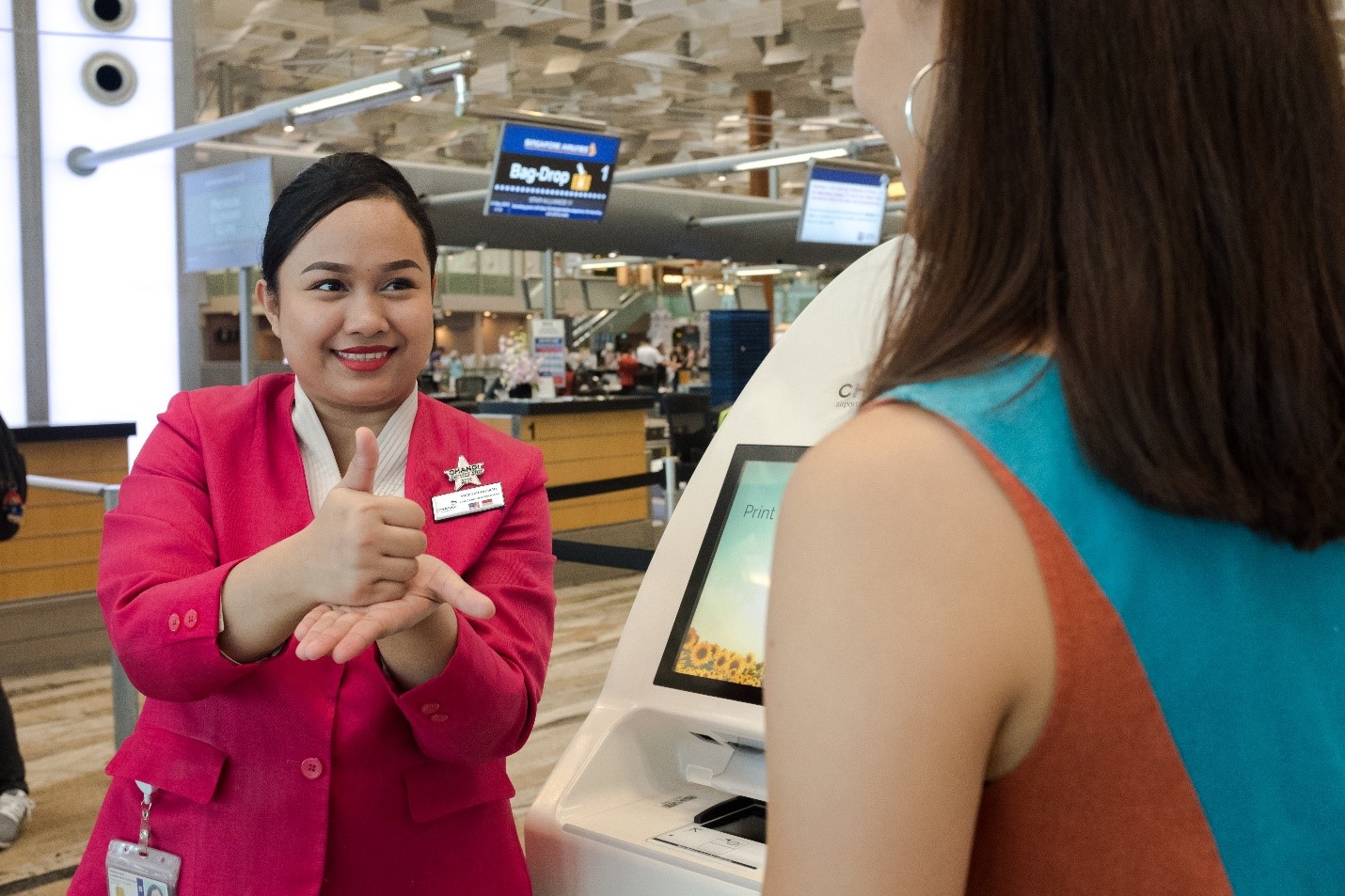 CEA Sharifah signing for 'help', one of the more common signs that comes in handy when  helping passengers with hearing disabilities
Another CEA Sharifah "speaks" sign language. "They are usually pleasantly surprised and more comfortable when they know that there is someone who understands them," said Sharifah, often called upon to assist passengers with this special need.

Having worked in Changi for more than six years, Sharifah picked up sign language while interacting with her husband and his two siblings, who are hearing impaired. This unique skill enables her to be of great help and comfort to passengers with hearing difficulties. She recalls an incident two years back when an elderly Japanese passenger who was hard of hearing faced difficulties checking in for his flight. Through simple hand gestures and working with a Japanese interpreter, Sharifah was able to assist the passenger to board his flight smoothly.
Confidence to serve better
From June 2019, you can spot the CEAs in their brand-new uniforms. While keeping the recognisable and lively colours, the new uniform incorporates elements such as a scarf for the ladies, from a uniform design competition held among CEAs last year. This ground-up initiative not only encourages CEAs to take pride in the uniforms they wear, it also enhances their confidence as the new uniforms are designed for greater comfort.
"We gave feedback through surveys and voted on the winning design. It is so great that we get a say in our uniform," said Siti Nurjannah Binte Abdul Karim, who has been working as a Changi Experience Manager for more than 11 years. "The new uniform is a comfortable one-piece dress. Sticking to fuchsia pink for the jacket makes our uniform more prominent as well."
Passengers today are increasingly well-travelled and expectations have increased. Changi continues to receive more than 40,000 compliments every year, thanks to the combined effort of the whole airport community. Only by taking care of staff, which includes listening to their views and keeping them happy and comfortable, can Changi continue to touch the hearts of millions that pass through each year.