What goes behind the flora and fauna at the Changi Airport Connector?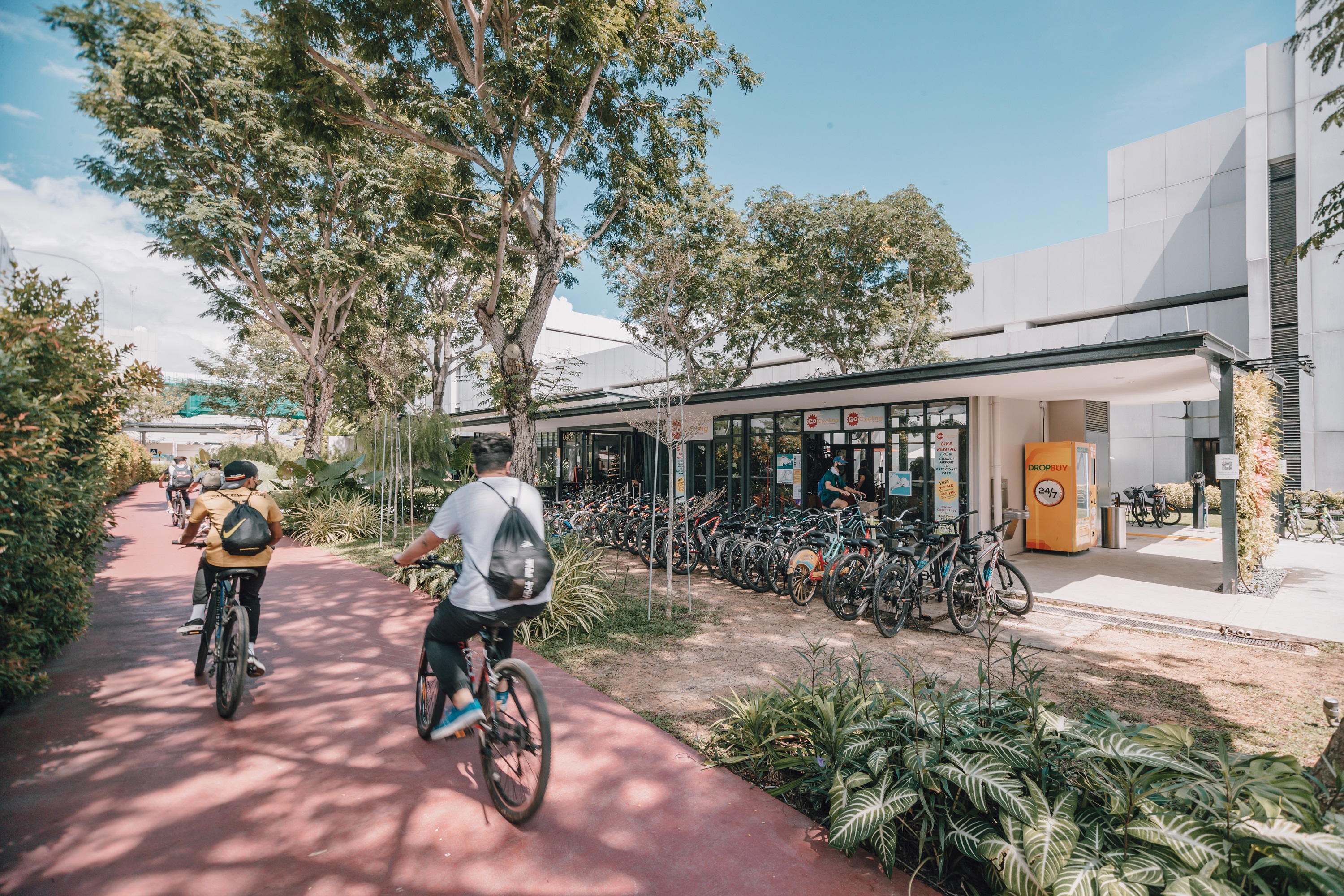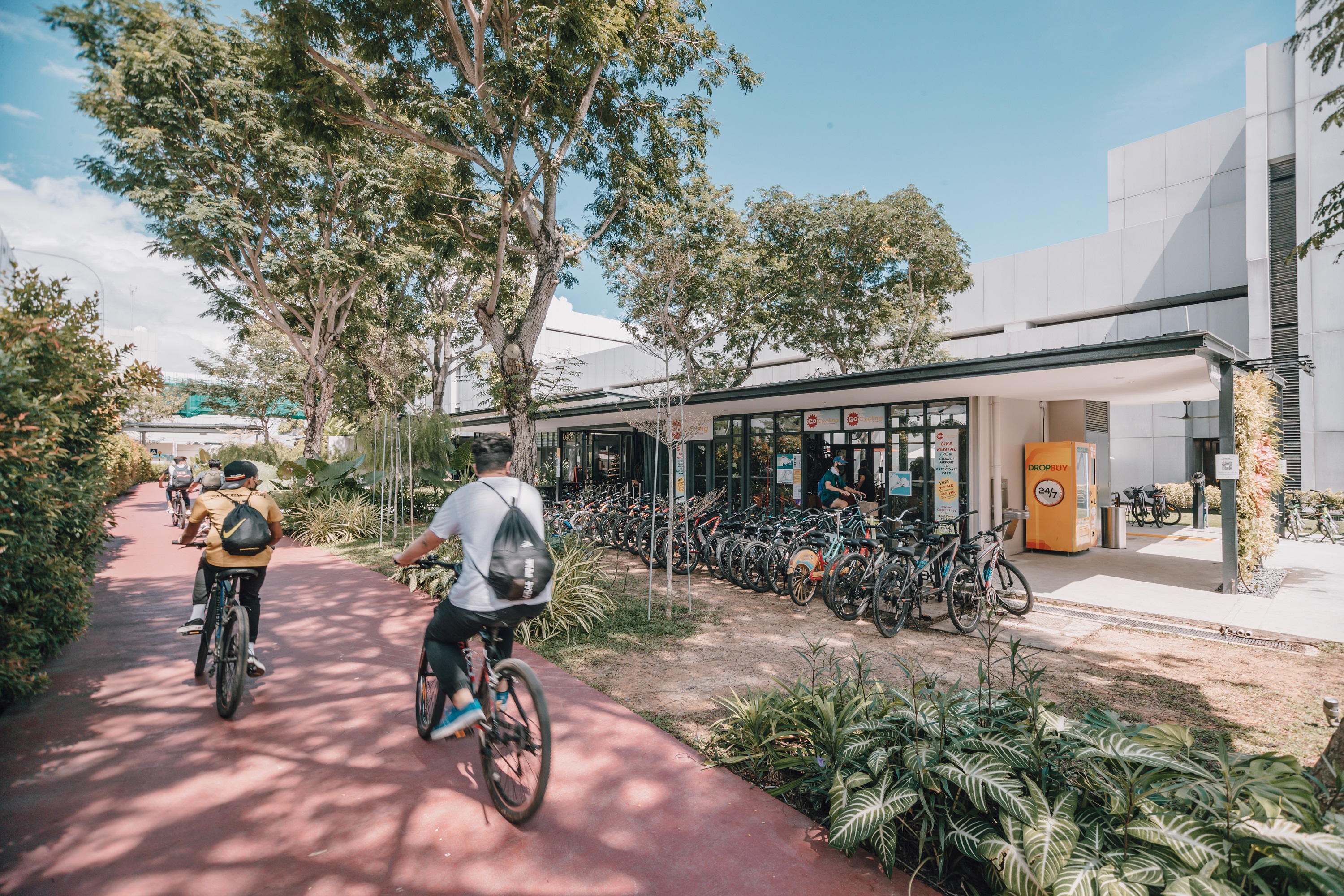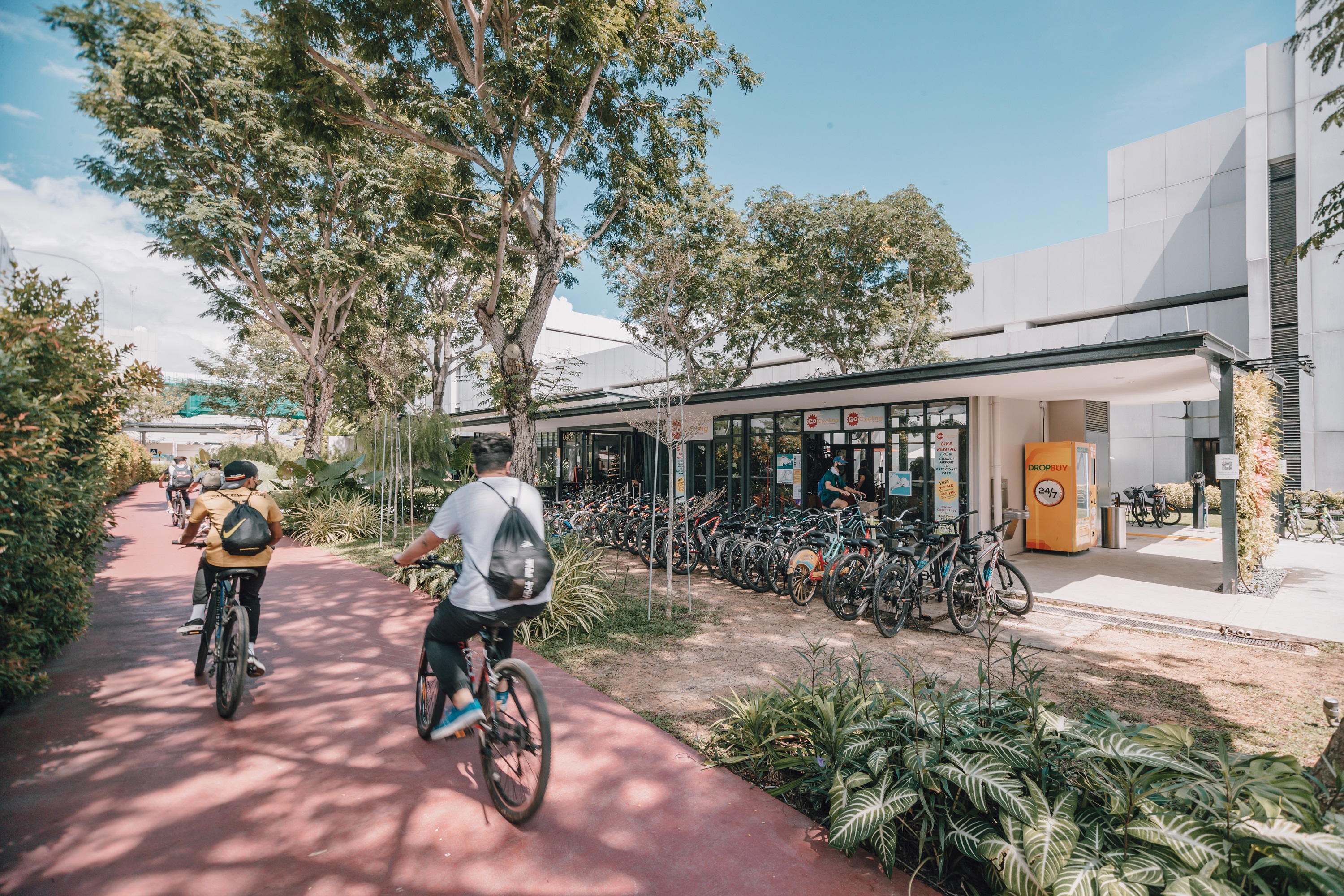 Since its opening in October, the Changi Airport Connector has become a recreational venue for family fun and leisure activities. Take a walk along the connector and you will spot the various flora and fauna at HUB & SPOKE and Changi Jurassic Mile, thoughtfully designed by Changi Airport Group's (CAG) Horticulture team.
"This is the first time that visitors are experiencing Changi Airport up-close in an outdoor setting, so we thought a lot about how to create interesting and beautiful photo spots with lush and colourful landscapes along the Changi Airport Connector." said Shaiful Sulaiman, who is in charge of the landscaping at the Changi Airport Connector.
Making use of boulders and volcanic stones, the Horticulture team created Jurassic-like landscapes along the dinosaur exhibits at Jurassic Mile. To create an even more immersive setting, the team also incorporated plants that were a food source for herbivorous dinosaurs such as Cycas and ferns.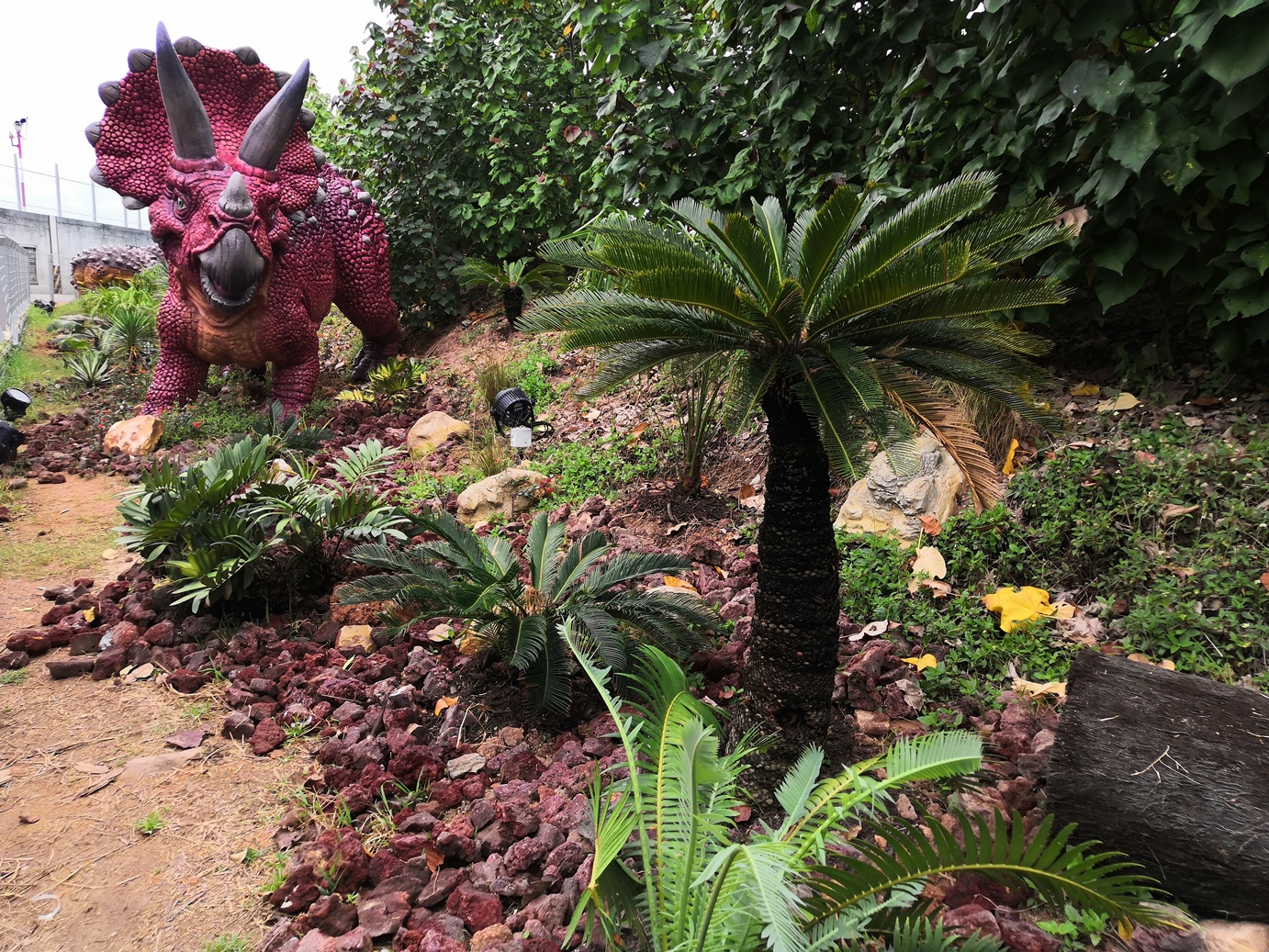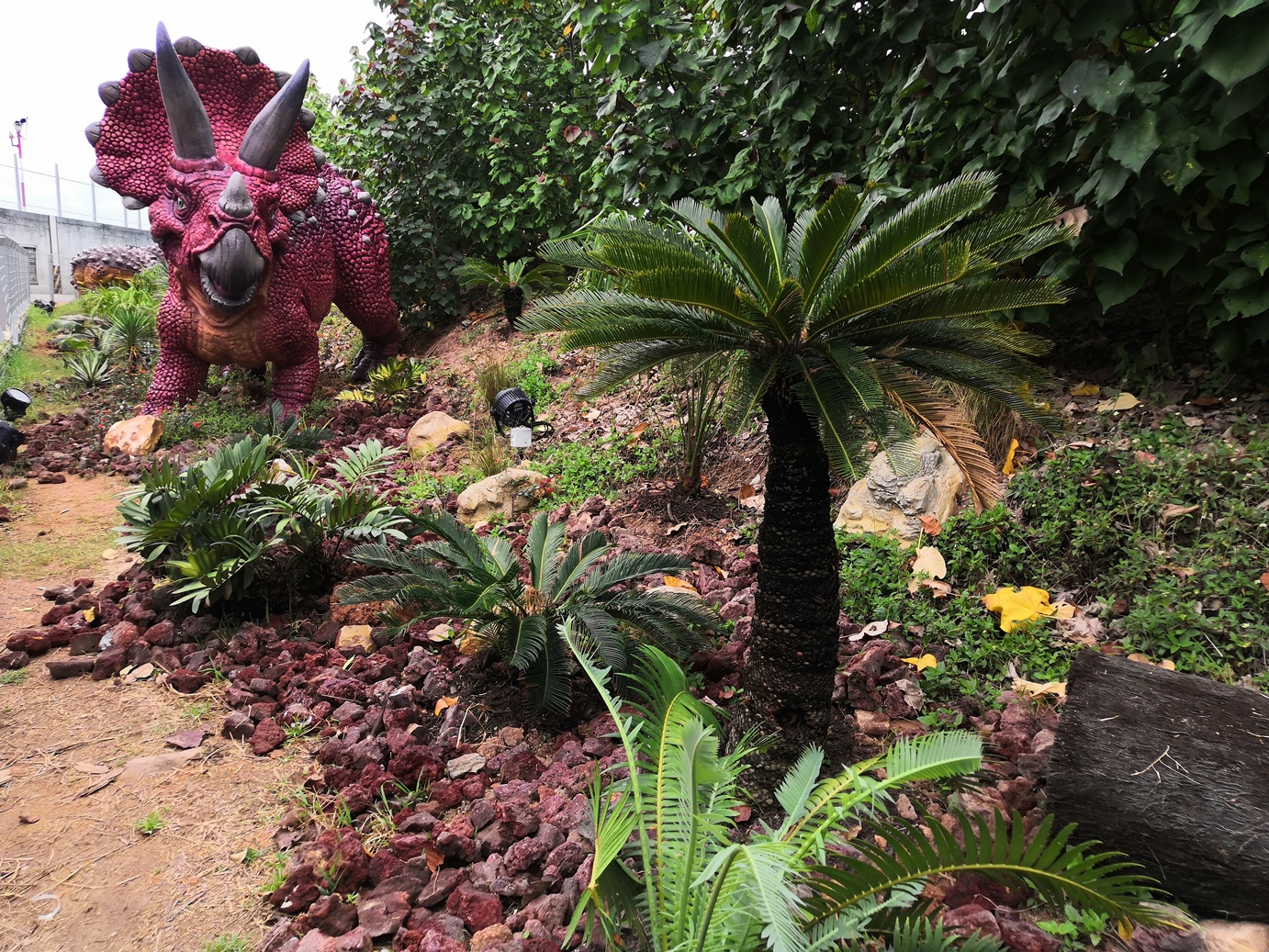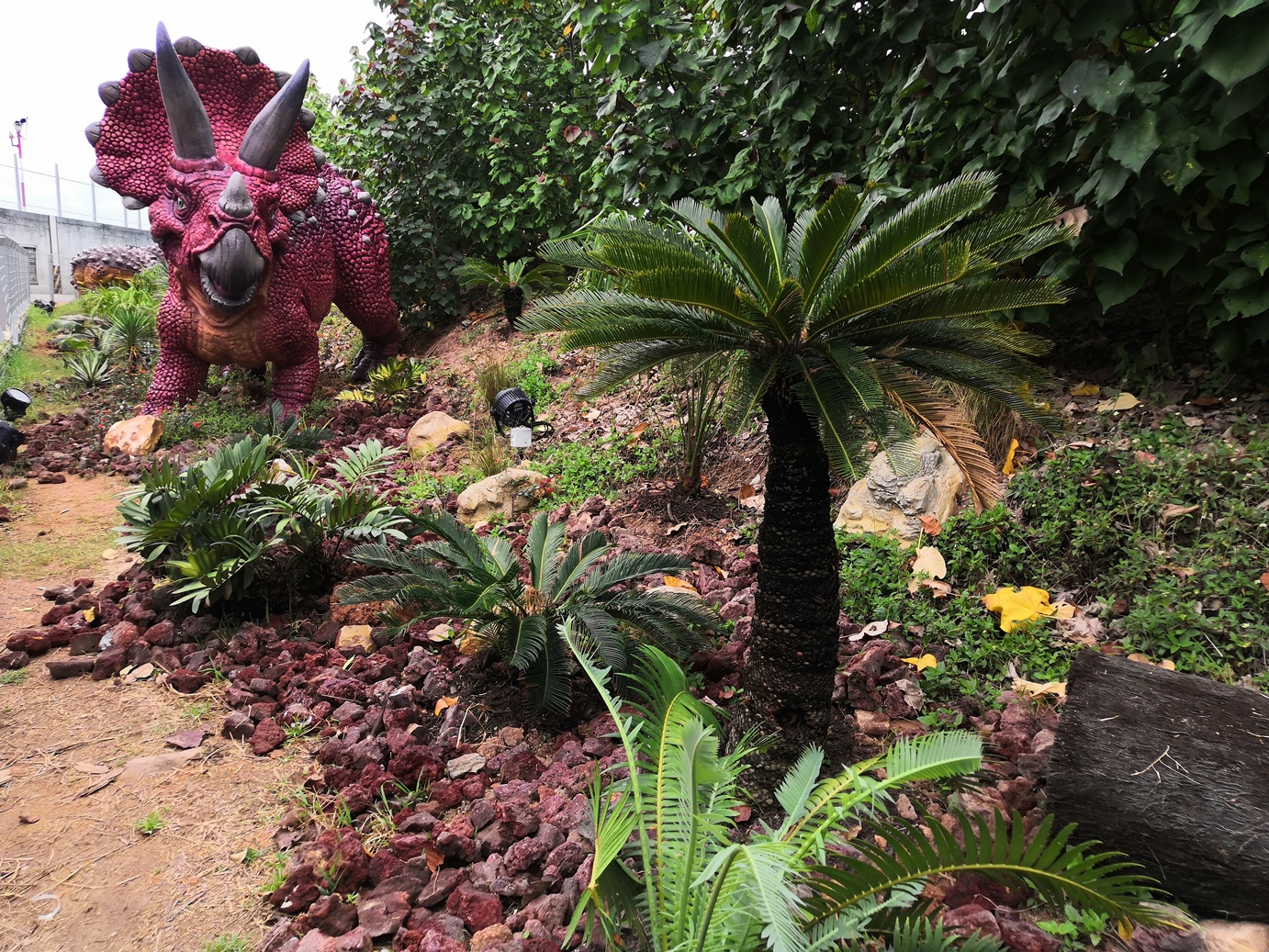 Cycas belong to one of the oldest plant families and were very common during the Jurassic period.
"We wanted to create a nature trail where visitors can spot butterflies and dragonflies, hence we introduced flowering, fragrant and butterfly-attracting plants such as Leea rubra (Red Tree Shrub), Hedychium coronarium (White Ginger Lily), Ruellia simplex (Mexican Petunia) and Murraya (Orange Jasmine)."
More than 80% of these feature plants are grown in CAG's nursery by the Horticulture team.
In addition, the Horticulture team has introduced themed gardens such as sunflowers and orchids along the connector to create pockets of surprise for visitors as they venture along the path. Other themes such as bamboo and cacti are also being explored. 
Sunflowers and orchids (including our national flower Vanda Miss Joaquim) adorn the Changi Airport Connector, delighting visitors.
When designing the landscape and deciding on the type of plants to grow along the connector, the team also had to take into consideration user safety and ensure the plants do not cause a blind spot for path users.
Over at HUB & SPOKE, the planning goes down to details such as the types of grass used.
"Instead of the usual cow grass, we used pearl and carpet grass to create a more relaxing and leisure atmosphere at HUB & SPOKE," explained Shaiful. "We also planted Alocasia to create a resort-like surrounding at HUB & SPOKE."
One challenge faced by the team were the number of mature trees where HUB & SPOKE is located. In order to preserve the trees as much as possible, the team built and designed HUB & SPOKE such that spaces are interspersed around the trees, creating the garden-like setting that visitors see today. The shower rooms at HUB & SPOKE are also designed with a view of the lush greenery, a first in Changi Airport.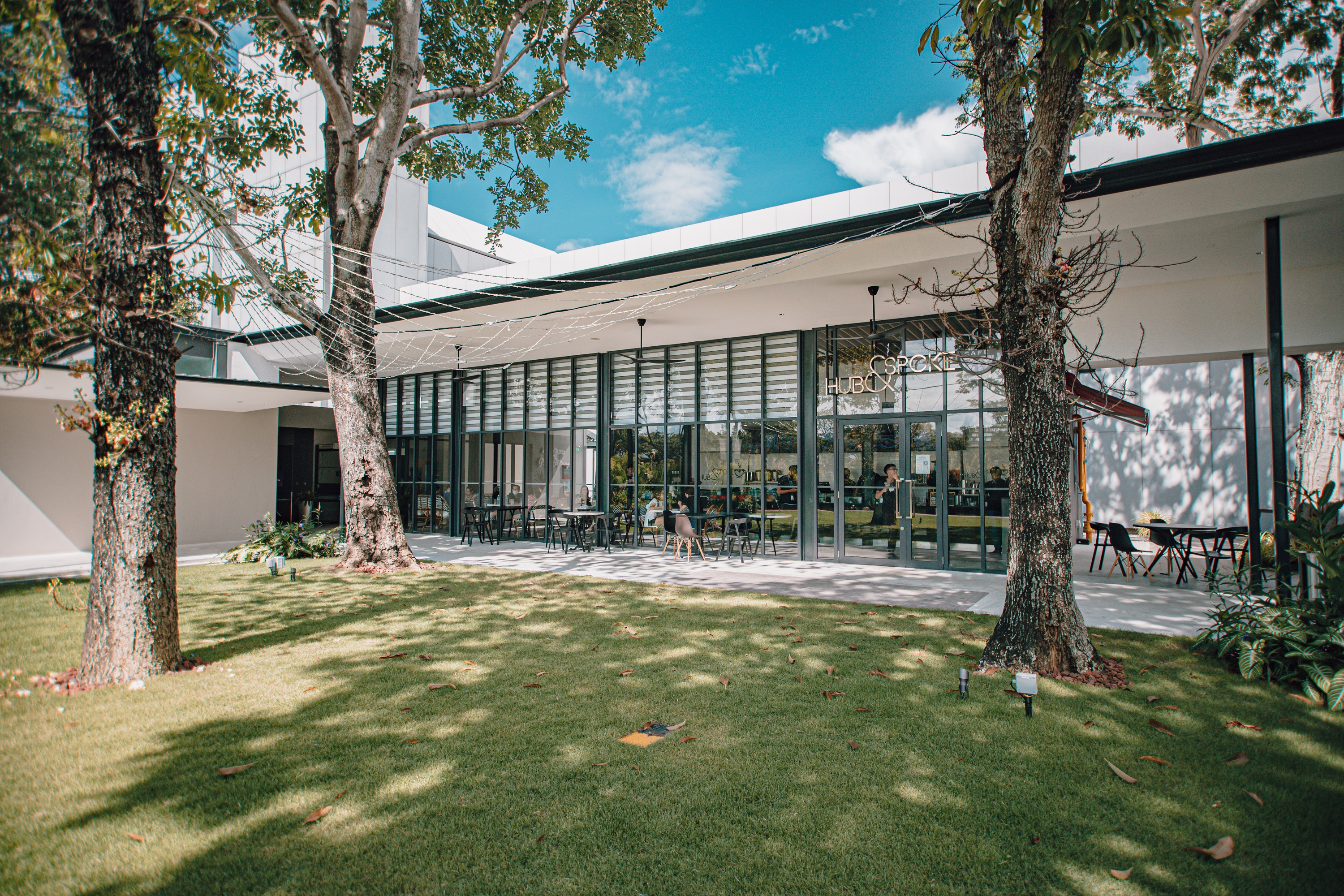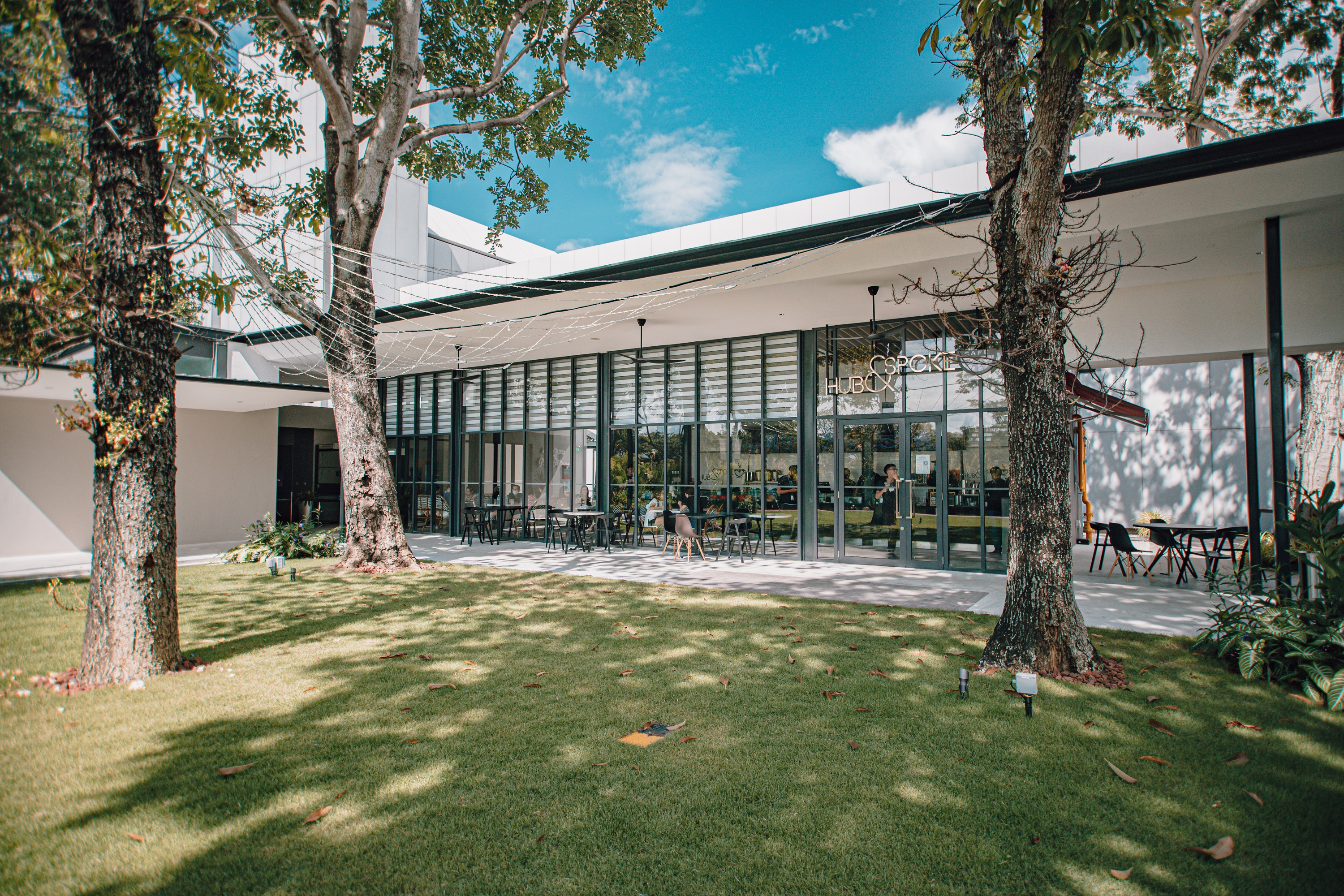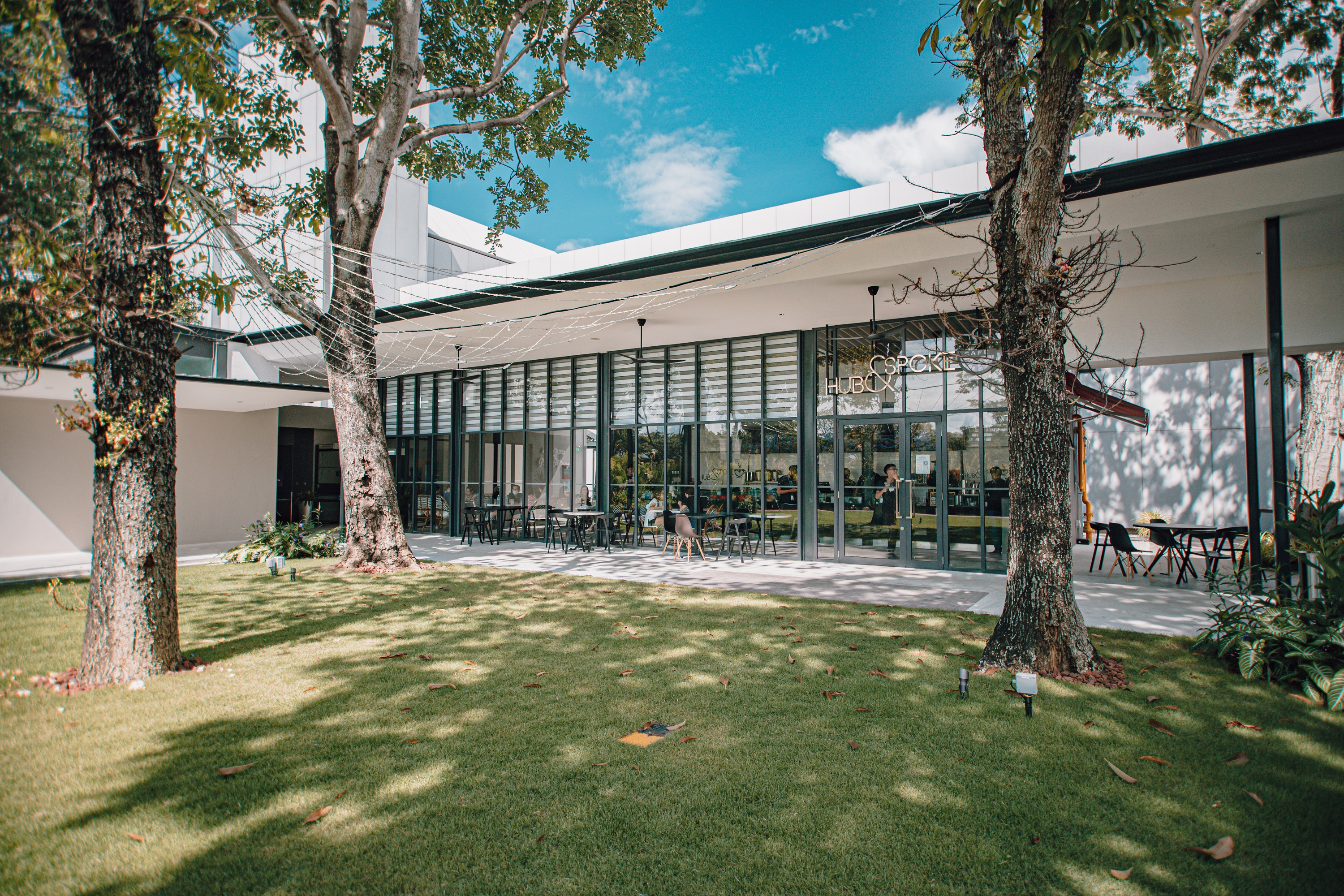 The lawn in front of the HUB & SPOKE café, featuring carpet grass and large cannonball trees, is a popular hangout spot among families and diners for its relaxing ambience.
A feature you will not miss at HUB & SPOKE are its green walls. Plants selected had to be specially prepared to ensure they can survive after being transplanted onto the green wall. Proper and enough water supply had to be catered for using an automatic irrigation system to ensure the plants on the vertical green wall receive a constant supply of water.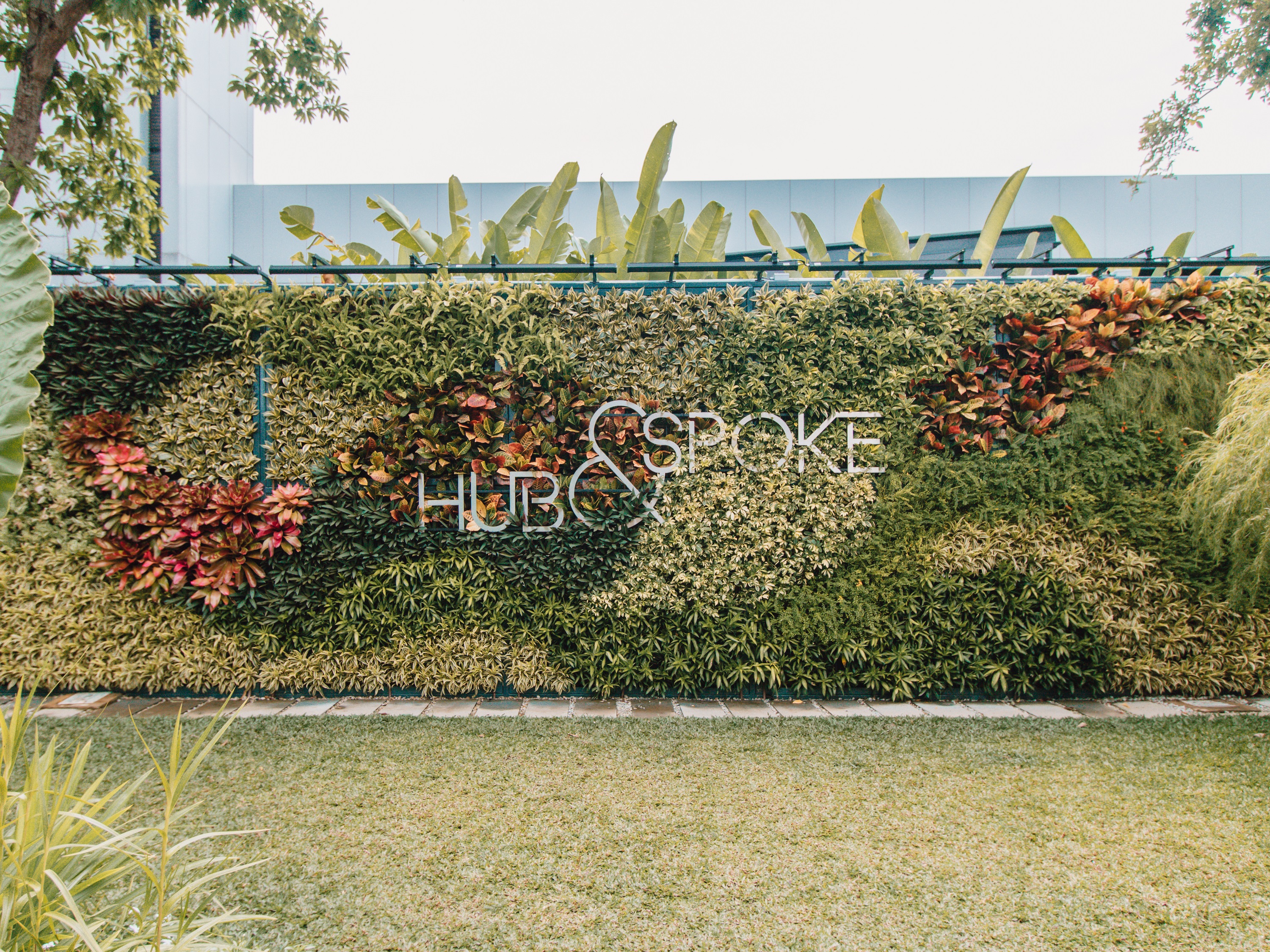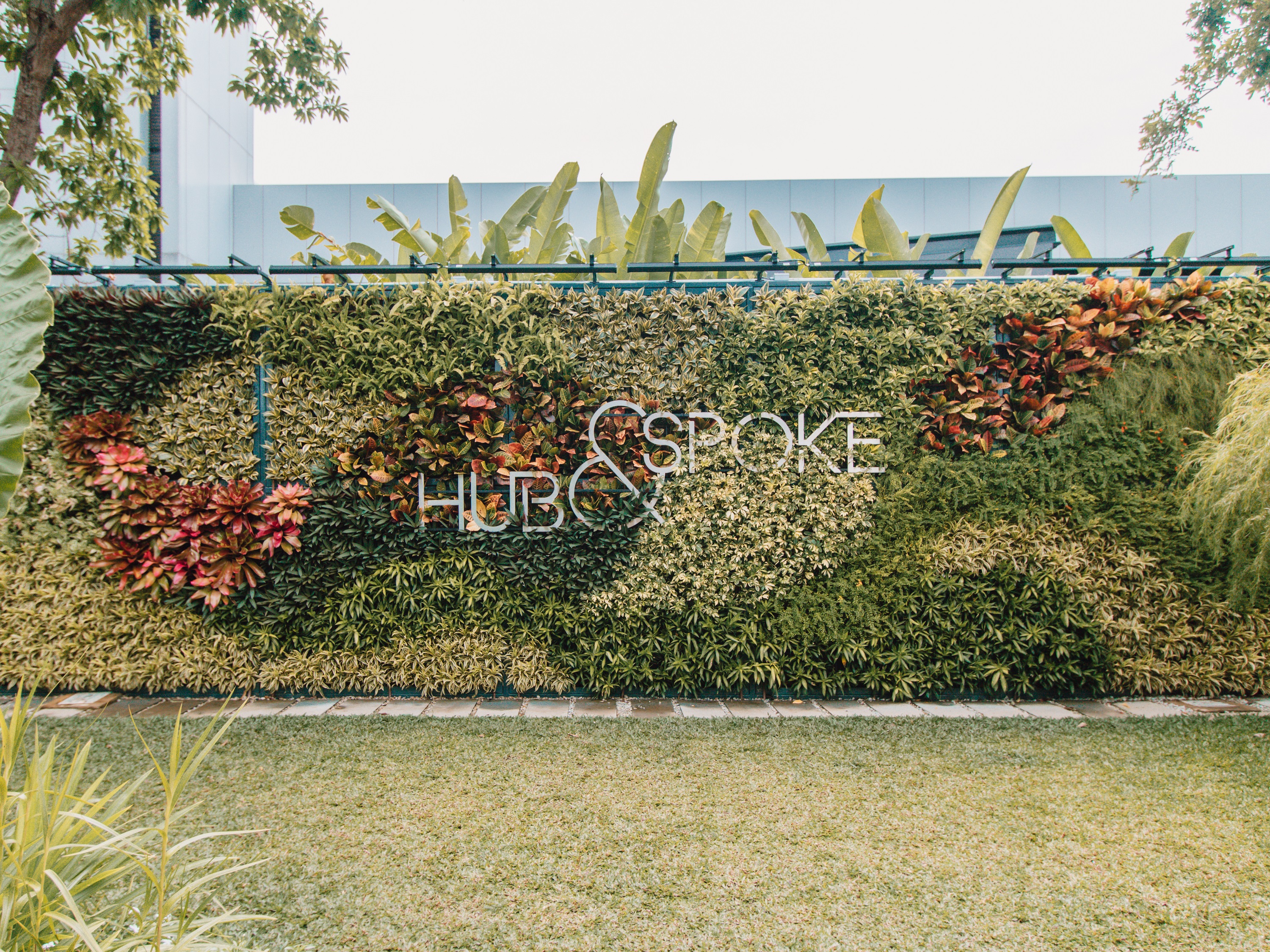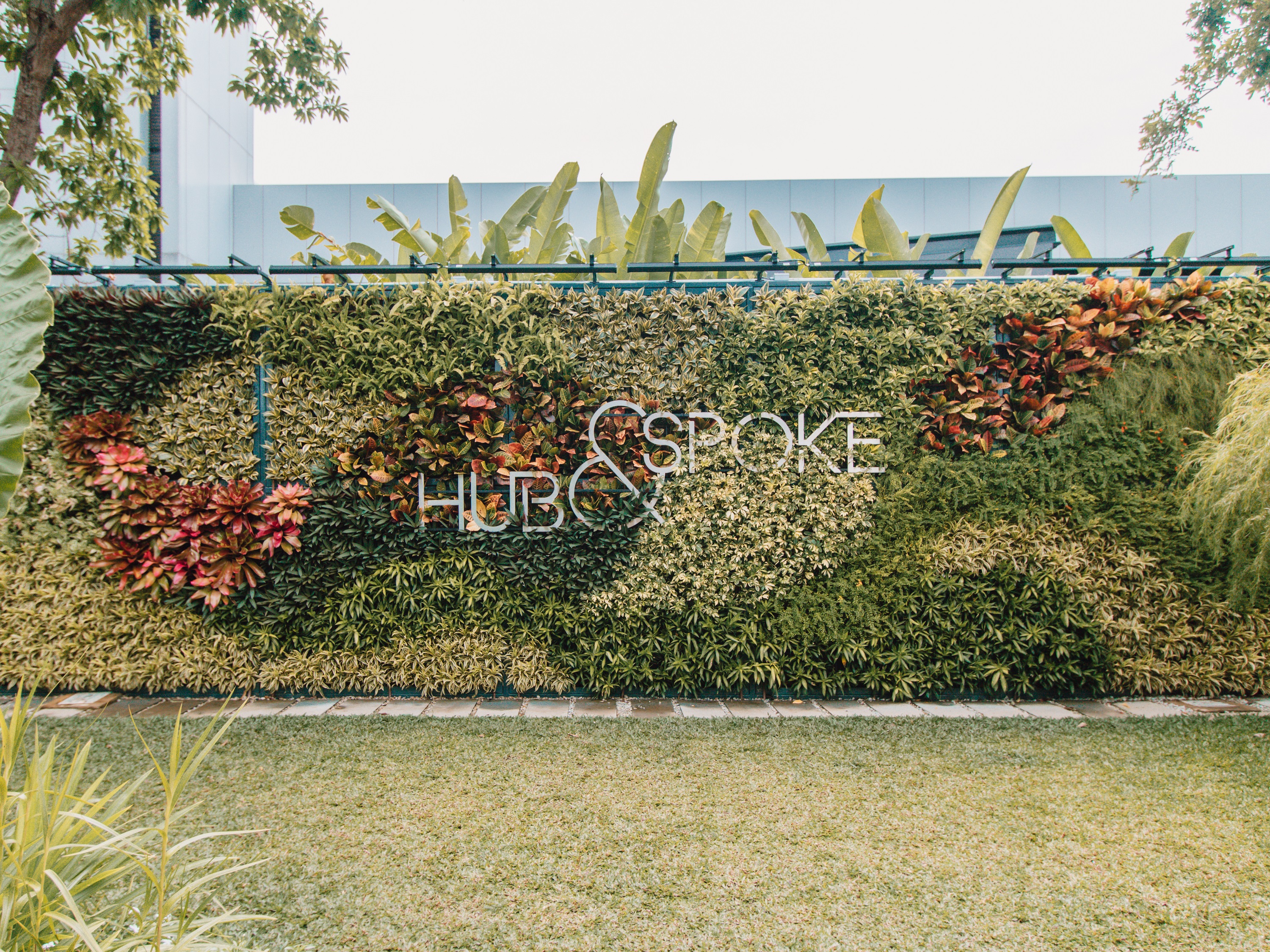 HUB & SPOKE features three green walls showcasing over 2,700 plants.
Just like how the green wall in Terminal 3 helps to relax and greet passengers when they arrive at Changi Airport after a long flight, so do the green walls at HUB & SPOKE. Changi continues to find ways to delight passengers and visitors whenever they are at Changi Airport, both indoors and outdoors. The next time you head down to the Changi Airport Connector, look out for these plants and enjoy the relaxing atmosphere as you take in the greenery along the Changi Airport Connector!
Get a closer look at how our Horticulture team cares for 600,000 plants across Changi Airport here: