How Changi Airport Prepares for 'Hajj' Flights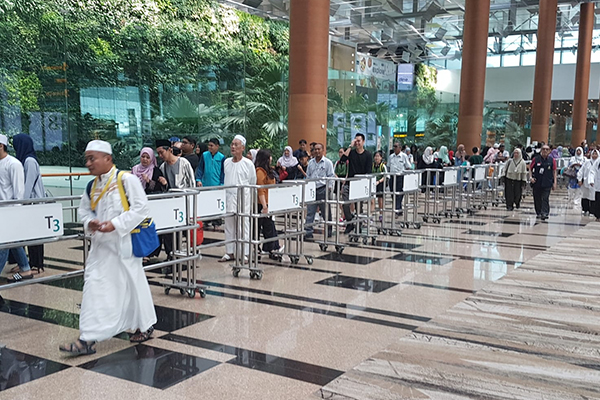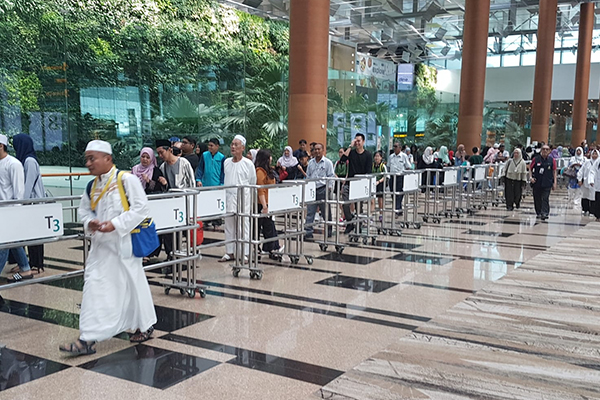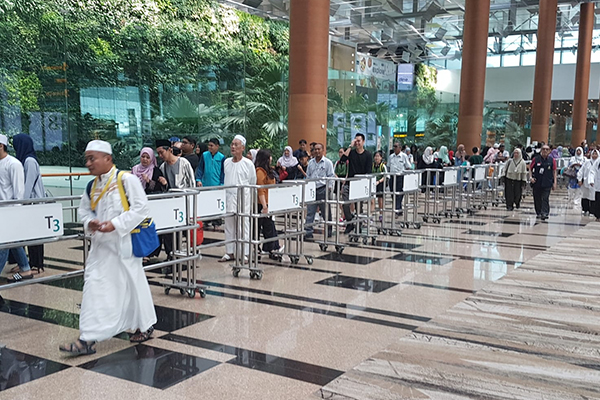 One of Changi Airport's largest wave of travellers come through during the annual season of Hari Raya Haji.
Hari Raya Haji is a festival where the Muslims commemorate their faith through prayer and reflection. The day also marks the end of 'Hajj' – the annual Muslim pilgrimage to the holy city of Mecca in Saudi Arabia.
The word Hajj means "to set out for a place" or "to journey", which connotes both a physical journey and the intent for personal growth.
During Hajj, pilgrims set out on an arduous journey which was started by Prophet Muhammad to recall the faith and sacrifice of the Prophet Ibrahim. The journey concludes with a series of symbolic rituals once pilgrims arrive at Mecca.
Hajj is one of the five pillars of Islam, and every able-bodied Muslim with financial means is expected to complete it at least once in their life.
Every year, up to three million people gather in Mecca during Hajj, and it is considered to be the largest gathering of people globally. For this reason, each country is given a yearly pilgrim quota, and Singapore's quota ranges from 600 to 800.
Most pilgrims depart Singapore in the month leading up to Hari Raya Haji, following a schedule planned by the Islamic religious council of Singapore, which Majlis Ugama Islam Singapura (Muis).
The challenge for Changi Airport during this period is managing the crowd for such Hajj flights, as family and friends gather at the airport to send the pilgrim off.
To cope with this high volume of human traffic in a short period of time, the Airport Operations team from Changi Airport Group needs to be well prepared on the ground to ensure that the movement through the airport remains smooth for all the passengers.
One of CAG's key personnel managing such Hajj flights at Changi Airport is Mohd Uzair. Uzair has deep experience preparing Changi's terminals for Hajj departures. Obtaining the full schedule of Hajj flights from Muis is the critical first step to ensure smooth operations, says Uzair. After receiving flight schedules, all ground resources can be prearranged for the travelling pilgrims and their families when they are here at the airport.
Uzair says, "Most Hajj flights depart from Terminal 3, as Saudi Arabian Airlines operates direct flights between Singapore and Jeddah.
"Our team will make special arrangements to cordon off the check-in rows reserved for the Hajj flights, so that family and friends can have a dedicated area to say their prayers and bid farewell before the pilgrim embarks on his or her journey," he added.
The cordons at the Departure Hall are set up prior to departure check-in time, ready for pilgrims who choose to come to the airport early.  The gate holdroom will be opened two hours before the scheduled flight departure time – much earlier than a usual flight – so that the pilgrims can have a dedicated area to rest and prepare themselves for their journey.
After their stay in Mecca which typically lasts about a month, the pilgrims will make their way back to Singapore.  During this period when the Hajj flights return to Changi, Uzair and his team will take the same care in making special arrangements in the Arrival Halls, so that pilgrims can be reunited with their family and friends without delay.