Here's how you can get an insider tour of Changi Airport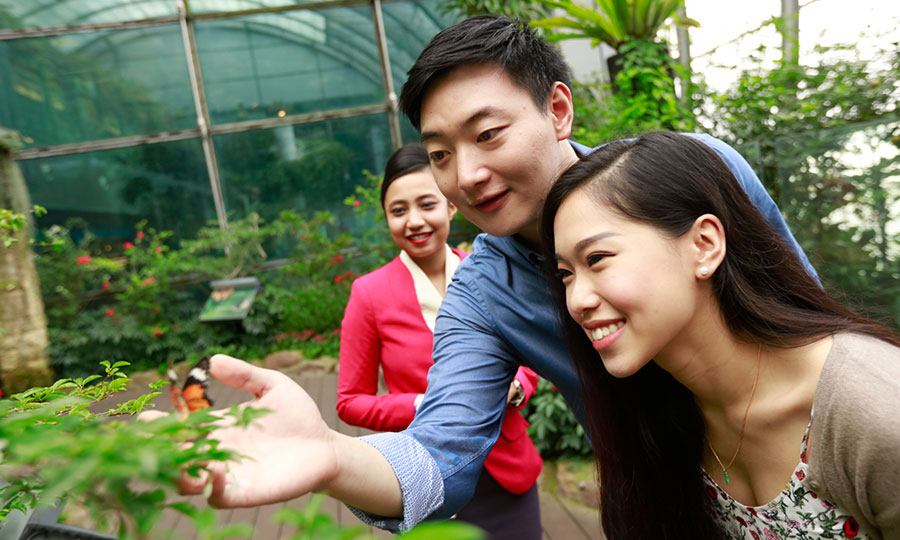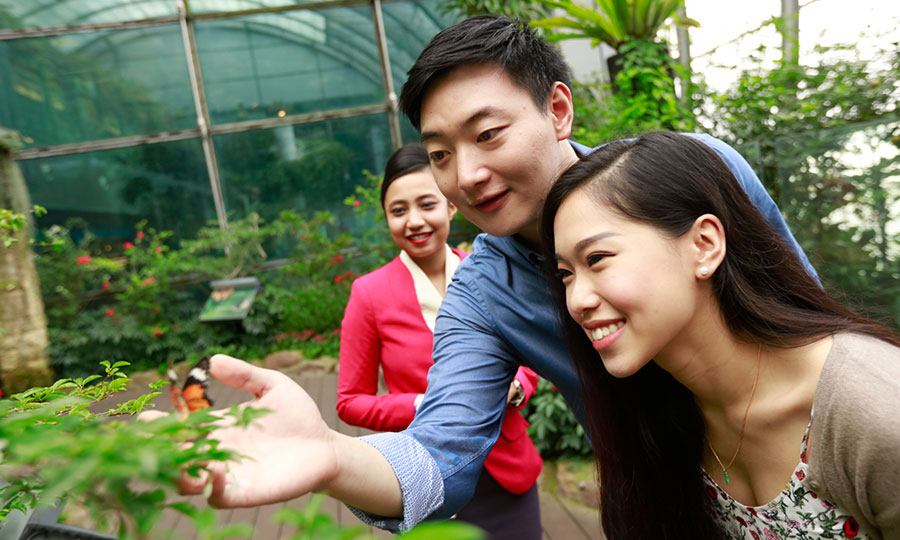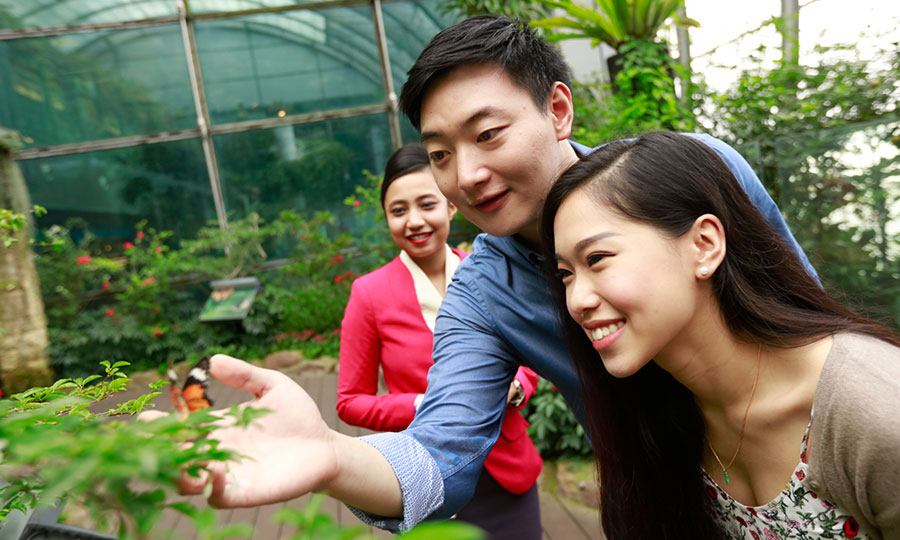 Passengers enjoying the butterfly garden in Terminal 3

This January alone, some 5.3 million passengers travelled through Changi Airport. In this cosmopolitan airport where everyone is constantly on the move, it can feel a little overwhelming.
The Customer Service team in CAG hence dreamed up the Discover Changi  tour, designed to give passengers a break from the hustle and bustle of the fast-paced airport environment, and help alleviate some stress. For passengers on transit and with time to explore, it provides them with the opportunity to find out a little more about the experiences Changi has to offer.
This personalised guided tour of the terminals of Changi Airport is led by a group of cheery and passionate Changi Experience Ambassadors (CEA).  Passengers who have carry-on luggage can enjoy complimentary baggage storage while they are on the tour.
Besides showing passengers to the various themed gardens and key entertainment and leisure facilities, the CEAs can also curate a route based on the group's interests. For example, if the group has a taste for local cuisines, the CEA will recommend places where they can find authentic hawker favourites. As Changi "insiders", they will also share hidden gems and interesting facts so that passengers get insights on why certain things are done in certain ways in the airport.  
From the highly requested Butterfly Garden, to the lesser-known Water Lily Garden and Cactus Garden, 24-hour movie theatre, cosy snooze lounges, top duty-free shopping hunts and the best places to get souvenirs and local snacks, the tour will reveal under-the-radar finds that many may miss if they were to explore the terminals on their own. At the end of the guided tour, passengers will even receive special mementos including MAX the Changi plane key chains and postcards, and discount deals from shops in Changi Airport.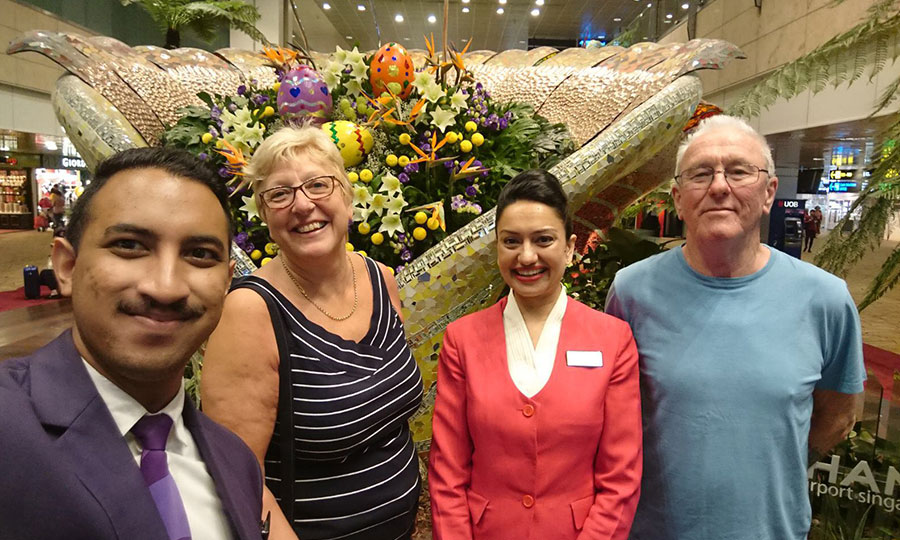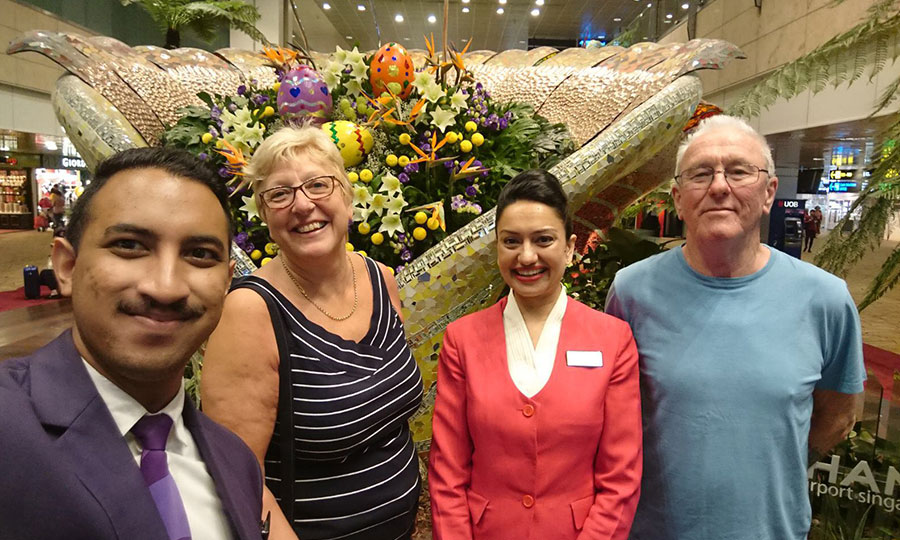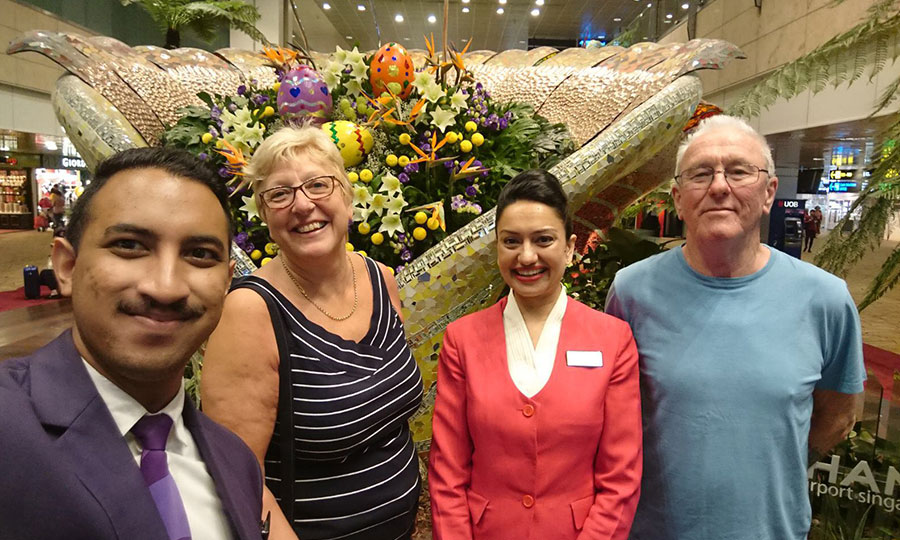 Bobbie and Nabeel on one of their transit tours at Terminal 2

CEA Himanshu Mehta Bobbie recalls one memorable encounter with an 82 year-old Singaporean whom she recently brought on the transit tour. "I didn't think she would be keen to join when I first approached her with the invitation. But at the end of the tour, she told me that she learnt so much about Changi Airport, more than she had ever known even as a Singaporean. She asked for several brochures from me, saying that she will ask all of her friends to join the tour the next time they fly."  
"As part of my job, I get to meet so many passengers from different parts of the world. I love all the face-to-face interactions and I feel extremely proud and happy to be able to share how beautiful our airport is," adds Bobbie.   
Many passengers have enjoyed the Discover Changi tour since it was introduced, including a family of five from Vietnam who was transiting at Changi Airport, "We were so happy. Bobbie and Nabeel took us to many places in Terminal 1 that we have never heard of, and dropped us at the gate before our flight. They even helped us with our luggage. All my sisters and brothers were so happy. I will never forget this trip in my life."
Beyond the exciting array of attractions, shopping and dining offerings, Changi Airport's excellent service and attention to detail creates the unique Changi experience for all passengers whether they are departing, arriving or transiting at the airport.
Afternote: The Discover Changi tour series has come to an end. Passengers and visitors can continue to visit Changi's many attractions with the help of our Attractions Guide. Stay tuned to Changi Journeys for more interesting news about Changi Airport.