Jewel's Variety of Membership & Marketing Programmes Benefit Visitors All Year-Round
Since its opening in 2019, Jewel Changi Airport (Jewel) has welcomed millions of local and international visitors and captured widespread global attention. The multi-faceted destination features an iconic architecture marvel, offers a shopping and dining experience that is seamlessly integrated with lush greenery, a strong tenant mix of new and well-established brands, as well as Jewel-exclusive concepts and merchandise. Over the past two years, although travel curbs due to Covid-19 limit foreign visitorship to Singapore, Jewel continues to see a significant uplift in local visitors.
As Jewel continues to seek out new-to-market brands and new-concept stores which brings novelty to the Jewel experience, Jewel also has in place numerous unique initiatives, such as Jewel Double Rewards, Jewel Privileges Programme and the Attractions annual pass membership programme (PlayAtJewel), to serve different visitor segments. These programmes, supplemented with year-round marketing promotions and close collaboration with retail and F&B partners, bring value to visitors while also spurring spend and supporting the businesses in Jewel. 
Jewel Double Rewards
Jewel's loyalty programme, Jewel Double Rewards, has grown in popularity among its visitors as seen by an increasing shopper base and spend. The programme allow members of Changi Airport's Changi Rewards and CapitaLand's CapitaStar rewards programmes who link both accounts, to enjoy perks from the two programmes in a single shopping or dining transaction at Jewel. It is the only mall in Singapore where shoppers are rewarded twice in a single transaction. In addition, Double Rewards shoppers who are Changi Rewards Platinum members can expect to receive up to 3.5% cash rebate on their spend, which is the highest mall cashback rewards in Singapore.
Changi Rewards is Changi Airport's loyalty programme that rewards visitors when they patronise Changi Airport, Jewel, or shop on its e-commerce platform iShopChangi. It offers a three-tier membership: Member, Gold, Platinum – where members can enjoy greater returns and more privileges as they move up the tiers. Members also enjoy GST-absorbed purchases at Changi Airport's public areas. CapitaStar on the other hand, is a single-tier membership that rewards shoppers for purchases made at participating retailers across CapitaLand Malls.  These earned points, rewarded instantaneously for the same purchase, can be accumulated, and redeemed for digital cash vouchers (Changi Airport's e-Voucher Flexi or eCapitaVoucher) to offset future purchases at most retail and dining outlets at Jewel.
There are plans for the programme to be extended to include points issuance for Jewel attraction tickets purchased on-site at Jewel's Concierge counters, stretching the rebate value to visitors as they shop, dine and play at Jewel.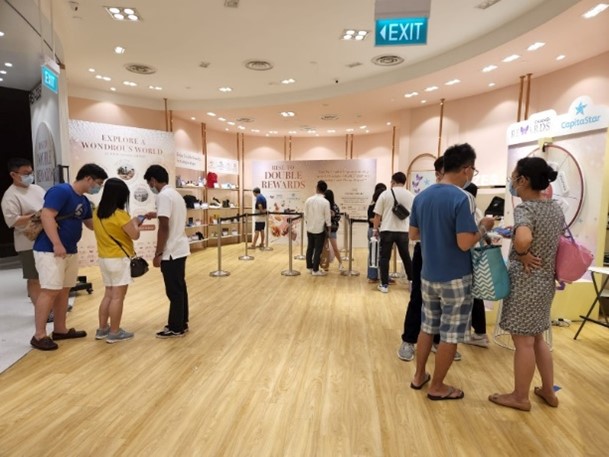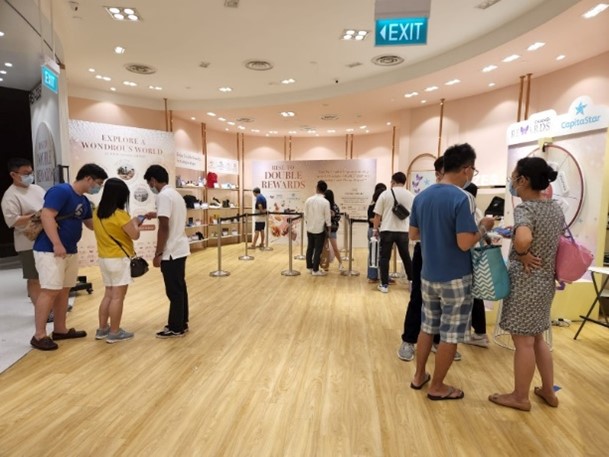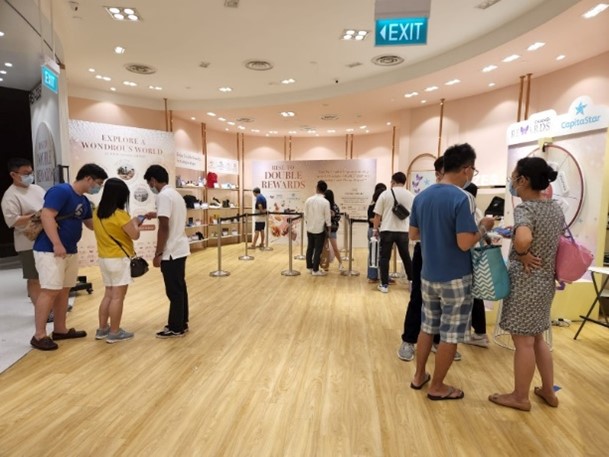 Visitors thronged to the Jewel Double Rewards pop-up store during the month-long promotion
To boost its shoppers base, Jewel recently launched a month-long Double Rewards campaign with attractive giveaways to its visitors.  An exclusive pop-up store located at Basement 1 of Jewel was set up with crew members assisting with new sign-ups of Changi Rewards and CapitaStar memberships, and facilitating those who wish to link both membership accounts to enjoy double rewards privilege. During the month-long Double Rewards campaign, Jewel rewarded new members with points, as well as Jewel vouchers, premiums and attraction tickets (for Canopy Park, Canopy Bridge and Jewel-rassic Quest) for members with a minimum qualifying spend. 
Jewel Privileges Programme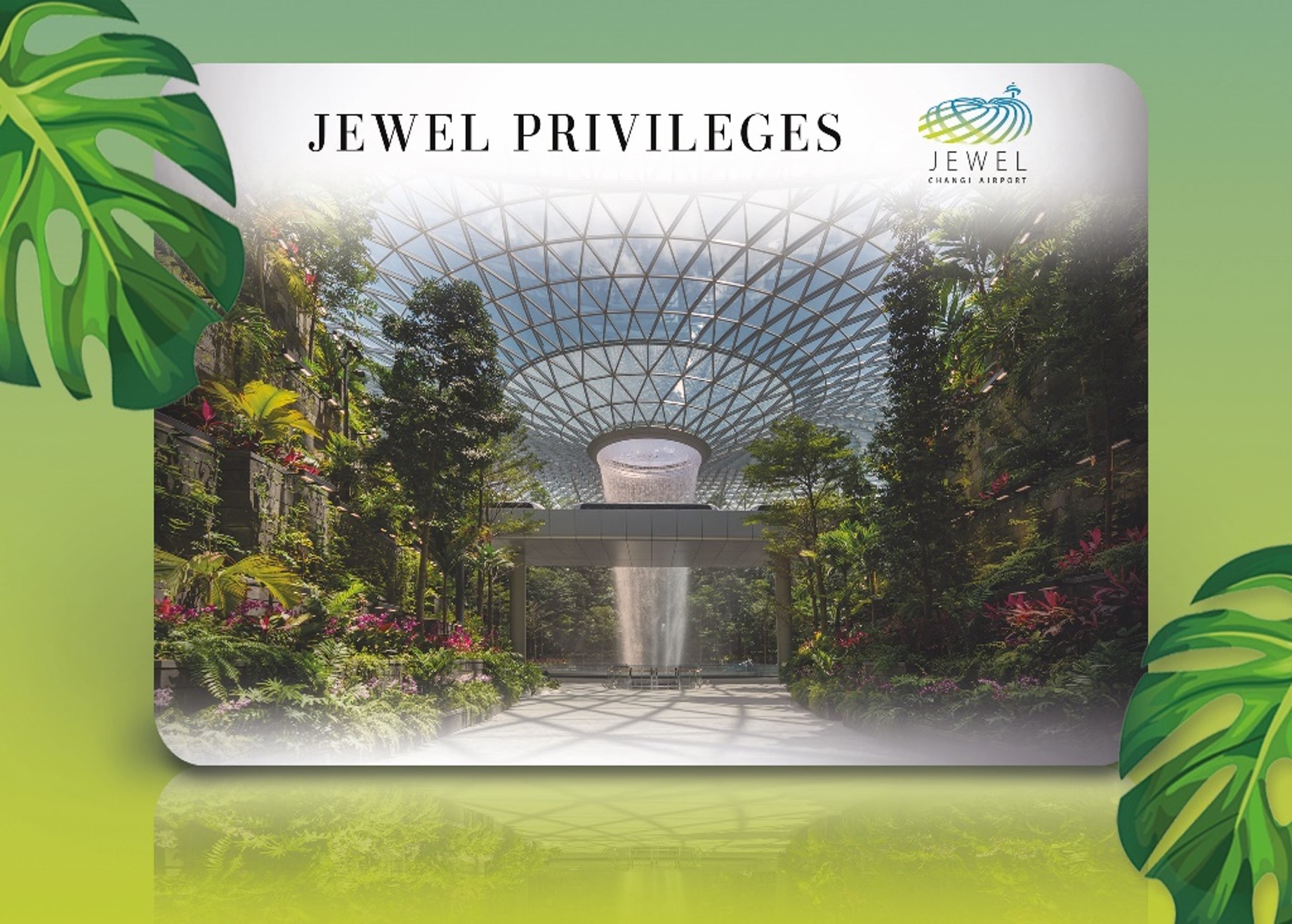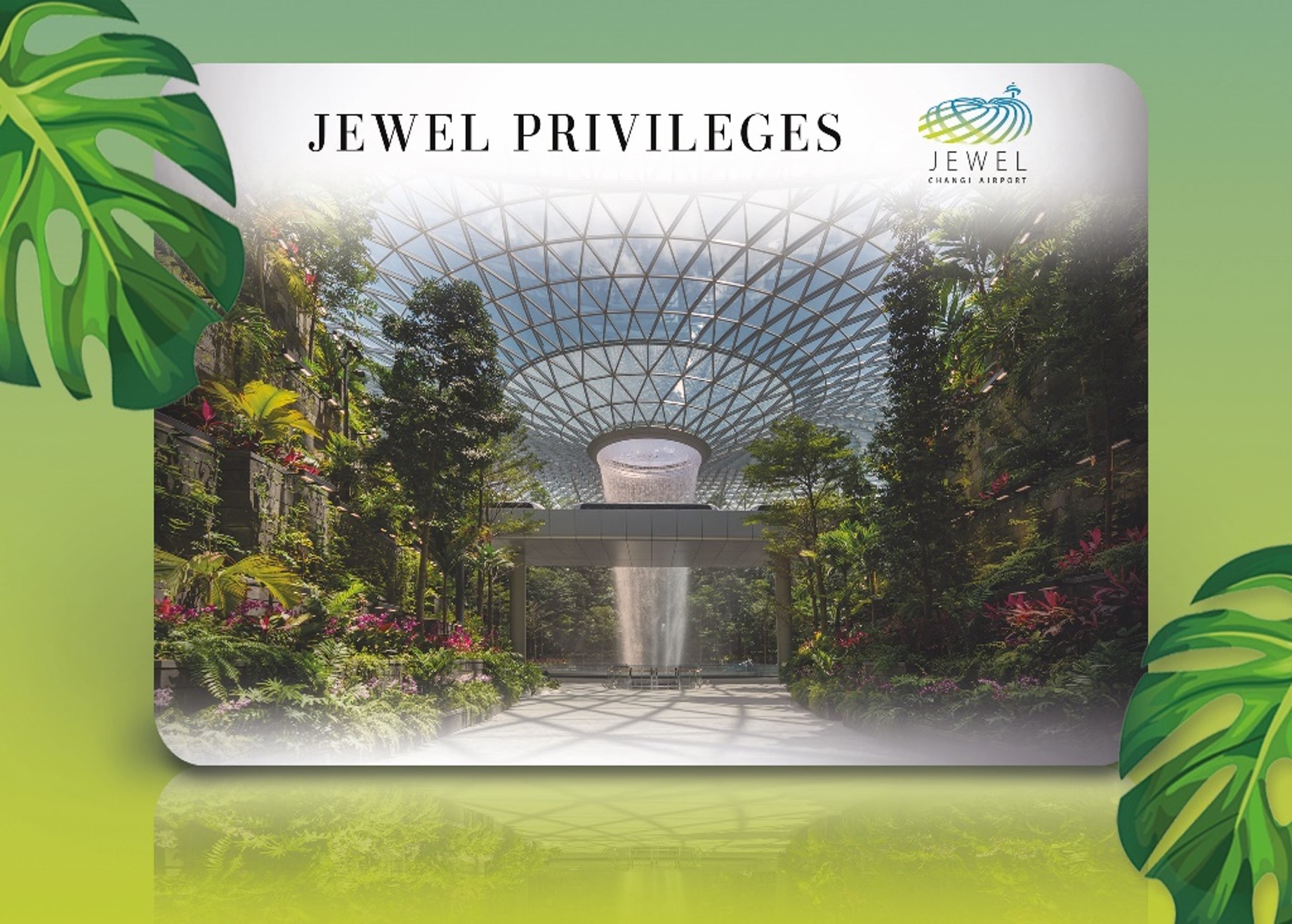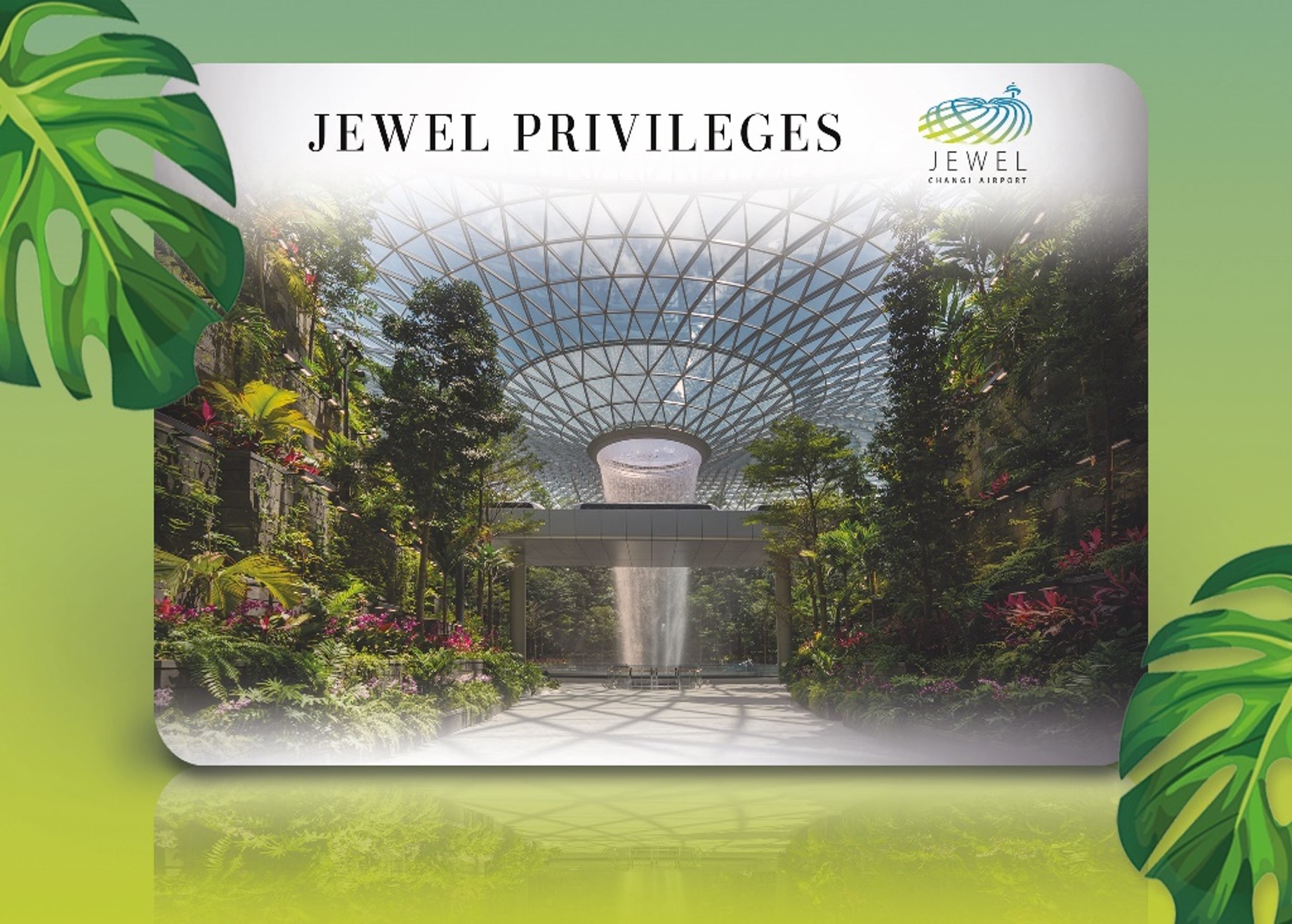 The Jewel Privileges card offers attractive retail and dining for members to off-set their purchases at participating outlets in Jewel
The more than 260 dining and retail offerings remain a key pillar to Jewel's appeal as an integrated entertainment destination.  While Jewel seeks out and expands on interesting concepts as part of its retail strategy, there are also close partnerships forged with its tenant partners to provide exclusive promotions under the Jewel Privileges Programme (JPP) to attract shoppers and diners, and at the same time drive greater brand and profile awareness of the retail and F&B outlets. Simply by collecting the Jewel Privileges card at the Jewel Concierge Counter (Level 2) and flashing the card upon payment, JPP shoppers enjoy discounts, special marked down privilege prices, or even complimentary gifts in-store. The JPP promotions are reviewed and renewed annually to provide the best value for visitors.  With the relaxation of borders and increasing return of tourists, foreign visitors can also enjoy $5 Retail Voucher when they flash their passports during their card collection.
Play-at-Jewel Annual Pass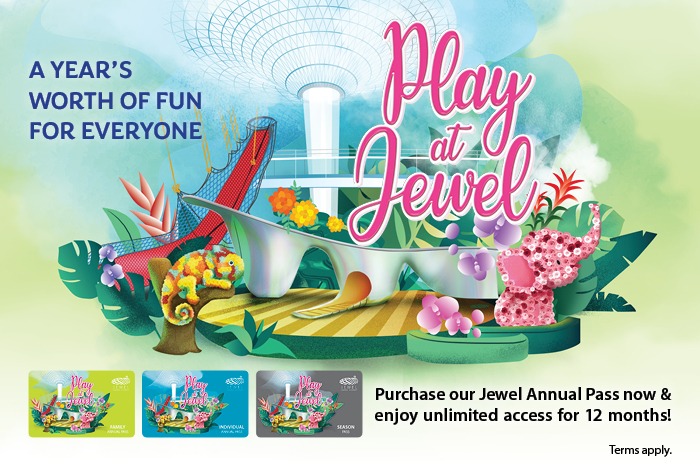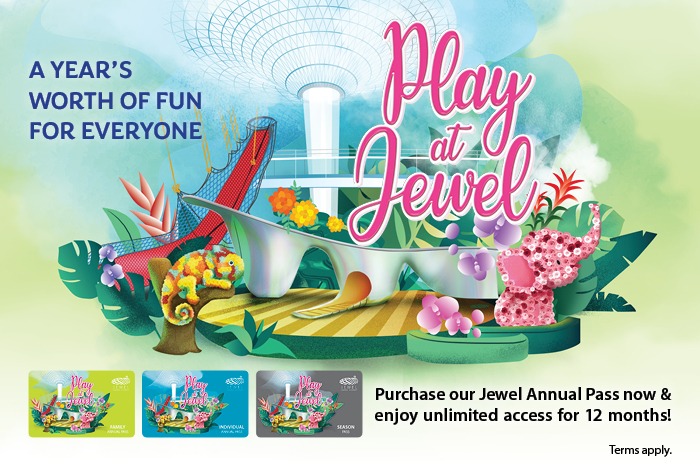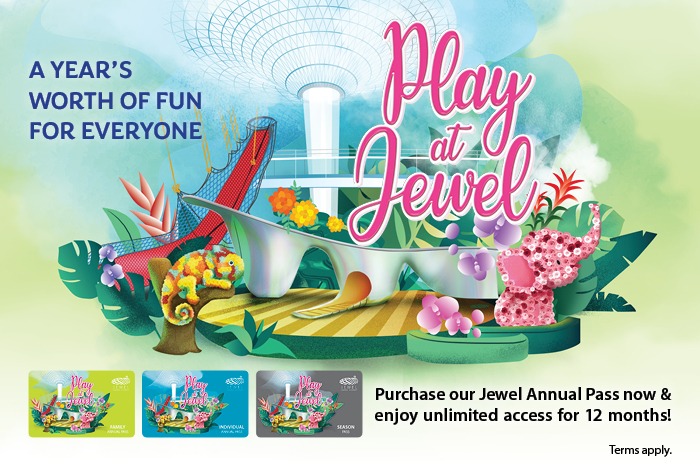 Play-at-Jewel annual pass aims to reward visitors with attractive bundles to Jewel's play attractions
Jewel's play attractions at Canopy Park continue to appeal to visitors across all ages and segments, from families with children to young adults and seniors, with its 'timeless play' and plenty of walking and jumping for a fun-filled time. To engage and attract repeat local visitorship, Jewel offers a Play-at-Jewel membership programme, offering members one year's worth of fun, with access to play attractions, including unlimited admission to Canopy Park, Canopy Bridge, Hedge Maze, and more as well as exclusive shopping and dining discounts all year round. Visitors can choose from different types of membership such as families, individual adults, children and seniors. For companies looking to reward their employees, the Play-at-Jewel membership also offers corporate packages.
Collaboration with tenants & year-round shopping campaigns
Jewel collaborates very closely with its tenants to offer deals and discounts for festive celebrations, the holidays as well as regularly markets numerous shopping and dining campaigns throughout the year.  To promote visitorship during weekdays, Jewel launched the inaugural 'WOW – Win on Weekdays' promotion in February 2022 where three iPhones were given out daily (Mondays to Thursdays) for four weeks. Shoppers earn a chance to win for every S$50 spend. The first instalment saw more than 32,000 entries, with 48 Jewel shoppers walking away with the latest iPhone 13 Pro model. Given the success of the promotion, Jewel partnered Mastercard to launch the second instalment of the WOW – Win on Weekdays promotion which runs from 9 May to 2 June 2022 where three pairs of Singapore Airlines Economy Class tickets will be won daily, a different popular destination each week!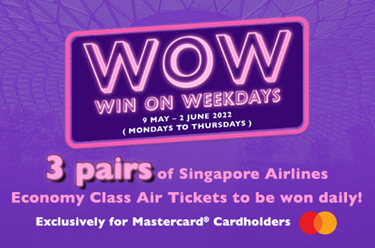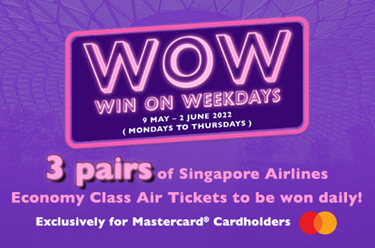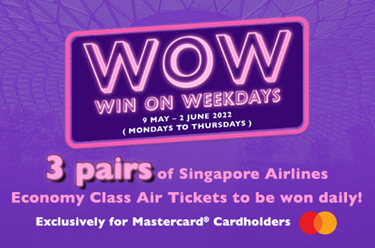 Jewel's Win on Weekdays (WOW) shopping promotion aims to drive weekday sales
Nigel Chia, Head of Corporate & Marketing Communications, Jewel Changi Airport Development said, "Visitors are not just a numbers game to us.  We aim to build greater connection and affinity with the different guest profiles and to add value for their time spent here in Jewel through the various membership programmes and retail promotions throughout the year. At the same time, these programmes are among the efforts that we, as a mall operator, put in to attract and grow footfall to Jewel so as to drive uptick in sales for our tenant partners. There will always be new and novel experiences, and with the programmes that we have, these will certainly add a sparkling and refreshing Jewel experience for visitors whether they are visiting for the first time or repeat visits. It's a win-win situation for all".