A jewellery collection celebrating ten years of Kinetic Rain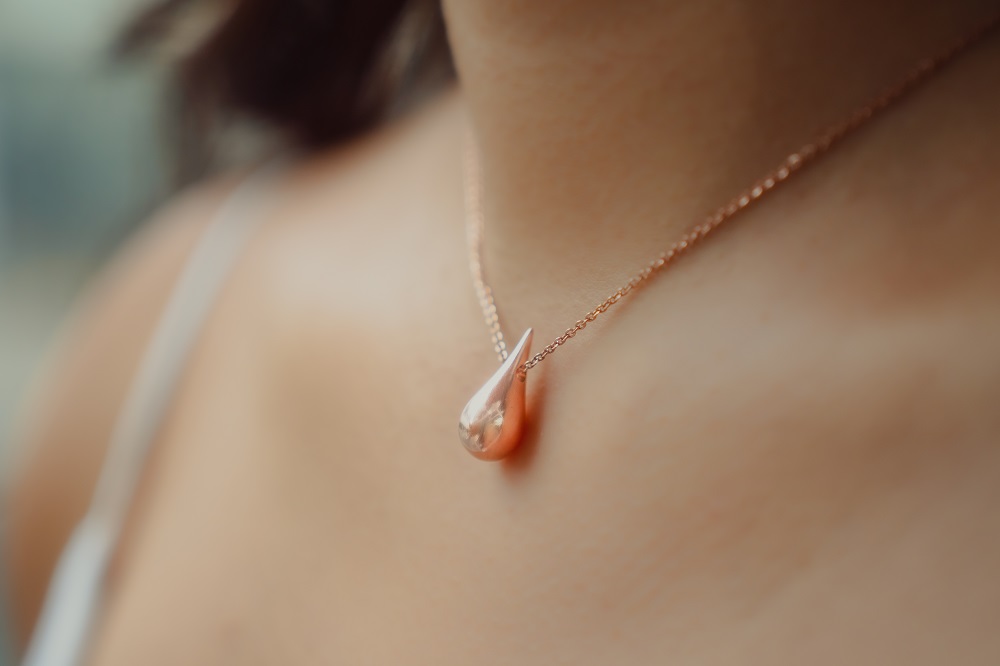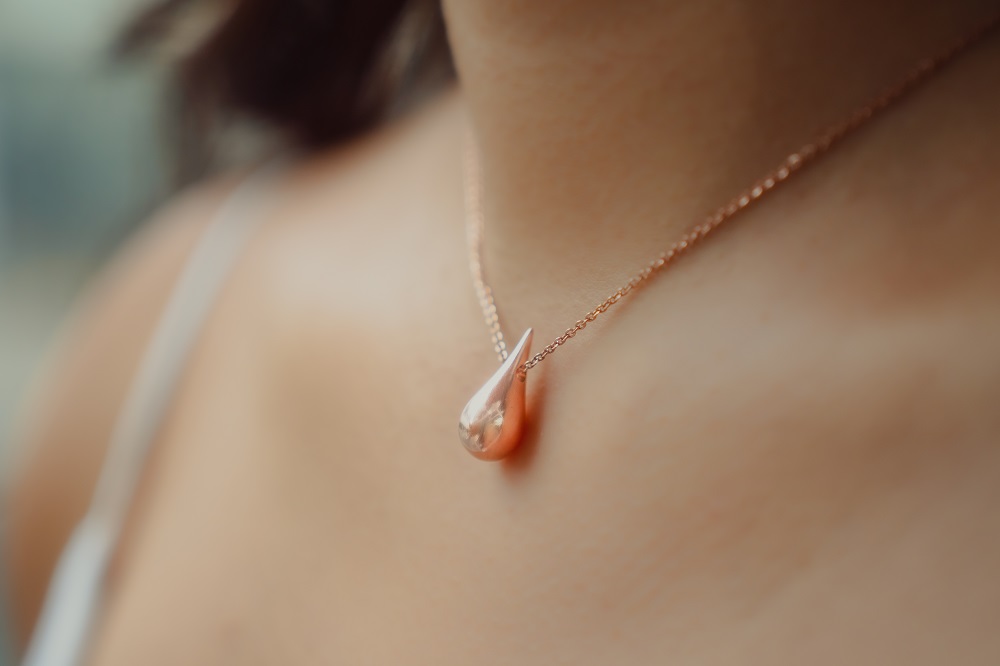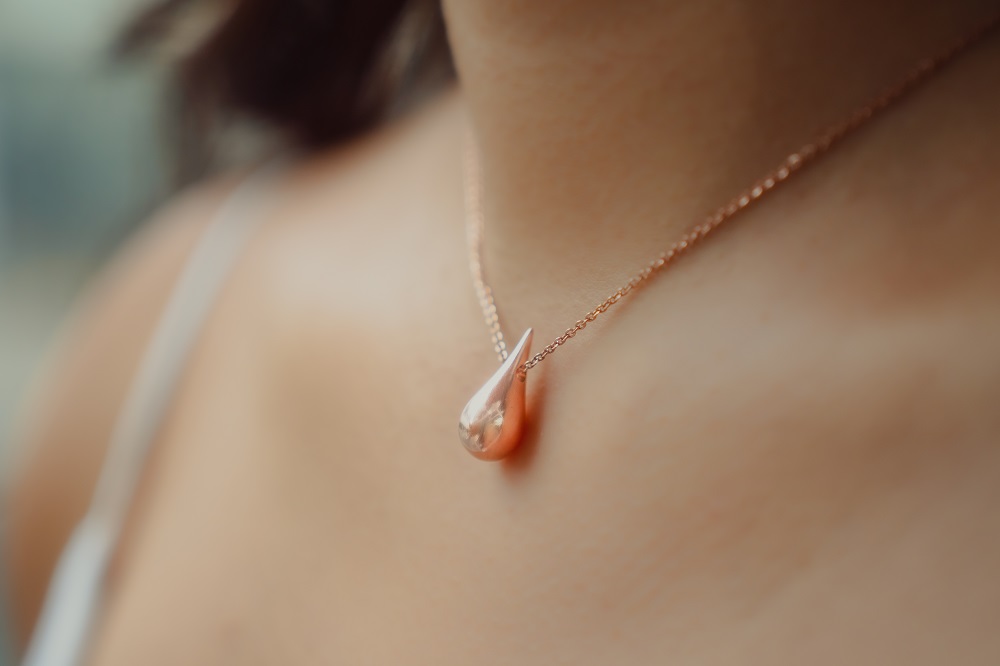 With its serene and graceful movements, the Kinetic Rain sculpture at Changi Airport's Terminal 1 has captivated travellers since 2012. This year, in commemoration of the tenth anniversary of this mesmerising art piece, GIFT by Changi Airport, Changi Airport Group (CAG)'s own retail brand, has launched a capsule collection of Kinetic Rain-inspired jewellery, which captures the beauty of the unique art installation in the form of exquisite wearable art.
The iconic Kinetic Rain droplet is the stunning centrepiece of three rose gold designer pieces in this limited edition jewellery collection comprising a pendant necklace, earrings and pin - each one as elegant and exquisite as the original installation. This exclusive, one-of-a-kind jewellery collection is produced and co-designed by GIFT by Changi Airport in partnership with award-winning local artist and designer Alvin Tan of PHUNK art collective.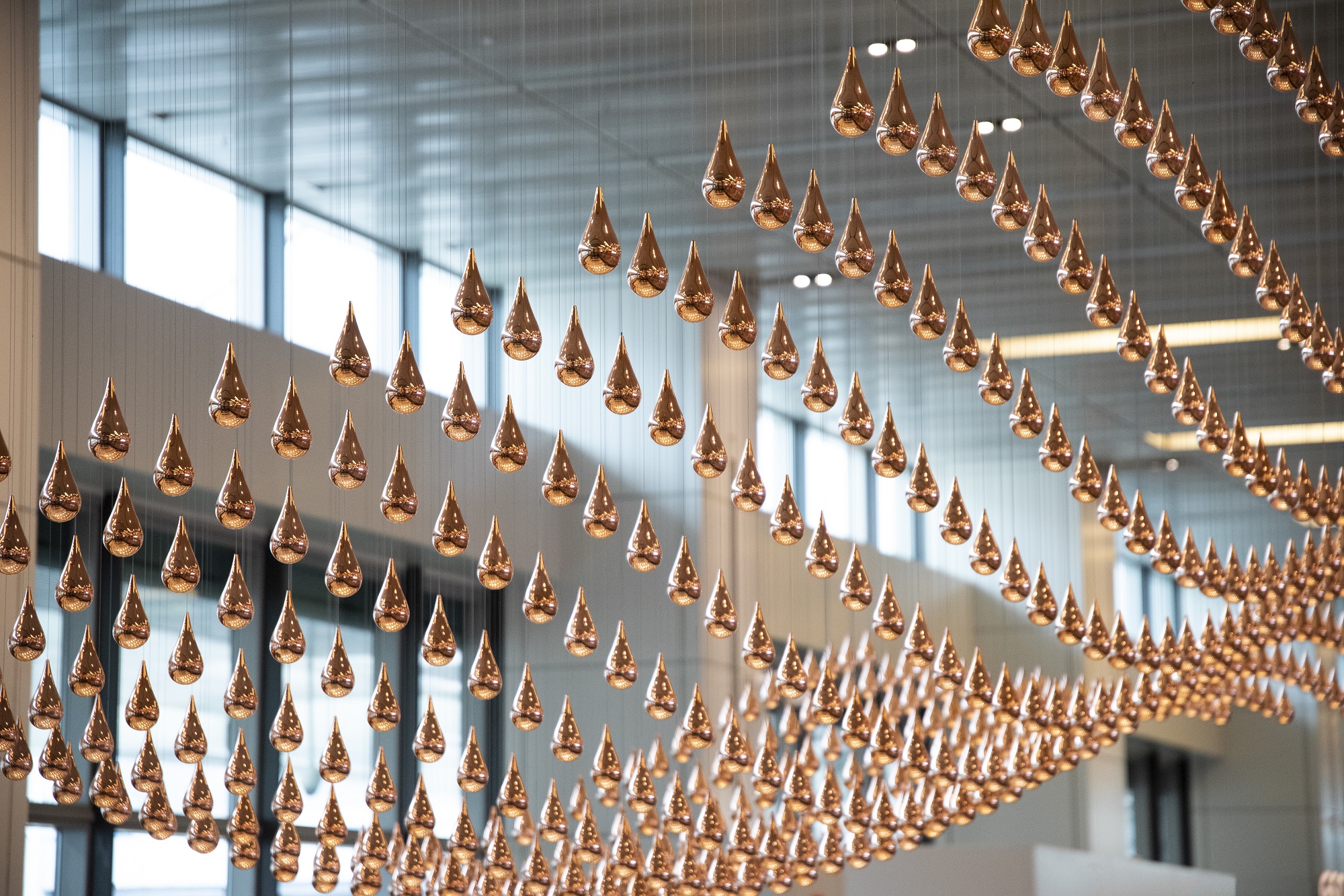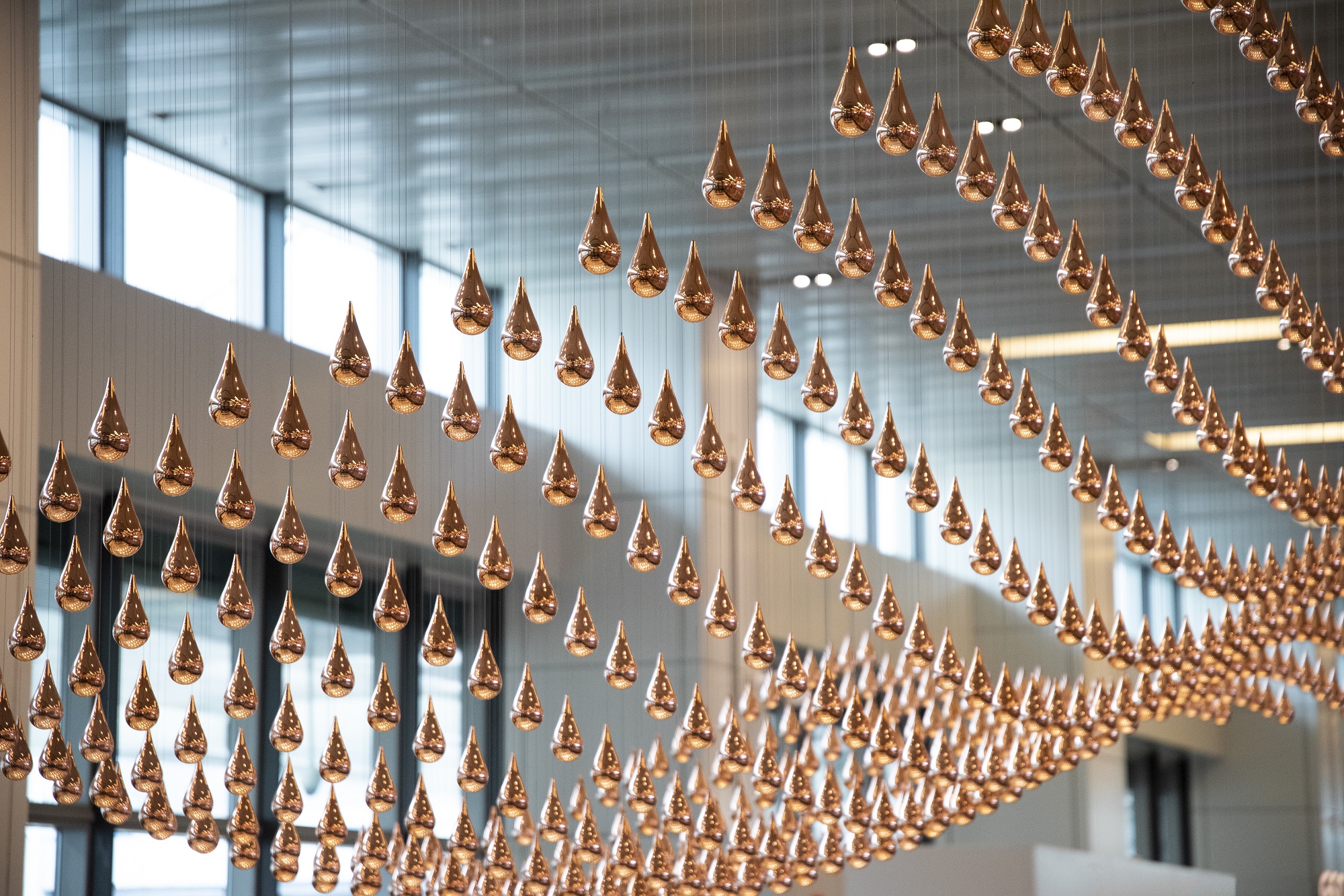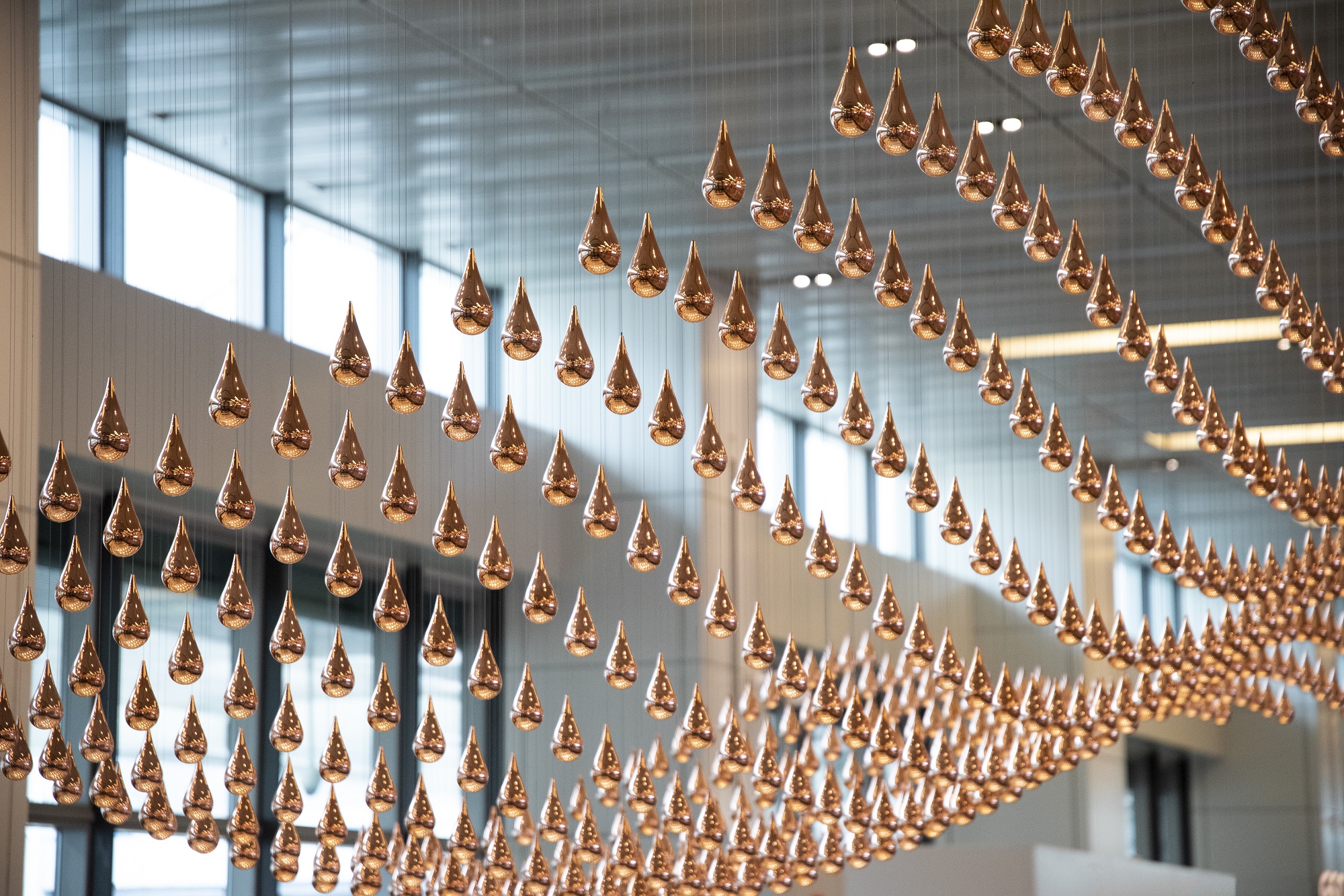 The stunning Kinetic Rain sculpture in Terminal 1
A symbol of beauty, flight and harmony, Kinetic Rain is a pair of kinetic art installations made of 1,216 copper-plated rain drops, each of which is connected by a steel wire to a hidden motor above. These droplets have been carefully programmed to form 16 different shapes, ranging from the abstract to the familiar – the latter including nods to aviation like an aeroplane and a hot air balloon. Kinetic Rain was unveiled in July 2012, and has been delighting passengers, visitors and members of the airport community ever since.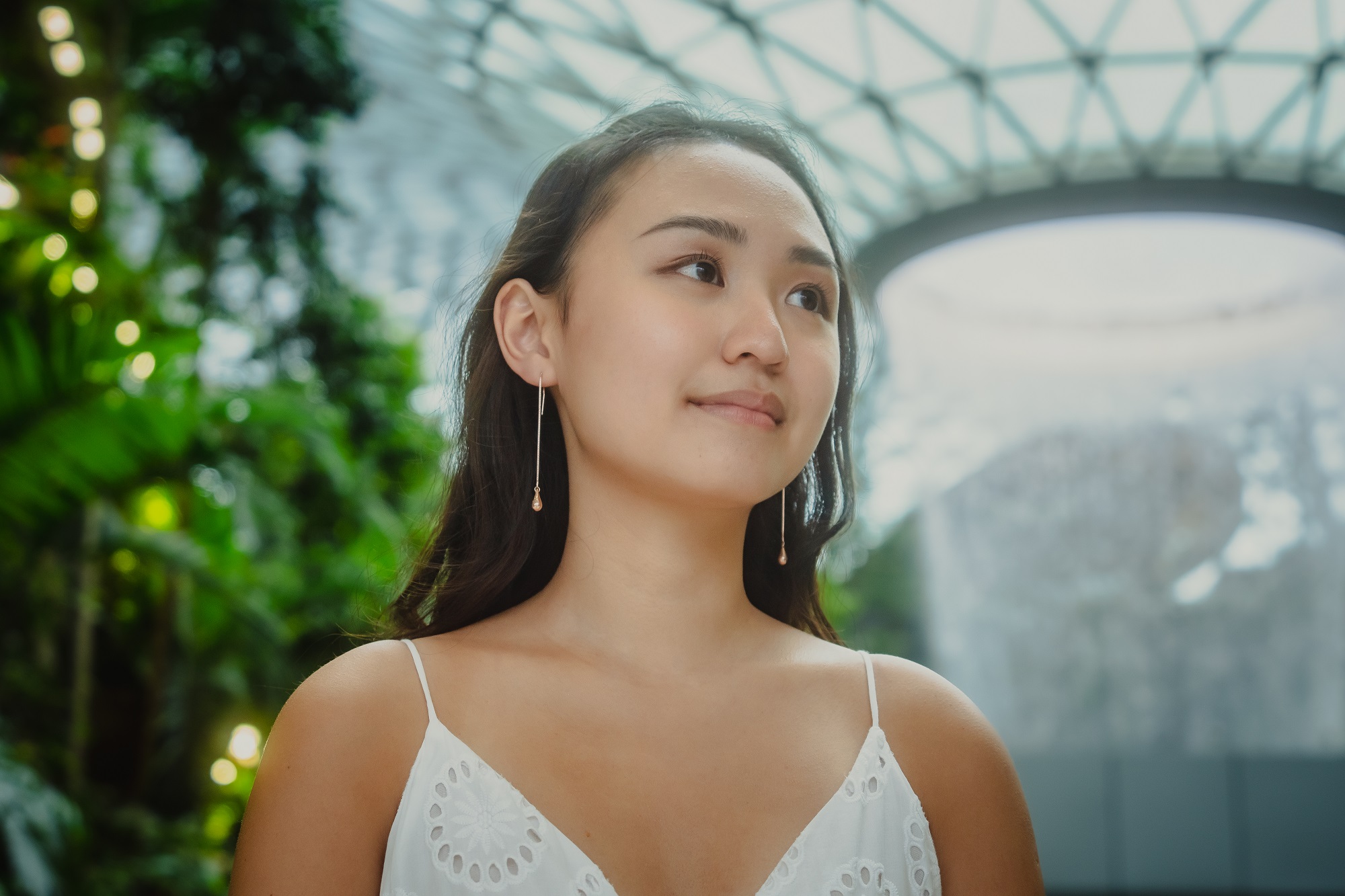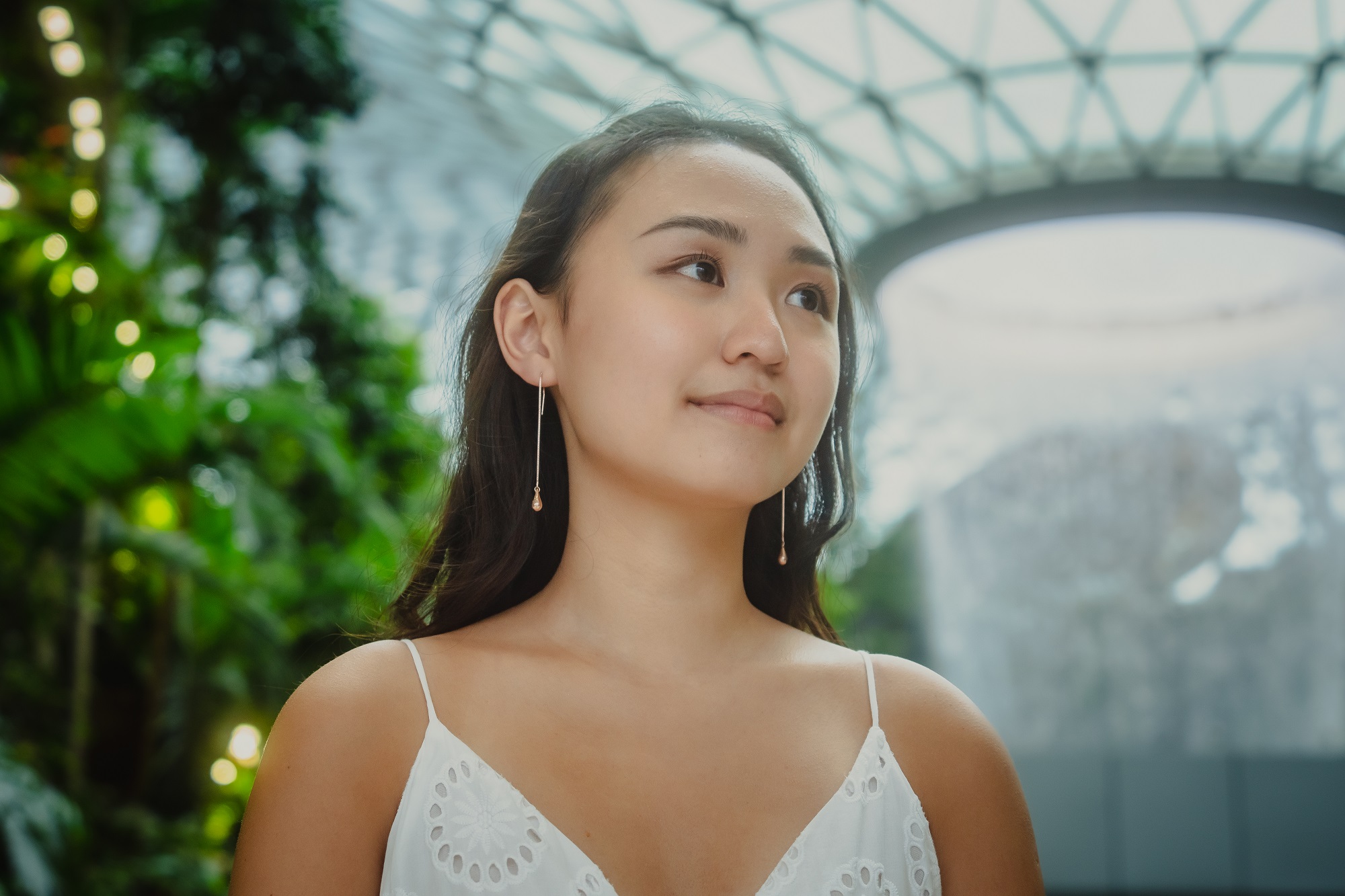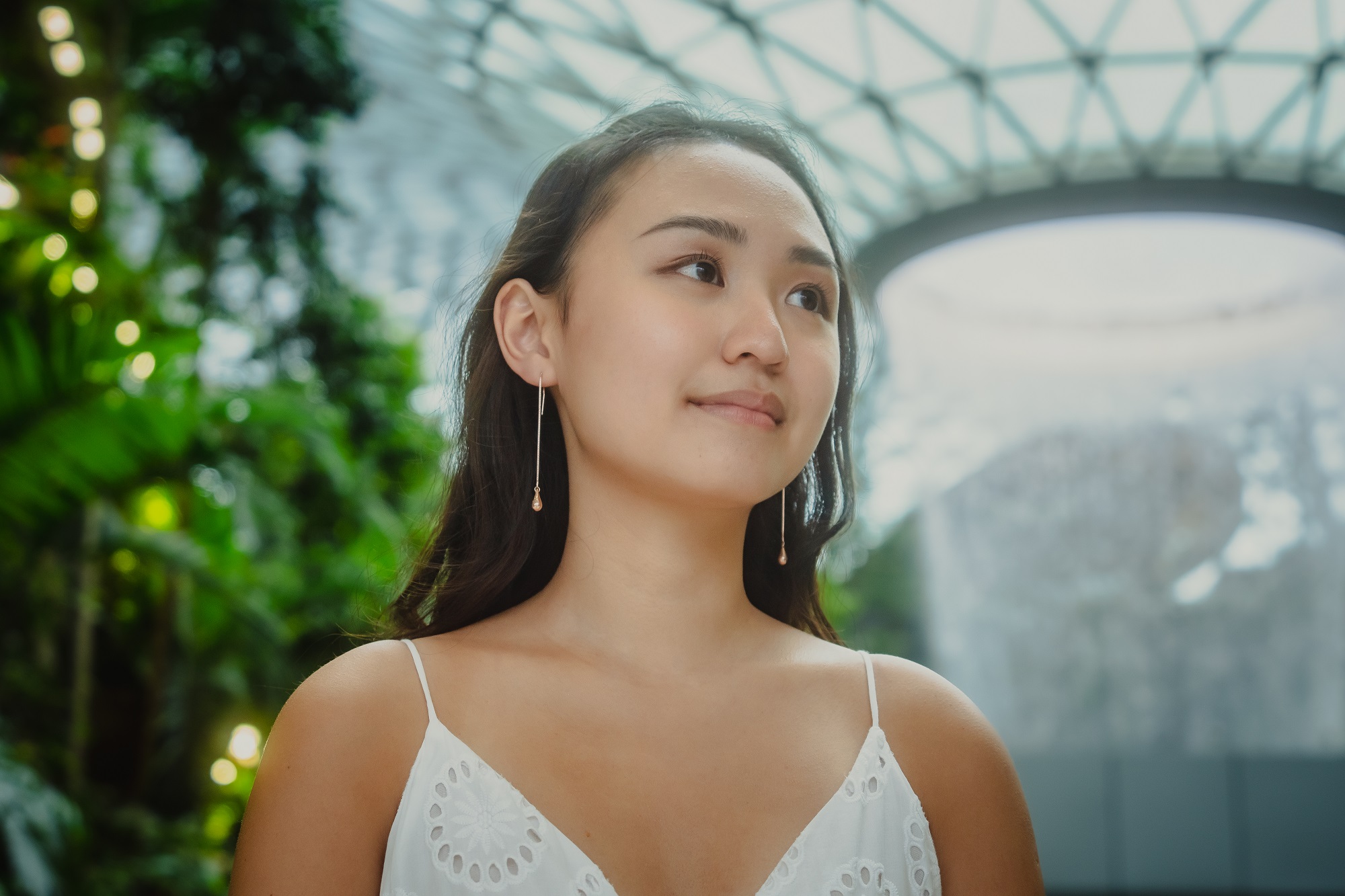 Kinetic Rain earrings, one of the jewellery pieces available in the three-piece collection
Like the sculpture that inspired it, the Kinetic Rain jewellery collection is a combination of artistic design and modern technology. President's Design Award-winner Alvin Tan worked with 3D artist Wu Shi Min to design each piece of the collection using 3D-printing technology, replicating the beautiful Kinetic Rain droplet in perfect form.

With the aid of a traditional jewellery artisan, the prototypes of the iconic rain droplets were 3D printed and cast into moulds, which were then used to produce the jewellery in sterling silver. Each piece in the collection is then rose-gold plated and polished to achieve the perfect sheen of the actual Kinetic Rain drop, capturing the full beauty and elegance of the original. This artisanal method of jewellery crafting is one of the first of its kind in Singapore.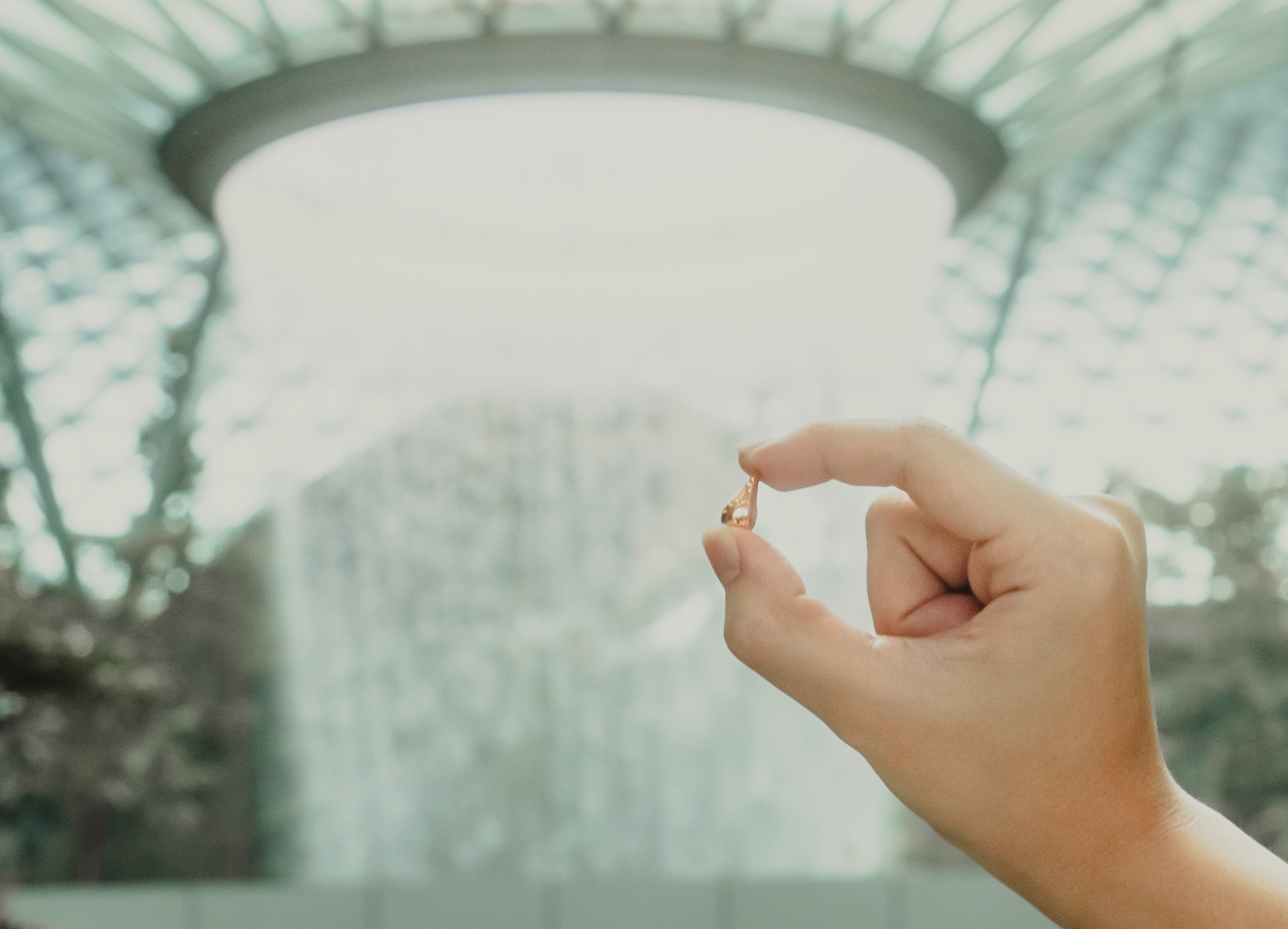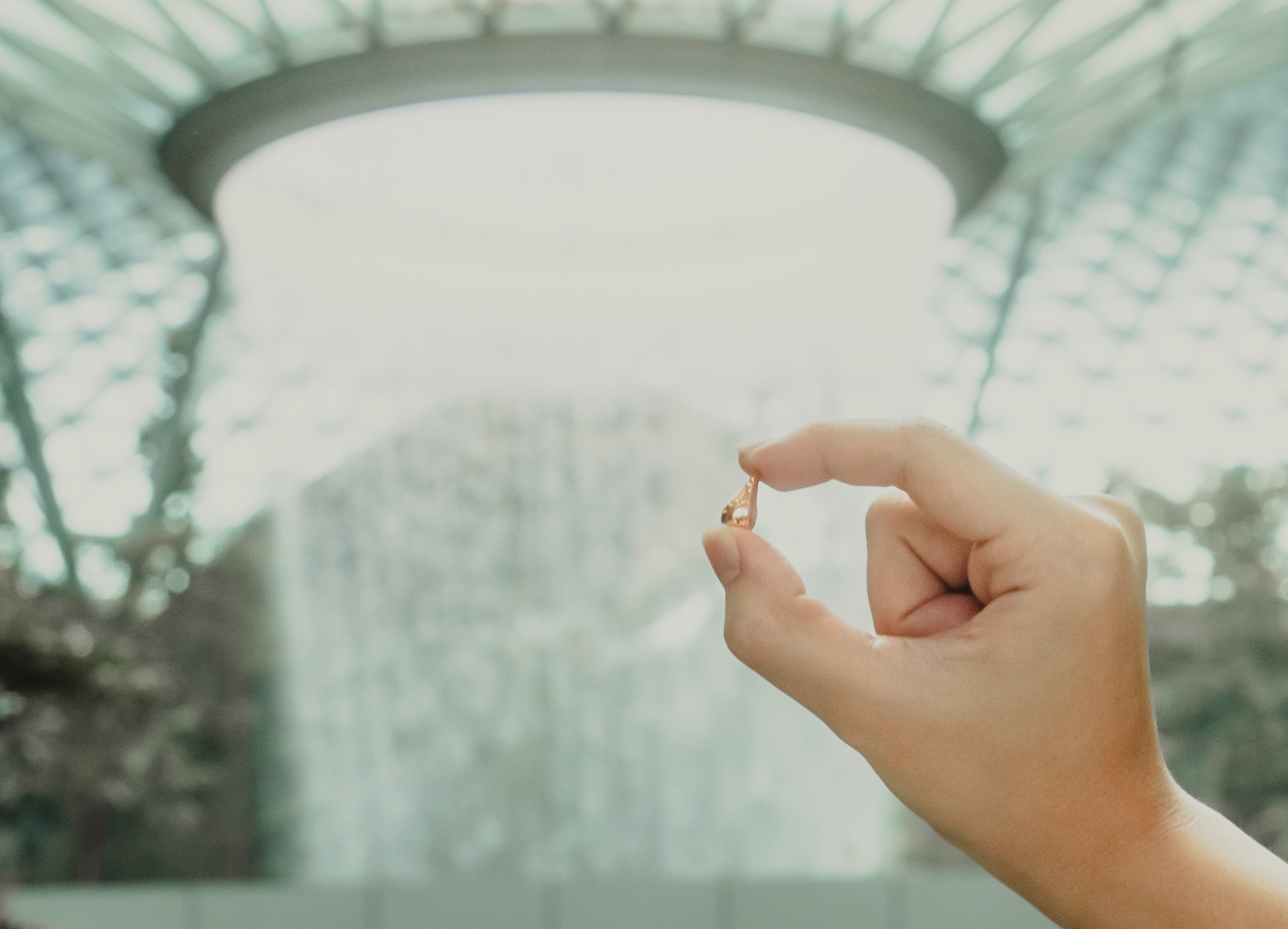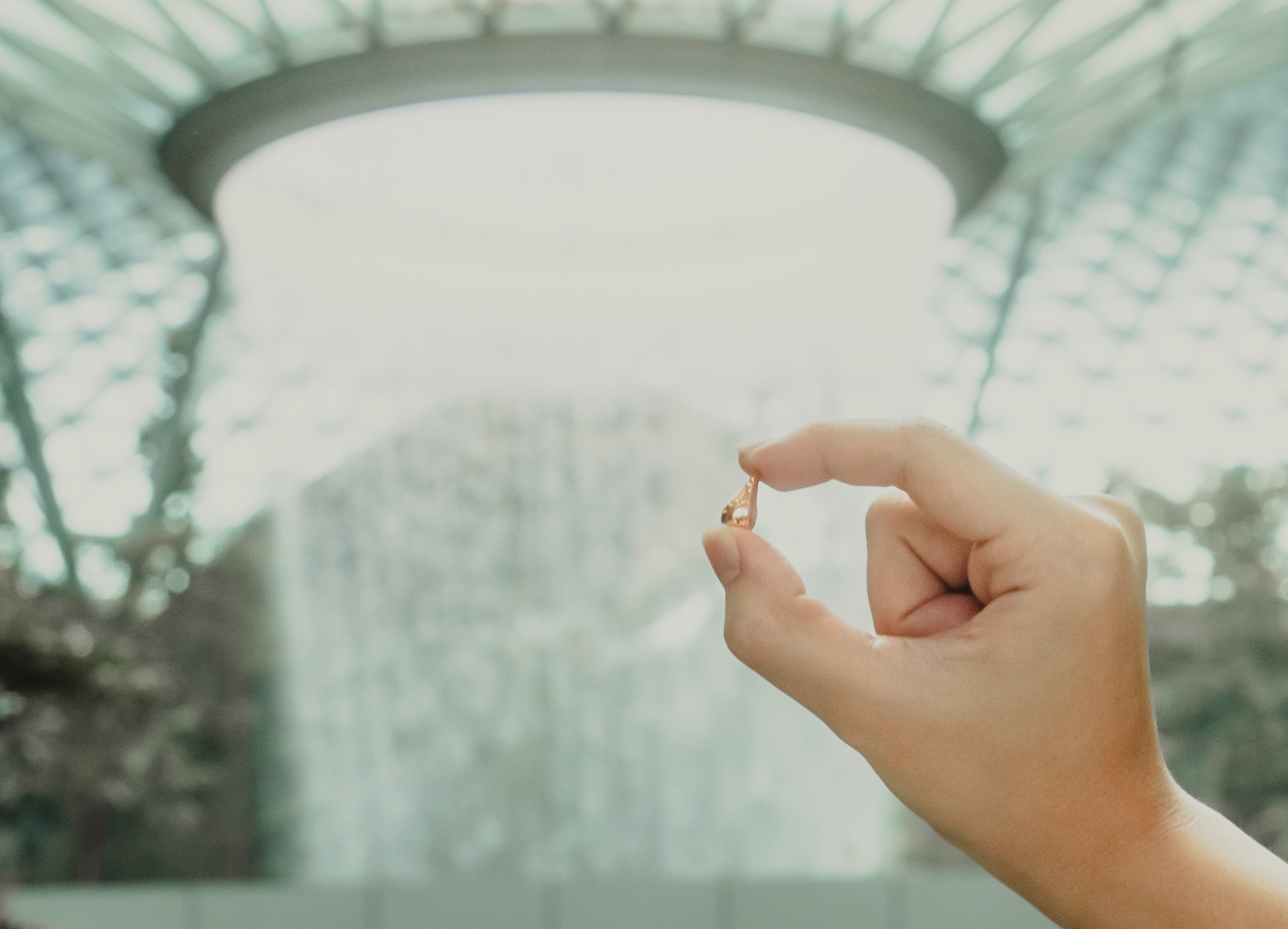 One of the three jewellery pieces available in the set - Kinetic Rain collar pin
Daniel Foo, senior manager at CAG's Design Management team, who worked closely with the artists on the creation of this capsule collection, said, "We're excited to be able to celebrate ten years of Kinetic Rain enchanting our passengers and visitors with this jewellery collection. Over the years, we have received so much feedback from passengers expressing their love and awe for this captivating art installation. This collection is lovingly curated and refined painstakingly till perfection to re-create the true beauty of the iconic rain droplet, and we are very proud of how stunning the outcome is - even better than we had originally imagined! This unique series of wearable art allows one to literally bring home one of the most beautiful and beloved pieces of artwork ever displayed at Changi Airport." 

For fans of artisan jewellery, this collection might only be the start of Changi's jewellery collection - CAG is also exploring the creation of more unique wearable art pieces using other installations and icons of Changi Airport.
From 19 July 2022, members of the public will be able to purchase the limited-edition Kinetic Rain capsule collection at the Gift by Changi Airport store at Level 4 of Jewel Changi Airport, or on iShopChangi.com at https://bit.ly/GiftKineticRain