Maintaining the Petalclouds' Charm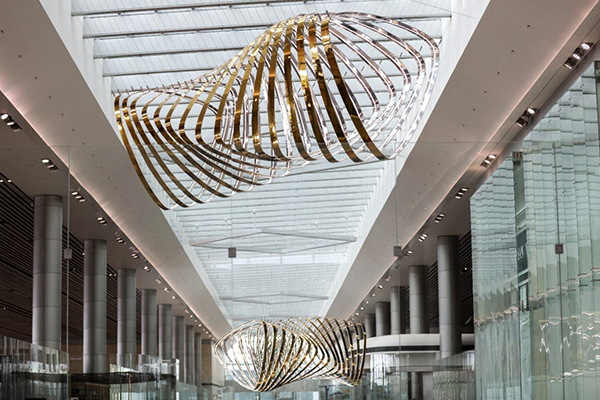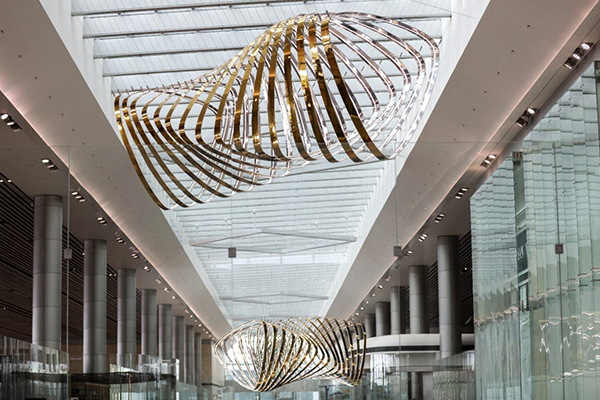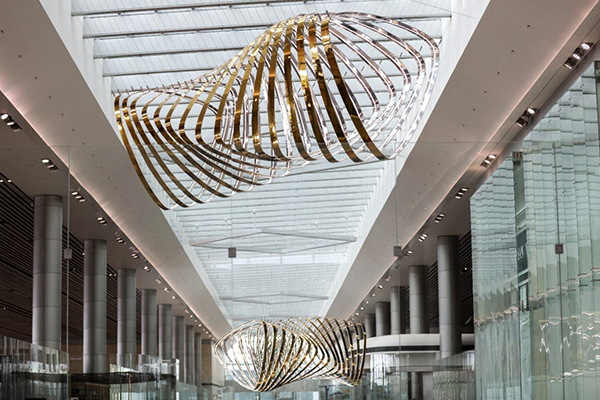 Visitors stepping into Changi Airport's Terminal 4 (T4) would not miss its newest kinetic sculpture – the Petalclouds. Designed to be T4's centerpiece feature, the Petalclouds bring together the union of art, music, and science on a grand scale, to deliver a captivating theatrical experience. The art piece is developed by Berlin-based studio ART+COM, the same creators of the Kinetic Rain in Terminal 1.
Suspended 200 metres across the Central Galleria, the art piece consists of six clouds, each with 16 individual petal elements. Choreographing the petals' movement with animated lighting, and synchronising this with specially composed music, the Petalclouds truly create a mesmerising experience for T4's visitors and passengers alike. While passengers are enthralled by its movements, many may not fully appreciate the complexity involved in maintaining this art piece.
With an art piece so complicated and consisting of many different components, its maintenance takes days to complete. This results in an impact on airport operations, so the maintenance schedule has to be planned well in advance. To give a sense of the complexity involved, each individual petal element is suspended using four specially designed cables, which means that the art pieces' movement is controlled by a total of 384 cables and 192 winches. In addition, other parts of the art piece, such as motors, oscillators and LED lights, need to be maintained as well.
Major maintenance sessions are scheduled twice a year. As the Petalclouds need to be lowered to the arrival hall level for inspection, these sessions are typically scheduled at night - during the lull period. "We have to communicate the maintenance dates in advance to all relevant airport partners, as it involves closing off the baggage claim belt directly under the cloud of petal elements undergoing maintenance," says Kenny Lim, senior associate with CAG's Integrated Facilities Management team. "The fire alarm system in that particular section of the building also has to be isolated, so that it will not be triggered by accident," Kenny adds.
The race for time starts from the very first night of the maintenance session, as the engineers have a short window of time from 12 midnight to 6am, to complete all the required servicing works. The process is repeated each night, until the full set of six clouds have been serviced.
Engineer from Germany checking the LED lights in a petal element
In such an intricate art piece, the accompanying software which controls the hardwares' movement is just as critical. Hence, software checks and upgrades are also carried out during the major maintenance sessions. The care and focus given during these sessions ensure that the Petalclouds continue to captivate its audiences.
Afternote: In August 2019, Petalclouds won the People's Choice Award, as well as a Merit win in the Transportation category of the CODAaward, which recognise collaborations that result in outstanding projects which successfully integrate commissioned art into interior, architectural, or public spaces.