The design inspiration behind the newly revamped T2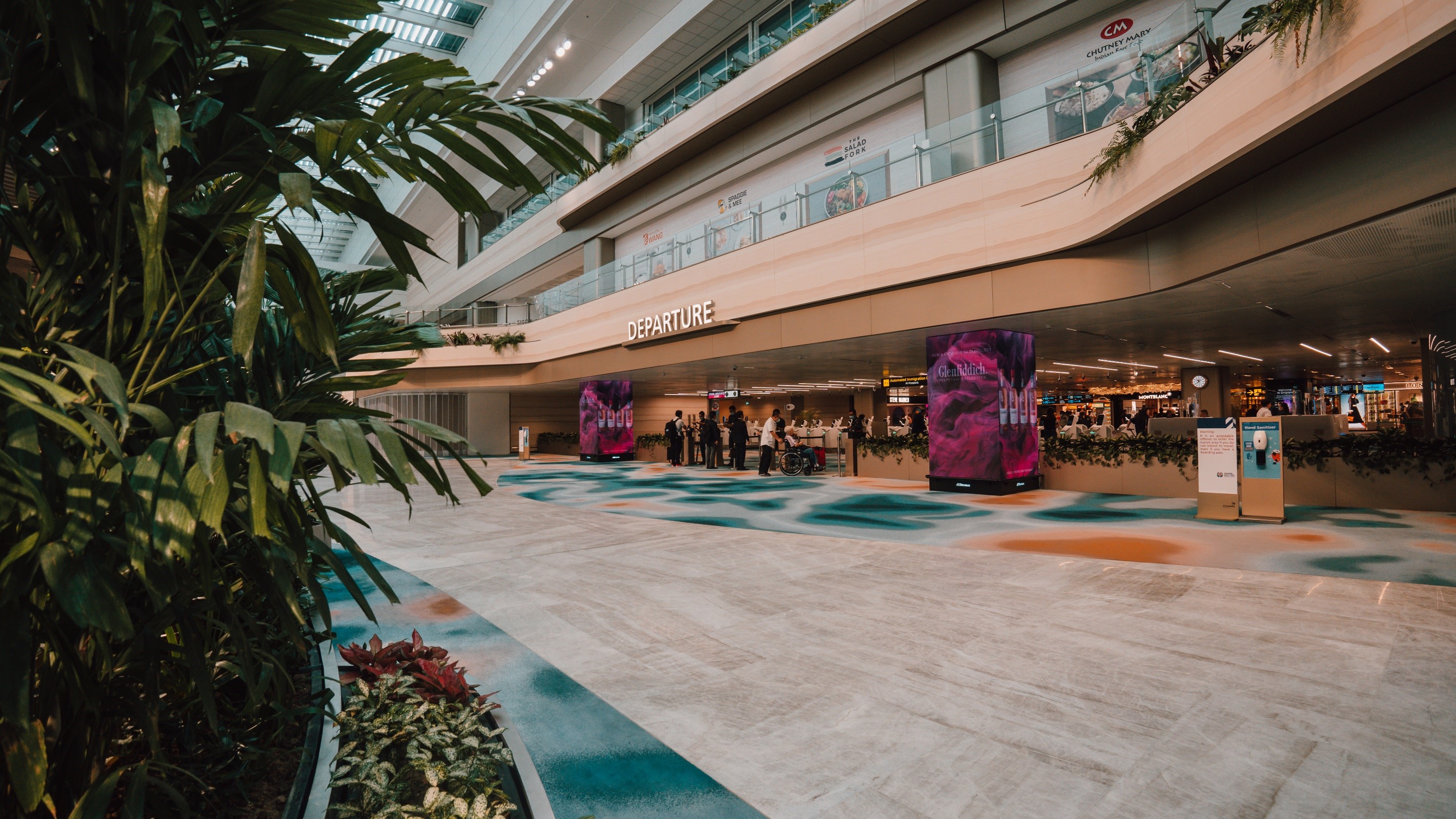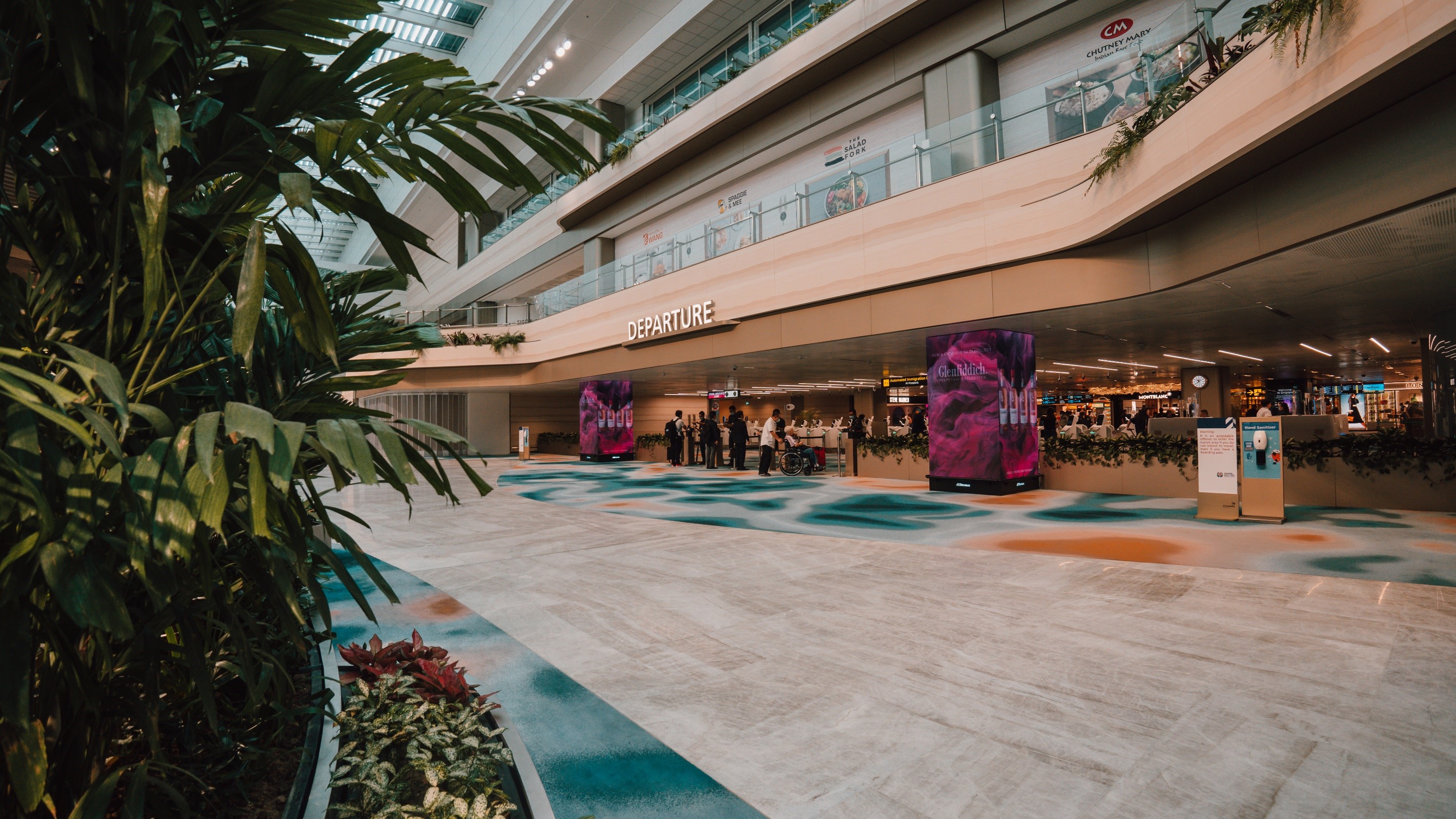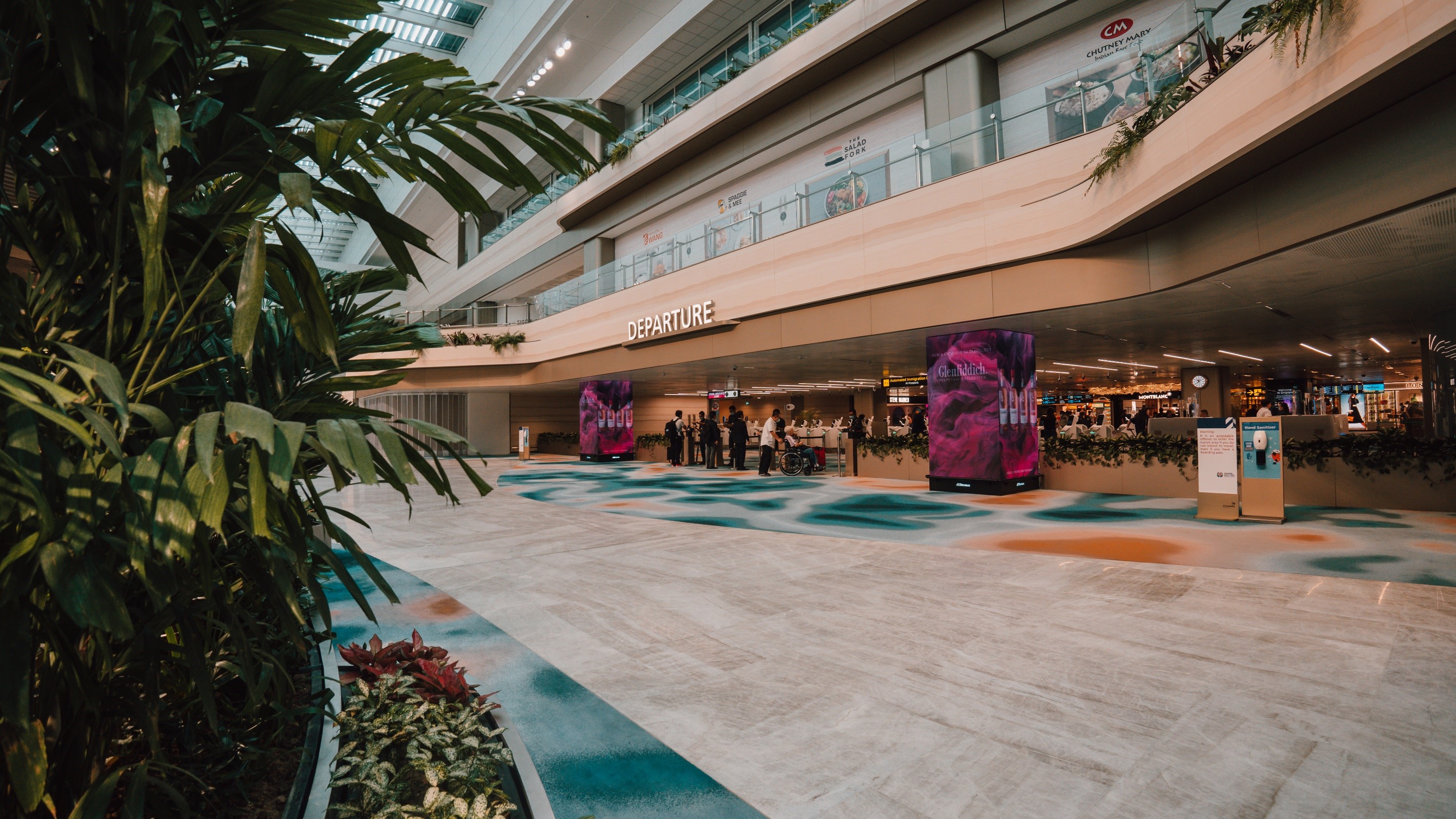 Changi Airport's Terminal 2 (T2) commenced departure operations on 11 October 2022, following the resumption of arrival operations at the terminal in May this year. This reopening marks Changi's progressive return to four-terminal operations in the latest step to support travel recovery.
Changi Airport Group's Design Management team worked closely with BOIFFILS Architectures (BA) for the renovation and expansion of T2.
Ong Sim Lian, Group Senior Vice President of Design Management, shared, "When we drew up the brief for T2's revamp, we wanted to set a new benchmark which could merge the functionality of an airport terminal with aesthetics and a human-centric design. The end result should be a space where passengers can create memories and have positively surprising moments."
Changi Journeys (CJs) caught up with Basile Boiffils from BOIFFILS Architectures (BA) to find out more about the design process.
CJs: What is the design inspiration behind the newly revamped Terminal 2?
BA: Going through an airport is the first step when travelling and it can be either a stressful or pleasant experience. When we started to design the expansion of T2, we wanted to create a multi-sensory experience evoking peace, calm and pleasure.
We were inspired by all the forms of nature, from vegetation, topography, geology, minerals and their textures, to ponds, streams, currents, water reflections. All those drove us to create spaces and shapes which blur the boundaries between architecture and landscape.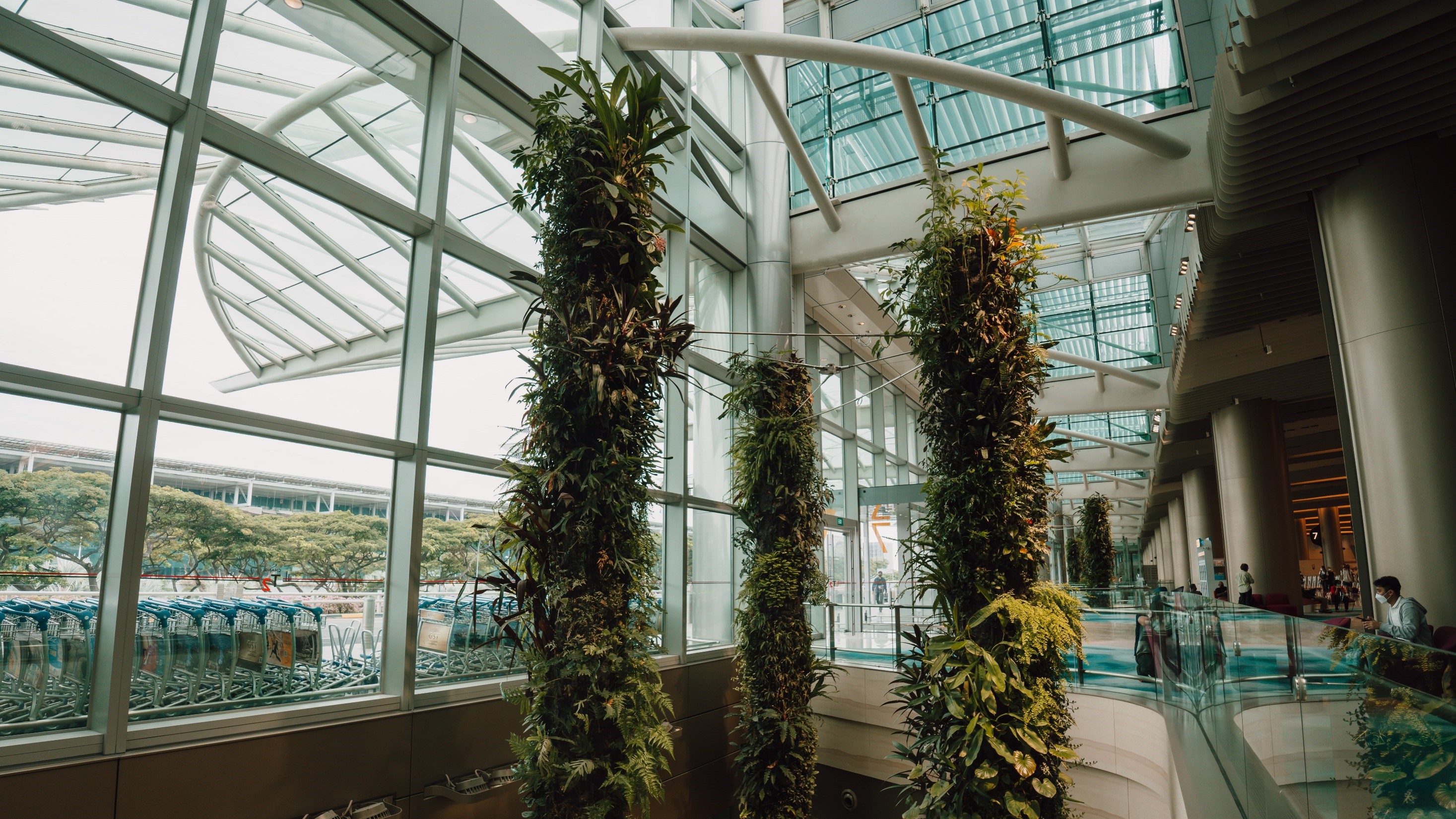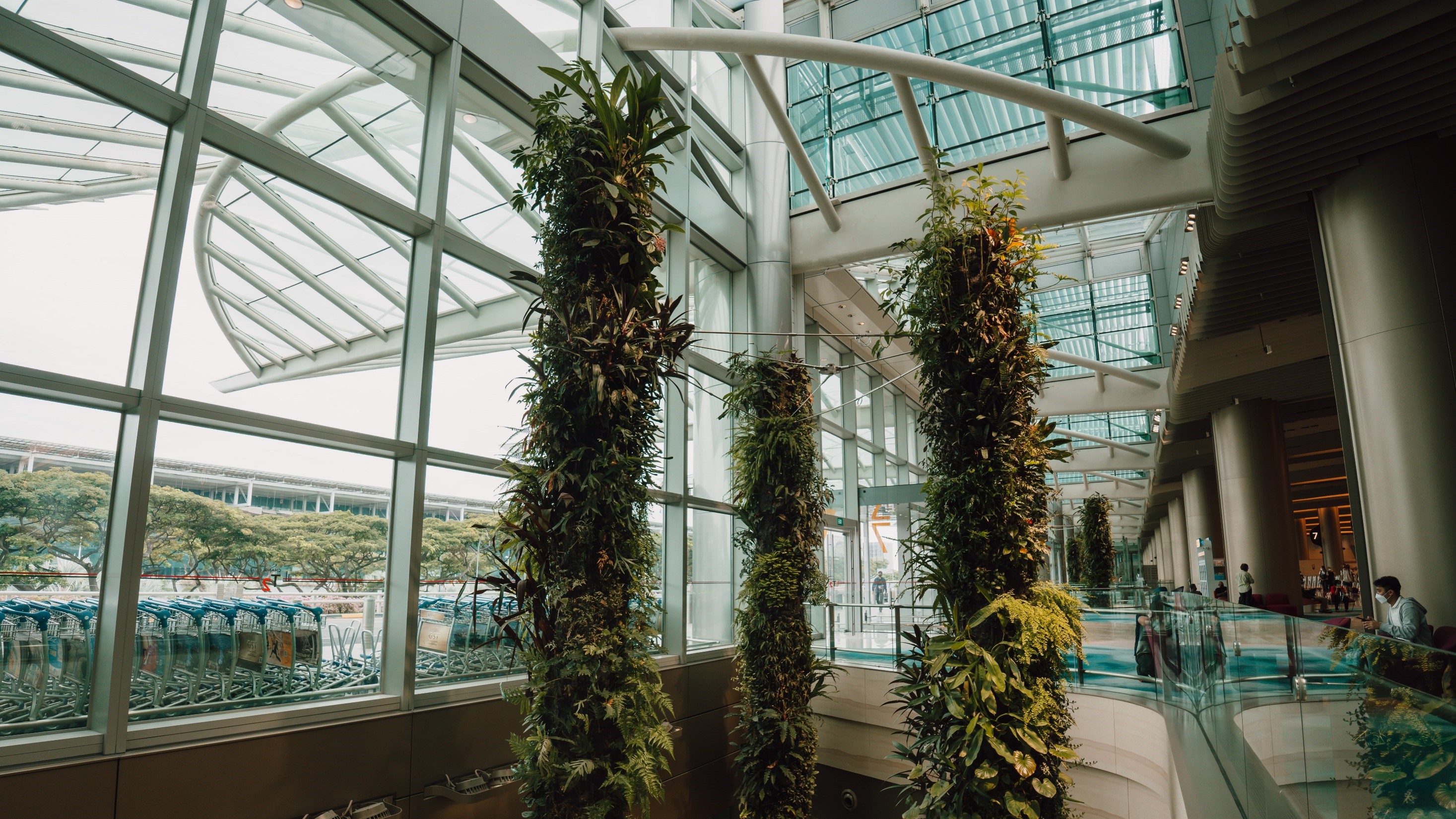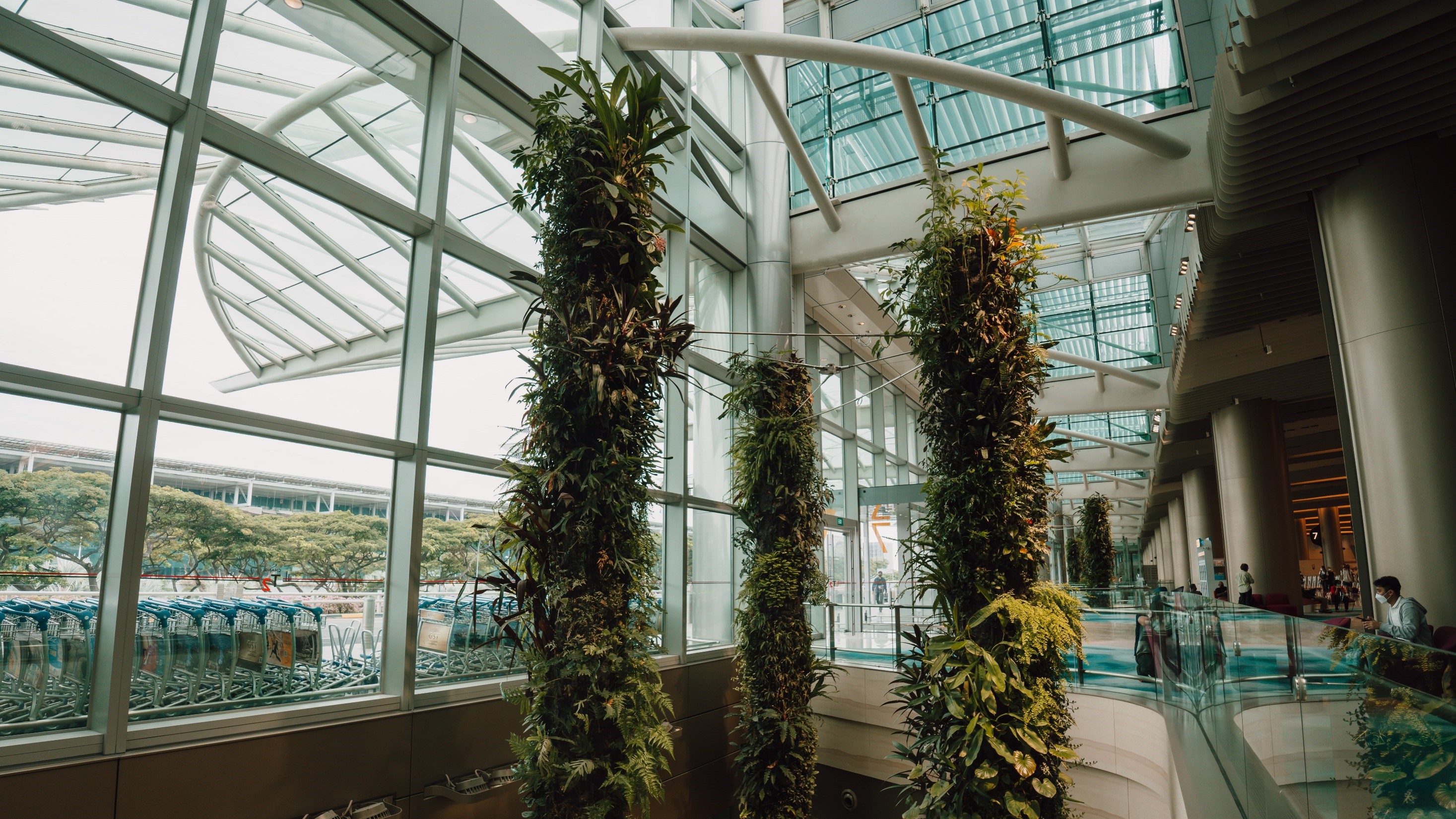 The terminal was imagined as a journey across an indoor landscape. The journey through the terminal brings passengers across natural elements of minerals, water, and lush greenery in various forms and densities.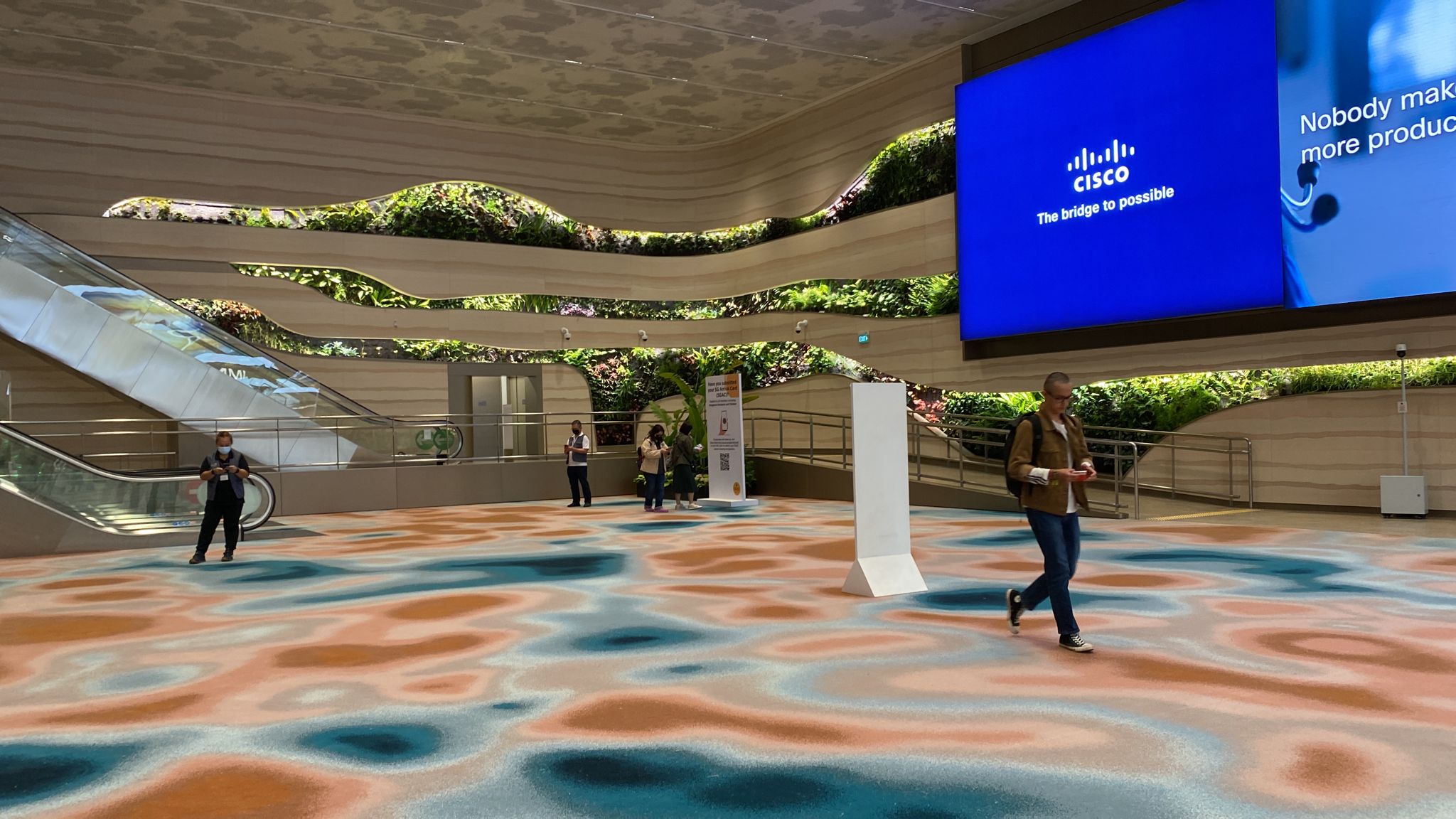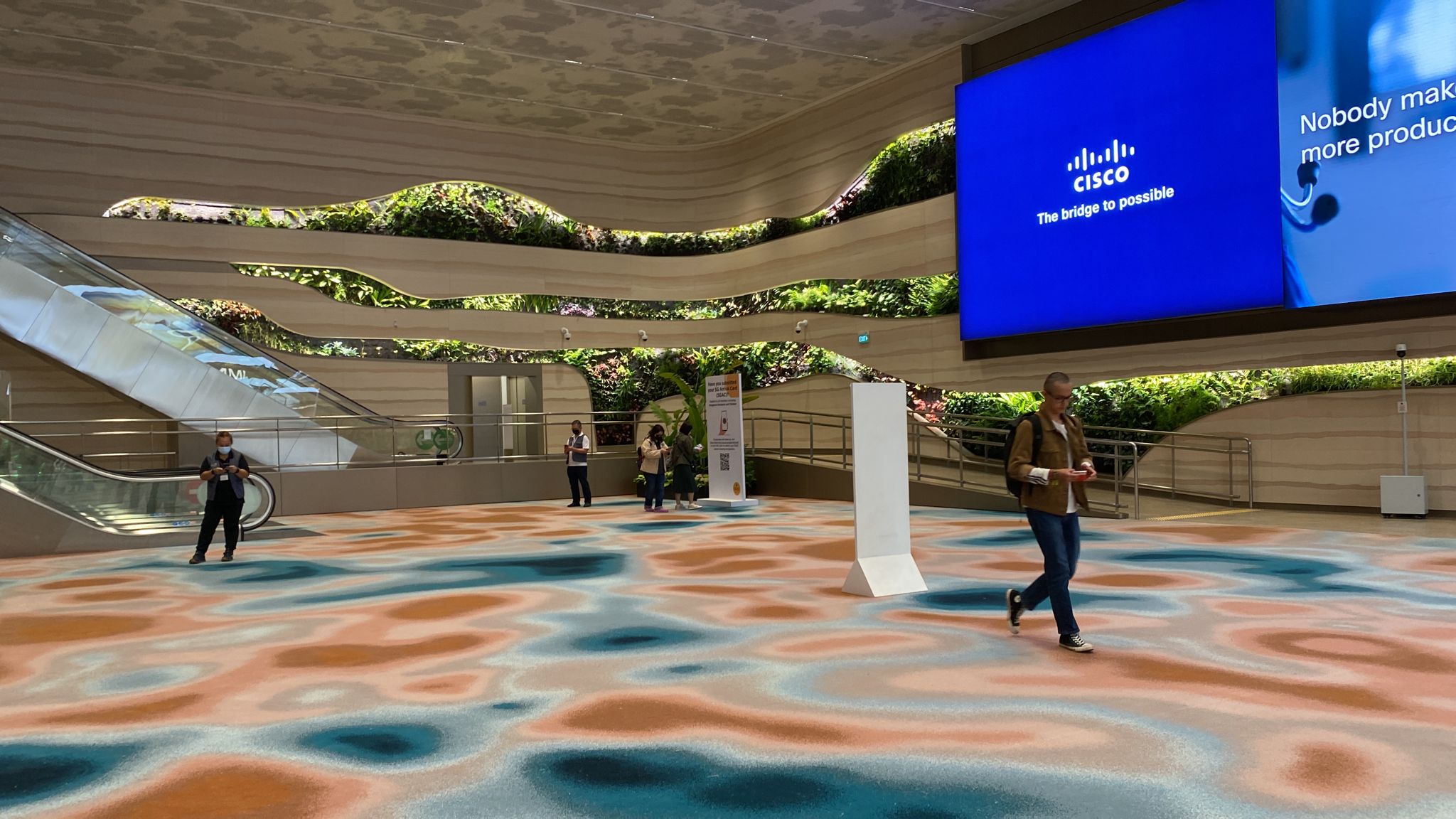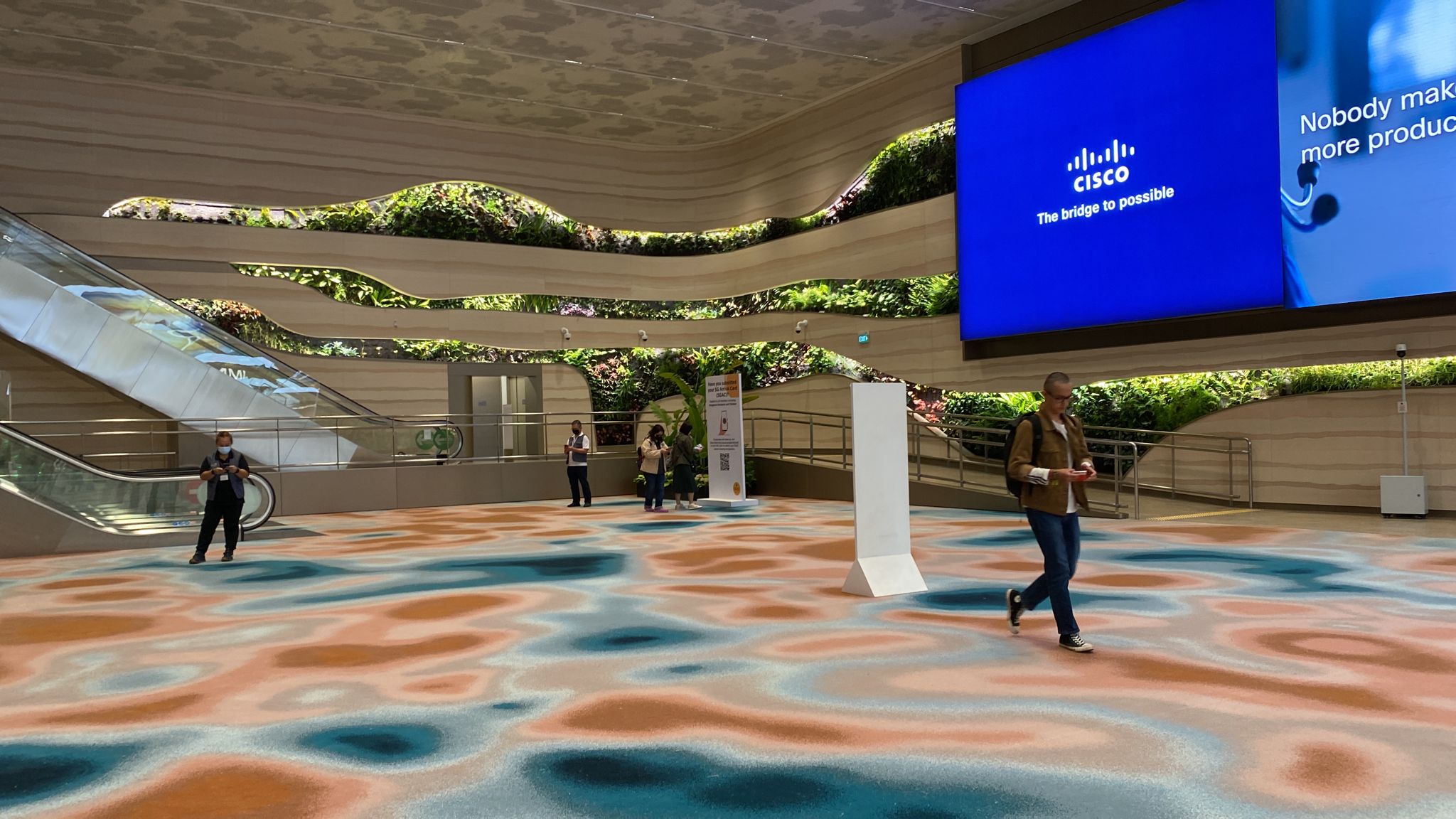 The space was envisioned to look like it was carved into the rock with the walls as layers of earth and sand. These different coloured and textured lines are representative of the sedimentary layers of the earth where lush greenery grows.
Taking a flight or spending time in the sky happens in confined environment. Once passengers land and reconnect with the ground, we hope that through the calming effect of nature, where wide spaces and fluent continuous curves envelopes passengers in a cocoon of tranquility prepares them to continue on their transit or arrival journey at T2.
To humanise the airport experience is also to reconnect with others. Here, spaces are treated with similar design philosophies as would a hotel lobby. A welcoming, boutique and personal check-in feeling is created with the use of rich earth tones, unique materials and high-technological features.
Checking in and boarding is often a succession of different stages and processes, we wanted to ease the process and make it smoother. To facilitate the transitions, continuous and organic lines were used to offer clear views from one space to another, from one step to the next. There is a common architectural language to all spaces. The palette of material used, inspired by nature, reassures travellers.
CJs: What are aspects of Terminal 2's design that you are particularly proud of?
BA: For this project, we wanted to 'humanise' and 'romanticise' the experience of a facility which is quite often driven by pure efficiency. Typically for this type of infrastructure, the constructions material and other elements come from an industralised process. We wanted to move away from the traditional grey and white to a more natural association of colours, patterns and textures.
Many of the materials used for this project are unusual for this type of project and have been specially and uniquely created for Changi. These include: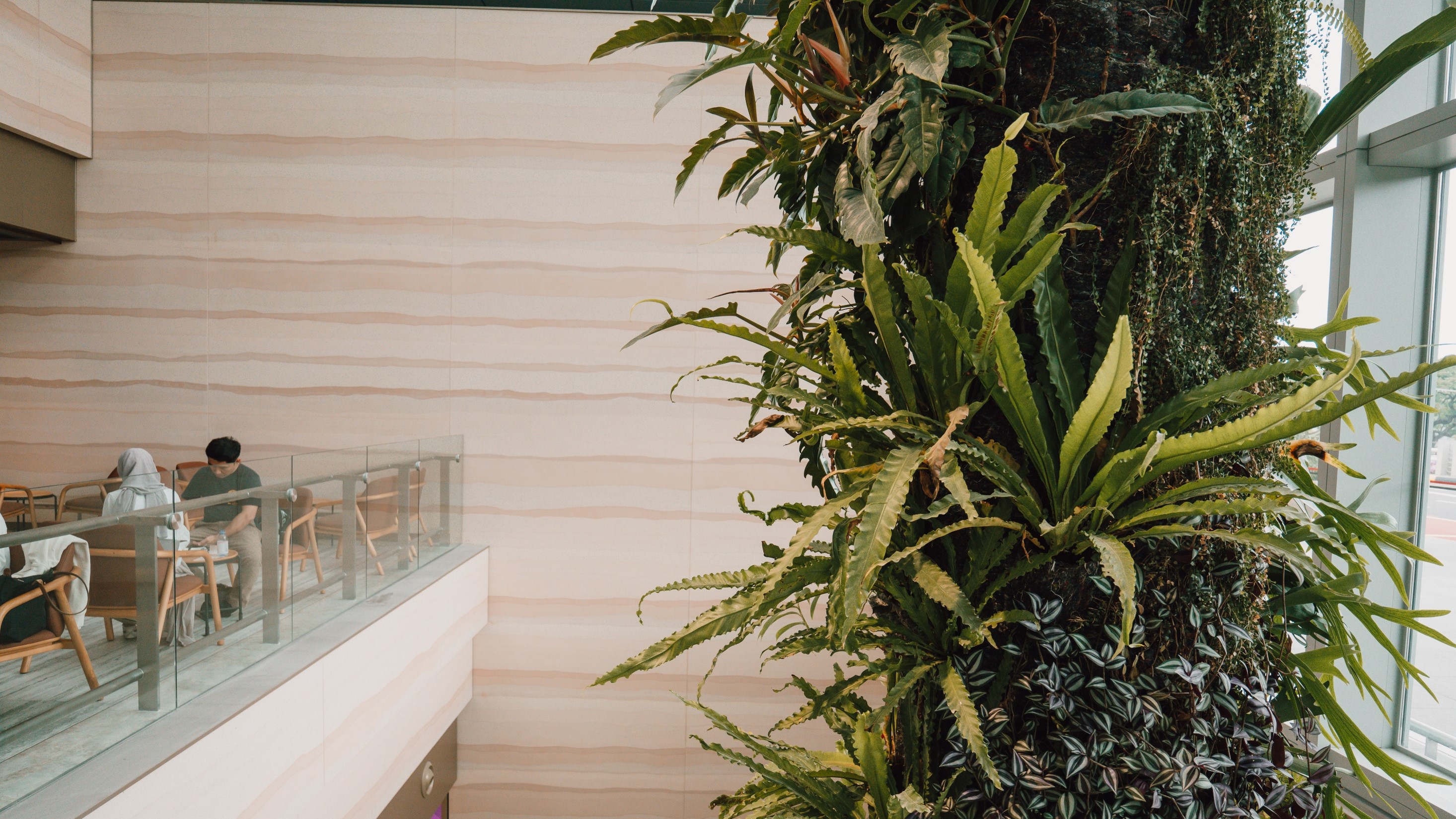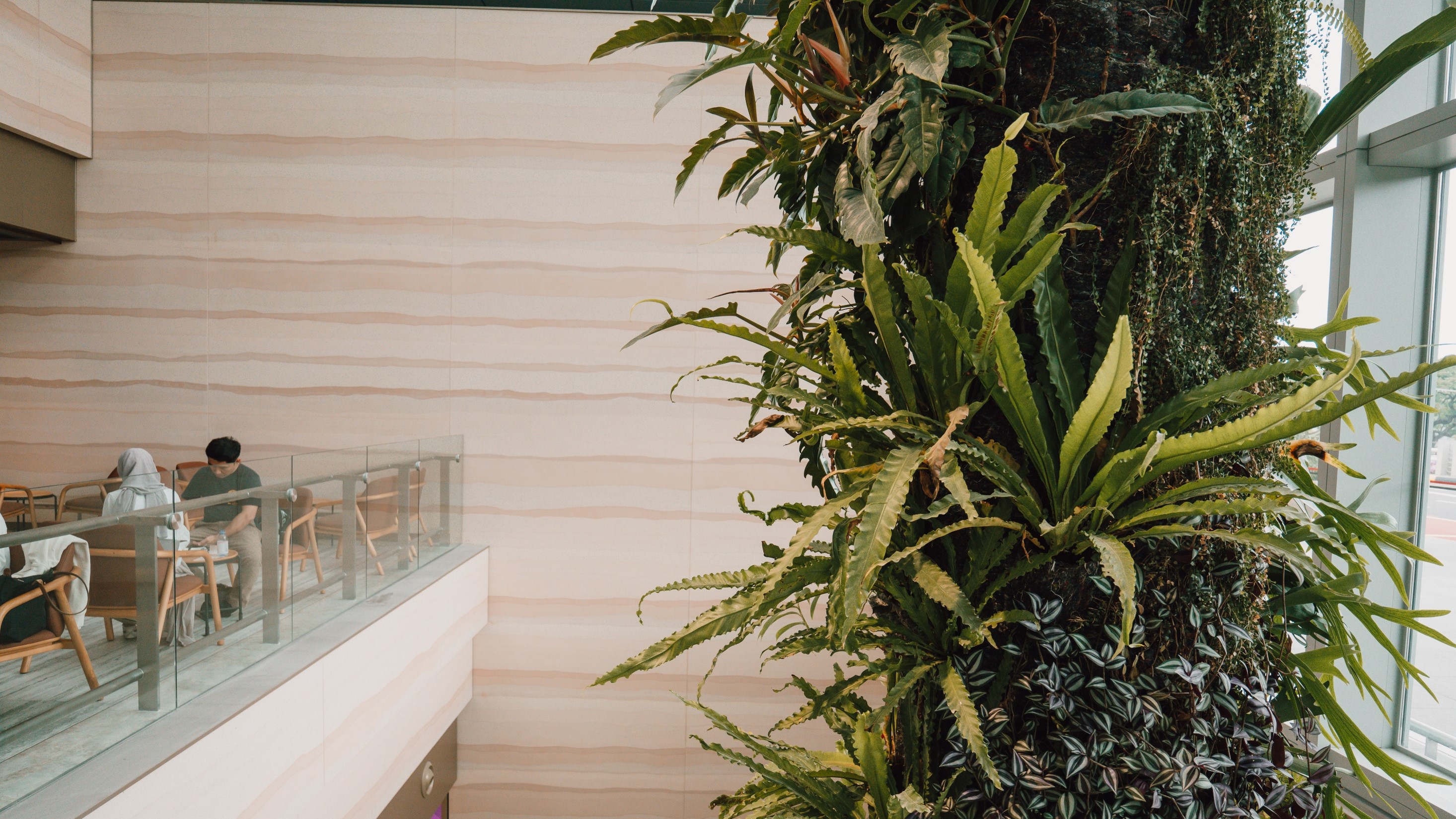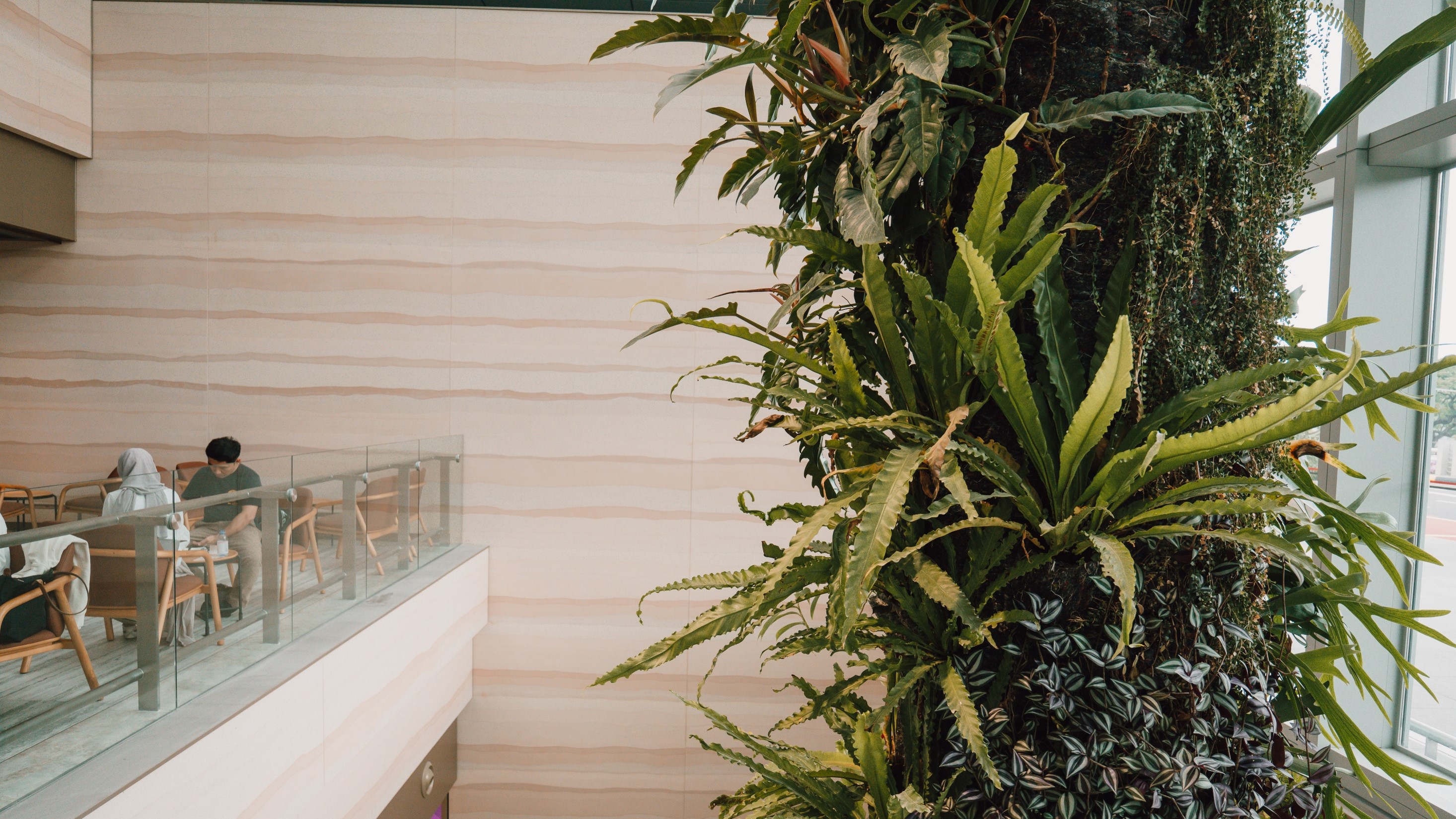 The wall finishes used to express the layers of a carved mineral are built with precast stucco panels. These are crafted individually and each is different depending on the gesture of the craftman who created it.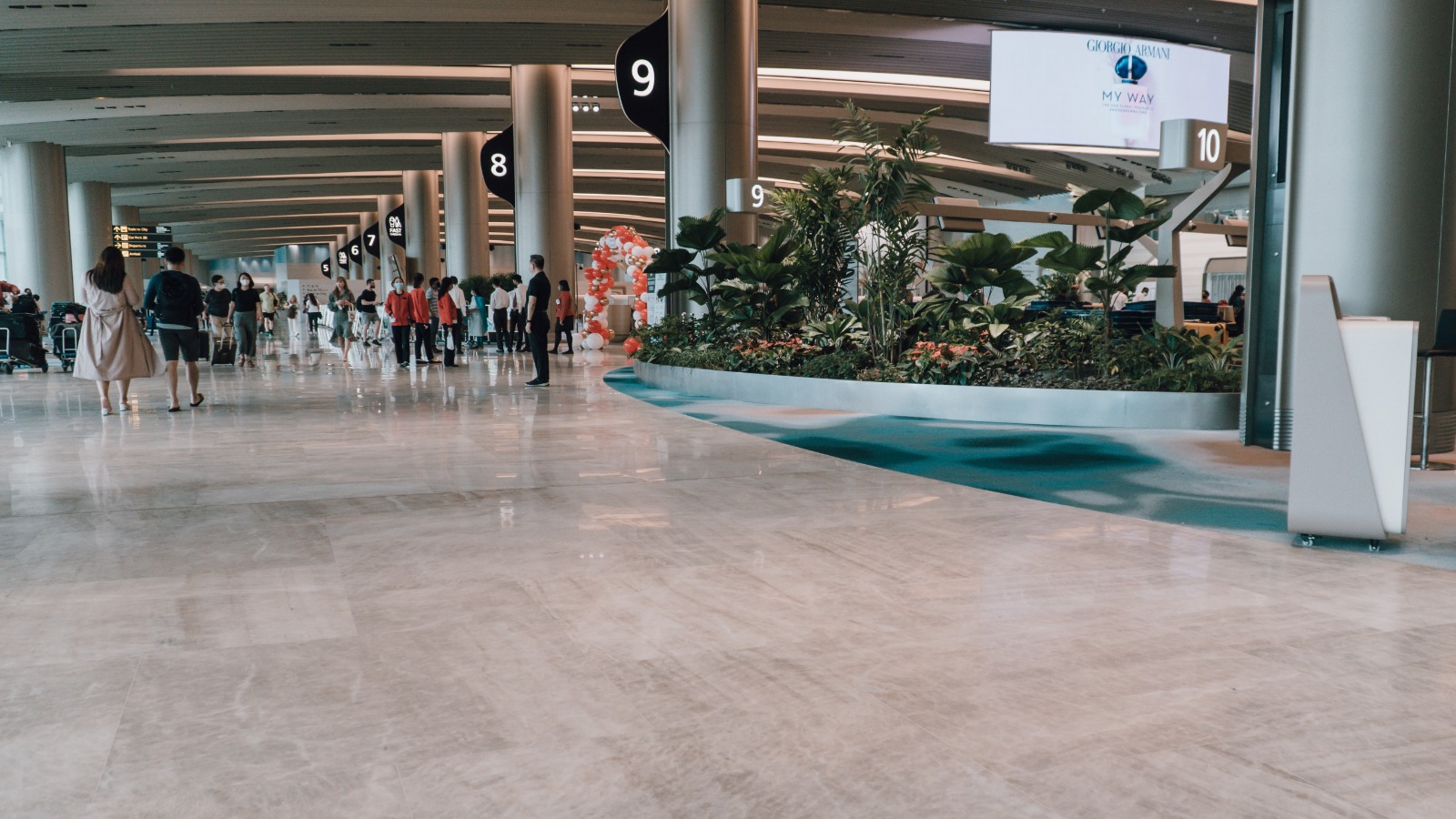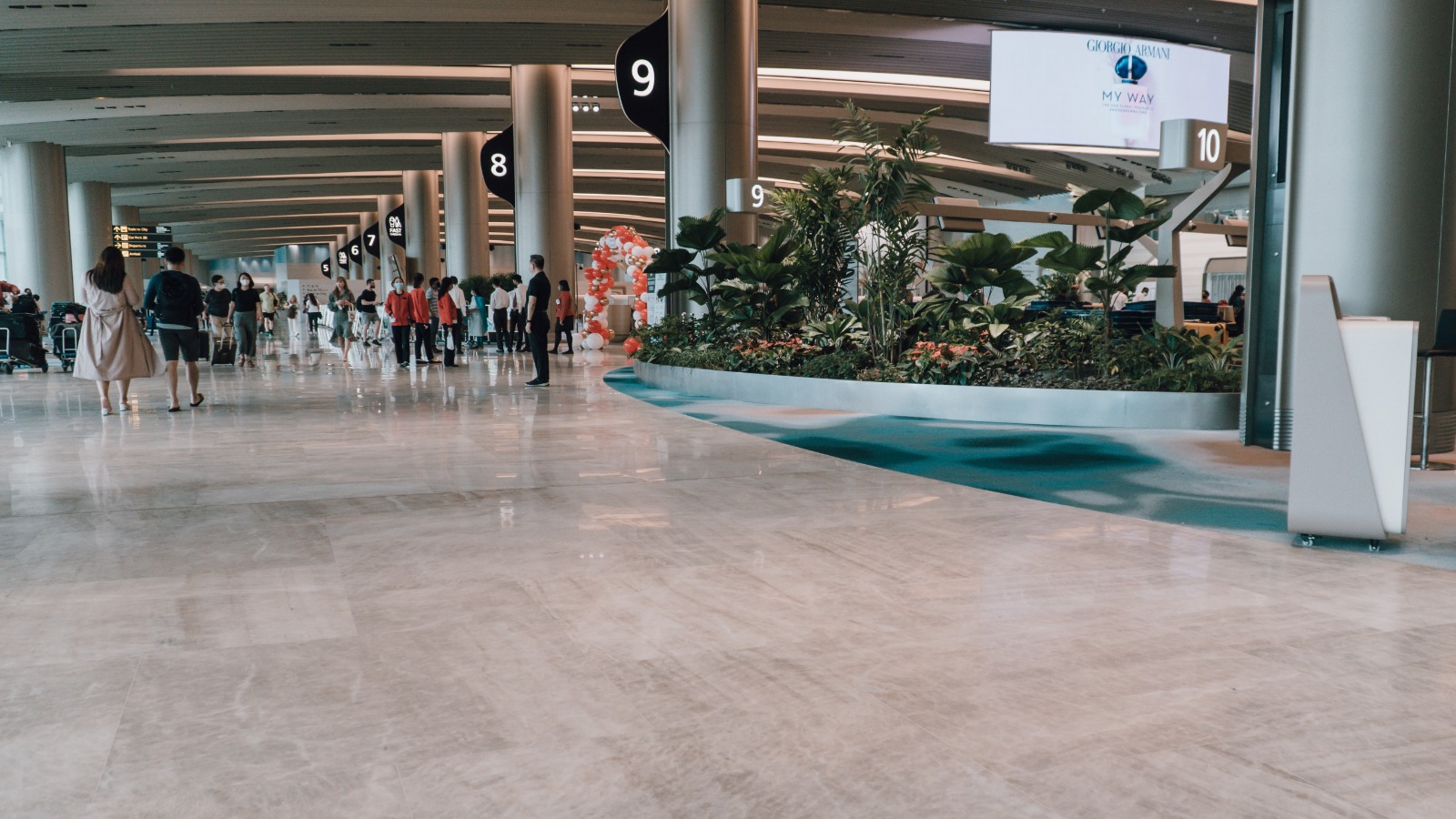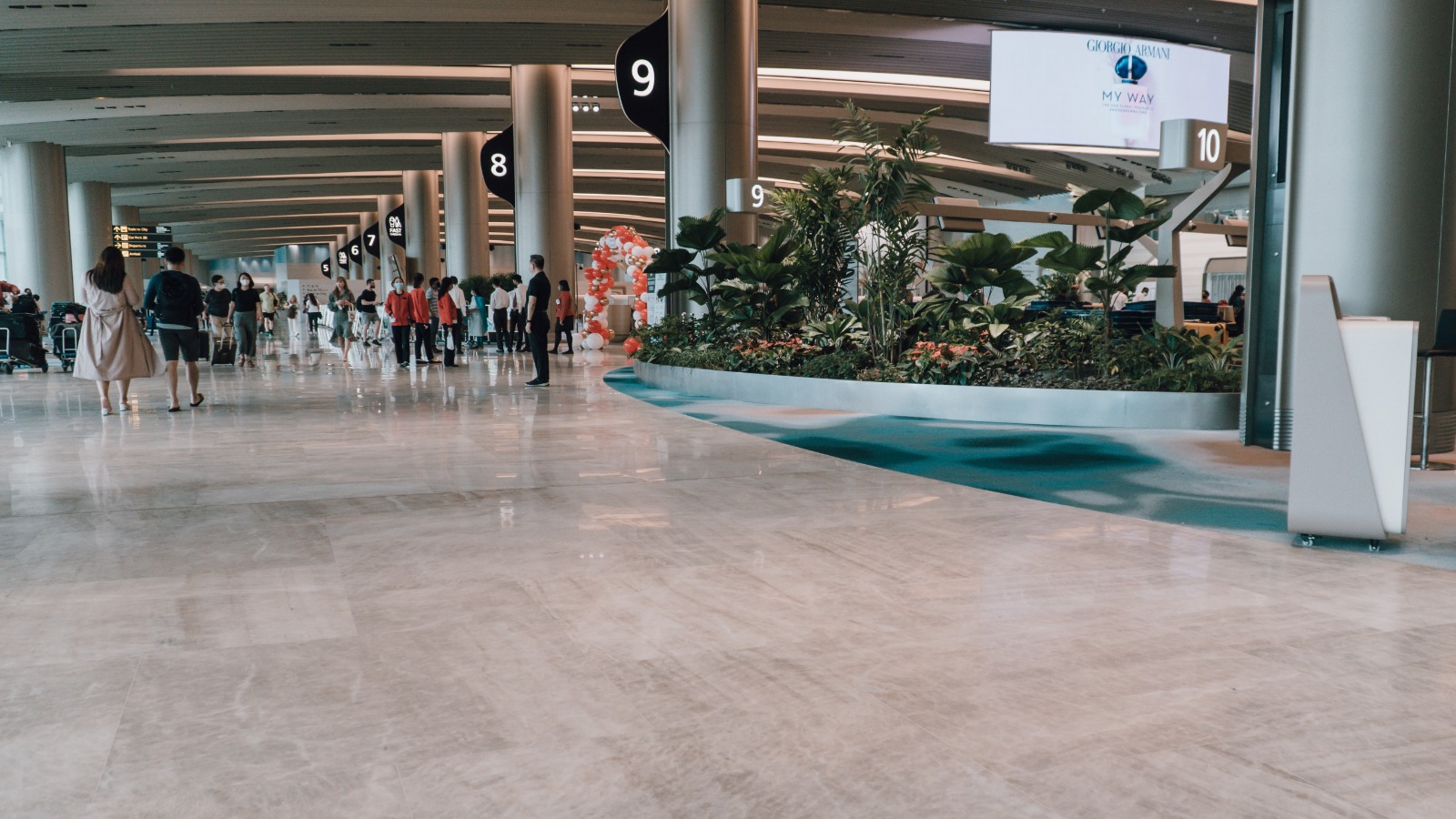 The floors are a natural stone, a quartzite, a type of stone as strong as granite but has a soft look. It is not too polished so that it retains its natural look.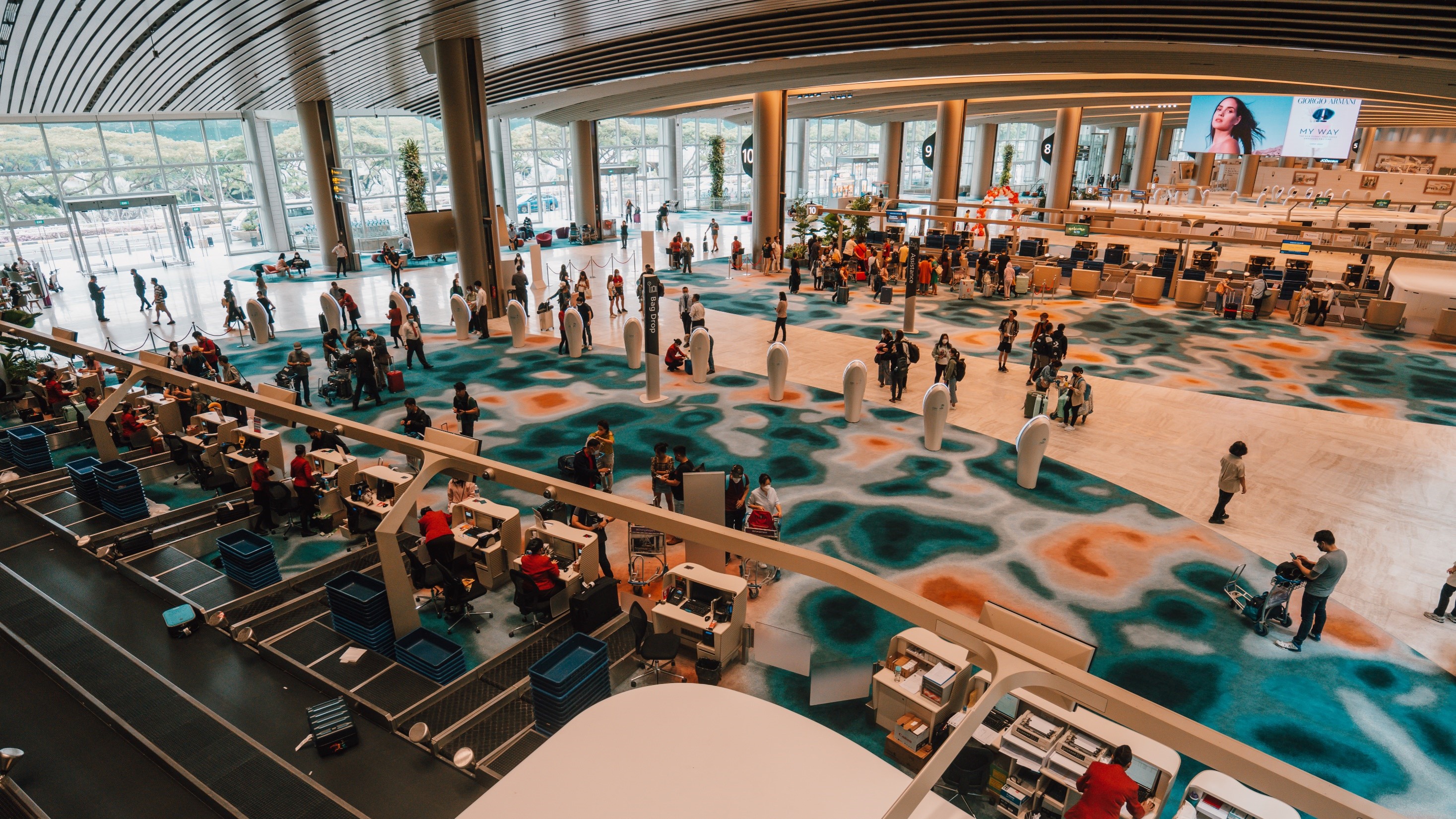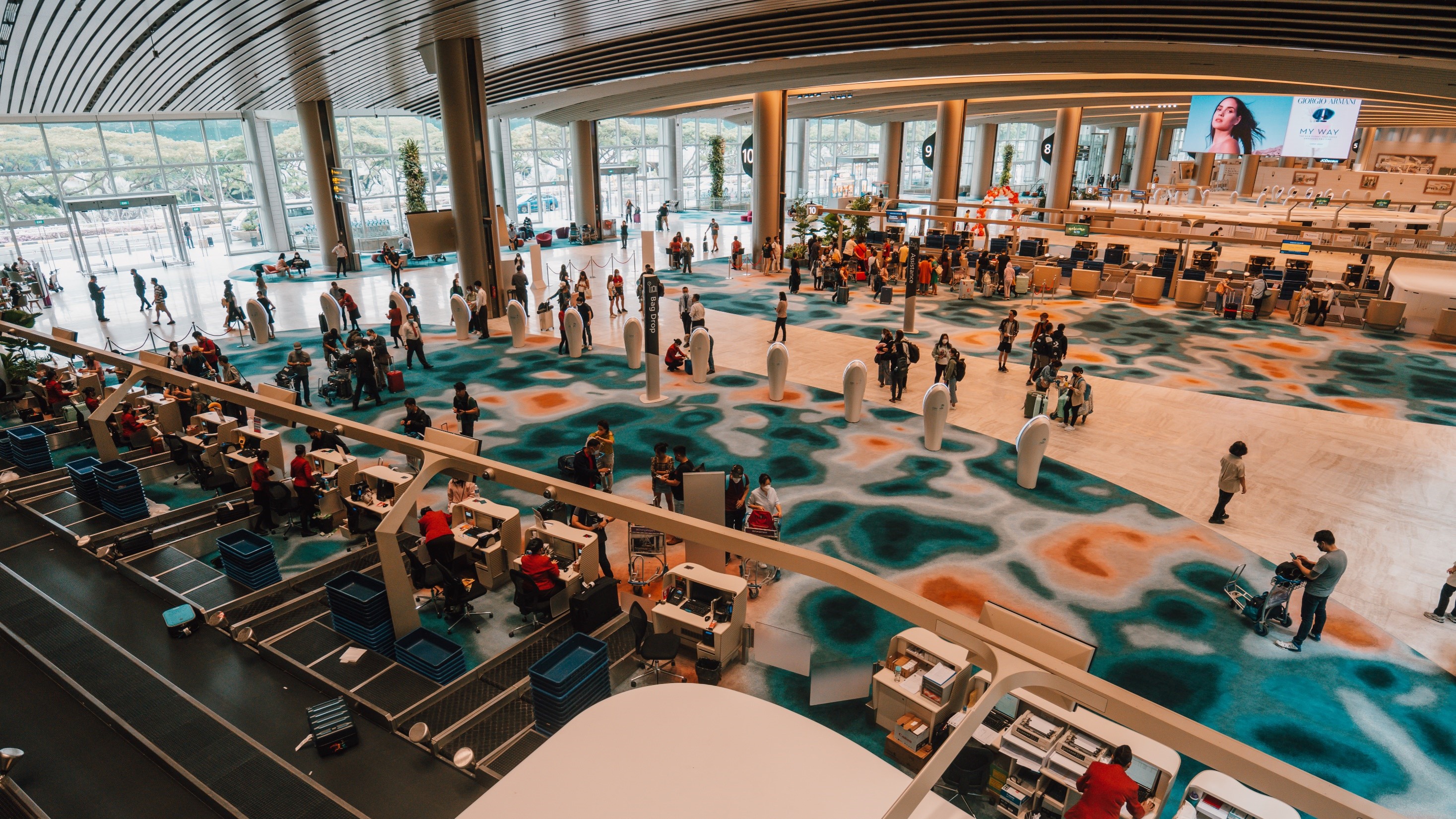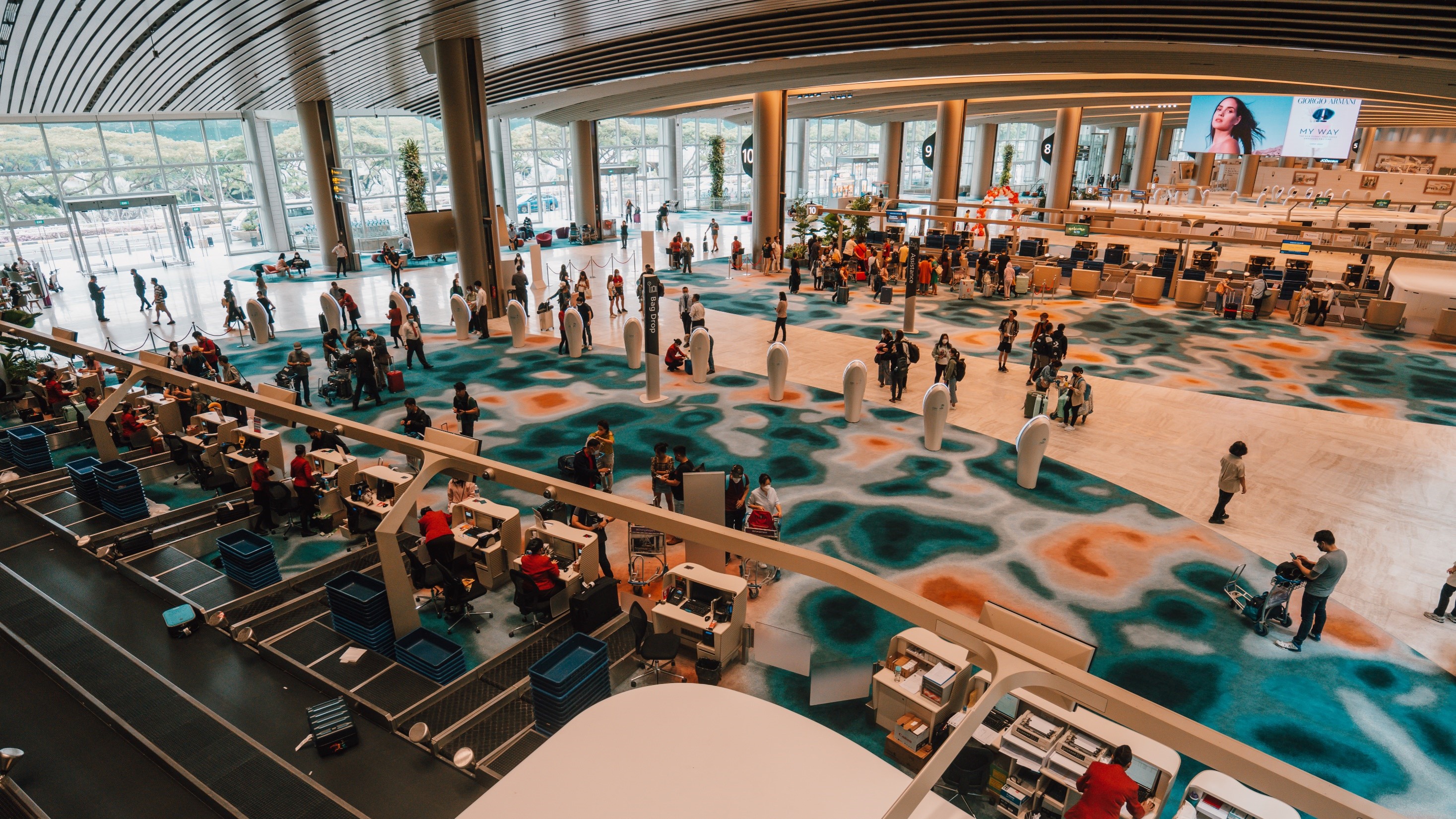 The carpets are designed as an abstraction of a topography of sea and earth viewed from the sky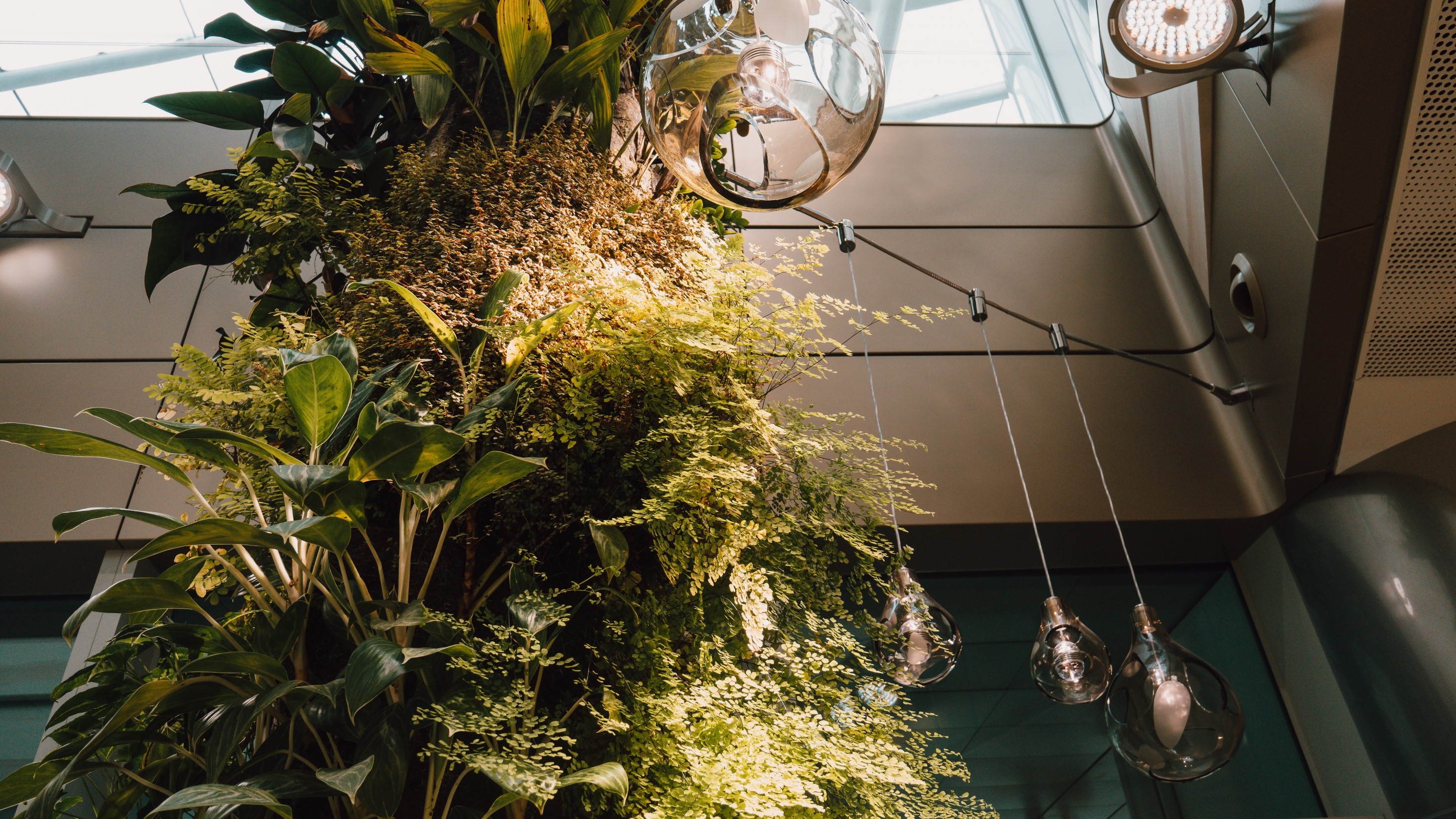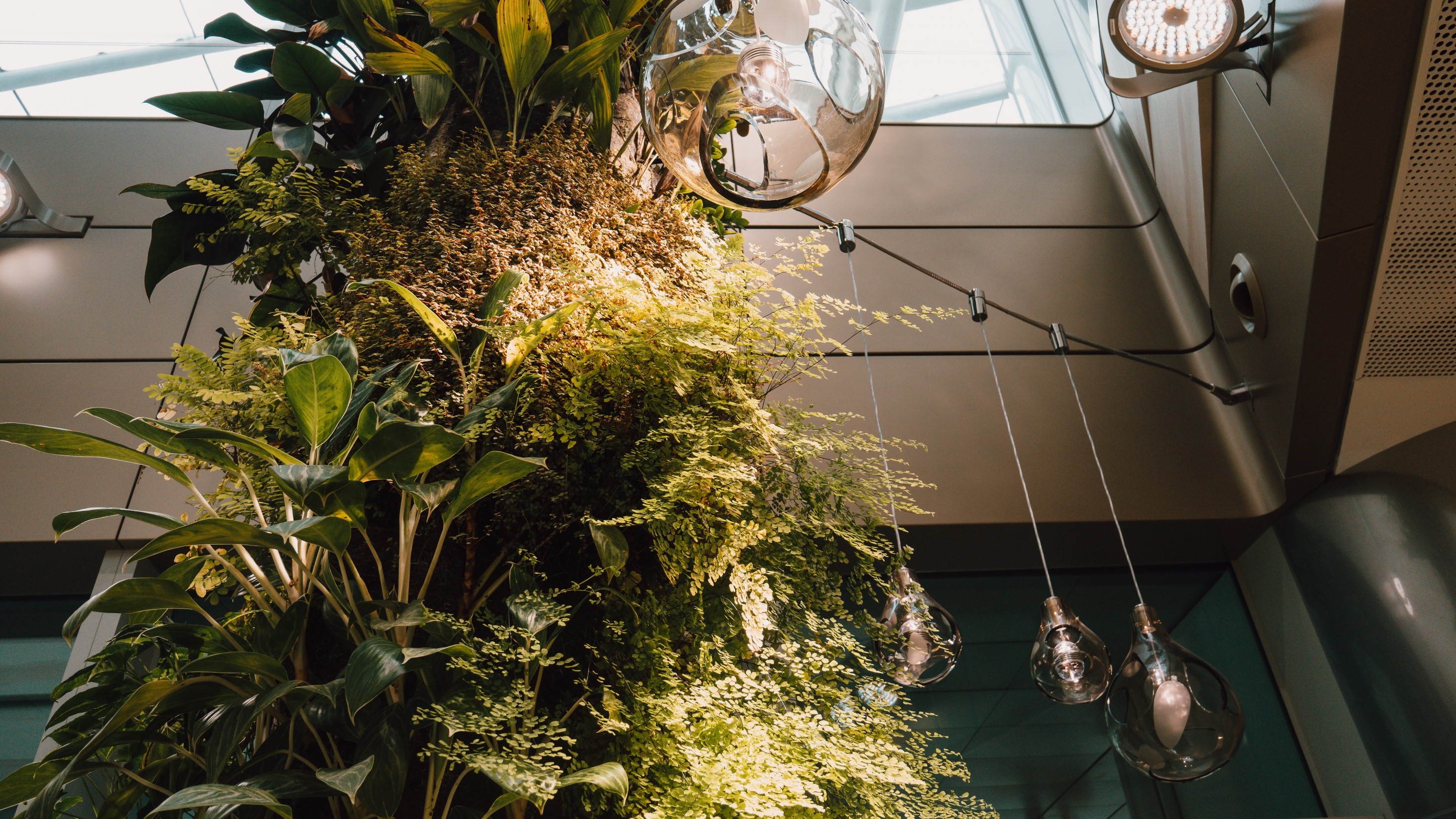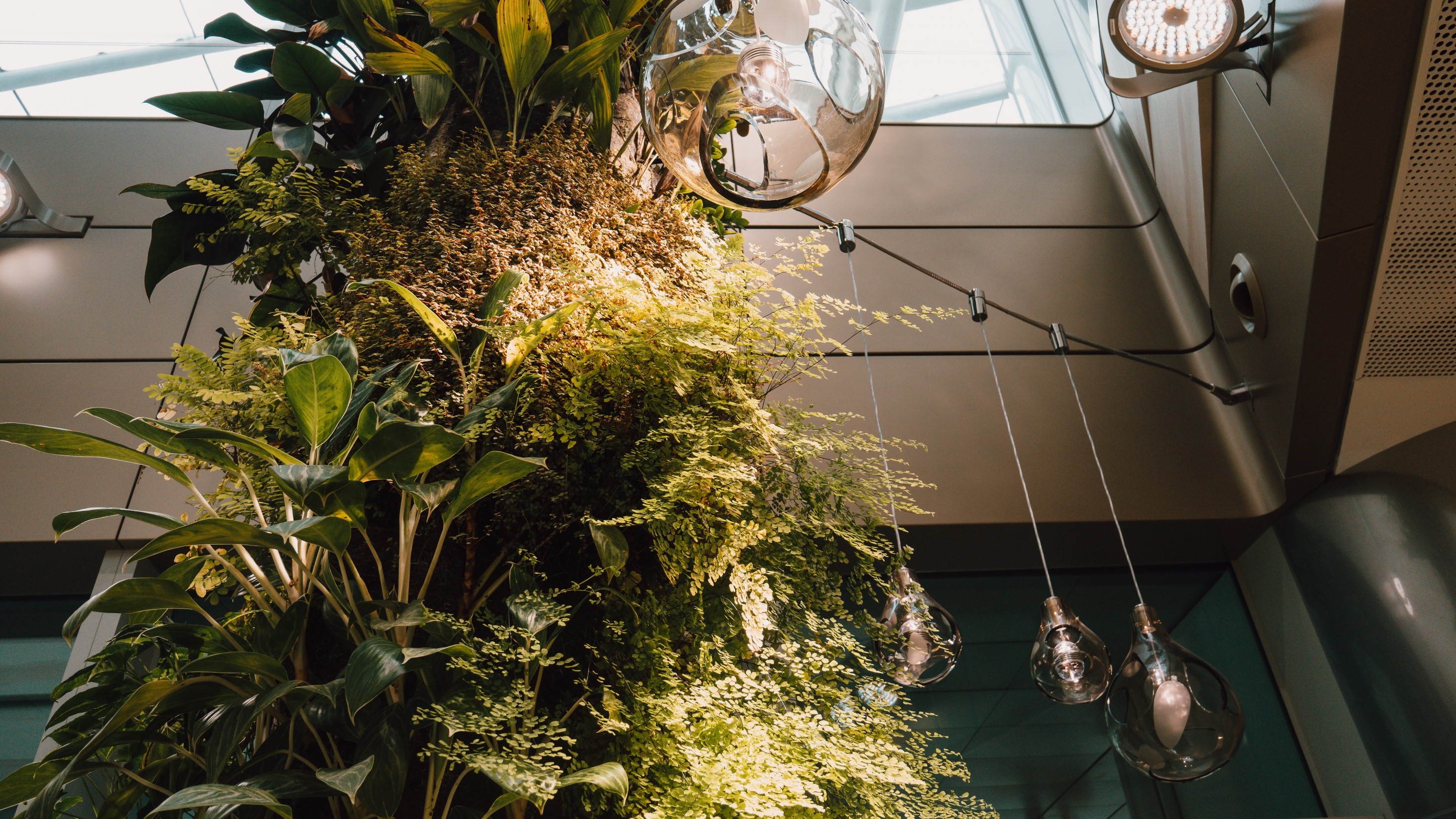 Chandeliers are made in the traditional way of blown glass
The departure hall ceiling is a very ambitious piece of engineering, where each of the long curvilinear aluminum baffles have a complex three-dimensional curve to follow the existing structure as close as possible while giving it a completely different feel.
All this makes T2 a very crafted project, we are particularly proud to bring these materials together on such a large scale, and hope that passengers will enjoy it too!