Taking a Slice of Singapore, Wherever You Go
Whenever we travel, it's only natural to want to bring home souvenirs of our experiences. Think: T-shirts, fridge magnets, glasses, and… food, of course. It's no surprise then that some of the most popular products bought at Changi Airport are food.
With a varied mix of retail and food souvenir offerings throughout the four terminals, Changi's passengers are spoilt for choice when looking for something to gift family, friends and colleagues when they reach their destinations.  
Beyond the standard keepsakes, the food souvenirs that have enticed travellers to take notice are local delights such as Pandan chiffon cake, bak kwa (Chinese barbecued pork jerky) and kueh lapis sagu – a rainbow-hued, layered cake.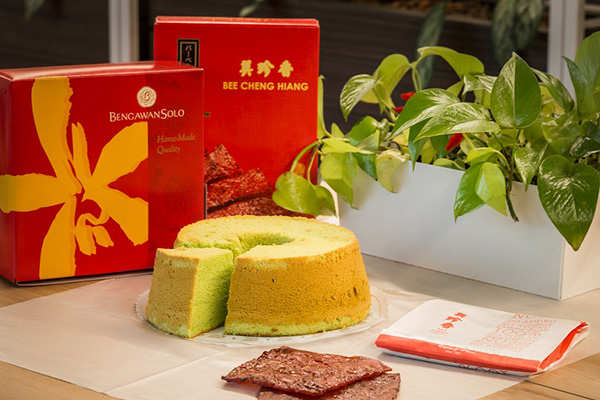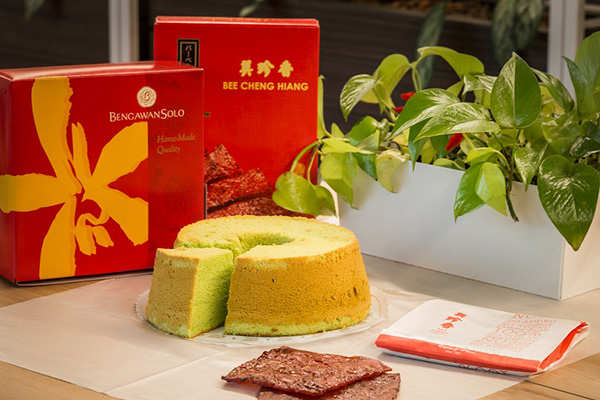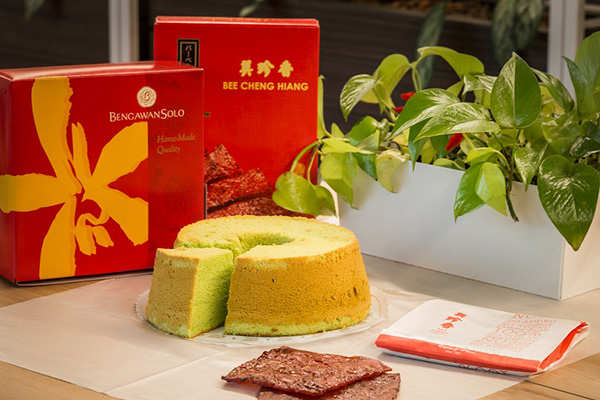 Pandan chiffon cake and Chinese barbecued pork jerky tops the list as the two most popular products at Changi Airport
Growing interest in local delights
The distinctively green pandan chiffon cake is an icon in Singapore cuisine. It is on one hand easily found in neighbourhood bakeries all over the country, and on the other, often given a modern Singaporean twist in hipster cafés and contemporary restaurants. It is such a popular item at Changi Airport that retailer Bengawan Solo sold some 690,000 pandan cakes in 2017.
Another hot favourite is bak kwa – more than half a million slices from Bee Cheng Hiang stores in Changi Airport were devoured last year, translating to over 50,000 packets in all (bak kwa is sold by weight and an average packet of 500 grammes contains slightly more than 10 slices). That these two non-traditional gifts moved off the shelves at such great volumes is testament to the growing interest in a unique retail experience, and an increasing appetite for local food souvenirs.
"Food souvenirs is a popular choice for travellers, especially for a food destination city like Singapore." says Ms Monet Aluquin, General Manager, Airside Planning and Leasing. "Tourists often wish to share their unique travel experiences with loved ones, which includes bringing local flavours back home as gifts. At the same time, more and more Singaporeans and local residents are bringing local food items as gifts when visiting friends and family overseas. Hence, we have paid attention to introducing a greater variety of food souvenir choices for passengers over the past two years, while constantly keeping abreast of new and interesting concepts as well as the latest food trends."
Curating unique food gifts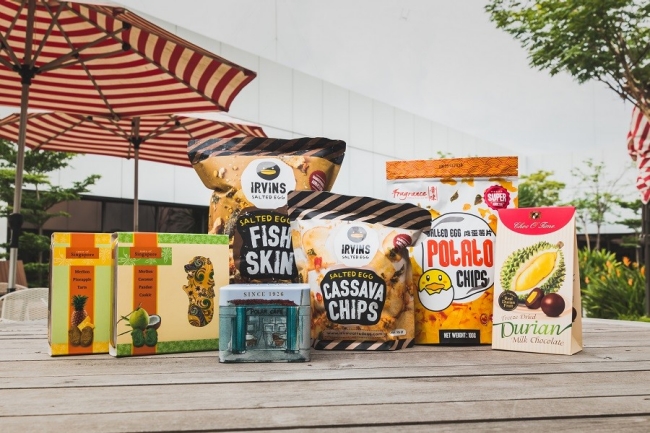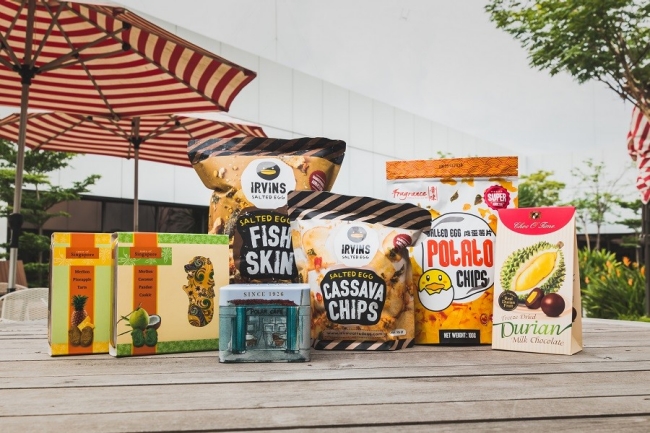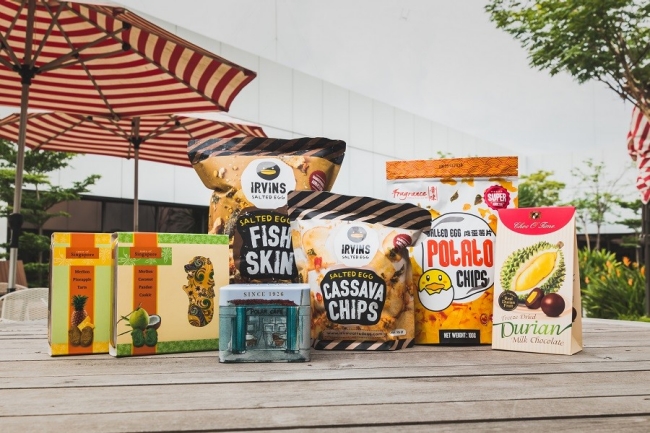 Salted egg products and other local snacks and confectioneries have been increasingly popular among foreign and local travellers
One food trend which the team has observed to have really caught on strongly in recent years is salted egg-related snacks.  
"Initially only two brands at Changi Airport were offering the salted egg fish skin snack.  But over the past year, more retailers have realised the demand for the product and are offering their own versions. The retailers have also spun off different items such as salted egg potato chips and cassava chips, which are equally well-loved," says Ms Aluquin.  
"Our team continuously monitors passenger feedback to better understand their preferences, and share this feedback with our retailers so that they can plan their product offerings accordingly to meet passengers' demand."
This ongoing curation of F&B retail has led the team to offer Changi exclusives and even set up pop-up food retail concepts.
"We realise there is a growing demand for curated Singapore products," says Ms Aluquin. "We have worked with our tenants to launch the Love SG series, which features local products such as local snacks, confectioneries and kueh-kueh (the Malay word for cakes), as well as food products such as local pastes and Merlion-shaped biscuits."
Yes – even the Merlion, an iconic symbol of Singapore, is given a tasty twist.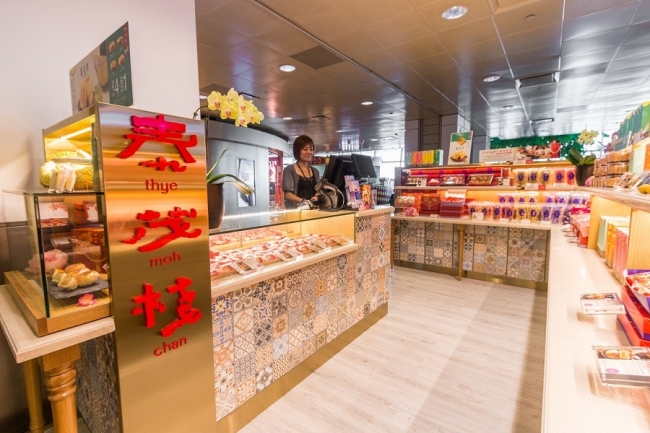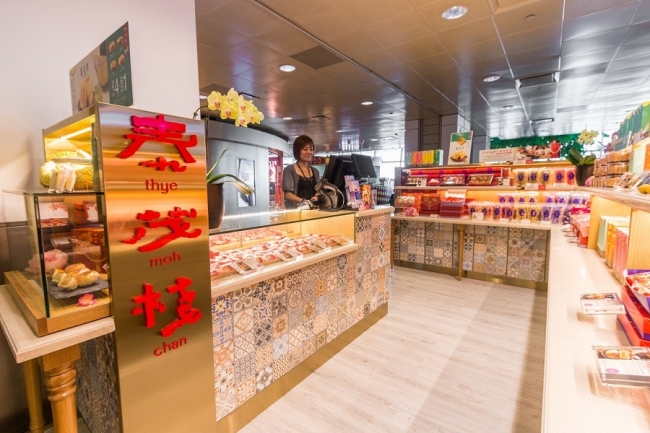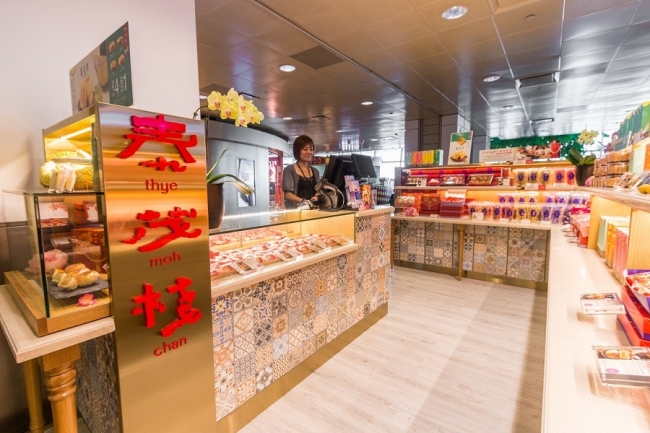 A food souvenir pop-up store at Terminal 2 selling traditional Teochew baked goods
And for the frequent travellers who think they know Changi Airport like the back of their hand, pop-up kiosks definitely break the monotony.
Right now, Changi Airport is hosting a Thye Moh Chan pop-up kiosk in the transit area of Terminal 2. Thye Moh Chan is famous for their traditional Teochew baked goods, like tau sar piah (pastries with a mung bean filling), pineapple- and yam-filled pastries, and snow cakes. These delicate desserts are packed in attractive boxes for travellers to bring home to their loved ones.
The options are endless for passengers, and the leasing team at Changi Airport will always be on the lookout for new ways to surprise and delight travellers, and their tummies.