Building Climate Resilience to ensure smooth operations
Against the escalating impact of climate change, Changi Airport Group (CAG) recognises the importance of building climate resilience to ensure smooth round-the-clock operations. In collaboration with agencies and partners, CAG continues to examine the effects of increasing extreme weather patterns and develops mitigation strategies to fortify critical infrastructure across the airport. One such example is our efforts in future proofing the airport's runways.
Preparing for higher rainfall intensity and rising sea levels
With the projected increase in rainfall intensity, CAG has grooved the asphaltic pavements of all three runways at Changi Airport. This reduces the danger of aquaplaning and runway excursions on wet surfaces during thunderstorm events.
To mitigate the potential impact of rising sea levels, CAG has also expanded the airfield drainage capacity to reduce flood risks. Ground-based aircraft navigation systems are further protected by flood barriers to ensure operational continuity.
In 2022, CAG's Engineering and Development (E&D) Cluster partnered with the Aeronautical Telecommunications Engineering Division of the Civil Aviation Authority of Singapore (CAAS) to introduce a runway condition reporting system. The system capitalises on sensors to automatically alert air traffic controllers and pilots of any changes in environmental factors, such as runway water film depth. As one of the world's first systems with such capability, this runway condition reporting system won the 2022 Minister for Transport Distinguished Innovation Award.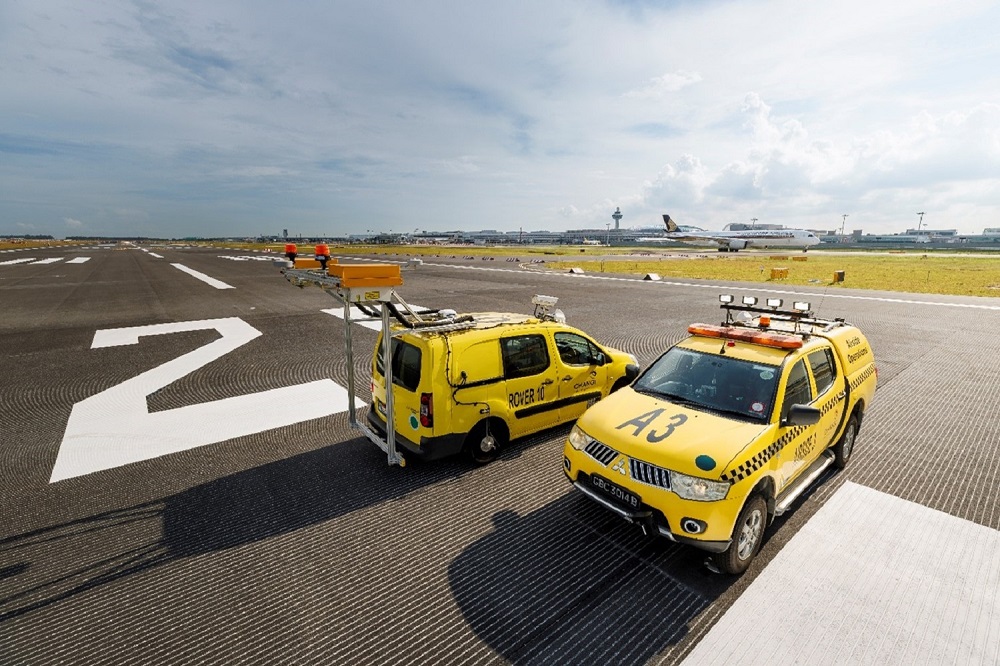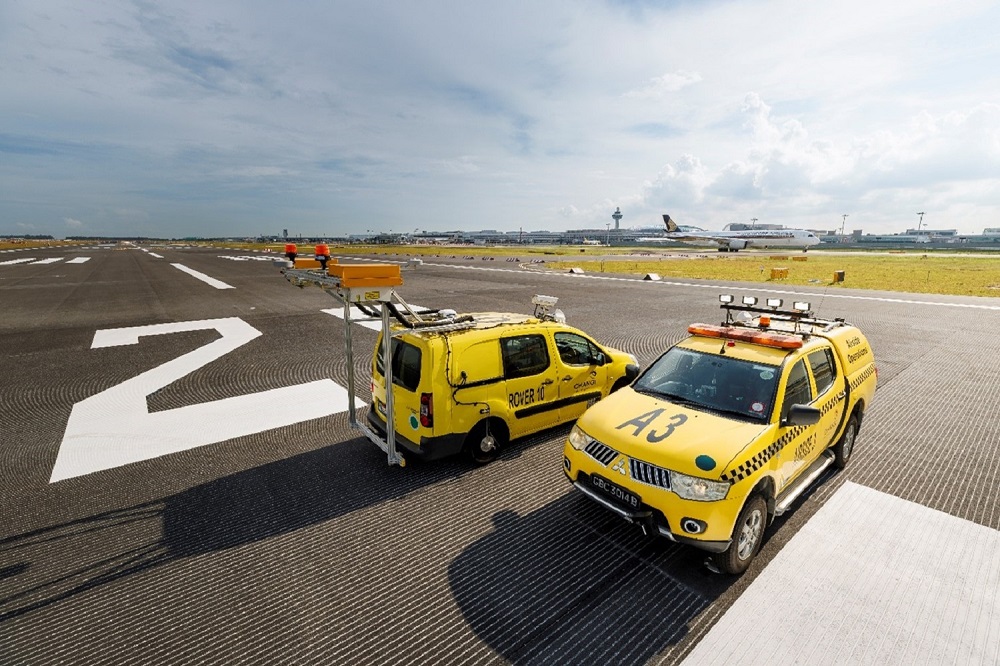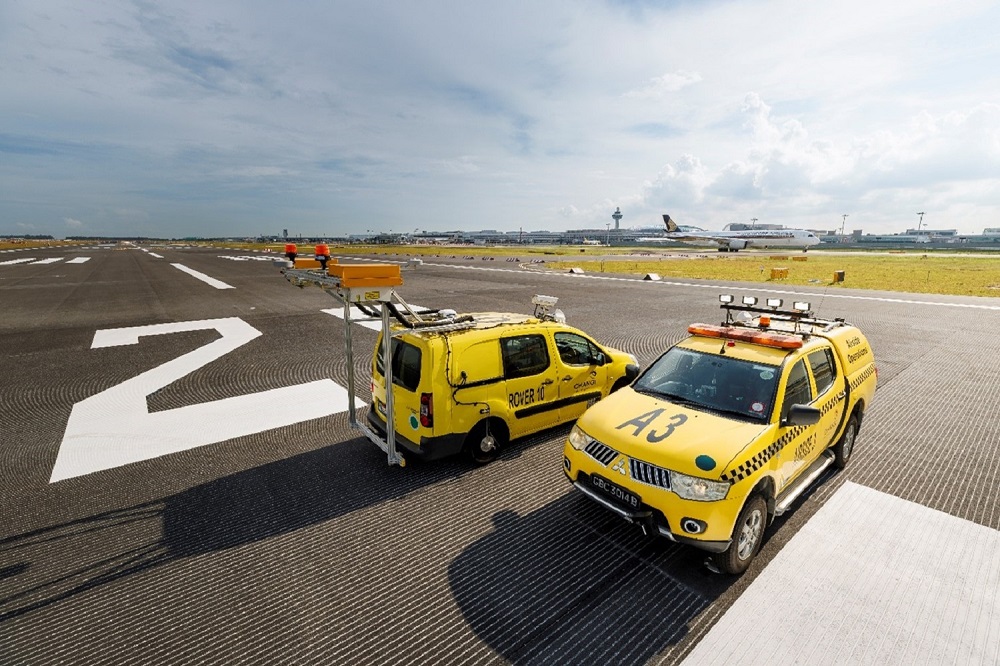 Changi Airport's runways are grooved to reduce the danger of aquaplaning and runway excursions during thunderstorms.
Combating Increasing Temperatures and Storm Events
Rising ambient temperatures can also pose risks to airport runway conditions. Our E&D Cluster collaborated with technical experts to strengthen our pavement resilience against harsher weather conditions. This includes the enhancement of asphaltic mix design and continued use of polymer additives to enable higher runway durability, even under high temperatures.
Responding to the combined effects of rising temperatures and increasing frequency of tropical storms, we introduced a Laser Crack Measurement System (LCMS) to enhance our aircraft pavement maintenance regime. This system employs lasers and sensors to survey runway conditions, even in pitch darkness during runway closure hours at night. The system is capable of picking up sub-millimetre anomalies that could lead to formation of potholes during wet weather and high temperatures. Combined with data analytics and machine learning, the system enables pre-emptive detection and predictive maintenance to achieve greater business continuity.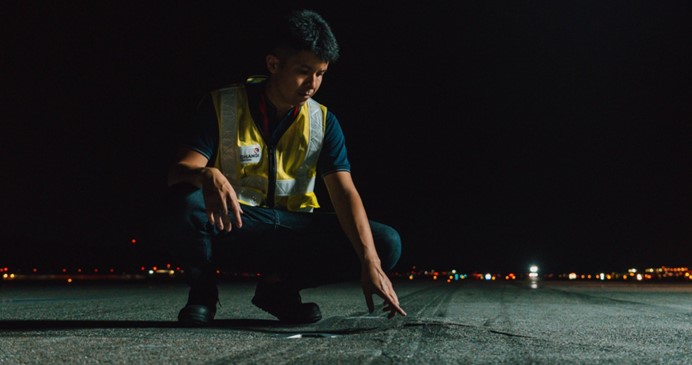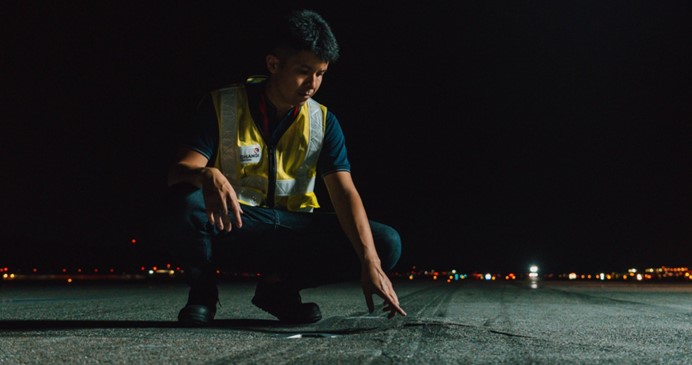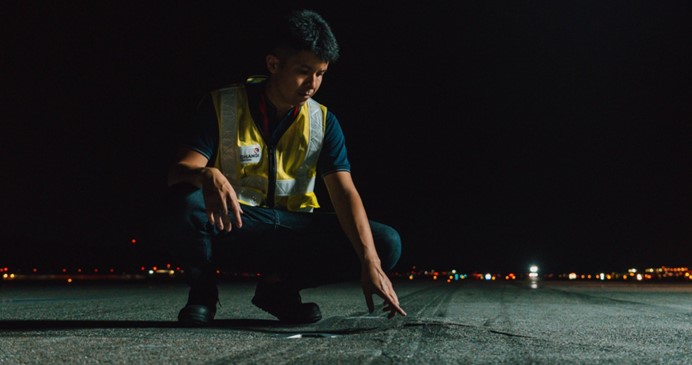 Pursuing innovation to enhance runway maintenance during closure hours at night
Our Investments in Research
In future-proofing our mission critical runways, we seek to continually deepen our understanding through research collaboration. We have kickstarted research to examine the relationship between the temperature of asphaltic pavement surface, underlying structural layers and the ambient temperatures. We have also initiated a parallel study through the use of stress and strain sensors at different layers of newly constructed aircraft pavement to validate original design assumptions under stimulated and live aircraft loading. Such data will enable us to predict the remaining lifespan of the pavement structure and develop the necessary rehabilitation plans to maintain robust structural integrity even amidst adverse weather conditions.