Green Procurement through a lifecycle approach
Changi Airport Group (CAG) continually strengthens our environmental goals and policies. Our Green Procurement policy is a key tool in decarbonising and ensuring the sustainability of our supply chain. 
We adopt a lifecycle approach in our green procurement decisions which prioritises sustainable design, reuse of materials and enforcement of environmentally sound operational procedures to prevent pollution and reduce waste.
At the beginning of 2022, CAG introduced a new Price-Quality-Environment scoring criterion. This was first applied to selected categories, which collectively account for more than half of CAG's total procurement expenses. In 2023, we expanded the scope such that all procurement will have an environmental evaluation component. This represents our commitment for sustainable options and a transition towards more conscientious consumption.

Our Green Procurement Policy specifies a preference for:

Suppliers who are able to demonstrate how their product/service is sustainable throughout its lifecycle

Energy-efficient equipment with lower greenhouse gas emissions
Design, operation, maintenance, and disposal methodologies with lower resource consumption and pollution
Suppliers who can collaborate with CAG in innovating for commercially viable green alternatives
Suppliers, products, and services with environmentally-friendly certifications
Green Procurement in Action at CAG
We are committed to green procurement across Changi Airport.

For instance, at the transit areas of Terminals 1 and 2, we are replacing carpets with new ones that are made of a higher wool content (approximately 80%). Carpets with higher wool composition are more sustainable as compared to those made with synthetic fibres, which are derived from fossil-based sources. Inherently more durable, wool carpets have a longer lifespan of ten years and require fewer replacements over time. Additionally, the selected supplier utilised renewable energy in the manufacturing process of these carpets.

To bring it one step further, CAG worked with our partner in developing plans to create new possibilities for old carpets to be reused. Future reuse opportunities include flooring protection for construction companies, and reusing these old carpets in CAG's back of house areas. Such efforts will reduce the amount of end-of-life carpets sent for incineration, and CAG plans to further raise our existing carpet recycling rate in the upcoming replacement exercise.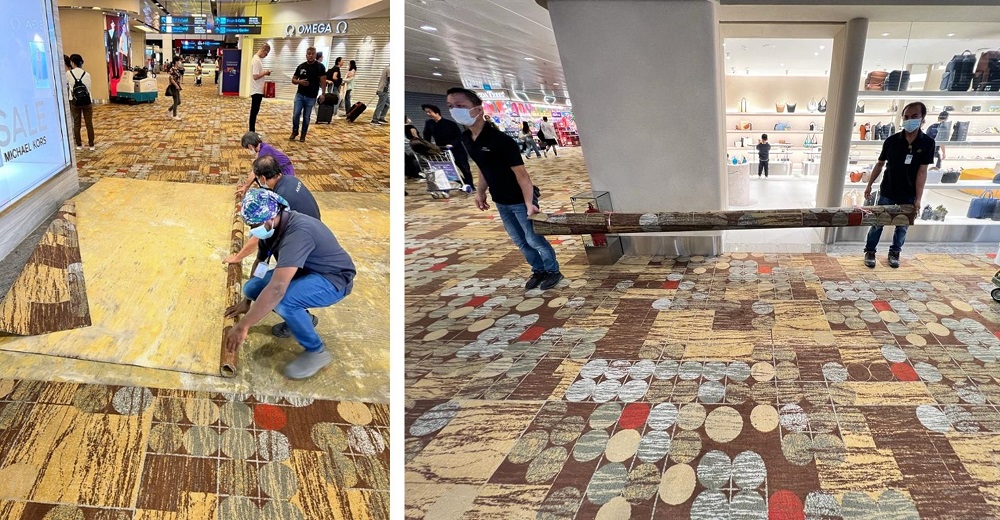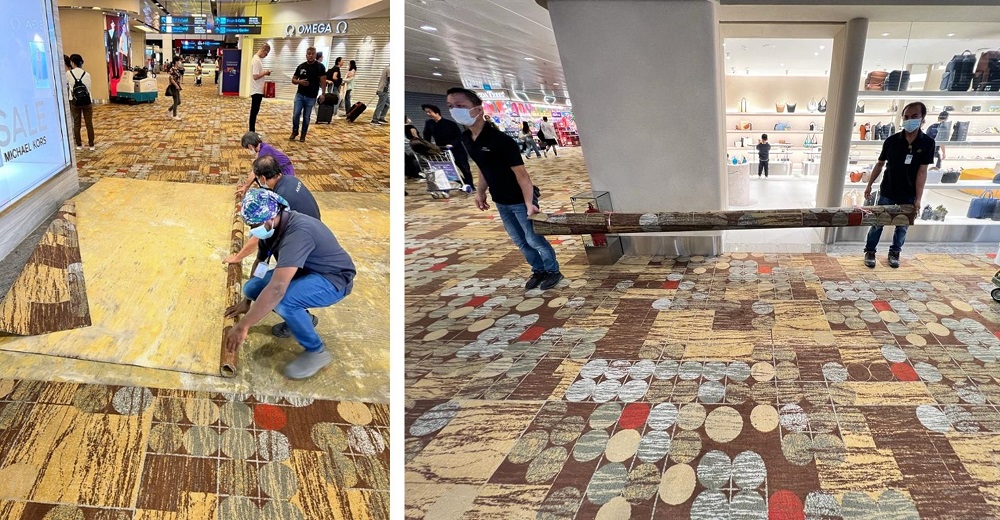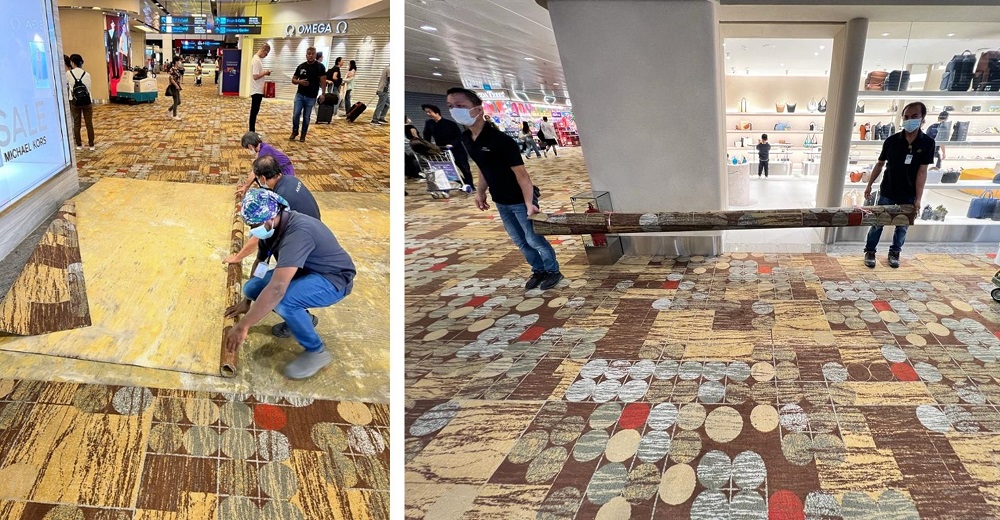 Old carpets at Terminal 1 being removed for repurposing
Newly installed carpets at Terminal 2 that are more sustainable
CAG looks forward to working with like-minded suppliers on our journey towards a more Sustainable Changi.