Grooming tech talents to strengthen in-house digital capabilities
Sharlene Toh, currently a User Interface and User Experience (UI/UX) designer at Changi Airport Group's e-commerce platform iShopChangi, was a graduate from social enterprise Hatch's Immersive Programme. Having an interest in the digital and design industries, Sharlene joined Hatch's programme in 2021 in the hope of learning more about the fast-growing sectors of Digital Marketing and UI/UX Design. She was then given an opportunity to work on an iShopChangi UI/UX problem statement as part of her graduating project at Hatch, as Changi Foundation had funded one of Hatch's programmes. Her creativity and enthusiasm led to a six-month internship and ultimately landed her a full-time role in iShopChangi, despite having no design background or formal education in UI/UX Design.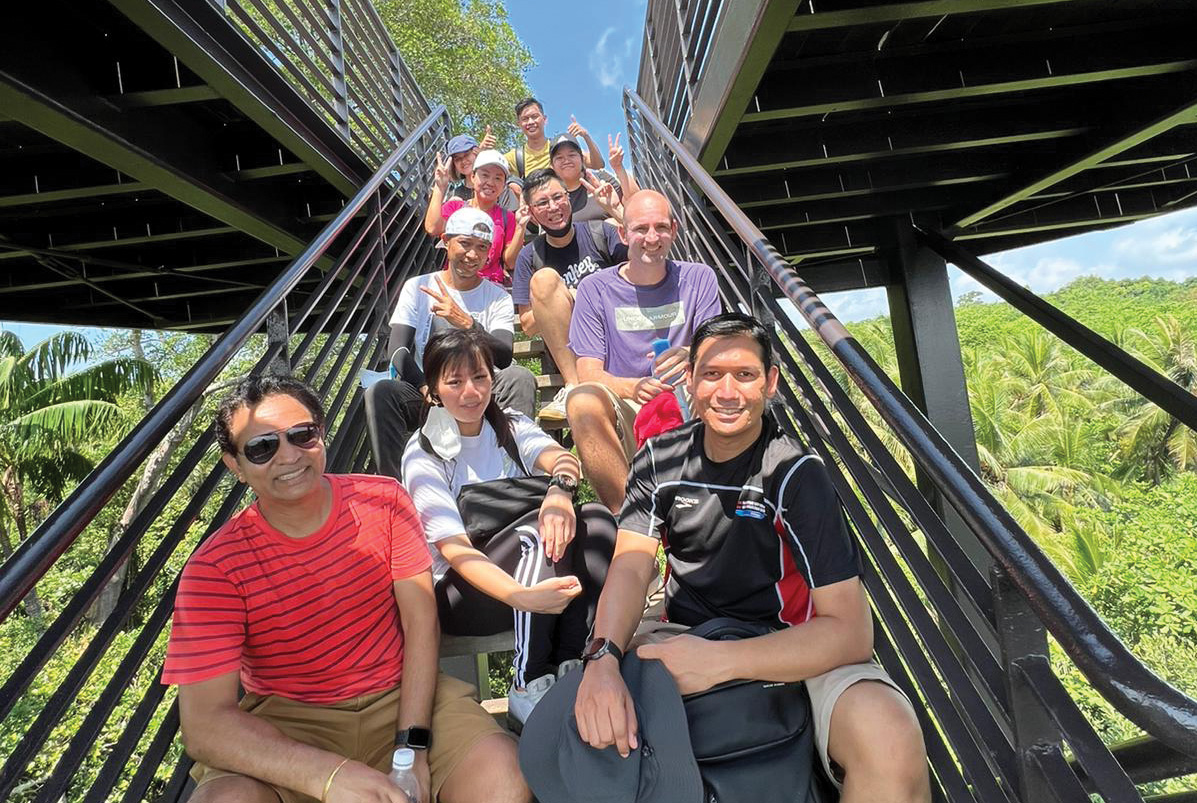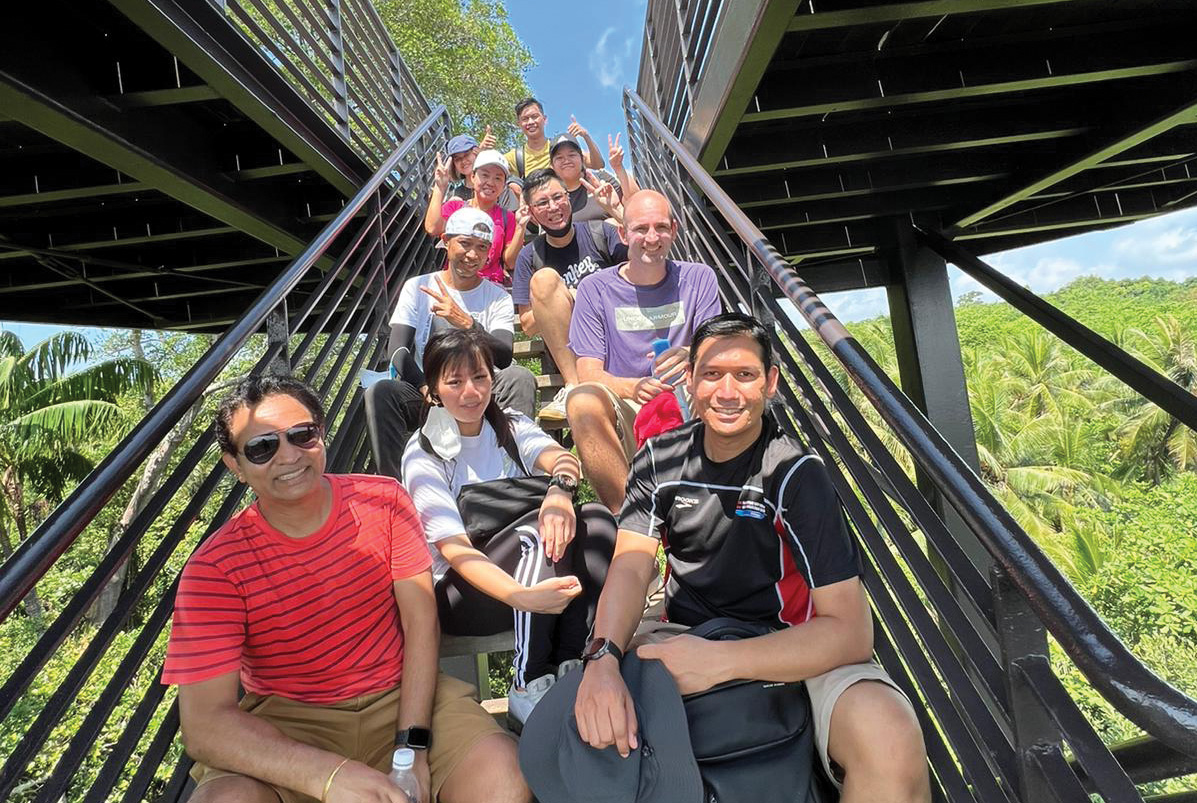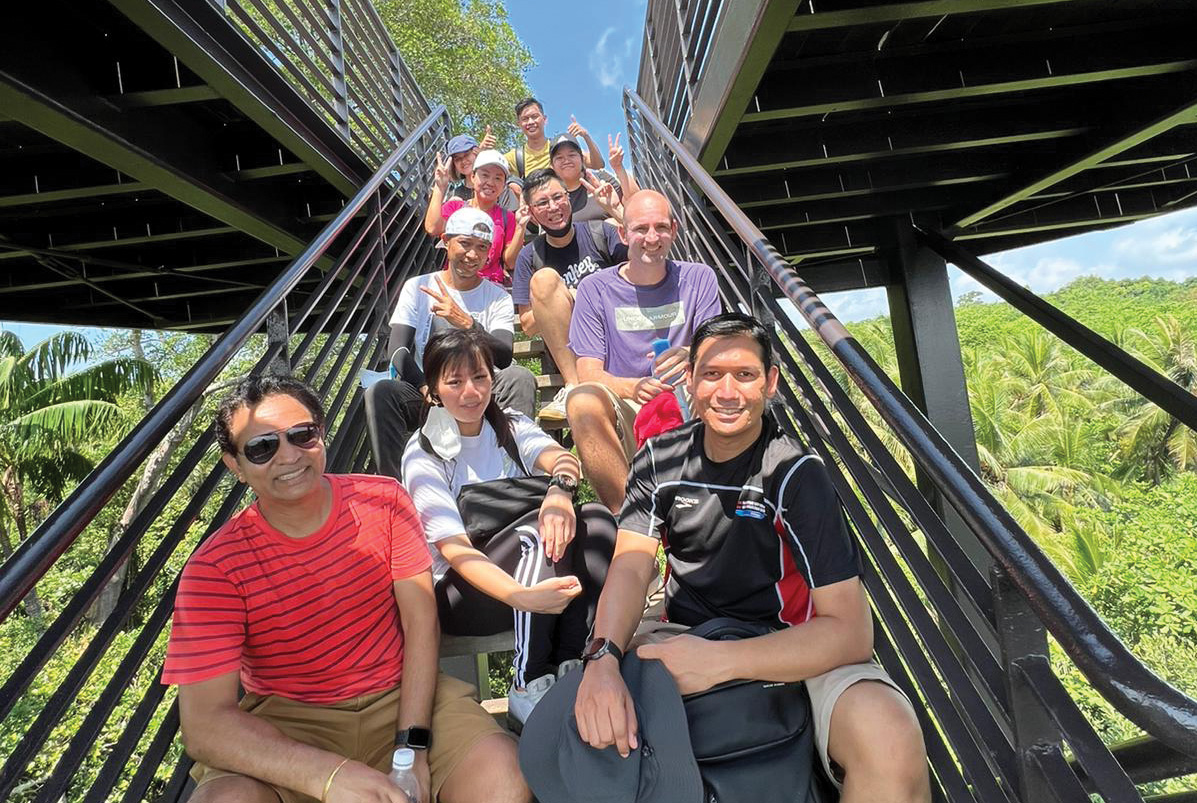 Sharlene (black cap, second row from top) enjoying some outdoor time with her colleagues during a teambonding outing to Pulau Ubin
As CAG advances in its digitalisation journey to be the airport of the future, grooming in-house tech talents has become increasingly important to build up its digital capabilities. The digital team at iShopChangi for one, has grown about three times over the last two years. With the Covid-19 pandemic accelerating the growth of e-commerce, iShopChangi too had to evolve its way of business to retain mindshare. On top of pivoting to a dual marketplace serving both travellers and non-travellers, expanding and diversifying its product range, and launching its first omni-channel retail boutique, iShopChangi has been working towards hyper-personalisation – with the core component being the online shopping experience.
Leading the iShopChangi UI/UX team is Senior Manager, Vala Pavan Kumar, who was Sharlene's mentor during her internship days and now her direct manager. He said, "Her leadership qualities have definitely shone through. Besides gaining more experience of how the e-commerce industry works, and more importantly how iShopChangi operates, Sharlene has taken ownership of a few projects and have managed them really well."

Two of the UI/UX projects that Sharlene is working on is improving the contextual filters to make the search function more accurate, and to implement the user flow for multiple delivery modes. For the former, Sharlene focused on the wines & spirits category. It involves intensive research to grasp the necessary product knowledge, benchmarking with the best practices in the market, and even conducting surveys and focus groups to learn about user behaviour. The key is to find relevant keywords to help make search more intuitive and useful for the shoppers. For the latter, Sharlene had to plan the UX flow for various types of delivery options including scheduled delivery, on-demand delivery, temperature-control delivery, white-glove delivery and more. There is also a need to do scenario-planning with iShopChangi serving both non-travellers and travellers, as there were different ways a shopper could receive his/her purchases including collection at the airport on departure or arrival, or home delivery.

Having joined iShopChangi full-time for more than six months now, Sharlene said, "I'm learning so much. I wasn't quite sure about UI/UX design at the beginning, but after my time at Hatch and my internship stint at iShopChangi, I knew I wanted to do more. As a first job, this has been such a great experience and I'm currently thinking about pursuing a part-time degree so that I can be a better UI/UX designer!"

Pavan added, "Being in the exciting and ever-changing e-commerce industry means you get to work on the latest trends and developments. And if you thrive in an open, collaborative and innovative work culture, there are numerous opportunities for you to bring your ideas to life."