Honouring Changi's frontline heroes
Changi Airport Group (CAG) has launched an airport-wide campaign aimed at honouring selfless individuals of the airport community as they continue to serve at the frontline during this Covid-19 pandemic.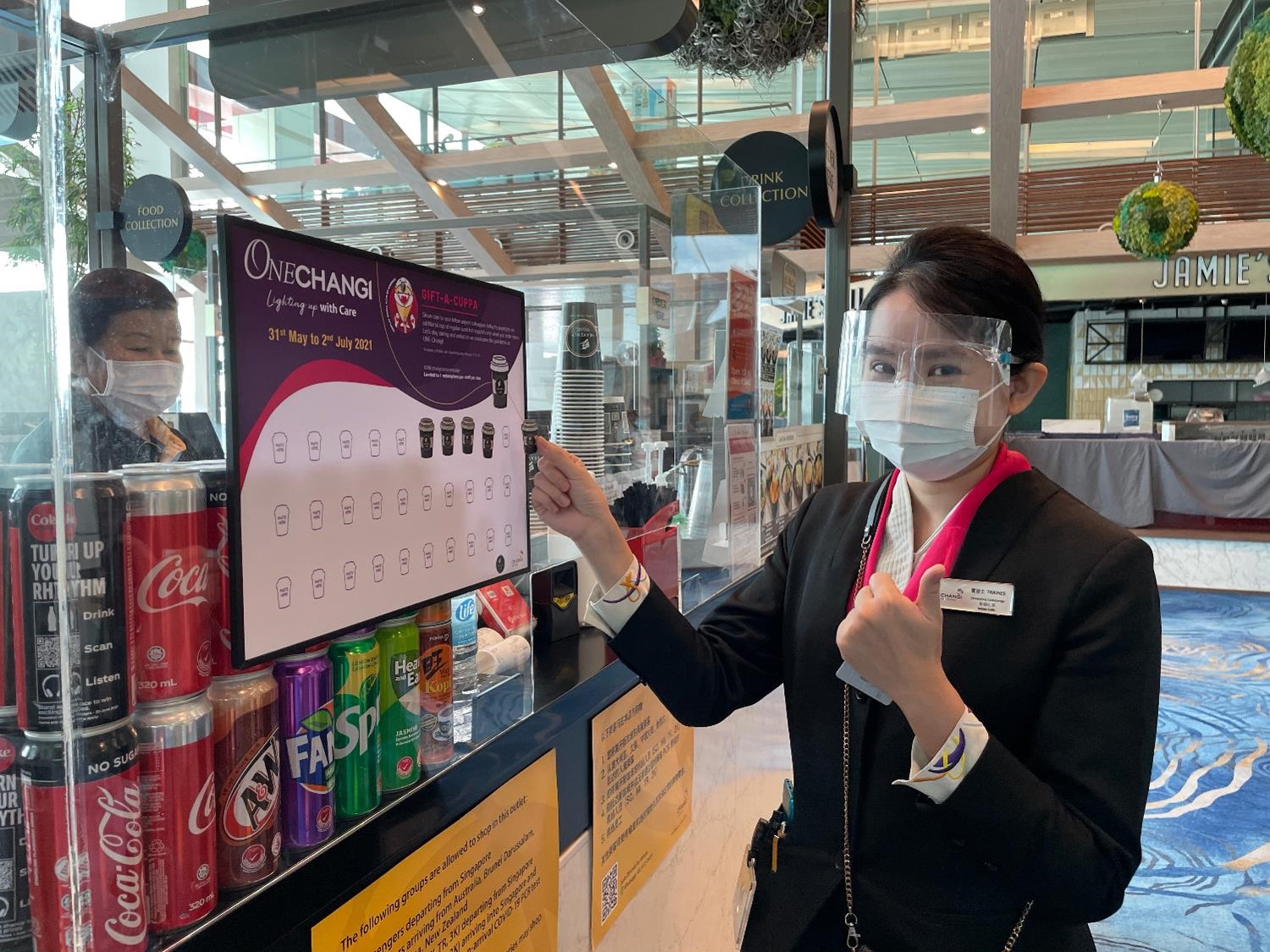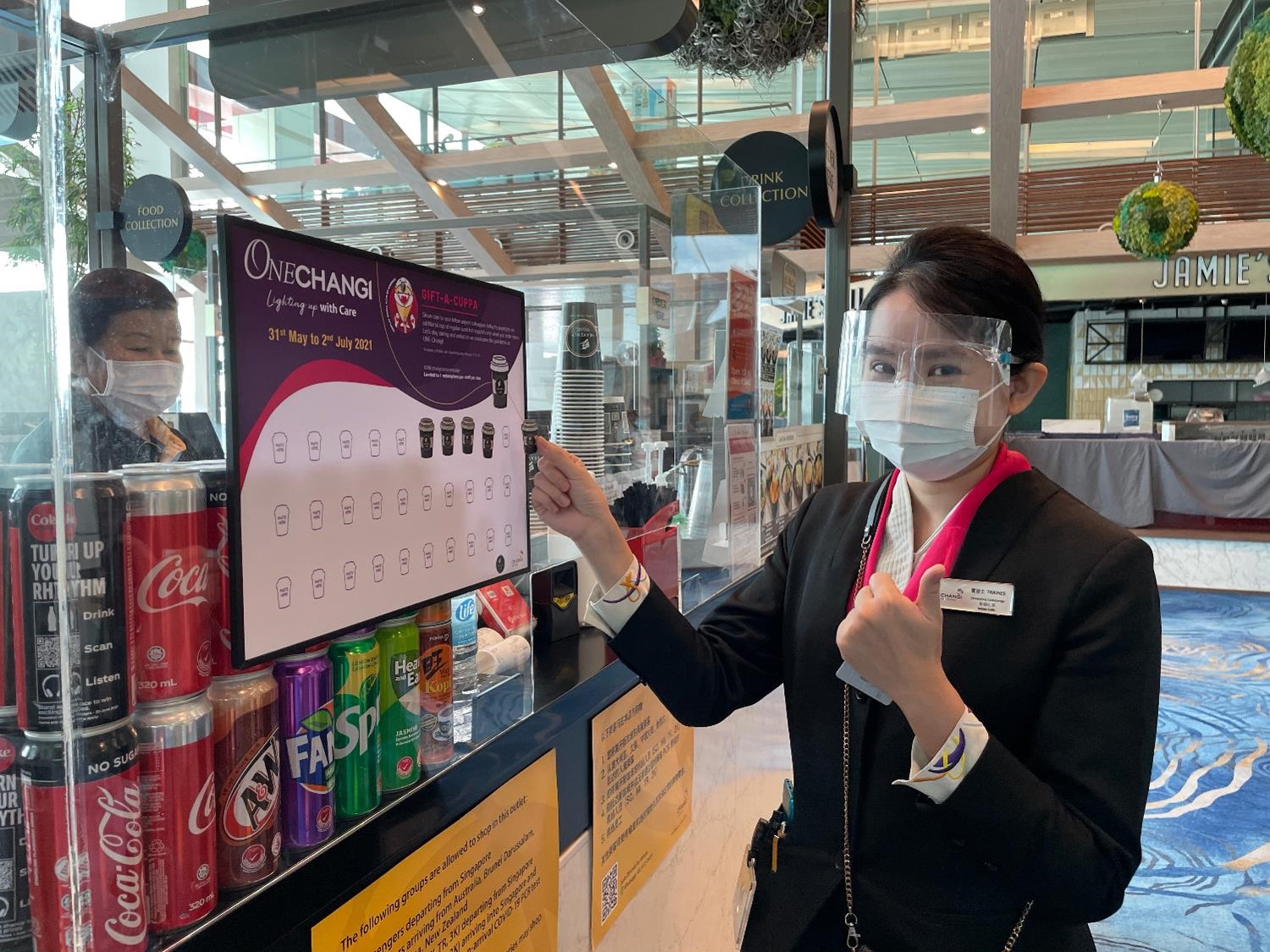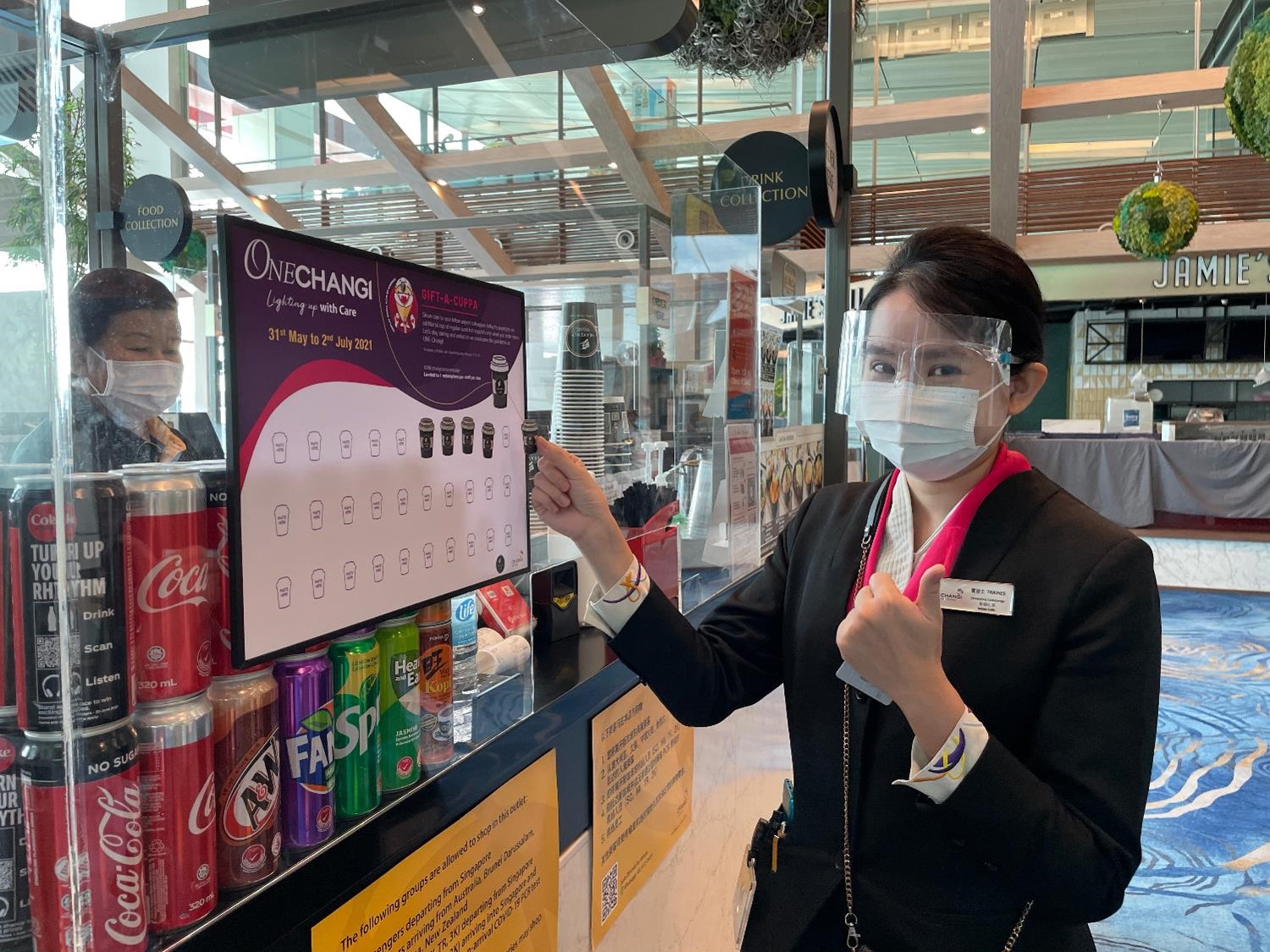 A shopping concierge from P-serv spreading kindness by buying a cuppa for a fellow colleague.
One year on and the battle against Covid-19 is still ongoing. Behind the scenes, the airport community continues to serve passengers daily and deliver the Changi experience in the best way they can to all passengers. As these unsung heroes soldier on and serve at the frontline, CAG introduced a series of initiatives to show appreciation to this driving force behind Changi Airport.
Caring for the airport community
To uplift spirits and spread positive energy among airport staff, CAG has launched the ONE Changi Cares Campaign. From now till 2 July, there are a host of activities to rally support for the airport community and show appreciation to Changi's frontline heroes.
Pledge-to-Care is a virtual board where airport staff can pen words of encouragement for their fellow colleagues or the airport community. Whether it's a motivational quote to cheer on a work buddy or a thank you note for an inspiring co-worker, the space compiles messages to spur the airport community on and boost morale. Airport staff can simply upload a photo together with a message and leave some smiles on faces. 
The airport community coming together to share words of encouragement for one another. 
Another initiative to foster acts of kindness is Gift-a-Cuppa. At the Heavenly Wang outlets  across Changi, airport staff can purchase a cup of coffee or tea for their fellow colleagues or redeem a free cup that has been gifted  to enjoy. For a start, CAG has pledged 1,200 cups to encourage the airport community to pay it forward. Partner airport agencies have also shown their support to the cause, with duty-free brand Shilla sponsoring 500 cups and Heavenly Wang matching CAG's contribution with an additional 1,200 cups.

CAG will also be running a series of quizzes throughout the campaign period to instill the importance of personal hygiene and protection. Airport staff can participate in these quizzes on their ONE Changi mobile application and stand to win prizes. 
Damon Wong, Vice President of CAG's Airport Operations Management said, "Covid-19 may have decimated air traffic, but it has not broken our spirits. I am incredibly proud of what we have – the ONE Changi community – and we want to celebrate this unity and teamwork. The ONE Changi Cares Campaign is dedicated to all airport workers and pays tribute to their significant contributions as they continue to serve tirelessly at the frontline."


Support from the wider community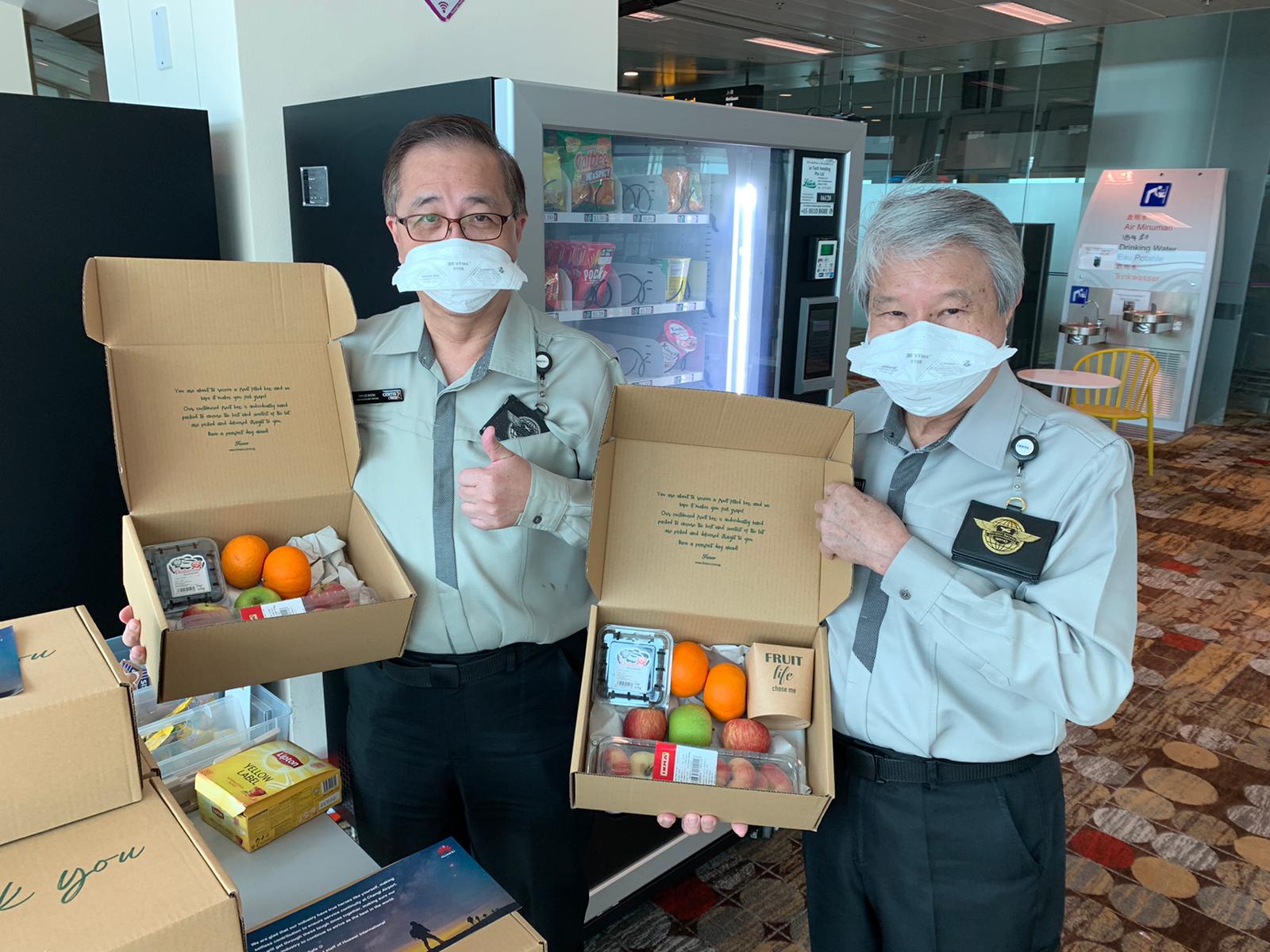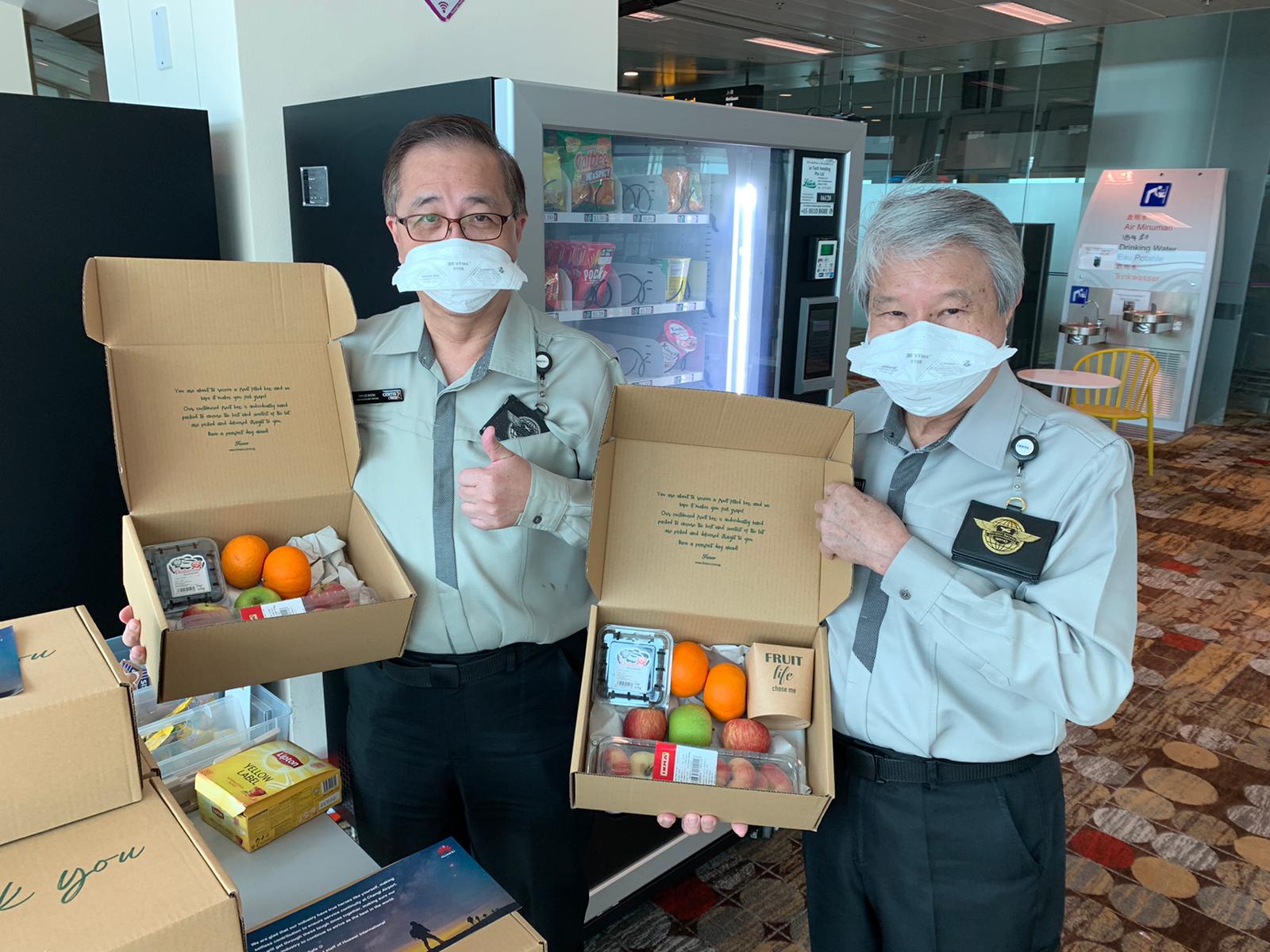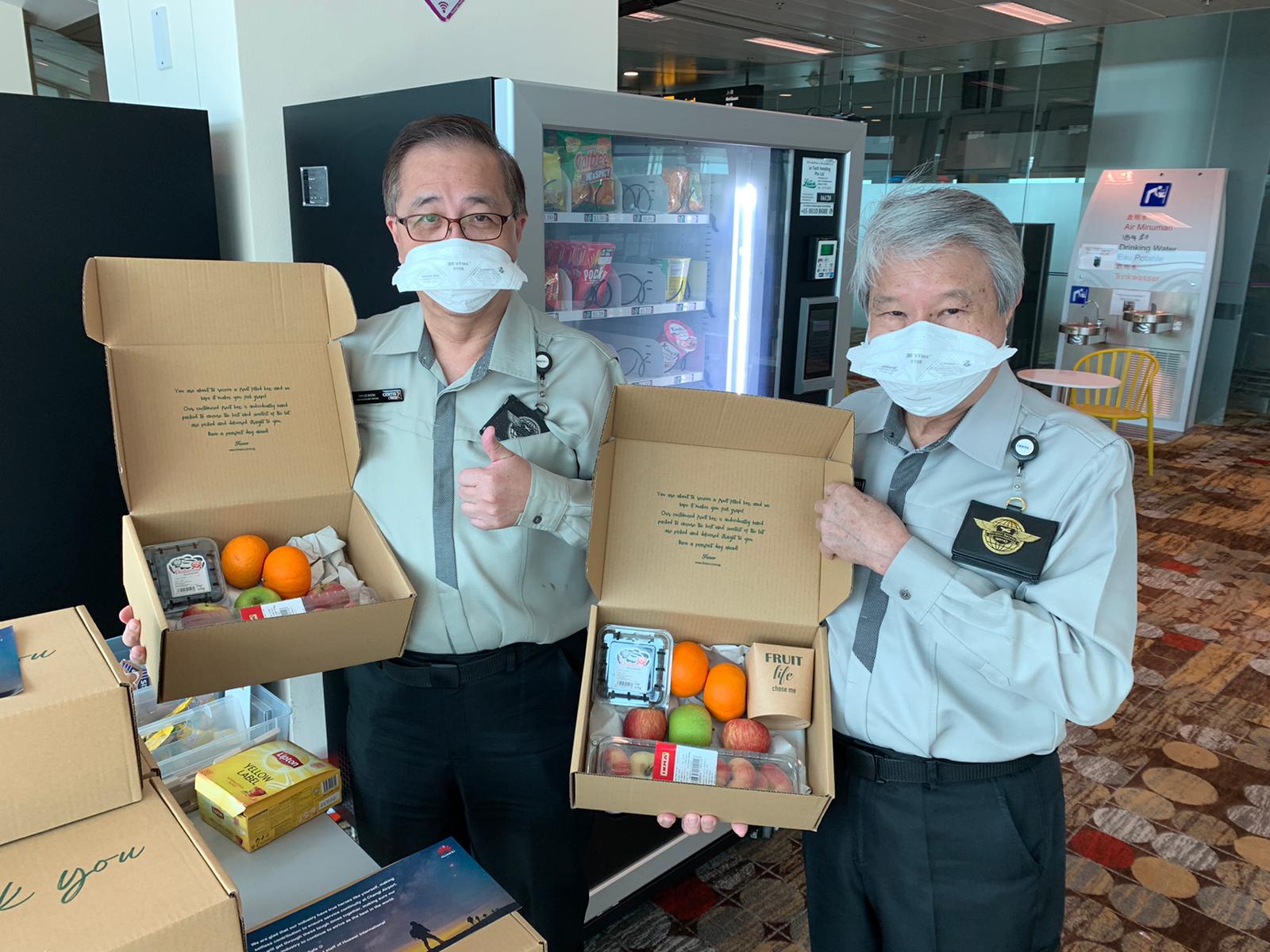 Airport workers receiving fresh fruit from Hua Wei.
Besides airport partners who have shown their support, other organisations have come forward with generous gifts of appreciation and thank you cards for the airport community.
The Social Kitchen and Huawei have sponsored 500 plant-based burgers and 200 fresh fruit packs respectively. Students from various schools have also prepared heartfelt cards to show their appreciation to airport workers. Jetquay has sponsored 10,000 bottles of drinking water for staff working in Zone 1 in the transit areas. All of these have really touched the hearts of us at Changi Airport during these trying times. Thank you!