Meet the Future Faces of Changi Airport
The Changi Youth Ambassador Programme marks its 10th year of nurturing the next generation of the aviation industry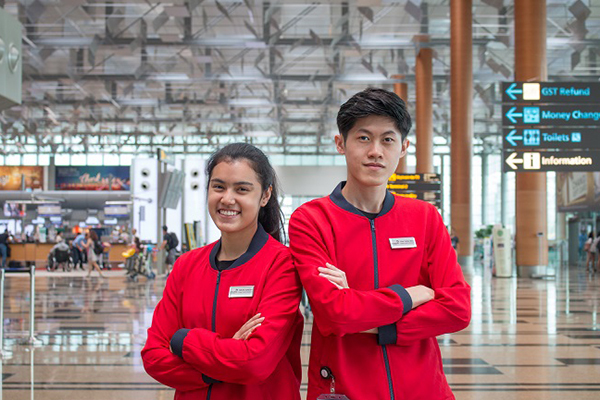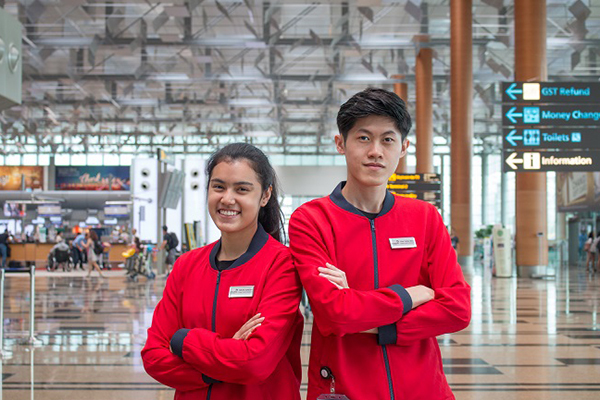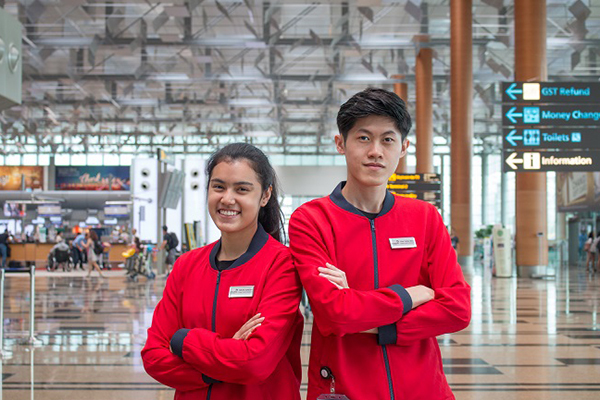 Dressed in bright red , Changi Youth Ambassadors like Nikita and Yongmao ensure that every departing or arriving passenger at Changi Airport has a positive experience.
In the latest online mini-series produced by Changi Airport, the audience had a glimpse of the interesting and multi-faceted experience of working in the airport. The two leads in Love at First Flight are Changi Youth Ambassadors (CYA) under an internship with CAG's Ground Operations team. They work together with the Duty Terminal Managers (DTMs) and take care of terminal operations so that passengers have a fuss-free and pleasant departure and arrival journey at Changi.      

Since Changi launched the CYA Programme almost a decade ago, more than 800 polytechnic students have been enrolled as CYAs, with a number of them eventually starting their careers with Changi. Every year, two intakes of aviation, hospitality and facilities management students spend approximately six-months of their time at Changi. As part of the programme, the CYAs go through a week of classroom training on airport knowledge and Changi's service culture. Following this, they will be deployed to different terminals and the learning continues on-the-job.

Changi Airport operates round the clock; 24 hours, 7 days a week. And with about 7,200 flights every week and 170,000 passengers flying through the airport every day, a lot can happen. For this reason, the CYAs often need to improvise and be resourceful when faced with unforeseen situations. From unexpected baggage delays, long immigration queues and anxious passengers, no two shifts are the same for the CYAs. Two CYAs who recently completed their internship share their experience with Changi Journeys.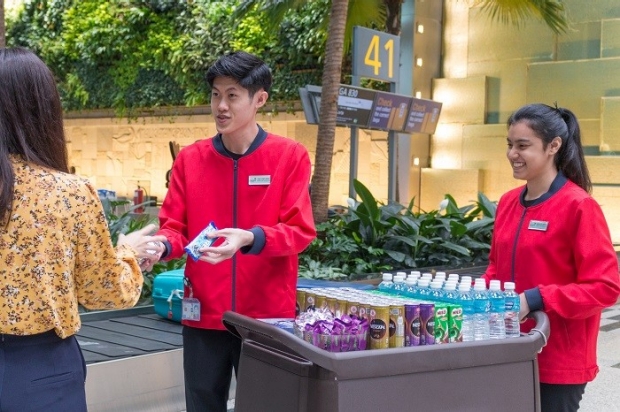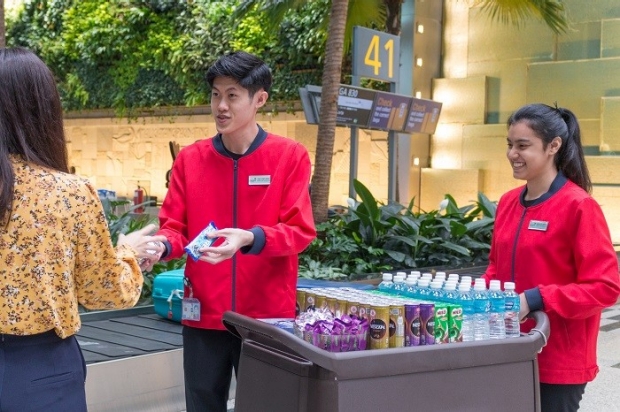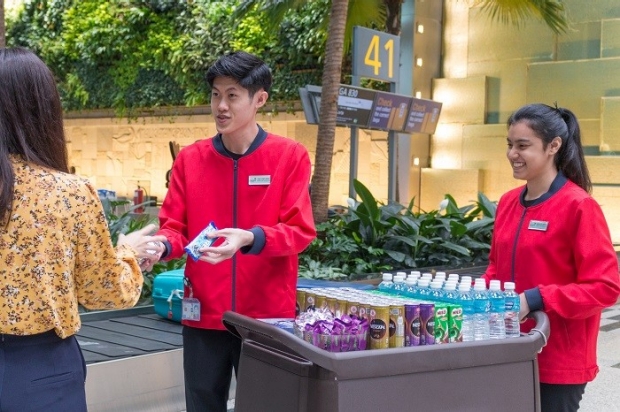 When there is an unexpected baggage delay, Changi Youth Ambassadors roll out the service recovery cart  to offer drinks and snacks to waiting passengers
Yan Yongmao, 23
Tourism & Resort Management Year 3 Student, Singapore Polytechnic
"I signed up to be a CYA because I was curious about how Changi Airport operates. Throughout my time at Changi, I learnt so much - constantly being challenged to think on my feet. I recalled an incident when the Skytrain from Terminal 2 to 3 was closed for maintenance works. Most passengers were upset by the inconvenience it caused.  Our teams quickly stepped in to look after them and offer any help we can. One of the passengers who came forward was a Person with Disability. I made the decision to contact SATS special services for assistance and the passenger was brought to Terminal 3 on a buggy.
"In these six months, I had many opportunities to turn potentially unpleasant experiences into memorable ones. This has been one of my most satisfying internship experiences ever."
Nikita Suresh Kunjappa, 19
Tourism & Resort Management Year 3 Student, Ngee Ann Polytechnic
"I joined this programme because I wanted to help give passengers a positive travel experience in Changi Airport. There was one incident involving a passenger who was flying with a low-cost carrier and transiting through Changi. He did not know that he had to collect his baggage and check in for his connecting flight, and was unhappy. I listened intently without interrupting and tried to put myself in his shoes. After that, I led him from Baggage Claim Hall to the Check-in Counter and eventually got him to the boarding gate in time for his flight.    
"During my internship, I was really happy to be able to work with such a supportive team. Together, we do our best to help every passenger, even in the smallest way. It made me realise that so much work is put in to make Changi one of the world's best airports." 
As the aviation industry progresses, Changi Airport believes that it is important to continue developing the next generation of talents and build a pipeline of potential candidates.