Changi unveils new innovation to automate aerobridge docking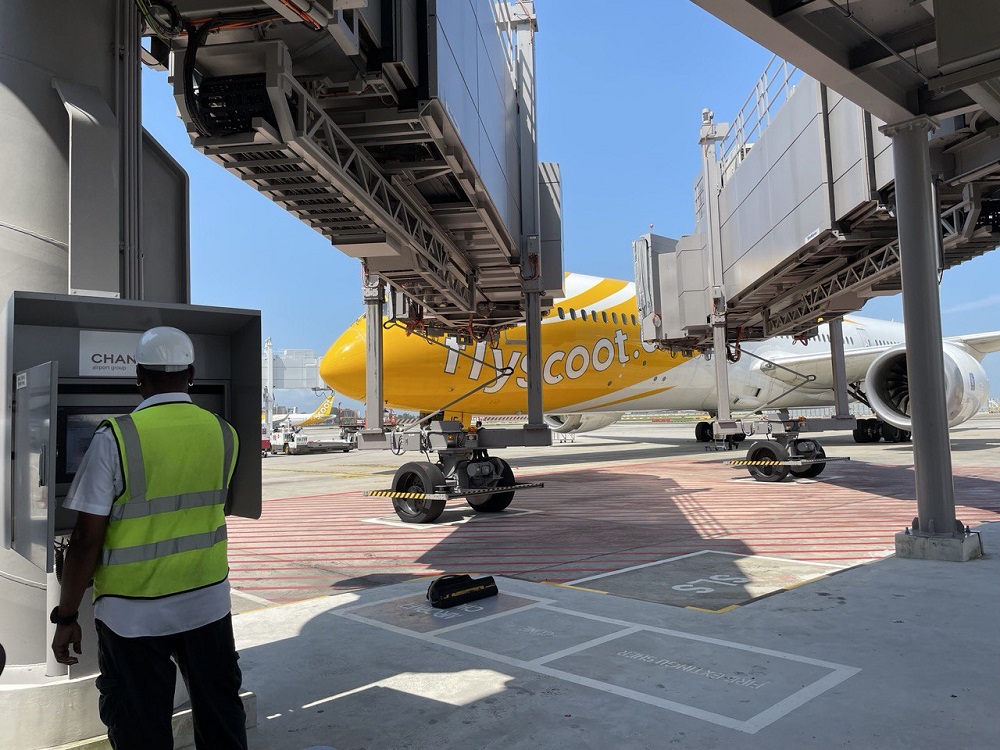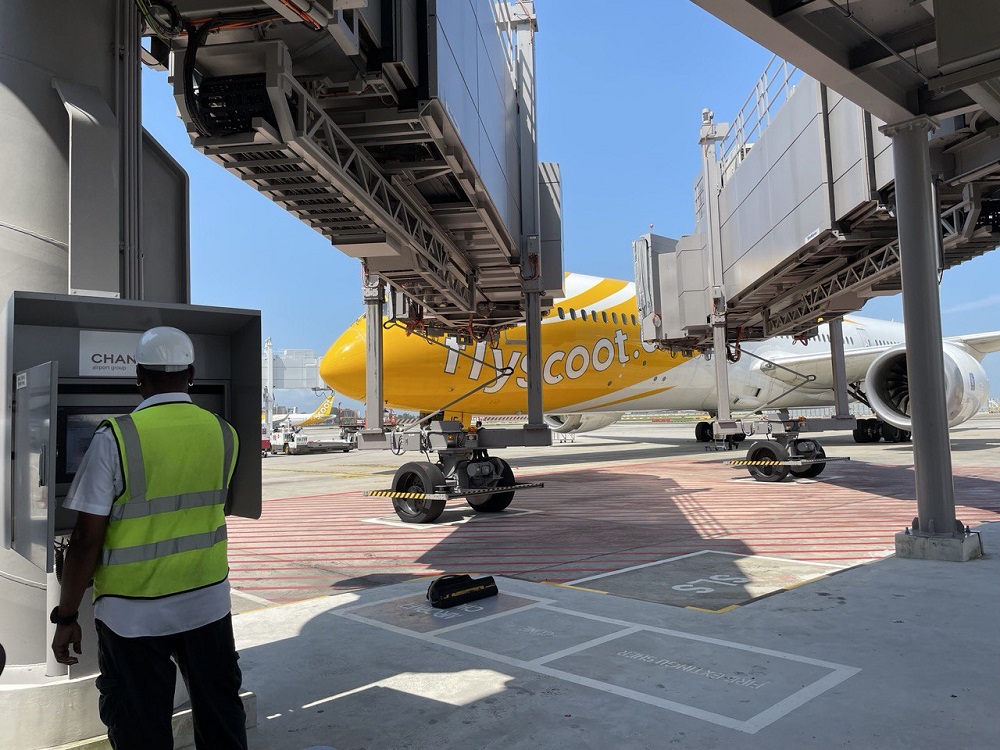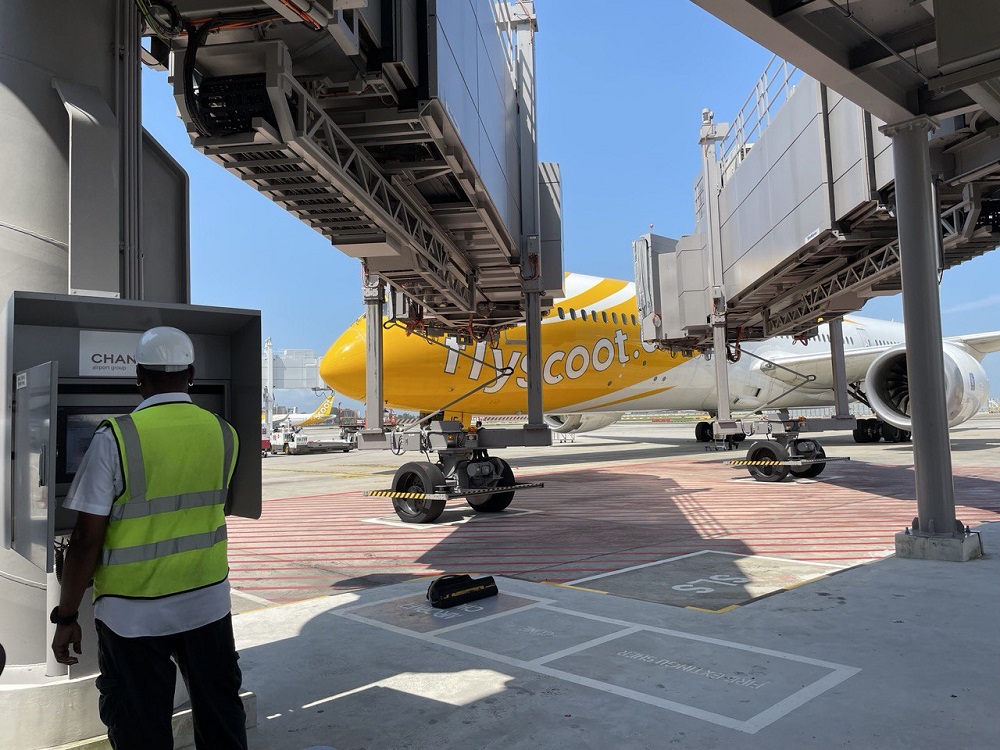 When an aircraft prepares to land at an airport, a group of ground staff will be on standby at the assigned aircraft bay to receive the plane. Among them are staff stationed in the aerobridge, otherwise known as the Passenger Loading Bridge (PLB), ready to dock the PLB to the aircraft so passengers can disembark and enter the terminal.
In its continuous innovation journey, Changi Airport Group (CAG) collaborated with its vendor to discover whether the PLB docking process can be automated. The goal is to leverage technology to complete this job safely and smoothly at a touch of a button – this will free up staff from the current manual process to allow them to focus on other more critical tasks.
Today, an operator needs to be on standby in the PLB to perform pre-arrival system checks in preparation for an aircraft's arrival. For wide-body planes which has two aircraft doors, an operator is required in each arm of the PLB for the docking process. Once the plane has stopped fully and chocks are in place to prevent it from moving, the operators have to activate the PLB and manually manoeuvre it for the last half-metre to dock to the aircraft door accurately. This process can take up to two minutes, depending on how proficient the PLB operator is.



Under the current ops process, the operator in the PLB arm manually manoeuvres the PLB to dock to the aircraft (left), before opening the doors for passengers to disembark (right)
Changi's first fully automated PLB is powered by an intelligent docking system. Components include the aircraft door detection system, laser distance sensors and other sensors to detect hazards. With the addition of a new on-ground remote control panel, a single operator can now complete the full docking process. Coupled with a fully automatic pre-arrival system check, the intelligent docking system reduces the element of human error, thereby increasing the level of safety. With automation, the docking process can be consistently completed in less than two minutes.
This new concept of operations will pave the way for job process redesign, to enable ground handling agents to explore ways to further improve their productivity and operations efficiency.



Under the new ops process, a single operator can complete the docking of a wide-body plane using the remote control panel at the apron level
CAG started its first technology trial for this fully automated PLB on 25 August 2023, with Scoot flight TR981 arriving in Singapore from Hong Kong. KLM and Bangkok Airways will join the trial thereafter.
Prior to the start of the trial, CAG had engaged the airlines, as well as their ground handling agents to revise their standard operating procedures (SOPs). Training sessions were also arranged for a select group of PLB operators to teach them how to use the new automated system.
Mr Chua Boon Sua, the Chair of Airline Operators Committee at Changi, who is also KLM's deputy station manager in Singapore, shared "KLM decided to participate in this automated PLB trial, as it fits well with KLM's pioneering spirit. The advantages of this automated system extends not only to KLM's customers, but to our partners as well, as it improves safety and reduces the chance of human error. We are impressed with this system and are looking forward to the full implementation of the automated PLB across the airport."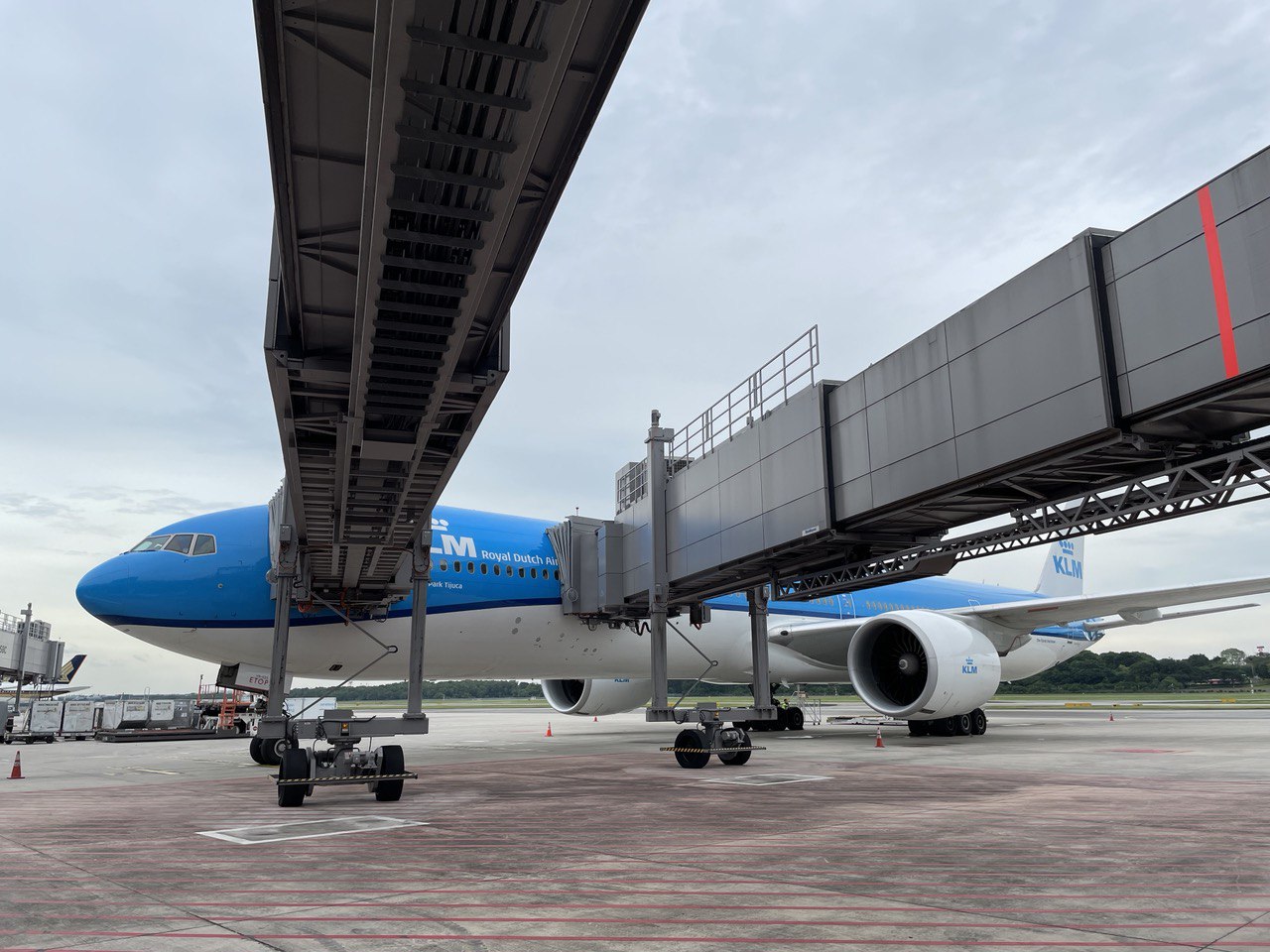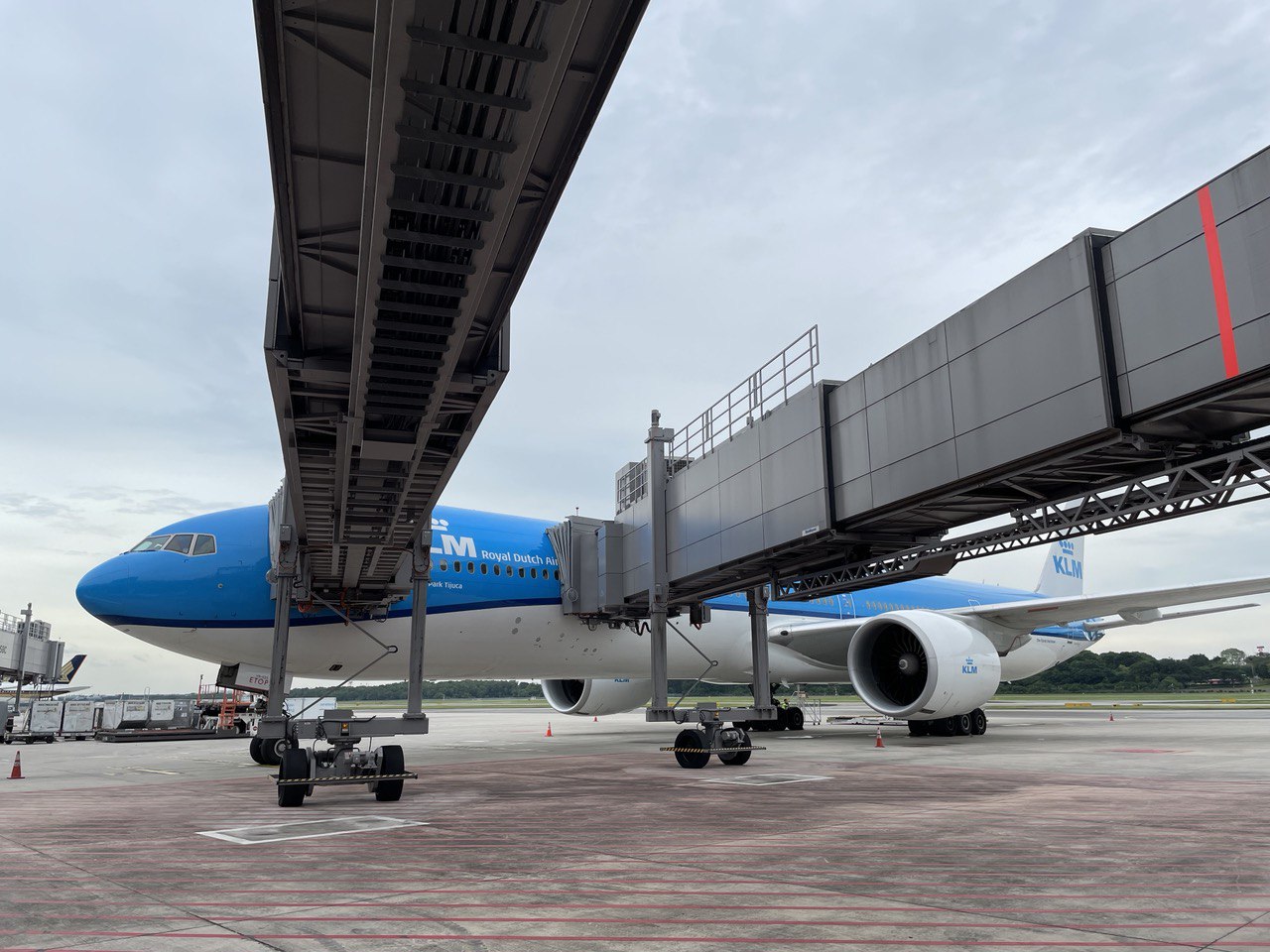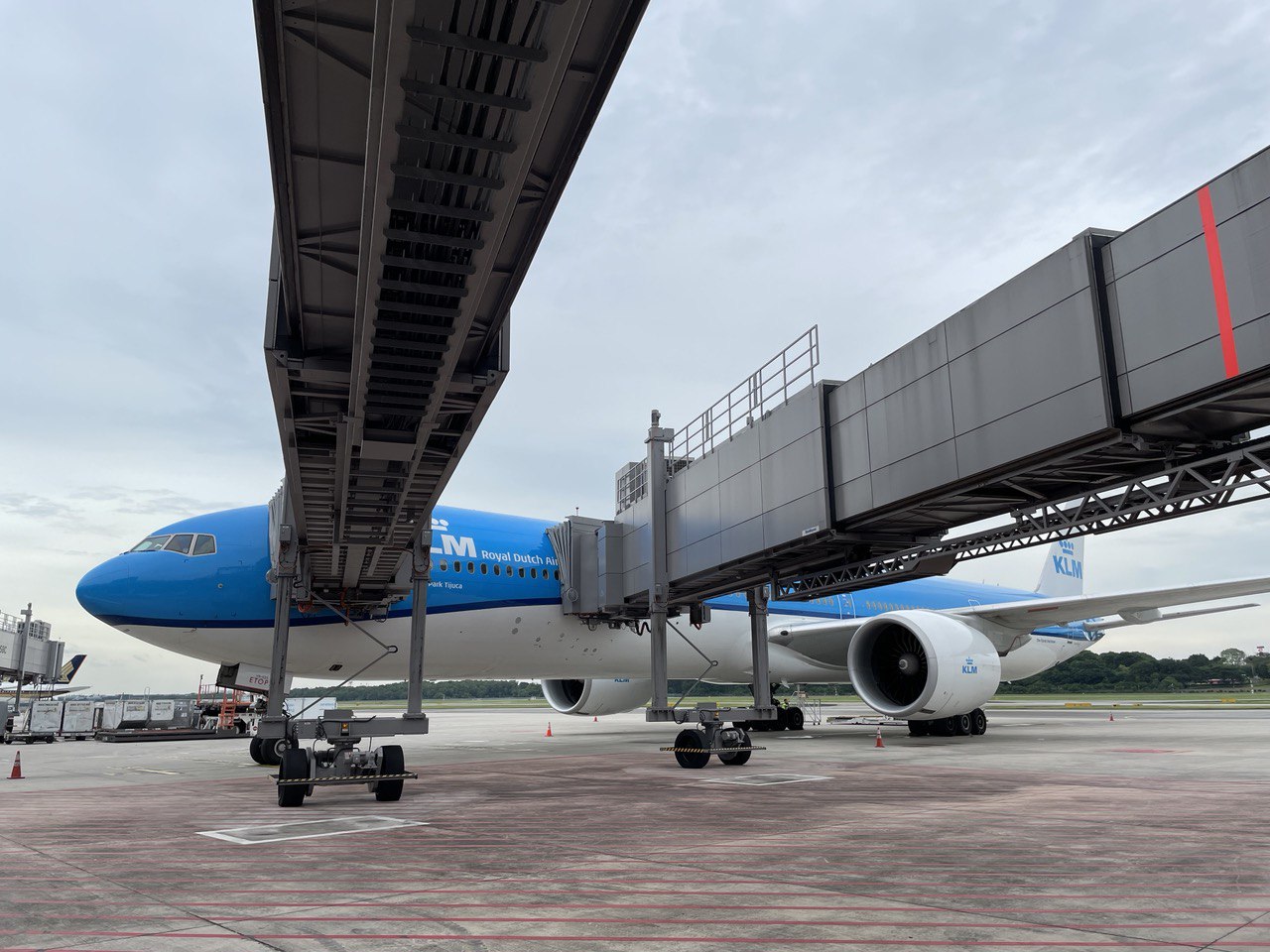 Besides Scoot, KLM will also be trialling the fully automated PLB at Changi
Mr Yeo Kia Thye, Managing Director, Airport Operations Control shared, "I am very excited  that the team has progressed this technology trial to the live operations environment. By pushing forward and embarking on this trial, we have placed one more jigsaw piece in place, towards Changi's vision of the airside of the future, where skilled workers are augmented by automation. We look forward to onboard more airlines to trial our fully-automated PLB."