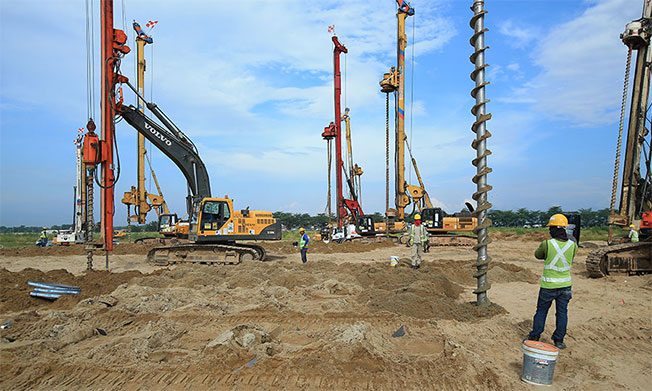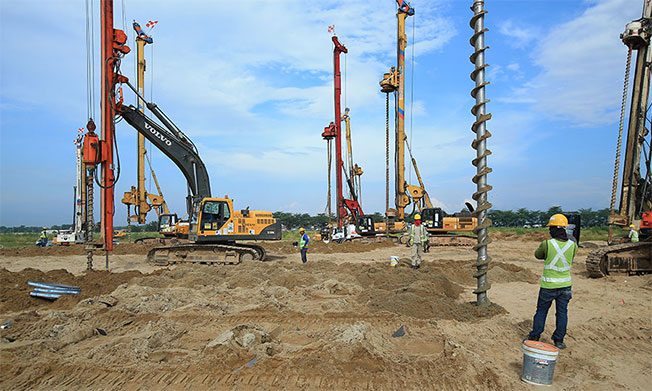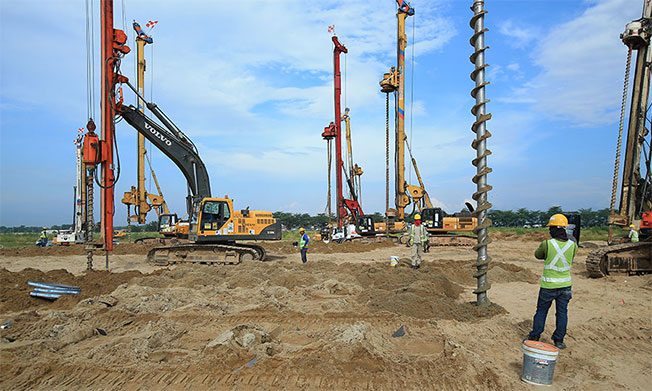 Land preparation works for Changi East in progress

Spanning a massive 1,080 hectares (equivalent to more than 660 football fields), the Changi East project is Changi Airport's largest development in its history.  An inter-agency Changi 2036 Steering Committee was established in 2012 to develop a plan for this mammoth expansion for Changi, which included a recommendation to construct a fifth terminal, Terminal 5 (T5) . 
Besides T5, the scope of works for this mega-project also includes the operationalisation of a three-runway system, the construction of tunnels and other underground systems, and the development of cargo complexes and other supporting infrastructure.  Being a greenfield development site, located to the east of the existing airport (hence the name Changi East), basic infrastructure, including utilities, water management systems, ground transportation (road and MRT) will need to be built and this will take several years before airport facilities are commissioned.
When fully completed, T5 will have a capacity similar to that of Terminals 1 to 3 combined. T5 will be connected to the existing Terminals to allow the expanded Changi Airport to be operated as a single, integrated airport for ease of transfer between different terminals, passenger convenience and airfield operational efficiency. T5 will have an initial capacity of 50 million passengers per annum (mppa), bringing Changi Airport's total handling capacity to 135 mppa by the end of the next decade. The terminal will also be connected to the MRT network.
Land Preparation (2014 - 2020 est)
Changi East is situated on reclaimed land made of soft marine clay, almost toothpaste-like in texture.  Ground improvement works to about one third of the site are necessary to increase the strength of the soil before new airport facilities can be constructed.  Spearheaded by the Ministry of Transport, the S$1.1billion contract for land preparation was awarded to Penta-Ocean/Koon JV in 2014.  Works will be carried out in more than 70 sub-phases over five to six years.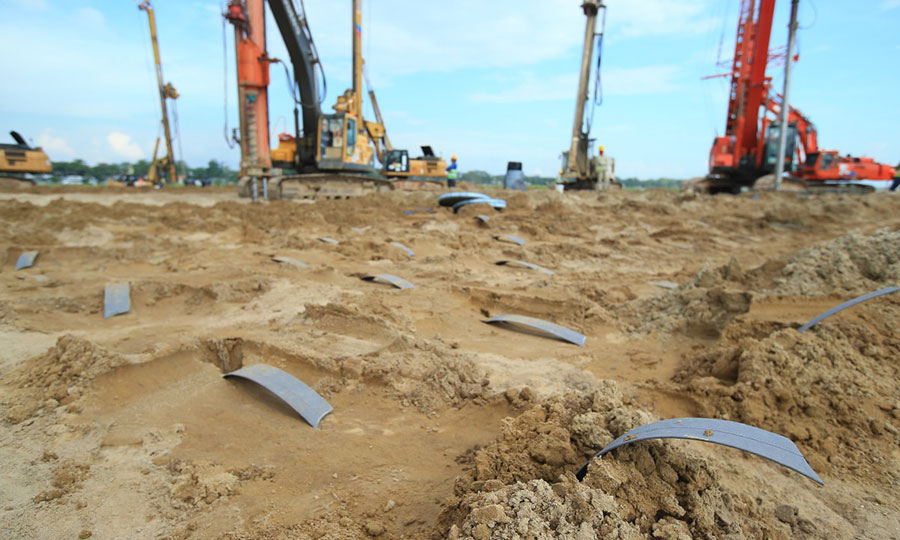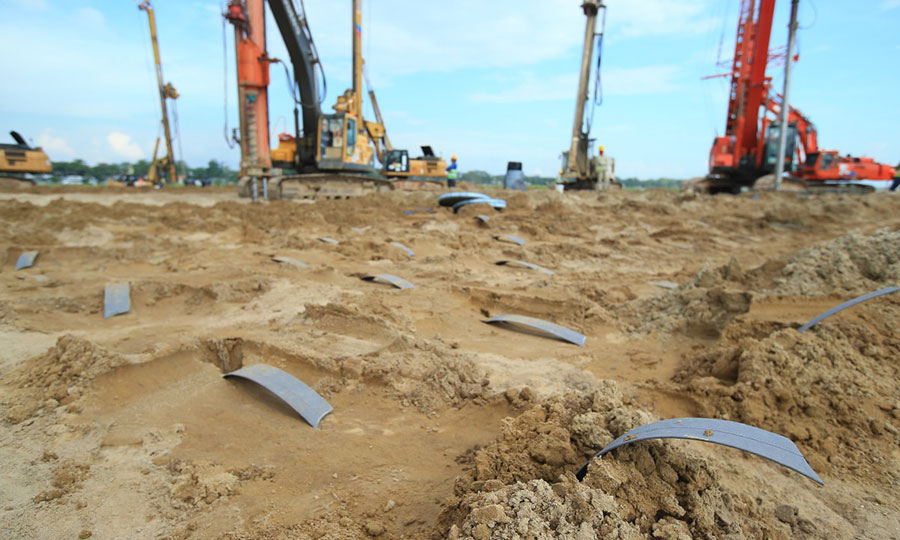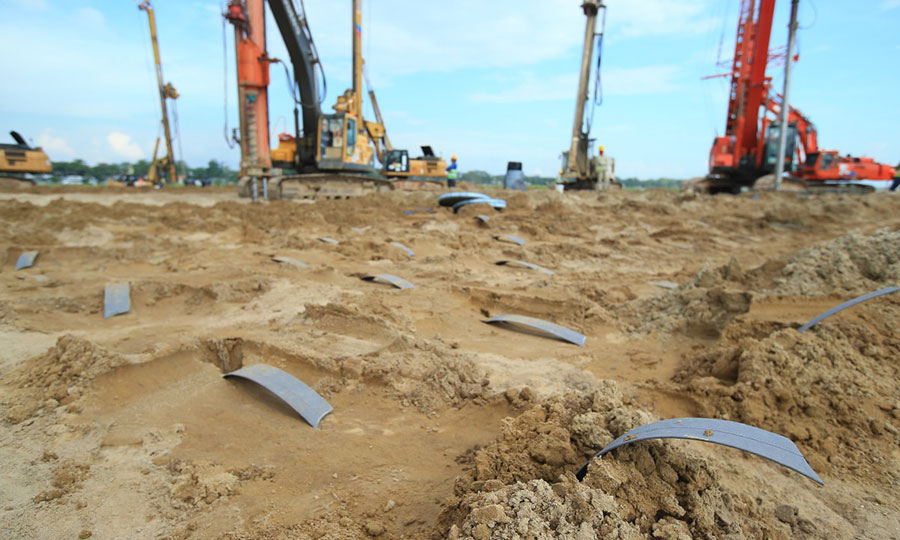 Vertical geo drain: About half a million of vertical straw-like strips are inserted deep into the ground to drain water out from the marine clay.
 
Operationalising a Three-Runway System (End 2015 – 2020s est)
Changi Airport currently operates two runways, serving its four terminals.  To ensure adequate runway capacity for the airport's continued growth beyond this decade as well as to cater to the future T5, an existing third runway (Runway 3) used by the military will be converted for joint military-civilian use. 
Runway 3 will be lengthened to 4km, and supporting taxiways developed, to connect it to the rest of Changi Airport.  Here's a quick overview of what needs to be done - extending Runway 3 from 2.75km to 4km to handle larger passenger aircraft, which involves pavement, drainage and associated works. Thereafter, more than 40km of taxiways will need to be built to connect Runway 3 to Runway 2.  This will be followed by closing Runway 2 temporarily to allow for works such as underground tunnelling and the construction of additional rapid-exit taxiways.
The construction work will be carried out over several package contracts:
Package 1
In October 2015, CAG awarded Package 1, a S$1.12 billion contract, to a joint venture formed by Samsung C&T Corporation and Koh Brothers.  The works include pavement works, drainage works, security fencing and perimeter roads, mechanical and electrical works, as well as supporting works such as major services and road diversions.  To facilitate this, Runway 3 is closed for about two years from 2016.
Package 2
In August 2016, Package 2, valued at S$1.107billion, was awarded to a joint venture comprising Hock Lian Seng Infrastructure and Sembcorp Design and Construction.  The works for this programme, which will be carried out near the airport's existing Runway 2, include pavement works, drainage works, mechanical and electrical works, security fencing, perimeter roads, ancillary buildings, as well as other supporting works such as services and road diversions.
Progress of construction in 2017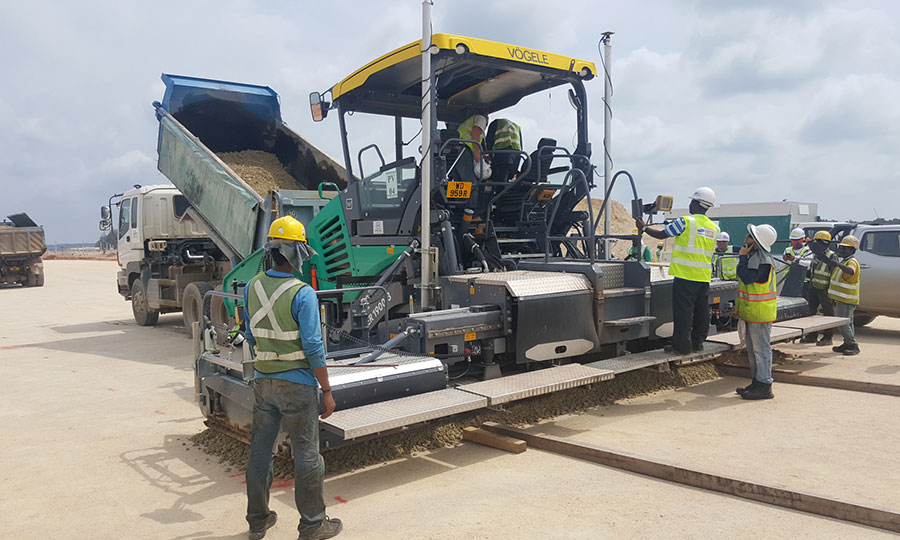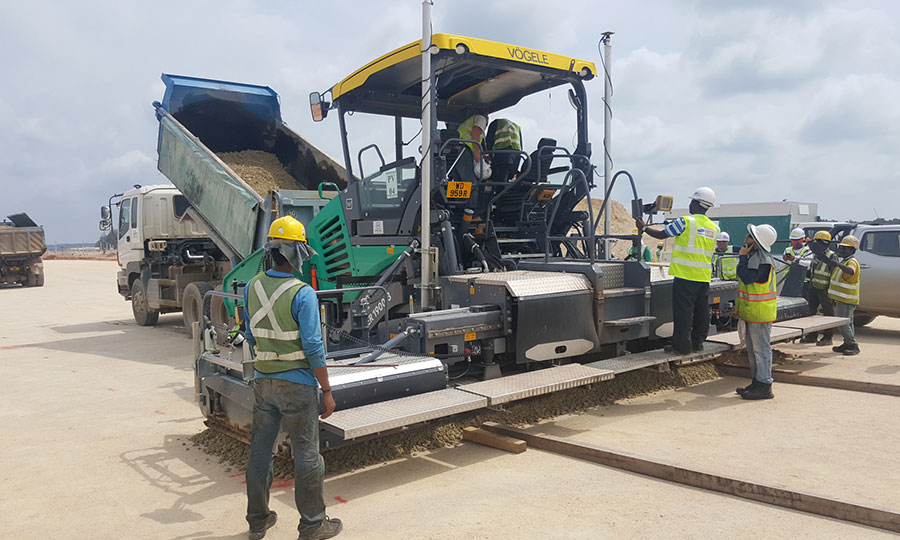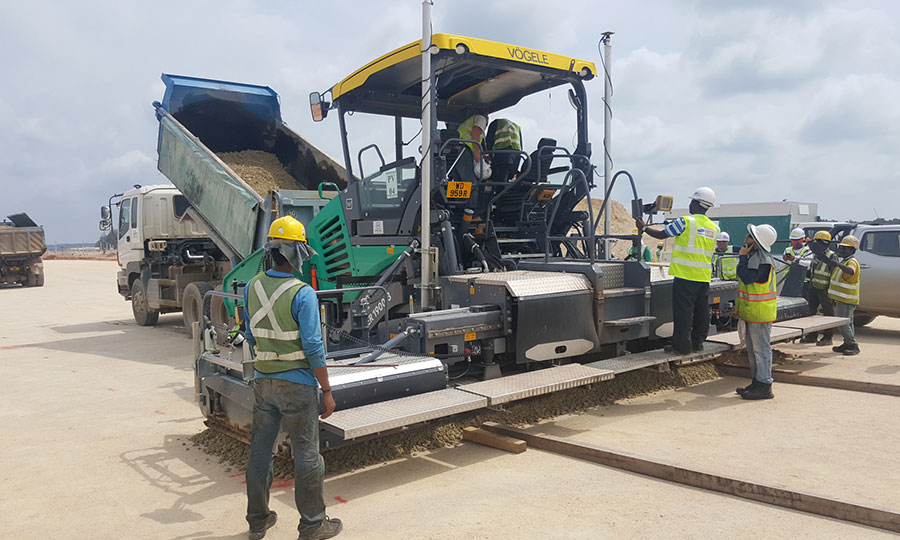 Laying of the cement treated base to strengthen Runway 3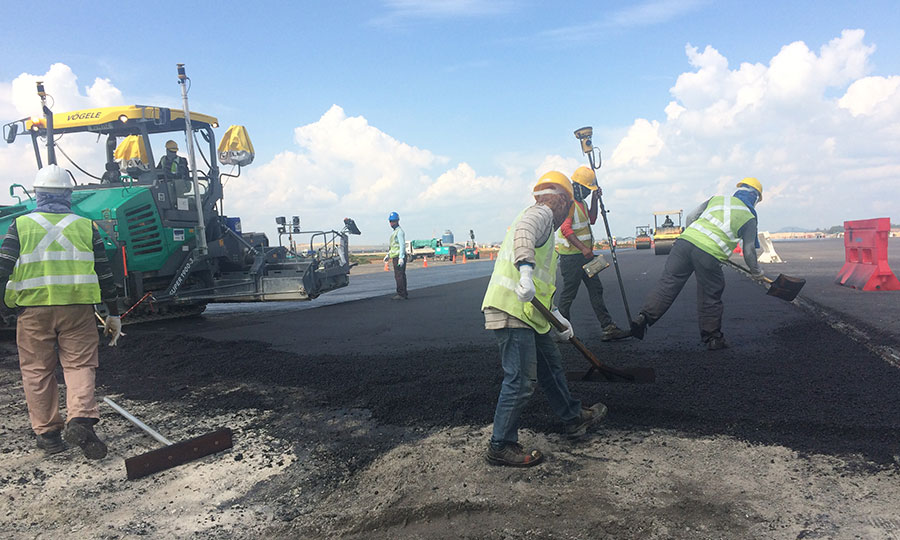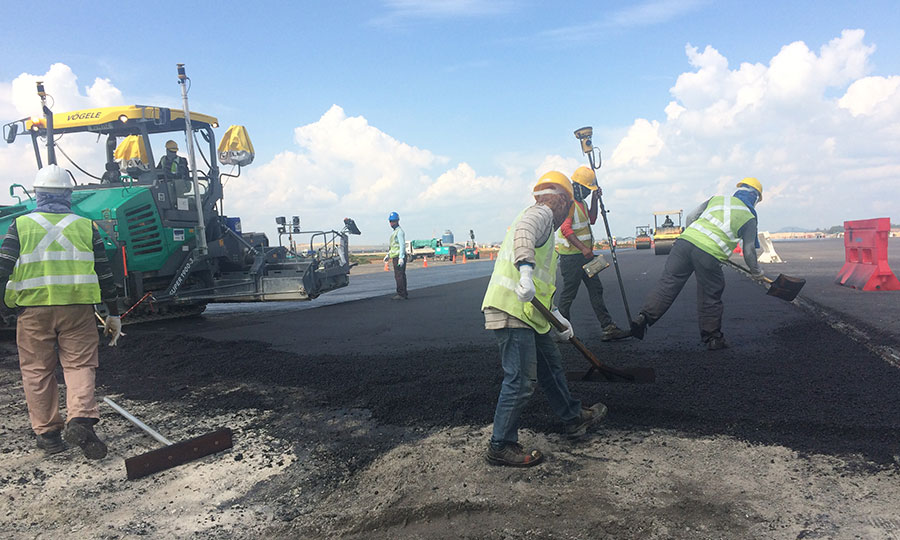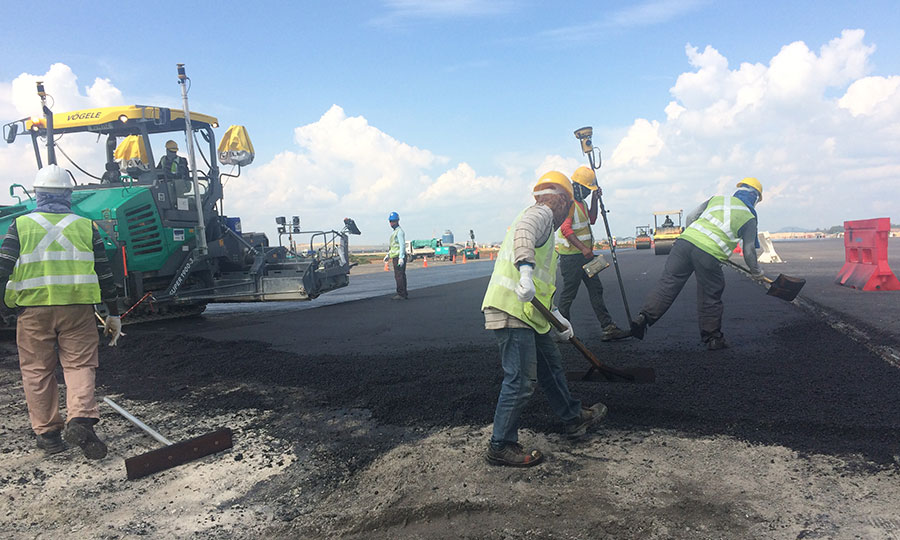 Paving works to extend Runway 3
 
Work on Changi East progressed apace throughout 2017. The third runway was extended.  Drains and four new canals, the widest reaching 40 metres in width, have been built to drain excess water from the area around the runway.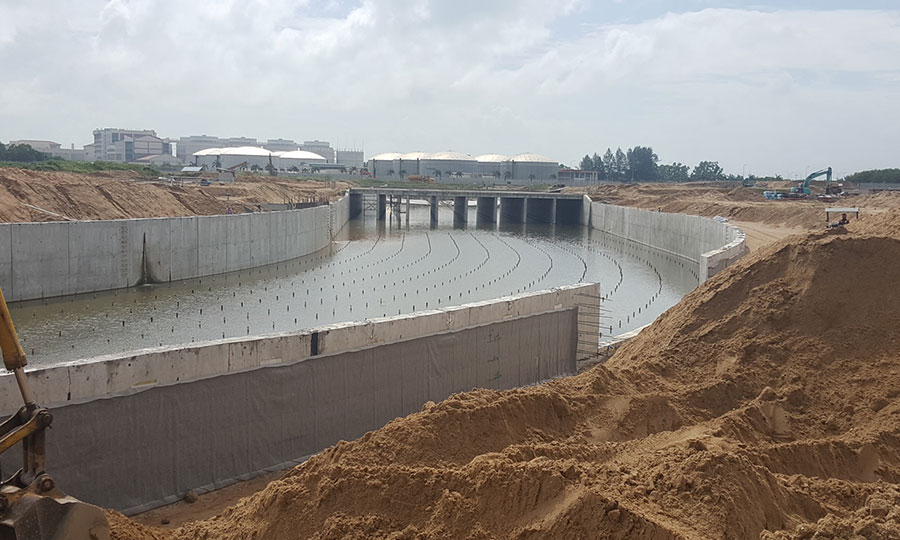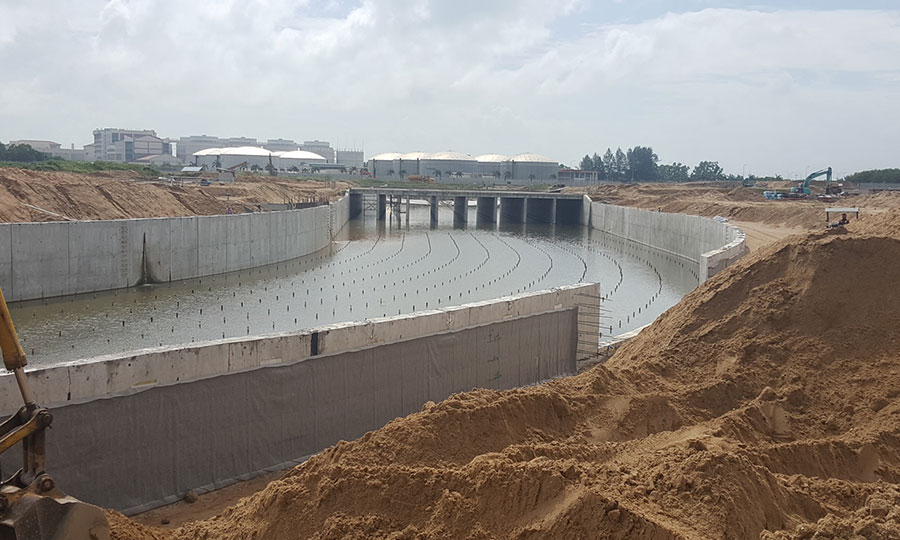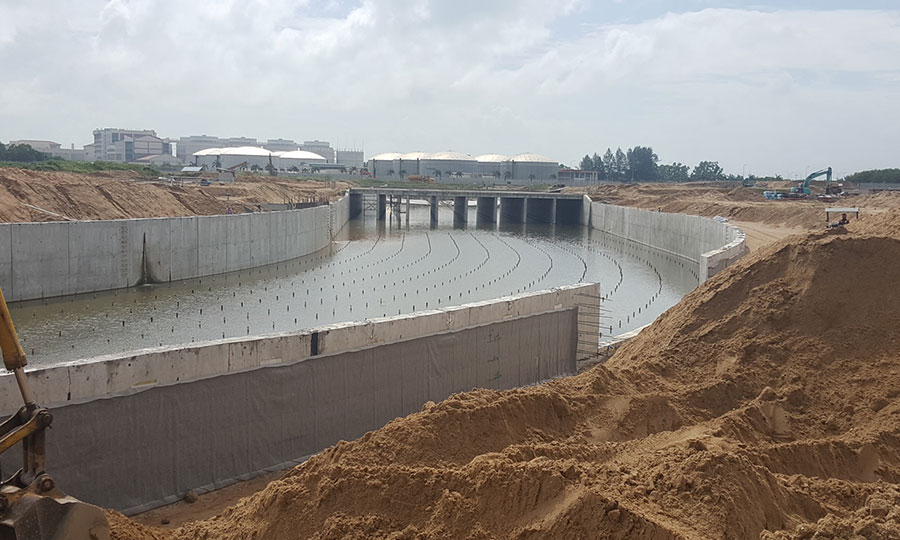 Construction of one of the new canals to prevent flooding
 
A new taxiway to connect Runway 3 to the existing airfield was also constructed; this taxiway also forms part of the infrastructure that has been put in place to facilitate the towing of aircraft from the airport to the site of the upcoming Singapore Airshow in February 2018. Meanwhile, planning and design works for the tunnels and T5 continued through 2017.
2018 looks to be an equally exciting year for the Changi East team - the Master Building Consultant and Master Civil Consultant for T5 will be appointed, allowing work on the terminal design to kick in to a new gear. And upon the successful testing of the upgraded Runway 3, it will be commissioned and handed back to RSAF for military use, until the taxiways and other supporting infrastructure for the entire three-runway system is completed.