Changi takes Big Steps to go Green
Sustainability has always been a cornerstone for Changi Airport and its approach to operations. Going well beyond the basic eco-friendly initiatives that include switching to LED lights and embracing recycling, Changi Airport Group (CAG) has been ramping up its sustainability efforts and working hand-in-hand with key stakeholders to reduce the airport's carbon footprint.
One of the most significant initiatives that the airport implemented recently was to introduce a fully electric fleet of baggage handling tractors used at Terminal 4 (T4), in a bid to reduce the airport's greenhouse gas (GHG) emissions and carbon footprint. Globally, the drive towards using electric vehicles is on the rise, as they are considered much cleaner than their gas-guzzling counterparts. To effect the change, CAG first had to convince the ground-handling partners of the benefits of doing so not just from an operations point of view but also the larger, environmental perspective as well.
CAG's efforts paid off and a common pool of electric chargers was installed in the baggage handling areas to facilitate the charging of the tractors.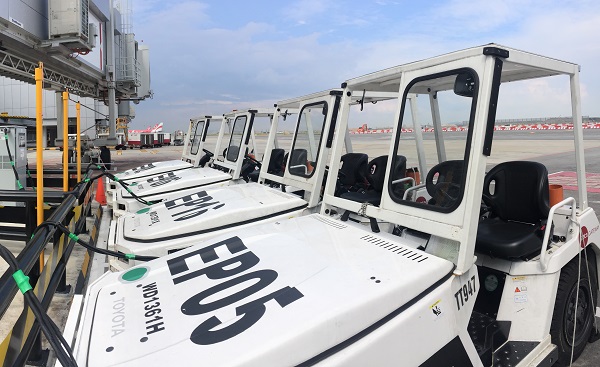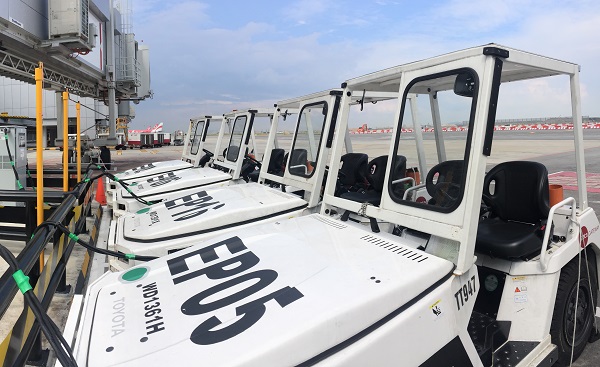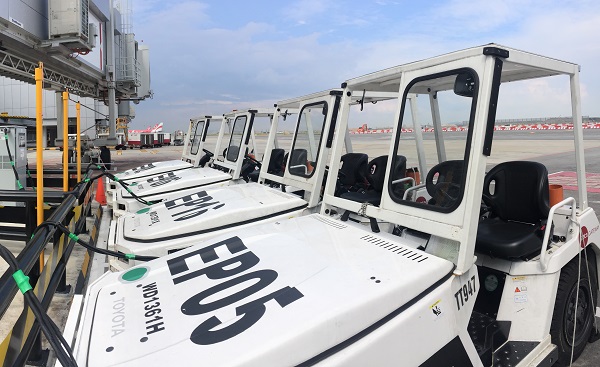 A row of electric baggage handling tractors being charged at T4
This follows another major 'greening' initiative at Changi Airport – turning food waste into water. CAG embarked on a mission to reduce food waste by investing in digesters, in which microbes are used to break down food waste into water. The less food waste is sent to incineration plants, the lesser the overall carbon emissions.
These environmentally friendly machines digested over 250 tonnes of food waste last year, which is equal to the weight of almost seven A320 planes! Currently, Changi Airport is the largest adopter of food waste digesters in Singapore with a total of 11 machines installed across all four terminals.
These large-scale initiatives have helped CAG's participation in Airport Carbon Accreditation, a global programme by Airports Council International to encourage and enable airports to track and reduce their carbon emissions, with the potential to achieve carbon neutrality.
Changi Airport has achieved Level Three of the Airport Carbon Accreditation – through mapping our carbon footprint, having a plan in place to reduce emissions and developing a stakeholder engagement plan to further influence the airport's carbon footprint. In October last year, CAG launched the inaugural Changi Airport Community Environmental Forum  - a platform that brought together CAG and its major partners such as the SIA Group, SATS and SIA Engineering Company to discuss critical sustainability topics, which included recycling and investing in renewable energy.
"Sustainability – when done right – can be a great force for good," said Gerald Ng, CAG's Director of Business Development. "As Singapore's international gateway and the world's sixth busiest airport for international traffic, CAG recognises its responsibility towards society and the planet as a whole and is committed to taking proactive steps to be a world-class air hub that champions sustainability."