As more nations relax their borders to welcome international travellers, traffic has started to return to Changi, as travellers put their holiday plans back into action again.
With limited travelling over the last two years, Changi Airport might seem like a familiar yet foreign place to many travellers. Changi Journeys shares five little aspects of the airport's design which travellers might not have noticed immediately, and how these help to create the Changi Experience that the airport is known for.
1. Stop and smell the orchids
To enchant visitors the moment they step foot into Changi's terminals, Changi Airport Group (CAG) created a characteristic Orchid Tea scent that was personalised to the airport, as studies have shown that smell is associated with memories. By infusing a refreshing scent at key touchpoints at the airport, CAG aims to leave travellers with positive lasting impressions of their travel experience in Singapore.
Developed in collaboration with a renowned scent specialist from an acclaimed fragrance supplier, the unique Changi Scent was designed to be subtle, yet identifiable. Inspired by the rejuvenating gardens of Changi Airport's terminals, the scent is a careful concoction of orchid, damask rose, ylang-ylang, geranium, mint, citrus, South American yerba mate, white flowers and other Asian spices, for a unique twist. 



From L to R: Changi Scent reed diffuser, perfume oil, scented candles
Given its popularity among travellers and visitors alike, the bespoke Changi Scent now rests on the shelves of GIFT by Changi Airport in Jewel, available for purchase in the form of a reed diffuser, perfume oil, as well as scented candles. 
2. Carpets galore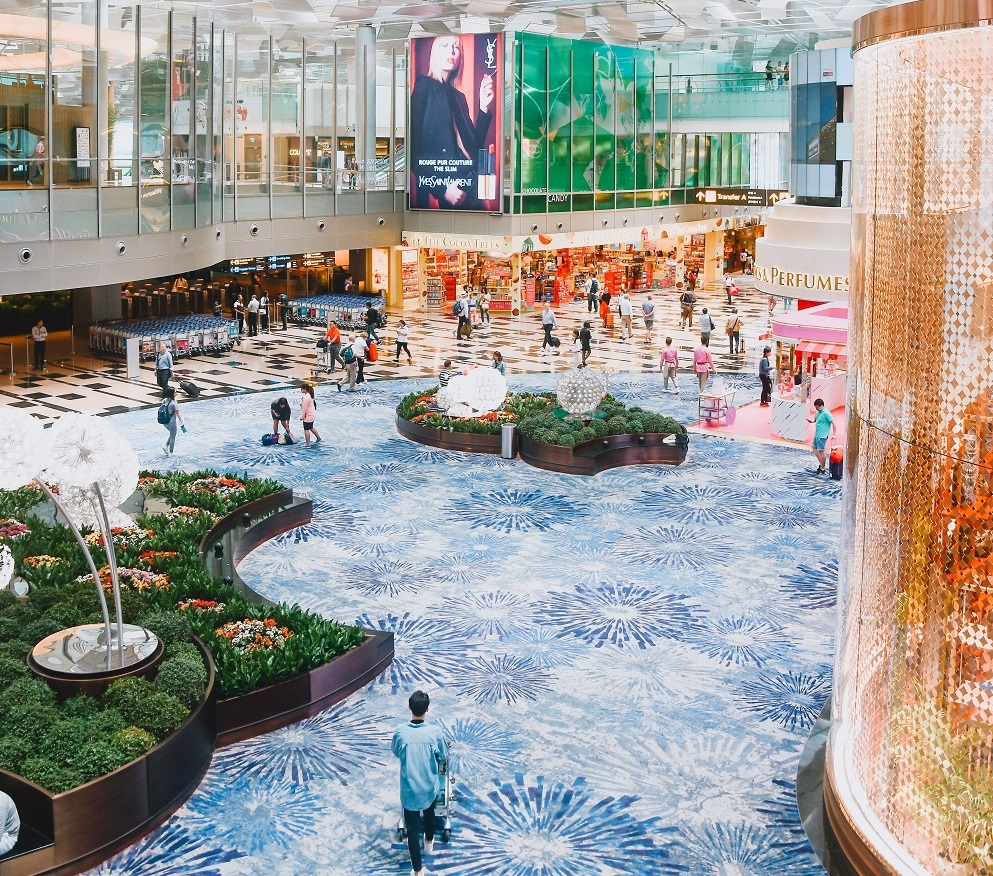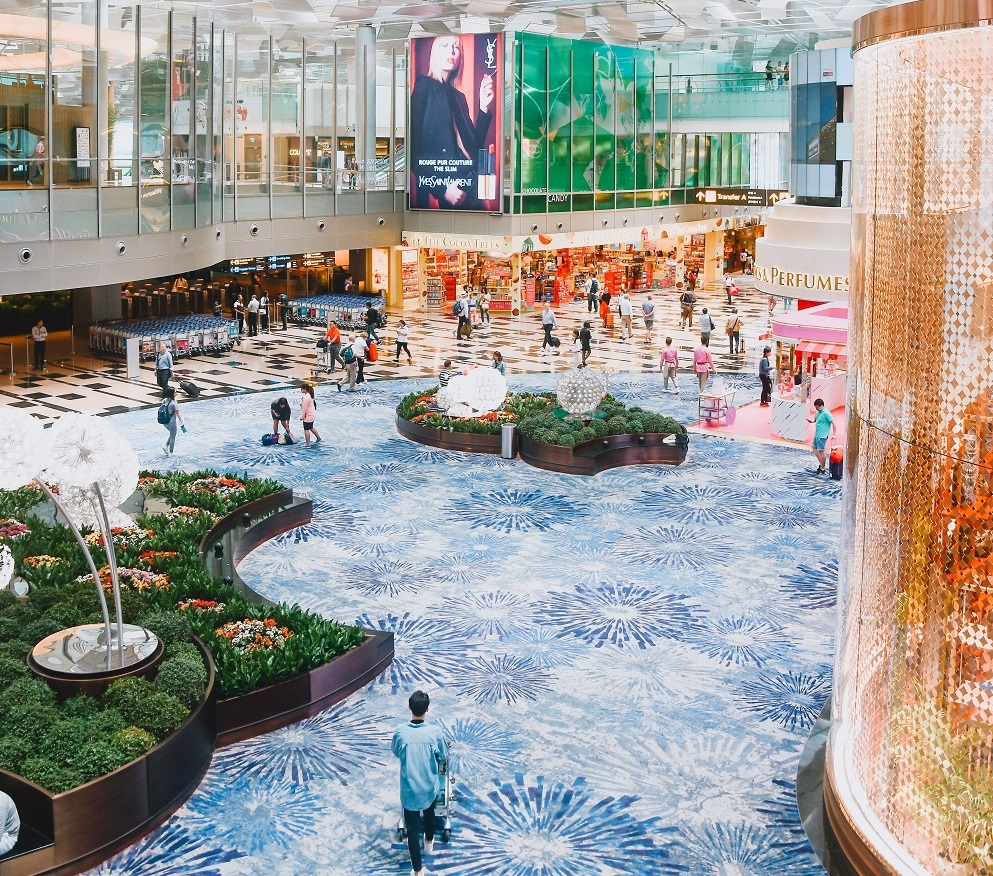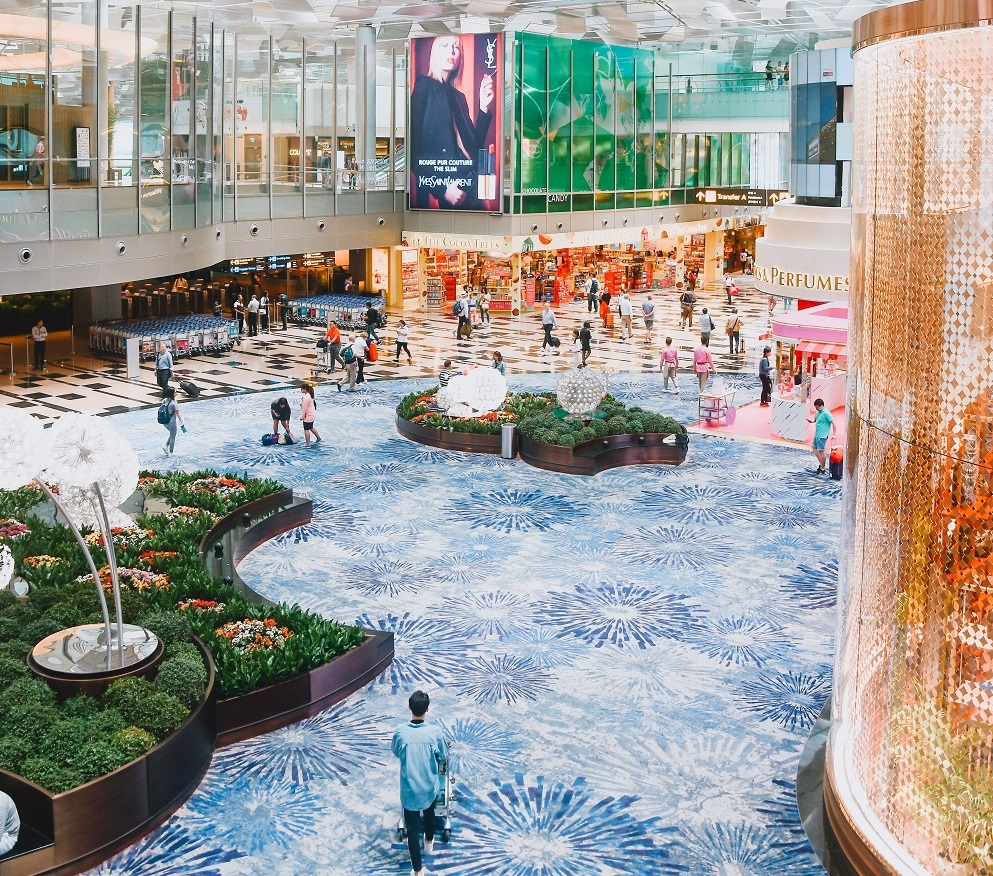 Carpeted area at T3's central piazza
Another unique characteristic of Changi Airport's design is the vast carpeted flooring across the transit areas and check-in rows of the terminals. Besides its aesthetic appeal, many may not be aware that carpets serve a deeper purpose to enhance the Changi Experience.
Traveling can be stressful for some passengers, particularly during these times when more document checks have to be carried out. In a hectic and fast-paced environment, one way to reduce stress is to lower the noise level in a particular space. Carpeted flooring reduces noise and softens acoustics from heavy footsteps and luggage being rolled across the airport floor. In fact, multiple factors were taken into consideration when selecting the floor material for different areas of  the airport. These factors include durability of the material, convenience of maintenance and cleaning, material cost, as well as ease of manoeuvring objects on wheels, to name a few.
Last but not least, every terminal also has a different carpet design, to give each its own identity.
3. Take a stroll through our gardens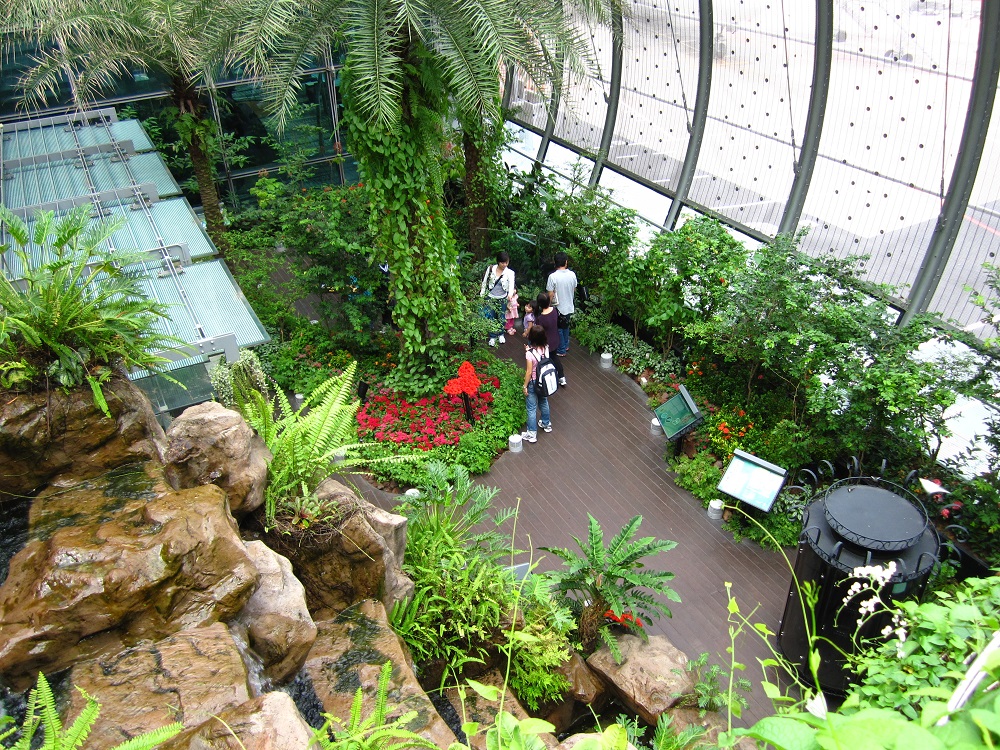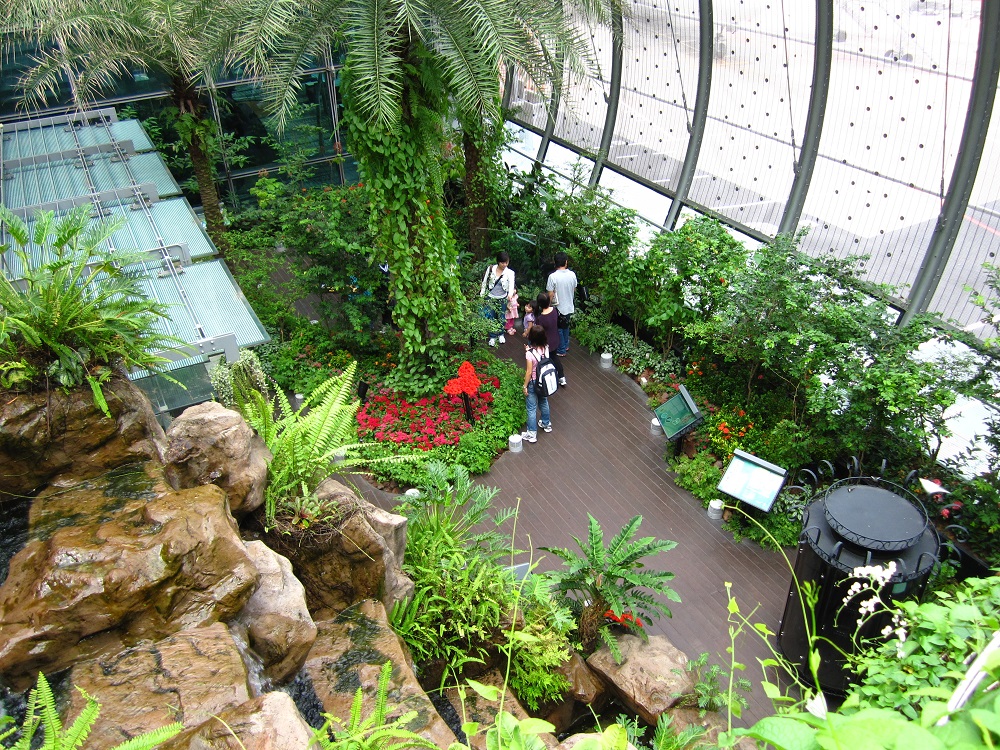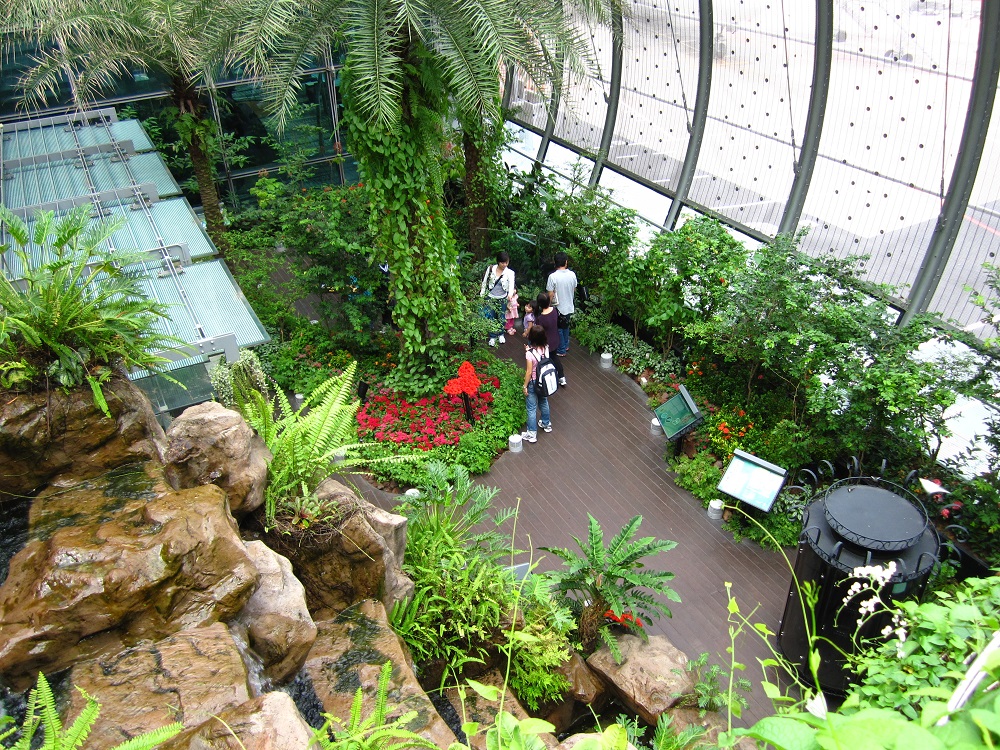 Butterfly garden in Terminal 3
Changi Airport was among the first airports to incorporate gardens in airports. An important design element in Changi's terminals is the inclusion of real plants in landscaped areas and gardens, as studies have shown that nature helps to reduce stress and anxiety.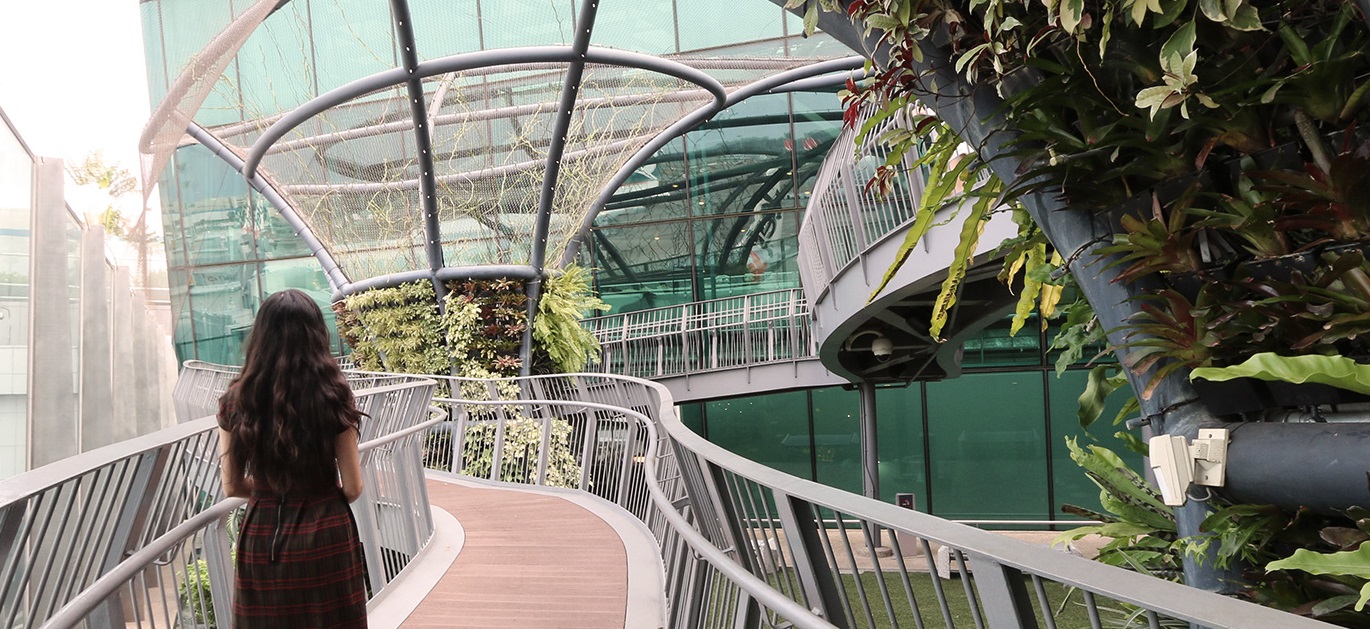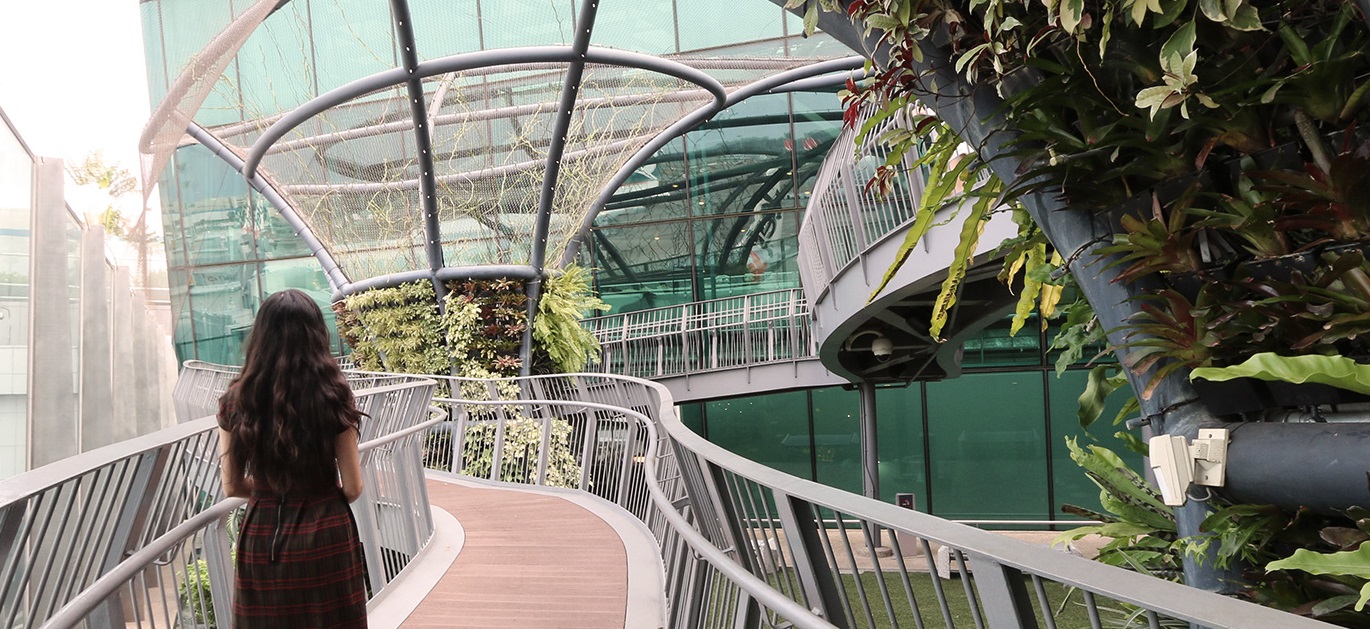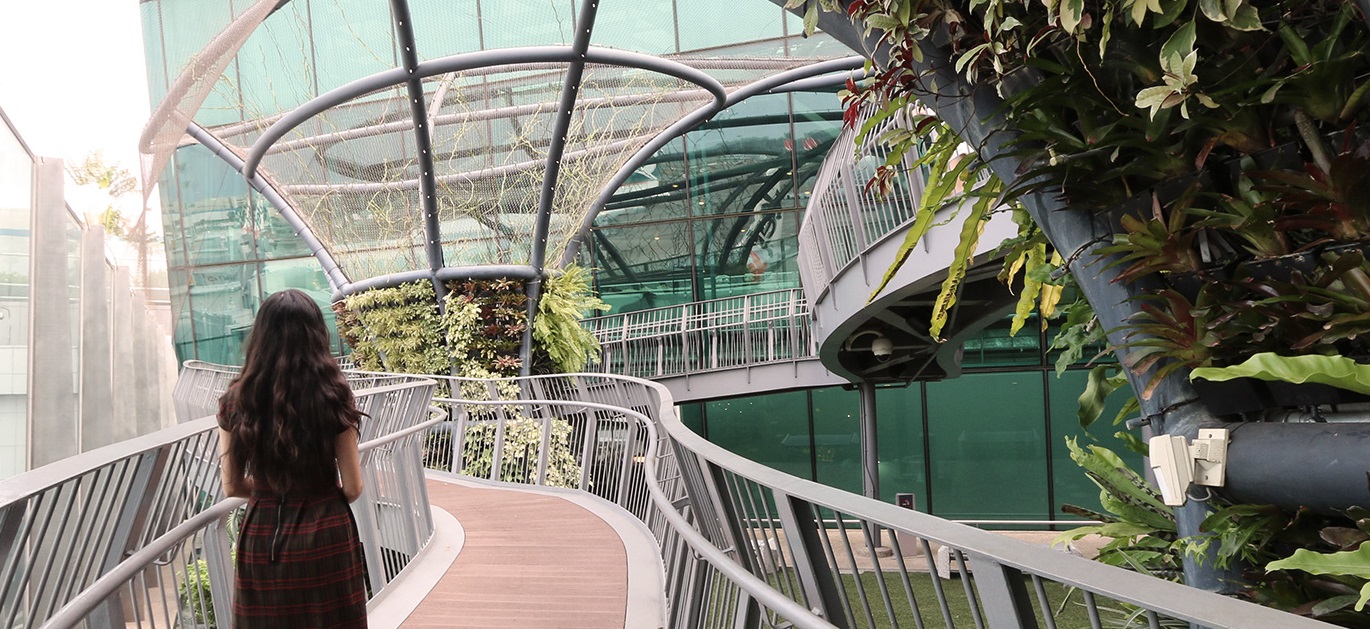 Discovery garden in Terminal 1
Such landscaped areas and gardens double up as Instagram-worthy photo spots for passengers, and also gives them outdoor spaces to explore during their time at Changi, to take in some sunlight and fresh air during a long layover or before boarding. Such options add variety to the range of activities available to passengers travelling through Changi, besides the usual shopping and dining options available at other airports.
4. Be mesmerised by artwork
Art can be found in many forms across Changi's terminals, from fixtures and sculptures to kinetic artworks. The careful selection of visually immersive installations across the airport is another design aspect which aims to elevate the transit experience by creating a sense of place for travellers.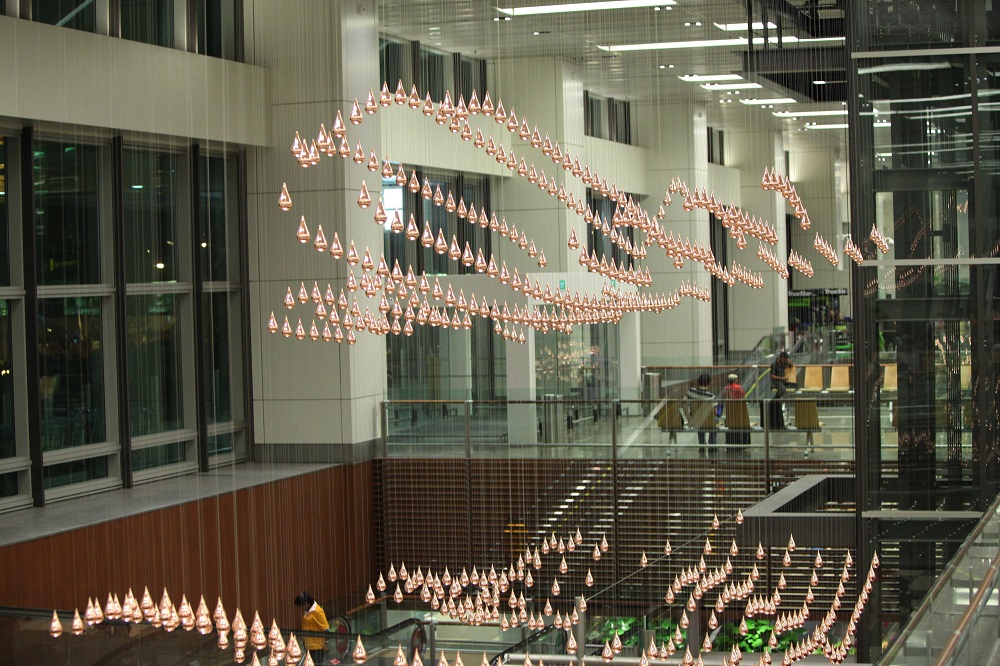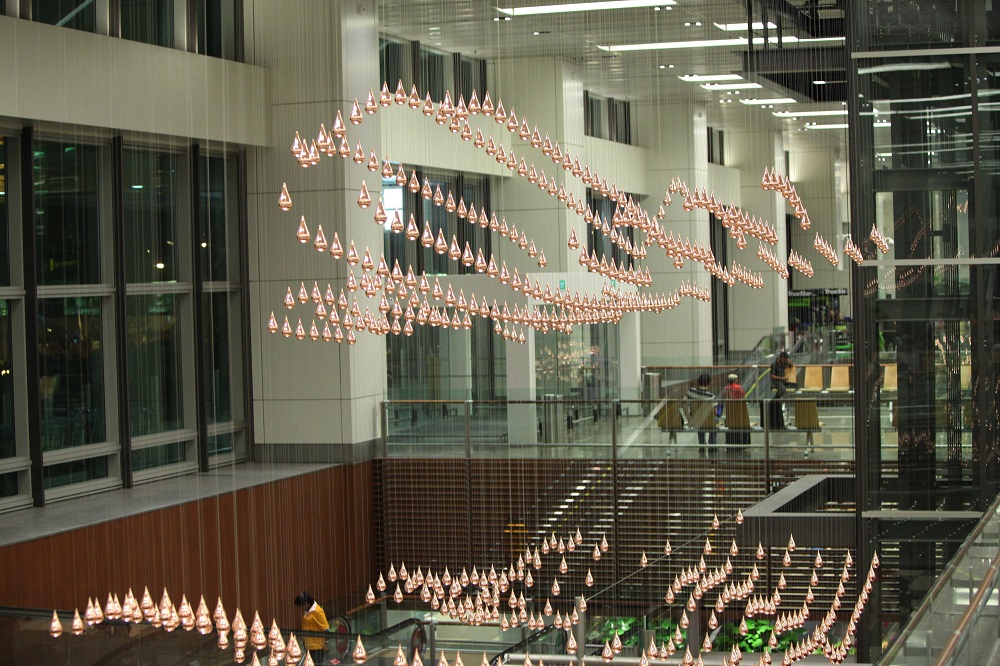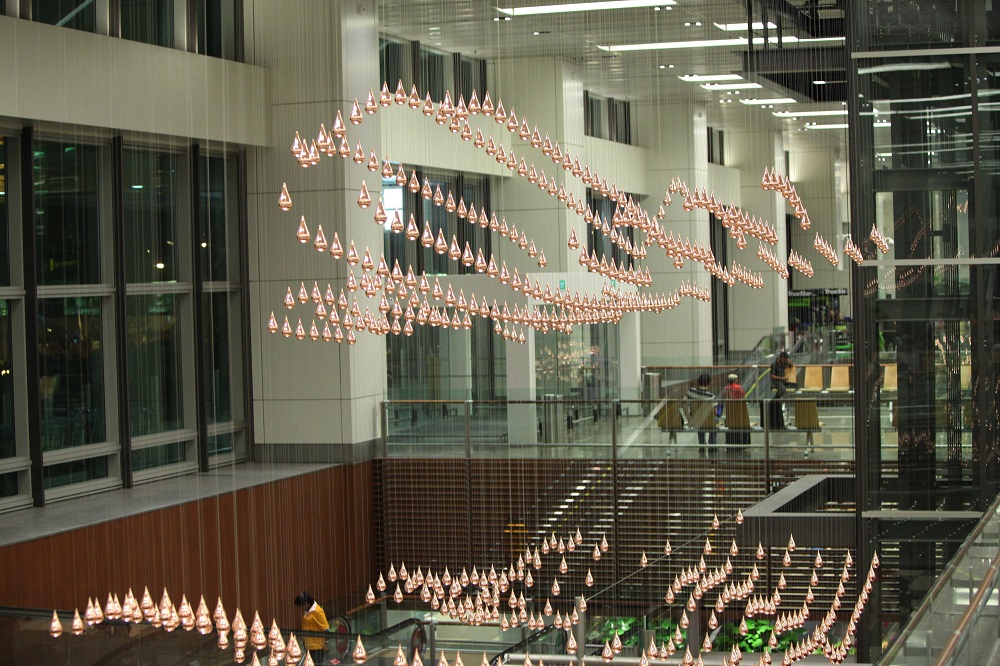 Kinetic Rain in Terminal 1 departure hall
Some of the artwork which might trigger stronger recall by travellers would be the larger art pieces, such as the Kinetic Rain in Terminal 1 and Daisy in Terminal 3.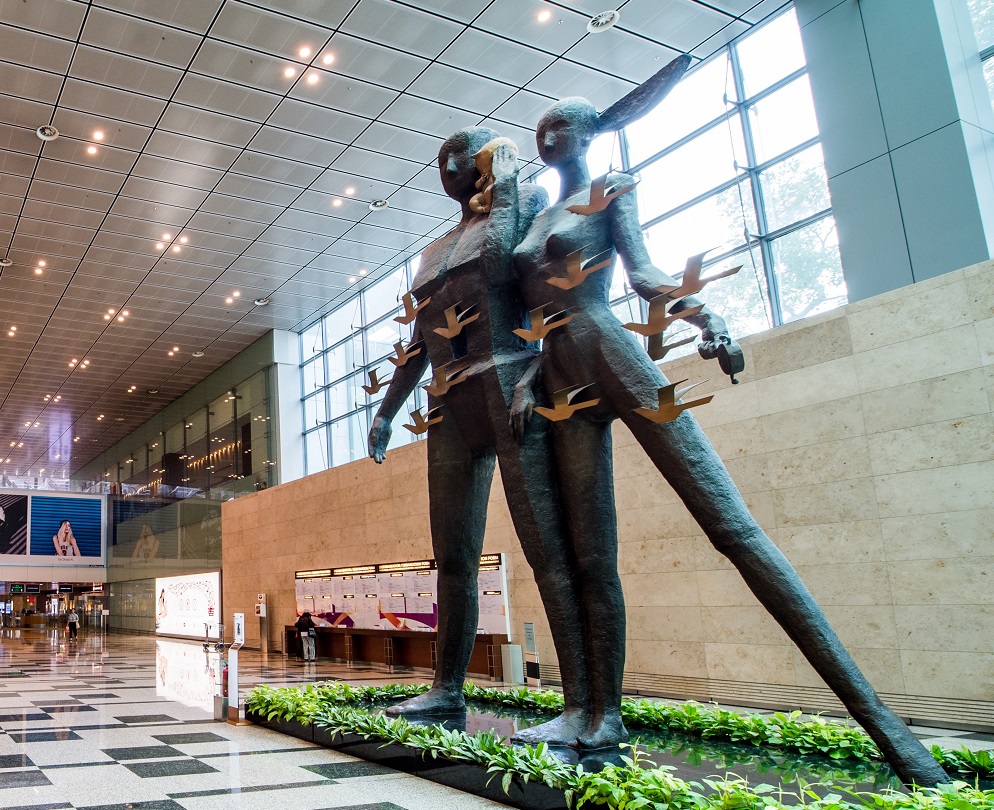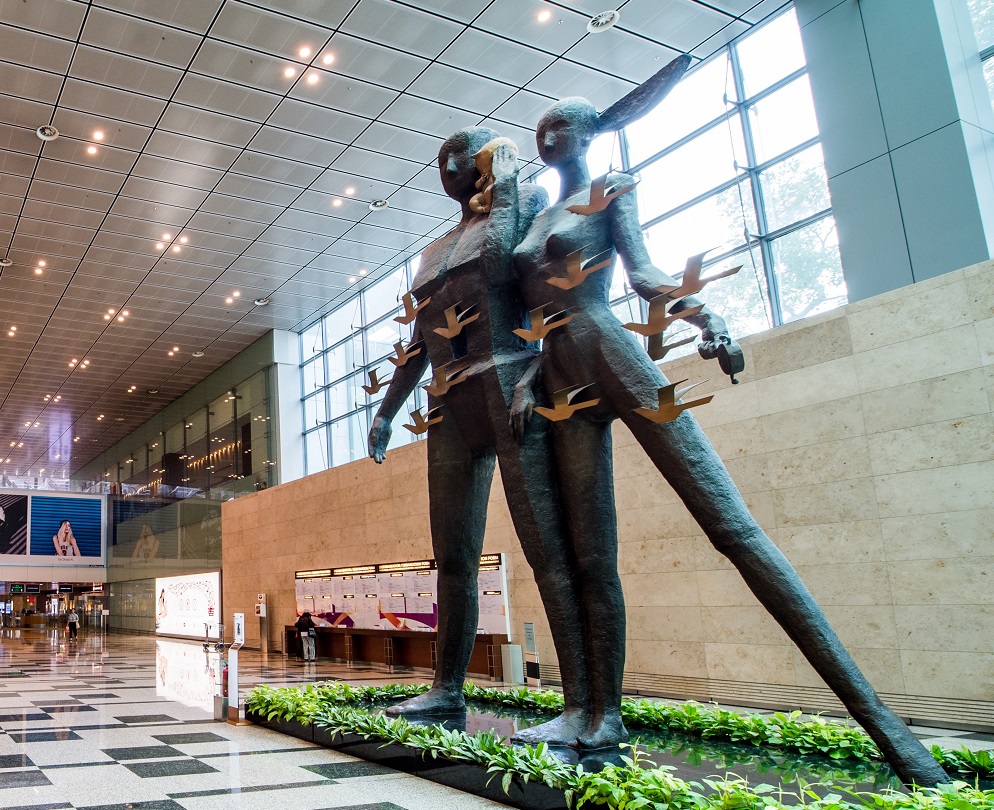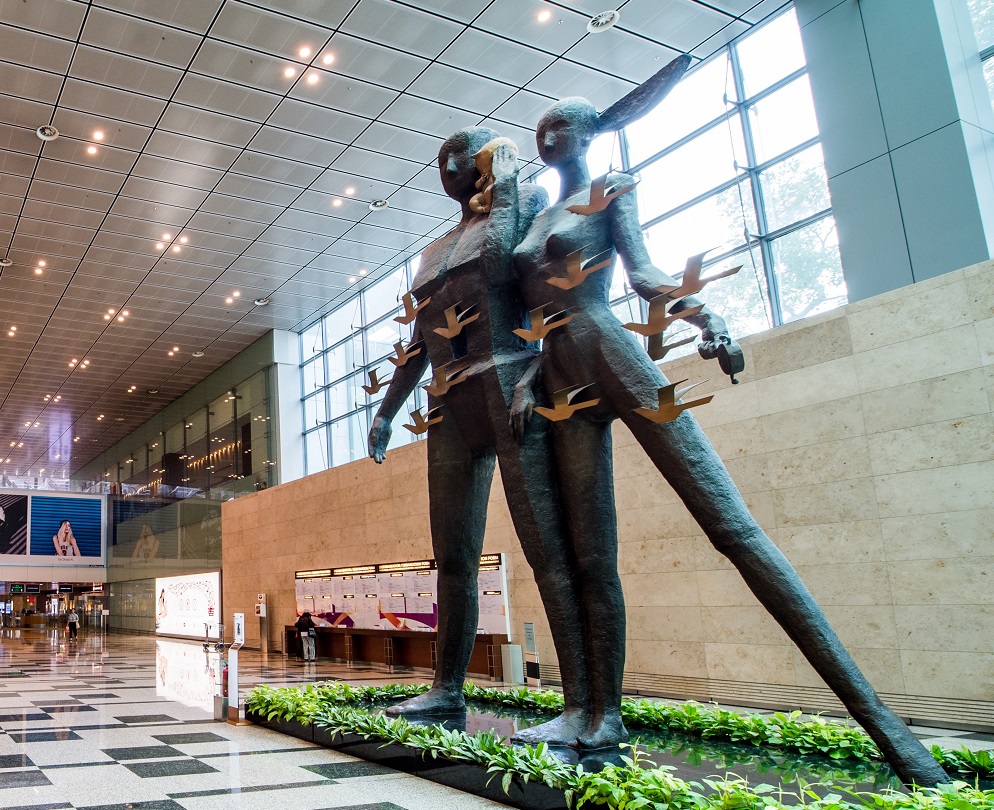 Coming Home bronze sculpture in Terminal 3 arrival hall
In the transit areas, there are many more art pieces to explore, such as the 7.5-metre tall Coming Home bronze sculpture at Terminal 3's South Arrival Immigration Hall, synonymous with a traveller's return. The notion of homecoming, and the arrival hall also provided the right setting for this installation.
5. Aligning with the numbers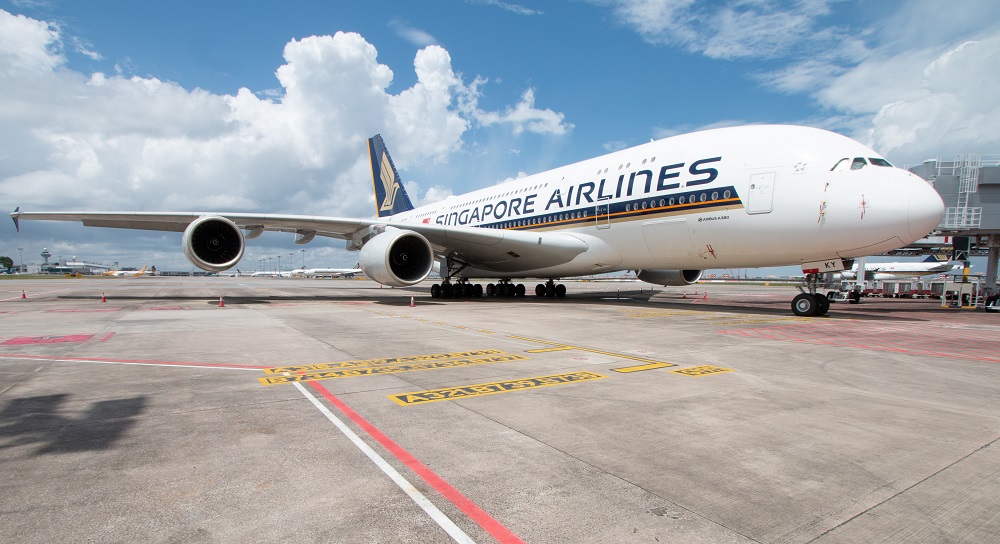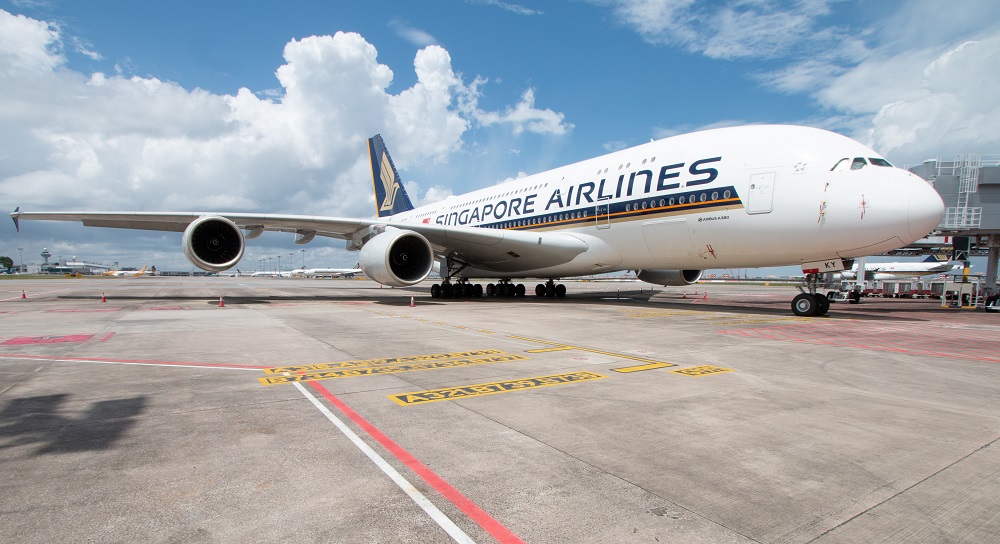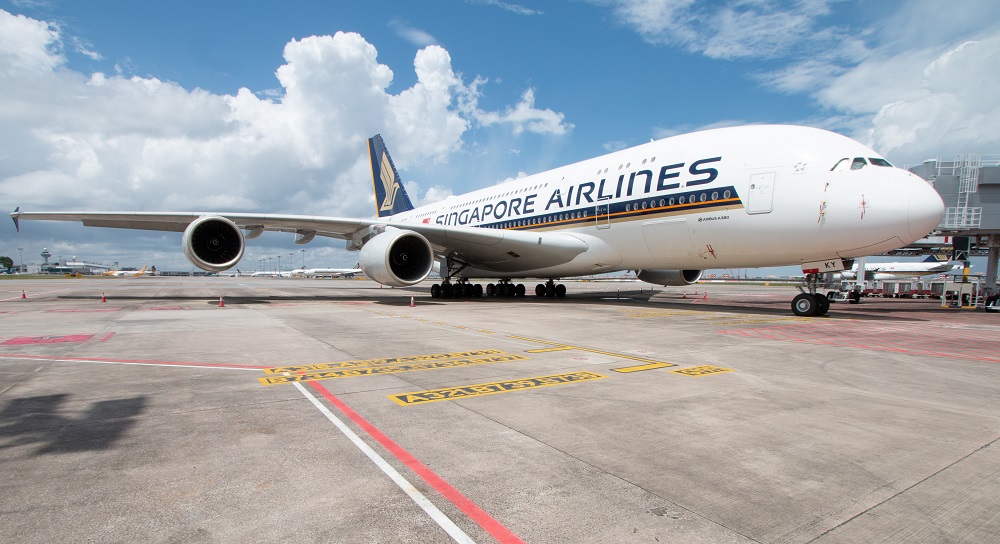 Numbers and markings on the ground at aircraft parking bay
While this last feature on the tarmac in the airside is rarely noticed by most travellers, it is actually a common feature across many airports. The ground markings at the aircraft bay reflects aircraft model numbers and are designed as visual aids to enable pilots taxiing-in to their designated parking bay to know where to stop the front wheel of their aircraft.
So the next time you are travelling through Changi, feel free to share these little nuggets of information with your fellow travel companions. These little design aspects, which might go unnoticed to most travellers, have actually been thoughtfully put in place to enhance the whole travel experience at Changi.