Delivering exceptional customer experience at Changi Airport 
With multiple touchpoints across the airport journey, from check-in to bag drop, and immigration clearance to security screening, air travel can sometimes be a stressful experience for many. Changi Airport Group (CAG) seeks to serve passengers efficiently at every touchpoint, ensuring a seamless journey and pleasant start to their travels.
Recently, Airports Council International (ACI) recognised Changi Airport's top customer service quality at the Airport Service Quality (ASQ) awards ceremony. Changi was conferred the Best Airport by Size (over 40 million passengers), Airport with the Most Dedicated Staff in Asia-Pacific, and the Easiest Airport Journey in Asia-Pacific awards. Changi Airport was also named world's best for queueing times in a comprehensive assessment conducted by Casago. These accolades are based on passenger surveys and reviews, a testament to CAG's commitment to delivering service excellence.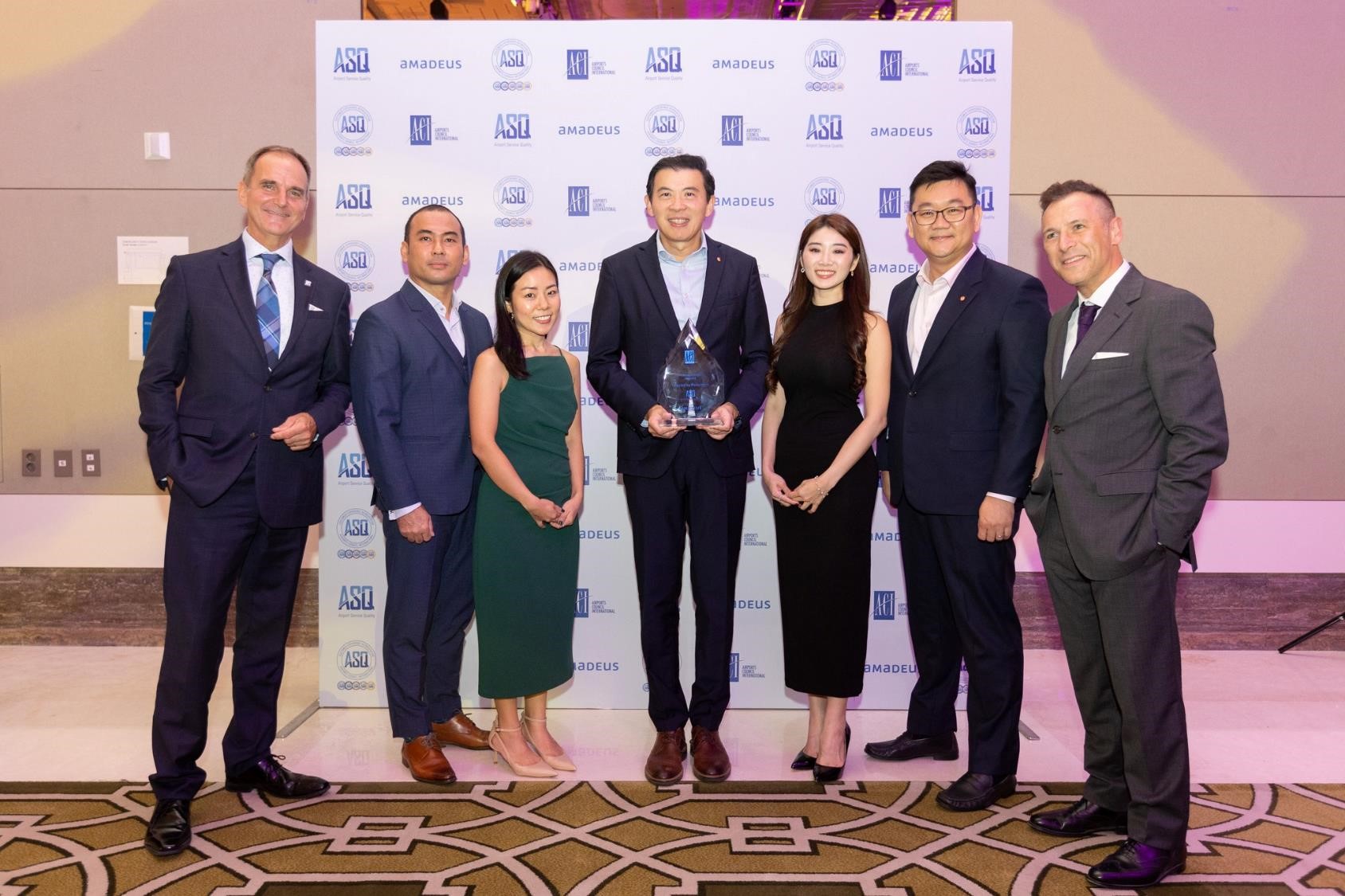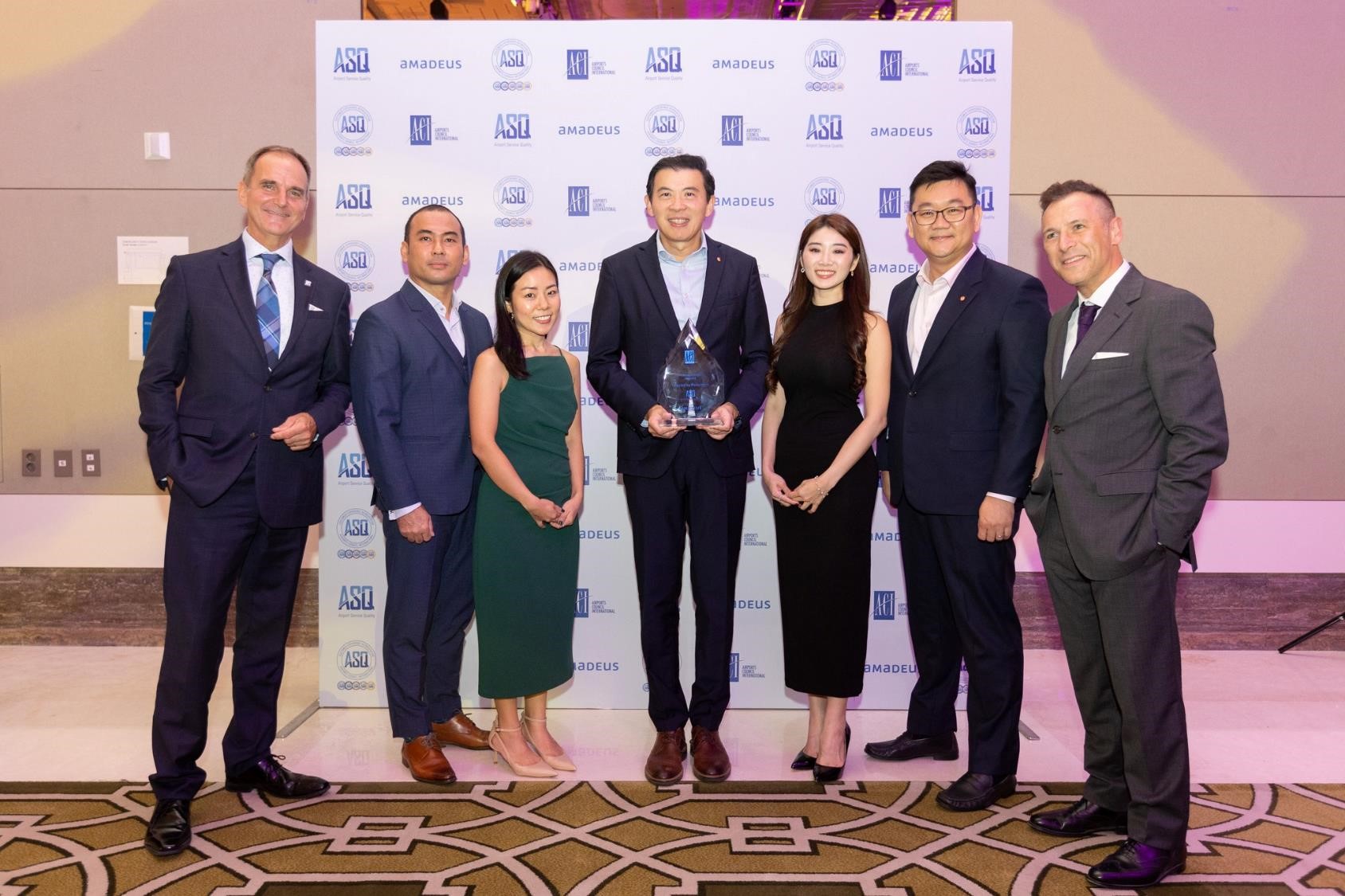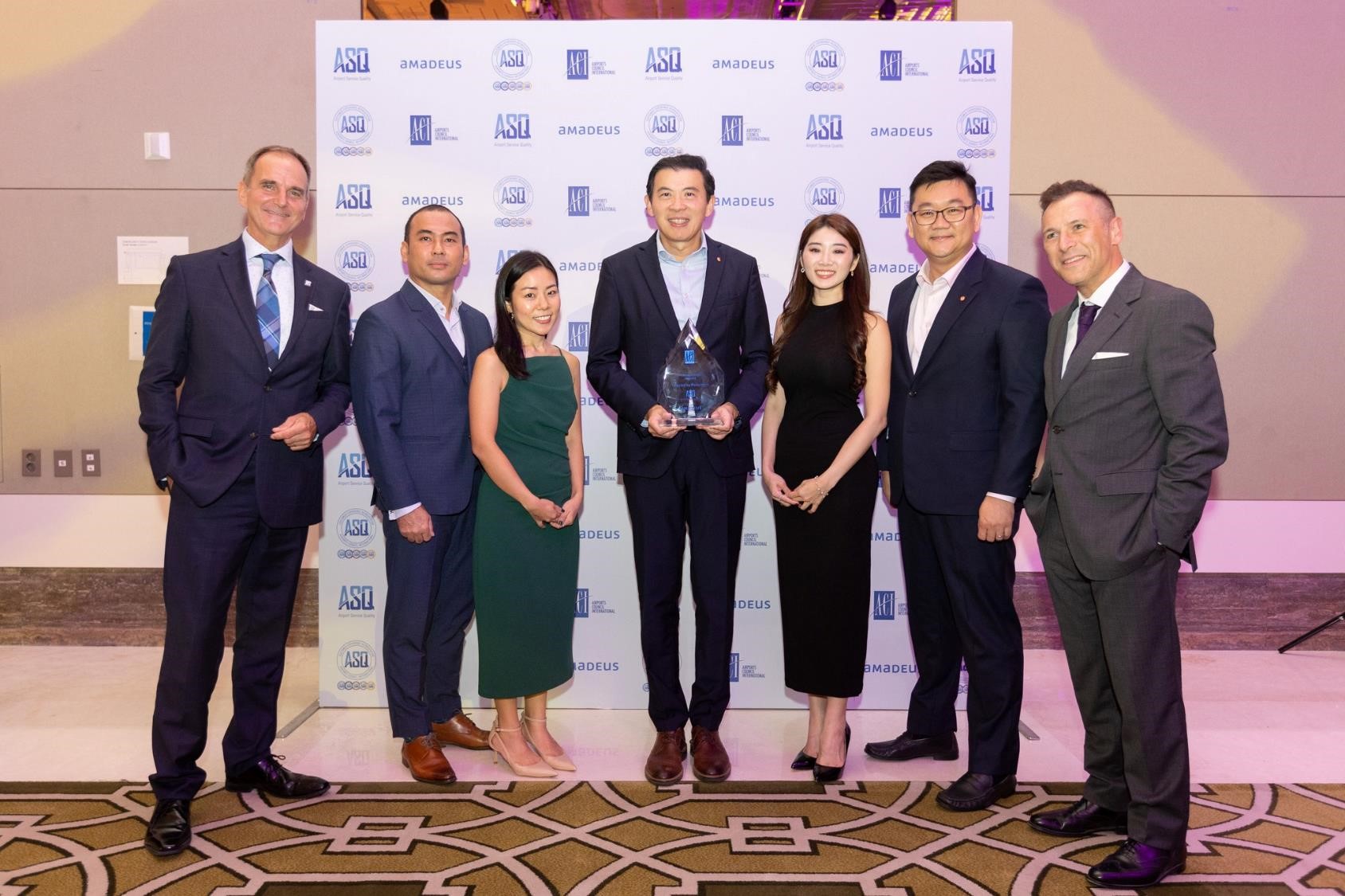 Changi Airport is a five-time recipient of the ACI World's ASQ award in the categories of Best Airport by Size (over 40million passengers) and Region (Asia-Pacific) from 2018 to 2022.
Seamless passenger journey powered by technological innovation
Self-check in kiosks and automated bag-drop machines are readily available across Changi Airport terminals.
Changi Airport's dedication to streamlining the passenger experience is underscored by its early adoption of technology, with Terminal 4 among the first in the world to implement a fully automated departure journey back in 2017.

Changi is home to an array of self-service facilities, such as automated check-in kiosks and bag-drop machines, strategically positioned in its terminals. To speed up immigration processes and enhance operational efficiency, the airport introduced self-service solutions comprising automated immigration gates and special assistance lanes tailored for passengers in wheelchairs and groups of up to four passengers, another world first.
At Jewel Changi Airport, early check-in is available from three hours up to 24 hours prior to one's flight, giving travellers the option of dropping off their bags and exploring what Changi and Jewel have to offer before their flight.
These self-service facilities eliminate the need for manual checks, allowing for a smoother process and granting passengers the autonomy to go through each step at their own pace and time. In a manpower-constrained environment, these automated processes also free up service staff to attend to passengers who need genuine assistance.
Embracing Smart Airport Design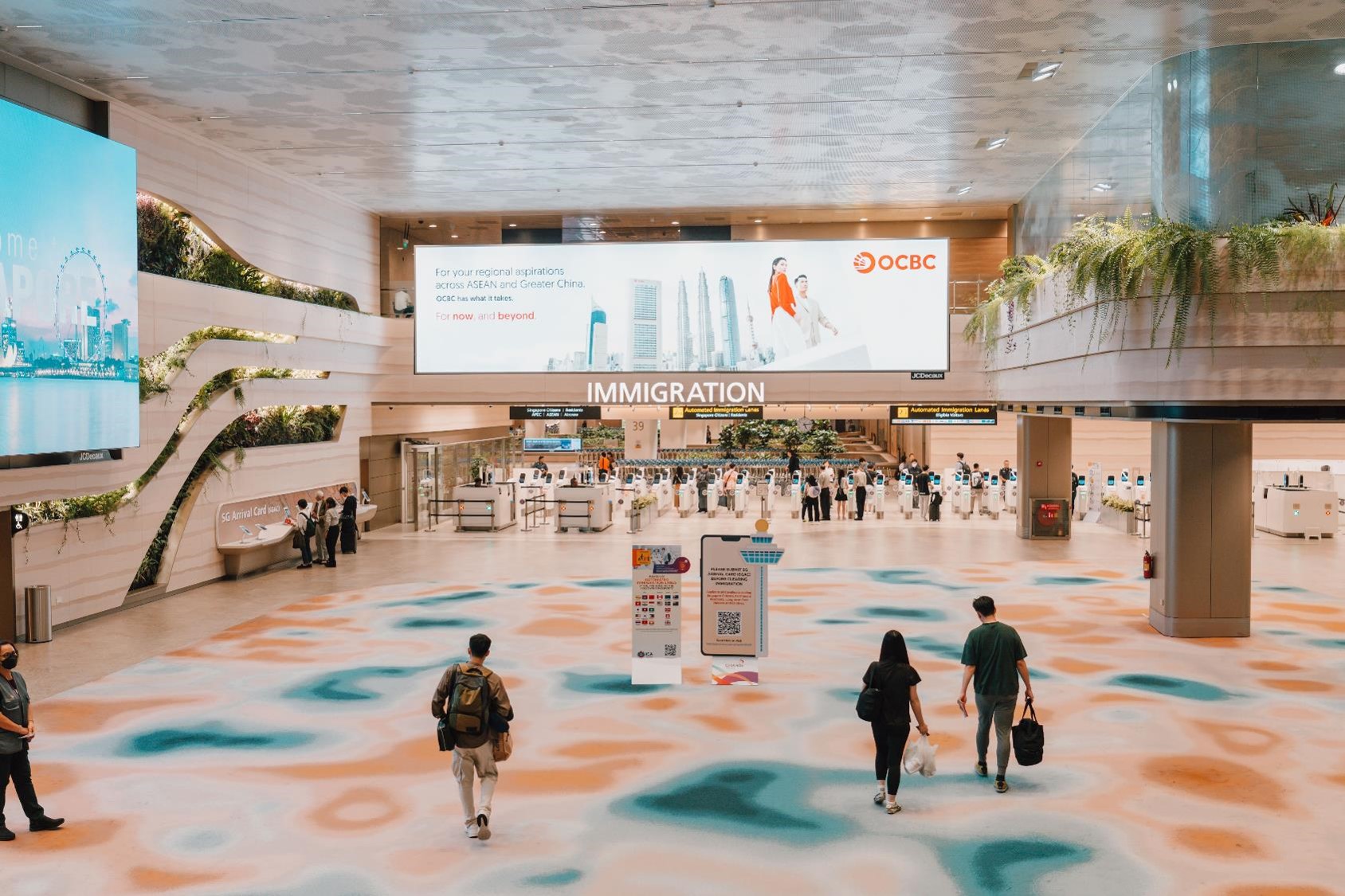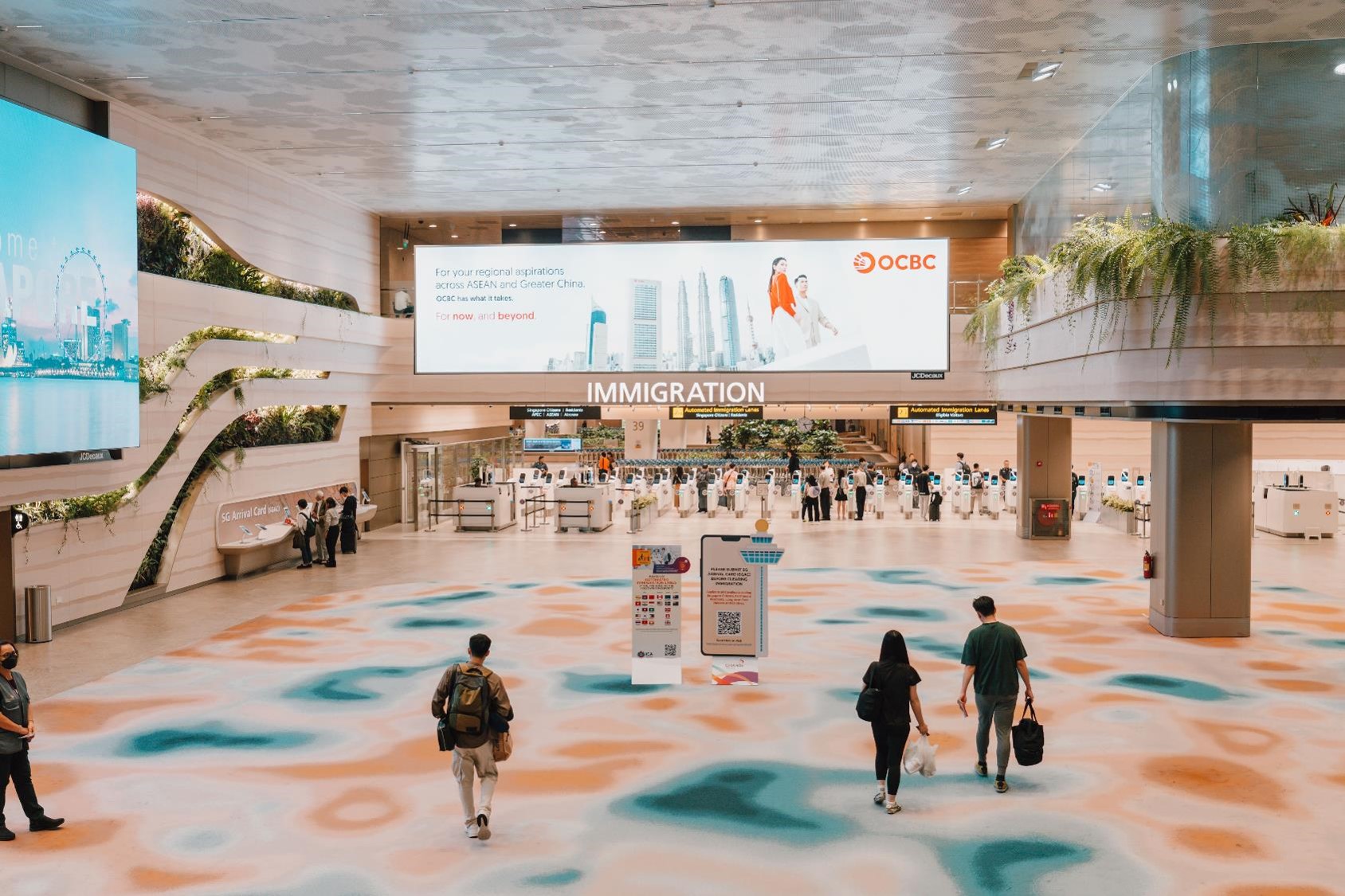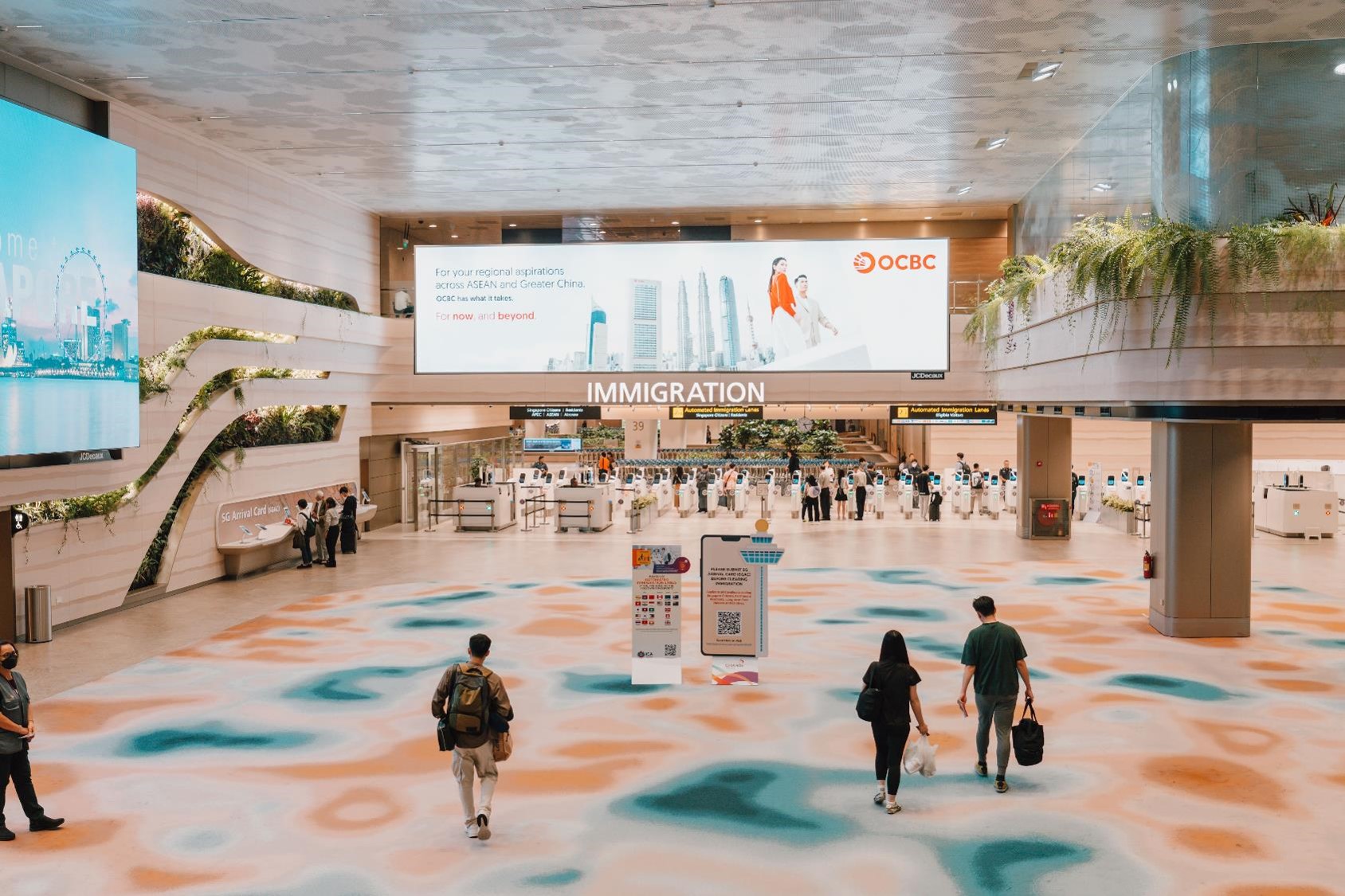 The arrival hall at the refreshed Terminal 2.
From the get-go, Changi Airport has been carefully designed to create a stress-free environment for its passengers. Notable design elements within the airport include sky-high ceilings, abundant greenery, skylights, and artworks, all of which emit a sense of space and tranquillity amid a busy airport environment. These elements collectively evoke a sense of spaciousness and tranquillity, counteracting the bustling nature of the airport.
Case in point: Terminal 4 features a 70-metre long Immersive Wall at the centralised security screening area that showcases panoramic clips of Singapore's skyline and breathtaking landscapes. The deliberately slowed-down visuals exude a calm and peaceful vibe for passengers who may have to wait in line during security screening.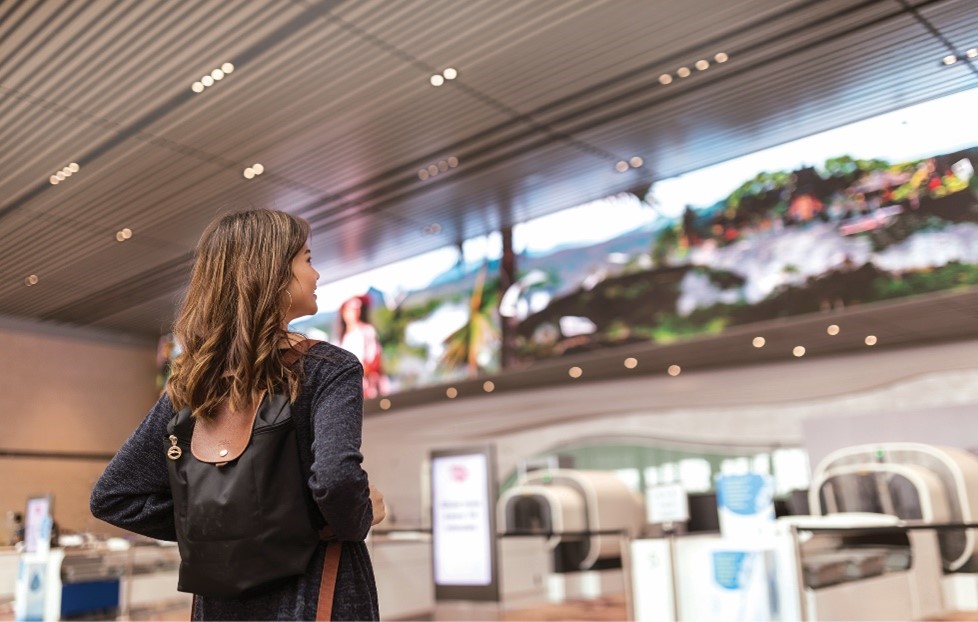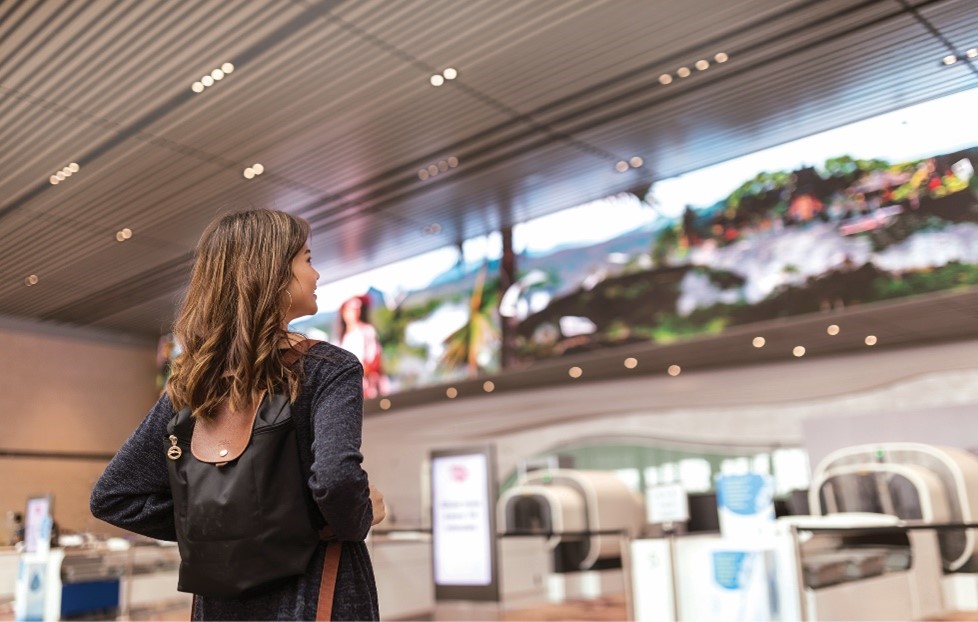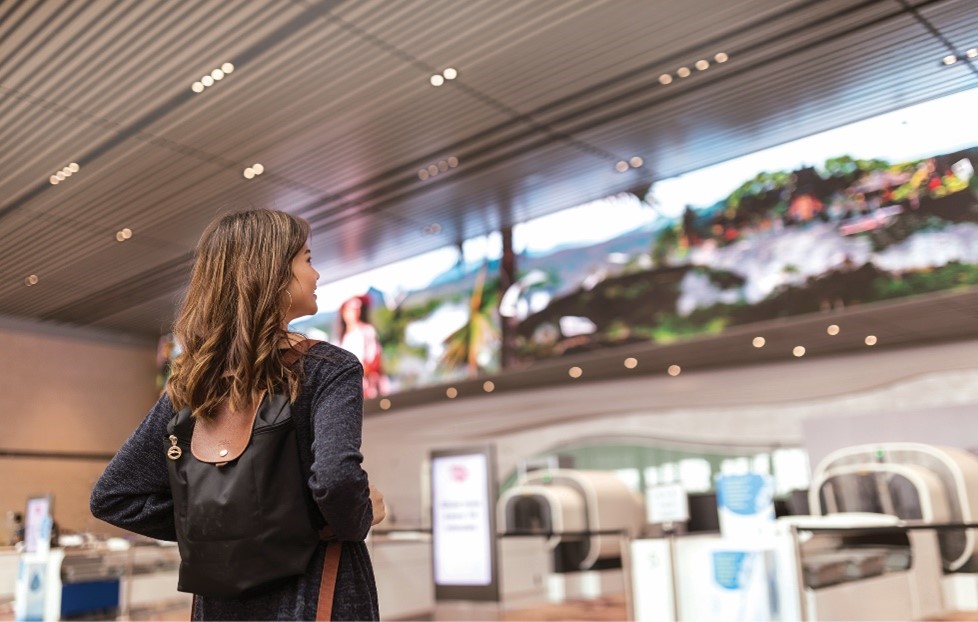 T4's Immersive Wall captivates with serene landscapes.
Hospitality at the heart of service
In the event of an unfortunate delay, at times due to unforeseen circumstances such as bad weather, refreshments are sometimes offered to passengers to make the wait more comfortable.
A distinctive service DNA is ingrained in the 50,000-strong airport community, with each member having a passion for excellence and a commitment to delivering an exceptional passenger experience. With an unwavering focus on hospitality, empathy, and attentiveness, the airport community go beyond the call of duty to ensure passengers' needs are not only met but surpassed. This proactive approach, fuelled by a genuine desire to create positive memories for every passenger, transforms mundane routine interactions into positively surprising moments.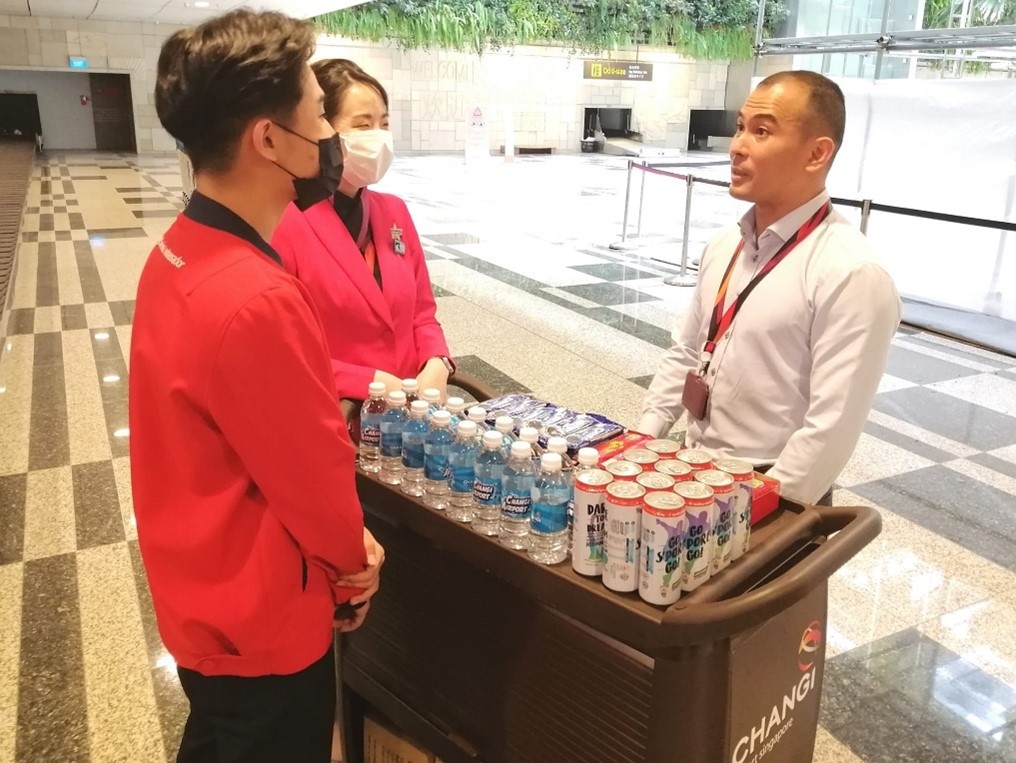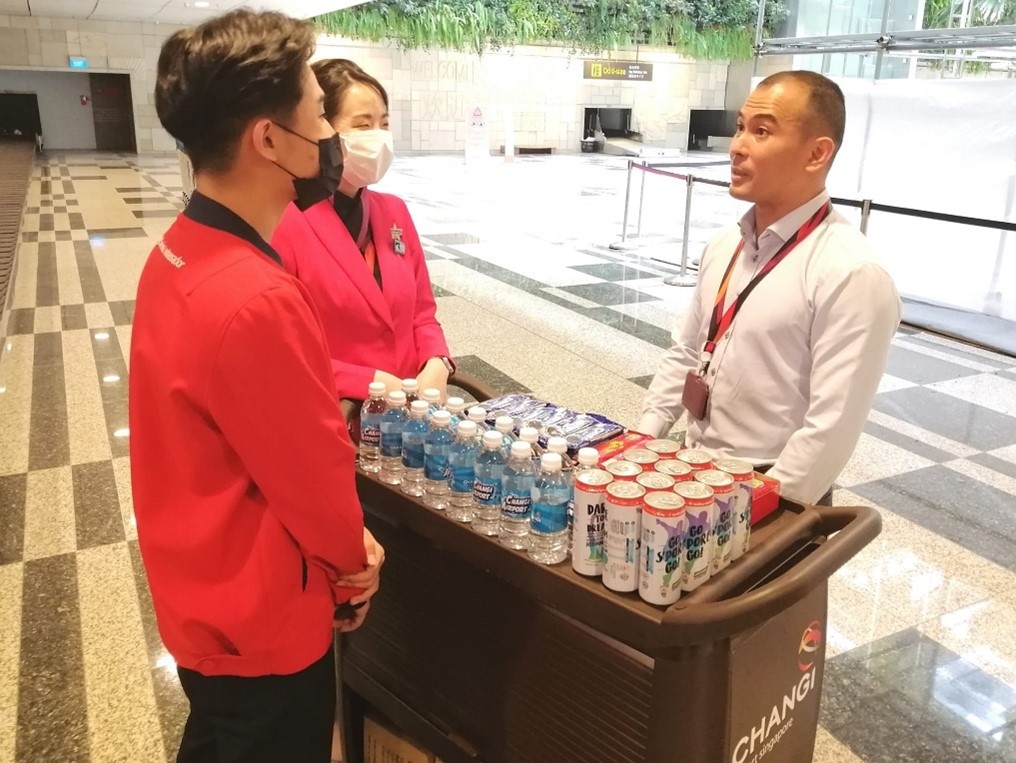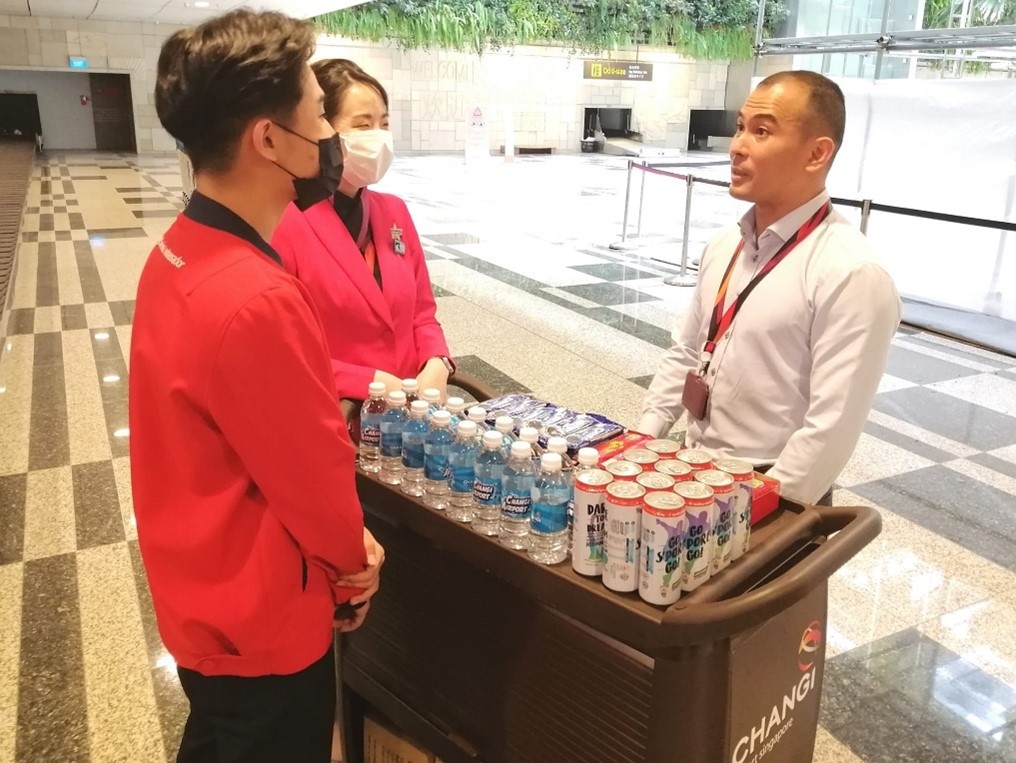 Pushcarts stocked with refreshments are available.
In June and July 2023, Changi Airport served over five million passengers for the first time in three years since the Covid-19 pandemic. As travel picks up toward the year-end holiday season, CAG will continue to push for service excellence, as well as leverage technology to boost productivity and provide a seamless Changi Experience for its passengers.