Integrated duty-free zone at Terminal 4
Buying liquor and cosmetics in a single transaction
To keep the retail proposition fresh and exciting for shoppers, the Commercial team at Changi Airport is always on the lookout for novel retail concepts and experiences that it can bring to travellers.
To ensure that T4's commercial offerings would excite and enthrall, despite being the most compact terminal in Changi Airport, it's commercial layout and offerings have been carefully thought through. For the first time, the anchor categories – Liquor & Tobacco and Perfumes & Cosmetics – are located within the same zone to test out the integrated duty-free concept. While the concept of an integrated duty-free zone has been done in some airports around the world, Changi Airport is the first to feature 2 operators within the same zone.  This is the result of a strong tripartite collaboration between Changi Airport and the two anchor duty-free operators, DFS and Shilla Duty Free.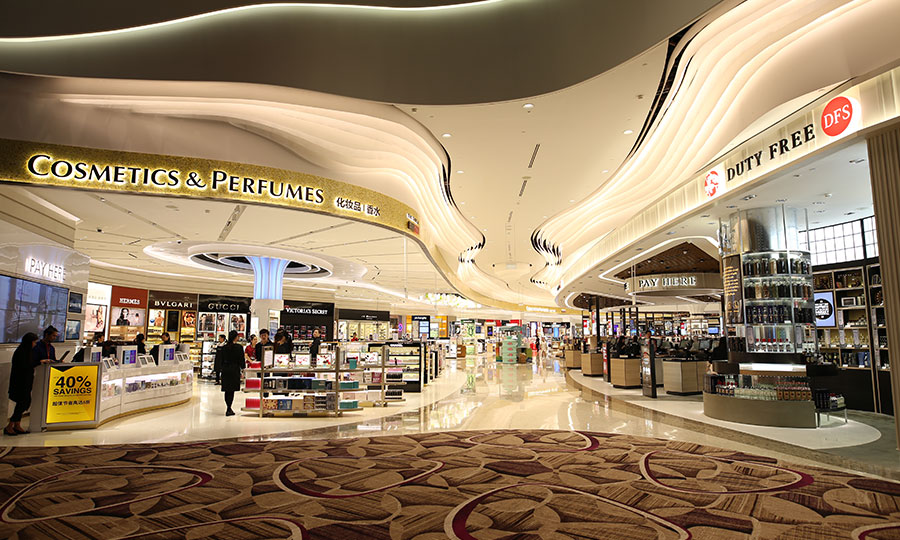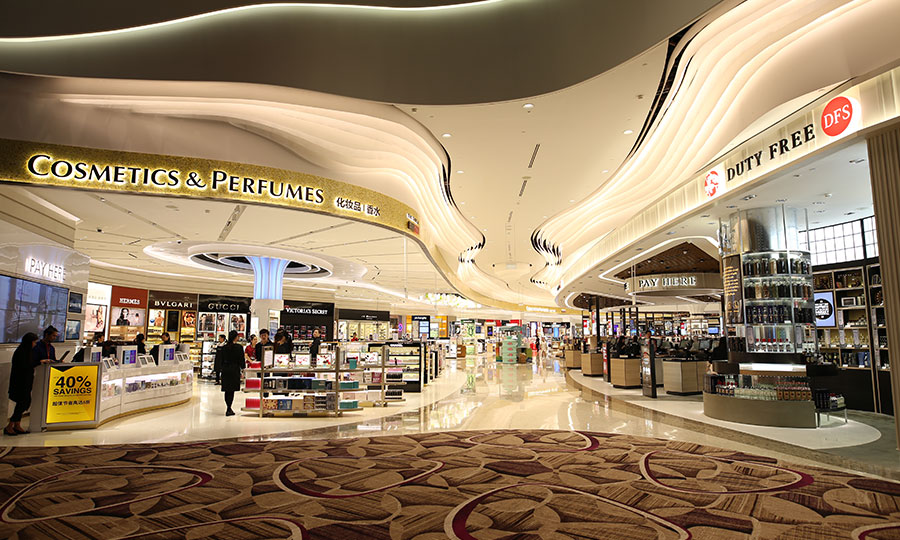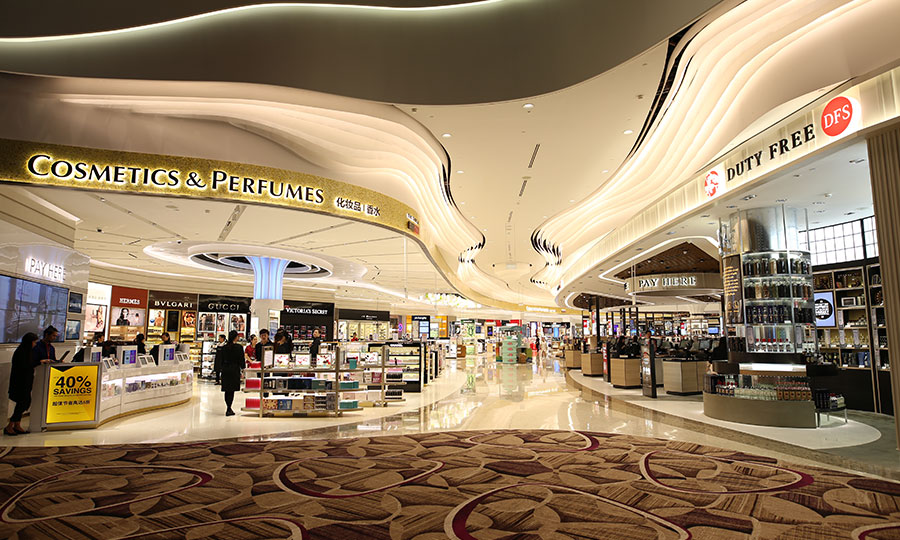 The common walkway at the integrated duty-free zone creates a natural flow into the shops
 
With the integration of the two categories, Changi Airport also worked with both operators to ensure that passengers are able to shop for and purchase their favourite duty-free liquor, tobacco, perfumes and cosmetics in a single transaction. Changi Airport's Vice President of Terminal 5 Commercial Planning, Mrs Chandra Mahtani, shared, "The successful creation of the integrated duty-free zone in T4 is a testament to our strong rapport with our duty-free operators, and we are thankful for their support during this journey of developing the integrated duty-free zone. Since the opening of T4, we have received encouraging feedback from passengers about the convenience of shopping this integration provides."
 
A first-of-its-kind partnership on three fronts
Besides integrating the facade design, integration of staff training for both concessions was key in ensuring that shopping at the integrated duty-free zone is a seamless experience.
Changi Airport worked with DFS and Shilla to jointly develop a robust cross-training programme for staff from both companies to equip them with knowledge about products from both concessions, for a seamless experience from product recommendation to payment. A knowledgeable frontline staff force is necessary for this concept to take off.  
The façade design also plays a part to ensure that the integrated duty-free zone offers a holistic look and feel. After clearing immigration and centralised security screening, passengers are greeted by the wide entrance to the integrated duty-free zone, which heralds the start of the single shopping street in T4's transit area. A neutral palette of cosy and warm beige tones was chosen to create a soothing and harmonious look and feel for the integrated duty free zone that matches well with both categories.
To facilitate ease of shopping and browsing across both categories, the common walkway is outlined with thoughtfully-designed curvatures which creates a natural "meandering" flow into both categories. The common walkway also houses two pods for brands to introduce interesting pop-up concepts such as the current Heritage Food Cocktails pop-up by DFS, to delight and surprise passengers. The high ceiling height also provided DFS and Shilla the vertical space to execute design elements which bring grandeur into the integrated duty-free zone.
Mrs Mahtani adds, "At Changi Airport, creating memorable shopping experiences is vital; it is the value proposition we strive to provide for all our passengers in everything we do. In many aspects, this was not an easy project. But it was definitely one of the most rewarding, and we look forward to bringing more exciting launches to passengers in the upcoming years."