A new lease of life for Changi's festive dinosaurs
Constantly striving to reinvent and enhance the Changi Experience, work never stops for Changi Airport Group (CAG)'s Experience Creation team. It recently introduced an additional line-up of dinosaur displays to the Changi Airport Connector (CAC), the latest attraction to open at Changi Airport.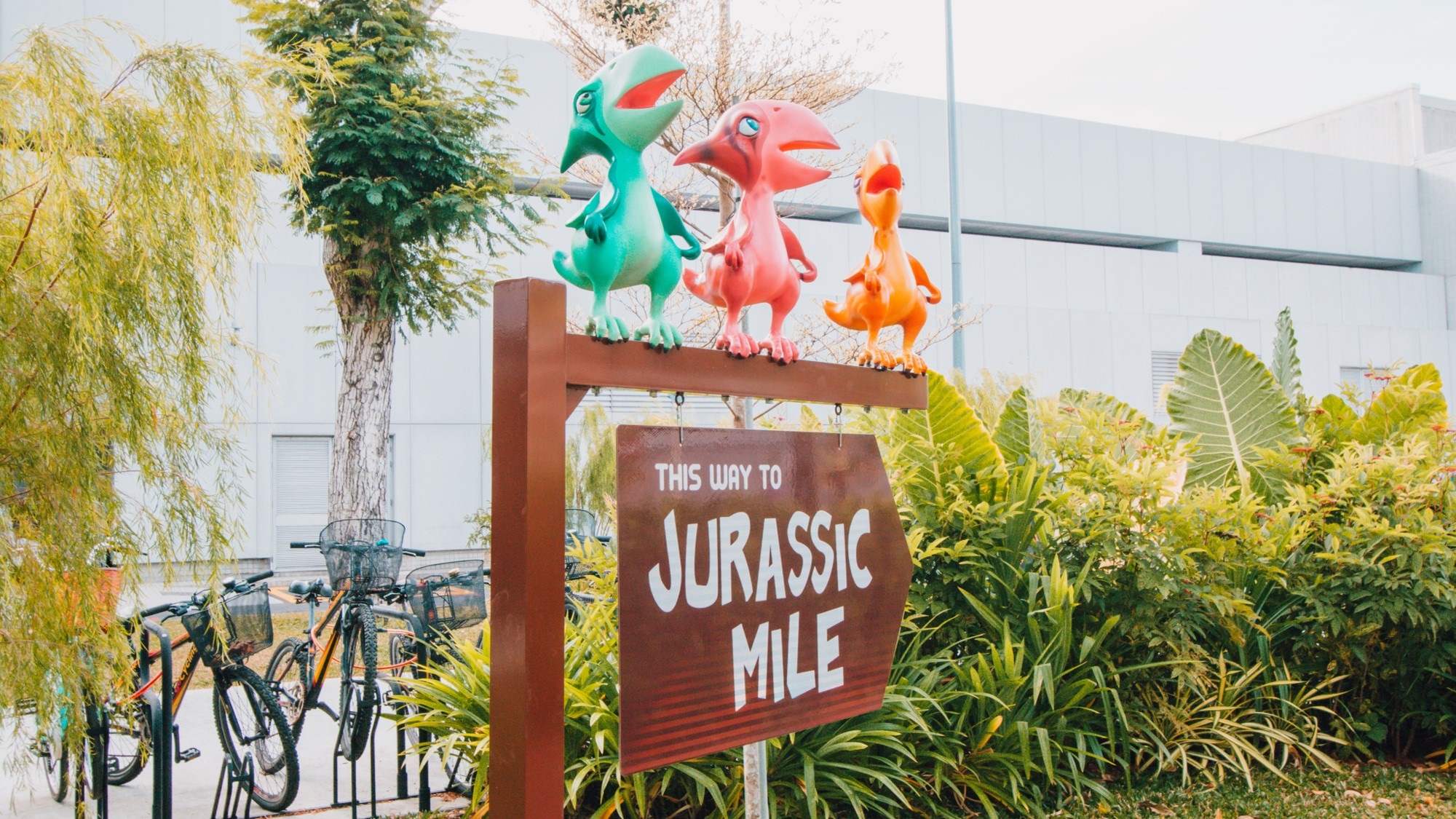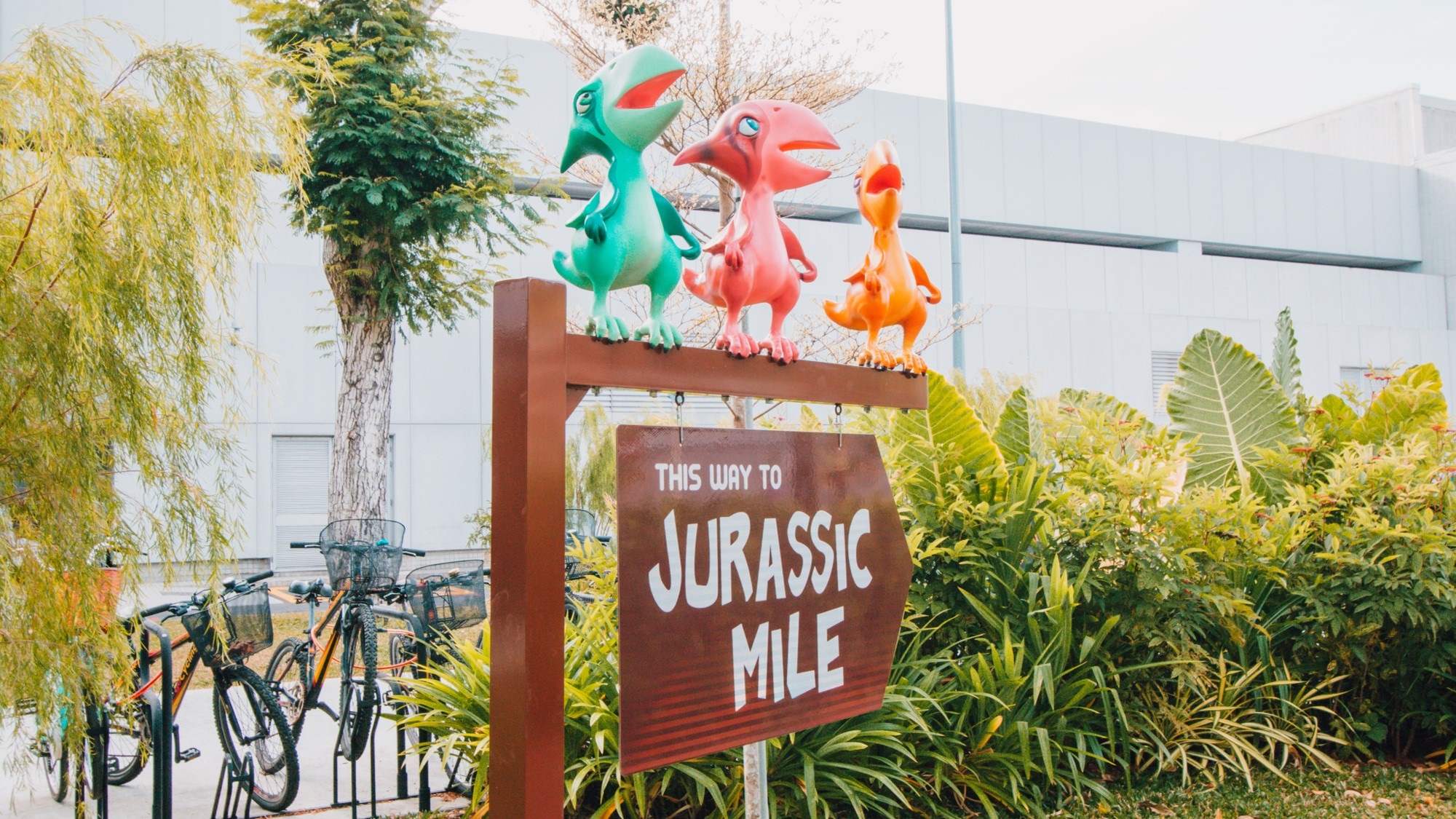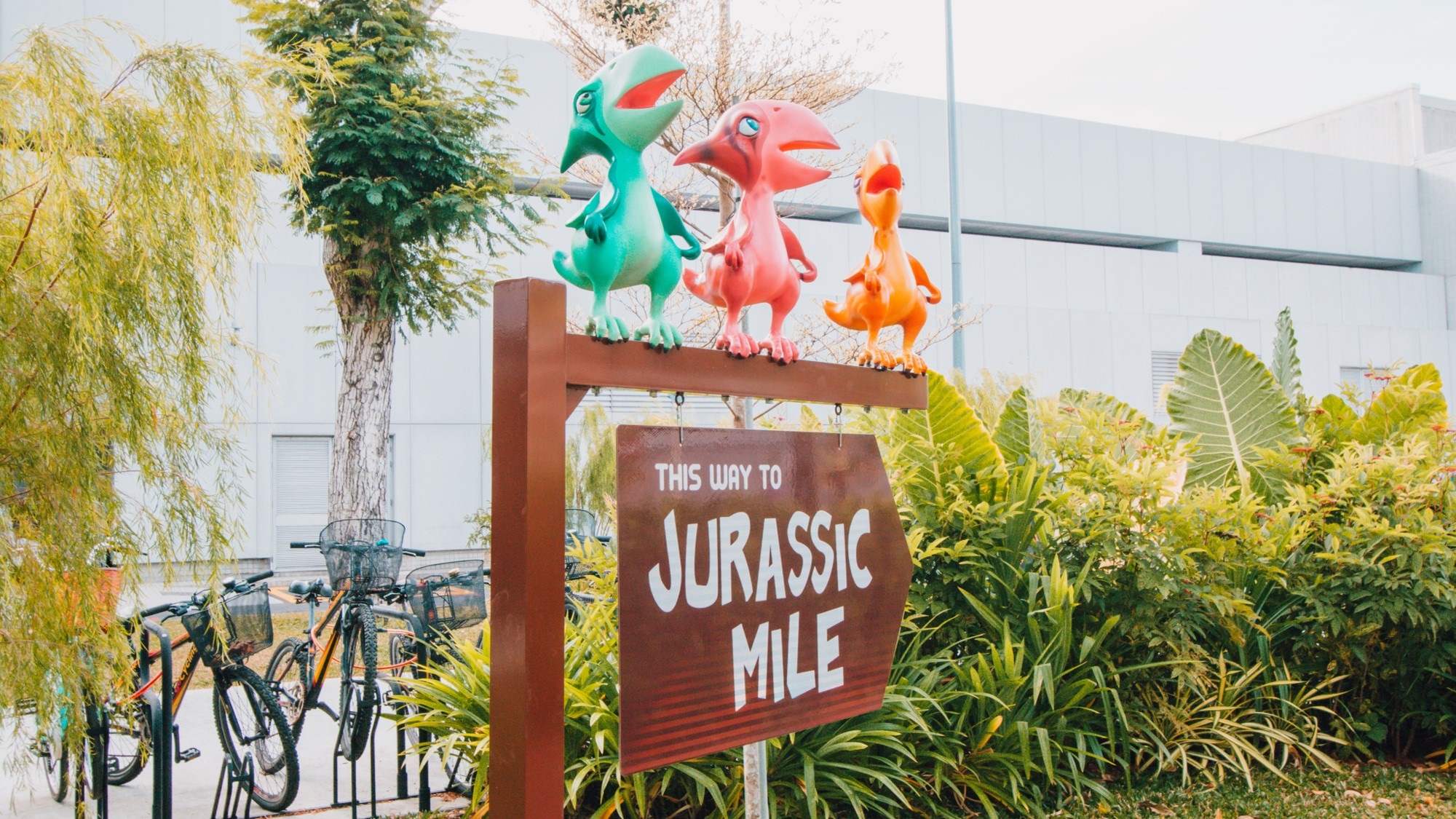 New baby Pterodactyls installed on top a sign directed towards Jurassic Mile at Hub & Spoke
Eleven new dinosaurs comprising a Tyrannosaurs Rex, Diplodocus, Spinosaurus, Pachycephalosaurus, together with baby Pterodactyls, Raptor, Triceratops and Stegosauraus, and another junior Triceratops now greet visitors of CAC and Jurassic Mile. Once a part of the recently-concluded Changi Festive Village year-end event, they were repurposed and given a new lease of life at various locations along the 3.5km outdoor cycling and jogging track.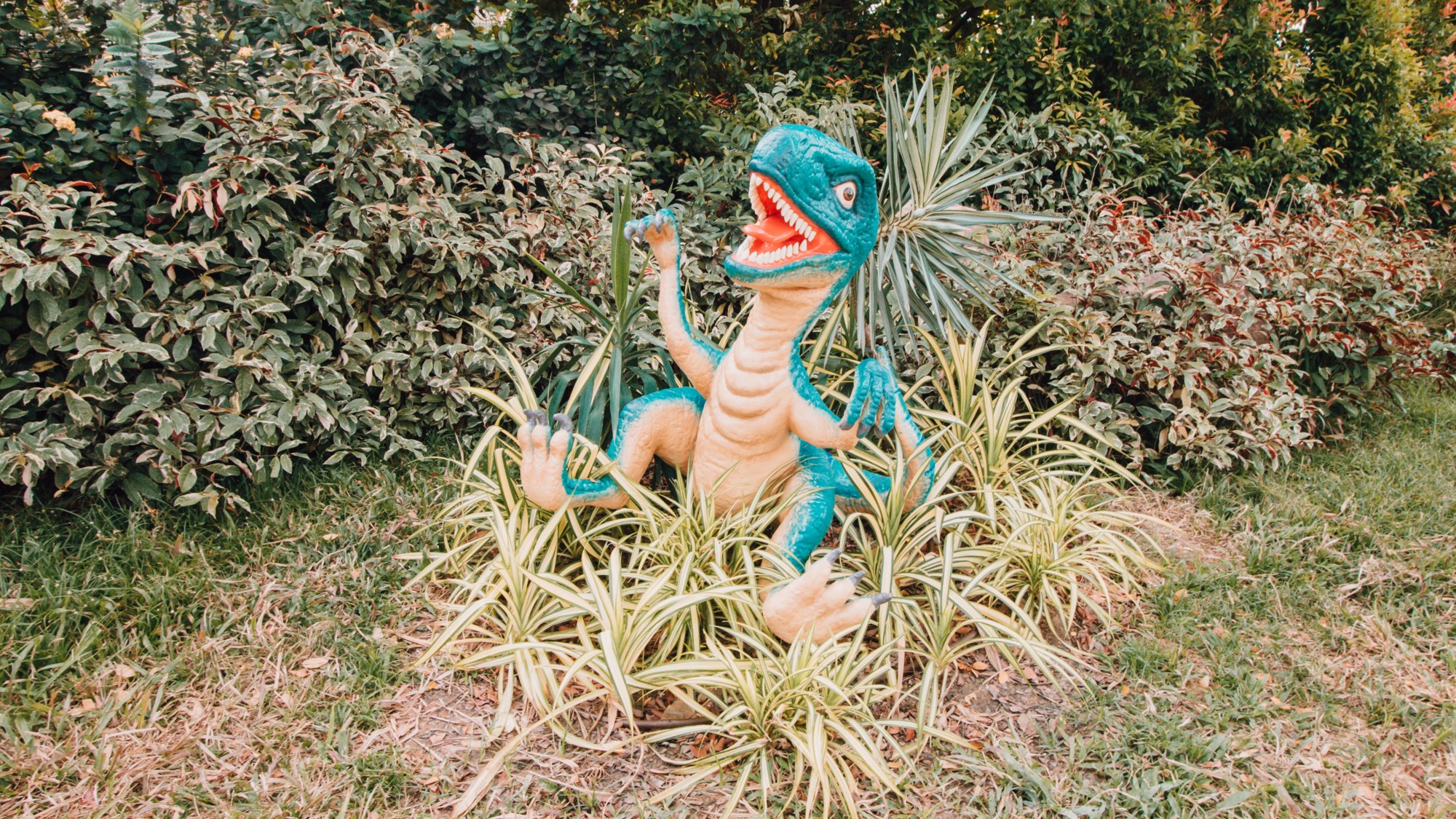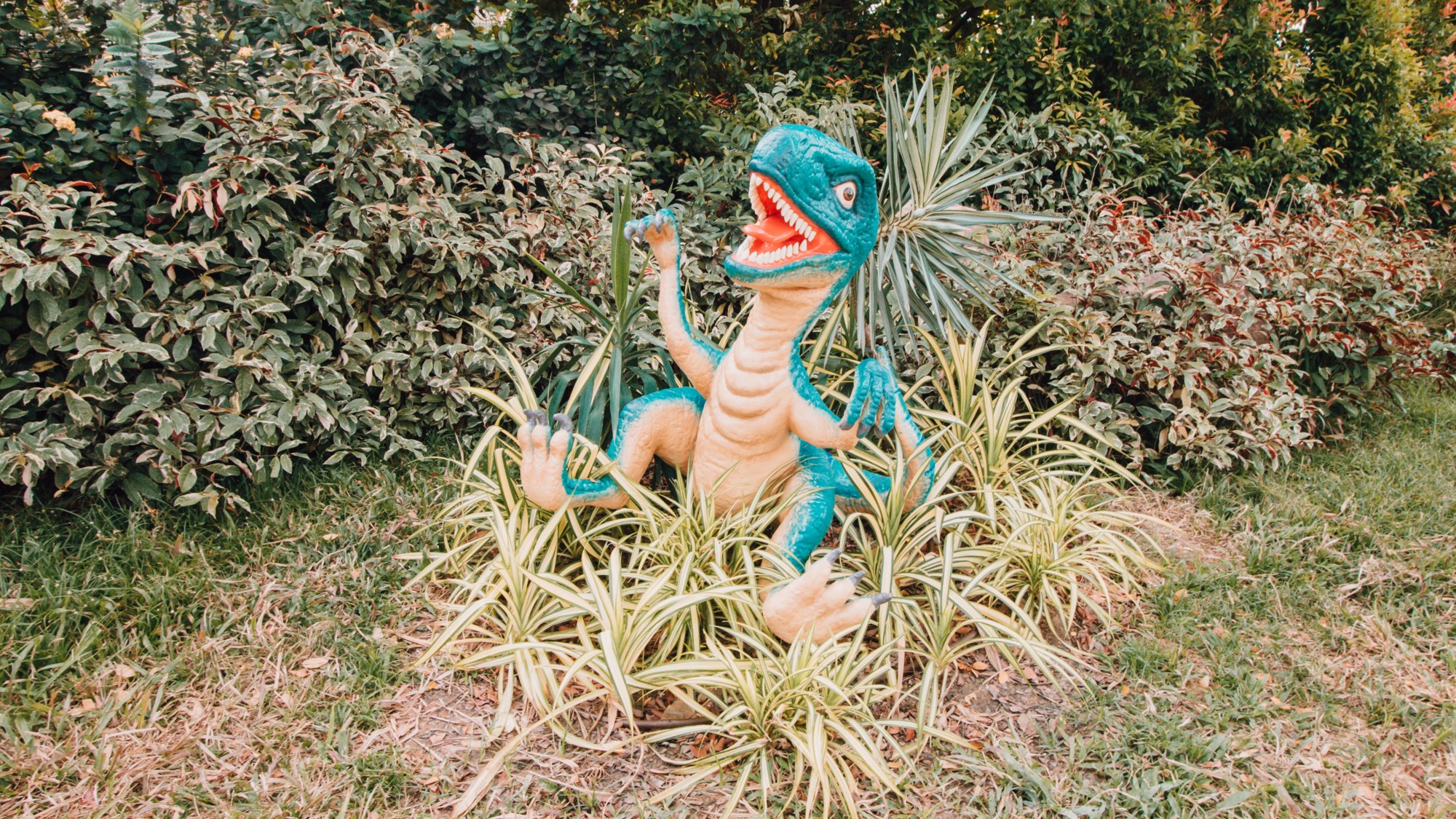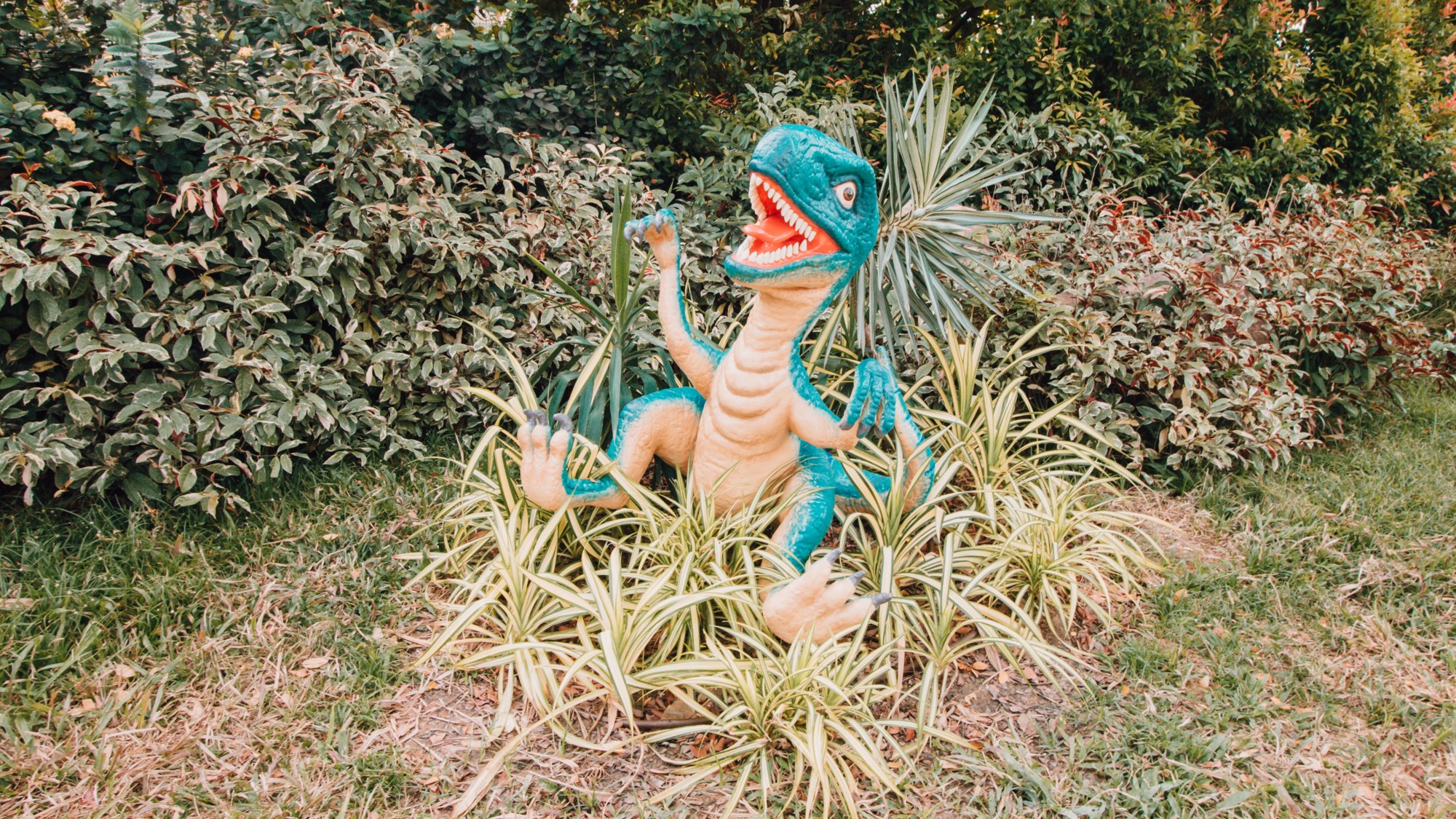 New baby Raptor feeling at home at the greenery located outside the VIP Complex
One of the main considerations for the final locations chosen was that they had to have lush greenery for the dinosaurs to assimilate more naturally into their surroundings. This also allows the dinosaurs to stand out with their bright colours and lifelike features, attracting more attention from onlookers and passing traffic along Airport Boulevard. One such instance is the 1.2-metre tall baby Raptor, which was added to create a positively surprising effect as visitors turn the first corner from their starting point at Hub & Spoke, which is currently offering a new cycling experience package.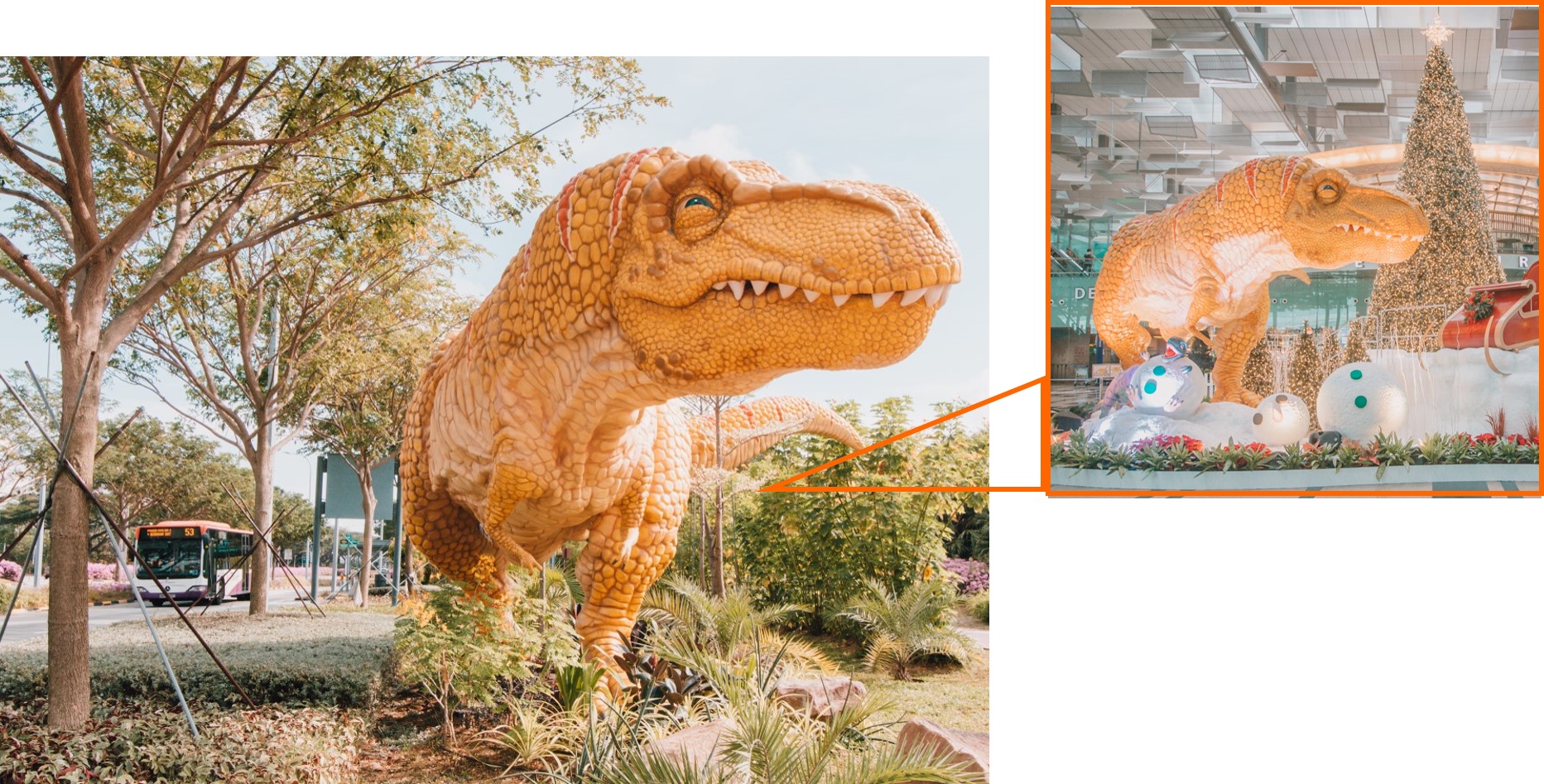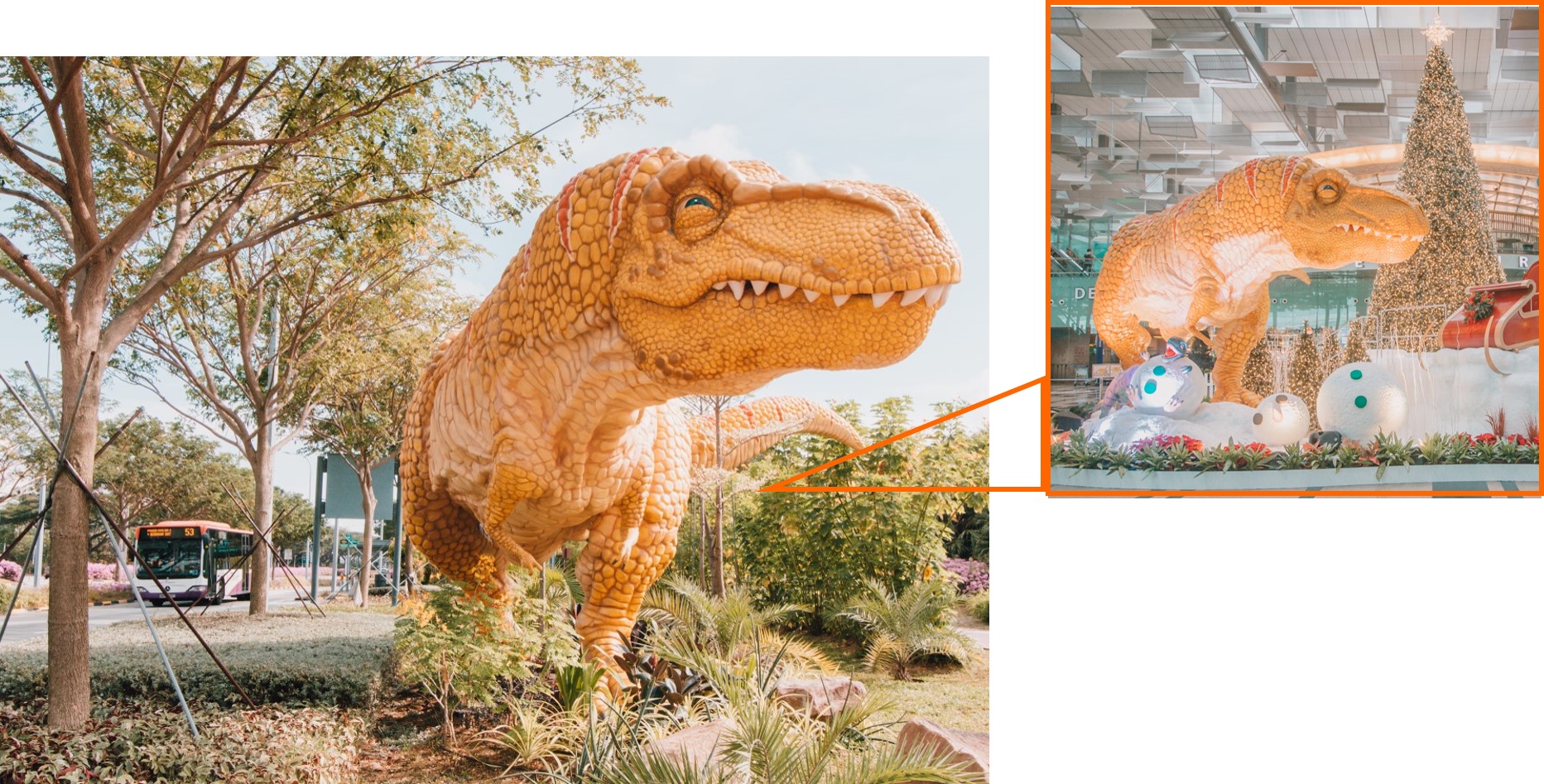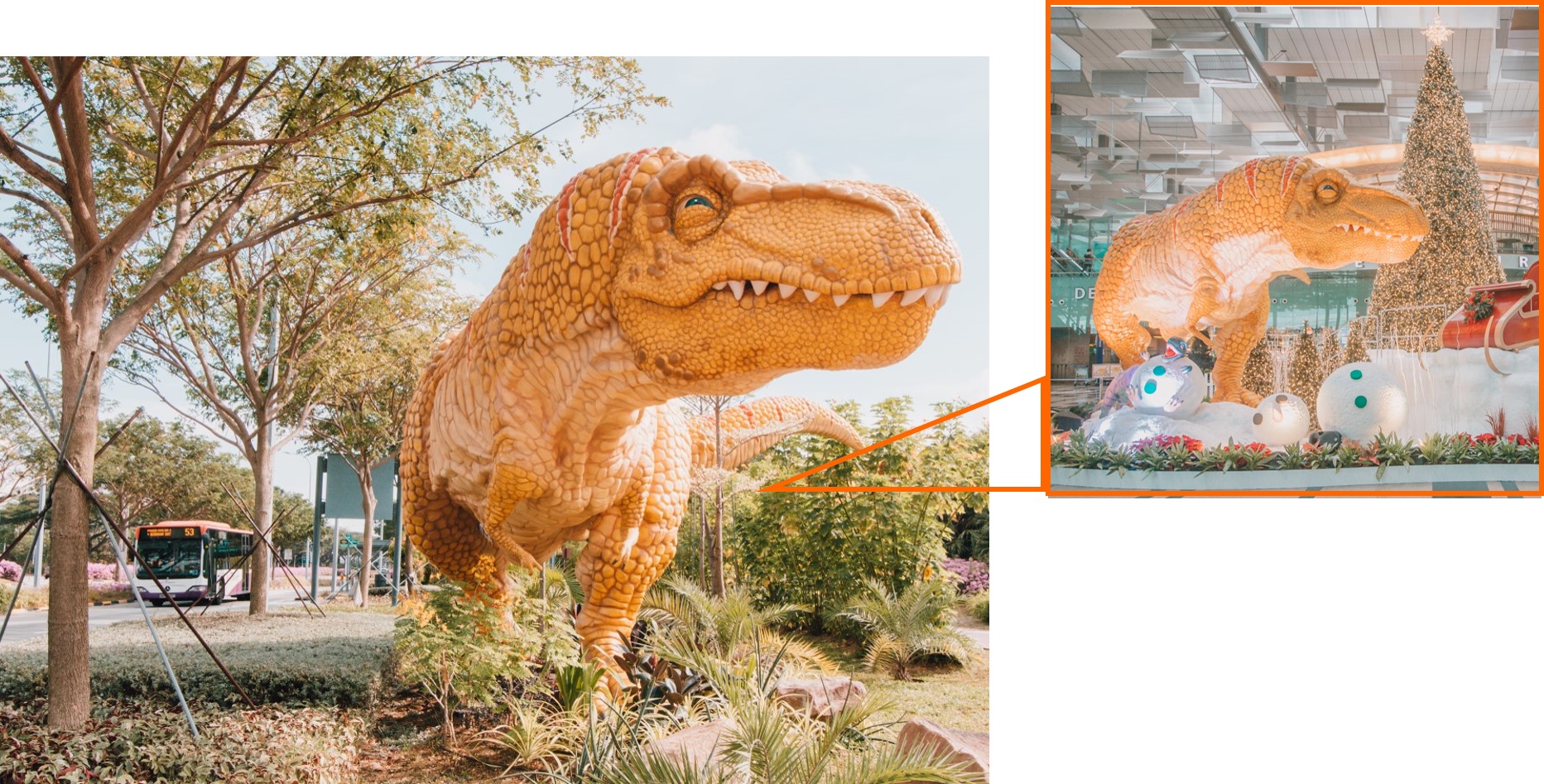 This newly erected Tyrannosaurus Rex was relocated from its original "home" at Terminal 3's Dino Wanderland during the year-end festive season.
The most outstanding ones of all has to be the 3.9-metre-tall yellow Tyrannosaurus Rex erected near the Terminal 4 slip road, as well as the 3.5-metre-tall pink Diplodocus located outside the VIP complex.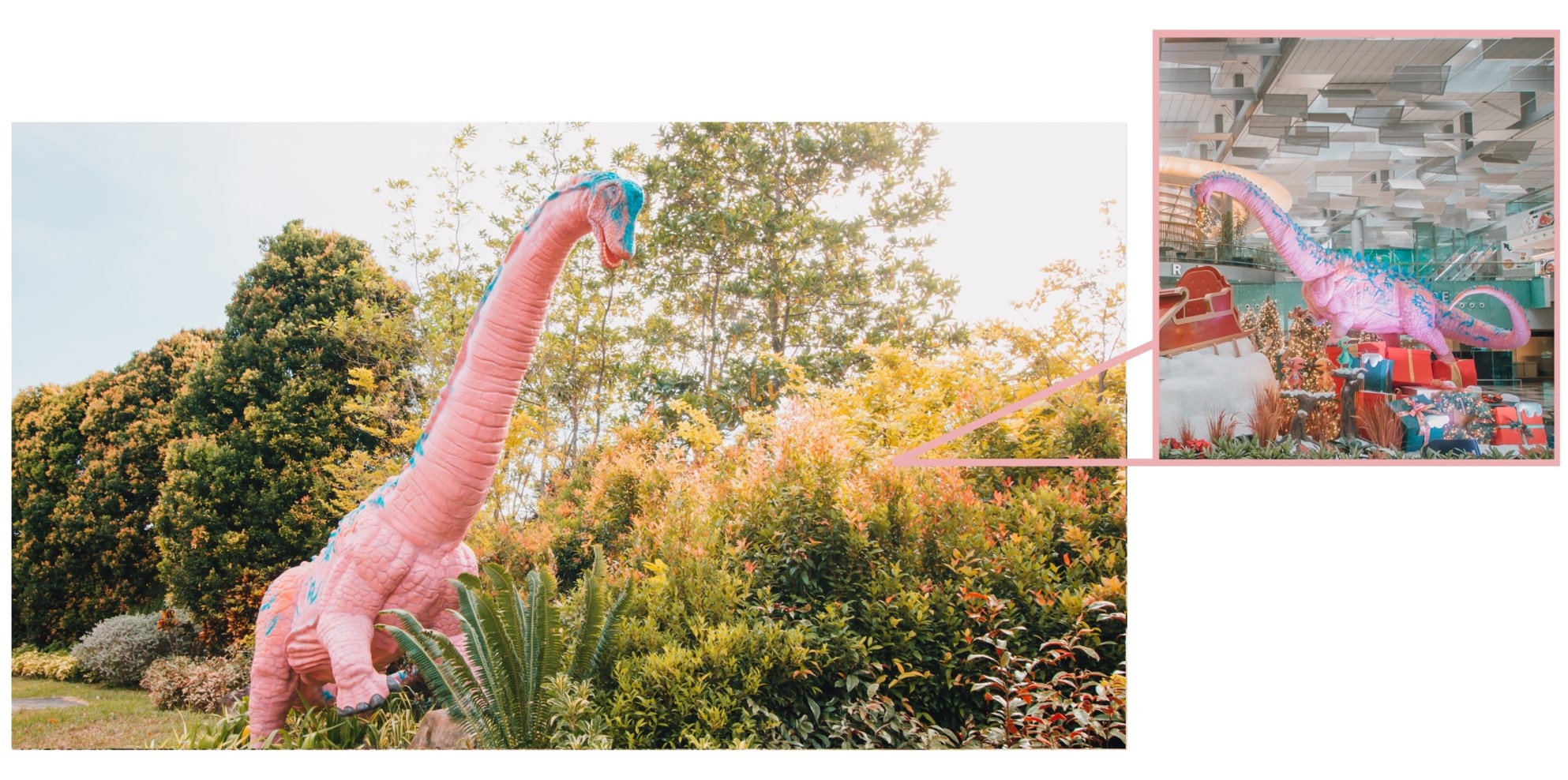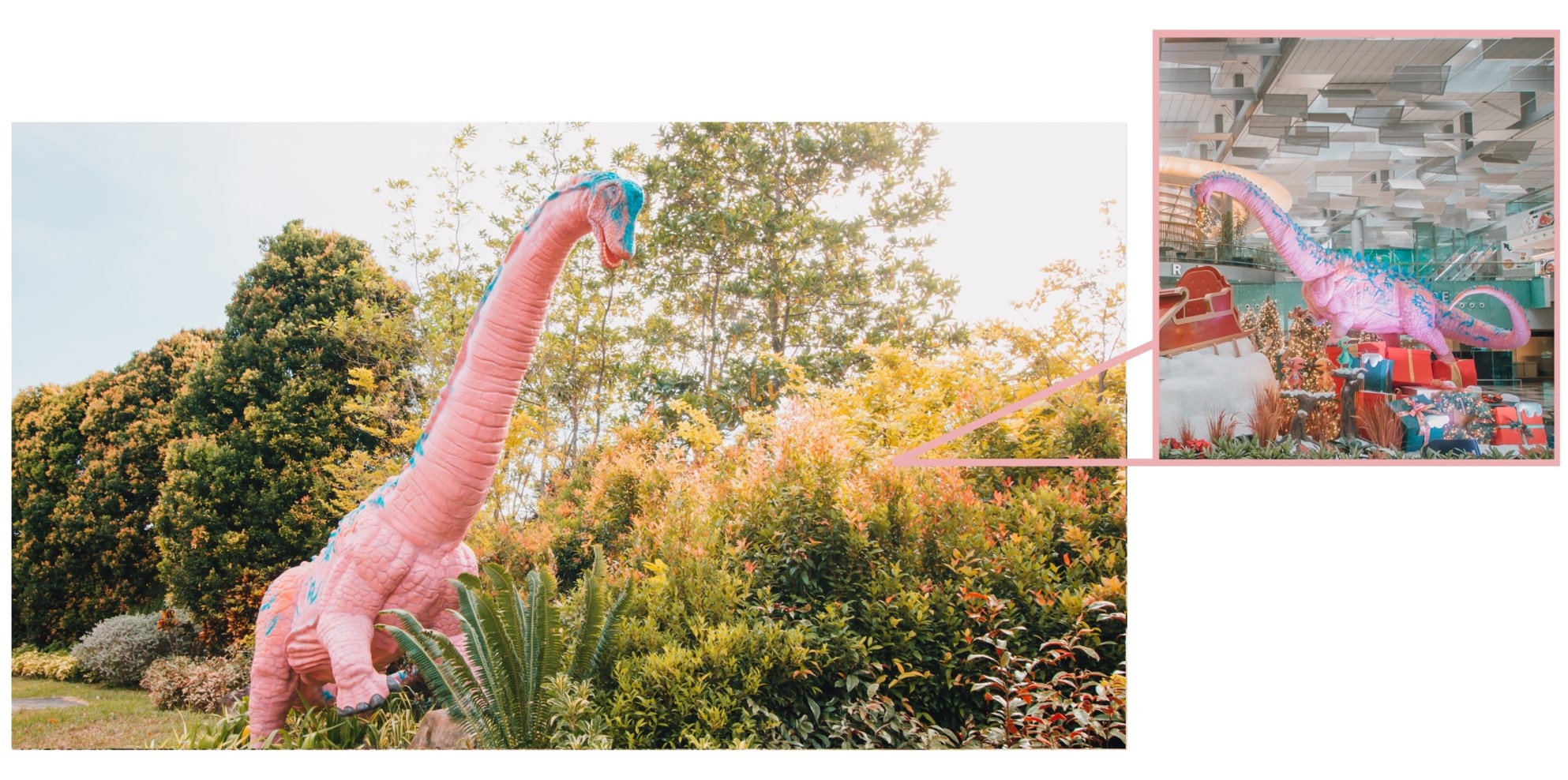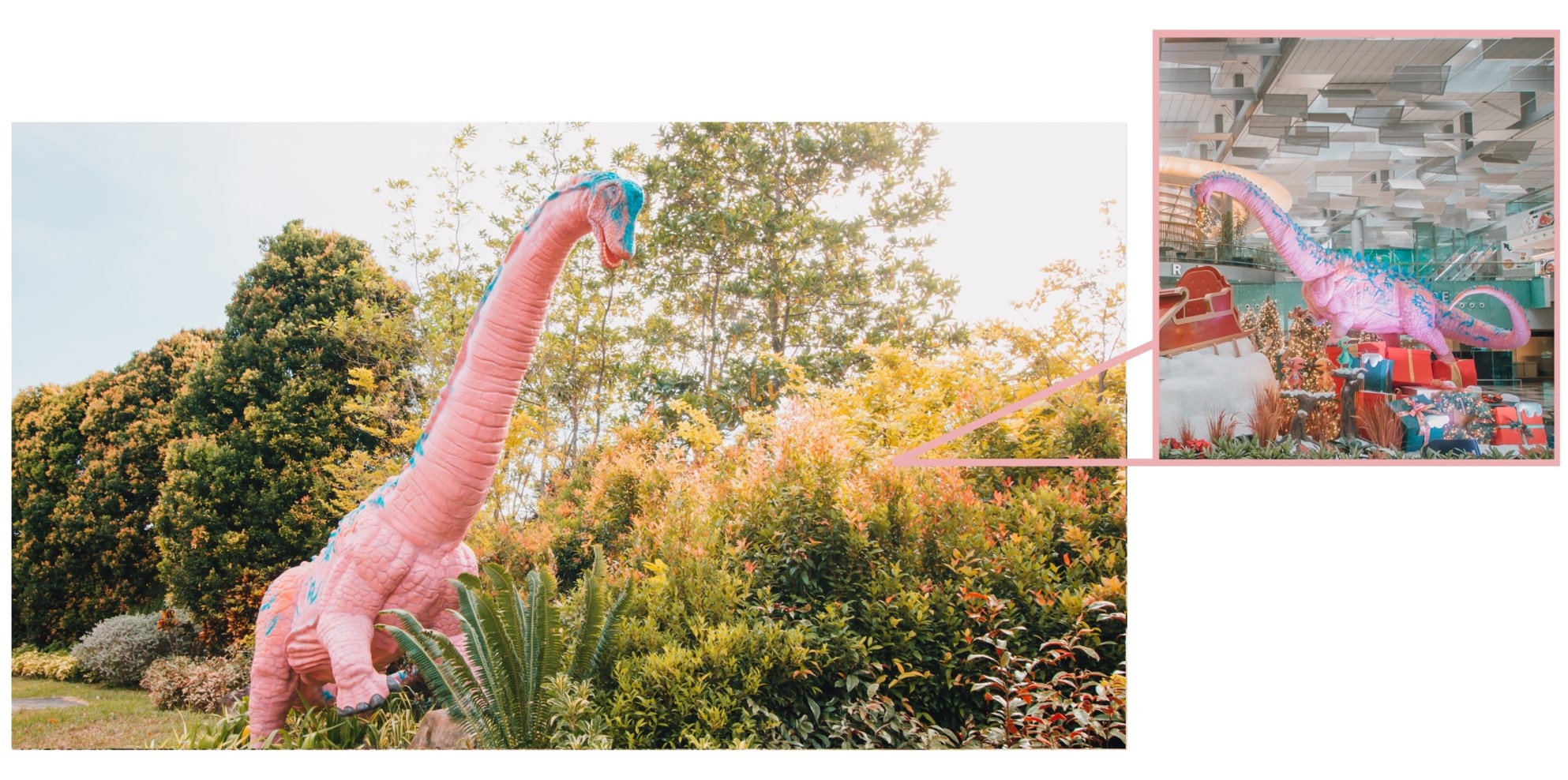 The Diplodocus outside the VIP complex, not far from the Tyrannosaurus Rex.
 "Relocating these two massive dinosaurs was no mean feat. Due to their ginormous size, both dinosaurs underwent a three-week overhaul that saw them getting cut up for the transportation process, before being reassembled and repainted," enthused Delfine Ong, Senior Manager, Experience Creation Team. Given their height, build and weight, the Experience Creation team had to engage the help of 10 men and a forklift to transport and position the dinosaurs safely at their new designated spots. On top of that, additional horticultural decor was also incorporated to further emulate the lifelikeness of the running Jurassic theme along the stretch.
Despite resource constraints due to the ongoing pandemic, CAG continues to brainstorm for refreshing ways to improve the Changi Experience, while staying prudent. Through the upcycling of available resources from past events, the Experience Creation team strives to  create even more exciting themed activities in the year, using props which can be considered for upcycling after the event ends.