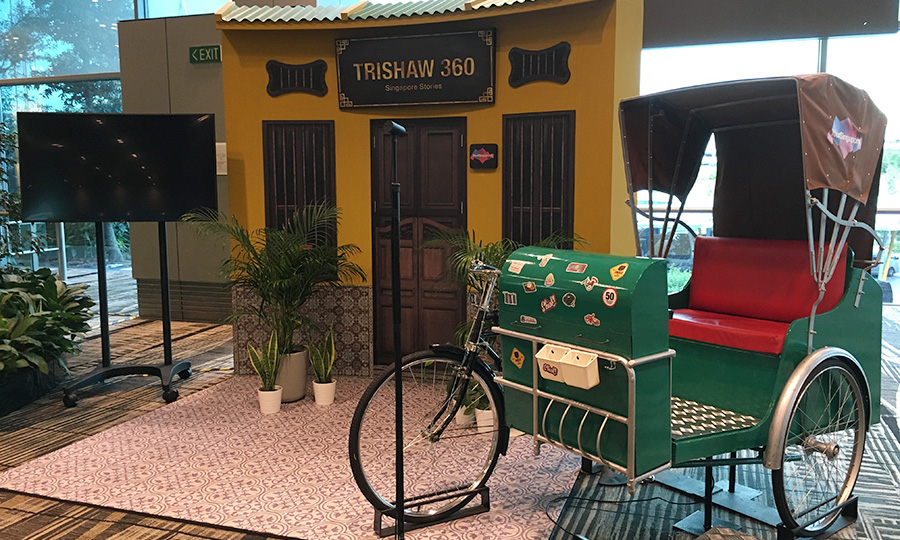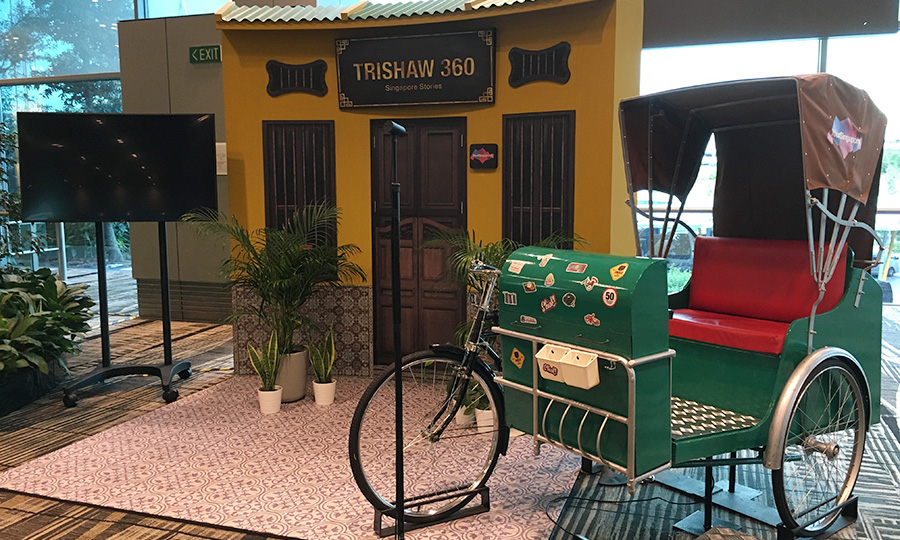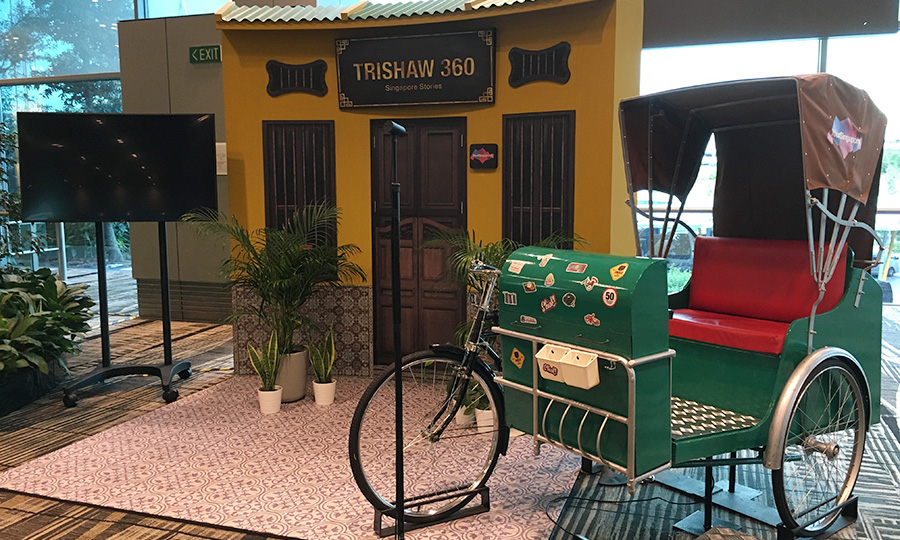 If you had travelled through Terminal 3 recently, you might have noticed a trishaw parked in a corner of the transit hall, near to the Skytrain station leading to Terminal 2. The showcase, better known as the Trishaw 360 Singapore Stories, is a collaboration between Changi Airport Group (CAG) and Singapore Tourism Board (STB) to bring a different passenger experience to Changi Airport.
Leveraging Virtual Reality (VR) and 4D simulation to tell stories about Singapore using an immersive and innovative approach, passengers can experience wind, heat, smell and mist during their 'ride' on the trishaw. The whole 4D experience is achieved through the use of an Oculus Rift VR headset to play the images, while the passenger is physically seated in a custom-built trishaw.
No stranger to collaborating with partners to bring refreshing experiences to our passengers, CAG was happy to work with STB to offer this free 4D experience at the airport for passengers. Simulating a real trishaw ride in Singapore, the 'ride' is completed with 360 degree film and mixed with 4D elements, to take passengers on a fun journey through our island. During the 'ride', lesser known facts and quirks of each destination will be shared from the perspective of the trishaw rider.
Passengers are given two route options to choose from. For each route, the trishaw rider, Uncle Choo, brings the passenger to three different locations for whole the 'ride'. In option one - Old School Cool - passenger gets to 'ride' through a bird-singing park in Ang Mo Kio, the Cavenagh Bridge and Emerald Hill. For the other option - City Meets Culture - the route takes the passenger through Haji Lane, Little India and Merlion Park. Each 'ride' takes approximately 3 minutes to complete. For transit passengers, this VR showcase gives them the opportunity to get a good feel of Singapore, without even leaving our terminals.
For those with more than six hours before their connecting flight, and would like to experience the sights and sounds of Singapore, they can opt to join the Free Singapore Tour – a collaboration between CAG, STB and Singapore Airlines. Transit passengers can choose between the Heritage Tour during the day - which covers the colonial and cultural districts, and the City Sights Tour at night – which showcases modern Singapore against the cityscape of our world-class attractions in their night-lights. Both tours include two short stopovers at selected locations, to give passengers photo opportunities.