Wine-picking robot helps out at Changi's DFS
Wine-loving passengers arriving at Changi's Terminal 2 (T2) will now have a special robotic assistant to help them select duty-free wines at DFS Singapore. Meet Pepper, a robotic wine assistant who recommends wines based on your tastes and preferences.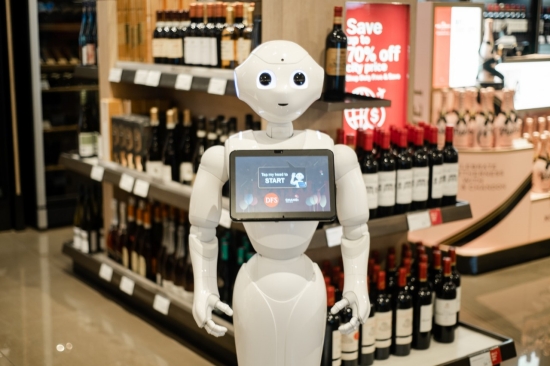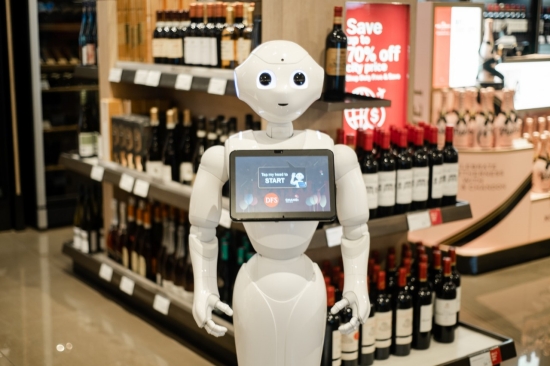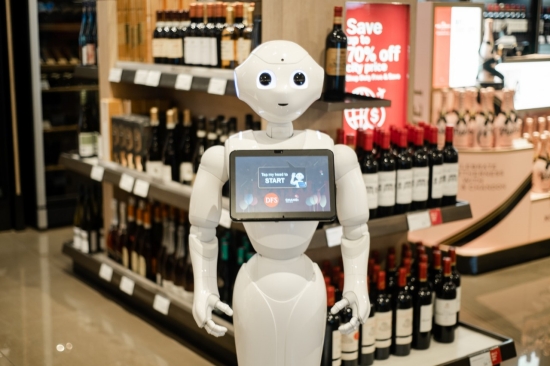 Pepper is now on duty at Terminal 2's DFS arrival stores
This initiative is part of a trial by Changi Airport Group (CAG), in collaboration with Duty Free Stores (DFS) Singapore, Temasek Polytechnic (TP), and SoftBank Telecom Singapore (STS).
"Through observations, on-ground feedback and surveys, we found that many arriving passengers would like to purchase duty-free wine, but do not know where to start, given the large selection available. Leveraging TP's deep wine expertise and STS's social robotics capabilities, we hope to make the wine selection process hassle-free and exciting for our passengers, as they discover new products and personalised retail offerings that are tailored to their preferences," said Ms Teo Chew Hoon, Group Senior Vice President of Airside Concessions, CAG.
With the introduction of Pepper, the airport hopes to enhance the shopping experience of passengers by making it seamless and more enjoyable.
Passengers can engage the services of Pepper by first tapping on its head. This prompts Pepper to ask them some questions to understand their preferences. To answer, passengers simply tap on the screen. Once completed, Pepper will recommend a personalised list of wines which they can purchase at a 10% discount.
See video of Pepper in action
Pepper's questionnaire was developed in partnership with TP. Staff from the TP School of Business first categorised a selection of more than 300 wines at DFS according to their attributes, to derive algorithms resulting in customised recommendations. Students from the Diploma in Computer Engineering subsequently worked with STS to code the application into Pepper and designed an interactive user interface.
Plans are also in place to bring the trial to Terminal 4, to explore the various uses of Pepper as a robotic assistant, from providing personalised suggestions on where to grab a quick bite to tailored recommendations on last-minute gifts to purchase before a flight.
Always on the lookout for new technology and innovation, CAG is constantly exploring ways to enhance passenger experience at Changi. Through working with local institutions and start-ups, this trial with Pepper demonstrates how passenger experience can be elevated through combining technology and creativity.