OUR OPERATIONAL EXCELLENCE
Singapore is the most efficient country in Southeast Asia and Southwest Pacific. We are also ranked the Best Global Air Cargo Airport for Performance, Value and Facilities.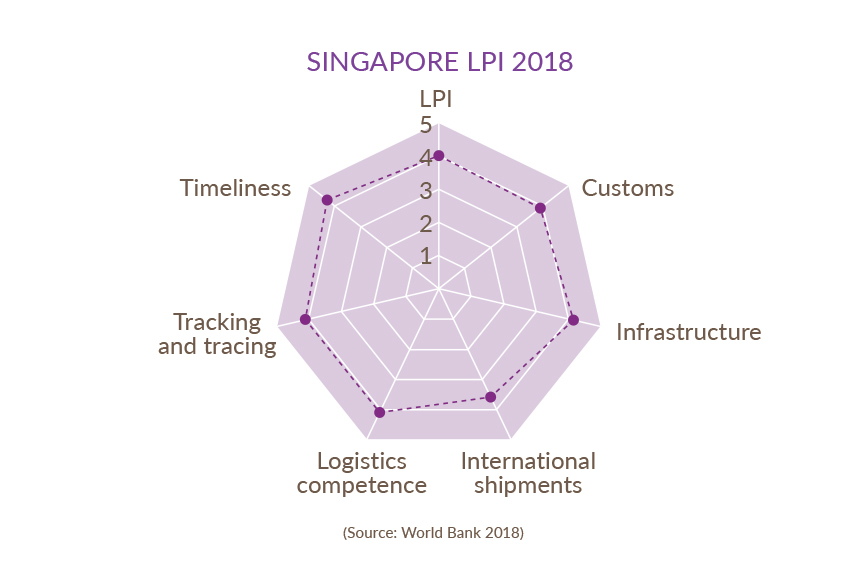 World Bank Ranking
From the 2018 Logistics Performance Index (LPI), Singapore is ranked 7th, with an LPI score of 4.00.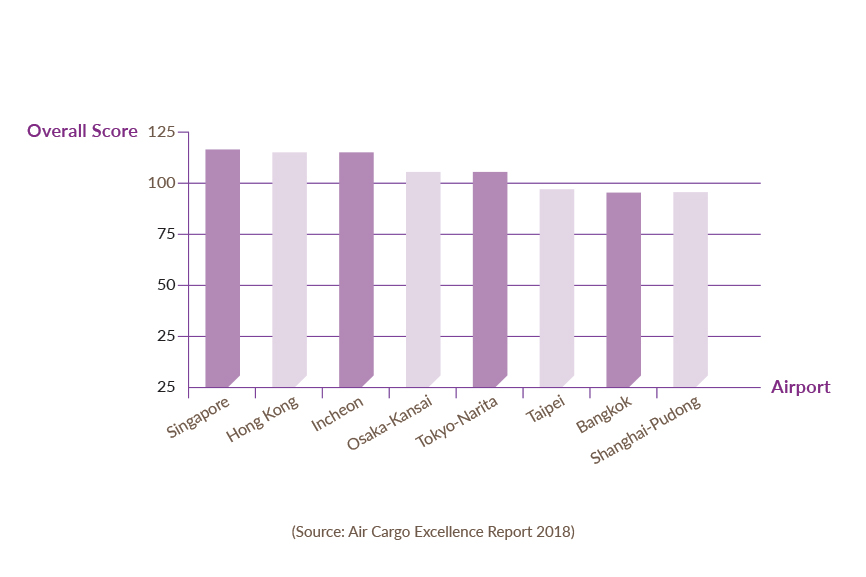 Air Cargo Excellence Report
We are also the best global air cargo airport for Performance, Value and Facilities. 
OUR SEAMLESS CONNECTIVITY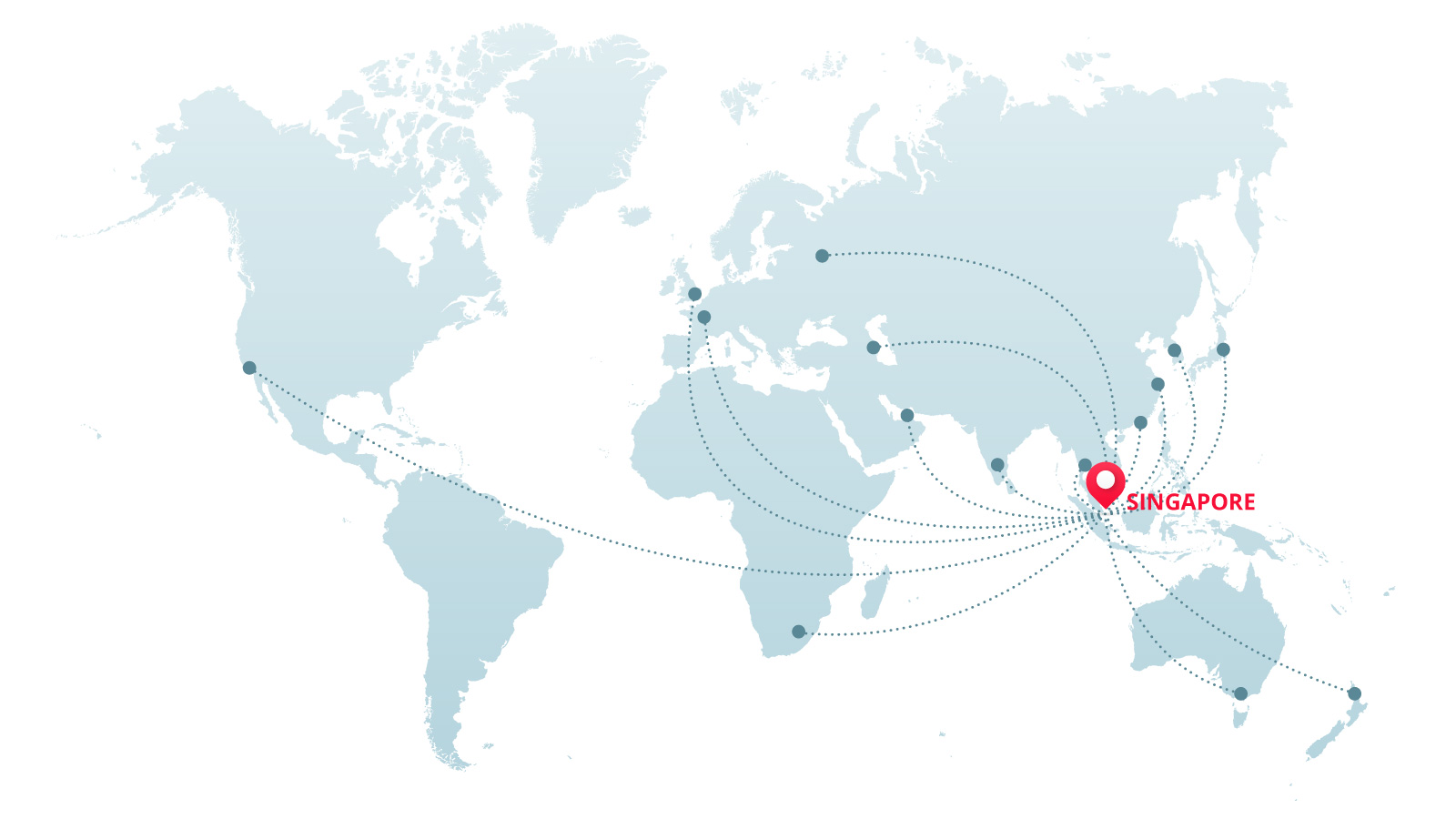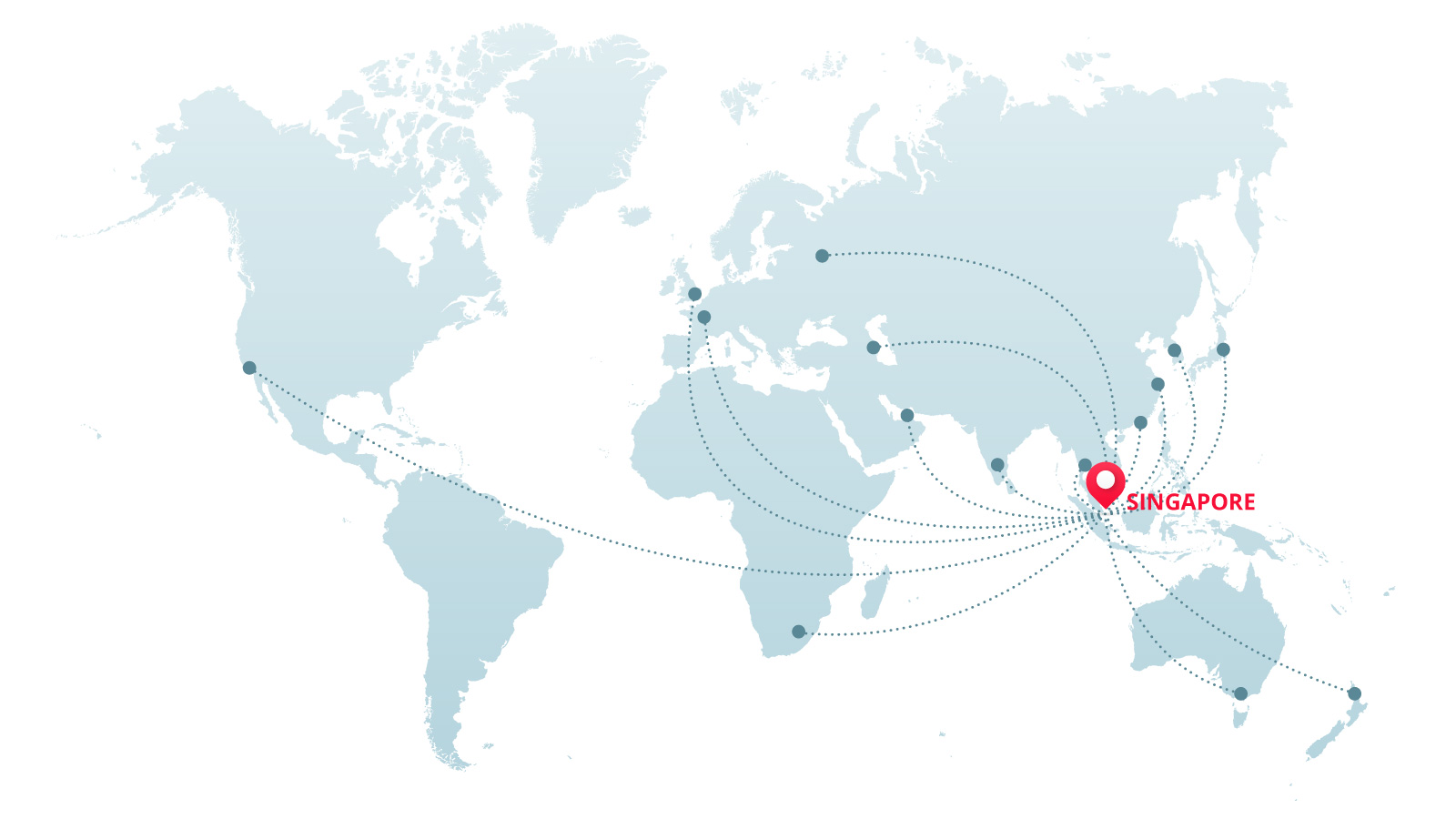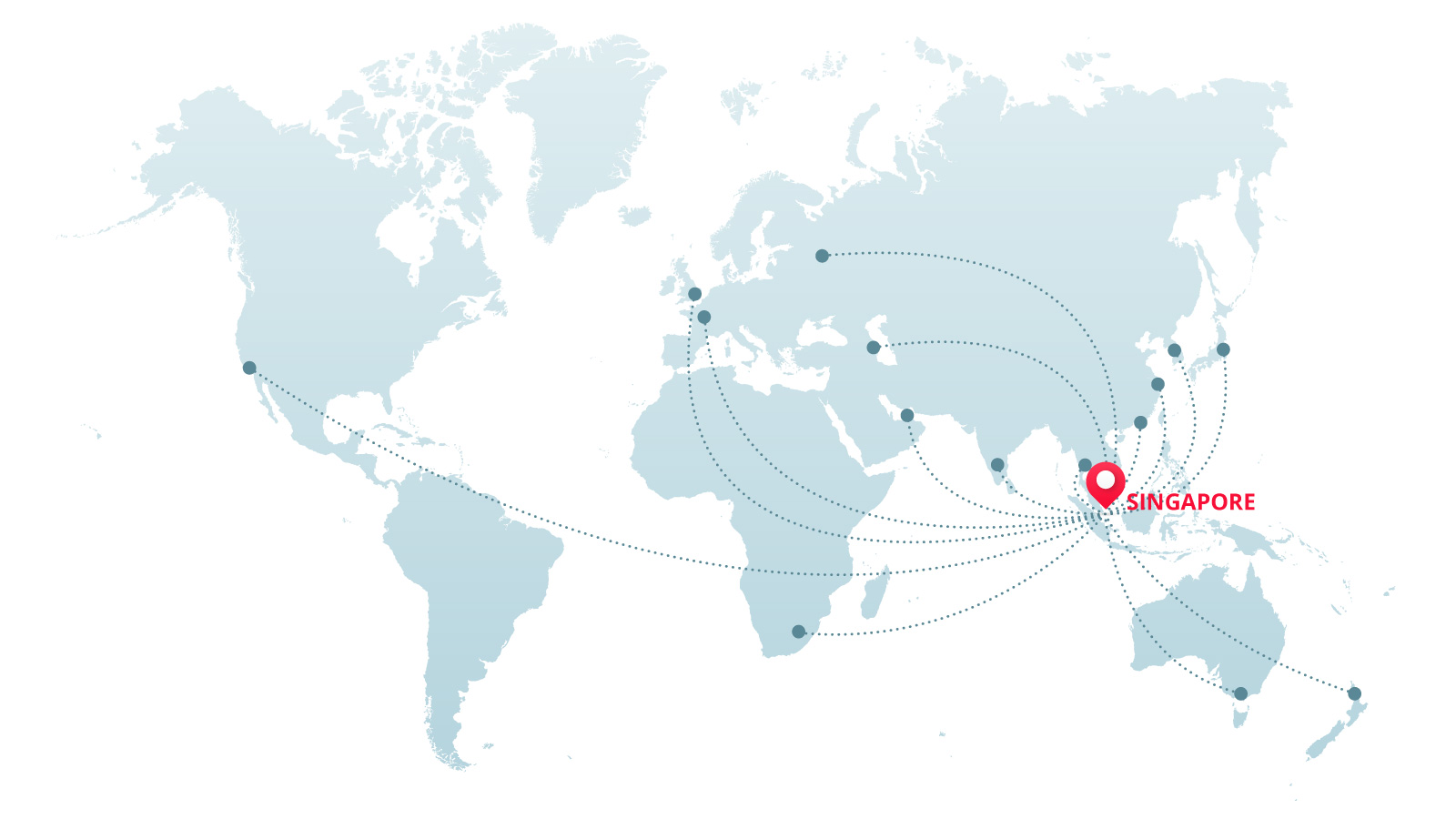 Our International Air Connectivity
123 airlines*
382 cities
94 countries

One of the widest networks in Asia:

25 cargo airlines operating over 310 weekly flights
49 freighter city links
Regional freighters offering coverage and interline opportunities to emerging Southeast Asian markets
With more than 7500 weekly scheduled flights, an aircraft takes off or lands at Changi once every 80 seconds.
Key markets in Asia Pacific within 7-hour flight time
*As of July 2019, including phyiscal and codeshare city links.
Our Family of Cargo Airlines
OUR FAMILY OF CARGO AIRLINES
| | | | |
| --- | --- | --- | --- |
| Aerologic | Etihad Airways  | My Jet Xpress Airlines |   |
| Air Hong Kong | Etihad Cargo | Nippon Cargo Airlines |   |
| AirBridgeCargo Airlines | EVA Airways | Polar Air Cargo |   |
| All Nippon Airways | Federal Express Corporation | Raya Airways |   |
| Asiana Airlines | Hong Kong Air Cargo | Sichuan Airlines |   |
| Cargolux Airlines | Kalitta Air | Silk Way West Airlines |   |
| Cathay Pacific | K-Mile Air | Singapore Airlines |   |
| China Airlines | Korean Air | United Parcel Service |   |
| China Cargo Airlines | My Indo Airlines | Qatar Airways |   |
| Emirates |   |   |   |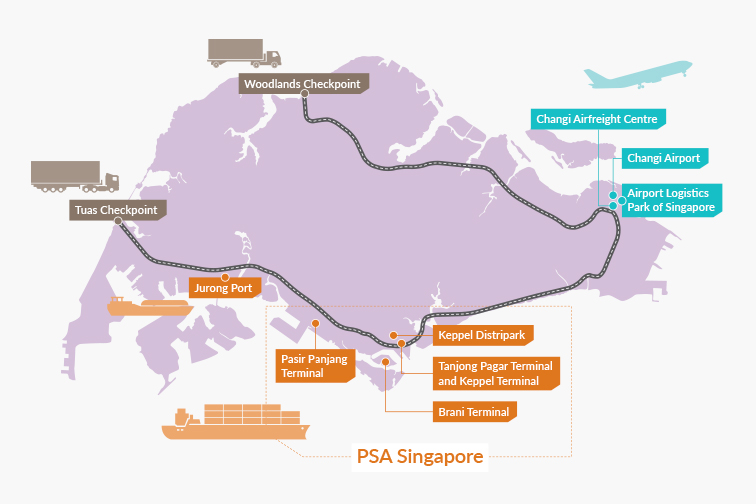 Our Seamless Multimodal Connectivity
Air. Sea. Road. We've got you covered.
Dense sea and road networks for multimodal transhipment
Seamless intermodal connectivity between one of the world's busiest seaport and airport
Less than an hour's drive from PSA terminals—the world's second largest container port and busiest transhipment hub with connectivity to over 600 ports
Regional cross-border trucking networks
An Integrated Logistics Gateway
Designed to move cargo like clockwork, round the clock, 24 out of 25 of the world's largest airfreight forwarders have established major operations in Singapore.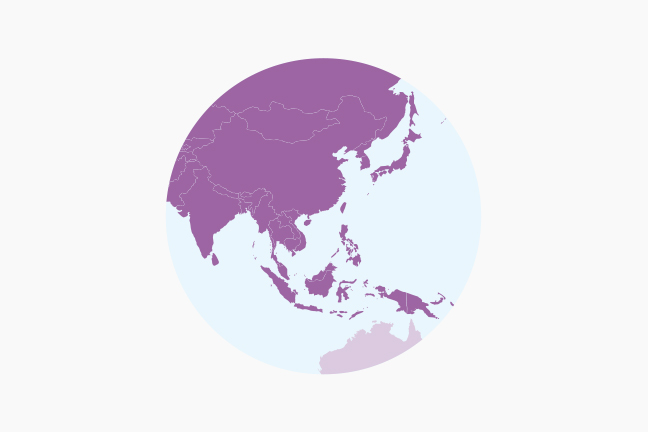 ASIA
APEX Logistics International
Dimerco Express Group
Hitachi Transport System
Kerry Logistics Network
Kintetsu World Express
Nippon Express
NNR Global Logistics
Sinotrans
Yusen Logistics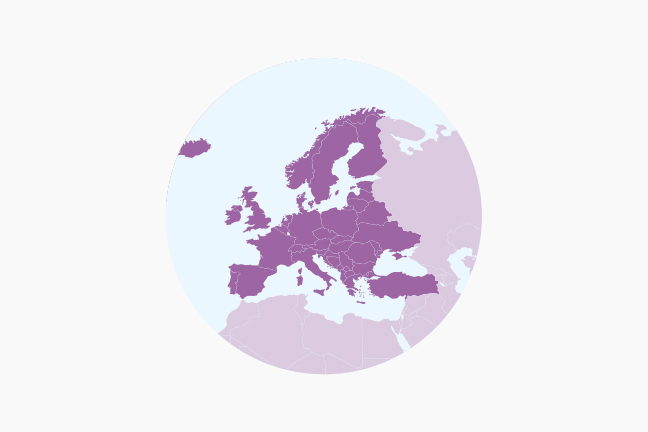 EUROPE
Agility
Bollore Logistics
CEVA Logistics
Dachser
DB Schenker
DHL Supply Chain & Global Forwarding
DSV Air & Sea Ltd.
Geodis
Hellmann Worldwide Logistics
Kuehne + Nagel
Panalpina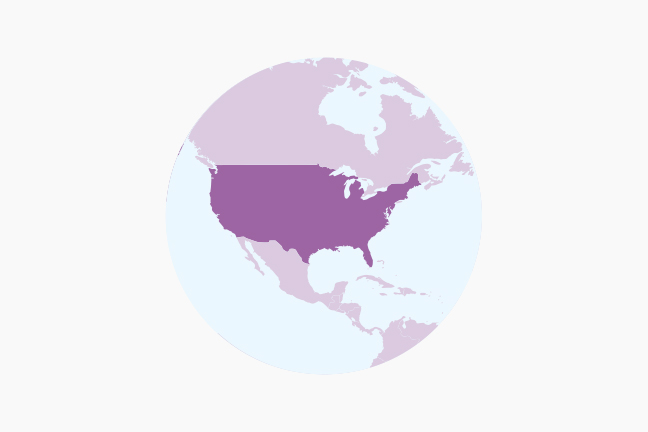 USA
Crane Worldwide Logistics
Expeditors
FedEx
UPS Supply Chain Solutions
OUR EFFICIENT CARGO FACILITIES & INFRASTRUCTURE
Supporting one of the world's busiest airports for international air cargo are dedicated developments built with a bright future in mind. 
Changi Airfreight Centre / Airport Logistics Park Singapore
With over 70 hectares of contiguous Free Trade Zone, Changi Airfreight Centre and Airport Logistics Park of Singapore offer shippers and third-party logistics companies a unique opportunity to establish Regional Distribution Centers or Regional Fulfilment Centers.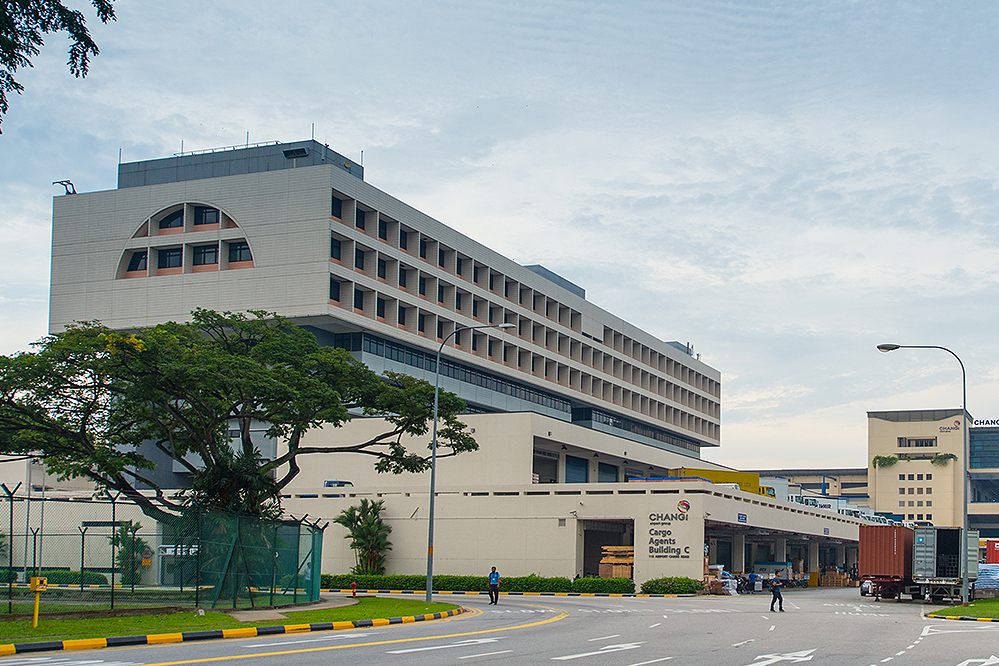 Changi Airfreight Centre
With airfreight operations consolidated here, a 24-hour Free Trade Zone allows transshipment cargo to be broken down and reconsolidated with minimal customs formalities.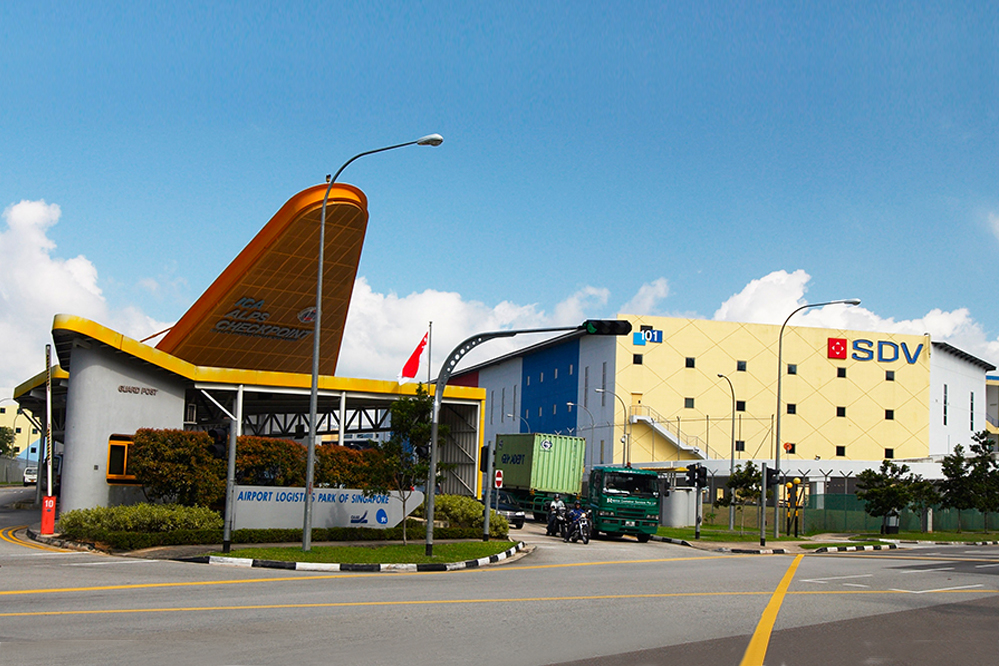 Airport Logistics Park of Singapore (ALPS)
With over 26 hectares of total land space, global shipping and third-party logistics companies gain unique opportunities to establish Regional Distribution Centres within the airport Free Trade Zone.
Cold-Chain Logistics
Deep knowledge on the handling, storage and transportation of temperature sensitive cargo is required to maintain the integrity of pharmaceuticals cargo and the freshness and quality of perishable products. With its dedicated temperature-controlled facilities, Changi Airport is able to provide cold chain solutions to store these delicate cargo for subsequent distribution locally and globally.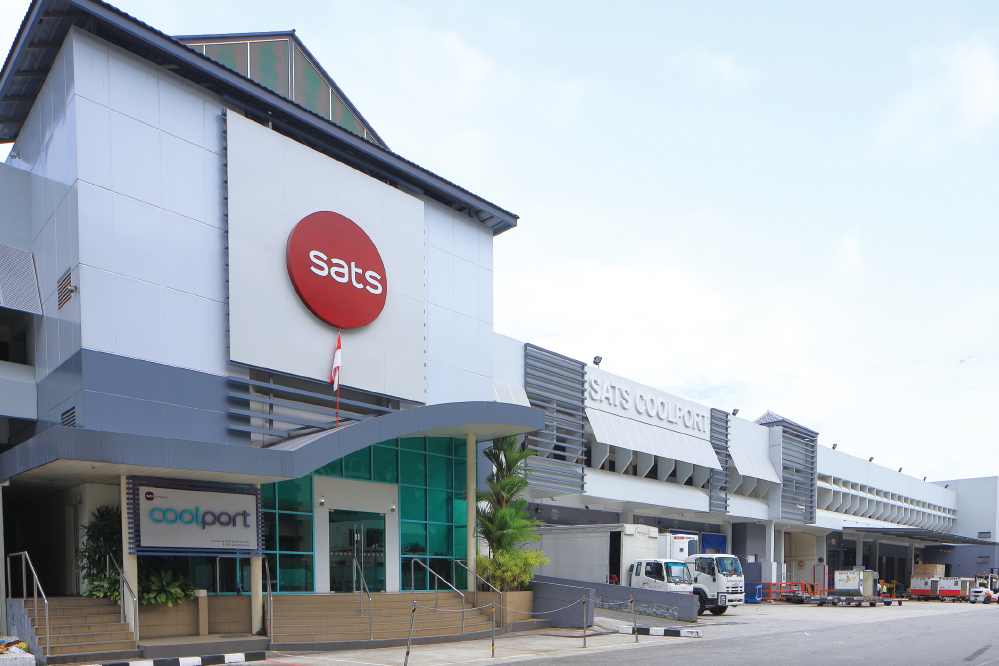 SATS Coolport
SATS Coolport is Asia's first on-airport perishable handling facility dedicated to ensuring cold-chain integrity for a wide range of delicate cargo, including pharmaceuticals. With a well-trained team, quality management system and state of-the-art facility that adheres to Good Distribution Practice guidelines, SATS is proud to be certified by IATA as the world's first CEIV in Pharmaceutical Handling in 2014.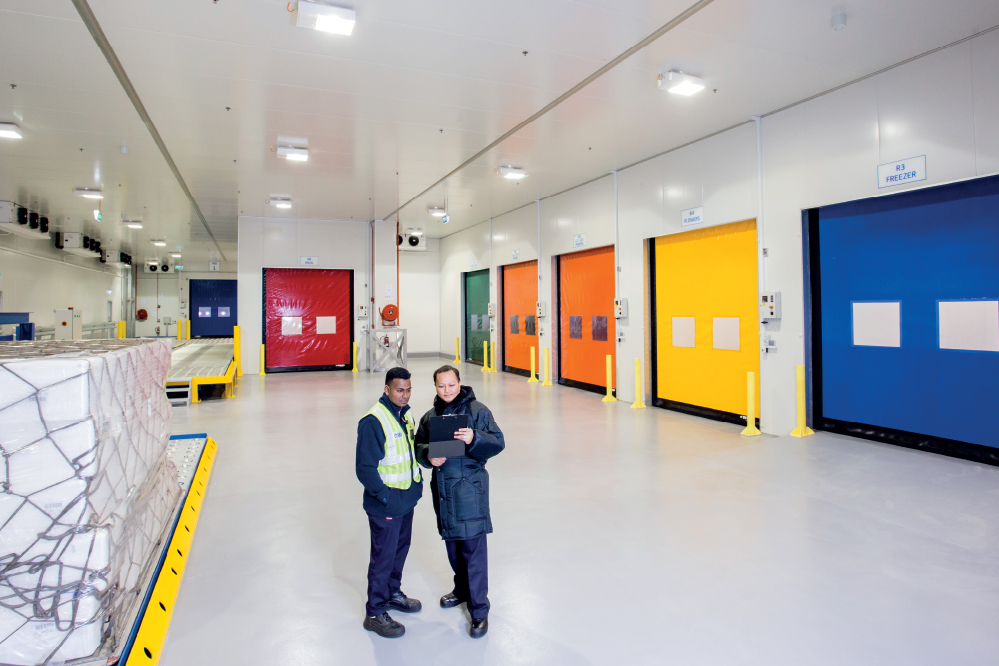 dnata Coolchain
Built in 2013, dnata Coolchain is designed to handle high-value, high-yield perishable items and pharmaceuticals within a dedicated, state-of-the-art cargo handling facility. Encompassing the latest cold storage technologies and designs, it offers solutions and cold chain products for a wide range of temperature-sensitive cargo. dnata has been certified by IATA for CEIV in Pharmaceutical Handling at Singapore.
Launched in Oct 2020, dnata's cool dollies, equipped with capabilities to provide real-time information on its shipments, are designed to serve the pharmaceutical industry with a closed temperature-controlled system for seamless delivery of temperature-sensitive goods between warehouses and aircraft.  Providing storage from -18°C to +25°C, the cool dollies mitigate risks on temperature deviations and contamination, maintaining the highest international standards for the temperature-sensitive cargo.
E-Commerce
Singapore's e-commerce is expected grow to a market size of S$5.4 billion by 2025. Featuring the latest technology which improves mailbag processing capabilities, Changi Airfreight Centre allows operators to connect international e-commerce mail to an earlier flight for faster delivery, and improve traceability.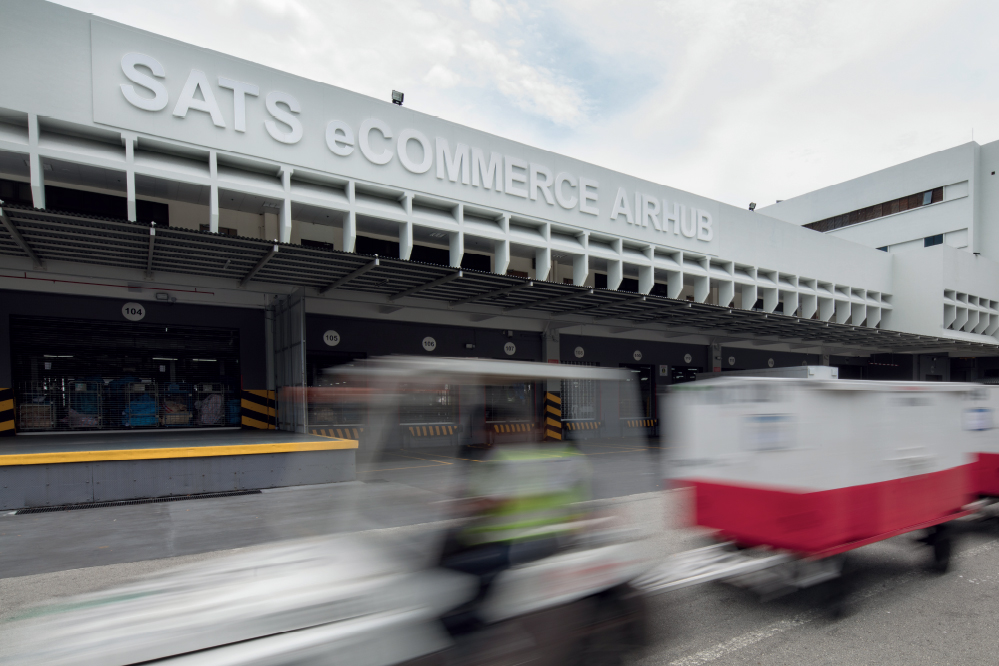 SATS eCommerce AirHub
In April 2017, SATS unveiled a S$21 million eCommerce AirHub. The 6,000m2 facility houses state-of-the-art innovations and technology aimed at improving productivity. A fully automated mail sorting system increases the mailbag process capacity of SATS to more than 1,800 an hour. A direct integration with SingPost's airmail consignment operations and the facility's location within the Free Trade Zone on the airside reduces turnaround time by 50 percent from six to three hours. This enables international e-commerce mail to connect to earlier flights for faster delivery.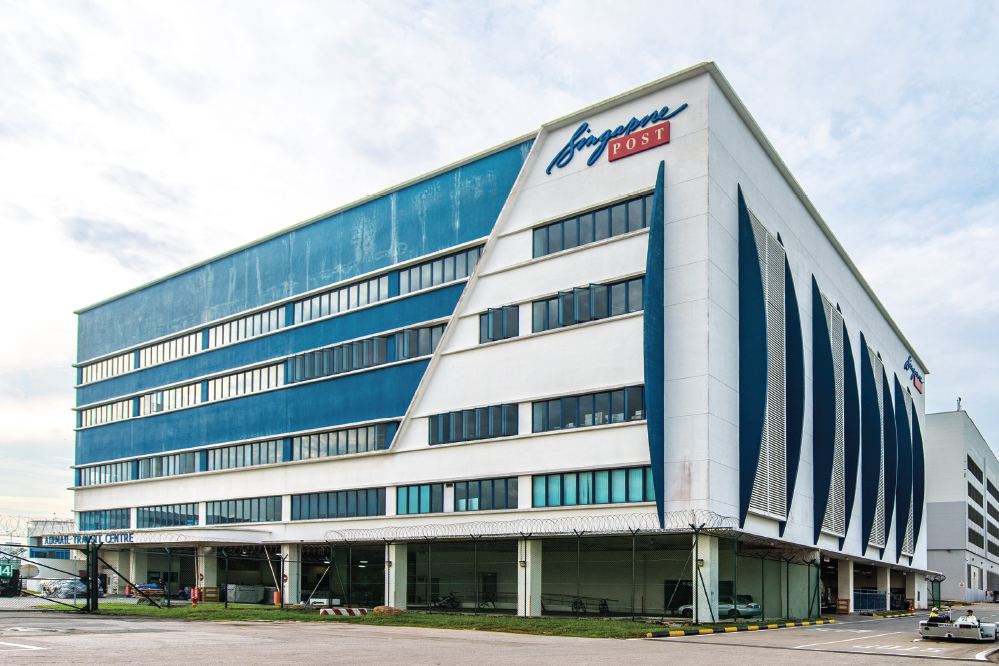 SingPost Airmail Transit Center
Singpost has established operations in the Airmail Transit Center (ATC) in Changi Airfreight Centre (CAC) where it houses security screenings of mail imports into Singapore and processing of Express Mail Service (EMS), air parcels and registered mails. The four-storey ATC building also contains the processing of open transit (mixed transhipment) and closed transit (intact mailbags), where SingPost would cut CN38 documents for the transhipped mail.
Express
Changi Airport is home to major express players—DHL Express, FedEx Express, and UPS. With all major players operating regional hubs in Singapore, businesses and consumers have abundant choices to transport their goods and documents quickly, reliably, and predictably to and from destinations across Asia Pacific and the world.
By opting for time-definite services, shipments can reach major cities in Asia Pacific, Europe, and the Americas by the morning of the next working day.
DHL South Asia Hub
S$140 million facility in Changi Airfreight Centre
Operational since 2016
Floor area of over 23,500m2
Fully automated express parcel sorting and processing system, capable of processing 14,000 shipments per hour, up to 628 tonnes of cargo per day
Supports up to 5 times more flights in Singapore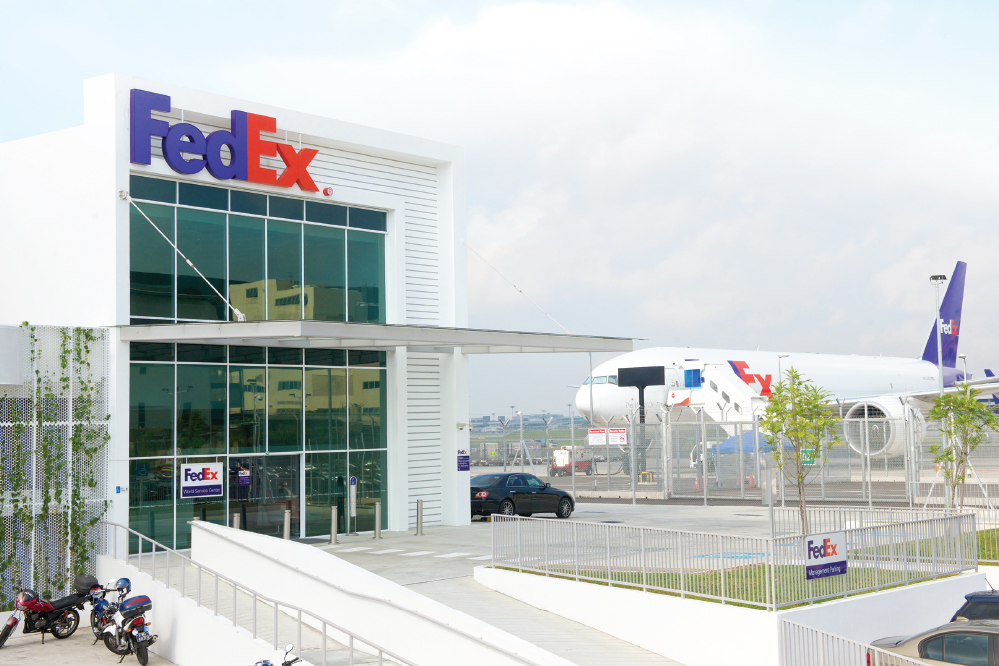 FedEx Express South Pacific Regional Hub
Over 26,000m2 integrated facility, operational since 2012
S$97 million facility that houses air, ground, and clearance operations
Consolidation point for transshipments into and out of Australia, New Zealand &Southeast Asia
2 adjacent freighter parking stands
More than 40 weekly FedEx flights in and out of Singapore
Fully automated, high-speed sorting system that can sort up to 12,000 packages per hour
Accommodates 280 delivery vehicles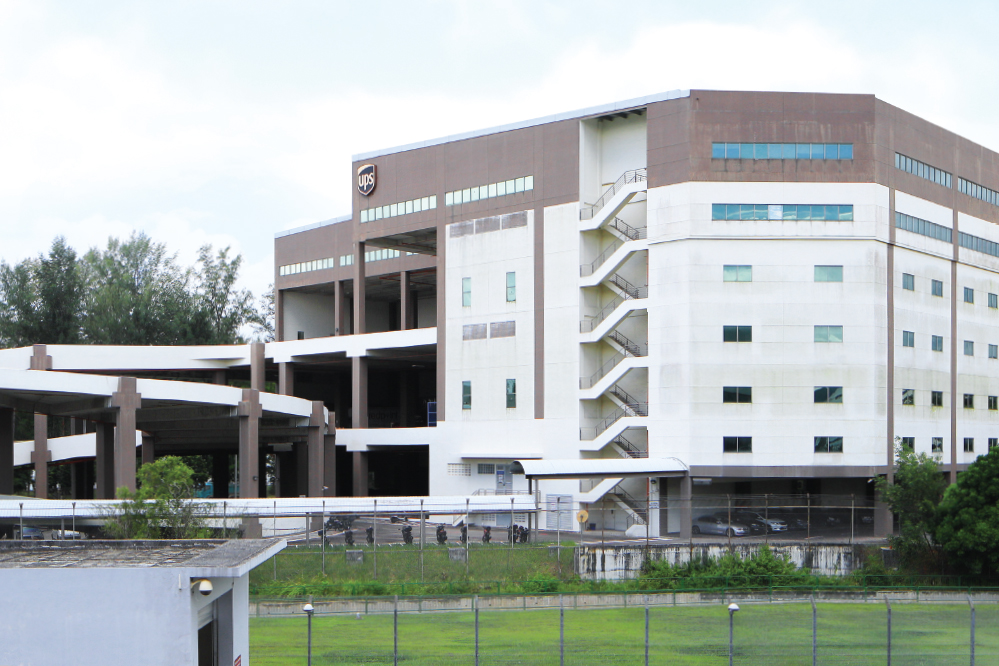 UPS Singapore Headquarters
Singapore is home to UPS' Asia Pacific Regional headquarters
UPS' facility in Airport Logistics Park of Singapore (ALPS) stands at almost 37,000m2 and is one of six facilities it has established in Singapore
16 weekly UPS flights in and out of Singapore
UPS expanded its Worldwide Express™ package service at the start of 2018 to provide an earlier delivery option for customers in Asia, which includes Singapore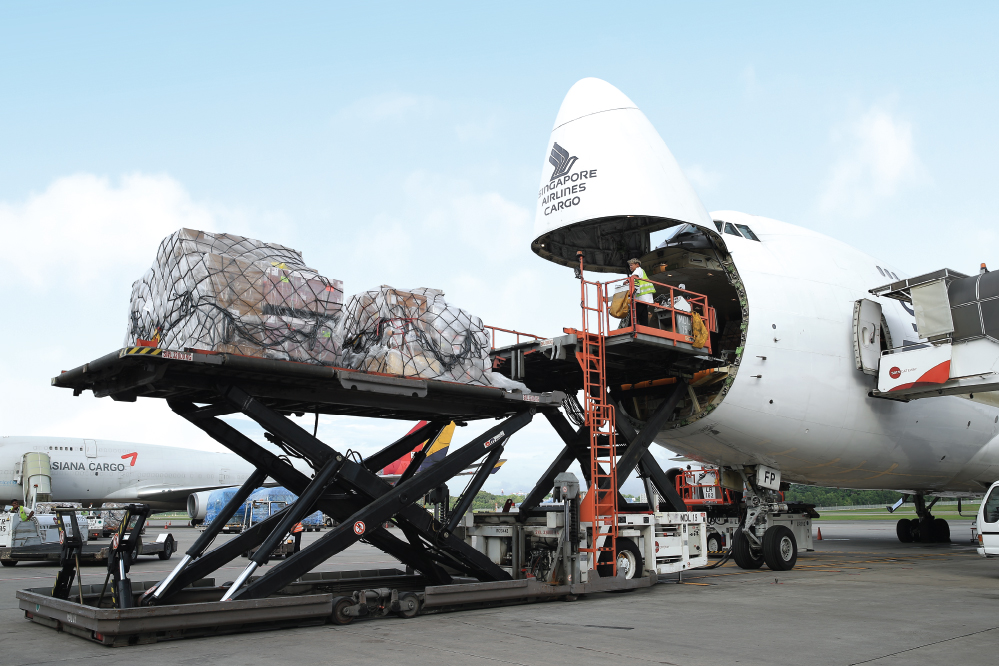 We strive to develop a collaborative and consultative relationship with our air cargo partners to enhance our current and future facilities and infrastructure for our partners' business needs.
For more information, please download our Marketing Brochure.