THEATRE OF CHAMPIONS EVENT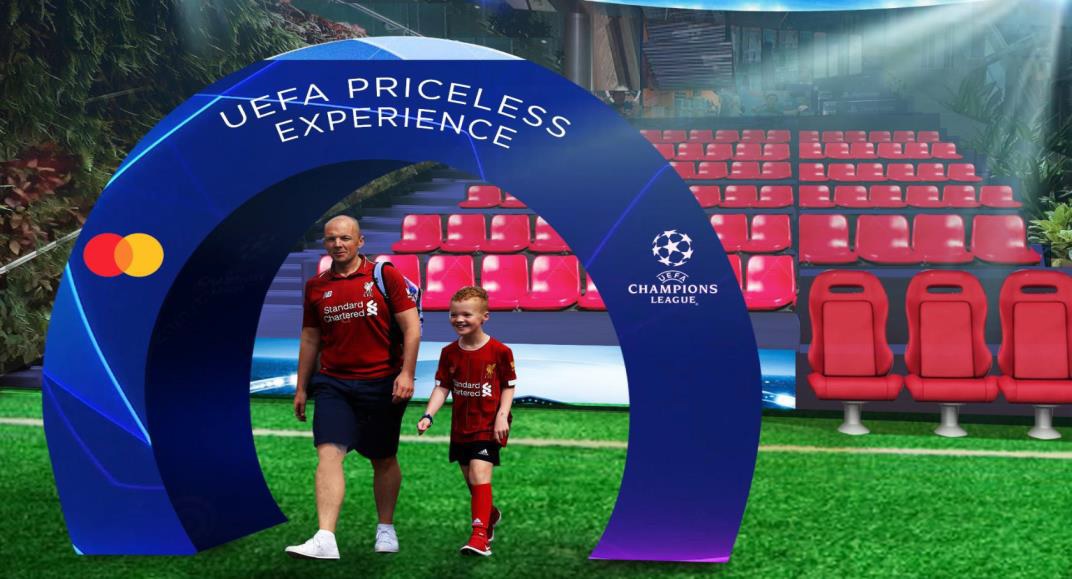 Are you an avid football fan? Step into our "Theatre of Champions" for an immersive stadium experience as you watch live UEFA Champions League matches, visit our exhibition gallery to view exclusive memorabilia display and more!
Location: Terminal 3, Basement 2, ST3PS (Opposite Terminal M)
Dates: 18 January to 23 February 2020
Time: 9am to 1am (daily)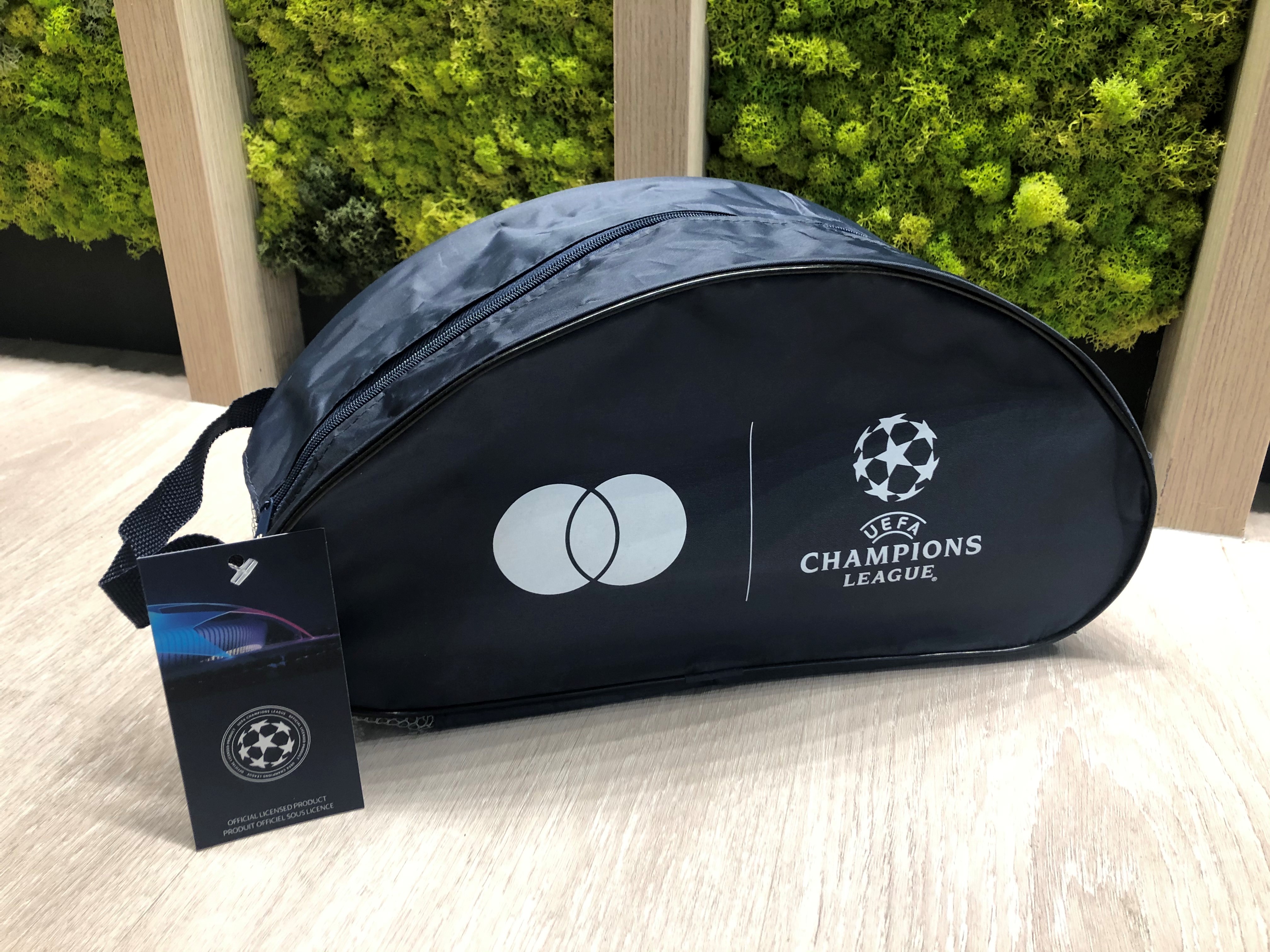 OPENING SPECIAL ON 18 & 19 JANUARY 2020: Get the chance to take a photo with the Official UEFA Champions League Trophy!
Dates / Timings:
18th January 2020 (1pm to 10pm)
19th January 2020 (11am to 10pm)
What's more – get a UEFA Champions League Shoe Bag when you spend a minimum S$35 (S$70 for supermarket purchases) in a single receipt by Mastercard® at Terminals 1 to 4 public areas of Changi Airport*.
* At participating outlets only. 
Terms & Conditions For UEFA Champions League Trophy Photo Opportunity
- This Trophy Photo Opportunity is open to all members of public on a first-come-first-serve basis.
- Photo opportunity is based on first-come-first-serve within the operating hours of the event.
- The Photo Opportunity pass is limited to one (1) redemption per shopper per day.
- Each Photo Opportunity pass admits up to 5 persons for one (1) photo shoot, complete with an exclusive framed 6R Size photo print.
- CAG reserves all rights on admission arrangements.
- All children must be accompanied by an adult while at the event site.
- Parents/guardians are responsible for their children's safety at all times.
- CAG shall not be held liable for any injury, loss or damage sustained from the use of these premises and participation of the event.
- Trophy Photo Opportunity dates and times are subject to changes without prior notice.
- CAG reserves the right to change any of the Terms & Conditions without prior notice
Terms & Conditions For UEFA Champions League Shoe Bag Gift-with-purchase Promotion (18- 19 January 2020)
- Redemption is exclusive to Changi Rewards (CR) members who spends by Mastercard only.
- A minimum spend of S$35 (S$70 for supermarket purchases) in a single same-day receipt by Mastercard is required for redemption of one (1) x Official UEFA Champions League Shoe Bag.
- Redemption and collection must be made on either 18 or 19 January 2020 at Terminal 3 Basement 2, ST3PS, opposite Hokkaido Baked Cheese Tart.
- Limited to one (1) redemption per qualifying amount regardless of spend amount in excess of the minimum spend required.
- For all redemptions, valid original receipt(s) and charge slip(s) must be presented as proof of payment by a valid Mastercard debit/credit card.
- The same qualifying receipts can be used for redemptions for the other on-going promotions at Changi Airport i.e. Disney's Frozen 2 Red Packets redemption.
- All premiums are redeemable on first-come, first-served, subjected to availability and while-stocks-last basis.
- All redemptions are not refundable or exchangeable for cash
- Participating outlets include all retail and F&B outlets at public areas in Changi Airport Terminals 1, 2, 3 & 4 except the following:
Jewel Changi Airport
Banks and Money Changing facilities
Bill payment transactions e.g. through AXS, Cheers or SingPost
Crowne Plaza Hotel, including outlets within the Crowne Plaza Hotel
Education service provider
Left Luggage services counters
Pay-Per-Use Lounges
Medical clinics
SingPost
Staff Canteens and Taxi Canteens
Services counters (Car Rental/ Hotel Reservation / Airport Shuttle / Passenger Meeting Service)
Telecommunication outlets and service counters e.g. Starhub & M1
Temporary retail outposts involving non-CAG tenants
Note: Top-up card transactions (e.g. topping up of Kopitiam and Wang Loyalty card) and purchase of vouchers and Changi Gift Cards are not eligible for the promotion. 
ST3P Into The World Of Entertainment
Head on down to ST3PS, our event atrium featuring a myriad of exciting offerings such as movie marathons, live performances and football matches! So invite your friends and family and come down to hangout, relax and enjoy our Ultra-high-definition LED screen. Scroll down for more information on the screening times and get up to date information on the live performances that will spice up Terminal 3.
Current Operating Hours: 9am to 1am daily*
*Extended operating hours for live sports telecast.
Please click here for detailed scheduling.
For mobile users, please scroll right for more activities at ST3PS.
Movie Screening
Sit back and relax on our ST3PS while you enjoy your favourite blockbuster movies round the clock!
| Period | Movie Theme |
| --- | --- |
| 1 - 19 Jan | Superhero |
| 19 - 25 Jan | Family Fun |
| 26 - 31 Jan | Animation |
Please click here for movie schedule.
Note: Movies will be screened at all times other than during live sports telecast and live performances



Don't miss any live sporting actions of the English Premier League, FA Cup, Grand Prix, Australian Open and more!
S/N
 
Date/time

 
Performances

 
1
 
25 January 2020
 

Said Rahim

(7pm to 8pm)

 
2
 
1 February 2020
 

Ethel Yap

(7pm to 8pm)

 
3
 
8 February 2020
 

Jason Yu

(7pm to 8pm)

 
4
 
15 February 2020
 

HubbaBubbas

(7pm to 8pm)

 
5
 
22 February 2020
 

Raina + RENE

(7pm to 8pm)

 
6
 
29 February 2020
 

Yokez

(7pm to 8pm)

 
Please note that the schedule is subject to change.
Local Artist Performances
Said Rahim
Hailed to be Singapore's very own Ed Sheeran, Said Rahim is a seasoned performer. With a raw, soulful voice complimented by the soothing tunes of his guitar, Said Rahim belts heart tugging chart-toppers and classics alike. 
Ethel Yap
Ethel Yap is a seasoned theatre actress and singer. She is an alumna of NUS Theatre Studies and London's Royal Central School of Speech and Drama. As a singer-songwriter, Ethel comes from a long line of notable local musicians under the Noise Music Mentorship Programme. She released her debut self-titled EP in late 2017 and a single, "Like", in late 2018. 
Jason Yu
Jason - Inspired by the likes of Ed Sheeran, Coldplay and James Bay, Jason has long established himself in the busking scene as a singer with an ability to charm his way into anyone's heart. With his soothing vocals and endearing presence, Jason hopes to bring his audiences on a journey reflective of some of the toughest parts of his growing up years. 
HubbaBubbas
HubbaBubbas is a trio semi-acoustic band. HubbaBubbas's tight harmonies, incredible chemistry and quirky sense of humour have led them to perform at countless gigs and weddings since 2012. The trio has since been delivering electrifying energy and great vibes on stage, performing songs ranging from R&B, Pop, Hip-Hop to Jazz. 
Raina + RENE
Raina was part of the top 20 finalists on Channel 5's hit reality tv show 'The Final One. Her soulful voice complemented by her acoustic guitar is a breath of fresh air. Heavily influenced by her love for jazz and pop, Raina belts chart-toppers and classics alike. 
Yokez
Yokez is a Singaporean Mandopop singer-songwriter, highly sought-after for her versatility in instruments (keyboard and guitar) and song languages (English, Mandarin, Korean, Cantonese). Her sweet sound and vocal abilities have also opened doors for collaborations with top-notch producers in the industry. 
Fitness session is complimentary and available on first come first serve basis. 
Please proceed to Terminal 3 Basement 2 ST3PS with proper attire and water.
Yoga mats will be provided for the first 30 participants.
Yoga with William

(By HPB)

 
 

5 January 2020, Sunday

11:00 AM—12:00 PM

Walk-ins are welcome. You may secure a slot on the Healthy 365 App, click here for more information.

 

Low - Medium Impact

Yoga is a unique activity that helps to increase strength, health and wellness. It is also able to strengthen internal organs, improve flexibility and relieve aches in joints.

Yin Yang with Lin Goh
 
 

12 January 2020, Sunday

11:00 AM—12:00 PM

No pre-registration is required.

 

Low - Medium Impact

The Yin portion of her class is a gentle, quiet & meditative practice that teaches us to relax & accept ourselves just as we are. Through mindful stretching, Yin Yoga maintains the health of the connective tissue and encourages free flow of qi (energy) in the body. Poses are held for longer periods of time and awareness is brought to sensations in the body. The Yang portion of class allows us to integrate this openness and awarenessinto a sense of steadiness & alignment. Poses will include gentle flow & strenghtening poses held for longer periods of time.
William Ong
William Ong has over 20 years of experience as a fitness trainer in both community settings and gyms, specialising in Aerobics, Resistance Band, Yoga and Zumba. 
Lin Goh
Embarking on her yoga journey 8 years ago, Lin has since attained her 200-Hour Alliance Certified Training with both Routes of Yoga and Andrey Lappa. Lin specialises in Hatha, Inversions, Arm Balances and Universal Yoga. Using breathing and mindfulness to lay the foundation for her teaching, Lin motivates her students to bring a calm and safe state of mind beyond the mat.